ECOLOR Egg Lamp
Pros
Over 16 million colors.
1-100% brightness adjustment.
Compact and portable.
Easy-to-use app controls.
Ring lanyard makes it easy to attach or carry.
Cons
Not suitable for lighting a whole room.
Tends to roll around on its own.
Few things are as warm or as welcoming as the glow of an LED lamp. Whether you want a night light, an accent light, or even a colorful atmospheric light, it can get the job done. This sets it apart from an ordinary bedside lamp or desk lamp. A smart LED lamp is, by definition, smart. It comes with an app for you to adjust the color, the brightness, and other settings. This makes a smart lamp far more versatile than an ordinary lamp. In addition, because it's an LED, it's probably more energy efficient than whatever you were using before.
But what makes one smart LED lamp better than another? There's no single deciding factor. Instead, there are a handful of features you should be looking for. To begin with, how many colors are there? Some cheap LED lamps only have 8 or 16 colors. The best lamps will let you choose any RGB color. Next, consider how the brightness is adjusted. Can you adjust along a spectrum, or are you stepping up and down? Again, the more flexibility you have, the better. Finally, look for additional features. Can the lights move in patterns, or in time with your music? How long does the battery last? All of these questions should impact which light you choose.
We're about to review the ECOLOR Smart LED Egg Lamp. This is a smart LED lamp that can display all 16 million RGB colors. It's also easy to adjust, and small enough to carry around in a backpack or a purse. But to find out if it's really worth owning, we'll have to look a little deeper than that. We'll have to look at the battery life, as well as the control scheme. We'll have to dig into the app, and see what features it offers. We'll also have to consider intangibles like how easy it is to use. Once we've looked into all of these different features, we'll have a better idea of what we're looking at. At that point, we'll be ready to render our final verdict.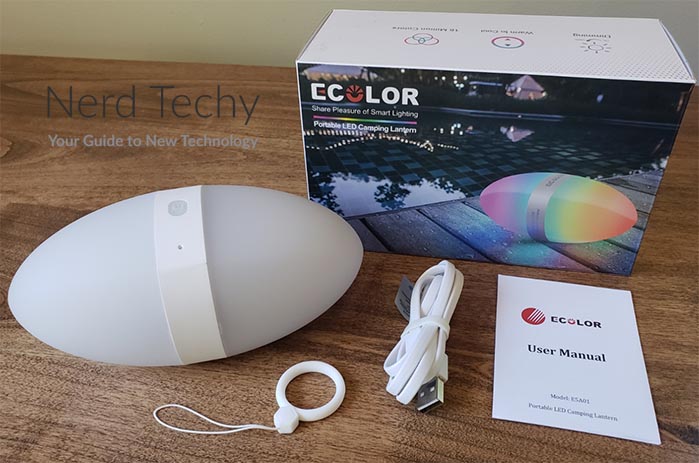 Overall Design
The ECOLOR Smart LED Egg Lamp does, indeed, look a lot like an egg or football. It has an elongated oval shape, and most of the housing is opaque plastic. This is a 360-degree light, which shines in all directions. In the center, there's a white plastic band which houses the battery and the controls. The on-board controls consist of a single rubber button, which can be flexed left or right. You can hold the button down for three seconds to turn the light on, and hold it again to turn off. A double-tap allows you to push the button from side to side to adjust the brightness. Pressing it a single time will allow you to switch between a handful of pre-programmed colors. Don't worry – there are far more advanced controls in the app.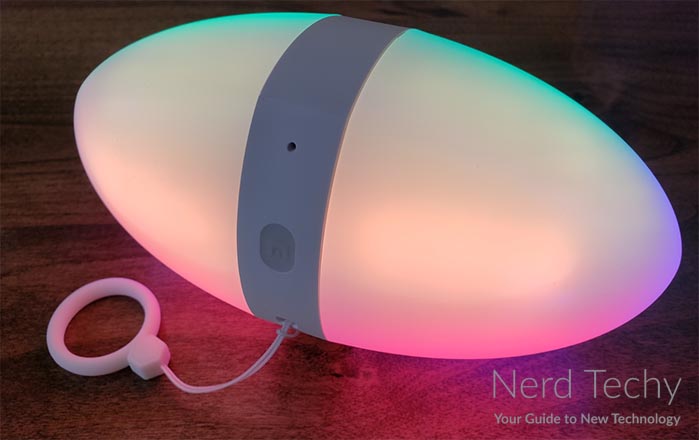 One thing we liked about this lamp was its light weight and compact size. It tips the scales at just 11.7 ounces, so you can carry it in your backpack without even noticing it. And at 6.42 inches long and 3.03 inches in diameter, it's small enough to fit in even a large purse. Unfortunately, this leads to one of our only complaints: the round shape. It's fun to look at, but it has a tendency to roll around when it's on a surface that's not totally stable. If your table rattles when you walk around, the light might end up falling off. That said, there's a stand included in the kit, so the egg can be stood up on end. It's still not incredibly stable, but it's better than nothing.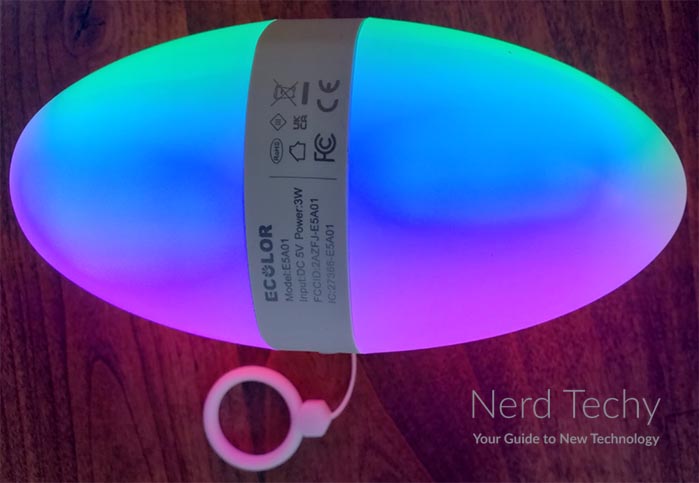 If stability is a major concern, consider the ECOLOR Smart Lamp instead. It has pretty much identical features and capabilities to the Egg Lamp, but it's shaped differently. It's molded to look like a full moon, and has a built-in base for more stability. That said, it's a bit larger than the Egg Lamp, so it's not as easy to take on the road.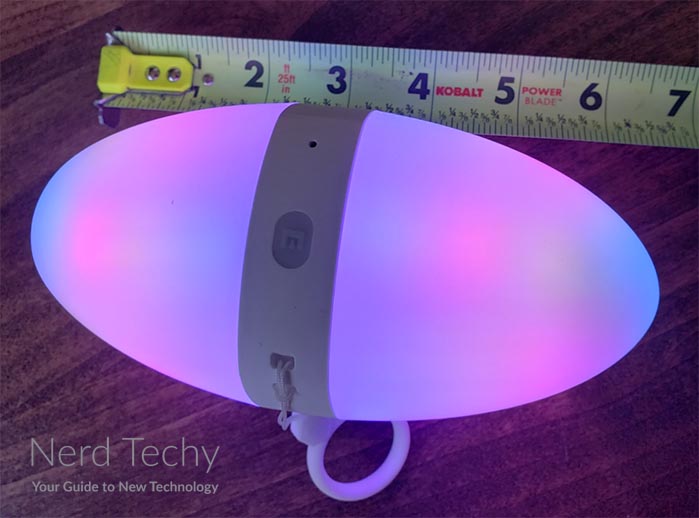 Besides which, stability isn't as much of a concern when a light can take a beating. Just like a real egg, you can roll this lamp off your bedside table without causing any serious damage. Even better, it comes with a water-resistance rating of IP65. This means it's totally dust-resistant, and water-resistant enough to be spill-proof.
The only other physical feature of note is the USB charging port. It's located just to the side of the power button, so it's easy to access. The kit includes a USB power cord, which you can connect to any USB port or AC adapter.
Brightness and Color Temperature
The quality of the LED lighting is surprisingly high. The ECOLOR Egg Lamp boasts 42 separate built-in diodes, which in itself isn't all that impressive. But each of these diodes has its own control chip, which means you can get more effects. So instead of solid colors, you can create waves, gradients, and other cool patterns. This makes the Egg Lamp far more versatile than many similar LED lamps. There's just so much more you can do. And of course, you can also make it a plain white light, for use as a night light. It's great for creating all kinds of atmosphere.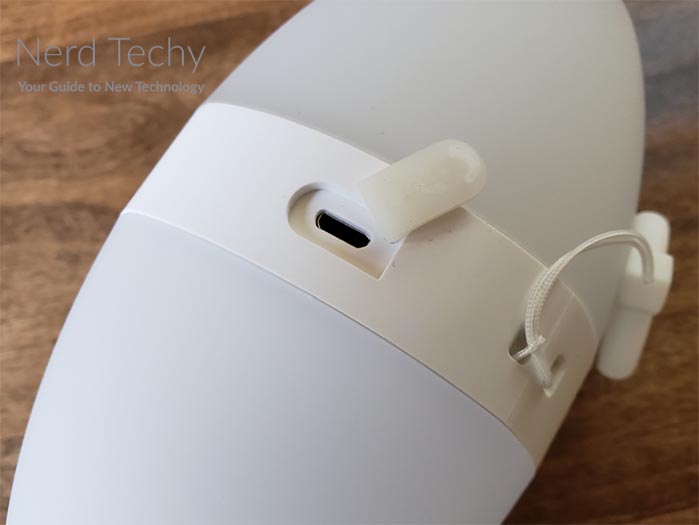 Then again, even the brightest setting is only really useful as a reading light. Don't expect it to illuminate an entire room. Not only that, but you can adjust the brightness between 1 and 100 percent. A lot of lights limit you to five or ten brightness settings, which can be limiting. With a graduated adjustment, you can set exactly the brightness you need.
In terms of color selection, the app provides access to 16 million colors. This is the full RGB color gamut, and it equates to all the colors you'll see on most computer monitors. In other words, you don't have to choose a color that's only "almost right." Instead, you can select any color imaginable. Of course, choosing your own color is only useful if you want the light to be a solid color. If you want motion effects, you're going to have to use one of the presets. That's not a criticism, though. We liked the motion effects, and we'll talk about them more in a second. But if you just want a solid ambience light, you're going to be very pleased.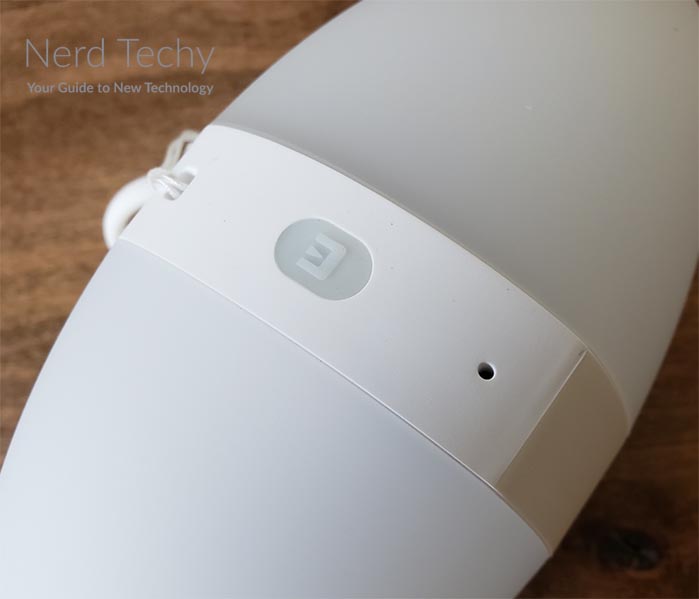 Even the whites give you plenty of options. You can adjust them along a gradient, between 2,700K and 6,500K. The lowest setting is a cool white. It's mostly white, but ever so slightly blueish. Moving up the scale, the light will slowly gain a yellow tinge, then an orange tinge. Eventually, at 6,500K, you're looking at a warm, reddish white light. This allows you to match the white from your light to the color temperature in the room. In the bedroom, a cool white is usually better for reading, while a warm white is ideal for a night light.
The ECOLOR Egg Lamp utilizes an internal rechargeable battery, which takes about three hours to charge. How long this charge will last depends mostly on the brightness. At the highest brightness setting, the battery will run out after about four hours of use. At the dimmest setting, on the other hand, you'll get a whopping 24 hours of performance. It's certainly plenty of power to last overnight, with plenty left over to spare.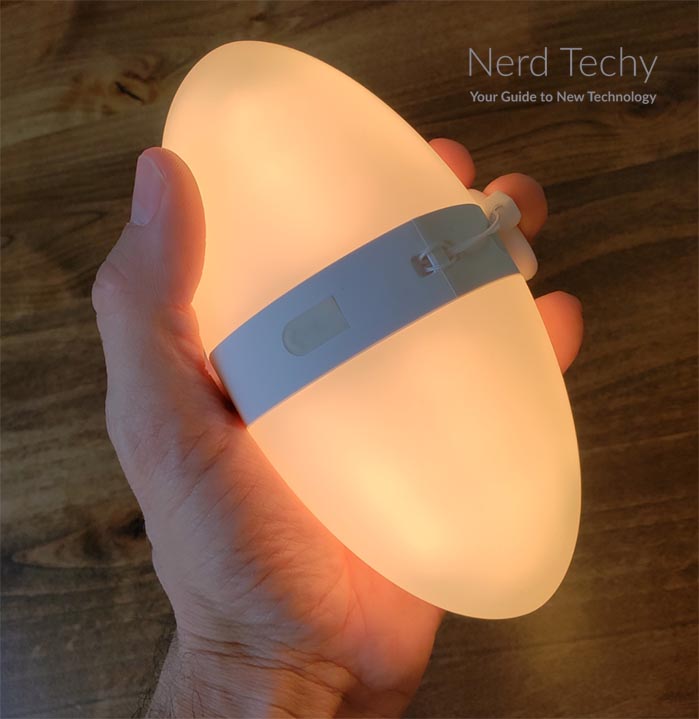 If you're looking for more general lighting, you might want something a little brighter. For example, you might want to think about buying an LED desk lamp. They're better-suited for lighting up a room, but they're not as fun, versatile, or playful as the Egg Lamp.
App and Color-Changing Features
The ECOLOR Egg Lamp comes with 18 different color-changing modes for parties or general atmosphere. Some of these are fairly generic, like the rolling rainbow pattern. But others are more creative, like a red and blue swirl that looks almost like a lava lamp. Some of these patterns, as we've mentioned, are not very customizable. But others allow you to choose the various colors for a truly unique look. The app itself is easy to use, and downloads in just a few minutes in the Apple Store and Google Play. Once it's installed, you can pair with the lamp via Bluetooth, and start playing with the settings.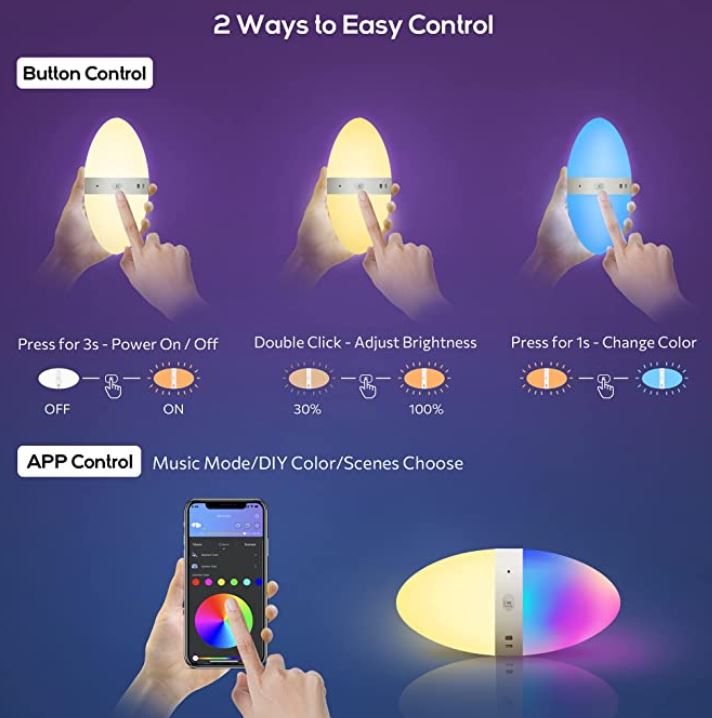 Another fun option you can play with is the music mode. In music mode, you can choose between five different color patterns. All of these move with your music, which is great for parties, or even just for relaxation. You don't even have to keep your phone connected once you've turned music mode on. The Egg Lamp relies on a high-sensitivity internal mic to pick up music from the environment. As long as it can "hear" your speakers, it will keep working on its own.
If you like the idea of a versatile lamp, but the Egg Light isn't right for you, there are other options. One good example is the LumiCharge T2W. This is a unique desk lamp, with a built-in phone stand and a wireless charger. It also boasts an alarm clock and Bluetooth speakers. On the downside, it only produces white light, and it's not very portable.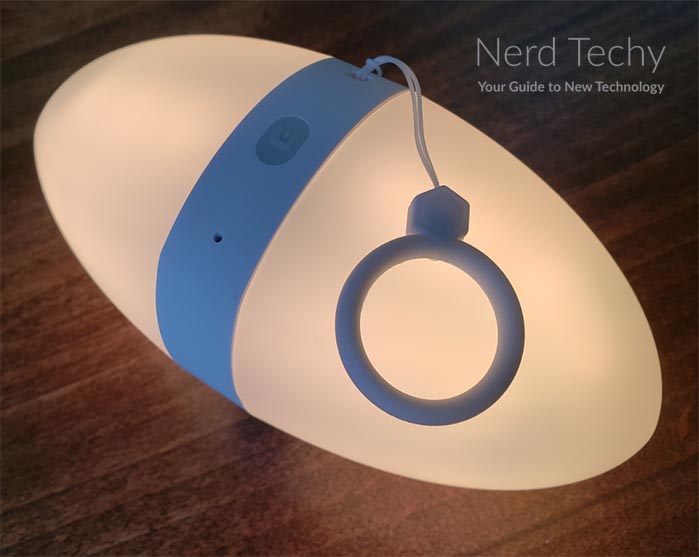 Final Verdict
The ECOLOR Smart LED Egg Lamp is a rugged, durable lamp that's also easy to use. With both physical and app controls, you can adjust just about any setting you want. You can use it as a white light, and adjust the brightness and temperature. You can use it as a night light. It can be a single-color ambience light, or a flowing, patterned party light. It all depends on what you want it to be. Is it perfect? No. We would have liked a better stand. But in the bigger picture, we were pleased with everything we saw.