If you want to brighten up your home, a sweet LED table lamp is a great way to do it. You can add some life to your room, along with a splash of color. But the benefits of a smart lamp go far more than those of a simple cordless desk lamp. With a smart LED lamp, you get far more adjustment options. You should be able to adjust the brightness, the color, and other features of the light. As a result, a smart lamp can serve many purposes. It can be used as a night light, for atmosphere, for reading, or for ordinary, everyday illumination. At least, that's what you should be looking for. In practice, your mileage may vary.
So, how do you find a good smart LED lamp? Simply put, you need to look at all of these features. You should look for one with a wide range of brightness, that can fulfill a variety of tasks. Ideally, the light should be able to change colors, so you can fit many moods and settings. Other smart features are also a plus. For example, can you set the light on a timer, or have it move in time with your music? Basically, how smart is the light? Another important consideration is the overall aesthetic. If a light doesn't have the right look, then it's not right for the room, no matter its other benefits.
Now, we're going to review the ECOLOR Smart Table Lamp. At first glance, this lamp ticks all of our boxes. It covers a range of brightness, and it has a number of color options and other adjustments. For example, you can set it to move in time with your music. But these are just surface features. To find out how good this light really is, we needed to dig a bit deeper. We had to determine how well each of these features works, and take a much closer look at each of them. Once we take all of the various factors into consideration, we'll be able to render our verdict. Let's get started!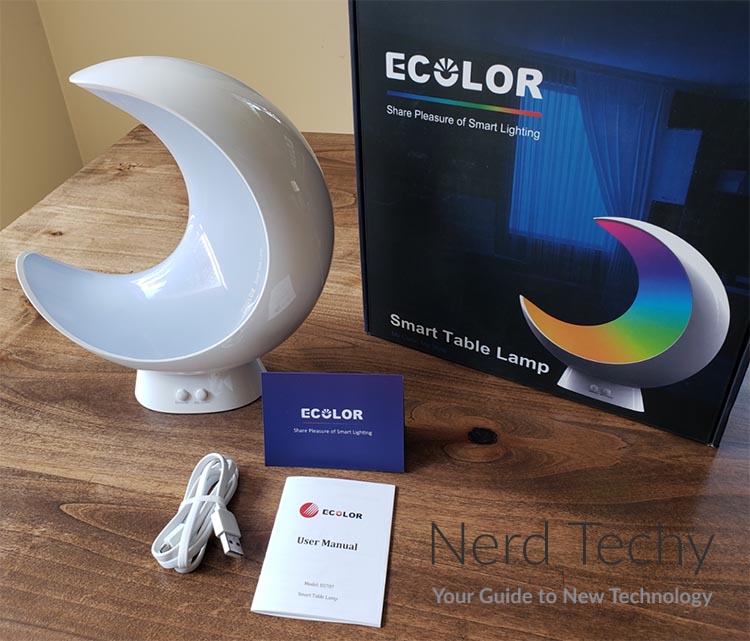 Overall Design
The ECOLOR Smart Table Lamp is a mid-sized lamp that's designed with a crescent moon shape. This fun, playful design is ideal for children's bedrooms and other cozy settings. Not only that, but it's easy on the eyes. The outer portion of the housing, the bottom and sides, are constructed from white ABS plastic. This is the same material as the base, which flares out slightly from the center. The finish is easy to wipe clean, although it does have a tendency to attract fingerprints. But it's not a big deal to wipe it down with a damp cloth every now and then.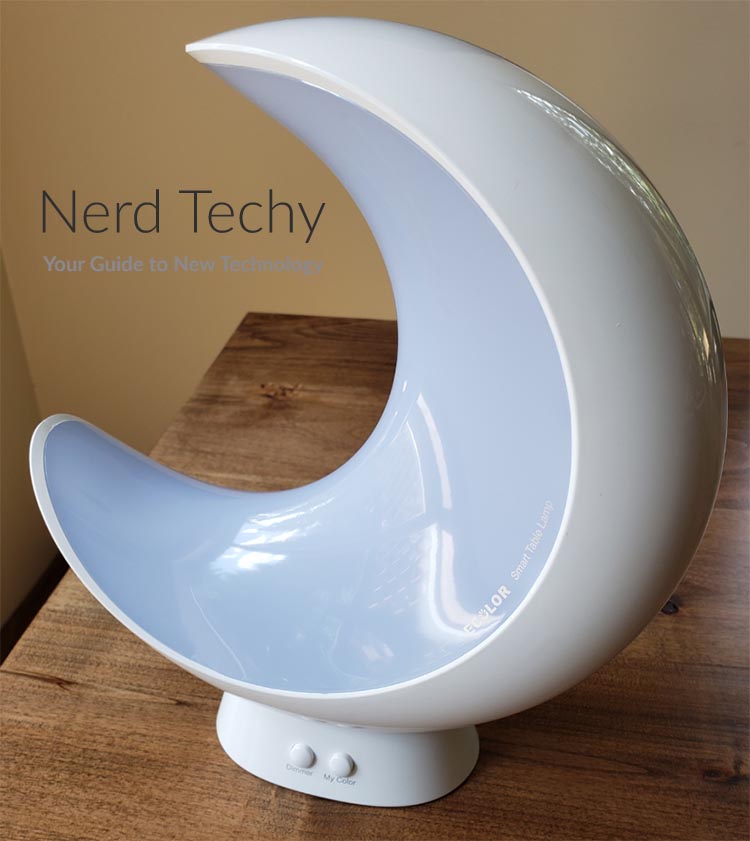 The inner curve of the lamp consists of the LED lighting surface. This is semi-transparent when the light is off, with an opaque, milky white appearance. When the light is on, it illuminates in a variety of colors, or in plain white. We'll take a closer look at the various lighting options in a moment.
On the front of the base, you'll find two buttons, which are round and provide plenty of tactile response. These adjust the brightness and color respectively, so controlling most of the functions is easy. The flared base is reasonably stable, with a depth of 3.86 inches, the deepest part of the design. It's also more than half the total width of 10.5 inches. The height is 11.46 inches, so the overall profile is nearly round. All in all, the housing is very stable, with most of the 1.63 pounds of weight located in the base. This makes it unlikely that you'll knock the lamp over by accident. Yet again, you're looking at a solid feature for little kids.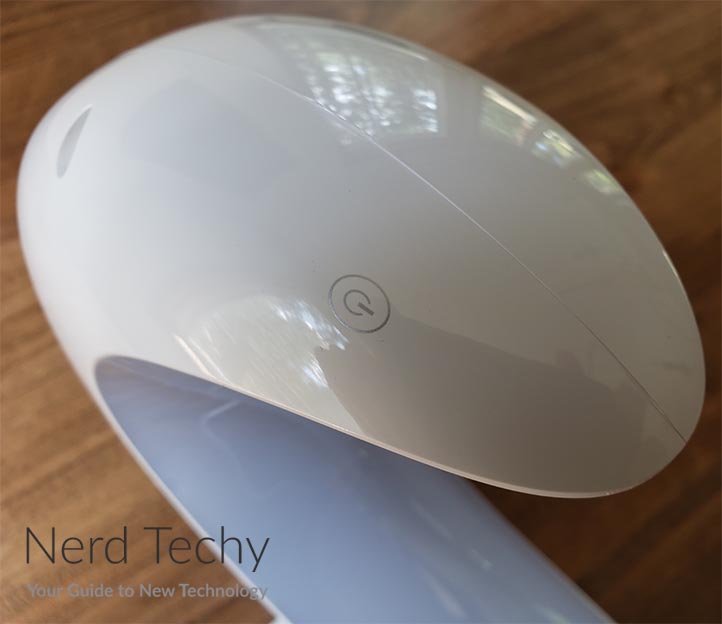 With all of that being said, let's be honest; this is a children's lamp. That's great if you're decorating a child's bedroom. But if you're looking for something a bit more professional, consider the ECOLOR Rainbow LED Strip Lights instead. These aren't ideal for ambient lighting, but they're perfect for display cases or entertainment centers.
Brightness and Color Temperature
The ECOLOR lamp can be adjusted between six different brightness levels. The maximum is 500 lumens, enough to light up a mid-sized bedroom all by itself. Unless you're lighting up a larger space, this lamp is all you're going to need. Of course, you might not always want the light at that setting. By tapping the Brightness button on the base, you can cycle easily through the brightness levels. These are 10, 20, 40, 60, 80, and 100 percent illumination, respectively. On the lowest setting of 10 percent, it makes a great night light. Around 60 percent, it's enough to read by without the light irritating your eyes. As a result, you'll have a suitable light for just about any scenario.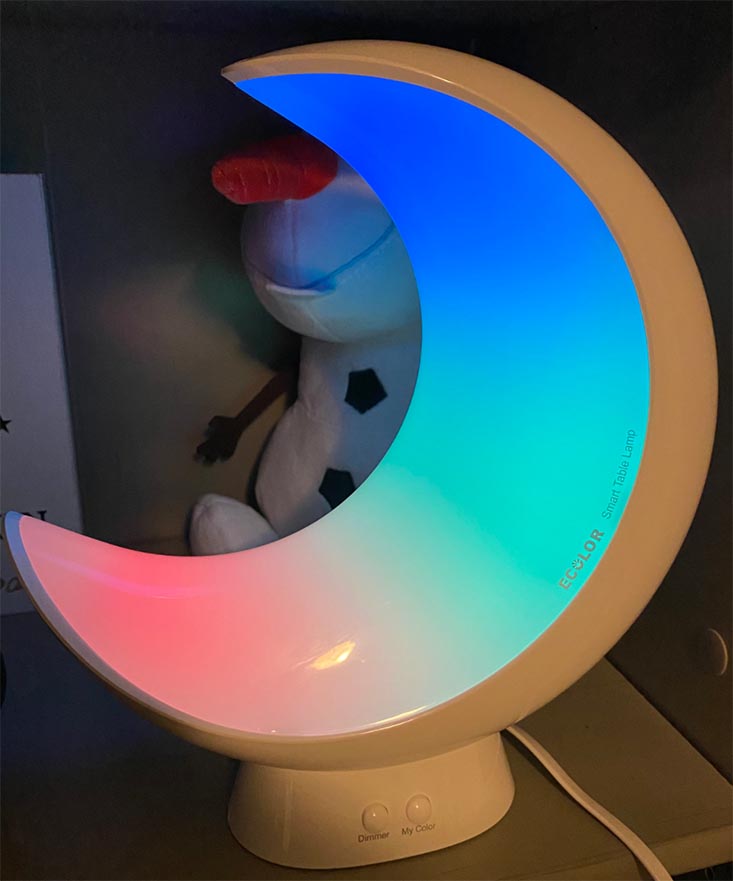 As you adjust the brightness of the white light, you'll also see a change in the color temperature. This means the actual color and intensity of the light. As a result, it's not just the brightness that changes, it's also the overall feel of the lighting. In total, the brightness can range between 2,700 and 6,500K. Here's a quick breakdown of what that means.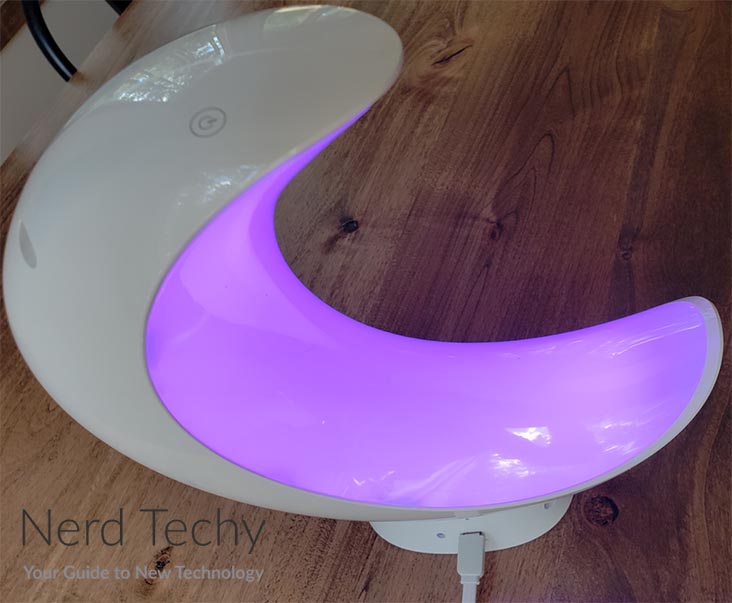 Light between 2,000 and 3,000K falls into the soft white category. This is a gentle, yellowish light that's very gentle on your eyes. It's great for night lights, bedrooms, as well as for other areas where you don't want a ton of glare. On the downside, it makes everything in the room look yellowish. You won't be able to see true colors.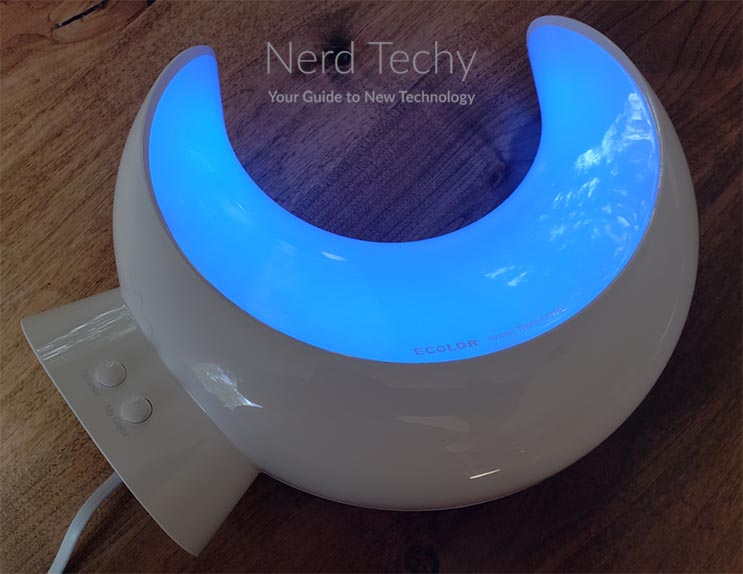 As you move up into the 3,000 to 4,500K range, you move to the range of pure white. This is the best kind of lighting if you want to see colors as accurately as possible. You'll often find bulbs in this range in kitchens, living rooms, and offices. It's also a popular range for task lighting, because it provides good visibility without being too harsh.
The 4,500 to 6,500K range is a brighter daylight white which has a bluish cast. It's not quite as clean as a pure white. However, it provides for excellent visibility, particularly when you need to see a lot of details. It's popular for commercial offices as well as many retail environments.
6,500K light has a noticeably bluish hue, similar to halogen headlights. It's often used in displays, or to draw people's attention in other commercial applications. In the context of a room light, it's great for performing tasks where you need the maximum amount of light.
With all of that being said, the ECOLOR lamp is just a lamp. It doesn't really do anything else or perform any other functions. If you want the most versatile lamp on the market, check out the LumiCharge T2W. This is an adjustable desk lamp, with a built-in wireless charging stand where you can watch videos. The T2W also boasts a built-in calendar display, thermometer, and more.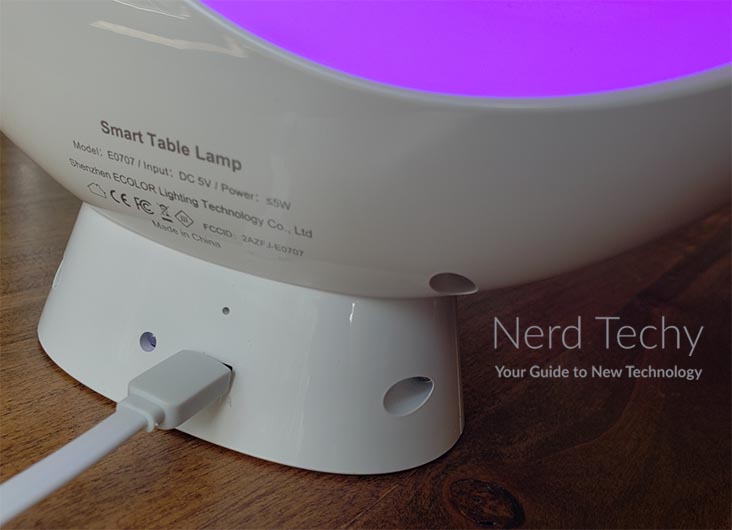 App and Color-Changing Features
So far, we've looked at the various white light options. But what about the color options? For that, it depends on how much control you want. By using the Color button, you can cycle through 10 different preset modes. These include rainbow, sunset, snowflake, ocean, and fire patterns, among others. There's also a basic RGB mode where the colors cycle through on a rotating basis. For many people, that's all you're ever going to need. That said, you might want a little bit more control. In that case, you're going to need to use the app.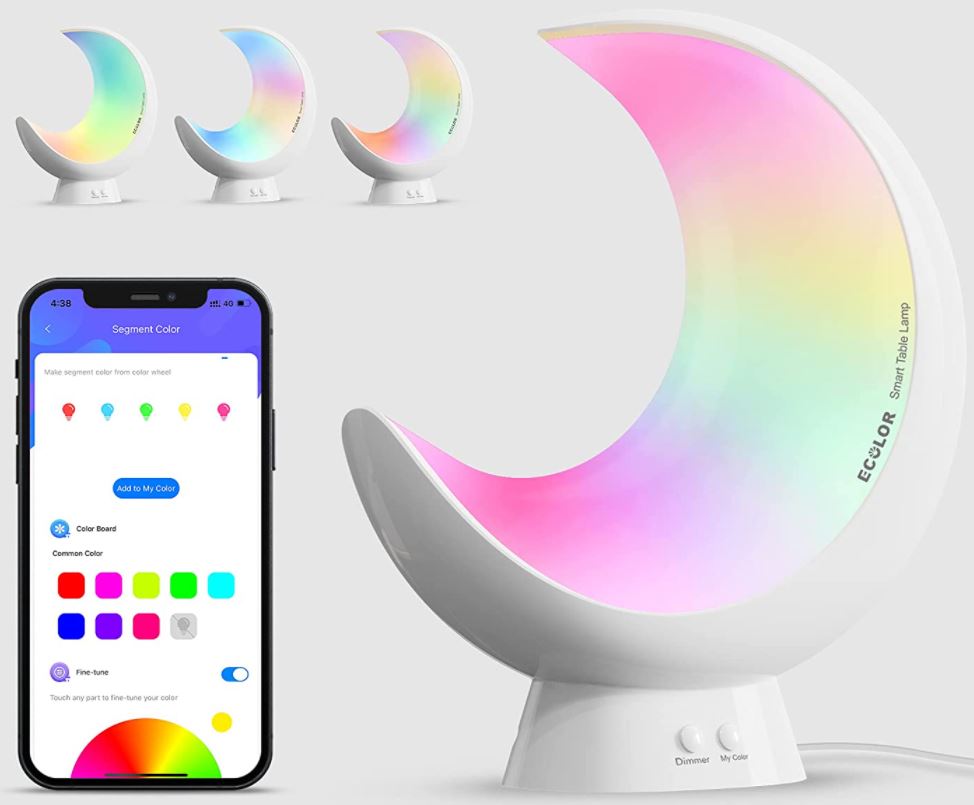 The app itself is easy to download and install. It's free on Apple and Android systems, and takes just a minute to set up. Once you've connected to the lamp, you can choose between 16 million different colors. Not only that, but you can choose colors separately for five different color segments. This allows you to create countless unique patterns, to get the exact lighting look you want. In addition to that, you can import photos and select specific colors. This makes it easy to match the lighting to other colors in the room. If that's not enough, there are also three music modes to choose from. These are called "Follow," "Bubble," and "Melody," but those names don't mean much. You'll notice subtle differences, similar to old-school Windows Media Player visualizations.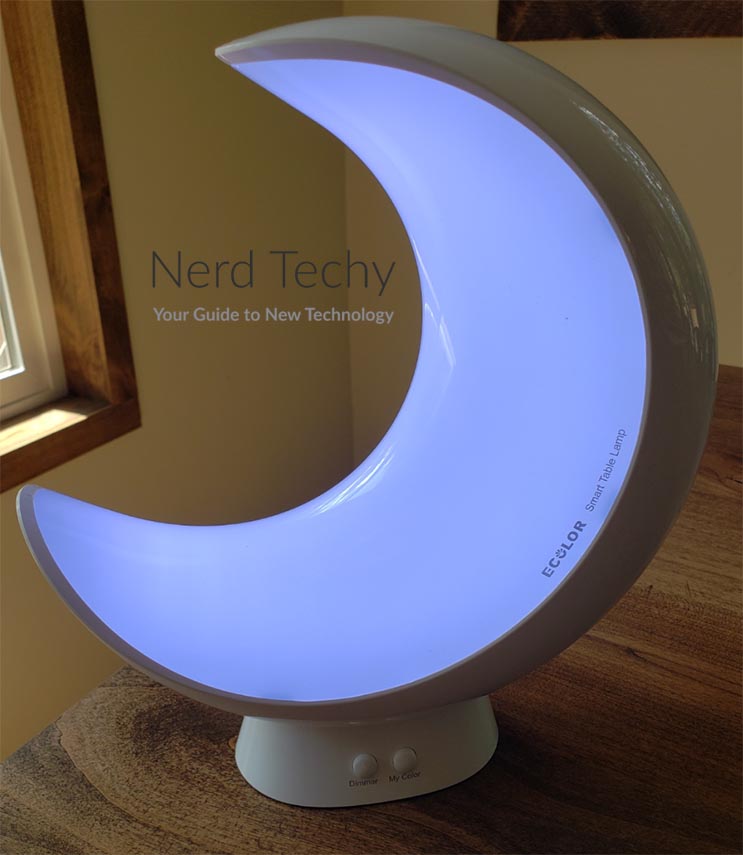 In addition to being able to change the color and color temperature, you can also set this light on a timer. Using the app, you can set a timer, either on a one-time basis or a repeating basis. This way, you can have it turn on automatically in the morning, or come on when you return from work.
The only downside of the ECOLOR app is that it has some occasional Bluetooth pairing issues. Initial pairing is not an issue. But once you disconnect from the lamp, you sometimes won't be able to reconnect. It seems like the lamp doesn't "forget" the old connection, so it won't accept a new one. If you run into this issue, just unplug the lamp and plug it back in. It's annoying, but it's not a dealbreaker, particularly if you don't use the app very often.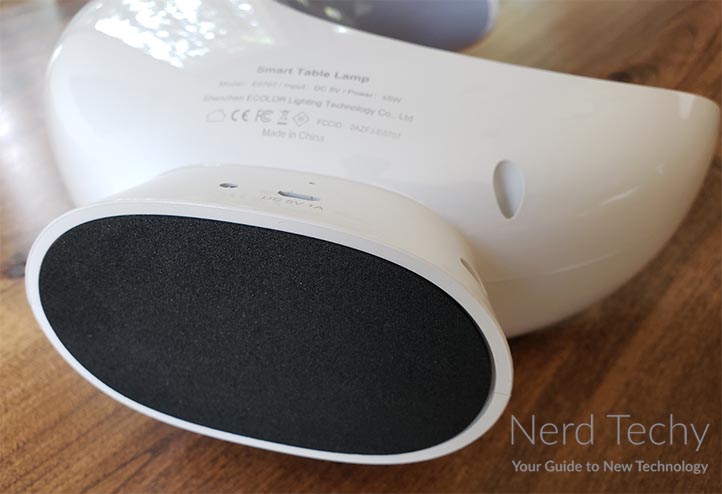 If you want an alternative light for atmospheric purposes, the ECOLOR Smart TV LED Light is a decent choice. It's designed specifically to go behind flatscreen TVs, and syncs the light with your audio. On the other hand, it's more or less useless for any other purpose.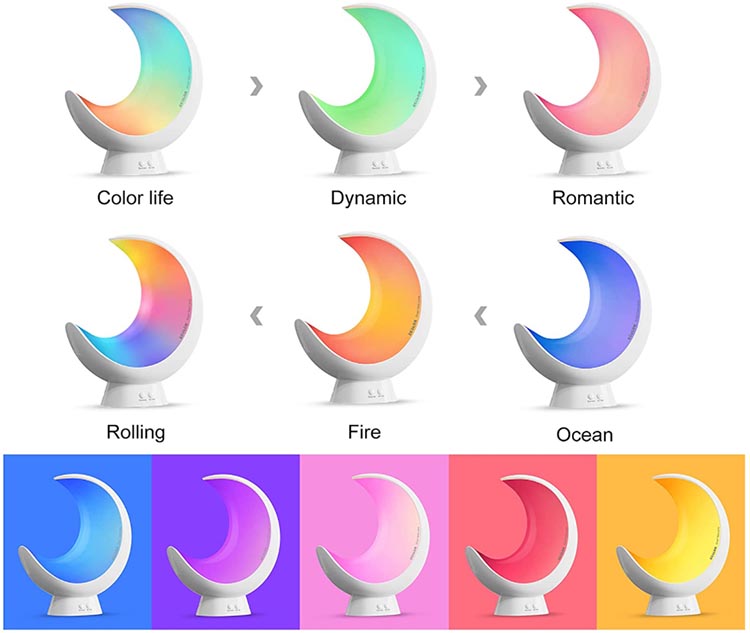 Final Verdict
The ECOLOR Smart Table Lamp is a well-designed lamp with surprisingly many features for the price. It has an attractive crescent shape and an easy-to-operate design. Moreover, the app provides plenty of control, even if you want a completely custom look. We would have liked a more solid design, and a more reliable app connection. But considering the fact that this lamp is made for kids, we were very pleased. If you'd like to learn more, follow one of the previous links to the Amazon sales page or simply go on over to ECOLOR's website.