ASAKUKI Oil Diffuser
Pros
Effective diffuser function.
Plenty of lighting options.
Can last all day long.
Made from eco-friendly materials.
Cons
Makes an audible dripping sound.
Cord is awkwardly located on the bottom of the housing.
If you want your home's environment to be more pleasant, there are few things better than an oil diffuser. An oil diffuser is exactly what it sounds like. You fill it with water, along with some essential oil, and it creates a fine mist of water infused with oil. This spreads the oil throughout your home, along with its pleasant aroma. Of course, those are just the basics of what an oil diffuser does. Better quality diffusers are going to offer different features. Depending on what you buy, you can get a diffuser with a timer, a light, and other useful functions. On the other hand, the most basic diffusers may be nearly invisible.
We're about to review the ASAKUKI 500ml Premium Essential Oil Diffuser. This is one of the more full-featured diffusers on the market. It's built with a color-changing LED light for atmosphere. It has a timer function, as well as an adjustable diffusion power. And it boasts a large, 500ml reservoir so it can work all day without interruption. But just because it has a bunch of features doesn't automatically make this diffuser worth buying. The features have to work well, and the entirety of the design has to be a cohesive whole. To find out whether the ASAKUKI diffuser passes muster, we'll need to take a closer look. Here's everything we've learned about this high-capacity diffuser.
What is Aromatherapy?
Before we go any further, let's talk about why you'd want to own an essential oil diffuser in the first place. Essential oil therapy, more commonly known as aromatherapy, is the practice of using oils for therapeutic purposes. Depending on the application, this therapy can be for both your physical and mental health.
Aromatherapy has been used by many civilizations, including the ancient Chinese and Egyptians. Records from ancient India also include instructions on how to make aromatic balms and oils. At the time, the use for these materials was both medicinal and spiritual. In fact, the two were one and the same for most ancient societies.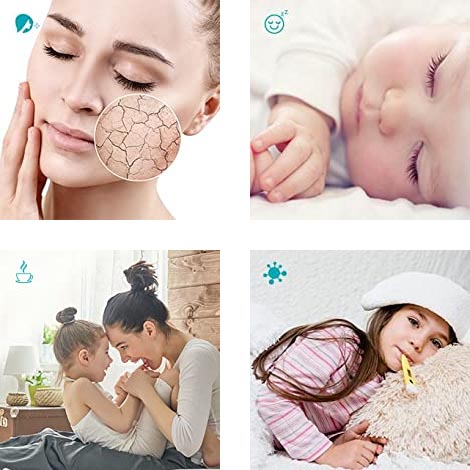 It wasn't until the 10th century that someone would first distil pure essential oils. First developed by the Persians, the process soon spread throughout the civilized world. By the time the printing press was invented, Europeans were also using essential oils. One of the first medical journals printed in Germany includes instructions on the distillation process. At the time, these oils were a core component of any doctor's toolkit.
Essential oils fell out of favor in the 19th century, though. Doctors of that era were enamored with new chemical wonder drugs like ether. At least in the western world, essential oils would remain little-used until the 1930s. In 1937, a French perfumer named Rene-Maurice Gattefosse wrote about the healing powers of lavender oil. He had burned his hand, and spilled lavender oil on the burn while making perfume. Gattefosse would go on to study potential medical uses of other essential oils, and called his therapy "aromatherapy."
Despite its name, aromatherapy doesn't necessarily have to involve smelling the essential oils. Oils can also be used in a bath, an ointment, or even as a direct topical application. You can even use a combination of several methods. Although, to be fair, most essential oils have a very powerful smell. Even a topical application or bath will involve plenty of aroma!
You can find essential oils at your local health food store, online, and even in many supermarkets. That said, these are not FDA-regulated products. Do your research before you buy from a particular brand, and make sure their products are all-natural. If they're not, you could be diffusing all kinds of nasty chemicals throughout your home. In total, you can find almost 100 types of essential oil. Each variety has its own unique benefits, and they're used for different purposes. They can even be used in combination! However, most people use one of a handful of the more common options. We'll discuss some of those later on.
Aromatherapy can be used for a number of purposes. Different essential oils can help you manage pain, sleep better, or to manage an upset stomach. Most often, they're simply used for stress relief and relaxation. Many have antibacterial properties, although that's more pertinent for topical application than for diffusion. One thing to be wary of is that many unscrupulous sellers make unconfirmed claims. For example, some people claim that essential oils can be used for Alzhheimer's and Parkinson's diseases. There doesn't seem to be any research that verifies these kind of wild claims. With that said, let's take a look at this diffuser!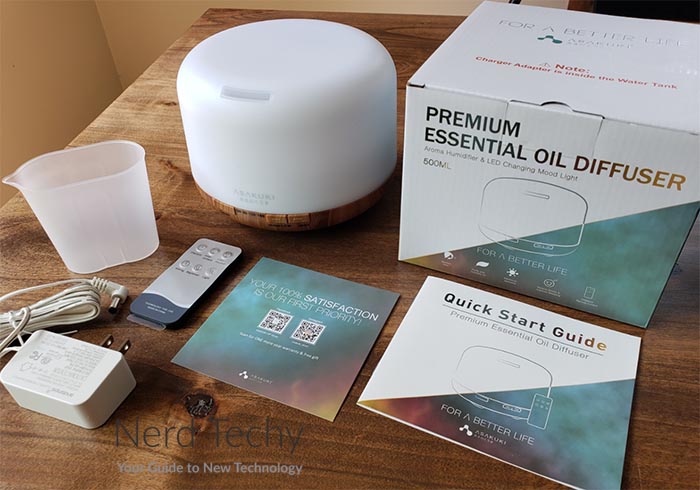 Design & Aesthetic
The ASAKUKI 500ml Premium Essential Oil Diffuser has a cylindrical design, with rounded edges at the top and bottom. The overall size is 6.6 inches in diameter, and 4.76 inches in height. However, most of the unit consists of the upper light/diffuser segment. When the light is off, this section is just a dull, opaque white lid that covers the diffuser tank. It has a slot at the top for vapor to flow out, and can be lifted off to fill the reservoir. The reservoir itself is constructed from BPA-free material that's also used for baby bottles. As a result, you don't have to worry about chemicals leeching out into your oils.
When you activate the light, the entire upper part of the housing comes to life. You can touch the light button multiple times to choose between seven different colors. These are red, orange, yellow, two different greens, a blue, and a purple. You can also choose a cycling option where the light will rotate through all seven colors. The brightness is ideal for atmosphere or mood lighting. It's not going to light up the whole room. At most, you can use it to get around the bathroom. But if all you want is a little bit more of a healing vibe, the light will certainly provide that.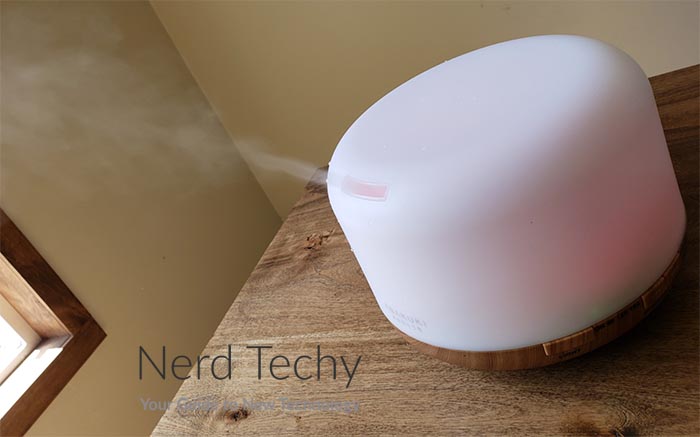 The base is constructed from a similar plastic, but it's colored in a faux wood pattern. In fact, there are three different "stain" options: yellow, brown, and white. Each one is attractive in its own way, and will match a variety of décor. On the front, you'll find a set of three buttons, built right into the plastic. The first is the light button, which we already discussed. The next is the diffuser speed button, and the last, "mist" button adjusts the timer. It's all straightforward and easy to understand. The only thing we didn't like was the power adapter, which plugs directly into the bottom. If you want to unplug the unit, you have to lift it, which makes it easy to spill if the reservoir is full. A plug on the side of the base would have been better.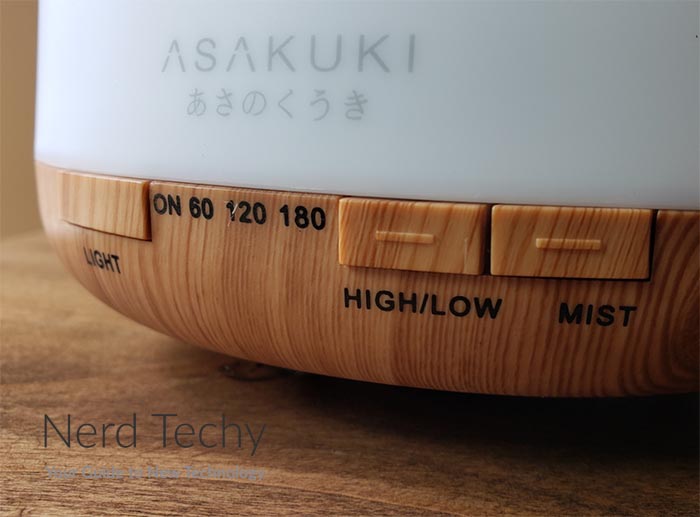 Of course, there are plenty of features you could ask for on a diffuser. One of the most unique options we've looked at isn't even primarily a diffuser. The Elechomes OX300 HEPA Air Purifier is a HEPA filter first and foremost, designed to purify your air. Its built-in essential oil diffuser is just a nice added perk.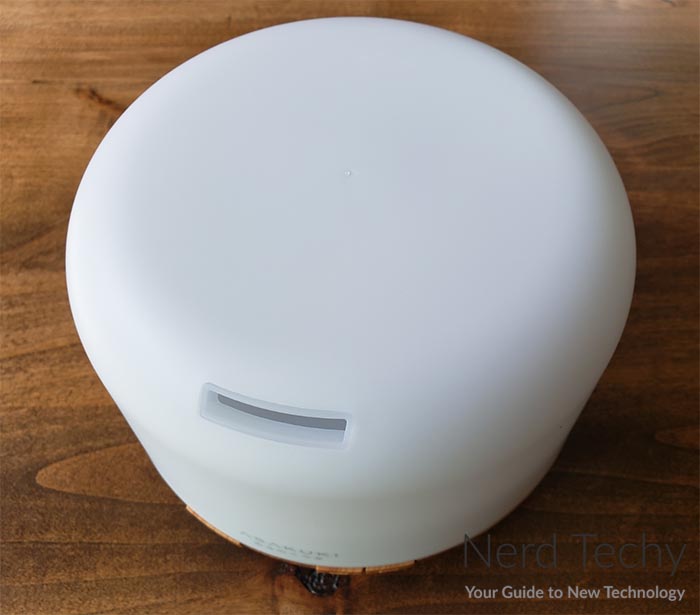 Diffuser Function
So, how does the ASAKUKI diffuser actually work? To begin with, you lift the top off to expose the tank. The tank has clear sides, with quantities marked similar to what you see on a measuring cup. Under most circumstances, you'll want to fill it all the way to 500ml with water. After all, this will give you the longest use. Add five to ten drops of your oil, and you're all ready to go.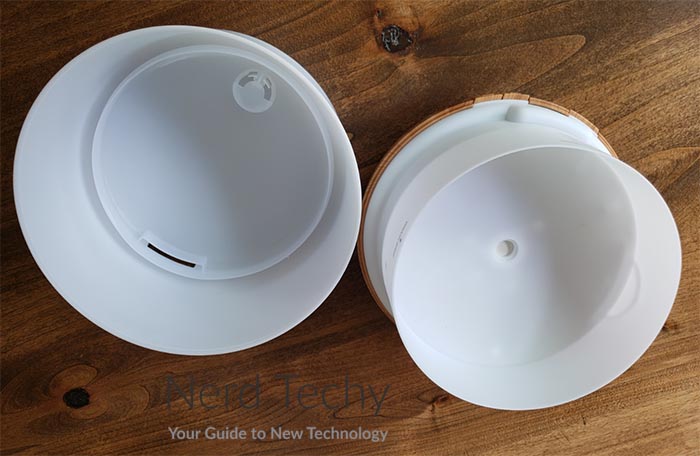 The diffuser can be left on, or run on a timer. If you're using the timer, you can choose between one, two, and three hours. If you leave it on, you don't have to worry about babysitting it. The tank has a sensor that detects when it's nearly empty. When the level gets low, it will automatically shut off, preventing damage to the unit as a whole.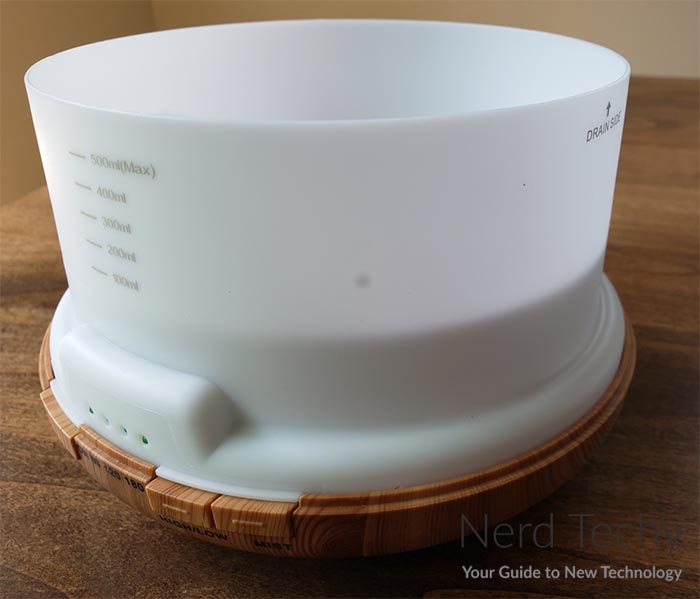 There are two mist settings: high and low. On low, you'll get about 16 hours of operation from a full tank. On high, you'll get about 10 hours, but you'll get a correspondingly more intense level of aroma. In total, this diffuser is designed to treat a 300 square foot area. Operation is mostly quiet. However, there's an occasional drip that some people might find irritating. On the upside, the tank is easy to clean. Just fill it with a light vinegar mix and let it run for a few minutes. When it's warm, pour out the mix and thoroughly wipe out the inside of the tank. That's all you have to do!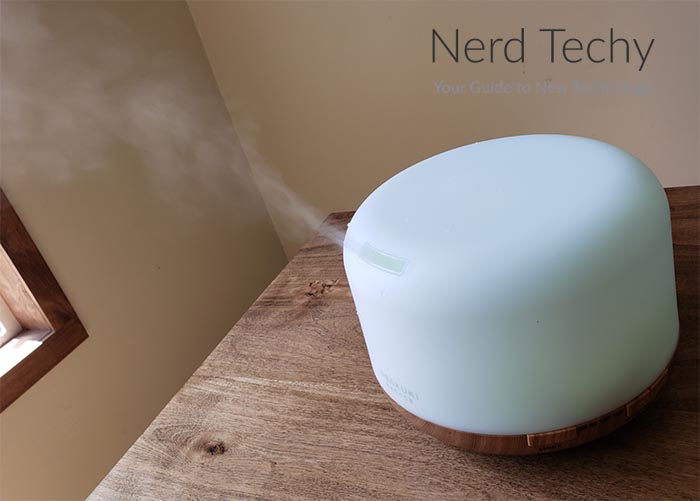 One interesting alternative is the Levoit Dual 100. This is a cool mist humidifier with a built-in diffuser. It's a bit pricier than the ASAKUKI, but it does a lot more.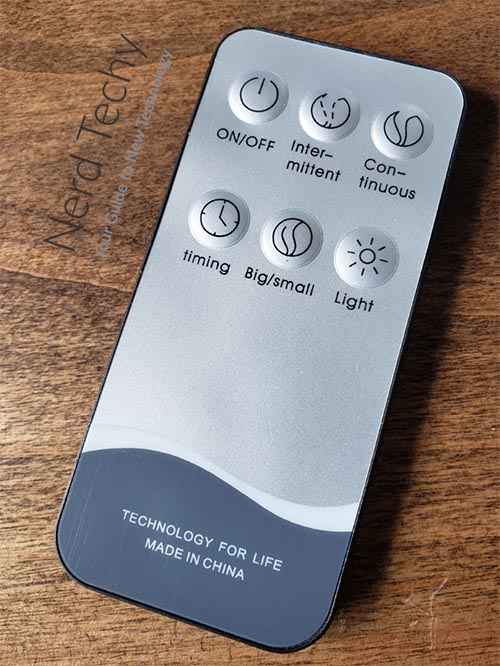 What Oils Can I Use?
You can use any essential oil in the ASAKUKI diffuser. As we mentioned, though, you should make sure it's all-natural. You should also make sure to use distilled water, or you can end up with scaling in the tank. That said, if you're using an ASAKUKI diffuser, why not use one of their all-natural essential oils?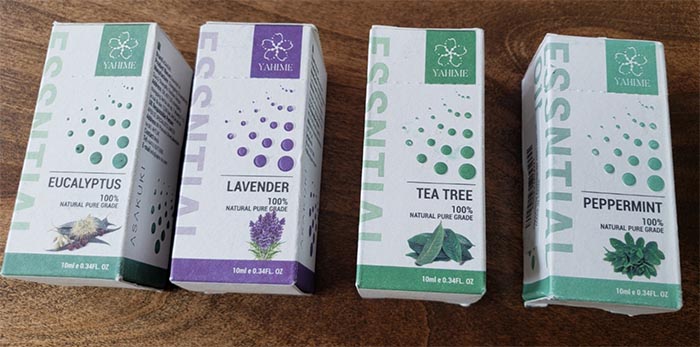 You can choose from a number of options, including lavender, tea tree, peppermint, and eucalyptus oils. All of these oils are extracted using the supercritical carbon dioxide approach. This results in a truly pure oil, without any contaminants from the extraction process. The ingredients are sourced from the best sources, such as lavender from France and tea from Australia.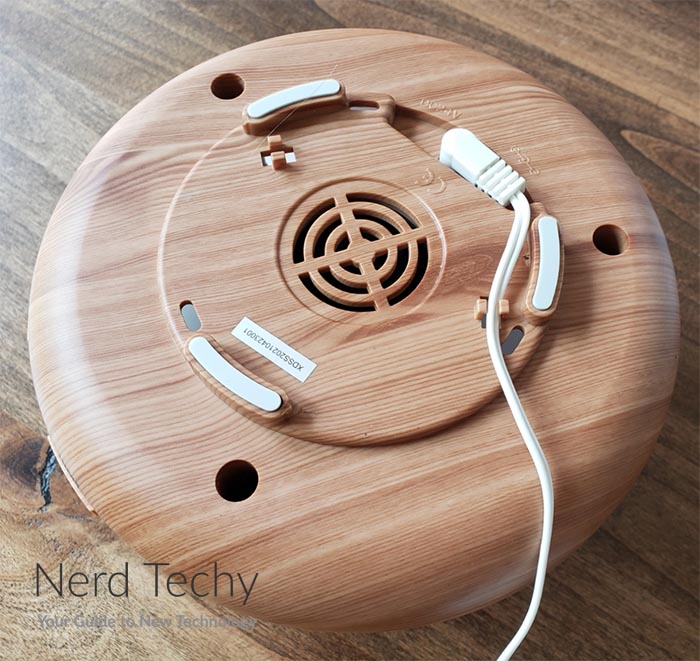 Final Verdict
As you can see, the ASAKUKI Oil Diffuser is a well-designed device with only minor flaws. It can cover a large area, and puts out a generous amount of mist on the higher setting. It's easy to operate, easy to fill, and easy to clean. Not only that, but the light is easy on the eyes, as well as the housing. All in all, we were very pleased.