In recent years, more and more people have become concerned about the quality of their home's air. In large part, this is due to a more health-conscious society. 50 years ago, you could smoke a cigarette with your OB/GYN while planning your delivery. Afterwards, you could gorge on pasta while patting yourself on the back for eating a low-fat diet. Point being, people are a little more savvy these days about what is and isn't healthy. Technology has also been a major factor. Until the 1990s, home HEPA filters were expensive to own and operate. You wouldn't buy one unless someone in the house had a serious health issue that required it.
But it's also a fact that our indoor air has gotten objectively worse in recent years. This is mostly due to modern construction methods. Newer homes need to meet strict energy-efficiency standards, and are hermetically sealed to prevent unwanted air transfer. This is a major win for the environment, since we use less energy for heating and cooling our homes. It's also been relatively noncontroversial. After all, less energy use means lower energy bills! But a side effect of this trend has been that contaminants can build up in your home. Mold, pollen, and chemical vapors no longer vent outside easily. They get worse over time, which is bad for your health.
We're about to review the Elechomes OX300 HEPA Air Purifier. This is a pint-sized purifier that's meant for treating a full-sized room. But just because it's advertised as a performance filter doesn't mean it's going to actually work that well. To find out for sure, we needed to take a deeper dive. We'll discuss the design and build of the purifier, along with the control scheme. We'll talk about the square footage coverage, as well as its extra features. Finally, we'll look at the filter cartridge, and what it actually removes from your air. Once we've considered all of those factors, we'll be prepared to render our verdict. Let's begin!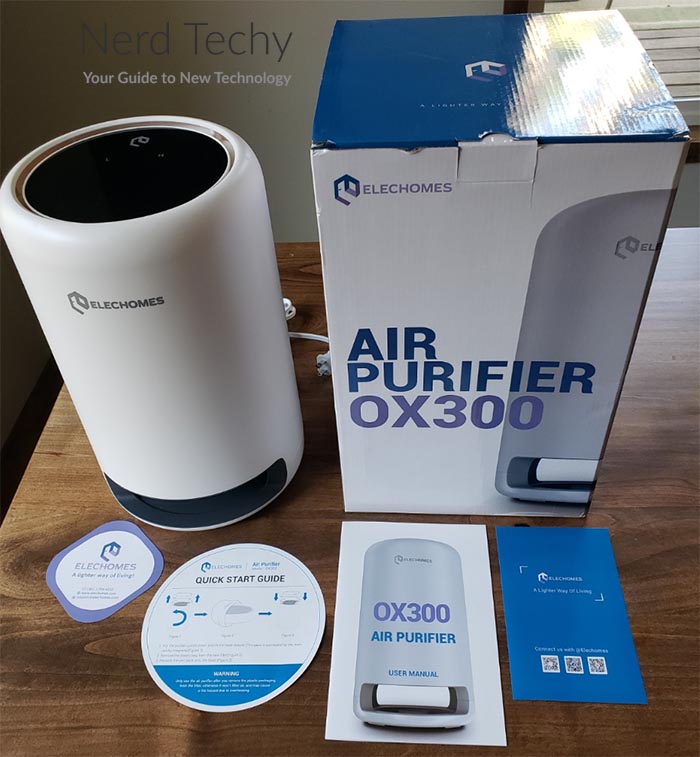 Design & Construction
The Elechomes OX300 HEPA Air Purifier is cylindrical in shape, and fairly compact. The overall size is 8.26 inches in diameter and 13.58 inches tall. It can sit on a kitchen counter, a desk, or a table as readily as it can sit on your floor. It's also easy to move around. At only 6.3 pounds, anyone can pick it up with one hand. The housing is an understated matte white, which pairs well with most décor schemes. It's also easy to wipe down and keep free of dust. The top and bottom edges are rounded off, so there's no sharp angle to catch your stray limbs. The case is largely plain, with the exception of a grey Elechomes logo on the front.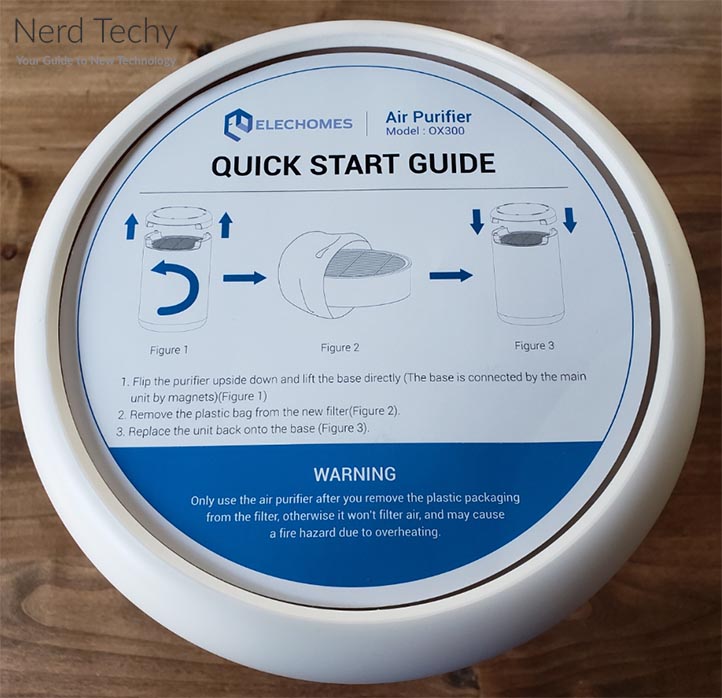 This purifier has a unique profile, with an oval-shaped cutout that runs clear through the bottom of the housing. The cutout is more than just a decorative feature. It's where the air flows in and gets sucked into the filter. As such, you want to keep it unobstructed, so the air can enter freely. The outflow vent is located on the top, and forms a ring around the control panel. As a result, clean air will distribute evenly in a 360-degree pattern. Once again, though, you want to keep this area clear. If you block the outflow vent, your air isn't going to distribute efficiently.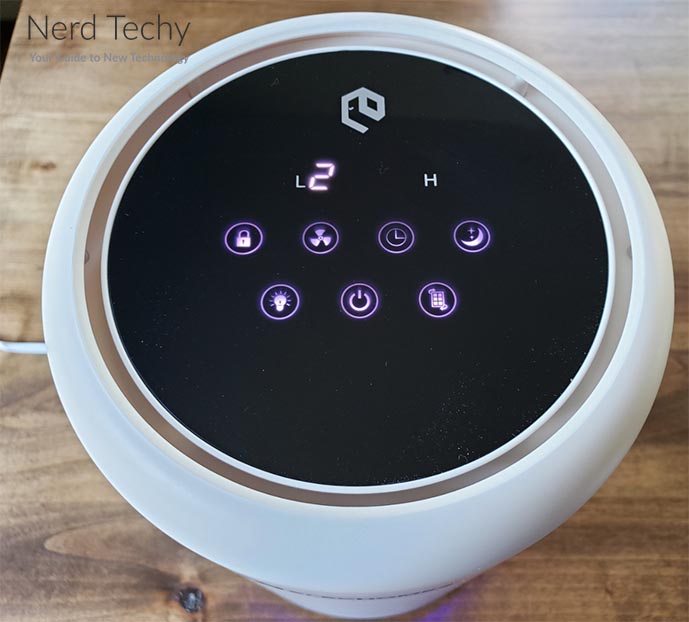 The control panel itself is black, with white LED icons. These icons function as soft touch buttons, and they're easy to operate with just one finger. At the top, you'll see two numbers. The number on the left is your fan speed setting, between 1 and 3. The number on the right is the amount of time remaining on the timer, if applicable.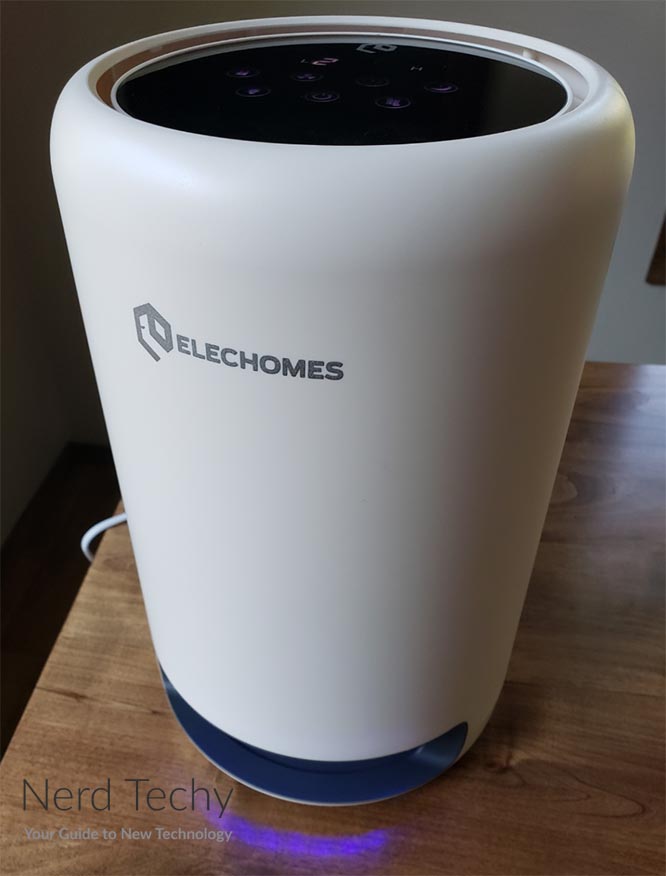 Beneath the numbers are seven buttons. The one at the bottom is a simple power button, as you might expect. Moving clockwise, the button at the bottom left is the lamp button. It's used to turn the LED lighting on and off for sleep. The top left button is the child lock. Press and hold it for three seconds, and the rest of the controls will be locked out. This keeps children or pets from messing with the filter settings. Continuing clockwise, we come to the fan speed button. This is self-explanatory. The next button is the timer button, which we'll discuss more in a second. The top right button is the sleep mode button. Finally, the button on the bottom right is for the filter reset function.
If you don't need all of those functions, you can save a few dollars with the Elechomes EPI-236 Pro Series. It has a physical design and covers a similar area. However, it has simpler controls and is more affordable.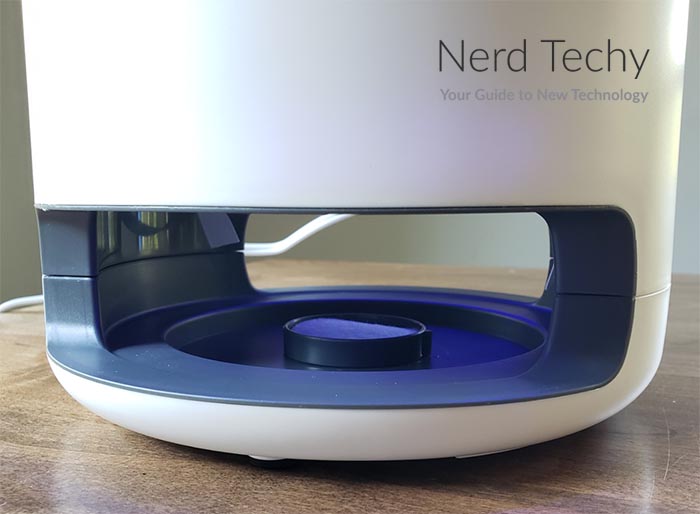 Everyday Operation
The OX300 air purifier is designed to treat 269 square feet worth of air. This is based on standard eight-foot ceilings, so you may need to make adjustments. Rooms with cathedral ceilings will get less coverage, while drop ceilings will get better coverage. It also depends on how dirty the air is. Naturally, you'll get better results when the purifier isn't under a heavy load. But no matter how you cut it, the coverage is excellent for the size. Normally, we'd expect a purifier with this much coverage to be twice as large.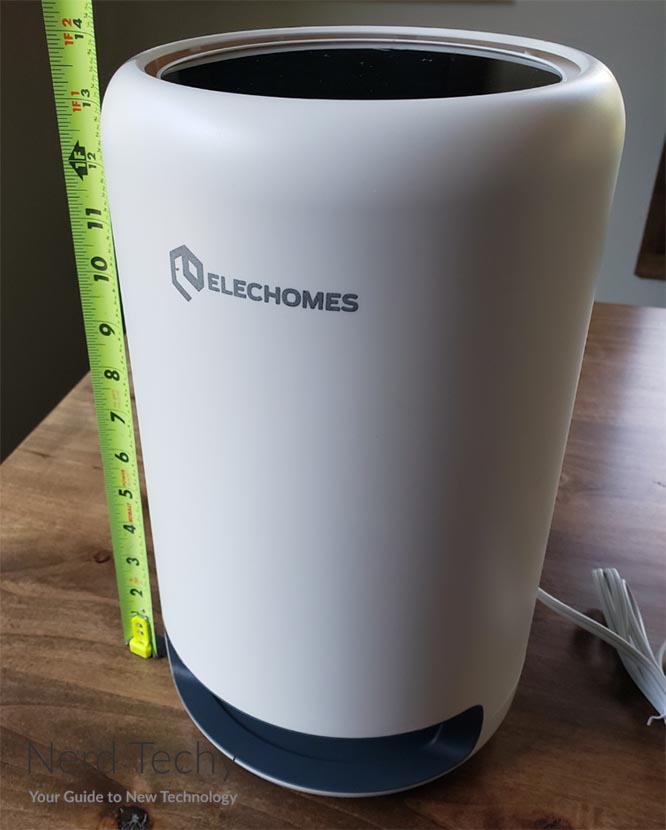 The secret to this purifier's wide coverage is its powerful fan. The fan spins extremely fast, to pull a large amount of air. Unfortunately, this means it can be a bit loud on higher settings. It's not jet engine loud, but it's as loud as a window air conditioner at the very least. On the other hand, when you put the filter in sleep mode, it produces only 22dB of sound. This is softer than a whisper, and it's ideal for sleep. Just don't expect a ton of performance at this level. It's best for maintaining already-clean air overnight.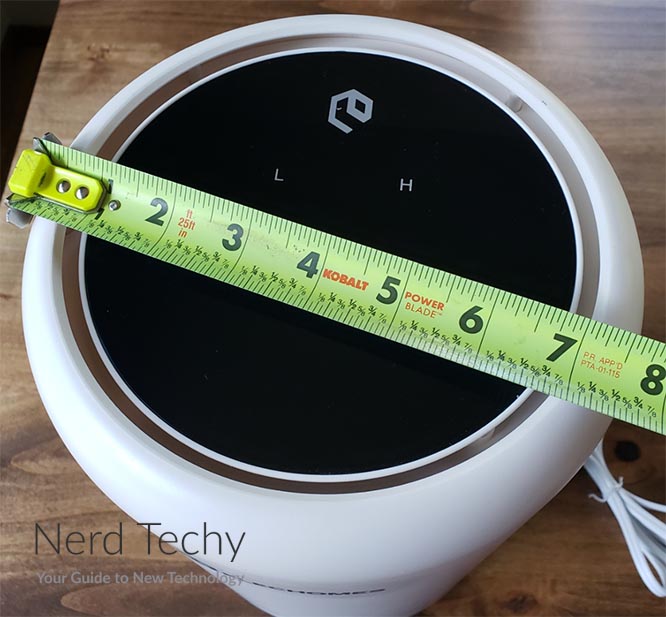 If you want more coverage at a lower volume, consider the Elechomes A3B Pro Series. On high, it's at least as loud as the OX300. However, it's massive and has a huge coverage area. This means you can run it on a lower setting and still get good performance in a mid-sized room.
There are a few additional features that are worth pointing out here. First is that the intake opening doubles as a night light. It produces a soft blue glow that's pleasant to look at. On the other hand, it also draws electricity, and you might have trouble sleeping. In that case, simply turn it off using the button on the control panel.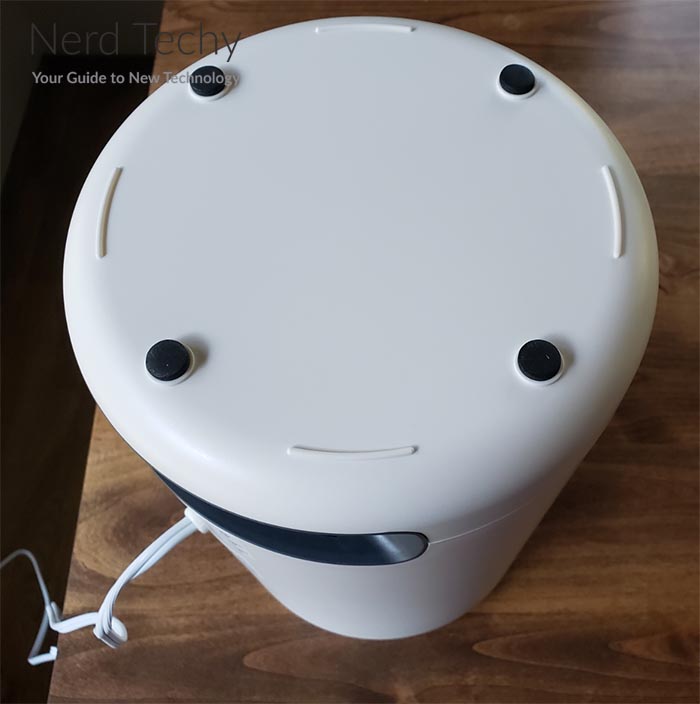 Not only that, but the purifier has a built-in air sensor that detects the current air quality. You can set it to auto mode, and it will adjust the speed automatically as needed. It will run faster when the air is dirty, and slow down when the air is already clean. This is the best way to keep your air clean without wasting energy. Alternatively, you can set a timer. Press the timer button, and the filter will run for one hour. Press it again, and it will run for two hours. You can keep doing this and adding time up to a limit of 12 hours. So if you want your filter to run overnight and then turn off, you can do that. Pressing the button another time will return the timer to zero.
Filtration System
The OX300's filter element is a one-piece cartridge that consists of a three-layer filter. This cartridge will last for about six months, although that time may vary. There's an indicator light that will turn on when the filter is dirty. Replacement filters are affordable, readily-available, and easy to change. All you have to do is unscrew the bottom of the housing, remove the old filter, and reverse the process. Anyone can do it in a minute or less.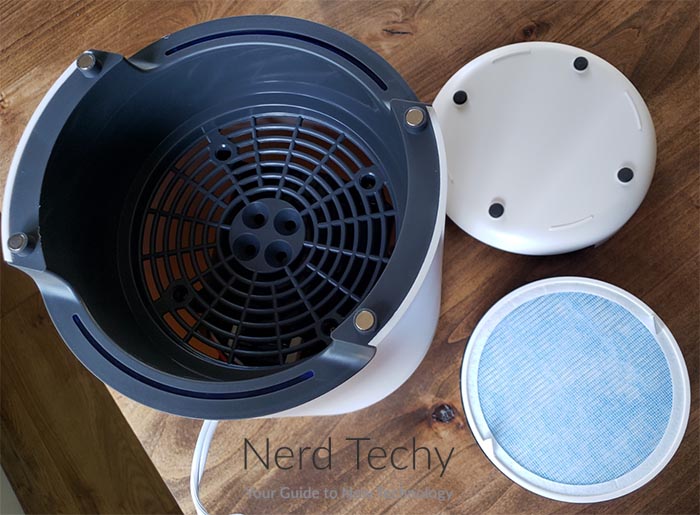 The first layer of the filter is a mesh screen. This is a coarse filter, and it's designed to collect larger debris. Human hair, pet hair, and dust will get captured in this layer, so it won't clog the inner filter.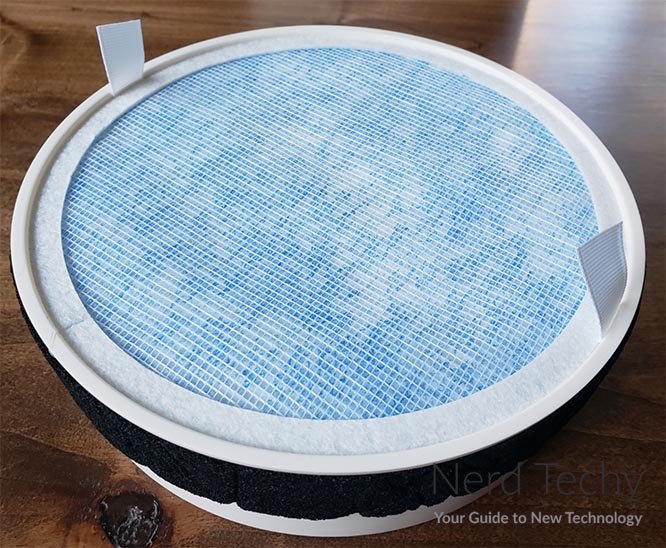 The main part of the cartridge is an H13 HEPA filter. This is the current standard for home HEPA filters, and it's highly effective. In total, it will remove 99.97 percent of airborne particles down to 0.3 microns in diameter. It captures pollen, mold spores, dust mites, smoke particles, and even many types of bacteria. All these allergens and irritants are captured in the fine material, where they remain trapped for disposal.
The third, inner layer of the cartridge is an activated charcoal filter. This is a chemical filter rather than a physical one. In other words, it doesn't remove particles. It removes foul odors and dangerous chemicals that are floating around in your environment. For this purpose, it's highly effective. Set this filter near your cat's litter box, and the smell will be gone in short order. It's equally effective at scrubbing away kitchen odors.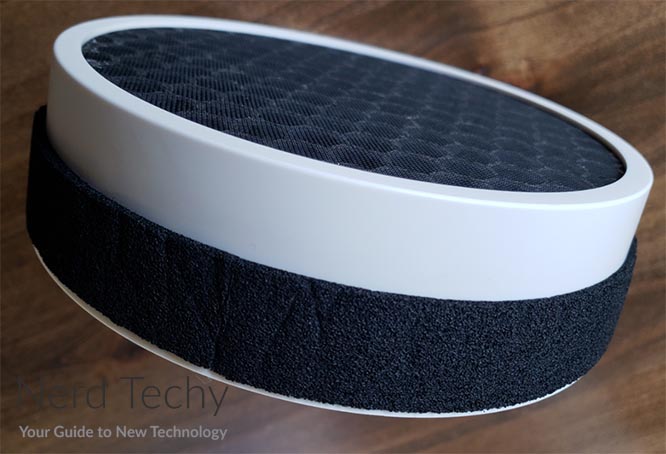 Speaking of odors, the OX300 comes with another extra feature not found on most purifiers. Inside the base, beneath the filter compartment, there's a cotton sponge. If you open this area, you can add essential oil, and the filter will double as a diffuser. So not only can you eliminate foul odors, you can replace them altogether.
That said, you may prefer a more standard filter. In that case, the Elechomes EPI081 is a solid, no-nonsense alternative. It offers similar filtration performance and coverage. It's also more affordable, but it has fewer settings and no aromatherapy.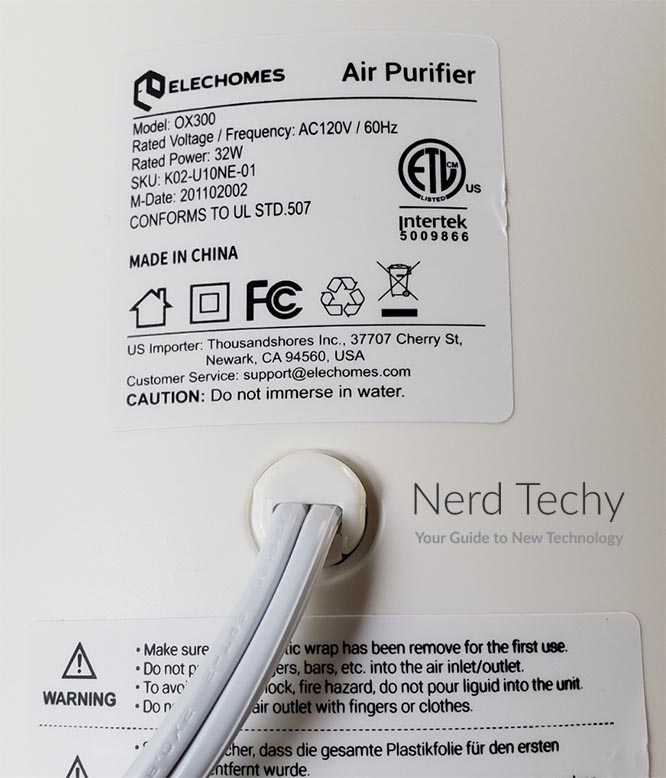 Final Verdict
The Elechomes OX300 HEPA Air Purifier is one of the better compact air purifiers around. It's a bit loud, but that's a side effect of a fan that far outperforms its size. You have an array of control options, including automated operation and a quiet sleep mode. You also get the added benefit of an aromatherapy function. All of this is contained in a small package that's sure to please.