If you're in the market for a new set of headphones, chances are better than not that you want to go wireless. For many people, this poses a challenge, since it's a relatively new technology. Not everybody is quite up to date on what makes good wireless, or how to evaluate the quality of the signal. Moreover, there's a glut of options on the market, far more than is probably justified. With thousands of possible choices, it's easy to get paralyzed by all the options. It can be tough to settle on just one pair when there are still so many you haven't looked at. Why are there so many headphone options in the first place?
A lot of this can be chalked up to the success of the iPhone 7 and the Apple AirPods. Before then, no one had used True Wireless Stereo technology on a large scale. Wireless audio was known for its poor quality, with atrociously low bitrates and only one channel. Suddenly, Apple had proved that people were willing to spend money for good wireless sound. At that point, the floodgates opened, and all kinds of manufacturers started making their own earbuds and headsets. That's how we got where we are today, with far too many options.
One way to narrow your options is to buy from a brand you already know and respect. One of the biggest names in wireless audio is Aukey, and we'll be looking at one of their offerings today. The Aukey EP-N12 Hybrid ANC Headphones are designed to reduce noise and produce maximum bass. They're also designed for comfort, with generously padded ear cups. But how well do they perform in practice? To find out, we needed to put them through their paces. Here's what we learned about their audio quality, battery life, and other features.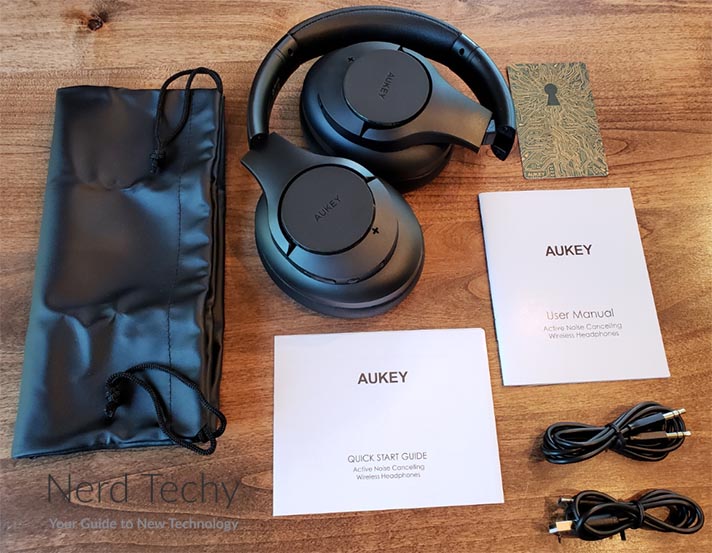 Overall Design
The Aukey EP-N12 Hybrid ANC Headphones are sturdily built, with a thick plastic frame surrounding an aluminum inner strap. This provides both a comfortable fit and a measure of security. The top of the frame is also padded on the inside, a thick leather cushion that's soft on your head. At the ends of this padding, there are a pair of breaks where the head strap can be expanded. A little further down, there's an additional set of break points near the ear cups. These allow the cups to be swiveled in any direction, to fit a wide variety of face shapes.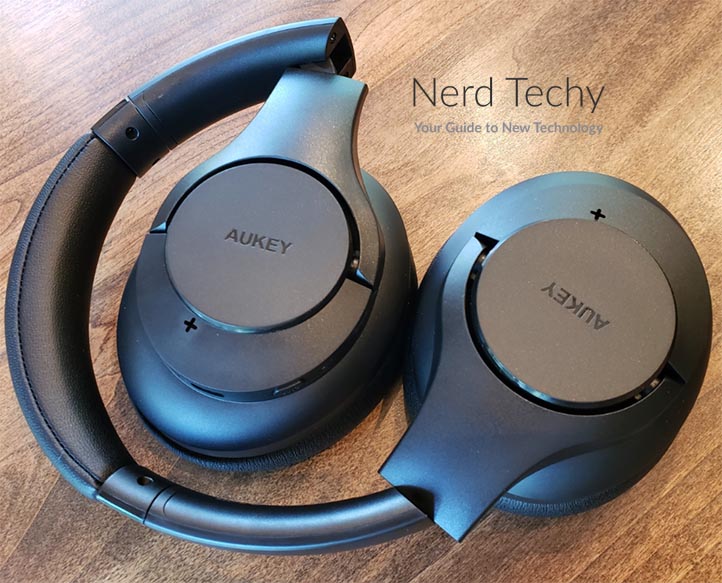 The ear cups themselves are nice and wide, with a medium-thick ring of memory foam padding around them. This foam conforms nicely to your face, and allows the cups to form a reasonably secure seal. The padding is sheathed in protein leather, which has a smooth feel against your skin. It's also ever so slightly breathable, so it won't collect sweat or feel sticky when it's warm outside. The rotating, swiveling design doesn't just make these headphones versatile. It also makes them easy to transport. They can be folded up and packed away without taking up a ton of space.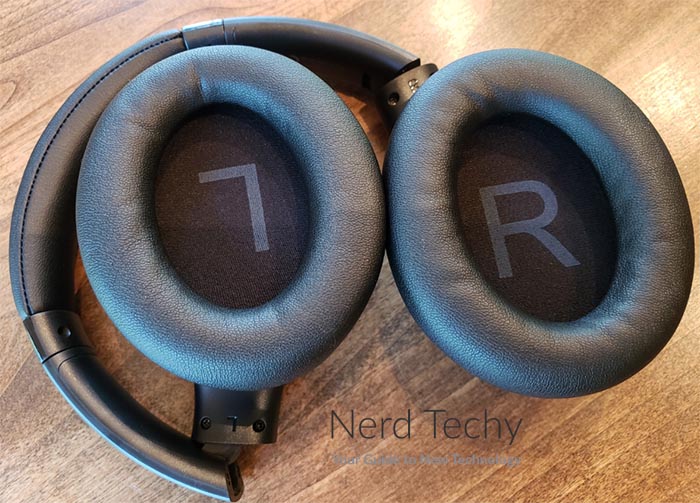 One thing that goes without saying is that these are full-sized headphones, not earbuds. This means they can offer better sound at higher volumes, because they have larger drivers. However, it also makes them less than ideal for workouts and other kinds of physical activity. In that case, you're better off with earbuds like the Aukey EP-N7. These are in-ear buds with a wide soundstage and transparency mode for the ANC function. On the downside, the bass is a bit weaker than the EP-N12.
The controls on these headphones are mostly located on the right side ear cup. To begin with, there's a power button, which also doubles as a play/pause button. Tap it to play or pause, or hold it down to turn the headphones off. Next to that, there's a set of volume buttons, which are self-explanatory. You'll also find a 3.5mm aux port on this side, as well as an LED power indicator. On the left ear cup, there's a switch to control the active noise cancellation (ANC). There's also an LED for the ANC, along with a USB Type-C charging port.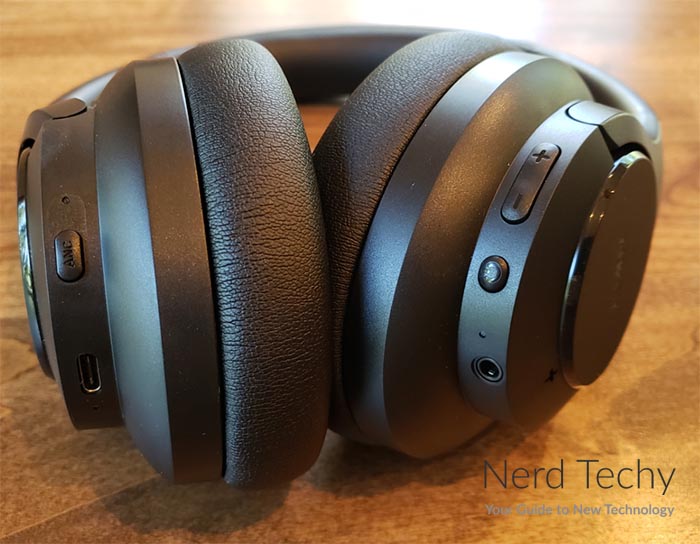 In addition to the headphones themselves, you get a handful of accessories to help you get started. To begin with, there's a USB Type-C cable for charging. There's a 3.5mm aux cable that can be used to create a wired connection. Finally, there's a leather drawstring pouch to carry everything. It's nothing fancy, just a light-duty pouch. But it at least provides some amount of scratch protection when you're on the go.
One downside of this kind of open design is that the headphones aren't water-resistant. If water gets in the speakers or the ports, it's going to get damaged. If you need water-resistant headphones, you'll need a pair with a compact design, like the Aukey Key Series EP-B80. These ear-hook headphones are connected with a neck band so they won't get lost. More to the point they're water-resistant for workouts and rainy weather.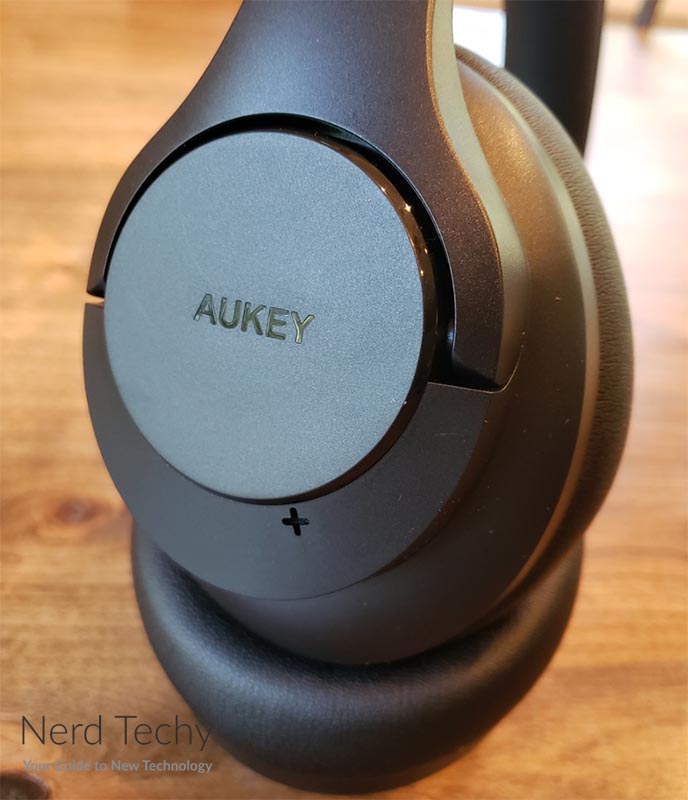 Battery & Connectivity
Wireless technology has made our devices more versatile and easier to connect. The downside is that it relies on batteries. So if you want a good set of wireless headphones, you should be looking for one with plenty of battery life. In this respect, the EP-N12 more than deliver. These headphones provide a whopping 40 hours of performance per charge, although that comes with an asterisk. It's a manufacturer rating, which means it assumes medium volume. If you listen at higher volumes, 35 hours is a more reasonable estimate.
Along the same lines, this rating assumes that the ANC function is off. That will drop your performance to just under 30 hours. Still, this is a long-lasting battery, and probably more than you'll ever need. Not only that, but charging via USB Type-C is quick and painless. Even if the batteries are totally dead, you can top them off in less than two hours.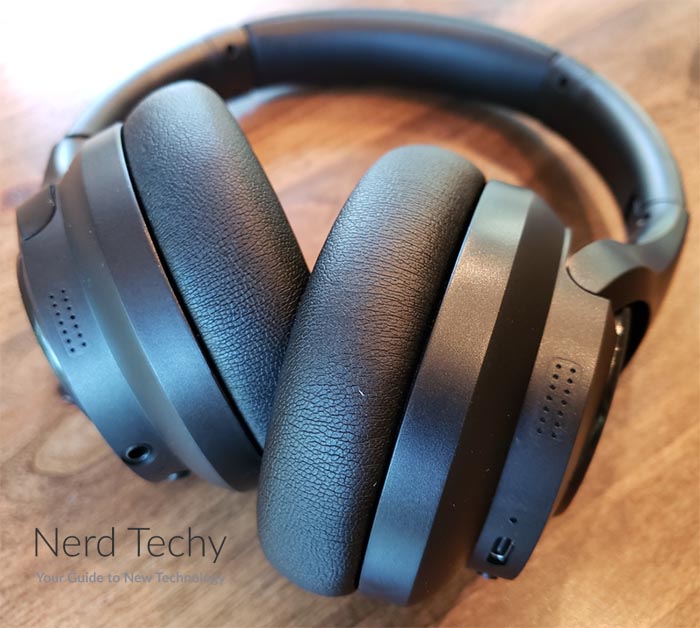 The EP-N12 headphones connect to your phone or MP3 player via the Bluetooth 5.0 protocol. This is the most common standard in current use, and it's one of the most recent. Bluetooth 5.0 is an upgrade from Bluetooth 4.2, and comes with a few improvements. First, it offers lower latency than the older protocol. This means the audio and video remain in sync when you're gaming or watching videos. Second, it provides a more stable signal. Dropped calls are far less common with this version of Bluetooth. Finally, you get a higher maximum bitrate. If you want to listen to high definition audio, you'll be able to.
As an alternative, you can connect with the 3.5mm aux cord instead. The audio quality will be more or less the same. However, there are other benefits and drawbacks to a wired connection that you may want to consider. On the plus side, you don't have to worry about your batteries. Even if the headphone battery is completely dead, you can still listen via a wired connection. On the downside, you won't be able to use any of the headphone controls. You can't turn them off, and you can only control the volume from your phone. You also won't be able to use the ANC function in wired mode, since it relies on the headphone batteries. Regardless, it's always good to have options.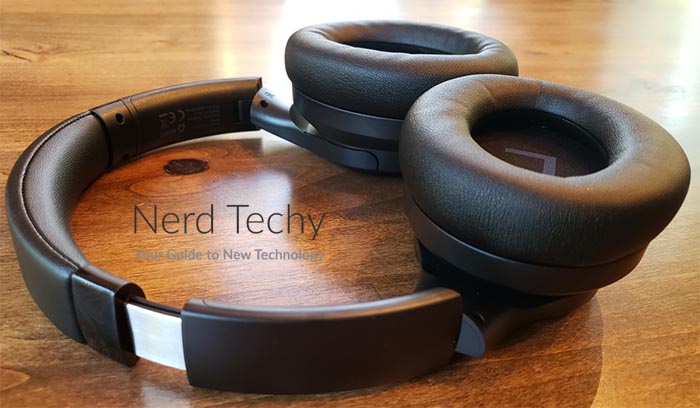 Audio Quality
At the end of the day, audio quality is probably going to be the most important consideration for most people. In that regard, these headphones are more a matter of opinion than anything else. To begin with, let's look at the positives. The audio is nice and rich across all frequencies. There's nowhere in the spectrum we would categorize as "weak." You can hear everything from the lows to the highs without any issues. Not only that, but there's a wide soundstage. This means you get a good sense of space when you're listening to music. Cheaper headphones can sound squished or crunched, and there's none of that going on here.
On the other hand, the bass is powerful. Very powerful. This can be either a positive or a negative. If you want thumping headphones for your next workout, you're going to be pleased. On the other hand, if you're listening to classical music, it's going to feel like something is off. It really depends on what genres you prefer and how and where you're listening.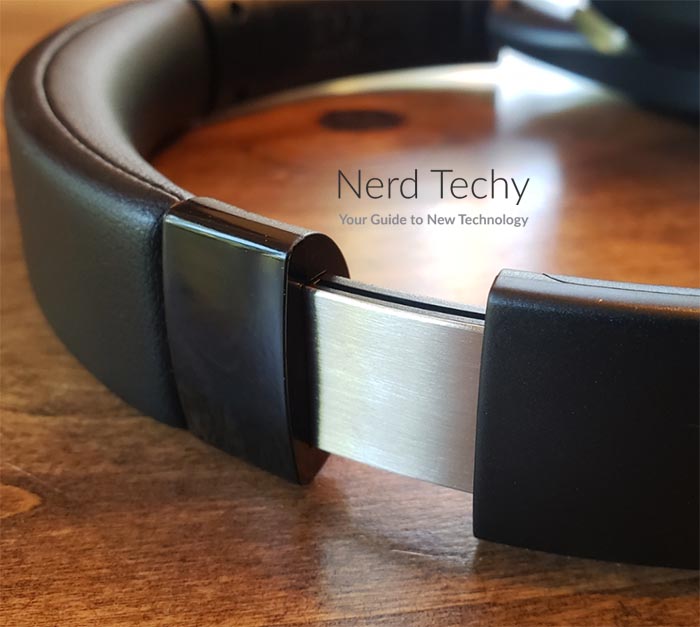 The hybrid ANC function is also a bit of a mixed bag. On the one hand, the hybrid aspect works well. It has outer and inner mics, so it can self-monitor and self-correct as needed. Unlike other types of ANC, it's not going to detract from the audio quality. That said, Aukey advertises 90 percent effectiveness, which is pretty ambitious. If we had to guess, it's more like 60 to 70 percent. Don't get us wrong. It will certainly cut down noise from plane engines and other distractions. It's just not the uber-powerful system Aukey describes.
If you want more balanced audio and effective ANC, the Tribit QuietPlus 78 is a better choice. Unfortunately, the physical build is not as nice, and the ear cups are undersized. So if you were attracted by the EP-N12's build, you might be disappointed with the S8.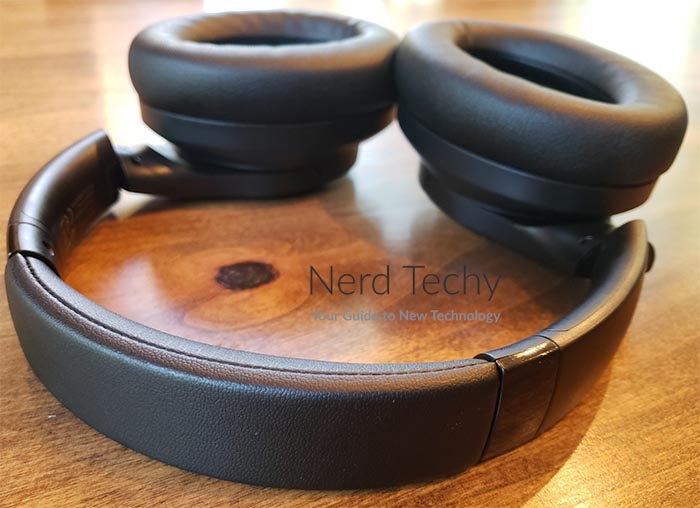 As for call quality, these headphones perform reasonably well. The noise isolation does a good job of filtering out background noise so the other person can hear you clearly. And with the system's inherently low latency, cross-talk is not a major concern.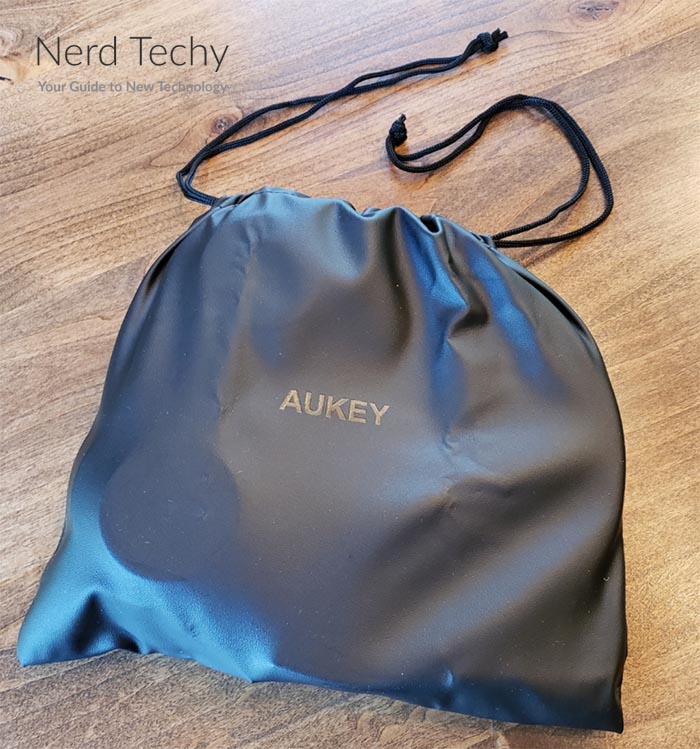 Final Verdict
The Aukey EP-N12 Hybrid ANC Headphones are a comfortable, ergonomic set of cans with a few flaws. We would have liked a more balanced EQ, or more effective ANC. That said, fans of powerful bass will like what they hear. And nobody will be able to argue with the long-lasting batteries and the well-padded ear cups. All in all, there's plenty to like here, especially the physical design.
Meet Derek, "TechGuru," a 34-year-old technology enthusiast with a deep passion for tech innovations. With extensive experience, he specializes in gaming hardware and software, and has expertise in gadgets, custom PCs, and audio.
Besides writing about tech and reviewing new products, Derek enjoys traveling, hiking, and photography. Committed to keeping up with the latest industry trends, he aims to guide readers in making informed tech decisions.