Traditional computer mice have been around since the early 80s. Since then, the technology has advanced. Mechanical balls have been replaced by lasers, and wires have been replaced by a wireless signal. But most mice still have the same basic build. They're shaped for the palm of your hand, and you push them around your desk. There are usually two buttons and, on modern mice, there's a scroll wheel in the middle. That said, there are other designs available. A good trackball mouse is one such design.
Trackball mice are like an upside-down version of traditional mice. Instead of moving them around your desk, there's a trackball on top that you roll in place to move your cursor. This can require some getting used to, but has the benefit of saving space. Without the need to move your mouse around, you can work on a very small surface. As a matter of fact, trackballs predate traditional mice by decades.
The first trackball was developed in 1946 as an interface for Royal Navy fire-control radar systems. More elegant than a joystick, the design was shelved. But future refinements eventually led to the trackball being placed on the bottom of the device. In other words, the trackball mouse is just a reversion to a very old design.
Today, we'll be looking at three of the best trackball mice that are currently available. We'll begin by reviewing the Kensington Orbit Fusion Wireless Trackball. This is a beefy, ergonomic mouse with five programmable buttons for activating custom functions. Next, we'll examine the ELECOM EX-G PRO Trackball. This mouse looks very similar at first glance, and offers a wired or wireless connection.
Finally, we'll look at the Kensington SlimBlade. This is a large, flat, ambidextrous trackball mouse, with four programmable buttons and a metal housing. Which one is best for your needs? Let's find out!
Features to Look For
Before we go any further, let's talk about what makes a wireless mouse worth buying – or not. Keep in mind that not everyone is going to have the same needs. Depending on who you are and what you're trying to do, the same mouse could be ideal or terrible. A good example is a complex mouse with a ton of customizable buttons. These are great for gamers and content creators. But if you're buying a trackball mouse to make things easier for grandma, those features could backfire. Instead, a simpler mouse might be better for your needs.
But the number of buttons and customization is only one of the features to think about. Another thing to consider is where the trackball is located. Depending on the mouse, it might be by your thumb, by your forefingers, or somewhere else. Mice with a grip and a thumb-located trackball are ideal for precision. Finger-operated mice can be better if you access shortcut buttons using your thumb. That said these types of mice are often designed for right-handed people only. If you're a leftie, you may have to settle for second- or even third-best to find an option that even works.
You'll also want to consider the location of the buttons. Large, broad buttons are great for accessibility. However, they're also easy to hit by mistake. This makes them a poor choice if you tend to work very quickly. Along the same lines, the size of the mouse itself matters. Do you want one that barely fits in your hand, or a larger model with a lot of real estate? Bigger mice let you reposition your hand more for comfort. But they also take up more desk space than smaller mice.
Finally, think about whether you want a wired or wireless mouse. Wireless mice don't tangle, and you don't have to worry about a wire getting damaged. On the other hand, wired mice don't require batteries, which saves money over time. You also don't have to worry about them dying on you in the middle of a presentation.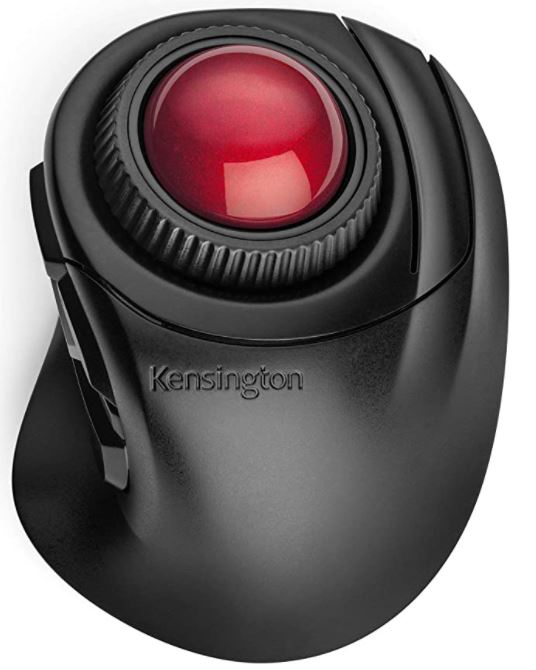 Kensington Orbit Fusion Wireless Trackball
Kensington is a well-known manufacturer of rugged, ergonomic computer accessories. The Orbit Fusion Wireless Trackball is one of their more popular offerings, so we thought we'd give it a try.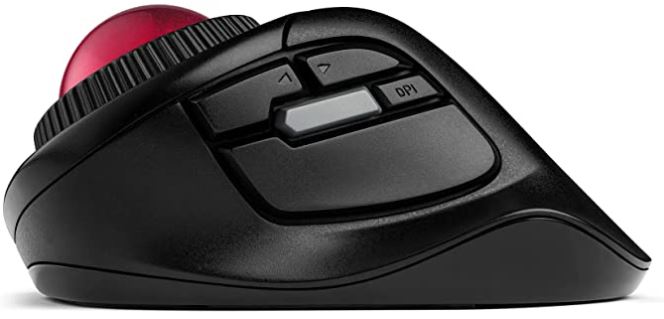 The most prominent feature is the large, 40mm (1.57-inch) trackball. It's bright red, and it's located high up towards the front of the housing, inside a knurled plastic ring. It's meant to be operated with your index finger, or with a combination of your index and ring fingers. Operation is smooth and effortless, and surprisingly precise depending on your DPI setting. The DPI setting can be adjusted via a thumb-switch, and toggles between three settings. You can move slower for higher accuracy, or sacrifice precision for blazing fast mouse speed. For our purposes, the middle setting was in the Goldilocks zone – just right.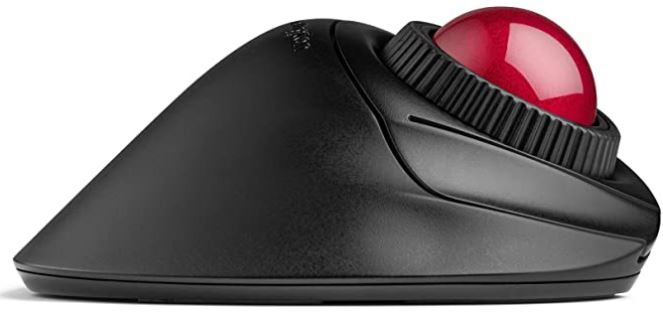 Four of the Orbit Fusions five buttons are located near your thumb, while the fifth is near your ring finger. All are programmable, so you can create your own custom control scheme. That said, this mouse is built for right-handed users only. If you're a lefty, you'd have to twist your hand awkwardly to the outside. You'd also have to operate most buttons with your pinky. It's just not practical for Southpaws. On the upside, scrolling is easy and comfortable. It's done by rotating the ring around the trackball, which moves in short steps like a scroll wheel. When you turn it left or right, your screen will scroll up or down respectively.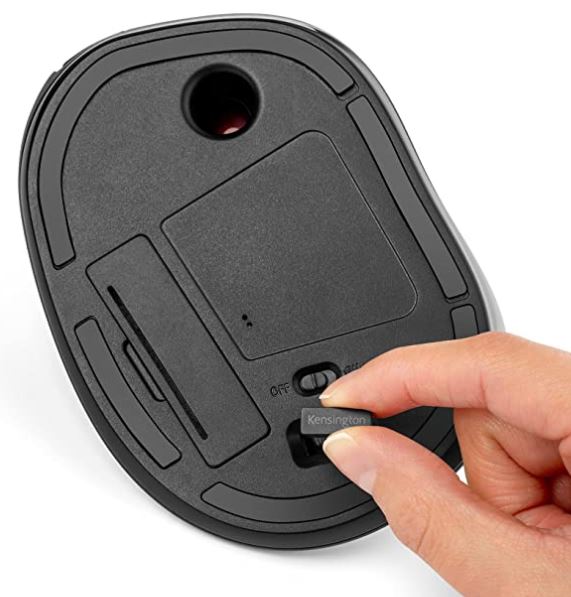 This is a wireless mouse, and it connects via a 2.4GHz wireless receiver. The receiver is a tiny USB fob, which barely protrudes from the port when plugged in. It stows in the bottom of the mouse when not in use, so it's easy to keep track of on the go. You can also connect to mobile phones and other USB Type-C devices by using the Type-A to Type-C adapter. This is included in the kit, and it's a great added value. However, it won't stow in the bottom of the trackball like the receiver will. You'll need to keep track of it on your own. Power is provided by a single AA battery.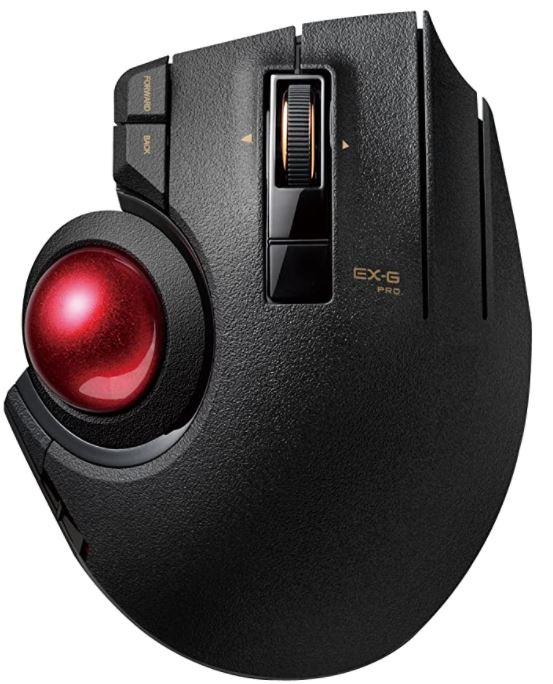 ELECOM EX-G PRO Trackball
ELECOM is a respected manufacturer, whose trackballs we've looked at in the past. We were a fan of their M-HT1DRBK Wireless Trackball Mouse. So it seemed natural enough to review the ELECOM EX-G PRO Trackball as well.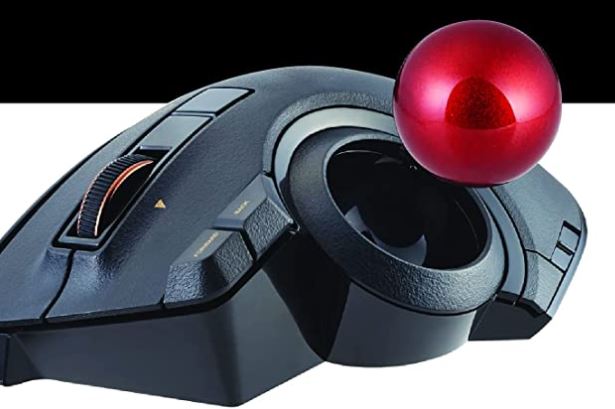 The EX-G PRO is superficially similar to the Kensington in terms of its general shape. However, there are several important differences that make it unique. To begin with, the trackball is a bit smaller, and is located near your thumb. This allows for operation similar to a traditional mouse, with your first two fingers on the main buttons. It also negates the need for any kind of unique scrolling ring or other feature. There's just a standard scroll wheel between the two primary buttons.
There are also two programmable buttons. One is located to the left of the trackball, by your thumb. The other is located to the right of the main buttons, by your ring finger. Finally, there are "forward" and "back" buttons that you can click with your index finger. Like the Kensington, there's no left-handed version of this ELECOM mouse.
To fully appreciate the EX-G PRO, you have to look at the bottom. First, you'll notice that the trackball is accessible through a window in the housing. This makes it easy for you to push the trackball out to clean the rollers, or if you want to replace it. You'll also notice a pairing button, as well as a DPI button. The DPI button will cycle between 500, 1,000, and 1,500 DPI, which provides a good range of customization.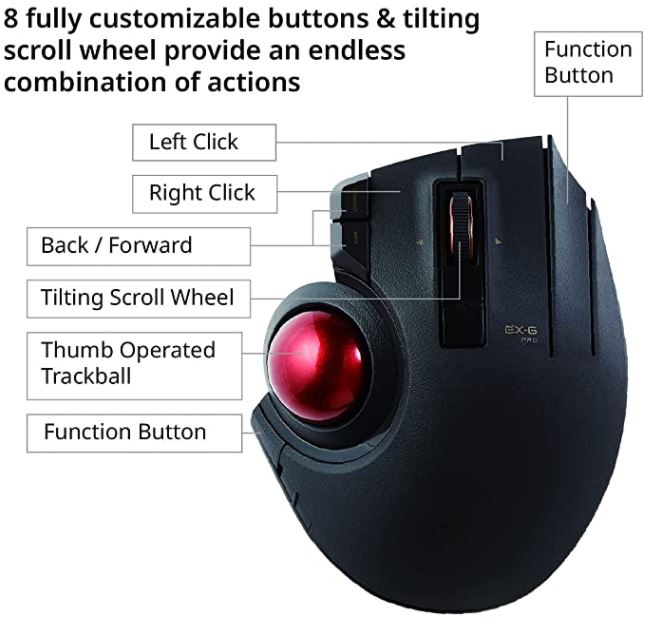 Moreover, you'll notice that the power switch has three settings. In addition to the off setting, there's also a low and a high mode. In high mode, the sensor will be more accurate, but the AA battery will drain faster. On the other hand, low mode provides longer battery life at the expense of slightly reduced precision.
There are two ways of connecting the EX-G PRO. The first is to use the 2.4GHz wireless receiver. This is similar to the Kensington receiver, and also stores in the bottom of the mouse. Alternatively, you can use a wire to negate the need for batteries. There's even a Micro USB-to-USB cable included in the package. Whether or not you want to use a wire is up to you. But we'll point out that with a wire, you can use high accuracy mode all the time without any negative consequences.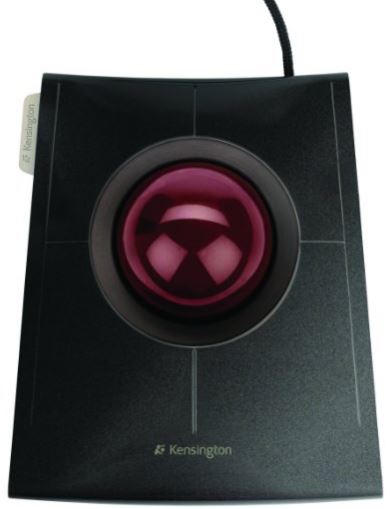 Kensington SlimBlade Trackball Mouse
The Kensington SlimBlade Trackball Mouse is noticeably different from our first two choices. The first thing we noticed is that it eschews fancy curves for a bold, flat design. The housing consists of a wide, slim platform that slopes gently upwards towards the center. The housing is an attractive deep grey, and is constructed from aluminum rather than plastic. This gives it a sturdy feel, and provides more durability than most mice, trackball-style or otherwise. Kensington backs this with a two-year warranty, so even if something does go wrong, you're fully covered.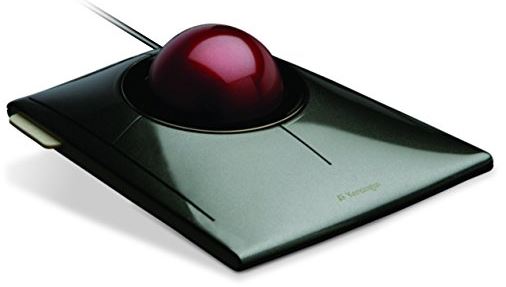 The next thing we noticed was the size of the trackball. At 2.57 inches in diameter, it's about the size of a pool cue. This thing is enormous, which makes it easy to make precise movements. It's also a great feature for folks with dexterity issues, since you can operate it with the palm of your hand. Not only that, but the centrally-located position means that this is a truly ambidextrous mouse. There's literally zero difference between the left and the right sides, except for a cosmetic Kensington logo on the left. In addition, there's an opening behind the trackball, much as with the ELECOM mouse's. When it's time for maintenance, you won't have any issues removing it.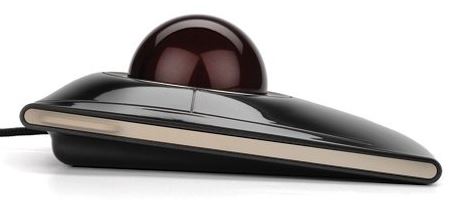 The bulk of the top surface serves as a set of four buttons – one in each quadrant. All four can be mapped to whatever you want. However, you'll need to install the free KensingtonWorks configuration software first. Otherwise, the mouse will work in a standard, right-handed mode. The bezel around the trackball serves as a scroll ring. It works well and moves smoothly. That said, we would have appreciated a bit of texture to make operation even easier.
Final Verdict
So, which one of these trackball mice is the best choice for you? The Kensington Orbit Fusion Wireless Trackball provides the largest number of customizable buttons. As such, it's an ideal choice for content creators, and others who use a lot of shortcuts. And while we'd hesitate any trackball mice for gaming, this one can at least be used with plenty of macros. The easily-accessible DPI button is also a plus. At the same time, the trackball location under your forefinger rather than thumb takes some getting used to. And the overall form factor is an instant disqualifier for left-handed users.
The ELECOM EX-G PRO Trackball has a shallower learning curve, with the trackball at your thumb. This design also results in a more traditional scroll wheel and main buttons. There are only two customizable buttons, with two more locked into "forward" and "back" functions. Bizarrely, the DPI toggle is located on the bottom, so you have to flip the mouse over to access it. That said, the dual power settings are a nice touch for the battery-conscious. And the ability to use a wired connection gives you the option of never using a battery to begin with.
Finally, we looked at the Kensington SlimBlade Trackball Mouse. This was the most unique option of the four, and the most quirky. Admittedly, not everyone will be a fan of a mouse with a ball this huge. That said, there are a few benefits to the design. First of all, the large ball and four broad button surfaces don't require a ton of dexterity. For people with certain medical difficulties, this can make using a computer much easier. Secondly, the design is ambidextrous, with a mirror-image profile. Finally, you can customize all four buttons, so it's surprisingly versatile.