Finding a new set of wireless earbuds can be challenging. It's tough enough sorting through the technobabble. Manufacturers will talk about how big their drivers are, or go on and on about basic features. Unless you're an expert, it can be difficult to find good information on any prospective buds. For another thing, there are thousands of products flooding today's market. So even if you know what you're looking for, it can be tough to sort out all the options. With all of these choices, how do you know what's worth buying and what isn't.
One way to find a good set of earbuds is to choose a manufacturer you're already familiar with. If you like their other products, you'll probably like what they're selling now. Of course, this is no guarantee. But it's a good way to get started in the right direction. Tronsmart is one of these more reliable brands. In addition to earbuds, they're well-known for high-quality Bluetooth speakers, like the Force 2. So when we see that they're offering something new, we're always eager to take a look.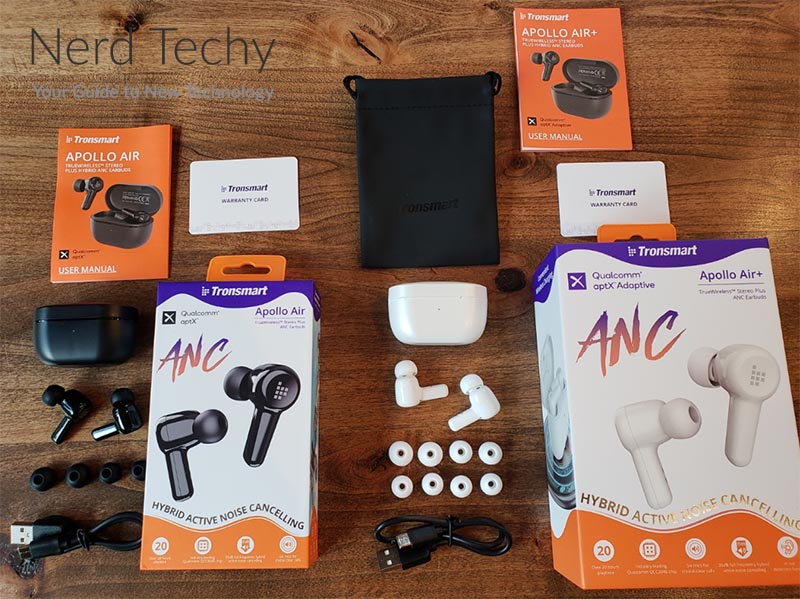 Today, we're going to review two of Tronsmart's latest earbud offerings. These are the Tronsmart Apollo Air and the Tronsmart Apollo Air+. These are part of Tronsmart's Apollo line, which includes several popular earbuds. The Apollo Air are a well-designed AirPod Pro-style buds, with hybrid active noise cancellation (ANC). As their name implies, the Apollo Air+ buds are similar, but with extra features. Among these are in-ear detection and the ability to accept Qi wireless charging. Let's take a closer look at both of these pairs of earbuds, and see how they stack up!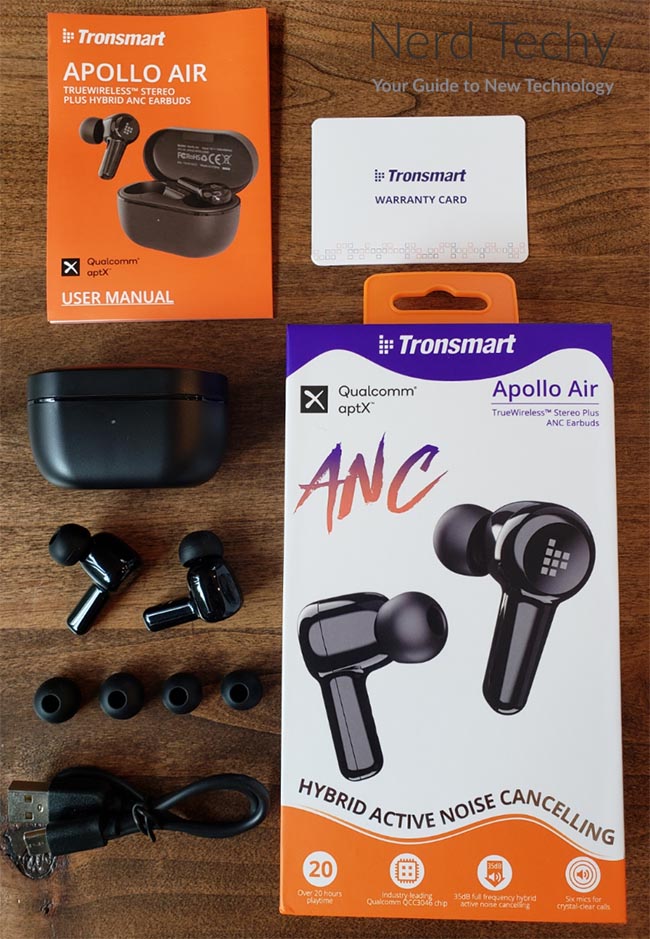 Tronsmart Apollo Air
The Tronsmart Apollo Air earbuds have a design that's reminiscent of the Apple AirPods Pro. This includes a set of vertical studs that hang down from the buds themselves. The studs help the buds to remain bottom-heavy, so they remain securely in place. In addition to that, a set of soft silicone ear tips provide added security. In general, they stay in place well and are at minimal risk of falling off.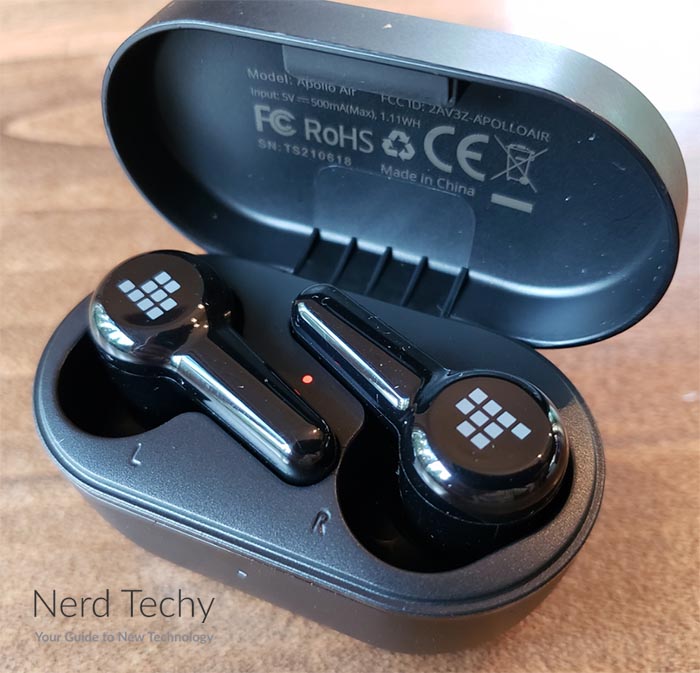 The shells are available in black or white, depending on your preferences. They have a glossy finish, which makes them easy to keep clean, although it does tend to attract fingerprints. That said, the back surfaces, which function as soft touch controls, have a matte finish. So you won't leave fingerprints every time you want to adjust the volume. In addition to the volume, the controls can also be used to operate other features. You can answer and end calls, skip and reverse tracks, and even call up your voice assistant. This minimizes the amount of time you'll need to take your phone out.
These earbuds are rated IP45 for water and dust-resistance. The 5 indicates that they're splash-resistant, and can handle some mild water exposure. You shouldn't take them in the shower or anything like that. But they're safe for workouts, rain, and other everyday sources of water exposure. Not only that, but they're also dust-resistant. They won't easily get damaged by dust, unless it's exceptionally fine.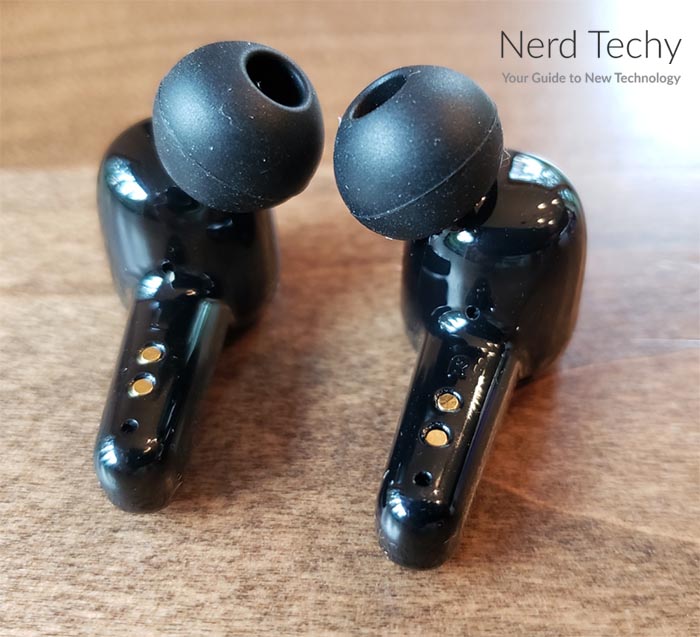 Along with the Apollo Air earbuds, you get a carrying case that also functions as a charger. The case has an oblong profile, with rounded corners that won't dig into your legs through your pockets. The earbuds lie on their sides in molded wells, so they'll easily stay in touch with the charging contacts. There's a clamshell lid on top, which snaps open and close with ease. This ensures that the buds won't pop out in your pocket, but are still easy to access when you want to. On the front of the case, there's a single, small LED light. This illuminates whenever it's plugged in and charging. A USB Type-C cable is included in the package, although you'll need to provide your own charger.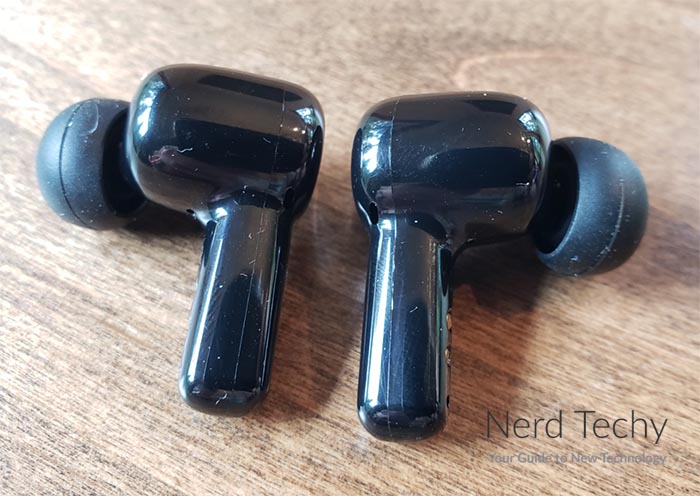 If you're looking for an entirely different design, the Tronsmart Apollo Bold is a good place to start. It provides the same rich audio that the rest of the Apollo series is known for. But it has a more compact, in-ear profile that's significantly more discreet.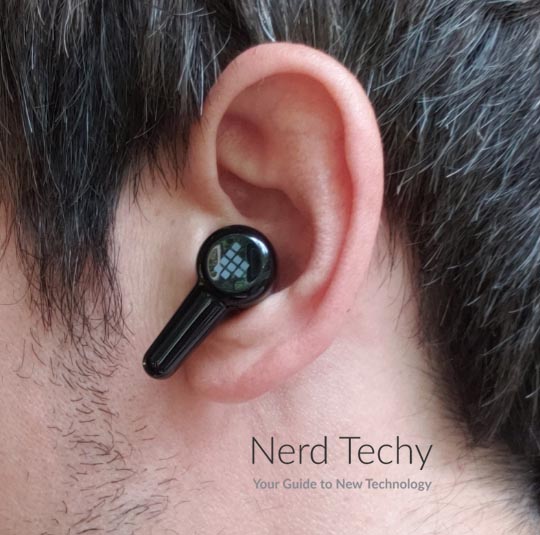 Battery & Connectivity
The Tronsmart Apollo Air earbuds each carry enough of a charge to last for five hours. This would be respectable, but it's a manufacturer rating, which means it's based on half-volume playback. At higher volumes, you can get four hours or less per charge. That's less than we would have liked, and it's a definite disappointment. The charging case provides an additional three full charges, for a rated total of 20. More realistically, you can expect about 16 hours in total. Charging takes about 2 ½ hours, both for the case, and for the earbuds themselves.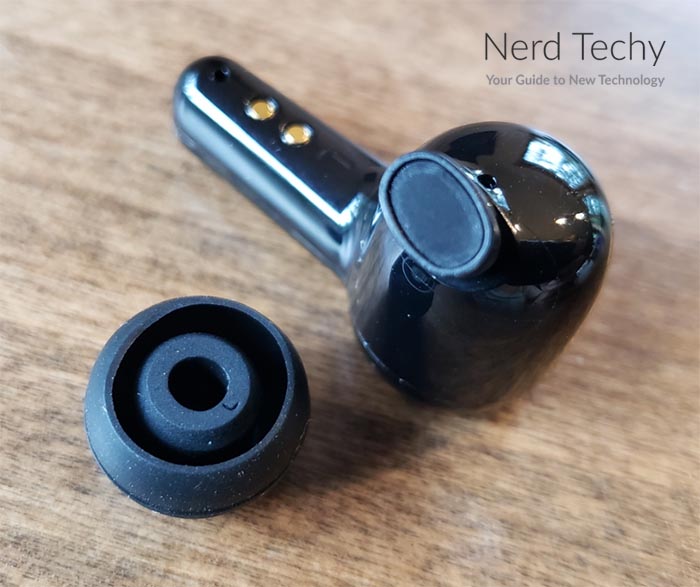 These earbuds utilize the Bluetooth 5.2 wireless protocol. This is the most cutting edge version of Bluetooth, with a number of significant benefits. For one thing, it provides a much more stable signal than earlier versions. This means fewer dropped calls and a smoother listening experience for music. For another thing, the bandwidth is higher than Bluetooth 4.2. This means you can listen to music at higher bitrates than you used to be able to.
That said, the main benefit of Bluetooth 5.2 is its absurdly low latency. Older Bluetooth variants only had a single connection to your phone. So your phone would send both the left and right channels to a single earbud. That earbud would then send the second channel to the opposite earbud. This system was effective, but it introduced additional delay into the system. With Bluetooth 5.2, each earbud connects to your phone independently. This cuts latency to near zero, which is a game changer for gaming and watching videos.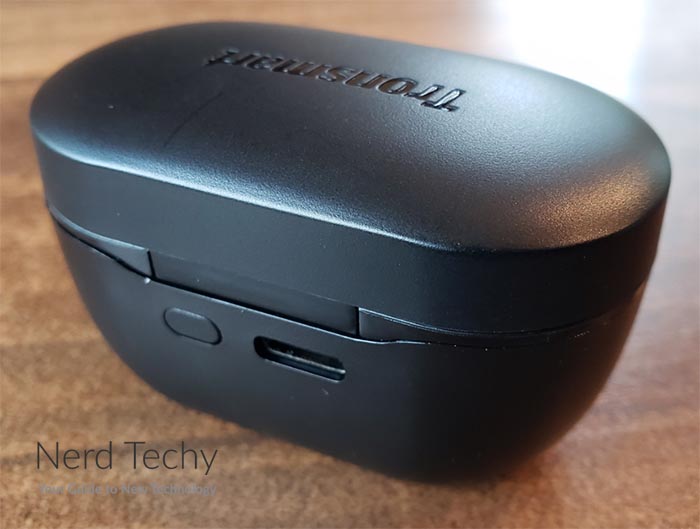 Audio Quality
The Apollo Air earbuds impressed us with their audio quality. The 10mm graphene drivers provide rich texture across all parts of the audio spectrum. High frequencies are clear and shimmery, while the bass has plenty of punch. Neither the highs nor the lows interfere with the middle frequencies, so vocals come through strongly. You'll hear plenty of separations between the instruments, thanks to the wide soundstage. All in all, these buds punch far above their weight when it comes to quality.
The hybrid ANC function also works fairly well. It utilizes microphones both inside and outside the earbuds to create the strongest possible effect. The outside mics pick up ambient noise, and generate anti-noise to compensate. The inside mics monitor the results, and make any adjustments that are necessary. The result is superior noise reduction to outside microphones alone. In addition, you can activate transparency mode. This will actually boost outside noise, so you can maintain situational awareness.
In addition to ANC, these buds feature CVC 8.0 noise isolation for voice calls. This technology removes background noise while you're talking, so the other person can hear you better. It works pretty well, but it won't have any effect on how well you can hear the other person.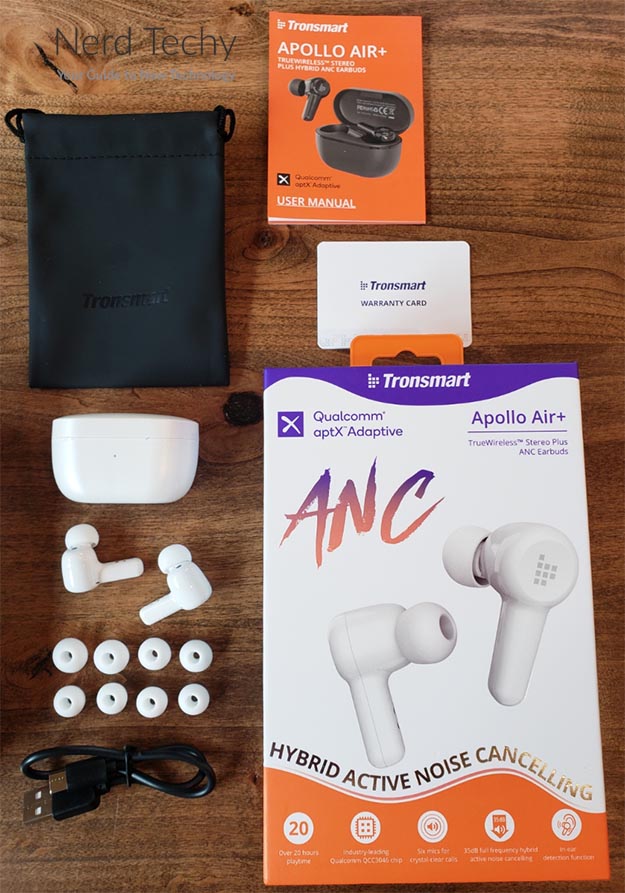 Tronsmart Apollo Air+
At first glance, the Apollo Air+ earbuds look identical to the base Apollo Air. In fact, in terms of physical appearance, they are identical. They have the same shells, with a vertical design, in black or white. They also have the same IP45 weather-resistance rating, so they're safe for workouts and foul weather.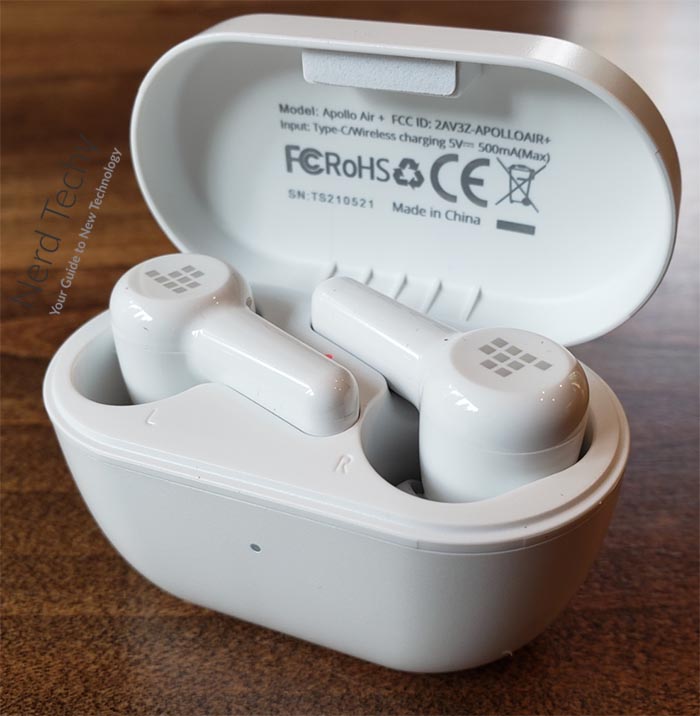 The first major difference you'll notice is the control features. You get the same soft touch controls as the base model buds. However, the Air+ also come with the capability for in-ear detection. Internal gyroscopes detect when the earbuds are inserted and removed. When you take them out while you're listening, your music will automatically pause. And when you re-insert them in your ears, the music will automatically resume playing.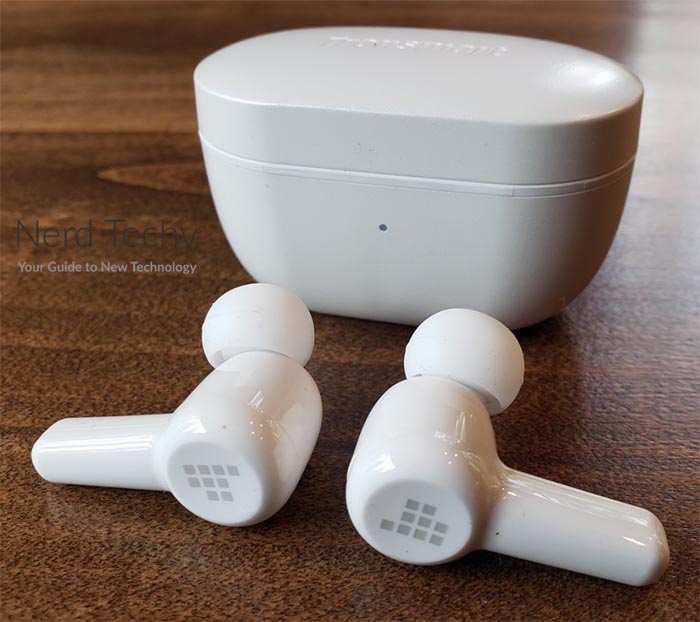 Like the standard Apollo Air, these buds come with a charging case with molded wells inside. It's the same case, right down to the single LED on the front. However, the Air+ includes additional accessories that don't come with the original. First, there are three additional sets of ear tips in different sizes. This allows you to get a comfortable, secure fit, regardless of the size of your ears. Second, you get a lightweight drawstring pouch for transport.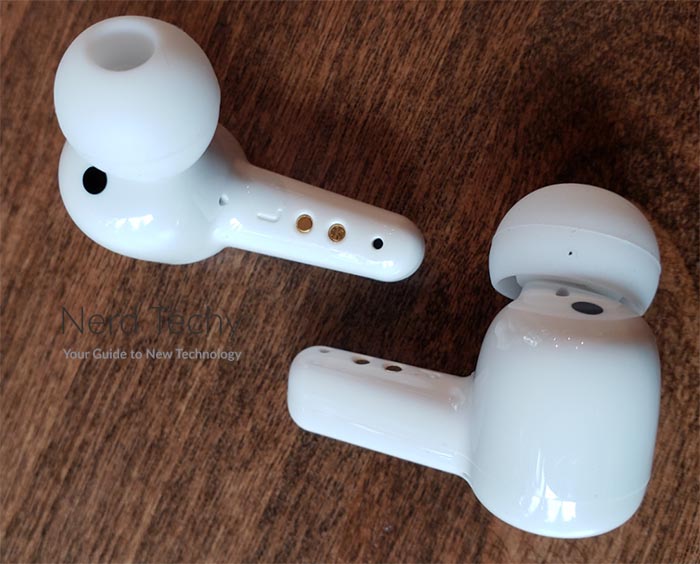 Battery & Connectivity
The Apollo Air+ batteries are neither an upgrade nor a downgrade from the base model. This was a bit disappointing, since the batteries could certainly use an upgrade. On the other hand, you don't have to sacrifice any battery life for the extra features, either. You get a rated five hours per charge, plus 15 more from the case. The Bluetooth 5.2 connection is also the same, complete with ultra low-latency.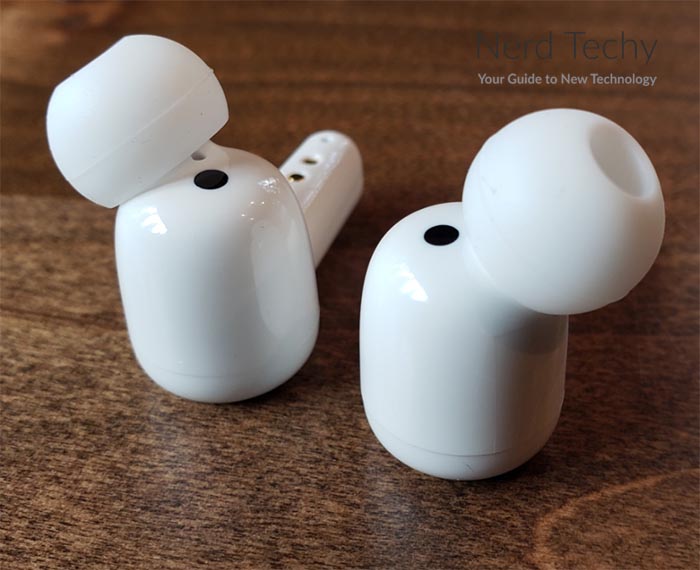 That said, you get a little bit more in the way of charging. In addition to USB Type-C, you can also charge via Qi wireless. Qi charging is a bit slower, but it's also more convenient. You don't have to plug in, just set the case down on a charging pad.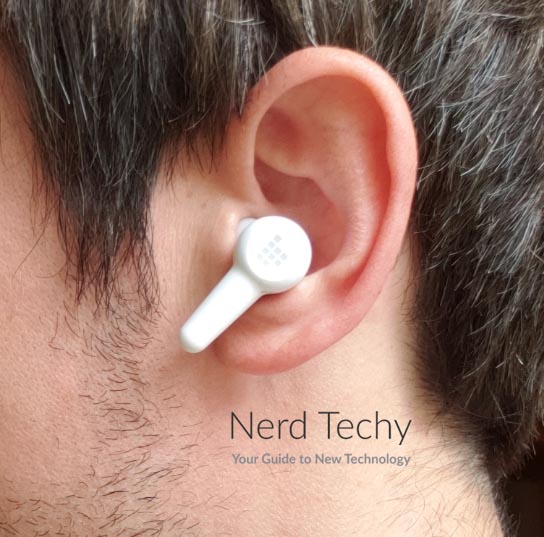 Audio Quality
Another thing that doesn't change at all between the two versions is the audio quality. The highs, mids, and bass all sound gorgeous, and all fit well in their place. We didn't have any complaints, and were duly impressed. The hybrid ANC and CVC voice isolation also work very well, including the transparency mode.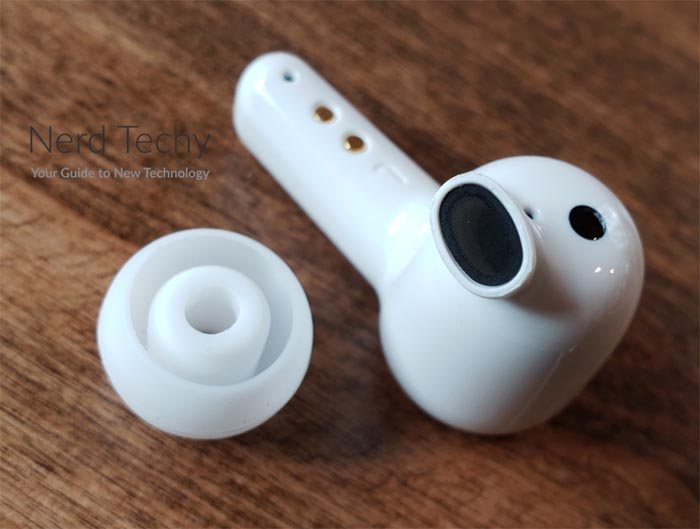 That said, if you want the richest possible sound, earbuds alone aren't going to do the job. You need full-sized, over-the-ear headphones like the Tronsmart Apollo Q10. They provide near studio-quality sound at a very reasonable price.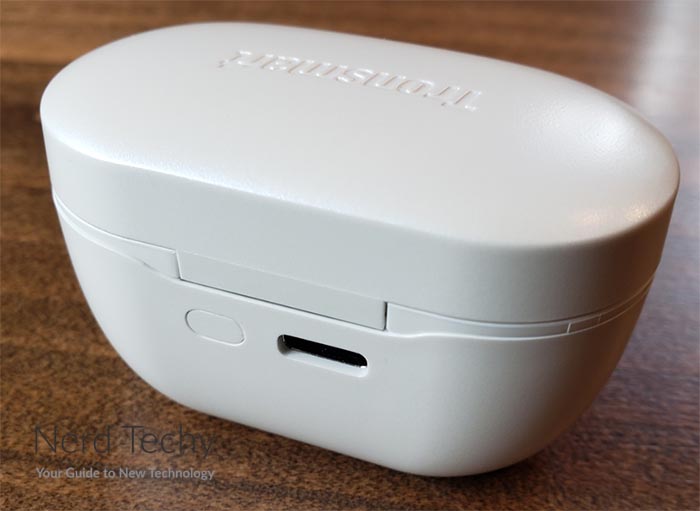 Final Verdict
So, are these earbuds worth owning? In general, we'd say yes. Both the Tronsmart Apollo Air and Apollo Air+ offer excellent audio quality, especially for the price. Their ultra low-latency connection is perfect for movies and gaming, and the ANC is reasonably effective. The voice isolation is also a great feature for hands-free calling.
The Apollo Air+ have a bit more to offer in terms of comfort, with three sets of ear tips. The addition of Qi charging is also much appreciated, although we would have appreciated more battery life. Even so, they're a worthy upgrade over the base model.
Meet Derek, "TechGuru," a 34-year-old technology enthusiast with a deep passion for tech innovations. With extensive experience, he specializes in gaming hardware and software, and has expertise in gadgets, custom PCs, and audio.
Besides writing about tech and reviewing new products, Derek enjoys traveling, hiking, and photography. Committed to keeping up with the latest industry trends, he aims to guide readers in making informed tech decisions.