Quick Analysis
Pros
Vivid sound quality with impressive bass.
App-controlled equilizer settings and 3 different sound modes.
ANC works very well to block out background noise.
Impressive battery life with extremely fast re-charging via USB-C.
Comfortable with plush padding and a wide range of adjustability.
Cons
Comprised heavily of plastic that feels a bit cheap.
Only available in black.
Not yet available on Amazon.
Tronsmart has been a major-player in the budget-friendly audio industry for quite a while now. Over the past few years, they've released countless pairs of earbuds, headphones and speakers. We've even had the pleasure of reviewing some of their products in the past. Each new release of theirs has typically impressed us, since they often find the perfect balance of sound quality, comfort and affordability.
Last week, we were invited to test out their latest hybrid ANC headphones – the Apollo Q. Over the past few days, we've been using them quite a bit. We're now here to give our formal opinion on how they stack up. Are they as good as expected, or do they leave us desiring more? Today we'll find out.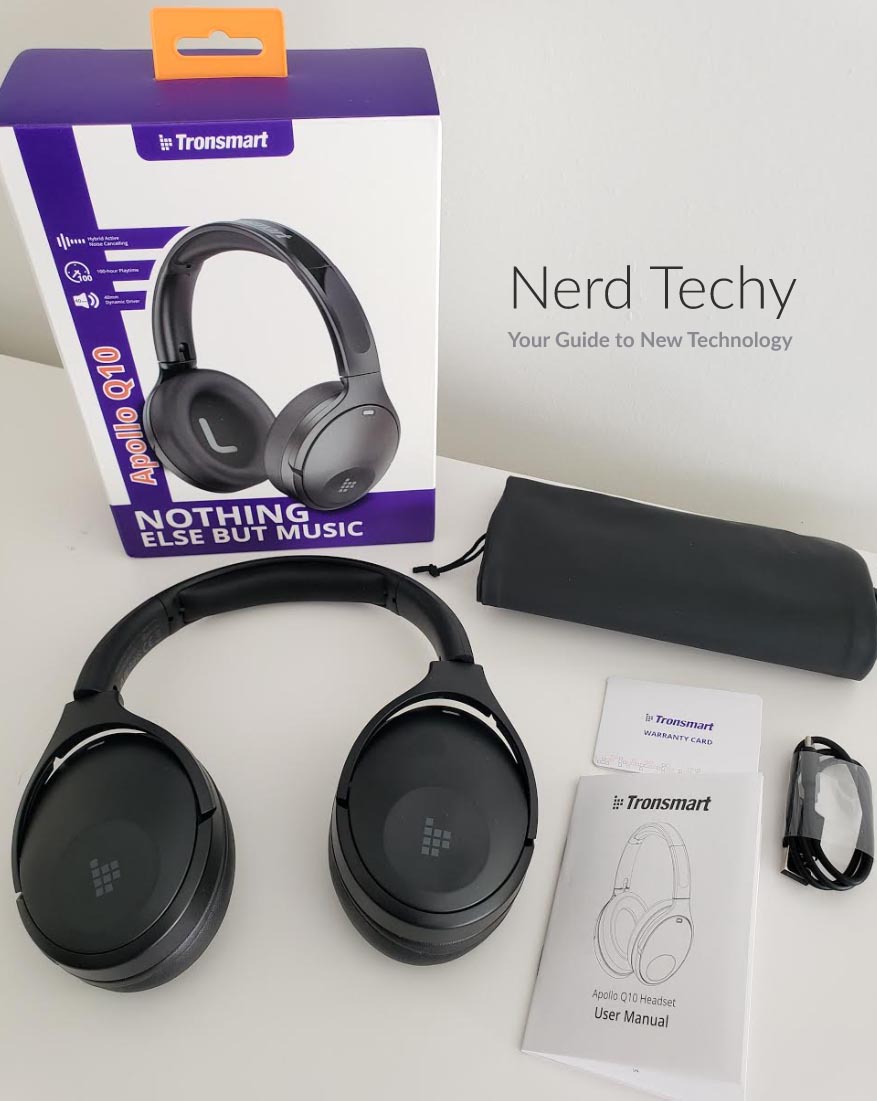 First Impressions
Upon their arrival, the Tronsmart Apollo Q10 came packed in the box with a few accessories. Inside, you'll get a carrying pouch, USB-C charging cable and of course – the headphones themselves. Picking them up for the first time, you'll notice they're built of a hard matte black plastic, void of any metal components. They feel slightly "cheap" but still solid enough overall.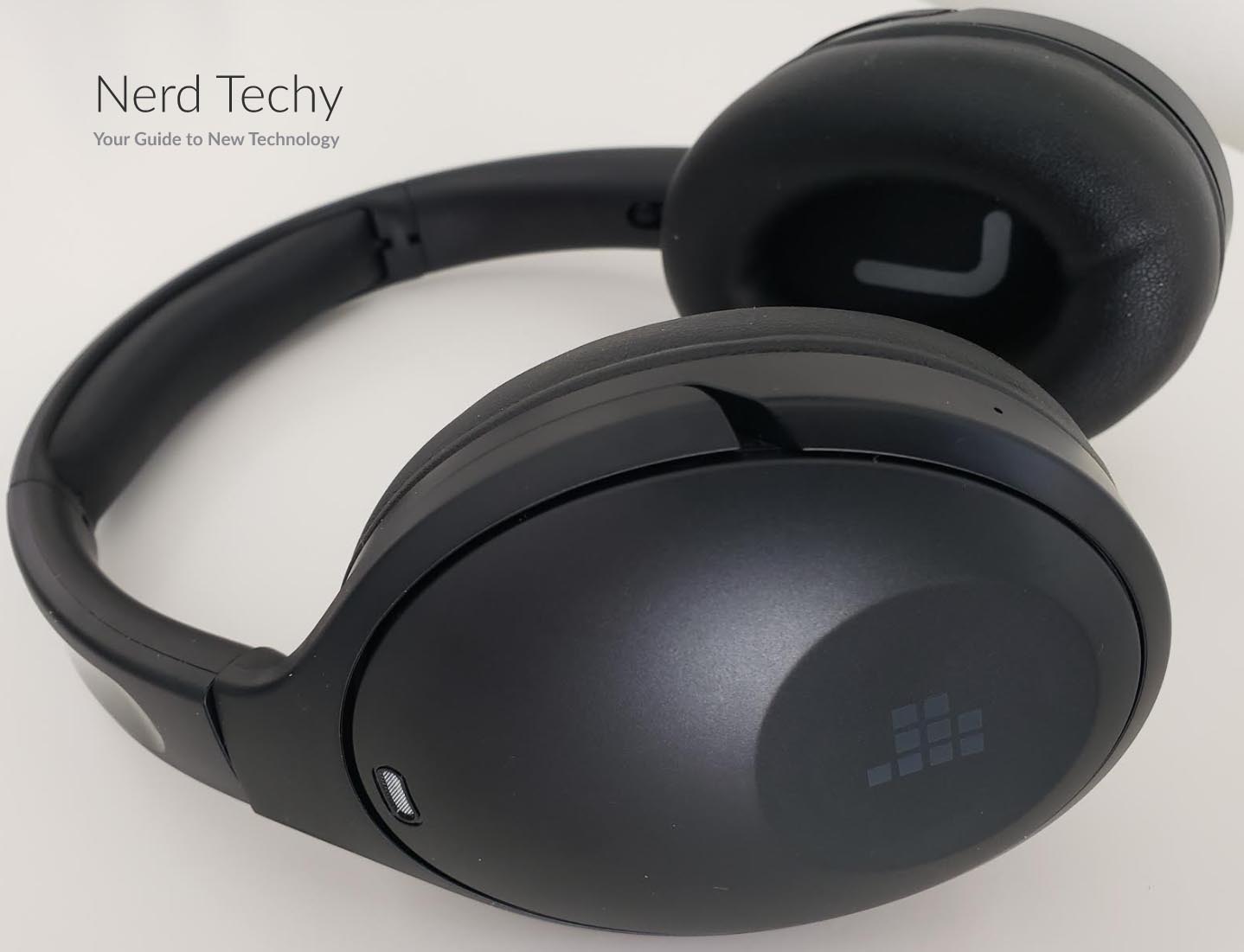 The oversized earcups fold inward with a hinge mechanism right above each one. Plush and soft to the touch, they provide plenty of cushion, made of a vinyl/leather-like material. On the right earcup you have a USB-C charging input, power button and MFB (multi-function) button. The left earcup lacks any sort of functionality, except for the external mic that's visible on the outside of both earcups.
The headband is fully adjustable, in regards to the length. You can extend it in two different spots, simply by pulling on it towards the top. The outside of the band is labeled with the "Tronsmart" insignia while the inside provides a cushion made from the same material as the earcups.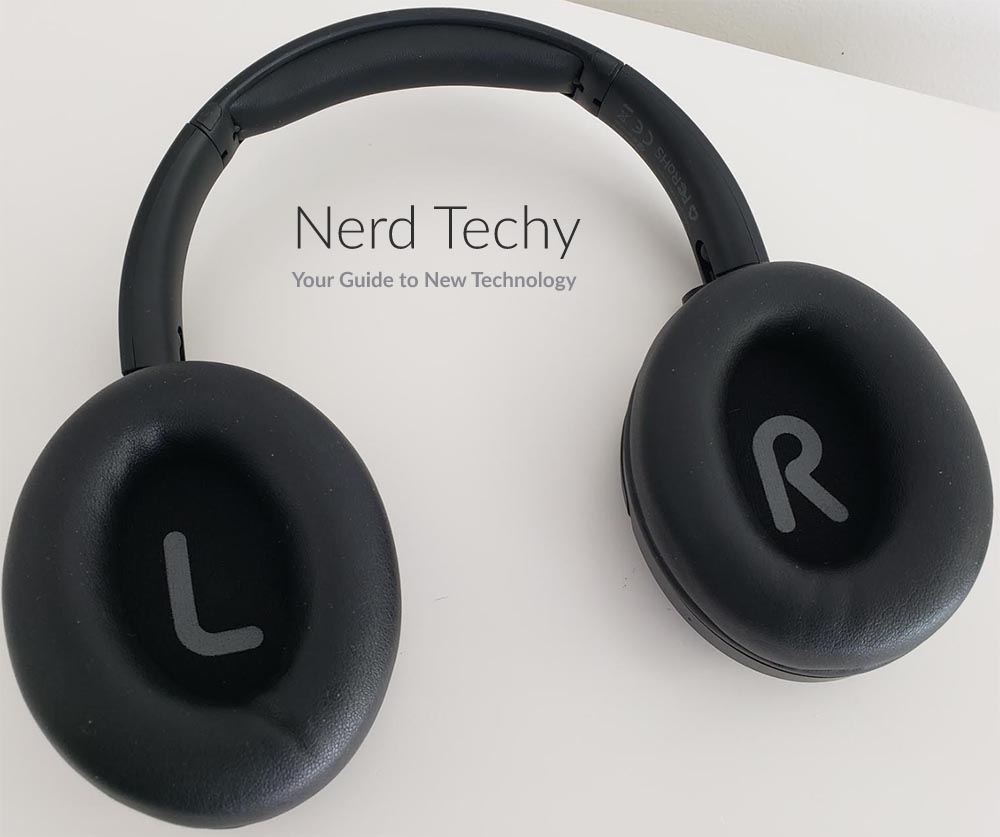 Pairing
By pressing and holding the power button for 2 seconds, the indicator LED will begin flashing blue and red. This means the headphones have gone into "pairing mode". At this time, go into the Bluetooth settings of your device (smartphone, laptop, etc.) and select "Tronsmart Apollo Q10". Within seconds, you'll be ready to listen to music. The pairing process is downright simple. Best of all, the headphones will automatically pair to the same device each next time you turn them on.
Sound Quality
Now that they're paired, it's time to start listening. Place them over your ears and you'll immediately notice the noise cancelling effect that these headphones have. We were quite impressed with the amount of isolation they offer to the soundstage. Wearing them, it's almost like putting on a pair of earmuffs. Even while they're not turned on, they'll seal-up your ears and block out most background noise.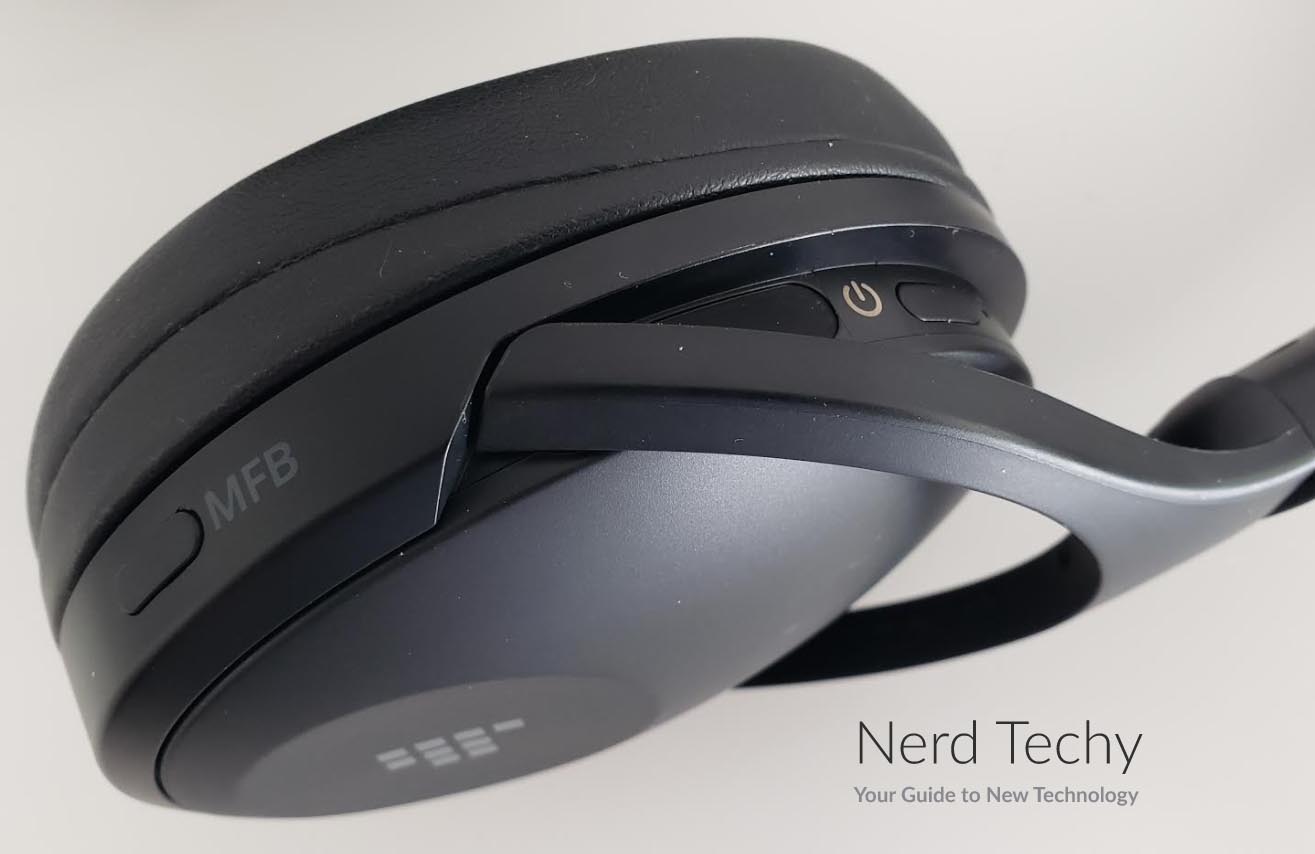 Once we turned on the music we were quite impressed. The mid and high tones seemed to resonate with perfect replication and balance. Vocals were vivid and rich with a punchy bass that delivers a nice "thumping" effect. What really sets it apart is the ANC feature. By default, ANC is turned on. Leaving it on brings out the ideal soundstage for optimum listening. It works by utilizing a series of integrated microphones to effectively block-out background noise. This excels mostly in noisy environments with a lot of distracting noise, such as a bus or busy workspace. Sudden or unexpected sounds are muffled but not completely blocked out as this isn't something that ANC is really meant to block out.
An added feature that we love to see is the compatibility with the Tronsmart app. Search the Apple or Play store for "Tronsmart" and quickly install it. Open it up and it'll ask you to choose between the specific pair of headphones/earbuds you're using. Once you hit "Apollo Q10" it'll open up a dashboard of settings that you can configure to your own preferences. It'll display the battery life, current sound mode (ambient, ANC on/off), equalizer modes and even display a controller to perform any function you can think of.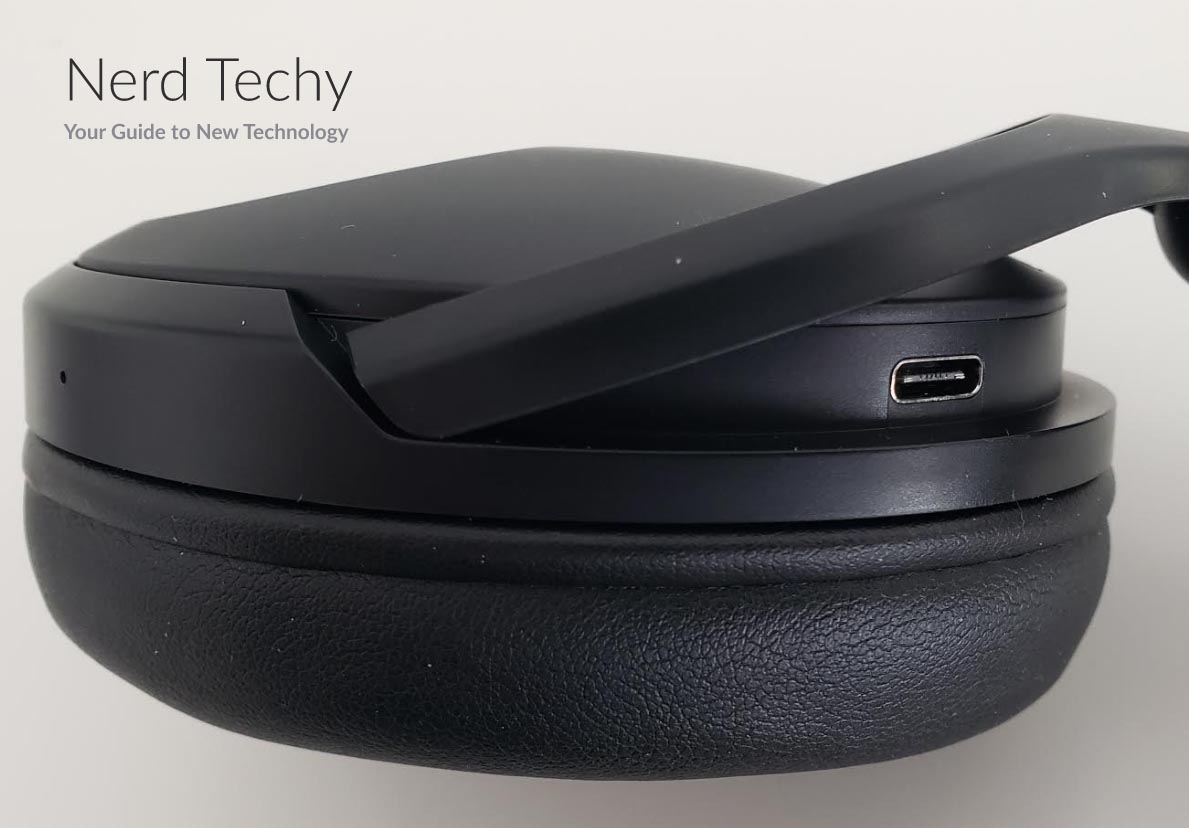 The equalizer settings are worth checking out. Selecting between default, deep bass, hi-fi and vocal give the sound a different flavor. It really just depends on the specific audio track you're listening to. We found the "deep bass" effect to be our favorite – it does a great job at pumping up the low tones with an added rumble that makes the music "bump".
Overall, the sound quality is pretty excellent. While listening for over 8 hours throughout various listening sessions, we never once experienced any sort of distortion or grainy effects. All of the sound seemed to deliver favorable qualities with vividness and rich bass to match. Even when the volume was turned up all the way, no unwanted effects were heard.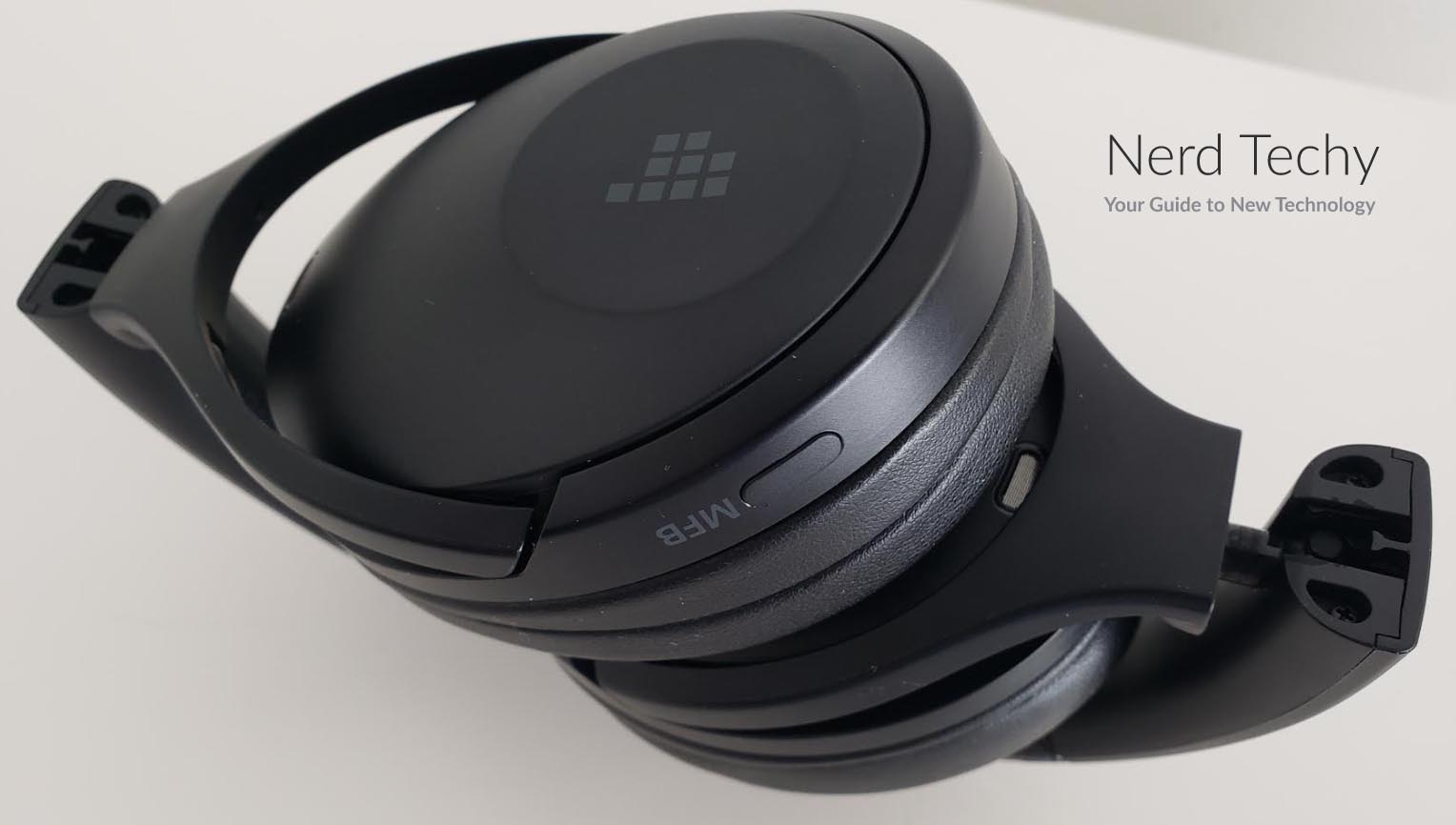 Ambient Sound Mode
We already mentioned how useful ANC is, but another mode known as "Ambient Sound Mode" is also worth experiencing. When activated, it'll pick up the sound in the environment around you so you can clearly hear while wearing the headphones. It's ideal for those who need to take-in sound from their surroundings without physically removing them from your head. Think of it as the direct opposite of ANC. It actually lets sound in rather than keep sound out.
While it may not be entirely useful for everyone, ambient sound mode is actually pretty nice to have. If you find yourself unexpectedly talking to someone when the headphones are in use, quickly ambient mode and it'll pick-up their voice with ease. Personally, we didn't find ourselves using it too often, but when we did you could definitely notice a difference.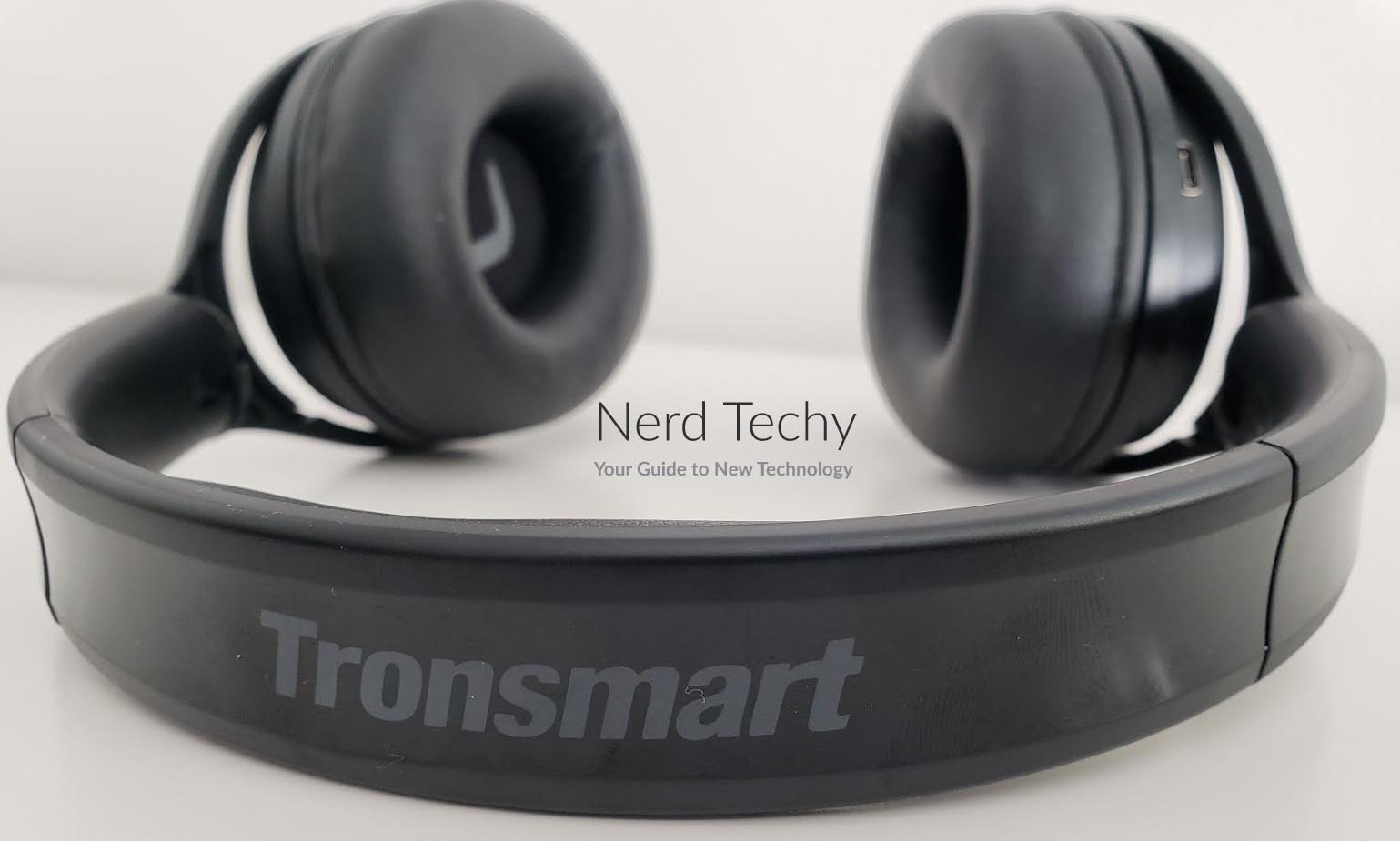 Controls
Although you're able to control the headphones with ease from the app, this isn't always practical. Most of the time, you'll likely find yourself utilizing the touch control feature. The earcups show the Tronsmart logo. Where it's displayed on the right earcup is the touch control area where you can perform a variety of functions. For example, a 3-second long-press will toggle between the three sound modes. A quick double-tap will play/pause the music while swiping left/right or up/down will let you skip tracks and adjust the volume respectively.
Other functions such as answering or rejecting phone calls can be performed, however we reccomend reading over the instruction manual regarding this as every functon is clearly explained. Using the touch controls is easy, but memorizing all the functionality can be a bit confusing at first. Over time each of the functions are actually easy to learn, however. The only real downside that we see to the touch controls is the accidental touching of it. Simply adjusting the earcups or removing them from your head can mistakenly activate one of these functions, so take proper care not to press the outside of the right earcup.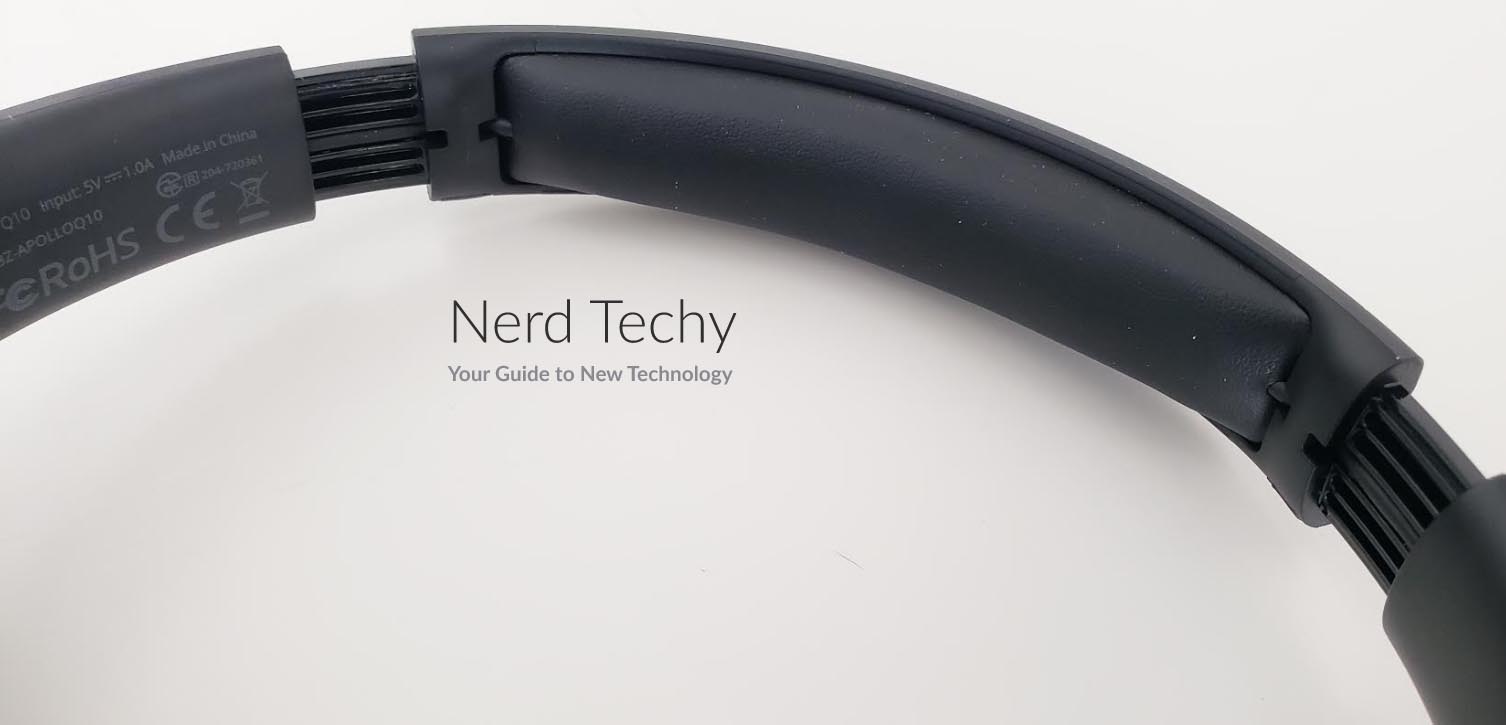 Battery Life
Inside the Tronsmart Apollo Q10 headphones is a very efficient, rechargeable lithium-ion battery. With an advertised battery life of 100 hours, we had very high hopes for the amount of playtime they offer on a single charge. Admittedly, we haven't used them for 100 hours, or even anywhere near that long. However, since we received them and initially plugged-in the USB-C charging cable, we haven't had the need to recharge them any further. In fact, we've used them for roughly 60 hours without any issues. No low battery warning or anything like that.
That being said, it's obvious that the massive battery life is true to word. We kept the ANC mode activated the entire time with the volume set to around 60%. If you turn up the volume higher or if you're in a cold environment you can expect it to have a slightly detrimental effect on its efficiency.
We love the fact that Tronsmart included USB-C as the standard for recharging. It's much more effective and streamlined than the outdated micro-USB we sometimes see manufacturers still using to this day. The USB-C recharging capabilities are downright impressive. Within 10 minutes of being plugged in, you're transferring approximately 3 hours of battery life to the headphones. Leave them plugged-in for 3 hours and the Q10's are fully charged for ~100 hours of playtime before needing a charge again. This kind of speed is almost unheard of these days, so it's really impressive to say the least.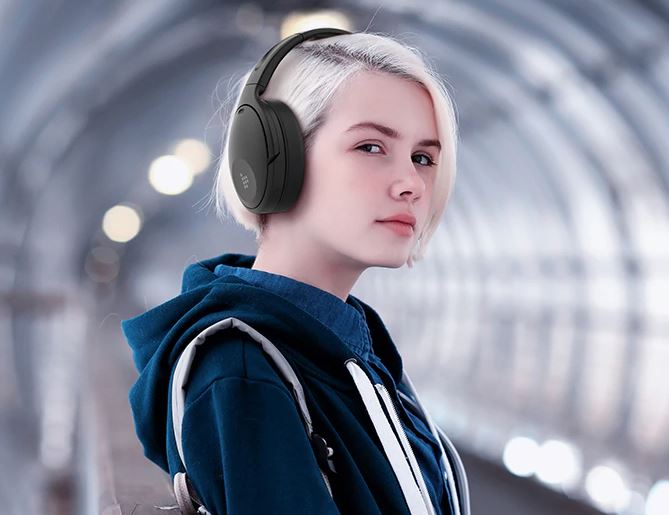 Call Quality
The Tronsmart Q10's are equipped with 5 external microphones that allow the ANC feature to function. However, they boast an added amount of usefulness since they're also utilized to make/receive phone calls. Because of this, you're able to speak on the phone through the headphones without ever needing to take them off.
We typically don't use headphones to make phone calls, but we knew we had to test them out. The first incoming call we received automatically paused the music when it began to ring. By tapping twice on the right earcup, the call is accepted. Incoming voice/sound is heard just as nicely as music is – no complaints. As far as our voice, it was heard loud and clear on the other end. We tried three additional calls with no issues whatsoever.
Tronsmart included noise cancellation technology with the external microphones that works by muting outside noise that isn't your voice. It lets the headphones intelligently understand what frequency your voice is and cancel-out every other frequency that isn't your actual voice. A nice inclusion, for sure.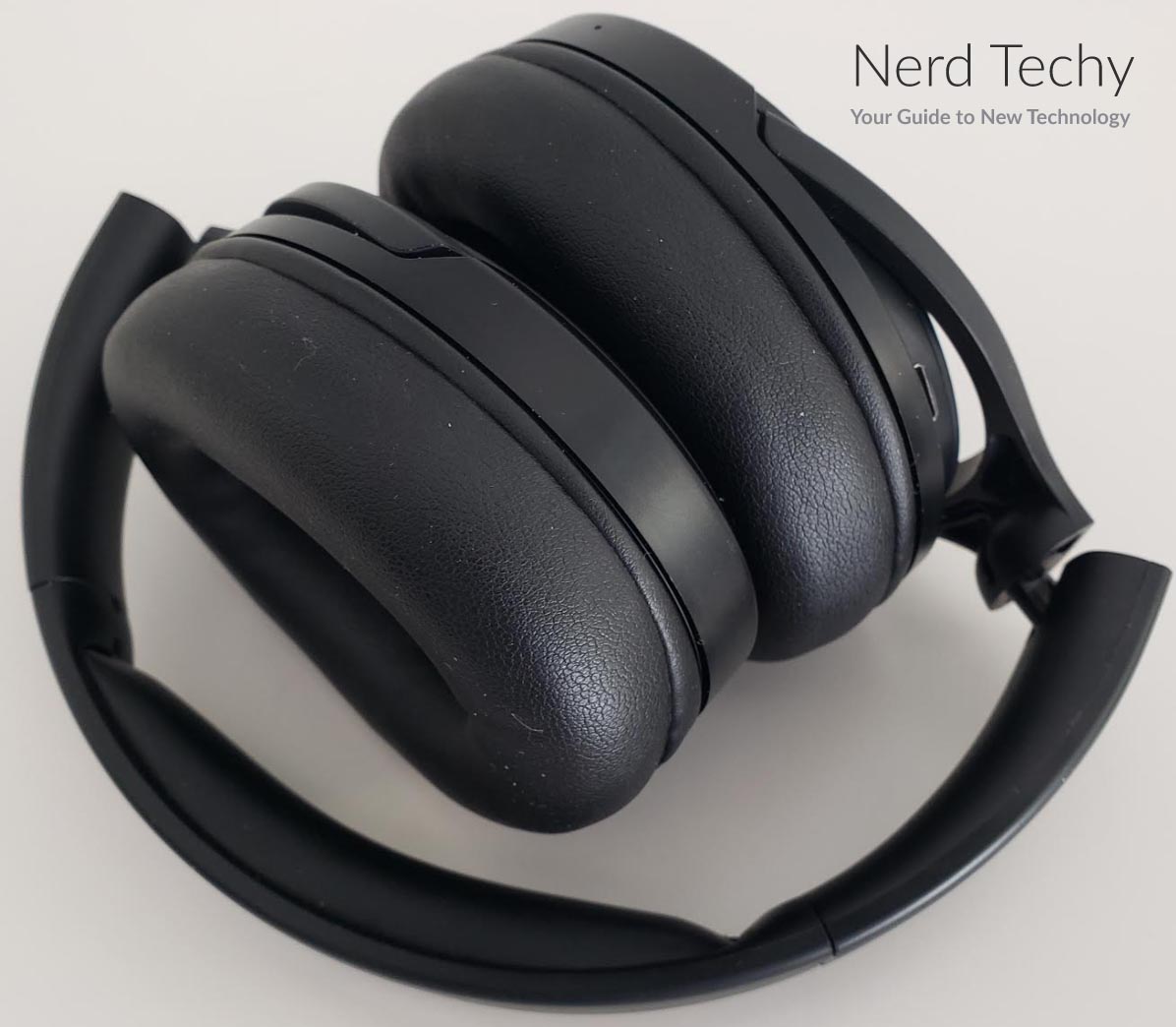 Final Thoughts
While the Tronsmart Q10 headphones come in at an affordable price-point, they seem to provide plenty of value for those looking for a nice set of ANC headphones. Feature-rich with many qualities we typically don't see in a budget-friendly choice.
Sound is replicated nicely, with an ideal balance of highs, mids and lows. Bass is punchy without any unwanted distortion or unfavorable effects. In addition, the equalizer settings in the app are a nice added bonus. While you aren't able to tweak them in any way, the presets offer a bit more flavor to a specific audio track than you might be used to.
Touch controls are nice to have, other than the fact that you must be careful to not mistakenly activate them. They're a bit cumbersome to memorize, but once you get them down, it's easy to control the volume, skip tracks, etc. without much effort.
All in all, it's apparent that Tronsmart delivered once again. The Q10 headphones prove that you don't need to spend an arm and a leg to experience a nice soundstage with several advanced features. Additionally, we wanted to let everyone know that Tronsmart is having a sale on AliExpress.com on January 25th for a nice discount.