If you've only ever used a computer with a single monitor, you have no idea what you're missing. Upgrading to dual monitors can seem overwhelming for inexperienced users, but before long it becomes second nature and your productivity shoots through the roof. The thought of reverting and being confined to a single screen can be unbearable particularly if you're a big multi-tasker or gamer. Also, once you've made the step up to dual monitors, it won't be long before you'll want to add a third.
For desktop users accustomed to dual monitors, mobile productivity can prove challenging on a single, small laptop screen. Portable monitor options have existed in the past, but have often been limited to very small USB powered screens or larger monitors that also required separate power and data cables.
This has all changed with the advent of USB Type C. The newer USB standard, in addition to a lightning fast 10 gigbits per second data transmission rate, has the ability to transmit up to 100 watts of power simultaneously. This opens up a host of new options for powered peripheral devices with minimal cable confusion.
Now, new USB-C monitors can provide the same size and specifications of standard screens with the simplicity and convenience of a single cable for both data and power. Today we're looking at three USB-C powered screens aiming to take your mobile productivity to the next level.
GeChic 1503H
While not quite a household name, GeChic has created a very interesting portable monitor that's worth consideration.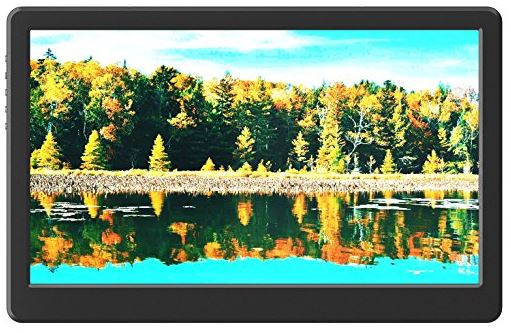 The 15.6-inch screen on the GeChic 1503H that boasts Full HD 1920 x 1080 resolution with a narrow bezel and a slim 11 millimeter thickness. This means it will easily slip into most laptop bags even with your laptop already inside. The monitor uses IPS technology which gives it a wide 160 degree horizontal and vertical viewing angle. This can prove useful for mobile presentations or any other situation when you may not have the ability to view the screen head on.
Built-in stereo speakers and a headphone jack enhance the functionality of this screen. While many may only display video, the addition of speakers allows greater flexibility for media viewing and productivity.
GeChic offers a host of accessories including multi-mounting kits and a rear dock option to simplify power and video to accept a compute stick. This creates an easy, portable complete computer system.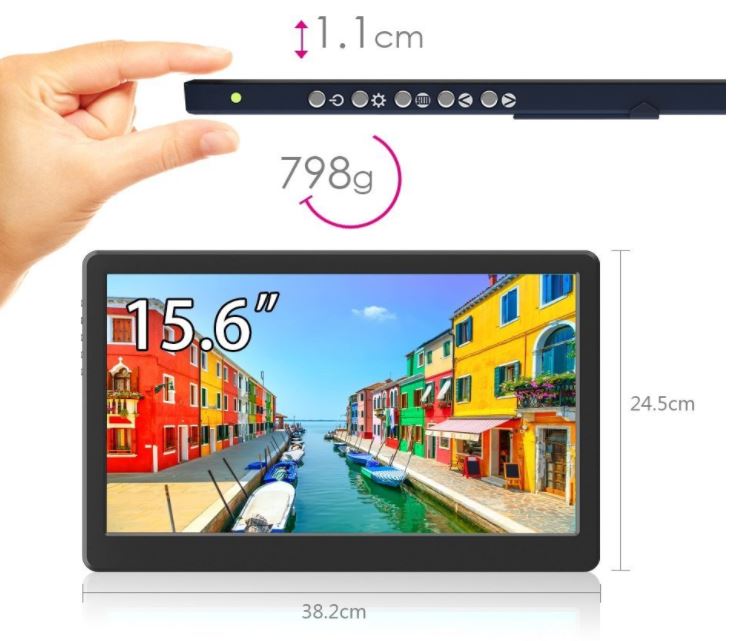 Unfortunately, while USB Type C has the ability to carry both power and data, GeChic decided against that option. You must plug in USB-C for power, however an HDMI or VGA connection must also connect in order to carry the video signal. While this technically still makes it a USB-C monitor, it's a bit of a stretch since you lose the convenience of a single cable.
The included case and stand allow added protection and convenience, supporting both portrait and landscape viewing modes. While the monitor itself weighs only 1.76 pounds, with the case and stand the total weight comes in just over three pounds. It's not terrible, but something to consider if your laptop bag already feels heavy.
Usage and Performance
We found pros and cons to the GeChic 1503H. Brightness was a solid 300 nits which is better than some portable screens we've tested in the past. The IPS technology kept accurate colors from a fairly wide viewing angle and numerous color profiles are available to allow you to match your primary screen as closely as possible. We also appreciated the Full HD 1920 x 1080 resolution on a portable screen.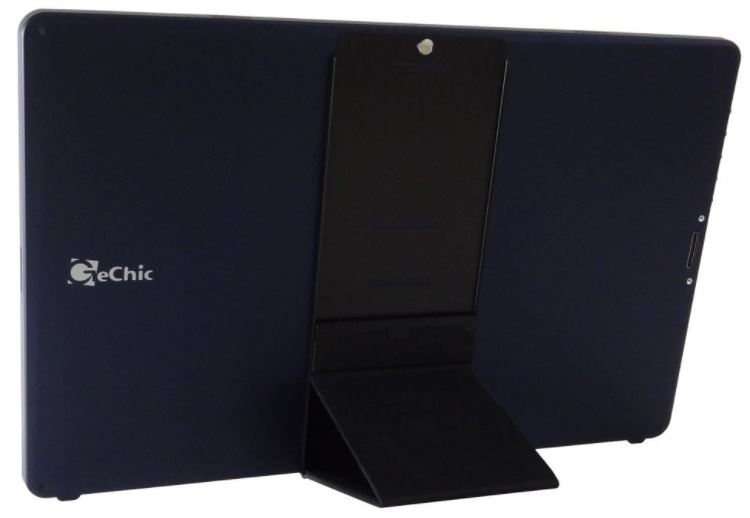 Unfortunately, that's right about where the advantages stop. First, we struggled to press the buttons to control the monitor's on-screen display. Build quality seemed poor, and after comparing notes to other users online it seems that many other people experienced issues while some had the buttons completely stop functioning.
While GeChic advertises the screen as a "Gamer's Paradise," we found one significant flaw. While most gaming monitors have pixel response times of 5 milliseconds or less, gray to gray, according to specifications the 1503H comes in with a glacial 12.5 milliseconds. While not entirely unplayable, this slow response time does show some signs of ghosting during fast action gaming and movies. While the untrained eye may not notice, it's definitely not ideal for a gamer.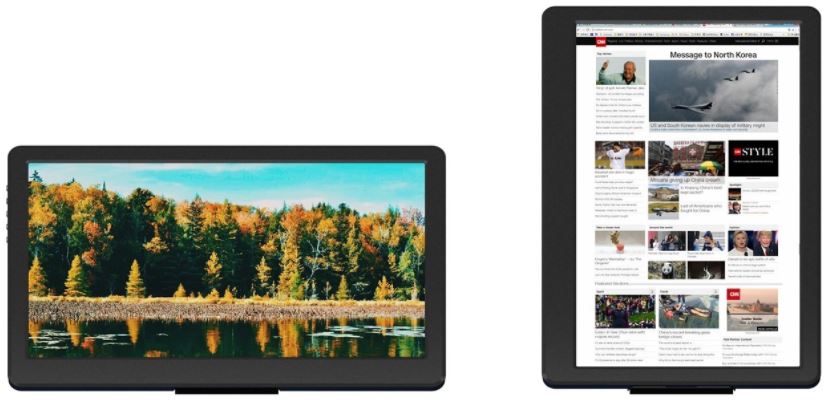 While the inclusion of speakers initially seemed like a nice feature to have, in use the speakers did not sound great. This isn't shocking considering the small size, and while you may say it's nicer to have them than not, don't count on running any presentations or watching media using these. Frankly, we imagine using the headphone jack more often, either with headphones for personal listening or with external speakers for presenting.
Ultimately, it isn't a bad monitor. As long as you don't mind using separate power and data cables and don't need the faster response time for gaming and media, the GeChic 1503H delivers convenient, portable HD productivity.
AOC i1601fwux
While we typically side with function over form, there's no denying that the AOC i1601fwux looks just plain amazing. Thin and light, AOC built this monitor with a durable metal alloy case giving it the look of an extremely high-end, elegant product. While AOC isn't always included in the top-quality tier, this monitor looks like something directly from Apple.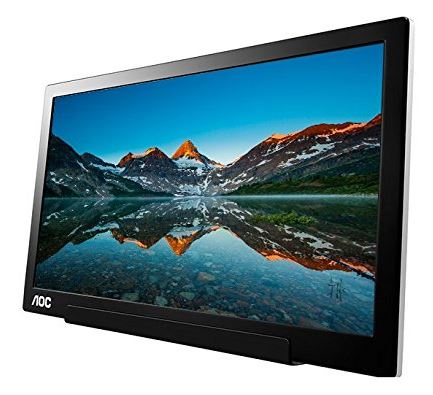 When we say thin and light, we mean thin and light. At just 8.5 millimeters thick, this screen weighs a mere 1.8 pounds including the smart cover that doubles as a foldable stand. The monitor can detect and automatically rotate between portrait and landscape mode for quick switching convenience.
The IPS panel maximizes consistent color over wide viewing angles. With a 16" screen and HD 1920 x 1080 resolution, it's slightly larger than the other two models in this review. Also, with a very impressive 5 millisecond response time, this monitor has the stats to function as a viable second screen for gaming and media.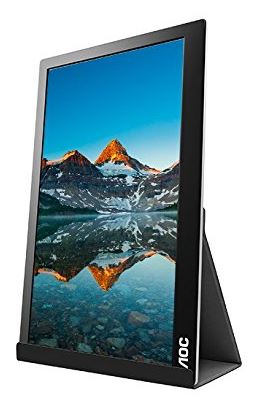 While the monitor itself has solid specifications, it's really only designed to do one thing. Unlike the GeChic model, the AOC i1601fwux doesn't support additional connection types, stand or wall mounting, or provide ways of hiding cables or attached mini-PCs. There's nothing wrong with doing one thing and doing it well, it's just important to consider how you plan to use the screen.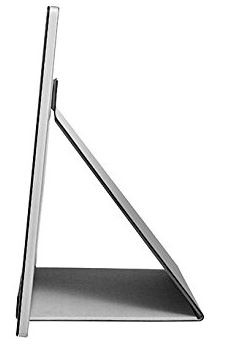 Usage and Performance
While the name doesn't exactly roll off the tongue, AOC's design team hit one out of the park with the i1601fwux. The elegance of the brushed metal and convenience of the combination cover and stand work perfectly together. The magnetic attachment system means you can adjust the display angle to fit your needs, and the slim and light design allows everything to slip easily into a laptop bag. The combination of the excellent design and the single cable for power and video makes this unbelievably easy to use as well as stylish and minimalistic.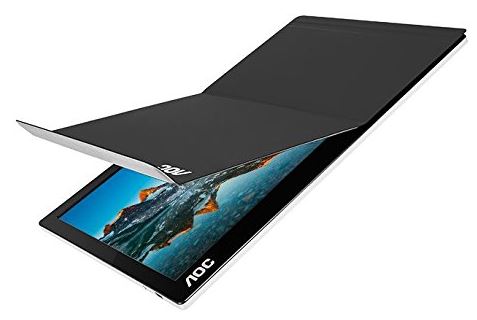 Picture quality and clarity were very good. AOC doesn't include much in the way of an on-screen display, so while you can't adjust much through the monitor, you should have some options via your PC. The 5-millisecond response time was smooth even during gaming and fast-moving video. This would make a fantastic secondary monitor for any media or gaming usage. At 220 nits, the brightness leaves a bit to be desired, but it was viewable even in a bright room.
Unfortunately, if you'd like to connect any device other than a PC, you're probably out of luck. The single USB-C connection needs to provide both data and power which you're unlikely to get on a device like a mobile phone.
The AOC i1601fwux, while perhaps lacking some versatility, is beautifully designed with great performance for a portable screen.
ASUS ZenScreen MB16AC
The 15.6-inch, 1920 x 1080 ASUS ZenScreen MB16AC is the thinnest of the three models in this comparison at just 8.0 millimeters. With the two-tone design and multiple buttons on the front of the screen, the ZenScreen may not appear quite as "clean" as the AOC model, but it still conveys high quality.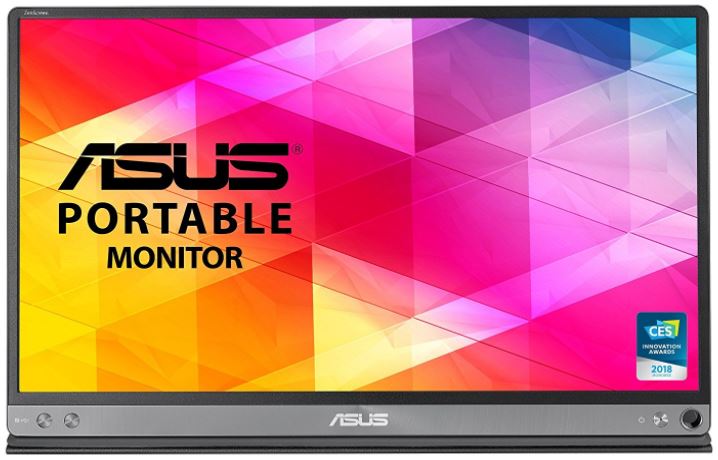 With a combination stand and screen, the ASUS ZenScreen will auto rotate to support both portrait and landscape modes. One odd element is the included "ZenScreen pen." While we initially wondered if the screen supported pen input, it turns out it's just a standard ink pen and the ZenScreen isn't touch enabled.
There is, however, a hole in the lower right corner of the bezel. The ZenScreen pen can slide into the hole and function as a makeshift stand in either orientation. This odd design choice seems a bit unnecessary as the only advantage of the pen stand is the ability to forgo using the case. We can't imagine toting the screen around without the case for protection so we don't envision using the pen frequently if ever.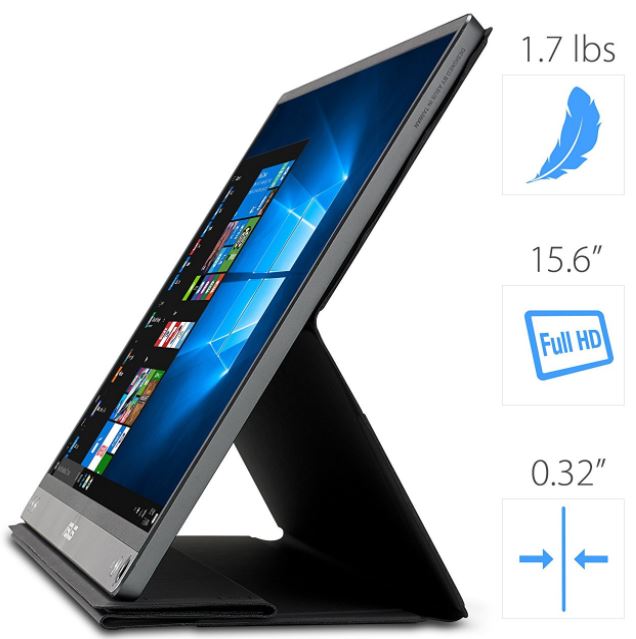 ASUS does include an adapter to convert between USB-C connection or more traditional USB 3.0 Type A. This allows compatibility with older devices that don't yet support the newer USB-C standard. Unfortunately, this could limit some capabilities of the monitor as it needs to function the same with the lower power draw of the older USB standard.
Usage and Performance
Our biggest complaints happened before even turning the monitor on. Unlike the extremely well-designed AOC case and stand, ASUS didn't seem to take much care in theirs. It only allows a single position, but even worse it was very unstable and it easily fell forward multiple times during testing. To make matters worse, it's extremely thin and doesn't seem like it would provide much protection while jostling around in a bag. Other users have reported that the screen seems to crack easily, so we did our best to handle it with extreme care.
Once powered on, we found the USB cable connection seemed a bit unstable. With a relatively light touch we were able to interrupt the power connection and make the screen go black.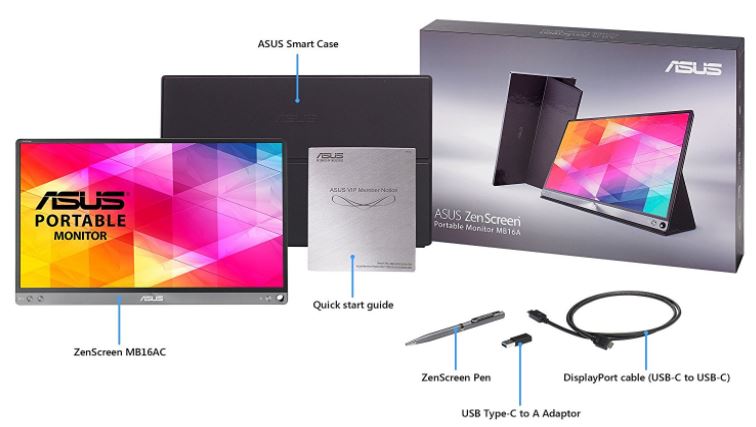 Aside from the design flaws, the screen itself was acceptable but relatively dim with only 220 nits. While this is viewable and not uncommon for a portable monitor, it was noticeably less bright than the laptop screen side by side.
ASUS does include a number of video preset modes to customize the picture, and a 5-millisecond response time rating means it functions well with fast motion. Overall, the monitor itself is acceptable but hampered by an unfortunately poor stand design.
Conclusion
USB C brings great promise with the additional power available to peripheral devices. Unfortunately, we're in a bit of the awkward transition phase where not every device has made the switch. As such, some peripheral manufacturers feel compelled to support both the old and new standard in order to sell as many devices as possible.
This results in screens like the GeChic partially supporting USB-C, but still requiring an additional monitor connection. Also, companies may not fully enable specifications that require higher power draws.
Of the three monitors we looked at today, each had some advantages and some shortcomings.
If you prefer maximum brightness, the GeChic 1503H was the brightest of the bunch. It also had the most flexibility with connection and mounting options. Unfortunately, these features come at the cost of size. Though still relatively thin at 11 millimeters, the GeChic was the thickest and heaviest of the three. At over 3 pounds with the case and stand, you have to be fairly committed to this monitor to add the extra weight to your laptop bag.
While Asus likely has the best name recognition, we were disappointed with the case, stand, and loose USB connection on the ZenScreen MB16AC. Though the monitor was acceptable, it was dim. This was the thinnest of all, and the ability to adapt to both USB-C and older USB connections could make it a great choice for anyone with a slightly older laptop.
The AOC i1601fwux definitely impressed us the most. The monitor itself was sleek and stylish while obvious care was taken with the design of the case and stand. While additional brightness would have been nice, the only real concern could be the lack of flexible connection options. While only supporting USB-C for both power and data may rule this monitor out for some users, we admire the forward thinking of AOC. The end result is a clean, well-made monitor with a beautiful design and the simplicity of a single cable. It's precisely what USB-C was designed to do.