These days, electronics are becoming more and more portable. Laptops, tablets, and other small devices are squeezing PCs out of a large portion of the market. This isn't to say that desktops are going anywhere. Indeed, for PC gaming, it's safe to say that desktop computers will be around for the long haul. But for other applications, like streaming, "smaller" is the word of the day.
For streaming in particular, there's no reason to use a large PC. Instead, why not use a mini PC? These small computers are only slightly larger than a thumb drive. They're designed to plug directly into the HDMI port on a TV or monitor. As a result, they're ideal for streaming. Simply install your favorite apps, and you'll be ready to go. They're also a great choice for business. Why carry a laptop when you can carry a tiny mini PC across the country for that big presentation?
We're about to look at three of the best mini PCs on the market today. The W5 Pro Mini PC is a powerful PC designed for media. The Awow Mini PC Stick is a more lightweight model that's designed to operate silently. The Intel Compute Stick CS125 is slightly less powerful, but offers better audio performance. So, how do these options all stack up? We're about to take a close look, and tell you everything we've learned.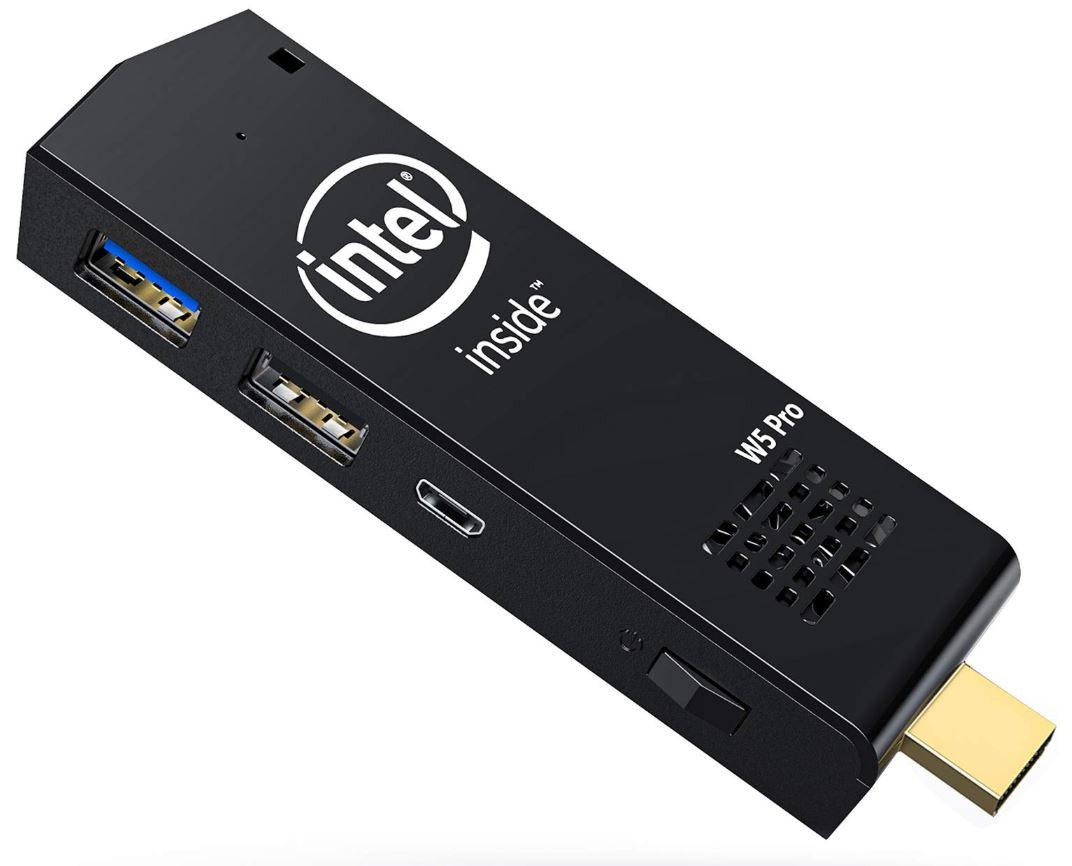 W5 Pro Mini PC
The W5 Pro Mini PC is constructed from ABS plastic, and measures 3.9 inches long and 1.5 inches wide. At half an inch thick, it's compact enough to carry in your pocket. And at only 7.2 ounces in weight, you'll hardly even realize you're carrying it. The bottom end of the case is vented, and you can see the cooling fan operating on the inside. On the side, near the bottom, there's a simple power switch for turning the W5 on or off. Above the power switch, you'll find the USB inputs. On the other side of the unit, there's a single jack for the DC power input. A power adapter is included with the kit, so you can easily plug the W5 into your wall outlet.
The W5 comes with Windows 10 Pro 64-bit pre-installed. This is the most powerful version of Windows, and it's nice to see a mini PC that can actually run it. This is, in part, thanks to the powerful Intel Atom X5-Z7350 processor. While the X5-Z7350 has a base frequency of 1.44 GHz, it can run at 1.92 GHz for short bursts. This ensures that applications will load quickly when you need them to. It's also a quad-core processor, which enables it to run multiple applications simultaneously with minimal lagging. The 2 MB cache isn't terribly large by PC standards, but it's impressive for a mini PC.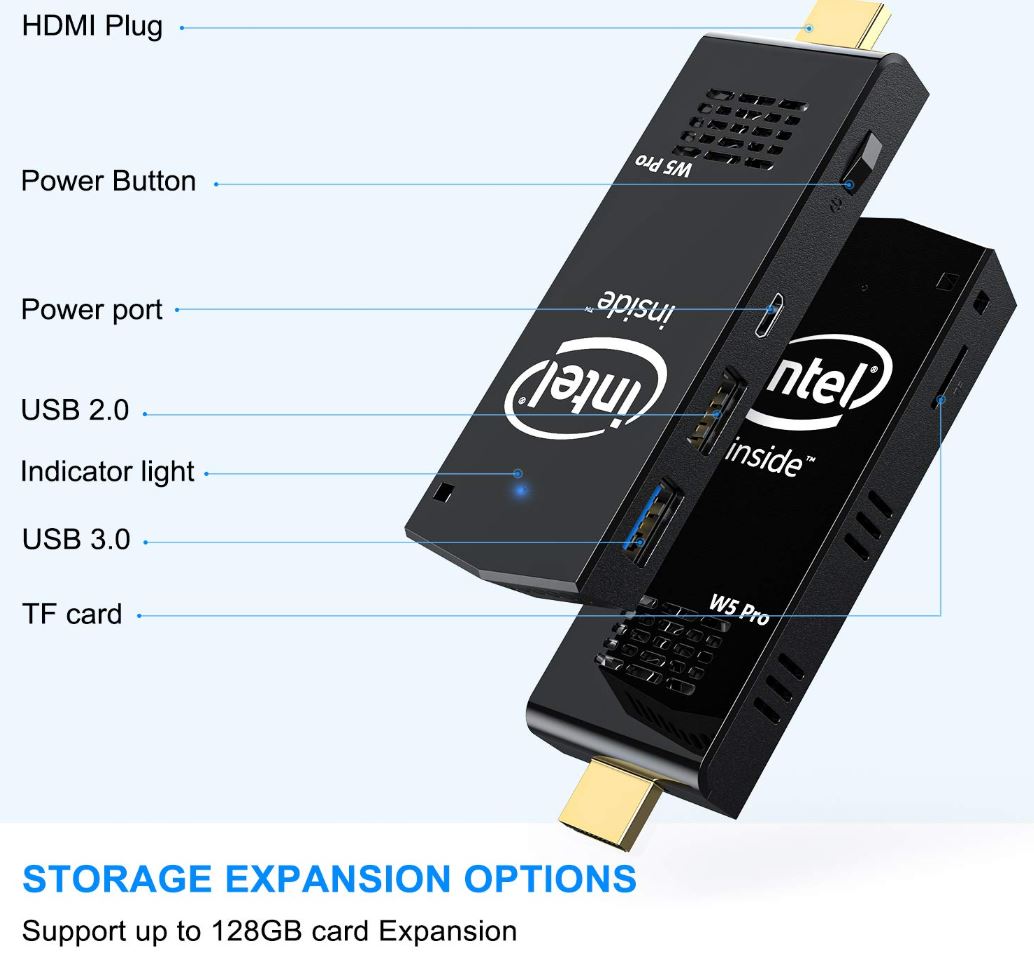 All told, the W5 is capable of streaming 4K video. It uses Intel HD graphics, so you'll be well prepared for the future. In addition, it offers 4GB of RAM, as well as 64GB of onboard solid state storage. If you want to share home videos or presentations, you'll be able to do that easily.
Connectivity & Extras
In terms of connection options, the W5 Pro plugs right into the HDMI port on your TV or monitor. There's an HDMI cable included in the kit, which means you won't have to shop around for peripherals. In addition, it has a built-in dual-band WiFi card. It uses the 802.11ac protocol. This isn't the latest and greatest, but it's the latest version that's supported by most modern devices. If you want to use Bluetooth, you can do that as well. It supports the Bluetooth 4.2 protocol. Once again, there's a newer protocol, Bluetooth 5.0. However, 4.2 offers a significantly longer range, as far as 60 feet. This makes it easy to sync with your desktop PC or smartphone, even from across the house.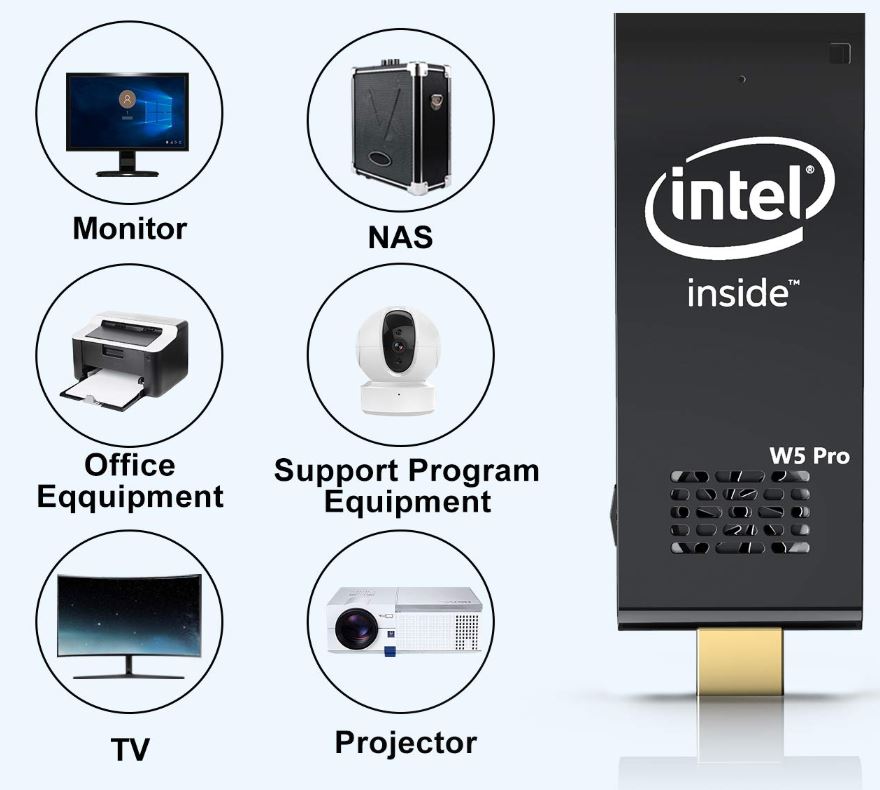 The W5 Pro also allows you to plug in your thumb drive to transfer data. It has a pair of USB ports, a 2.0 and a 3.0, so you can get the fastest possible transfer rates. There's also a USB Type-C slot, which allows you to connect smaller devices like smartphones with ease. Finally, the W5 pro has a built-in Micro SD card slot. This doesn't just allow you to transfer data from a PC or smartphone. It also allows you to expand your local storage capacity should you so desire.
What if you want the portability of a mini PC, but still want a convenient built-in monitor and keyboard? In that case, a miniature laptop might be a better choice. We recently reviewed the GPD MicroPC. It's a tiny laptop that does everything you'd expect from a larger system.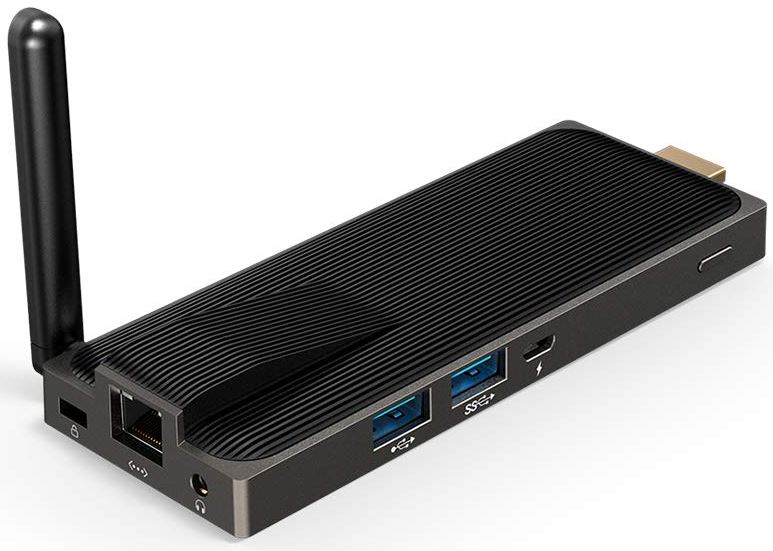 Awow Mini PC Stick
The Awow Mini PC Stick is designed to run as quietly as possible. Now, even a "loud" mini PC isn't going to be a problem if you're watching movies. But if you're giving a business presentation, the hum of a fan can get distracting. Awow has solved this problem with a fanless design. The case is constructed from anodized aluminum instead of plastic, which allows for better heat transfer. The top and bottom of the case are heavily ribbed, which means that it can run at full power without overheating.
The Awow measures 5.9 inches long, 2.1 inches wide, and just over half an inch thick. This makes it the largest mini PC stick on our list, but it's a necessity for heat distribution. At 11.6 ounces, it's also a bit beefy, but that's understandable given the metal case. Along the right side of a unit, you'll find a power button, along with the USB ports. On the left side, there's a micro SD slot, as well as an external antenna. This allows for a powerful wireless signal, ideal for larger homes with distant routers. The back of the unit offers additional connection options, including a 3.5mm audio jack. The Awow runs on USB power, and includes a USB Type-C AC power adapter.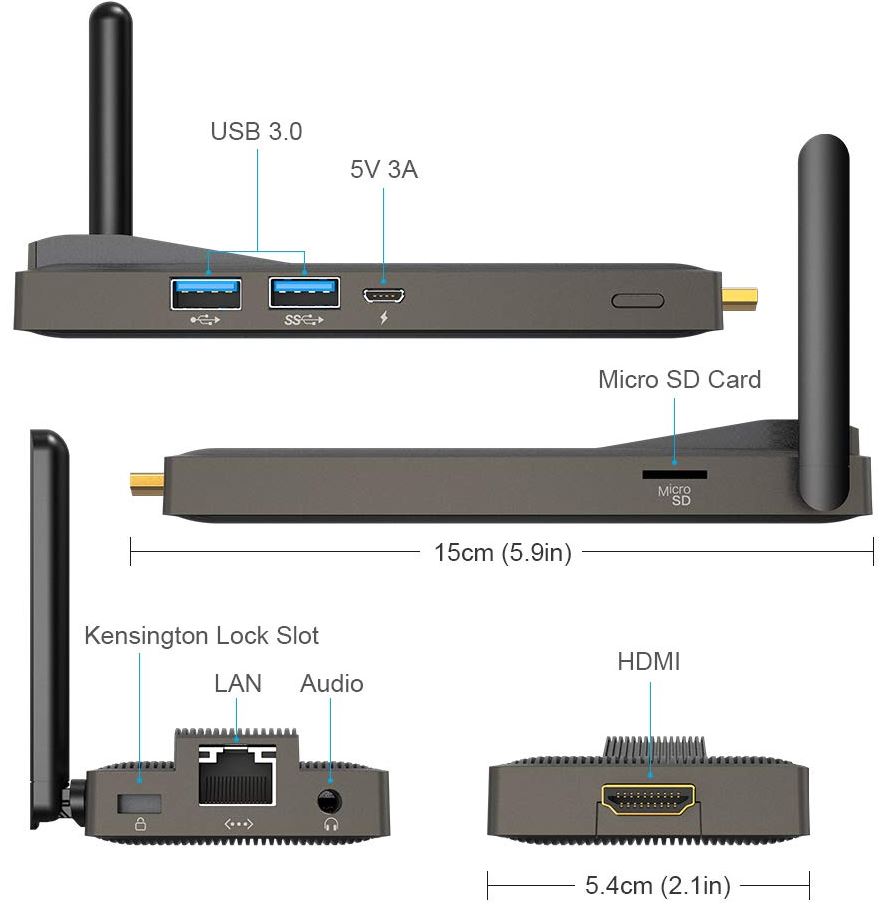 The Awow comes with Windows 10 Pro pre-installed, which ensures compatibility with any current software. It has an Intel Celeron J4105 processor, which supports burst speeds of up to 2.5 GHz. The onboard graphics and HDMI 2.0 output allow for 4K resolution, even at 60 frames per second. The 4GB of RAM are about standard for a mini PC. And the 64GB of onboard flash storage allow you to bring your own videos and presentations.
Connectivity & Extras
For connectivity, the Awow's onboard WiFi card is fairly powerful. It supports all current protocols, including 802.11 b, g, n, and ac. It operates on 5.8 and 2.4 GHz dual channels. And we've already talked about the external gain antenna. If you have connection issues with other devices, the Awow gives you the best chance of a stable connection. There's also a gigabit Ethernet port, which supports wired connections. If you want to set up your mini PC in a semi-permanent configuration, the Awow is a solid choice. In addition, it supports Bluetooth 4.2, which allows for a long-range connection with your other devices.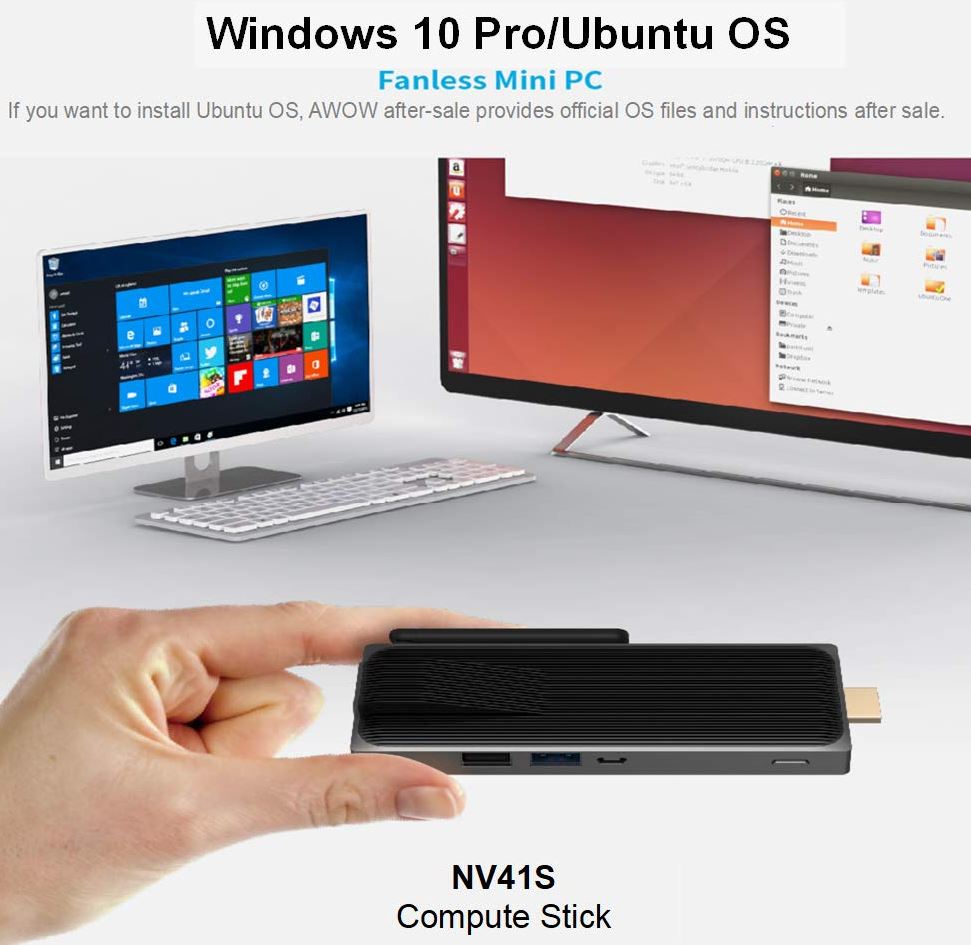 For transferring your data, you can use either of the USB 3.0 ports. This allows you to attach thumb drives, or even connect a mouse and keyboard for a user-friendly interface. The Awow also has a Wake-on-LAN option. This allows you to activate it remotely over your WiFi network. It's a great feature if your mini PC functions as your family's set-top box. If you've gone away for business but forgot to turn it on, your family won't have to go without Netflix.
One alternative to a mini PC is to use a WiFi AV receiver. These devices allow you to stream media from your PC or another device, and send the signal to your TV. One great choice is the Sony STR-DN1080. It seamlessly integrates with your home network, and gives you full control over your home entertainment system.

Intel Compute Stick CS125
The Intel Compute Stick CS125 is a mid-sized mini PC. It's 4.4 inches long, 1.5 inches wide, and half an inch thick. At 13.4 ounces, it's a bit heavy for the size. But it justifies this weight with powerful audio hardware. It's also a great choice for international travelers. The USB Type-C power adapter is designed for North American outlets. But it comes with adapters for international 220-volt outlets. If you want to take your mini PC anywhere in the world, the CS125 is an excellent choice.
The overall design is fairly Spartan. The CS125 is vented near the base, with understated pinholes that still allow for plenty of airflow. Along the right side, there's a soft-touch power button, as well as USB ports and the USB Type-C power port. An LED light on the top of the unit shows you when it's powered on. Other than the HDMI plug, there aren't any other complications.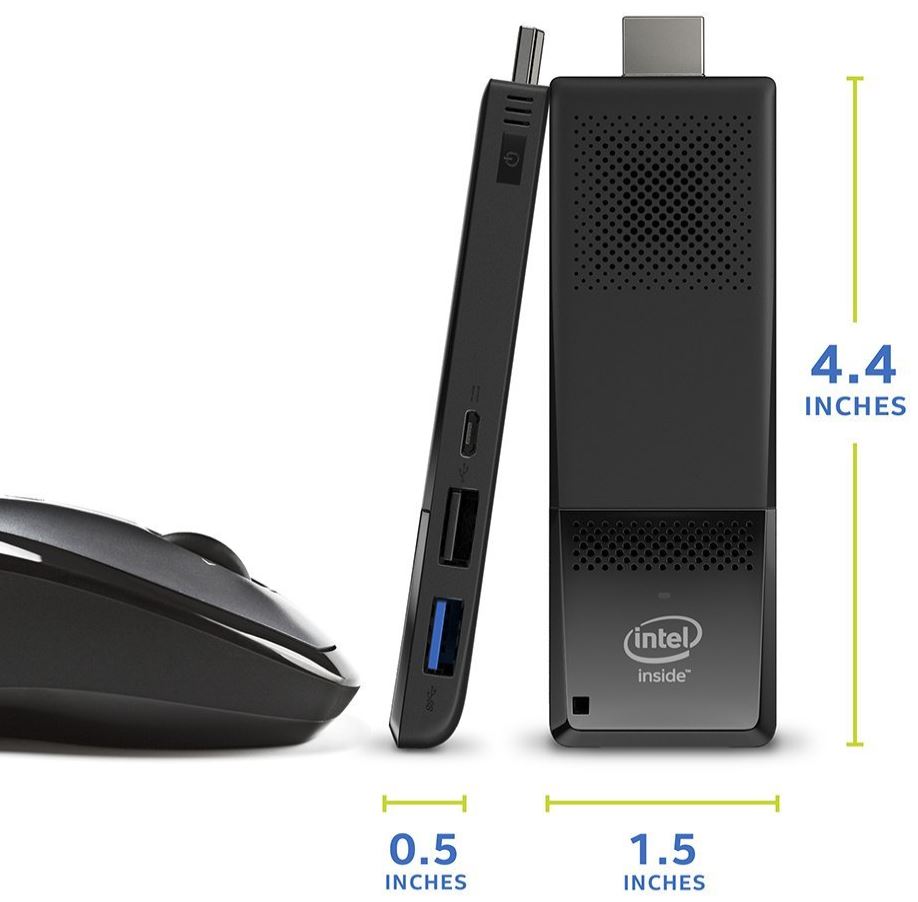 The CS125 comes with Windows 10 Pro pre-installed, which makes it as future-proof as one could expect. It has a 1.44 GHz Intel Atom x5-Z8300 processor. This is fairly weak, even by mini PC standards. But it's still a quad-core, so multi-tasking is a definite possibility. There are 2GB of RAM built in, as well as 32GB of flash storage. This is, once again, fairly minimal, but it's enough for most purposes. The CS125 does use Intel HD graphics, so you can still stream high definition video. That said, it will struggle with 4K.
Connectivity & Extras
The CS125 uses the 802.11ac WiFi protocol, which ensures a clean, stable connection with any modern device. It also supports Bluetooth 4.2, which allows for easy pairing with your smartphone, keyboard, or mouse. In addition, it ships with an HDMI dongle, which makes it easy to plug into hard-to-reach ports. With a USB 2.0 and 3.0 port, you can also plug in your thumb drive or other memory sources. Transferring video and presentations is very easy. Finally, you'll find a Micro SD memory card slot, so you can expand your on-board memory. The CS125 also supports multi-channel audio. As a result, while it's underwhelming for video purposes, it's a great choice for music streaming.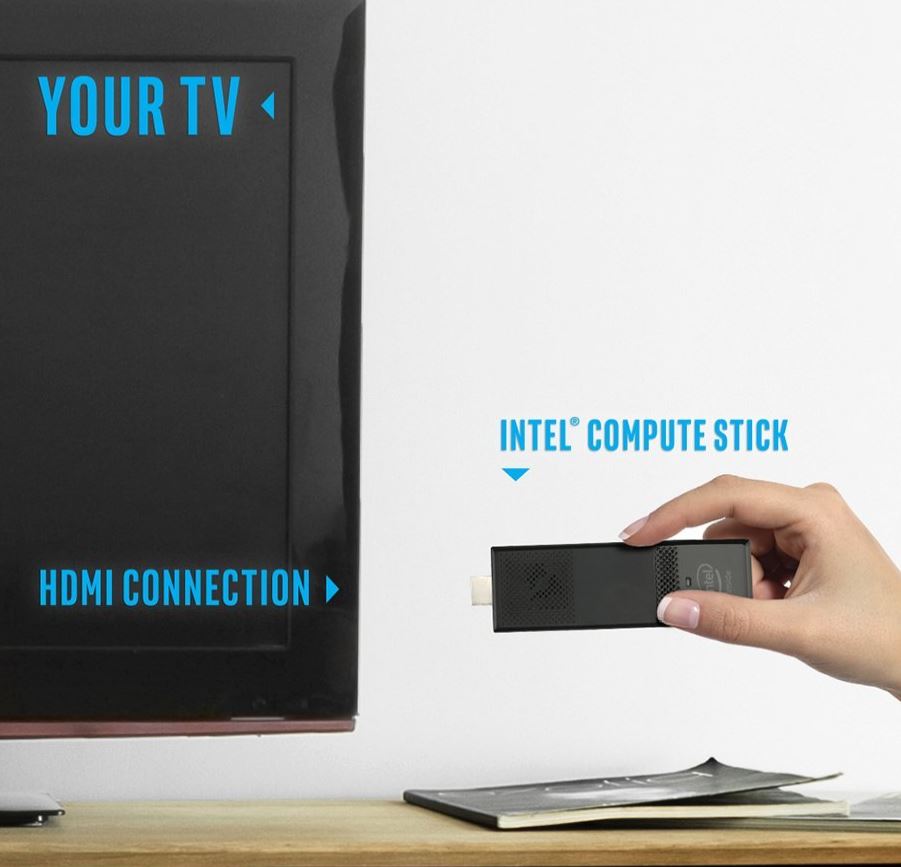 One thing that several users have complained about with the CS125 is that it has frequent driver issues. Because of this, you might need to install drivers to use your aftermarket peripherals. It also has been known to struggle with Windows updates. The reason for this is that Windows updates temporarily require more disk space than 32GB. To compensate, your best bet is to insert a thumb drive to expand the memory. Make sure to use the USB 3.0 port. Otherwise, your update may take a long time.
If you need to use an HDMI cable to extend your mini PC's range, why not get a portable one? We've reviewed the best retractable HDMI cables, so your purchase decision will be quick and painless.
Final Verdict
At the end of the day, each of these mini PCs has a lot to offer. To begin with, the W5 Pro Mini is very powerful. It's your best choice for video streaming, since the powerful fan ensures cool operation. It also offers plenty of connectivity options. Whether you're watching your own videos or using a streaming service, you'll be well set up.
The Awow Mini PC Stick is also an excellent choice. The fanless design isn't ideal, but it's completely silent. As a result, we wouldn't recommend it for extended use. It might overheat if you're bingeing your favorite streaming show all weekend. But for presentations, it's the cream of the crop. There won't be any fan noise to distract your audience.
Finally, the Intel Compute Stick CS125 is the best choice for streaming music. While it can handle video, it's a bit under-powered. But the multi-channel audio support allows you to enjoy your favorite tunes in full surround-sound. All in all, it's not a bad deal.