Laptops are great, if you don't mind hauling around a bulky screen everywhere you go. For all the extra effort of carrying that display, what you end up with is a tiny screen that's all but impossibly small for watching immersive media. And it's no better for providing the workspace you need to get jobs done.
By contrast, mini PC sticks make laptop computers look about as portable as those room-filling supercomputers from the 1950's. Small enough to carry in your pocket and light enough to forget it's there, a mini PC stick allows you to bring a computer anywhere you can find a display with an HDMI port. Whether you're on the road for business, taking a project to school, or enjoying a vacation and wanting to watch movies on the go, you can find a PC stick perfect for you. Rather than ending up crouched over a 13'' screen, you'll have the versatility to both work and play.
Choosing a Mini-PC Stick
Like with any type of computer, you'll find plenty of variation between mini PC sticks. To get started selecting the right mini PC stick for you, you'll want to make a list of exactly what you want to do with the device. And there are a few things you'll want regardless of your intended use.
For example, there's no doubt you want Windows 10 and an HD graphics controller that's ready to take on 1080p content. You'll want Windows 10, a HD graphics controller for 1080p content. Bluetooth 4.0 support is another important feature if you want to make use of the mini PC stick USB slot.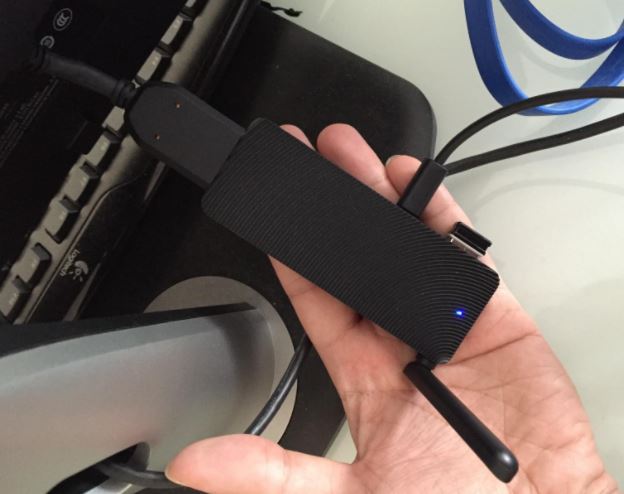 Processing Power
How much performance you'll need from your PC stick depends on what you plan on doing. If you're just going to casually stream videos from YouTube, then you'll be perfectly fine using a stick that's a little bit weaker and slower, like those using a modest 1.3 GHz processor. That device will stutter under heavier computing loads, but it'll get the job done for checking your email and watching movies. But for more rigorous computing, you'll want a more rigorous modern processor.
Likewise, casual browsing and movie-watching will be fine with the standard 2GB of RAM you'll find in most sticks. 2GB is well suited to running one application at a time, and well supportive for a 1.3GHz processor. But if you're looking for a stronger card, you'll want 4GB RAM for multitasking, and an equally greater processor that would've otherwise been bottlenecked by RAM.
Storage Options
While a 32GB drive will be enough to stream videos and browse the web, it's not enough for people who need to install multiple programs or host many video and audio files. That storage is even less than it seems once you realize about half of it ends up consumed by Windows 10 and other pre-installed software. If you need more space, then you'll have to think carefully about your options.
One possibility is to use a PC stick's USB port to attach an external hard drive and then find an outlet to give that drive power, but that's not a palatable option because it drastically detracts from the very portability that makes people use these devices. A far better option is a micro SD card slot, which can help you stay lightweight and portable.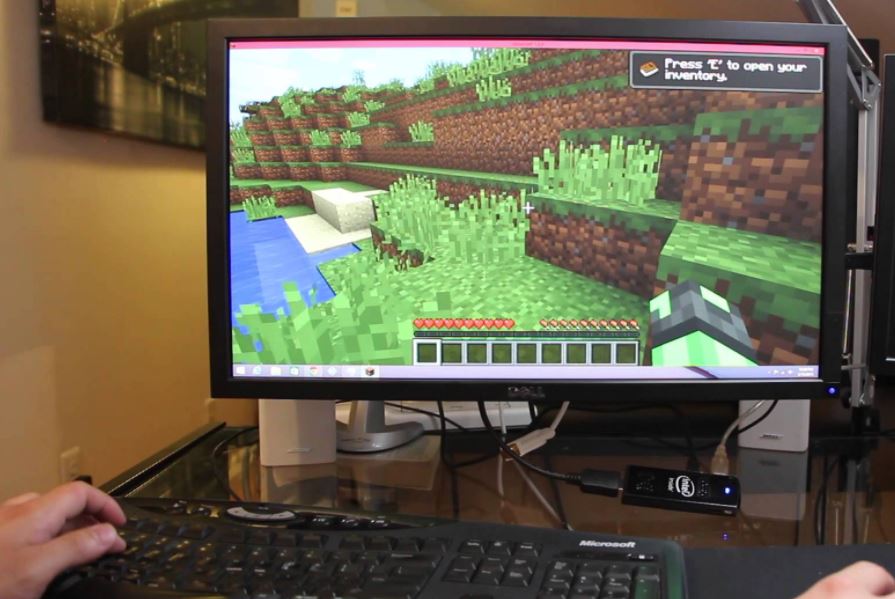 Internet Connectivity
The Wi-Fi cards built in PC sticks can be hit and miss. If you're getting a signal with very few bars due to the floor, the wall, or some other kind of interference, you may find your stick's signal will suffer. For people who are regularly connecting with only two or three bars, you'll want to look for a mini PC stick with a Wi-Fi antenna you can adjust to compensate for the signal. Having an externally movable antenna can make for considerably stronger signals in many circumstances.
USB 2.0 vs 3.0
By knowing which type of port the mini PC stick uses, at a glance, you'll be able to know if the device is powerful or lean. USB 3.0 can move data ten times faster than USB 2.0, but whether or not your mini PC stick can take advantage of the difference is another question entirely.
PC sticks that aren't bottlenecked by USB 2.0 ports tend to use USB 2.0, and PC sticks that are bottlenecked by USB 2.0 tend to use USB 3.0, which is the signature of a powerful PC stick. In other words, whether or not your stick makes use of a USB 2.0 or 3.0 connection isn't something you have to consider, but it's a good way to size-up a drive at a glance.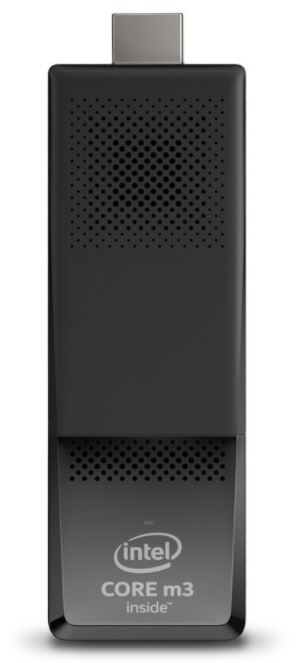 Intel Compute Stick CS325
If you're looking for a computer that can do more than browse the web and watch movies, you need real processing power. That includes a powerful CPU, enough RAM to match, and the storage space to put keep things safe without having to add a bunch of extra devices. For that, you can do little better than Intel's CS325. Compared to the previous version of Intel's Computer stick, the CS325 has faster Wi-Fi, double the storage space, and overall a stronger performance.

Technical Features
This stick makes use of 7th generation Intel HD graphics, and is backed by an m3-6730 quad-core processor to hold up under strain. Not only will you get a full 4GB of RAM, you'll appreciate that the RAM operates in dual channel at a speedy 1866 Mhz. In other words, this stick uses RAM speeds that puts some desktop computers to shame. Storage space is equally lofty at 64GB, and the device includes pre-installed Windows 10. And the cherry on top is support for full 4K resolution.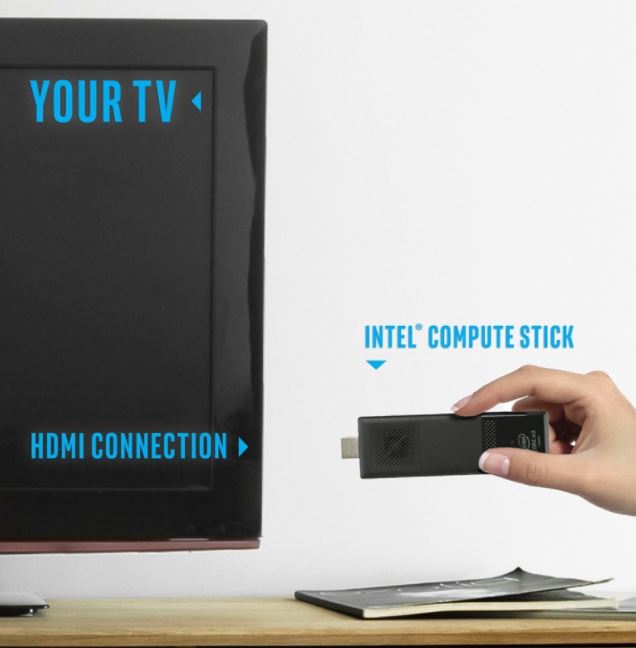 Build & Connectivity
If you know anything about the great processing power required to run higher resolutions, you're probably wondering, what's the catch? The answer is that at 4K, the refresh rate of the device is restricted to 30Hz. In other words, you're not exactly equipped to stream Blu-ray content, but you can still enter the 4K space for more casual viewing.
In terms of size, the stick itself is puny, designed to 4.5 x 1.5 x 0.5 inches. That means it comfortably fitting in the palm of your hand or inside a pocket. Inside that tiny form is a hefty 13-ounces of hardware which includes a powerful USB 3.0 port, and supports Bluetooth 4.2.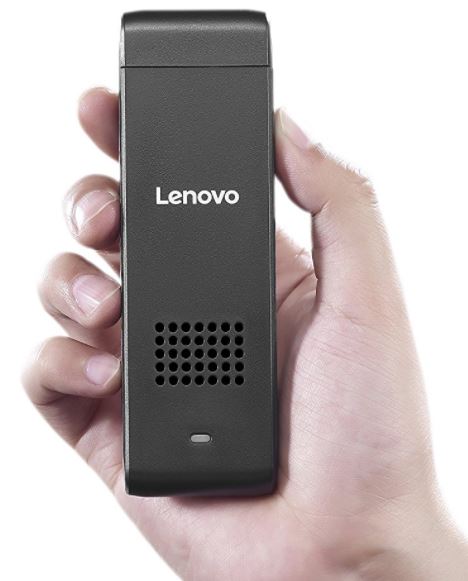 Lenovo Ideacentre Stick
Lenovo's status in the PC market has been rising over the past decade. While it was once an obscure brand, today it's becoming recognized as a formidable option in both the laptop and tablet space. The Ideacenter Stick is their latest foray into the world of mini PCs, and it targets a surprisingly niche audience – gamers.

Technical Features
Lenovo's Ideacentre comes pre-loaded with Windows 10. It uses the standard 32GB storage and 2GB RAM that you'll find in most mini PC sticks. That 32GB is thankfully expandable with either the included USB 2.0 slot, or the micro SD card reader. The processor speed is also quite standard, using a 1.33 GHz Atom Z3735F CPU. Sparing you further technical details, Atom-based CPUs are well-suited to browsing the web or streaming videos, which is what the device is largely intended to do.
Where Lenovo's option stands out is in their decision to offer the GPU its own 2000MB of RAM, ensuring you'll have full support for 1080p media. That 2000MB of independent RAM also sets this device aside as being optimal for gamers. When video memory is shared rather than independently segregated for graphics, you can quickly run out of memory while gaming. Although this stick isn't equipped to help you play the latest AAA videogame titles, you won't be restricted to Tetris either.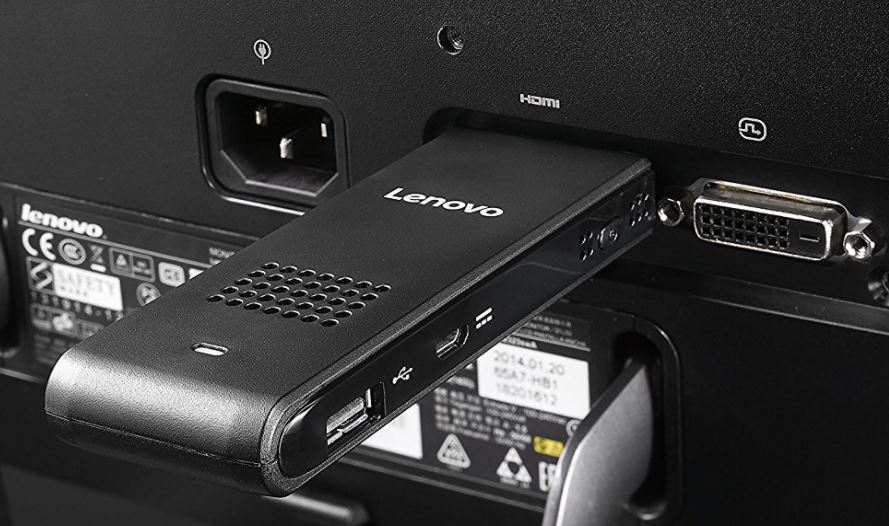 Build & Connectivity
At a superlight 2.2 ounces, this stick probably weighs less than your smartphone. The standard 0.6 x 1.5 x 4.7-inch dimensions are equally compact. Along the side of the device you'll find a USB port and micro SD port. The card connects over USB 2.0, which is perfectly adequate for a card of this build. And the stick includes an HDMI extension and USB cord you can use for power.
However, there are two things to note. One is that this stick's fan can become loud when you start to put the device under load. And along with that noise comes heat – after about 20 minutes of video you'll notice the stick has heated as high as 110 Fahrenheit.
The second thing to note is the Bluetooth portion of this device shares its antenna with the wireless Internet portion of this device. If there are other Bluetooth devices around you, you'll find Wi-Fi-packets can be interrupted periodically, resulting in slow Internet connections.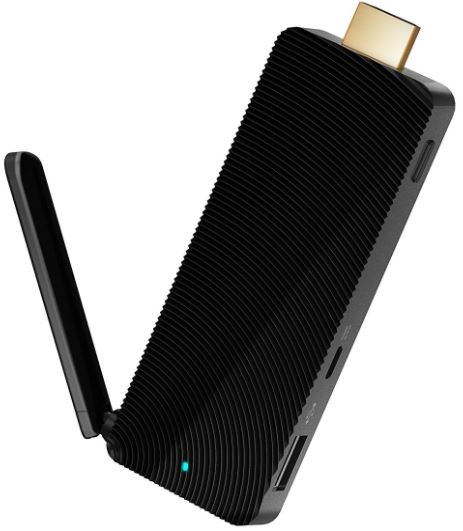 Azulle Quantum Access
One of the early imitators of Intel's original stick, the Azulle mini PC stick is something unique. Although the strength of the hardware isn't remarkable; it has an extremely versatile design that's littered with port options. If you're looking for a PC that's lightweight, and closer to a netbook than a desktop, Azulle can help. And if you're looking to stream videos, you'll have no reason to be disappointed with Intel HD graphics.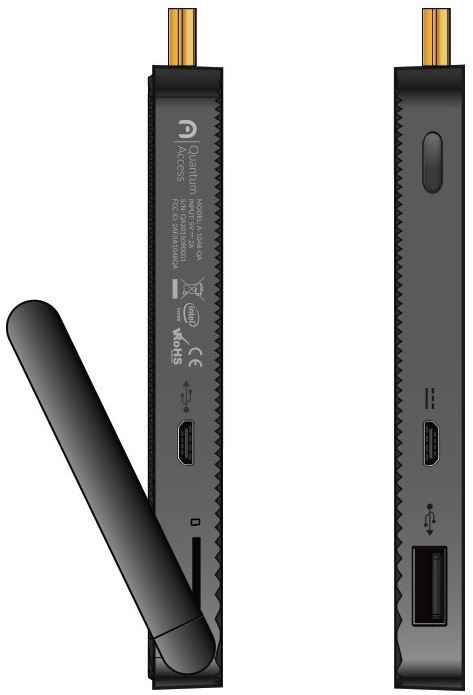 Technical Features
From a technical standpoint, much of the hardware is itself average or minimalistic. The 1.33 GHz quad-core processor will be enough to browse the net, but will start to struggle if you put it to any real computing tasks. 2GB of RAM is proportionally appropriate to the CPU and won't be a drag as long as you don't expect to do any multitasking. And storage is equally standard, with 32 GB build-in to the device.
One place Azulle truly excels is its independently positional W-Fi antenna. Anyone who's dealing with spotty wireless connections will be able to get much more out of their connection if they're capable of angling the antenna to better capture the signal. It's hard to understate the value of having a strong connection, especially if you're traveling around and are not sure where the router will be relative to your device.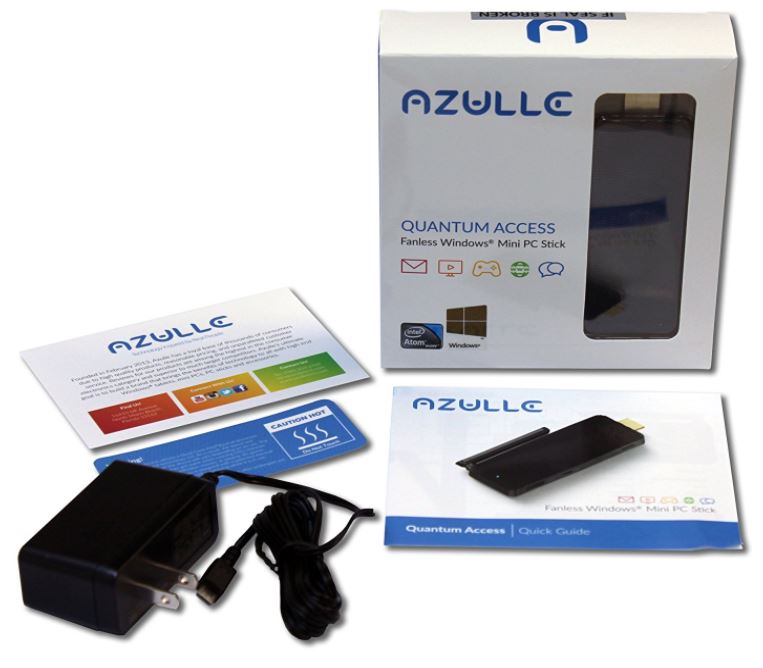 Build & Connectivity
Along the side of the device you'll find the power button, a power input, USB 2.0 slot, micro USB port, and of course the micro SD card reader. If you really need extra storage space, getting it is easier than installing storage on a desktop! Just pop in a 128GB micro SD card and you'll be set. Comes in the standard 4.3 x 0.5 x 1.5-inch build, which is slightly shorter and narrower than Lenovo stick. And at about 4 ounces, this mini stick is only about one third the weight of Intel's offering.
Choosing Between 3 Great Mini PC Sticks
If you're on a budget and you don't need super-powerful performance for what you plan on doing, then you'll be best served with Azulle's mini PC stick. It provides speeds more reflective of last generations PC sticks, but can is an incredibly cost effective way to get involved in the world of mini PC sticks.
If you're thinking about playing games on your mini PC stick, then you'll want to carefully consider Lenovo's Ideacenter. It's not quite as strong as Intel's offering, but it will hold up all types of multimedia content. Although it's not as powerful so Intel's CS325, it's design is more than competent, and will be satisfactory for anyone who's PC purpose is primarily consuming media.
And finally, if you need your computer to be powerful even when it fits in the palm of your hand, then you're looking for Intel's Compute Stick CS325. Intel is the brand that pioneered PC stick technology, and they've continued to be the leading voice in the market. The RAM is fast, the storage space is fast, and the 3.0 USB connection is unbeatably modern. Sometimes you get what you pay for, and never has that been more true than with the CS325.