Streaming can gobble up your system resources. When the next generation of gaming consoles hits the market, many titles are expected to run 4K resolution at 60fps. However, the moment one of those consoles attempts to start broadcasting, those framerates are guaranteed to crater.
It's all about passing the buck. Video capture cards help take on the responsibilities of streaming or recording content, so your gaming console or PC doesn't have to do the extra work. Moreover, they help you capture content in a portable fashion, which isn't something that can be said for a PC gaming tower.
Note: At no extra cost to you, we may earn a commission for purchases using our links. Learn more.
Choosing the Best External HDMI Video Capture Cards
Finding the right HDMI capture card is easy. First, you should think about the types of devices you want to connect with. Then, you should think about the places where you intend to connect to those devices. After that, you should ask yourself if you're an established video creator, or you're just starting out. Those questions alone can help guide you to the right capture card.
Compatibility Concerns
Established streamers probably prefer recording devices that will cooperate with their favorite streaming software. Not everybody wants to have to learn new software, or switch to inferior software in order to use their new hardware. You'll also want to consider operating system support, though this tends to be something that's easy to deal, assuming you're not using a PC or console that's two decades old.
The Portability Factor
Why choose an external HDMI video capture card? Because it can be paired up with game consoles, tablets, notebooks, and so forth. But portable means different things to different people. It might mean small enough to shove into your pocket, or it might mean small enough to carry in your hand.
Portable capture cards are sometimes made with cables that are permanently attached. Other times, they're built with separate cables. There are advantages and disadvantages to both sides. Detachable cables are superior for longevity, while attached cables are superior for portability and ease of use.
Included Software
Essentially any external HDMI video capture card will provide you with some direction when it comes to software. But some provide more direction than others. If you're satisfied with your existing software setup, then it's quite unlikely you'll care about added software.
The software that comes with video capture cards tends to be pretty basic. But if you don't have software already, or you're looking for something that's more approachable than professional streaming and editing software, it's worth examining included apps.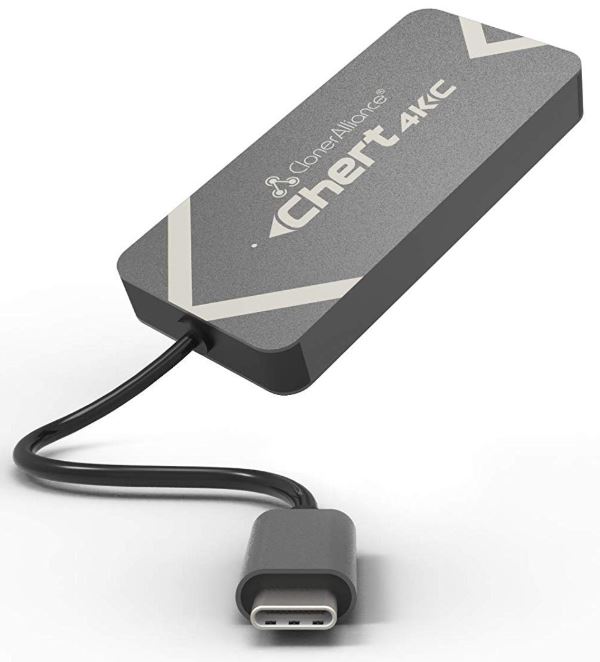 ClonerAlliance Chert 4KC
The Chert 4KC is somewhere between a minimalistic capture card, and a fully loaded powerhouse. Though only the size of a dongle, this HDMI to USB-C capture card is capable of recording your content while maintaining ultra-low latency. You can keep everything under 90ms, which is ideal for console gaming. Especially on platforms like the Xbox One, PS4, and Wii.
The 4KC supports 4K input, provided it's running at 30fps. For capture, it can save content in full HD while running at 60fps. The maximum bitrate for your recordings is 140Mbps, which provides enough clarity for virtually any type of video editing tasks. It's nearly uncompressed in terms of its potential quality.

Build & Design
The Chert's gray chassis measures 3.5 x 1.6 x 0.4-inches, but once you consider the attached USB-C cable, its length is closer to 7". There are pros and cons to having permanently attached cables on a device. For one thing, you'll never have to worry about misplacing the cable, or not bringing the cable with you when it's necessary.
The aluminum based design is excellent at dissipating heat. Though the 4KC isn't actually going to get as hot as its sibling, the Flint 4KP, it actually runs slightly cooler because it's not capable of moving quite as many frames per second.
But it does mean when the cable goes bad, you'll have to toss the entire device. Given the rigorous protection this cable received, and the thick layers of protection surrounding the wiring inside, it's safe to say the cable isn't at grave risk of giving way immediately. But this does telegraph the nature of this device – it's built for portability over all else.
This device was constructed around the UVC standard. That means there's no special drivers necessary for operation, and no special installation procedures necessary to get started. Simply plug in the HDMI connection, plug in the USB-C connection, and you're good to go.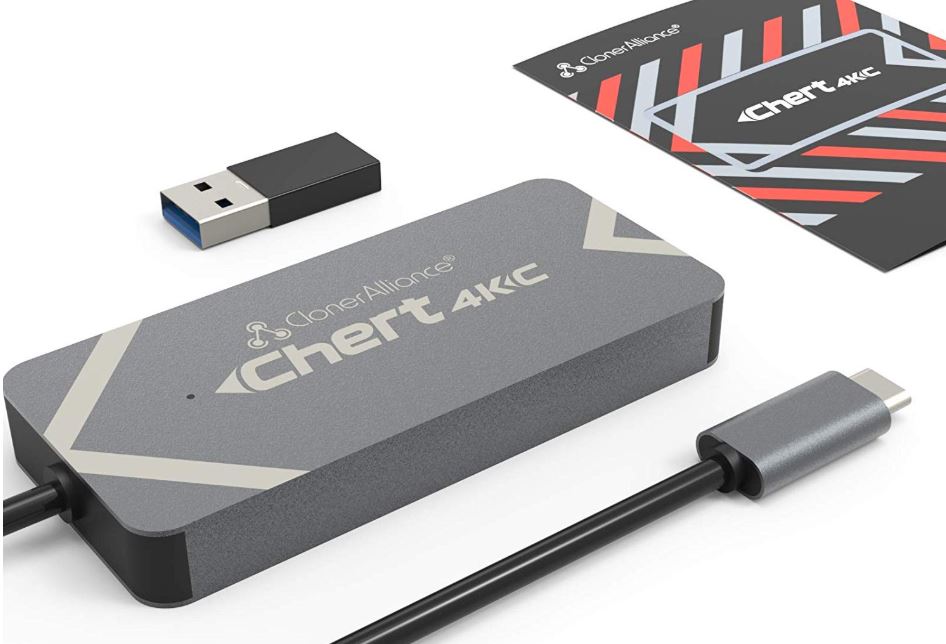 Other Considerations
The USB-C connection head is in an unpleasant middle position, somewhere between being bulky and being slim. It's not slim enough to warrant special notice, but not bulky enough to be likely to cause problems.
The 4KC supports Mac, Linux, Android, and Window. Similar to the Flint 4KP, this unit comes with a slew of supporting software, including MP4-Cloner, HDML-Cloner Pro Helper, and the ClonerAlliance App. They provide everything necessary for basic editing and content creation, though if you're looking to do anything truly advanced, you'll still need to rely on specialist software from brands like Adobe.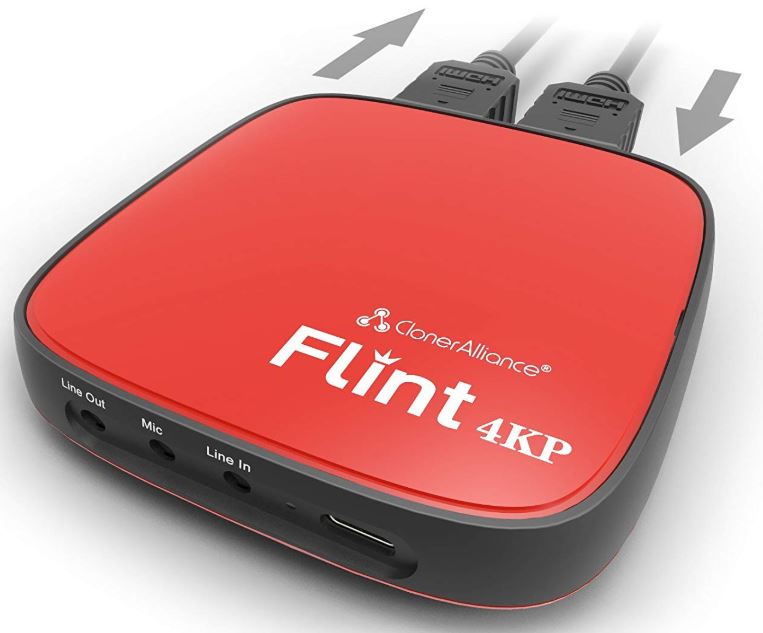 ClonerAlliance Flint 4KP
The name 4KP might be interpreted as suggesting the Flint supports 4K capture, it's actually only capable of supporting 4K pass-through. Its recording capabilities aren't quite as grandiose. Rather, the Flint 4KP is a practical-minded device, with its capabilities set to match the intentions of video streamers. Like brothers, the Flint and Chert have similarities and differences. But it's what makes them similar that matters the most.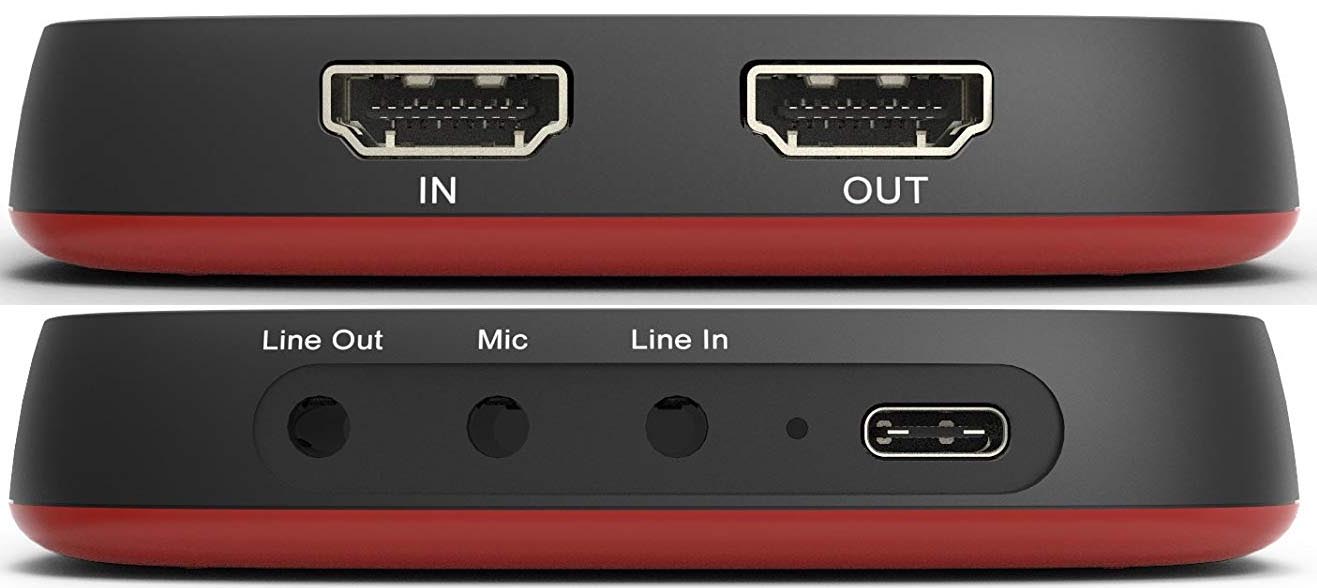 Build & Design
The 4KP measures 3.6 x 3.6 x 0.7-inches and weighs about half a pound. The bright red chassis doesn't really give any strong outward indication of what this device does, but the layout is actually quite intuitive. Along the front panel you'll find a line-out and line-port audio port, separated by a microphone port. And on the end of that row, you'll find a high speed USB-C connector.
The audio-in and audio-out ports allow you to capture game audio, as well as reroute that audio to your headset. This pretty much emulates the capability of an entry-level sound card; like the sort you might find inside of a gaming PC.
Flipping to the other side of the 4KP, you'll find a pair of HDMI connectors. Both are exceptionally well labeled with large and highly readable lettering, and they're ordered alphabetically incase the lettering happens to fade away.
Using USB 3.0 is really what allows for the total elimination of lag, especially when dealing with gaming consoles. The recording caps out at 1080p with 60 frames per second, but can be toggled downwards for people who don't need that kind of definition.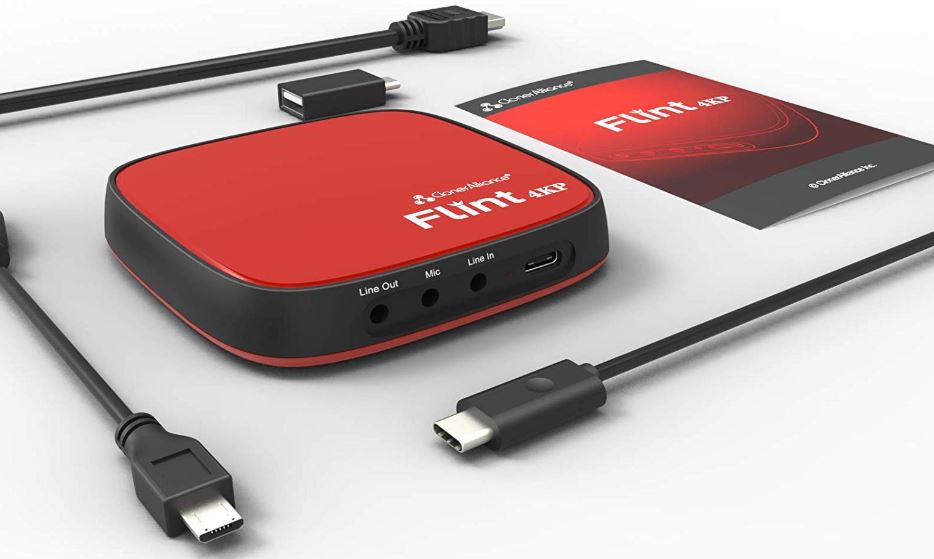 Other Considerations
For both the Flint and Chert, ClonerAlliance uses pretty standard UVC technology to ensure their devices are compatible with anything you want to plug them into. Consequently, you'll find the 4KP is compatible with DSLR cameras, tablets, smartphones, and so forth. With respect to platform support, you'll find full compatibility for Windows, Linux, Android, and Mac operating systems. Even when it comes to their added software.
Speaking of added software, the Flint includes HDML-Cloner Pro Helper, MP4-Cloner, and the ClonerAlliance App. It also includes one-button data export to social media sites like Facebook, Twitch, and YouTube. Their software makes this integration about as smooth as can be expected from a third party app.
Likewise, their hardware has smooth integration with the most popular streaming software suites, like XSplit and OBS. Whether you're an experienced streamer, or you're just getting started and don't know your way around, Flint provides some pretty attractive options.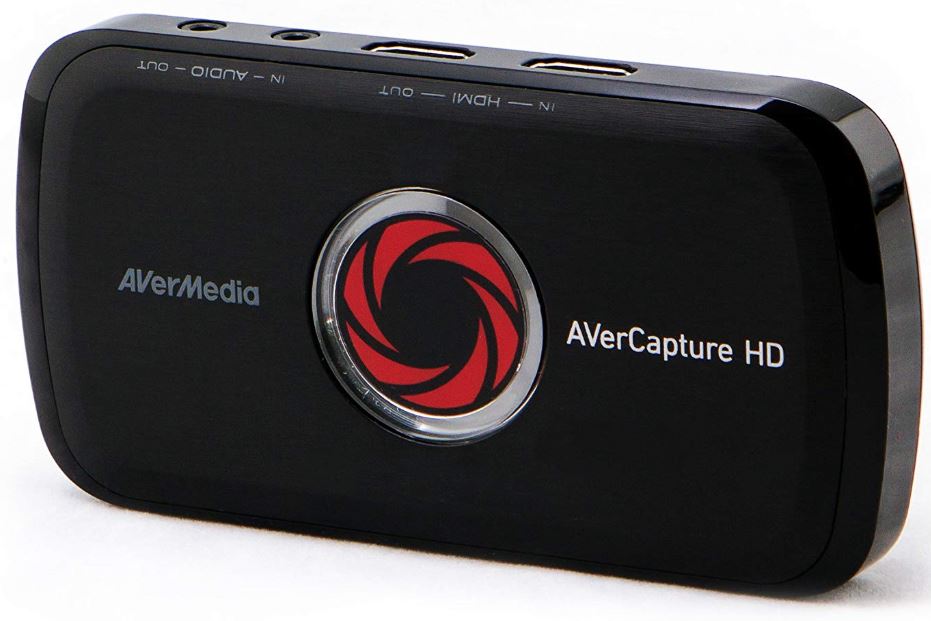 AVerMedia AVerCapture HD
Just when you thought Chert was the dumbest name for a capture card you'd ever heard, here comes the AVerMedia AVerCapture HD. Names aside, this card can record and stream content from the Nintendo Switch, PlayStation, Wii, Xbox, and basically any other console that will accept the HDMI connection.
One of its more defining features is called TimeShift, which is similar to NVidia's ShadowPlay. It works by recording the data on the screen, but not actually saving the recording unless you inform it to do so.
This hardware allows you to capture in full 1080p HD with the use of a H.265 encoder. The recording format is MPEG 4, which helps provide low latency recording. And the files aren't terribly large for editing or uploading them online.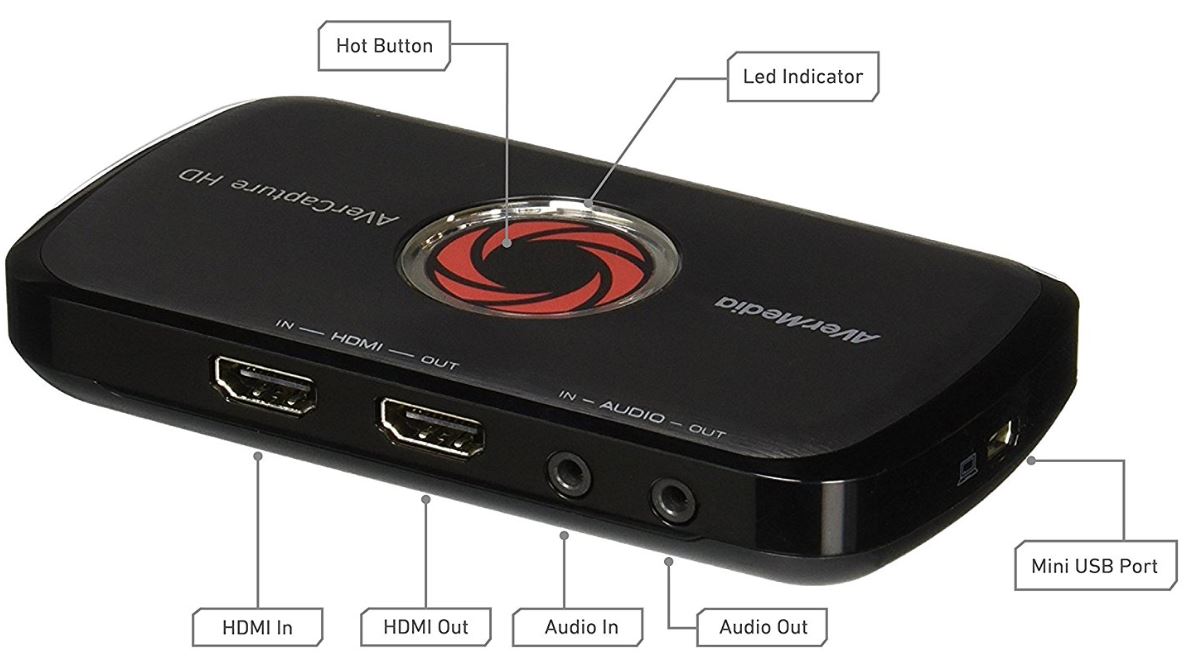 Build & Design
This card measures 2.8 x 0.9 x 5.2-inches, and only weighs a couple of ounces. Physically speaking, it's basically looks like a USB flash drive that's been slightly widened so ports could be added. The topside has metallic logo that's been stylishly embedded, helping give a high end feel to the otherwise small and plain-looking device.
On the topside, you'll find a pair of HDMI ports and a pair of audio ports. The built-in audio jacks allow you to add commentary over your track while you play. The labeling of these ports is a little underwhelming because it's slightly hard to read. But because each port uses an intuitive in-out pattern, it's not hard to connect things properly.
The audio-out port is useful for attaching a headset, though in order to use a USB headset, which happens to be an increasingly common type of gaming headset, you'd need a USB to 3.5mm adapter. A minor inconvenience to some people, but one that can be overcome.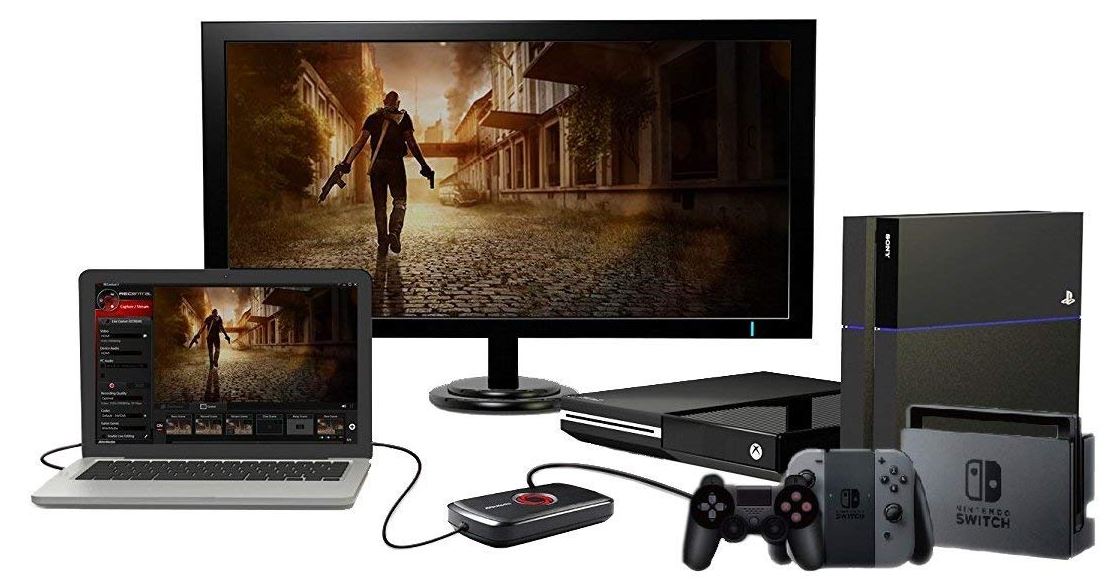 Other Considerations
The AVerMedia RECentral software provides effective streaming settings for Twitch, YouTube, and the like. The stream engine allows you to use basically any set of mainstream streaming software. That includes popular favorites like XSplit and OBS. Their own AVerMedia software isn't terribly impressive, but it's slightly better than the kind of freeware you'll find littered around the net.
More pertinently, this video capture card does not support viewing, recording, or streaming HDCP signals. Unless you're trying to do something illegal, that shouldn't be a concern. It really just means the capture card isn't going to help you pirate Blu-Ray discs.
Unfortunately, there are a couple of issues related to platform support. Windows is fully supported, though you will encounter issues if you try to use this card around Mac systems. The GL310 doesn't support Mac OS 10.14 or above. It also doesn't support really ancient versions of OS X, though there are a few isolated instances where Mac support does work.
The system requirements for this card are also terribly low. You need a system with at least 4GB RAM, at least one USB 2.0 port, and a dual core processor that wasn't made before 2005. AverMedia includes a two-year warranty, but you have to register on their website to initiate it. They also include a short USB cable to help make connections.
Choosing Between Excellent External HDMI Video Capture Cards
Both the 4KC and 4KP provide many of the same essential features. The Flint provides 4K pass-through with 60fps while the Chert offers 30fps. If you don't need 4K content to be run at higher frame rates, then the Chert is an excellent choice. It's got a strong emphasis on portability and simplicity.
The ClonerAlliance Flint 4KP isn't quite as portable as the Chert, but it's close. To its credit, the Flint's USB cable isn't permanently attached, which gives it a virtually limitless lifespan. Like with the Chert, Flint comes with a variety of accessible software options. But if you plan on making use of 4K content, the Flint has some clear advantages.
The AVerMedia AVerCapture HD provides many of the same strengths of the Flint 4KP, with a price tag that's about a quarter lower. Mac support is terribly spotty, but being able to retroactively record content is really what helps define this card. If you see the appeal of always recording without necessarily burning through your storage space at the same time, the AVerMedia card is a great choice.
Please consider sharing:
Note: At no extra cost to you, we may earn a commission for purchases using our links. Learn more.