Now more than ever, we all rely on our computers for work. Want to have a meeting? It's on Zoom, and the video is recorded for future reference. Want to write a proposal? It goes into a Word document, and gets emailed. This is all very convenient, and allows us to do business in ways our parents and grandparents couldn't have imagined.
But what happens when your computer fails? All of a sudden, your precious data disappears. Hours, days, or weeks of work can be gone in a heartbeat. If you're an ordinary person with a collection of Facebook videos, this can be frustrating. If you're a content creator, freelancer, or an accountant with a bunch of spreadsheets, this can be devastating. All of a sudden, you go from business as usual to weeks of losses. At that point, you'd do just about anything to get your data back.
Thankfully, there are ways to recover your data. The EraseUS Data Recovery Wizard is one such method. Install it on your PC or Mac, and your files will be restored in mere minutes. At least, that's their claim. But how well does the EraseUS Data Recovery Wizard work in practice? And is it good enough to be relied on when your livelihood is at stake? These aren't soft questions, but the EraseUS software isn't "soft" software, either. It's a full-featured data recovery suite for real professionals. Let's take a closer look, and see how it performs!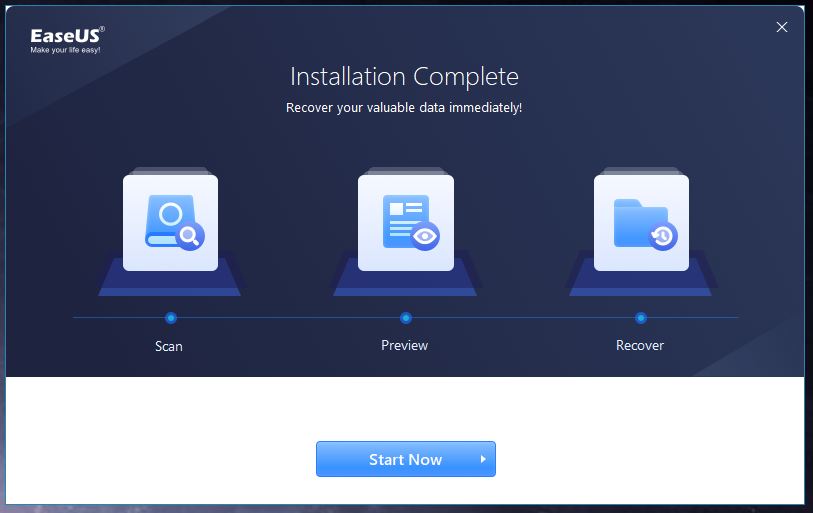 How Hard Drive Data is Corrupted
Before we proceed, let's take a second to consider how your hard drive data can get lost to begin with. Depending on what happens, your data can be easy — or impossible — to recover. To understand why, we need to understand how data gets lost.
The most common cause of data loss is file corruption. Files can become corrupted due to power loss, or due to software glitches. If there's a power issue or writing issue during file creation, you can end up with lost data. One common cause of failure is due to external hard drives. If a drive is disconnected during use, your files may be corrupt. This can even happen by accident. For instance, many external drives have an LED light that flashes during use. If your LED fails, you might think the drive is done writing, and unplug it while it's active. Whatever file you were writing is now corrupted.
Data can also be lost because of formatting. If drive corruption is detected, your PC might display a prompt to format the whole drive. If you click "yes" before backing up your files, your backups will end up being deleted. Whoops!
If that's not enough, everyday disk management can also damage your data. Creating a new partition, combining old ones, and even resizing can cause errors. This happens most often when you're using third-party software. Native Windows and Mac formatting tools won't usually cause errors on their own. But when you use another program to create a new partition, it can obliterate any data that's already written.
Even if your software is working right, physical imperfections can create their own disc errors. Hard drives are, after all, mechanical devices, and are subject to mechanical failure. If a disc sector gets damaged, the data in that sector can be permanently lost.
Finally, some disc errors can be caused by viruses or malware. A virus can make it impossible for your computer to read or write files. When this happens, hackers may demand a ransom to recover your data. Data that has been encrypted in this fashion is oftentimes impossible to recover.
How Hard Drive Data is Restored
So, how can EaseUS software recover your data? It depends on how your data was lost. For example, suppose your hard drive was lost due to corruption. In that case, your data may or may not be recoverable. If there's no archived copy, you may be out of luck. That said, damage from most other causes can be fixed.
For example, most people think that when a drive is formatted, their data is lost. In fact, formatting a drive simply marks it as empty. The data is still there. EaseUS can recover this data as if it had never been formatted. Again, how well this works will depend on your circumstances. Did you hit "Format," realize your mistake, and instantly run EaseUS? In that case, you can expect to get back all your files. On the other hand, if the formatted drive has been used, some of your old files may have been overwritten.
Mechanical faults can be tougher to recover. If the files haven't been backed up before the disc became damaged, they can be lost for good. If you want to keep tabs on your files 24/7, a permanent backup system is your best option. For example, a hard drive duplicator will keep your files backed up at all times. Combine a backup system with good recovery software, and you'll never lose a file again.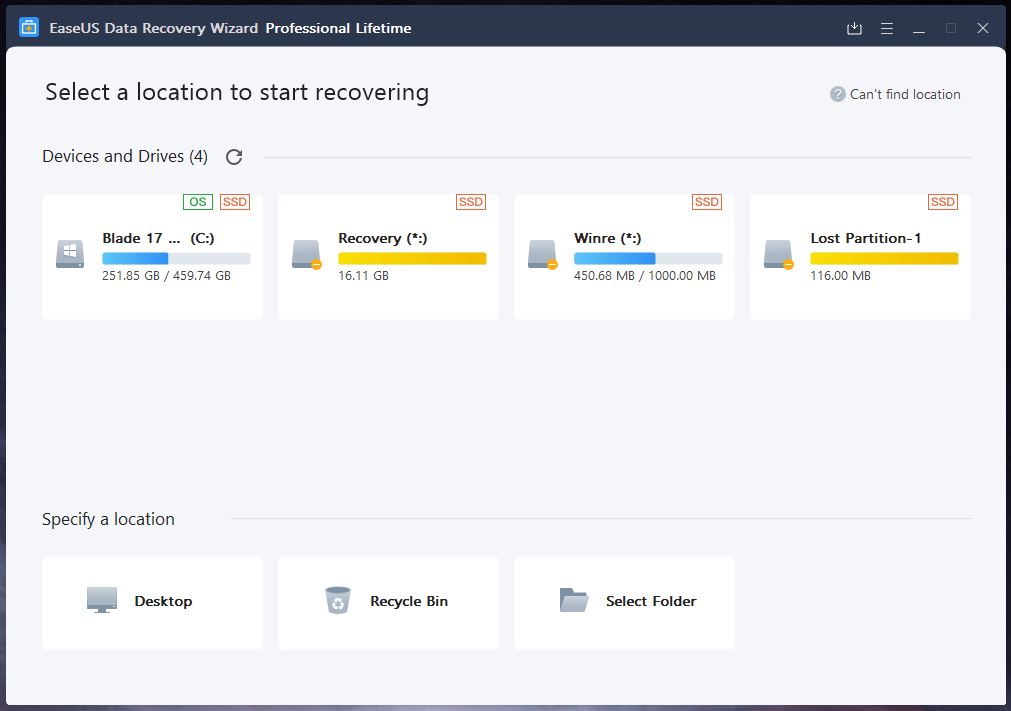 How the EaseUS Data Recovery Wizard Works
As its name implies, the EaseUS Data Recovery Wizard is a wizard. You start it up and follow the steps. Choose a drive, folder, or partition, and run a scan. Then, you choose the files you want to recover. If a simple scan doesn't do the job, you can run a deep scan instead. This takes a bit longer, but finds files that a simple scan may have missed. Regardless, the user interface is straightforward and easy to use. If you want something even simpler, you can try the SFWare Hard Drive Data Recovery Software. It's a truly minimalist software suite that's as basic as they come.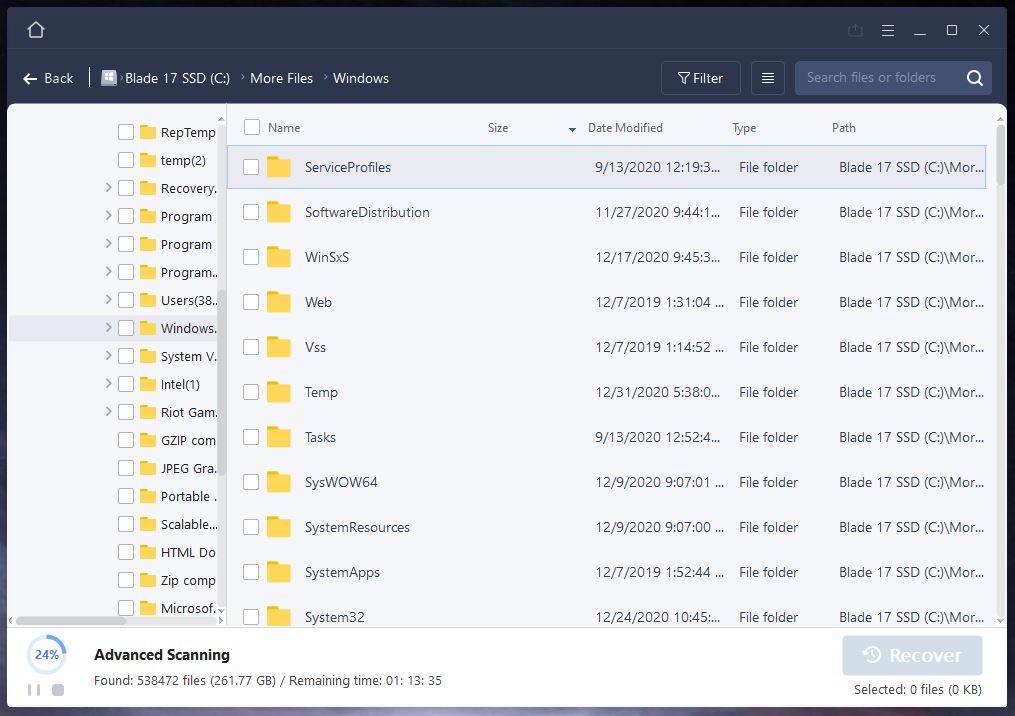 Once you've started a scan, you don't have to wait for it to finish. Files will appear in the window as they are found, and can be recovered instantly. So if all you need to retrieve is a single Word document, you don't have to recover the entire drive. Within the wizard, you can also preview files. Images, documents, and spreadsheets can all be viewed before they're recovered. If you're dealing with multiple file versions, it's easy to find the one you want.
To make things even simpler, the EaseUS wizard allows you to filter for certain file types. Choose from over 1,000 file extensions and only recover the files you need. You can also choose "tags," which is a fancy way of choosing a broad category of files. For instance, you can search for images, and you'll see JPEGs, BMPs, GIFs, PNGs, and other similar files. On the other hand, you might want to recover an entire drive or partition. In that case, the iBeesoft Data Recovery Software might be a better choice. It doesn't have as many nifty filtering options, but it's easier for bulk recovery.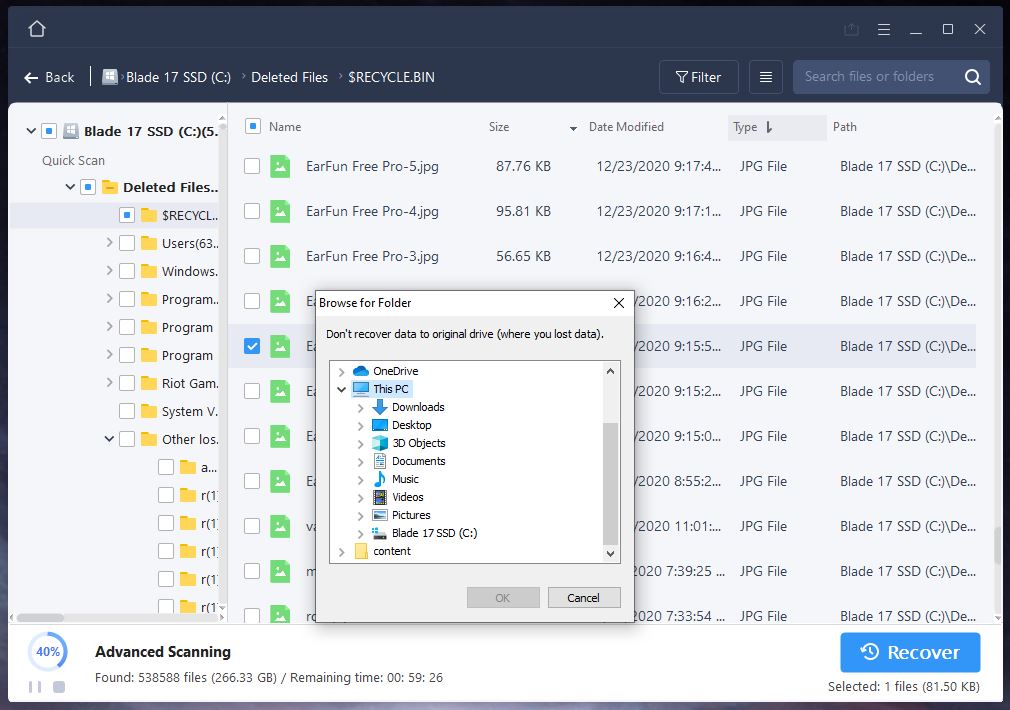 In addition to working with your computer, the EaseUS Data Recovery Wizard is also designed for cameras. You can use it to recover data from an SD card on your GoPro or other similar camera. The wizard will attempt to repair damaged pictures and videos from these sources. To be fair, it's not foolproof. If the data has already been overwritten, there's nothing to be done. But if it's simply been deleted, entire pictures and videos can often be recovered. In fact, the EaseUS wizard can restore and repair over 1,000 types of file. Whether you're dealing with videos or documents, you'll be well covered.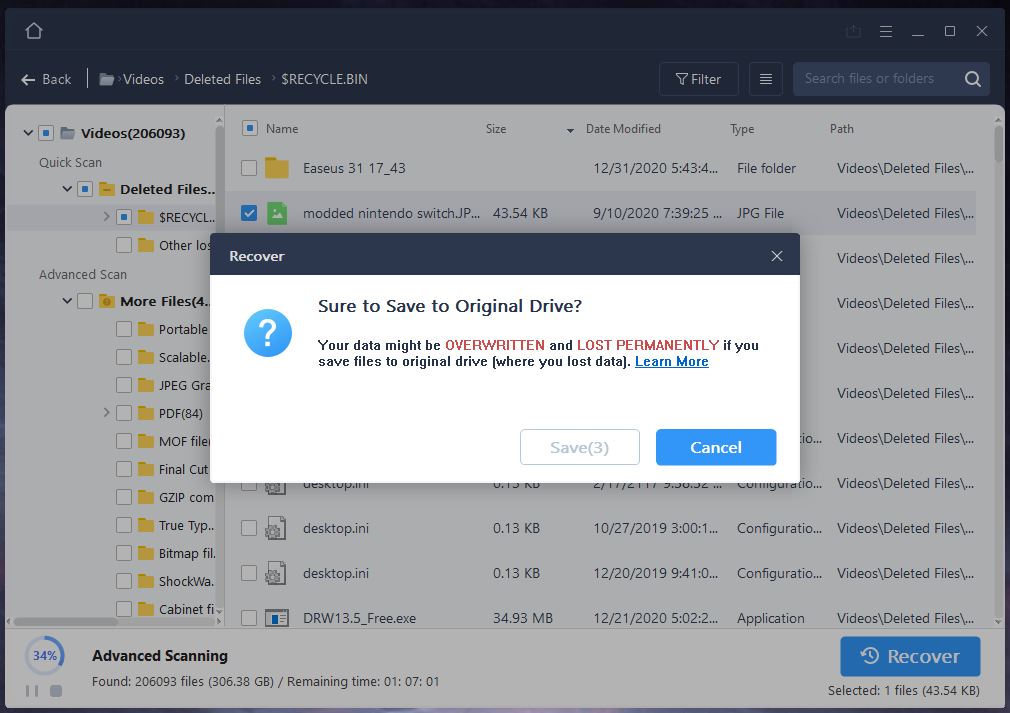 Compatibility Requirements
The EaseUS Data Recovery Wizard is compatible with both Windows and Mac. Just make sure to download the correct version for your operating system, and you're ready to go. Alternatively, Mac users may want to consider iBoysoft Mac Data Recovery. It's similar in many ways to the EaseUS software, but it's made specifically for Macs. That said, EaseUS works just fine on Mac, so a dedicated Mac software shouldn't really be necessary. Unfortunately, EaseUS isn't available for Linux. This is par for the course, since most recovery suites don't work with Linux.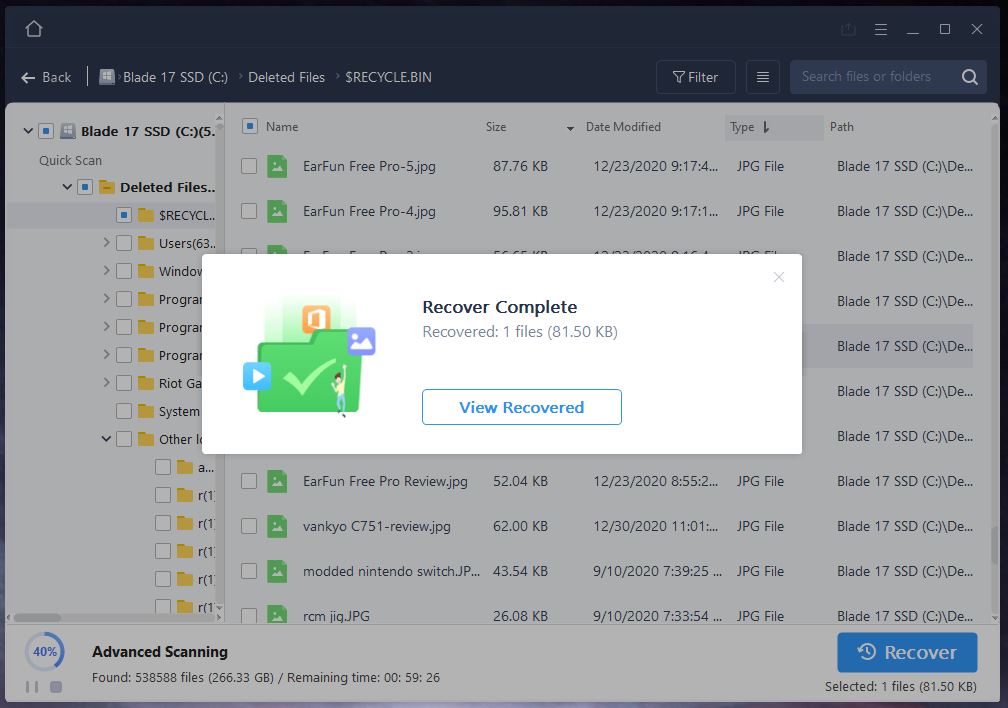 There are three different versions of the EaseUS Data Recovery Wizard available. The basic version is free, and has the same features as the paid version. However, there's no customer support, and data recovery is capped at 2GB. Basically, the free version is enough for you to poke around and try the software out. But if you want to recover a significant amount of data, you'll want the paid "Pro" version.
The Pro version comes with customer support, and allows you to recover unlimited data. This is the version of the software most people are going to want to use. For a few dollars more, you can get the Pro+Bootable Media package. This package comes with a physical bootable dongle. It can be used to recover data from PCs or Macs that no longer start up. When the dongle is inserted, the EaseUS Data Recovery Wizard will automatically start running. It won't fix your broken computer, but you'll be able to get your data back.
Like most software, the EaseUS Data Recovery Wizard is constantly being upgraded. The current version is 13.5, and supports a wider variety of files than previous versions. That said, newer features and options are being added on an ongoing basis.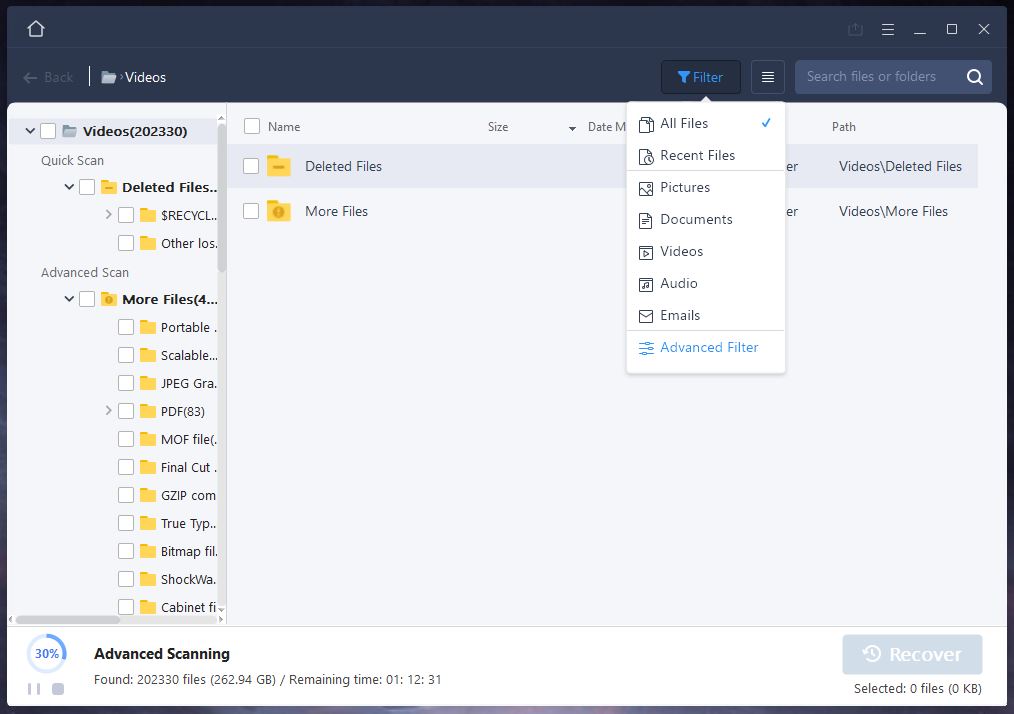 Final Verdict
The EaseUS Data Recovery Wizard is an effective, easy-to-use tool for getting back lost data. The install file takes only a minute to download, and you can start scanning in a minute more. We especially liked the free version, since you can try any feature you desire. You can even preview your files before retrieving them. If it turns out that your files aren't recoverable, you haven't spent a dime. There truly is no risk. That said, if you want to recover any significant amount of data, you'll need to invest in the Pro version. Depending on what you need to recover, that's money well spent.
Was this helpful? Please consider sharing: