There are few experiences more painful than losing all of your hard drive data. Okay, so major surgeries and root canals are worse. But on the scale of "unpleasant things", losing your data definitely rates higher than locking your keys in the car. This is especially true if you've owned your machine for a long time. Your old documents are all gone, just as surely as if they were thrown in the trash.
This is a frustrating experience for anyone. But it's even worse when you rely on your computer for work. For example, if you're a content creator, you can get set back by days or weeks on your current project. This isn't just annoying; it means you're losing real money. Yikes! Even for everyday folks, losing your family photos and vacation videos can be a depressing experience. But hey, that's life, right?
Maybe not. A few months ago, we reviewed SFWare Hard Drive Data Recovery Software. This is a powerful recovery suite that works with almost any system. Today, we'll be reviewing iBoysoft Mac Data Recovery Software. Instead of being a one-size-fits-all solution, you're looking at a program that's dedicated to Mac users. This makes it even more powerful, so you get some options that you don't get with the SFWare suite. Let's take a closer look, and see what it can do!
How Hard Drive Data Gets Lost
Before we get too far into the weeds, it's important to understand how data gets lost to begin with. The reason is that the method of loss will explain what data is recoverable, and what is lost forever. Here's a quick overview of how data loss can happen.
The most common cause of hard drive data loss is corruption. In a nutshell, at some point, the data writing process got interrupted. When this happens, different file blocks may end up only partially written. This leaves you with a file that won't load when you try to open it. It's often caused by disconnecting a drive in the middle of the read/write process. For instance, if you unplug an external hard drive or thumb drive mid-write, corruption is likely to result. This is why it's so important to safely remove your external drives. Corruption can also happen if a program crashes while it's writing a file, although this is less common.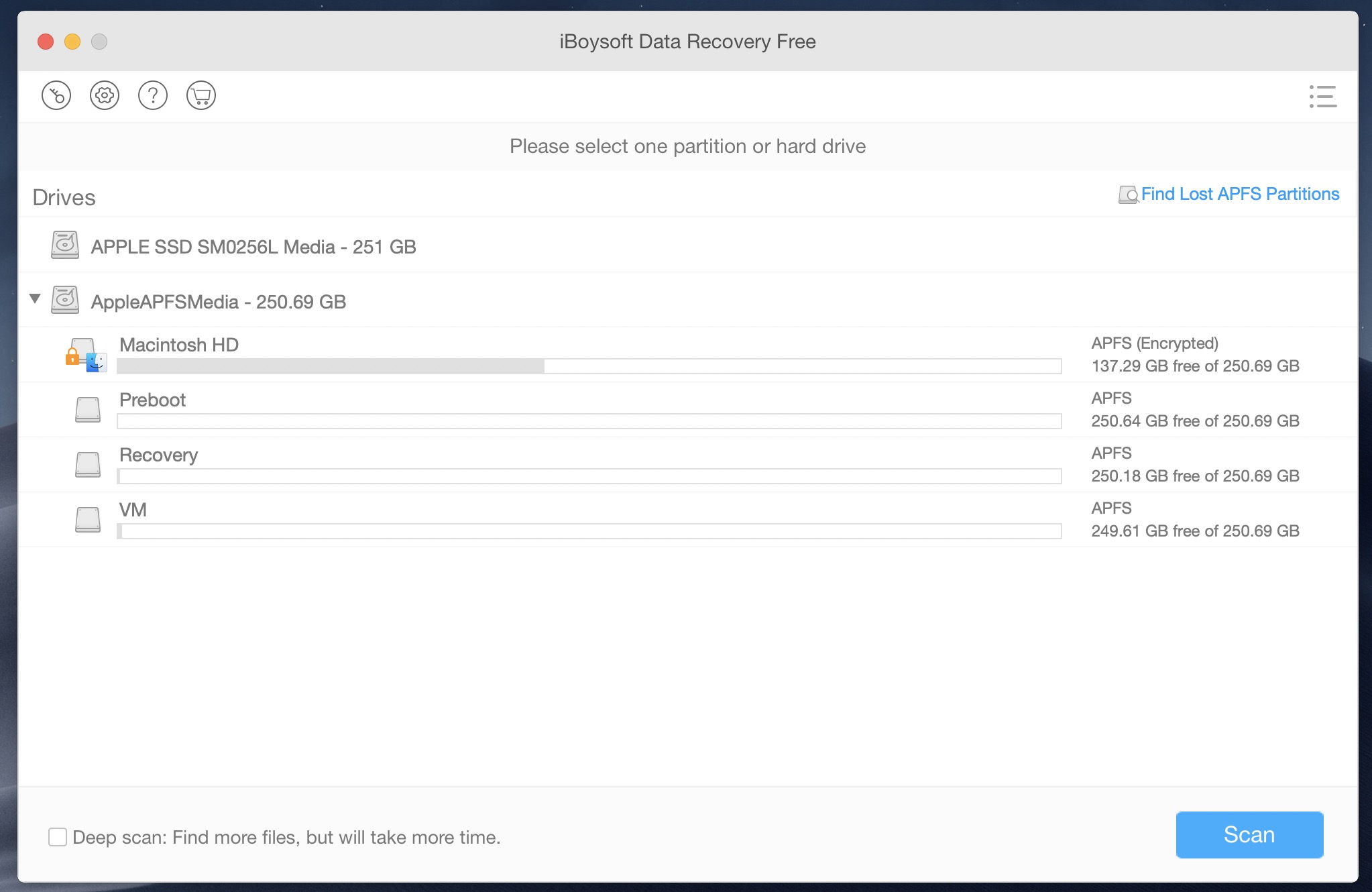 Another cause of data loss is hard drive formatting. Under normal circumstances, this is difficult to achieve. After all, you're not just going to randomly format your hard drive. However, if you have more than one hard drive, it's possible to select the wrong drive from the list. The good news here is that formatting doesn't actually overwrite all of your data. Instead, it simply marks disk sectors as blank and writable. With the right utility, you can still recover your data. The exception to this rule is if you create disk segments using a third-party app. These third-party apps don't always do the best job, and can easily destroy your data. For best results, stick with Mac OS' native disk management tool.
You can also lose your data due to bad disk sectors. This can happen because of logical errors in the disk's directory structure. In that case, the data is still there; it's just invisible to your system. On the other hand, if your disk was physically damaged, the data may be gone for good.
The last cause of data loss is viruses and malware. Typically, this happens with ransomware, which hijacks your machine and encrypts the hard drive. The bad news is that there's no software that can recover a well-encrypted hard disk. The good news is that this kind of malware is rarely engineered for Macs. So as a Mac owner, it's not a significant concern.
How Can iBoysoft Mac Data Recovery Software Help?
So, what can iBoysoft Mac Data Recovery Software do to recover your data? To begin with, it can restore data from drives with logical corruption. This is more or less par for the course for data recovery suites, since it's the bread and butter of data recovery. However, you can also recover data from drives that have been formatted. This is a less common feature, and it's much appreciated. You can even recover files that you accidentally trashed. If you've ever hit "delete" only to regret it moments later, you'll appreciate this feature. All in all, this is quite a full-featured software suite!
One thing we appreciated about the iBoysoft software is that it doesn't just work on hard disks. It can restore SSD drives, USB flash drives, SD cards, and just about any other kind of storage. About the only thing it won't work on is a RAID array. But RAID is rarely used with Mac systems, and almost never for home applications. As a result this isn't a significant limitation.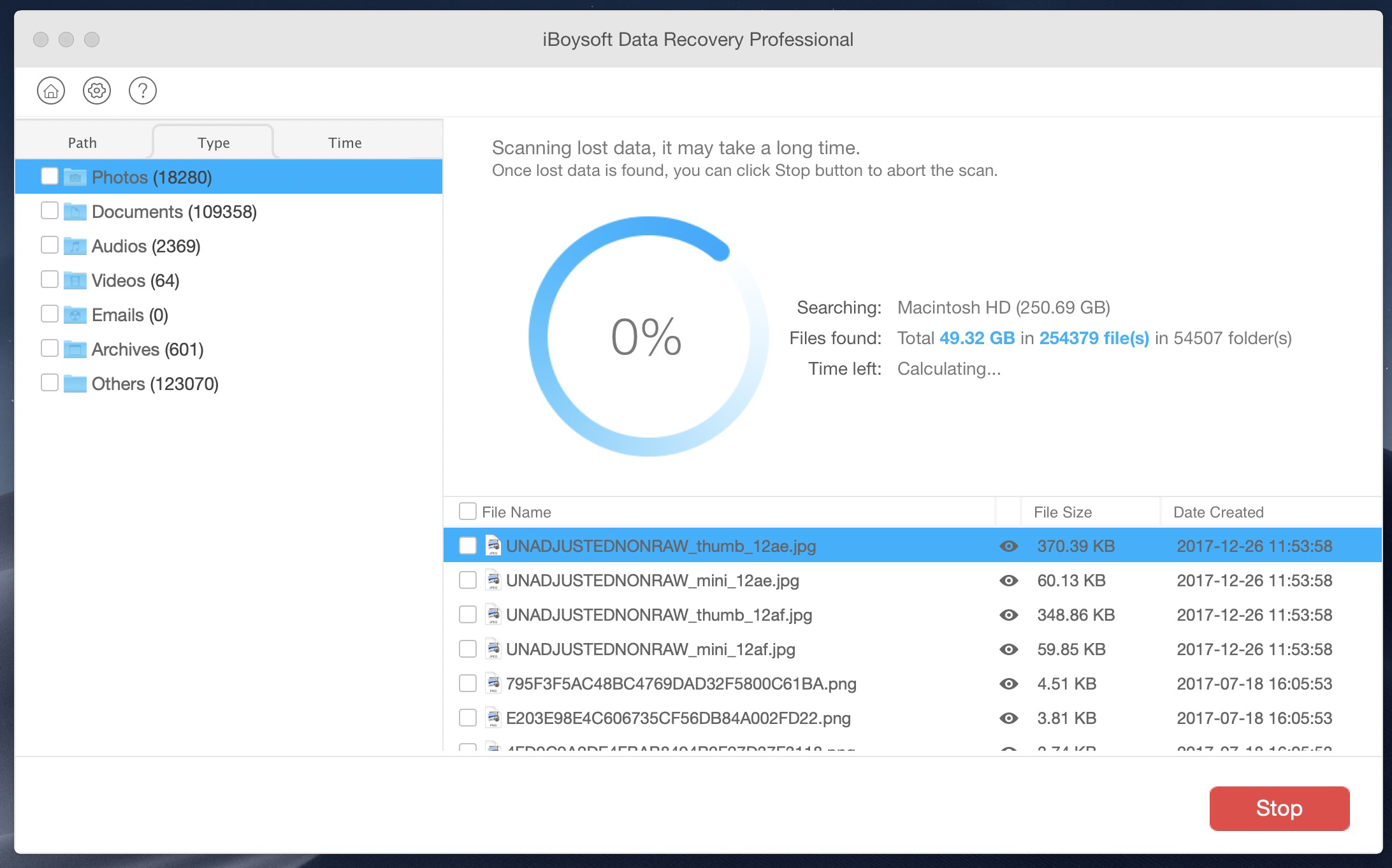 In terms of system requirements, the iBoysoft recovery software will work on just about any version of MacOS. It supports all versions from 10.7 (Lion) up through 10.15 (Catalina). Unless you're running a very, very old machine, you don't need to worry about compatibility. In addition, you also get support for most Mac file systems. The software supports FAT32, exFAT, APFS, encrypted APFS, HFSX, HFS, and HFS+.
How it Works
The iBoysoft Mac Data Recovery Software is free to download. With the free version of the software, you get to run a scan and find your lost files. However, you'll need to purchase an activation code to actually recover this data. Nonetheless, the free version is useful in one respect; it lets you know whether your data is recoverable or not. This means you won't have to spend money only to find out your data is completely lost.
To run the software, you'll first need to allow it to have full disk access. Go to the Apple menu, and select "System Preferences", then "Security & Privacy". From there, select the Privacy tab, and select "Full Disk Access". Click the icon at the bottom, then click the "+" button, and add the iBoysoft software to the list. Launch the software, and you're ready to start scanning. If you decide to buy iBoysoft, keep in mind that you need an active internet connection to unlock the software.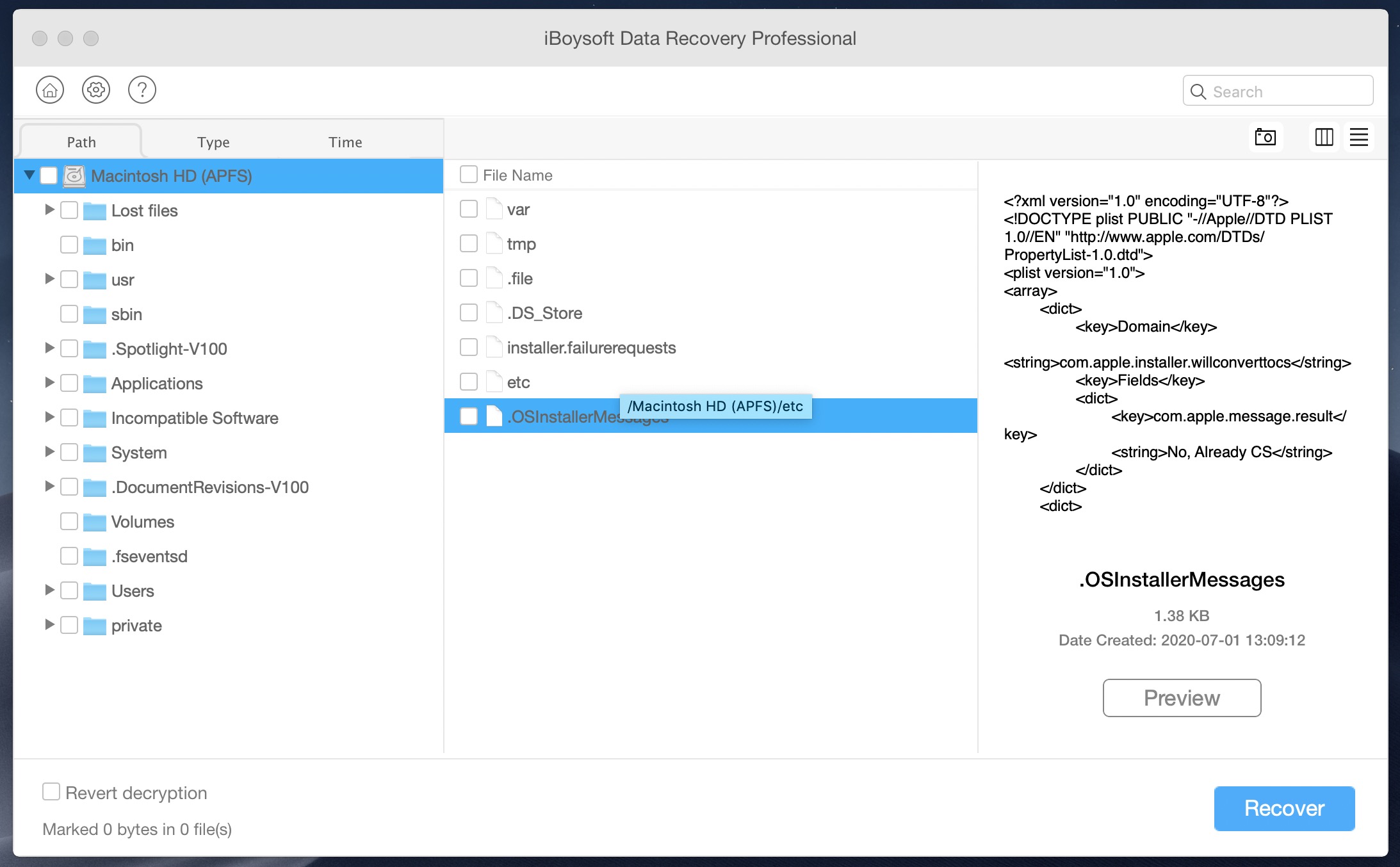 There are a few different ways to run a scan. The most common thing you'll want to do is search for corrupted data. To do this on your primary drive, you'll first need to deactivate MacOS' System Integrity Protection (SIP). SIP is only present on MacOS versions High Sierra and later. On earlier versions, this won't be an issue. Once this is done, you'll need to boot to the Recovery OS. Restart your computer, and hold down the Command key and R key simultaneously at startup. From the utility menu, open the terminal, and run the command "csrutil".
Once that's done, launch the iBoysoft software, choose your primary drive, and click "Next". This will display a preview of all the found files. You can either select them all, or select only the files you want to recover. Either way, click "Recover", and the files you want to restore will be restored. If you don't see the files you wanted, go to the Preferences menu, and click "File Types". In that menu, you'll see an option for "deep scan". Check that box, re-run the scan, and you should see even more files. Follow the same process to recover files that you've accidentally trashed.
If your computer won't boot up at all, you have to go through a few extra steps. However, you can still recover your data under most circumstances. The easiest way to do this is to try rebooting your Mac in Recovery mode. Try holding Command and R during startup. If this works, proceed the same way we described above.
That said, in many cases, an unbootable Mac has been effectively bricked. In this case, you'll need to create a bootable flash drive. You'll need a working Mac computer and a USB flash drive to proceed. Install the iBoysoft Mac Data Recovery Software on your working machine. Open the software, and select the option to create a boot drive. Insert a USB thumb drive in the machine, and follow the steps in the wizard. This will create a bootable flash drive that you can use for recovery.
Next, insert the flash drive in your broken Mac, and reboot the computer. At startup, hold down the Option key, and you'll see a menu with various boot options. Select the option that says "iBoysoft Mac Data Recovery", and wait for the computer to boot up. Go to the Utilities menu, and open the terminal. From there, type "Volumes/Image Volume/boot.sh", and press the return key. The iBoysoft suite will launch, and you can proceed with data recovery as described above.
Final Verdict
So, how well does the iBoysoft Mac Data Recovery Software work? And more importantly, is it worth your hard-earned money? To begin with, let's state the obvious: it only works on Mac machines. If you're a PC user, you'll need to use a different recovery suite. It's also a bit more complicated than some other data recovery programs.
That said, complexity isn't always a bad thing. It's necessary because the iBoysoft software is able to do so many things. Many data recovery programs are fairly barebones, and won't recover much data. The iBoysoft suite, on the other hand, can recover just about any missing data. Whether you accidentally hit "delete" or your Mac has been bricked, you can still get back your files. Barring physical damage to the disk itself, you're likely to be successful. Moreover, iBoysoft provides excellent customer support and documentation. If you have any trouble, there are plenty of resources for you to get help.