Hard drive docking stations can be incredibly valuable to small businesses, the tech service industry, and even enthusiasts who require access to a large amount of data. Combining the functionality of an external hard drive enclosure with the features of partition imaging software, there are three primary reasons you might need to pick one up for yourself.
If you need on-hand access to large amounts of data, the docking feature of a hard drive duplicator is incredibly handy. Currently, standard spinning-disk hard drives offer storage space at a very economical cost per gigabyte. Multi-terabytes of storage space can be picked up for a couple hundred dollars. Keeping those drives on hand, you'll be able to pop them in or out of the docking station as needed. If transfer rates are important to you, there are very few portable storage solutions that can beat the throughput of a 2.5" SSD connected to an eSATA or USB 3.1 interface.
If you regularly need to provide upgrade or maintenance service for computer systems, these hard drive duplicators can make your life much easier. Internal storage can be upgraded with as little as five to ten minutes of actual work. Just remove the old drive, plug it into the duplicator next to the new one, then press the button. After about 10 seconds, the light will begin flashing indicating that the cloning process has begun.
These drive cloners are also very popular in enterprise environments. Critical drives can be backed up daily with just the push of a button. Restoration images of the company's computers can be kept on hand, meaning setting up any new piece of equipment is as simple as copying your installation source onto a new drive.
When it comes to hard drive duplicators, there are many options available on the market today. Thanks to high bandwidth communication ports such as USB 3.1 and eSATA, these devices have never been easier or more affordable. Let's take a look at some of the best options.
StarTech SATA Hard Drive Duplicator Dock
The StarTech SATA Hard Drive Duplicator Dock comes in a fairly plain case. The black plastic frame uses a top-loading method to connect to your hard drives. It's sized for 3.5" drives, but a fold down plastic insert has a small cutout allowing you to insert a 2.5" drive while keeping it secure.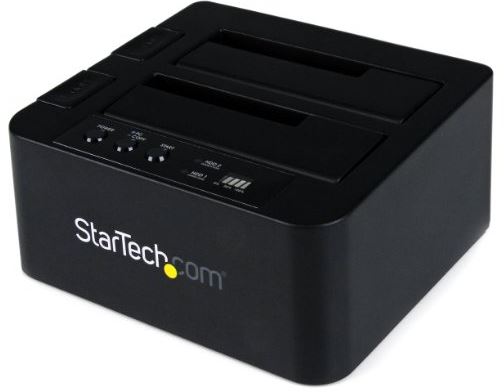 Connectivity
To communicate with your computer, this drive duplicator gives you three options. The USB 2.0 / SATA combination is likely the most popular. eSATA is fast enough that you can access most drives just as if they were internal. For all other purposes, USB 2.0 is fast enough to browse the drive structure or perform simple file transfers. Those of you that do not have access to an eSATA port can opt for the USB 3.0 model.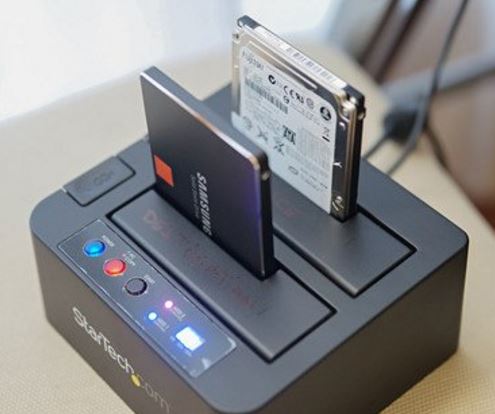 This will facilitate file transfers at up to a peak rate of 480 megabits per second. Finally, if you are on the cutting edge of technology you can take advantage of the USB 3.1 model which has a peak throughput of 10Gbps. Currently, there is no drive that can even come close to reaching that kind of speed, but if you intend to keep the duplicator around for a long time you may wish to take advantage of that feature.
For connecting to your hard drives, most models use SATA connections. Virtually every drive on the market is SATA, so this is necessary for the majority of consumers. If you are performing data recovery / duplication on very old drives there is an IDE model available, but it is triple the price of the SATA ones.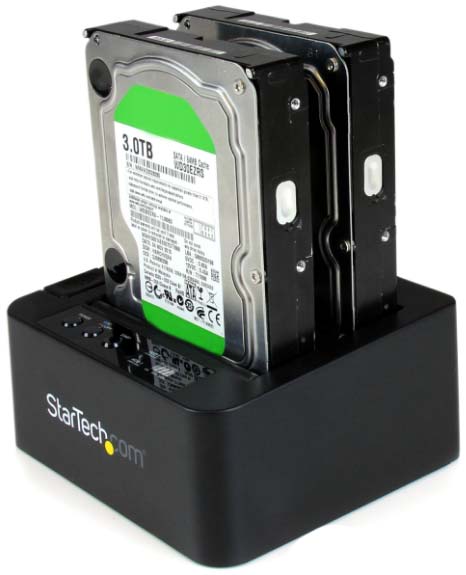 Duplication
The StarTech HDD Duplicator is capable of copying from one drive to another without the need for a computer. It can perform a complete sector-by-sector copy that ensures even encrypted or partially corrupt drives can still be recovered. One great feature about this duplicator is that it also copies the data in the HPA of the drive. HPA stands for host protected area, it is a sector of the drive that is not normally accessible to the operating system.
This includes information about the drive such as the number of sectors. When copying between drives of different sizes, differences in the HPA could cause the copy to fail. With this duplicator, you'll be able to automatically get around that problem.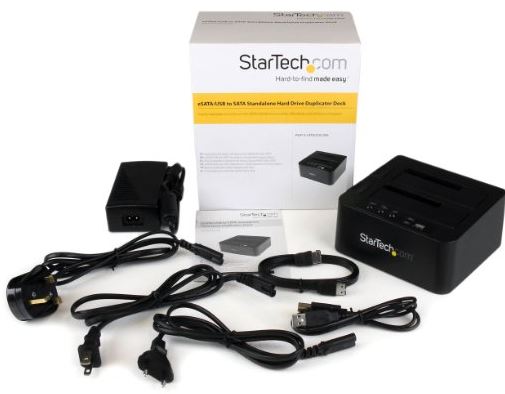 Ease of Use
Inserting drives into the StarTech Duplicator is very easy. Just push them into the top, then push the button to duplicate them, or connect them to your computer to read. With a USB or eSATA connection, no drivers are necessary so you can start using them right away. When copying, you have a handy LED progress bar that will tell you exactly how far along the process is.
Spinido USB 3.0 Hard Drive Duplicator Dock Station
Although the layout is very similar to the StarTech model, this hard drive duplicator is made out of a durable aluminum casing. If you're going to be using your duplicator in a rough environment, the durable build quality is sure to be a huge asset. Despite the high quality construction, the Spinido USB 3.0 Hard Drive Duplicator Dock Station is very affordable.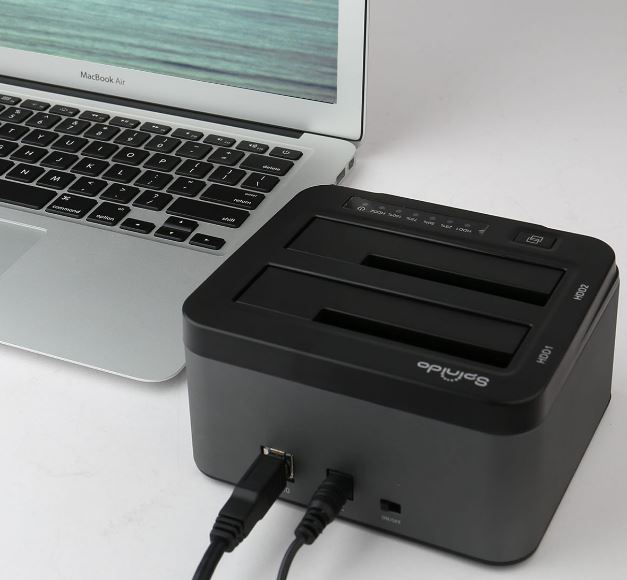 Connectivity
Spinido keeps it simple with this hard drive duplicator. While having many advanced connectivity options is great for some clients, the SATA III drive connections and eSATA pc connections are suitable for most users. Because this is a simple SATA to SATA connection, there are no drivers necessary. If you're just looking to read information off the drive, USB 1, 2 and 3 are all supported. The dock has the latest firmware, allowing it to work with hard drives up to 6TB in size.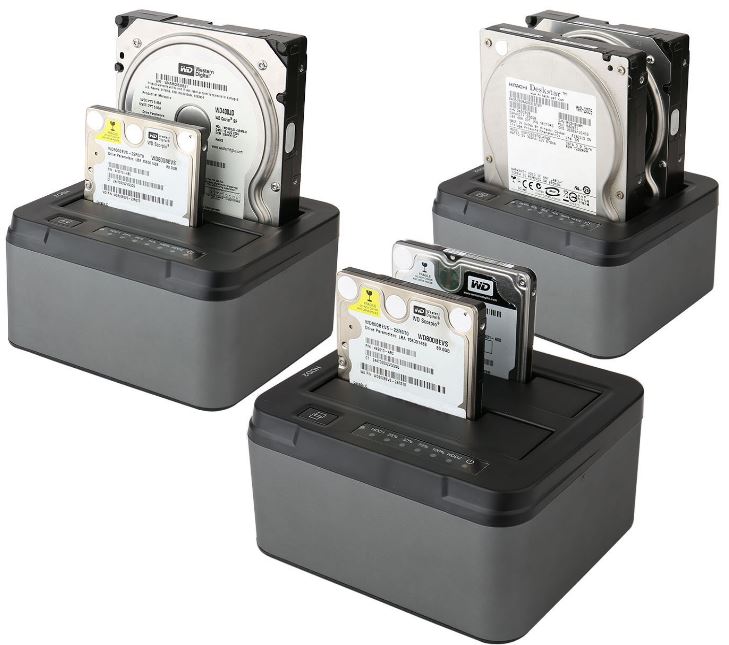 Duplication
The duplication function works between any type of SATA drive. 2.5", 3.5", hard drives, and SSDs all work perfectly straight out of the box. This duplicator does not do an identical sector to sector copy, which has a couple of implications. First, it will be much faster. By buffering the data, transferring information from one drive to another will be up to 30% faster than advanced copies. Unfortunately, this duplicator is not ideal for working with encrypted drives, or preparing new drives for embedded purposes. Starting the duplication process just requires a single touch of a button, and the operation will begin.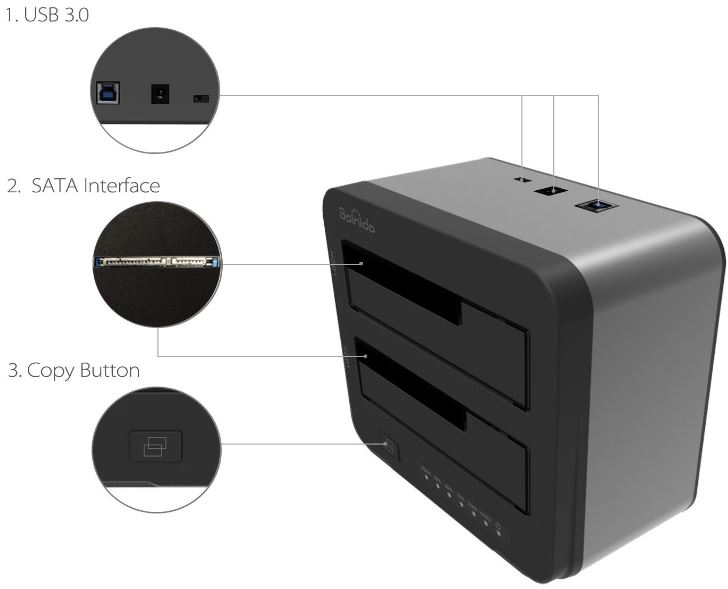 Ease of Use
If you're using this duplicator as a hard drive dock, you'll be happy to hear that the drives are all hot swappable. No need to eject or push any buttons, simply wait until all data transfer operations are completed and pop the drive out. Included with the box is a high speed eSATA cable, so users who are looking for lightening quick data transfer will be ready to go right of the box.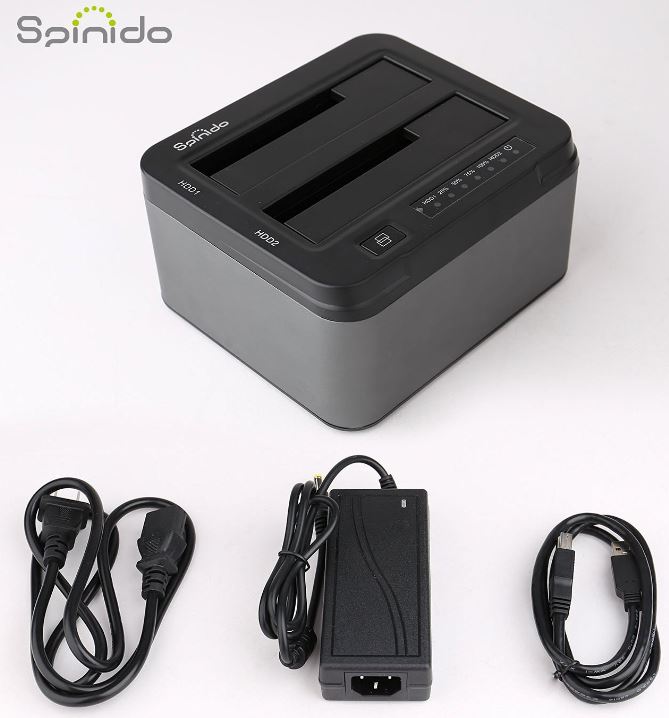 Sabrent USB 3.0 to SATA Dual Bay External Hard Drive Docking Station
If you're looking for an affordable hard drive duplicator that also lets you read data over USB 3.0, the Sabrent Dual Bay External Hard Drive Docking Station is likely your best option. With a design that looks somewhat like a toaster, this drive offers the best value in price versus performance.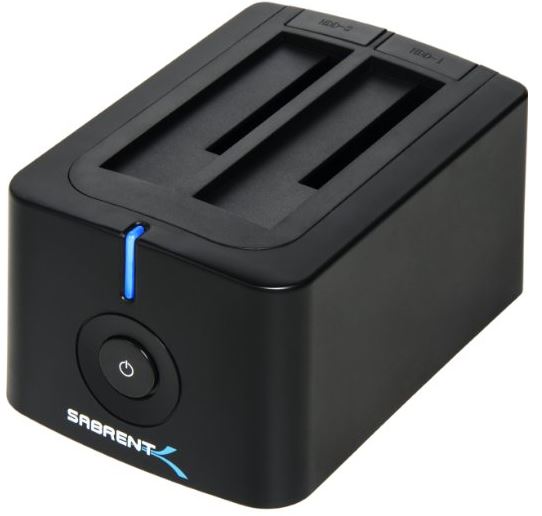 Connectivity
This duplicator is designed to work with any 3.5" drive, as well as 2.5" drives up to 9mm. This means that if you're using a Macbook, Thinkpad or other laptop that requires the use of a tray, it will need to be removed. Connectivity to the PC is achieved through a USB 3.0 port. This duplicator supports the latest USB 3.0 speed, facilitating lightning fast peak data transfer speeds. eSATA is great provided your computer actually has an eSATA port. If you're using this duplicator to transfer information onto a variety of different computers, USB 3.0 is almost guaranteed to be present on any modern computer.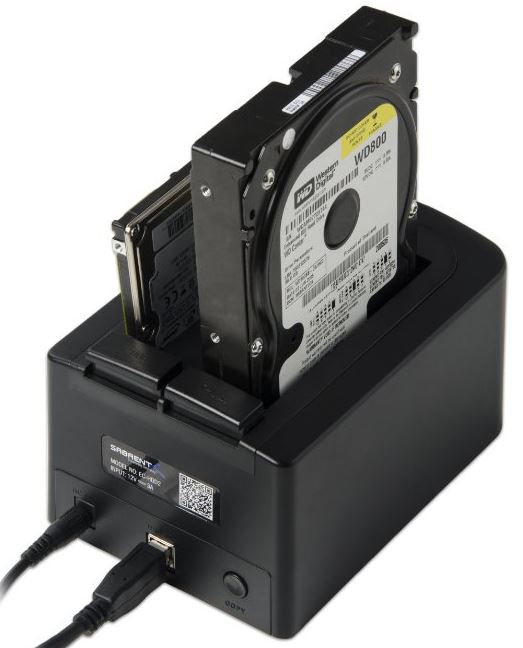 Duplication
The duplication function of this drive is simple but effective. You need to start with the duplicator powered off. The source drive goes into the HDD 1 slot, and the destination into HDD 2. Connect the power supply and turn the device on. After a few moments, you'll notice the activity light begins to blink. Simply wait until the light stops blinking and you're done. This is just a standard duplication process; it does not support any advanced sector copies. For standard, day to day use, this should be no problem. If you are trying to recover information from corrupted or damaged drives, you'll need a more advanced option.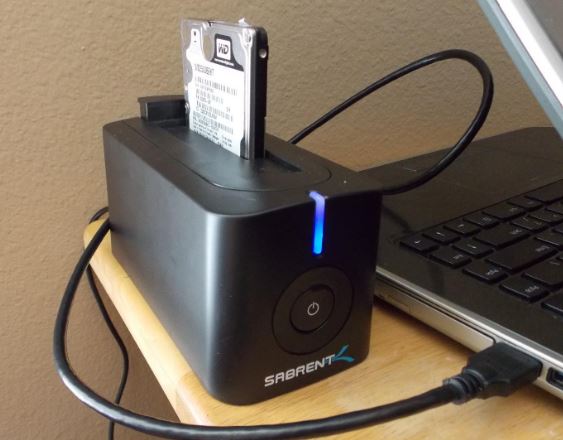 Ease of Use
Installing and removing the drives is simple. The toaster like levers on the side allow you to gently lift the drives out of the dock, without causing any damage. Although starting the duplication function takes a few moments to figure out, but it's quite straightforward after you do.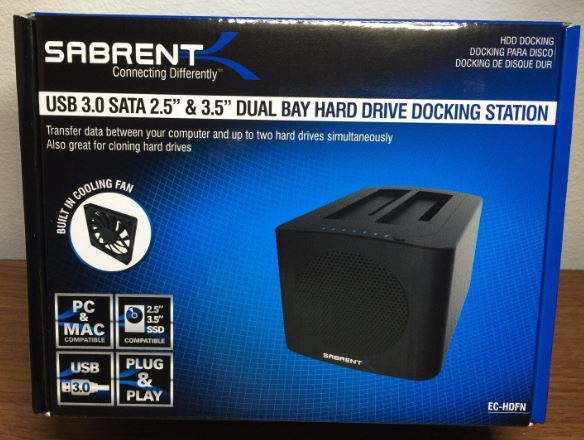 There are only two primary functions supported by the Sabrent duplicator, docking mode and duplication mode. If the USB cable is in, it's in dock mode. With it out, it's in duplication mode. If you want a simple duplicator that can both read from and duplicate your drives, you'll be hard pressed to find a better deal than the Sabrent USB 3.0 to SATA Dual Bay External Hard Drive Docking Station.
Which Hard Drive Duplicator or Cloner Docking Station Should I Buy?
It might seem that all of these duplicators are very similar, but there are a few key differences that can make a huge impact on your usage. The decision you make is going to boil down to two primary factors: the environment it will be used in, and the purpose it will be used for.
Will you be using the duplicator to deal with corrupted or damaged drives? If so, you absolutely need a duplicator that can do advanced sector-by-sector copies. Let's say, for example, that you have a hard drive with a couple of bad sectors. Recovering data from the drive can be a nightmare. Trying to copy directly off the bad drive will encounter an error every time those sectors are accessed. Likely, the recovery attempt will take a large amount of effort and you will only get a partial copy of the drive at best. If you do a sector by sector copy, you'll get every piece of information off the drive including the corrupt data that was previously occupying the bad sectors. On the new drive, you can then begin the process of finding out exactly which files were corrupt, and the rest will be successfully recovered. In this situation, it is absolutely worth it to spend the money on the StarTech Duplicator.
Will you be using the duplicator in a rough work environment? If you're worried about it getting bumped or jarred, the aluminum casing of the Spinido Duplicator is superior in many ways. This duplicator should stand up to many years of use.
The final question to ask yourself is whether you will be accessing the drives using eSATA or USB 3.0. USB 3.0 is significantly more common, although the data transfer rate is slow. For archival purposes or simply grabbing a few files, this is likely the best way to go. In that case, the Sabrent Duplicator is a fantastic deal. If you have enough hard drives to warrant the use of a duplicator, there is a good chance that performance is important for you. The Spinido duplicator offers excellent value considering it's build quality. Even if you don't have an eSATA port, you can inexpensively add one to your desktop computer.