Imagine this scenario. You're ready to tow your boat to the lake for a day of cruising and casual fishing. The trailer hitch is connected, the boat is strapped down, and the weather is beautiful. You plug in your trailer's lights, and nothing happens.
Instead of a day on the boat, you can look forward to troubleshooting and repairing your lights. Nobody wants to be in that situation. But how do you avoid it? The obvious solution is to install the best trailer lights possible. This won't prevent all issues; for example, your truck could develop a ground short. But it will go a long way to ensuring that your trailer lights work reliably.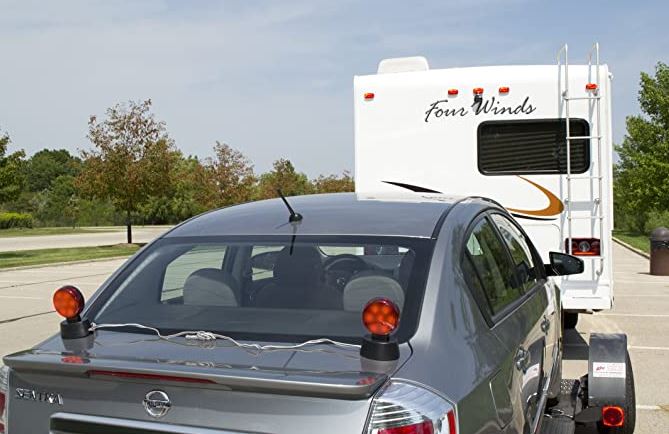 A good set of trailer lights should be bright enough for other drivers to easily see them. They also need to be able to perform all the necessary functions. They need to work as running lights, brake lights, and turn signals. And they also need to work with your trailer.
This can be problematic if your model of trailer is no longer in production. Depending on the type of light, there might not be any aftermarket replacements available. But you don't have to scrap your whole trailer just because there are no replacement lights. Instead, you can easily install a set of magnetic lights on just about any trailer.
We're about to review three of the best magnetic LED tow lights on today's market. All of these are designed to be easy to install and use. Even if you're a complete novice, you shouldn't have much trouble. All you'll need is a little time and patience, and a few zip ties.
That said, there are some major differences between the three, and we need to talk about them. To find out which one is right for you, you'll have to think about the size and shape of the light. You'll have to consider its brightness, and see how easy it is to wire. We'll look at these and many other aspects of the design. After we've evaluated all three, we'll be prepared to render our verdict. Let's begin!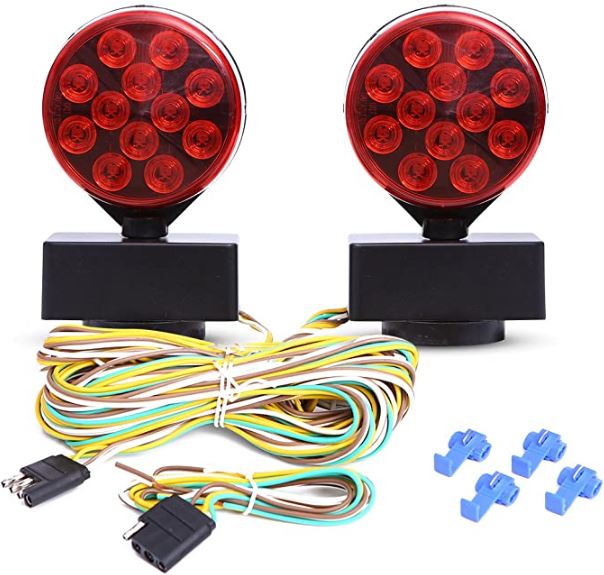 CZC AUTO 12V LED Magnetic Towing Light Kit
The CZC AUTO 12V LED Magnetic Towing Light Kit comes is a straightforward pair of red circular lights. Each light is 4 inches in diameter, and 2.5 inches thick. However, you can choose from two different types of base. To begin with, there's a rectangular base, which has a slightly smaller profile. There's also a round base version, though. This has little eyelets on the side, so you can strap the lights down with zip ties. Both types of base are molded from black plastic, which is reasonably tough and durable.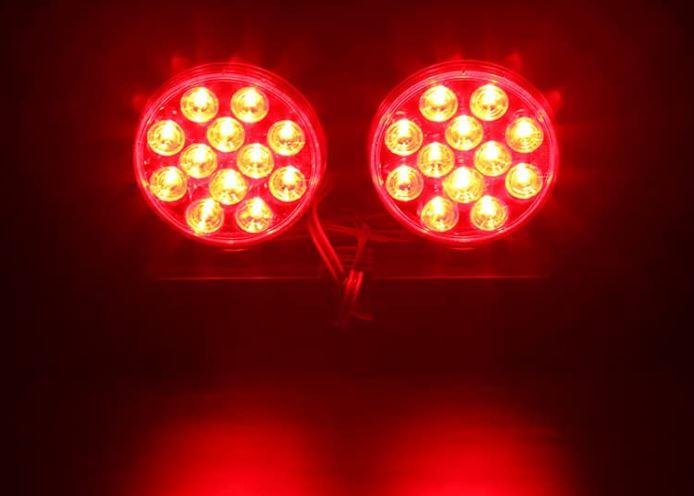 CZC AUTO claims that their lights have a 55-pound magnet. We're not quite sure how they're measuring that, because it doesn't seem all that strong. If there's a lot of vibration or you're driving on a bumpy road, they can potentially fall off. We highly recommend the round base version, for this reason. When you zip tie it into place, the magnet strength becomes a non-sequitur.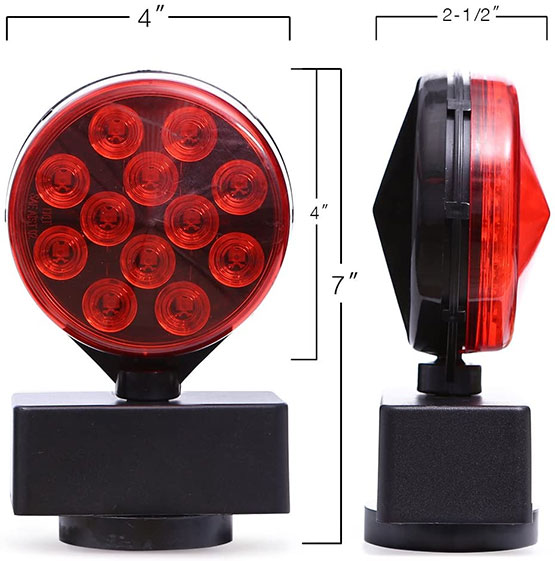 As for connectivity, the wiring harness allows for the lights to be set up to seven feet apart. In practice, the actual length is more like 80 inches, since the wires will have some slack. Meanwhile, the line to the front of the trailer is 20 feet long. That's enough for even many larger trailers. If you've got too much slack, you can zip tie it to the trailer frame so your wire doesn't drag. If you need more length, a standard extension cord will work. These lights use a standard 4-pin plug, so it's easy to plug in or use an extension.

Each light has 12 LED diodes, which are exceptionally bright. You can see the brake lights clearly even when there's a lot of glare from the sun. Moreover, the diodes have an impressive 100,000-hour lifetime rating. That's twice as much longevity as you'll get from most LEDs.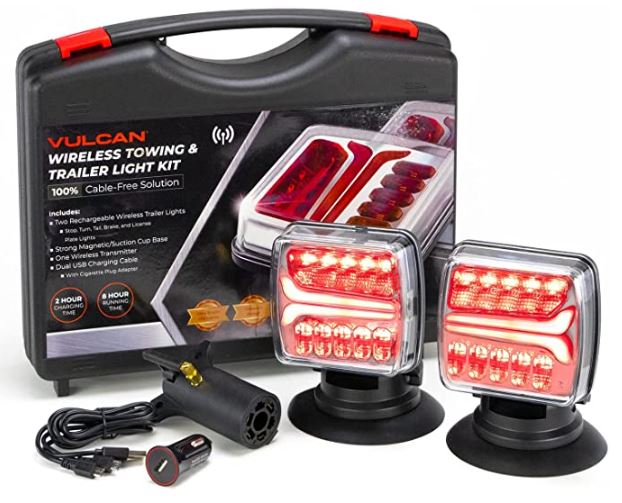 VULCAN Wireless LED Towing & Trailer Light Kit
The VULCAN Wireless LED Towing & Trailer Light Kit is a truly unique set of lights. The lights themselves are rectangular, and they have different sets of LEDs. Instead of the entire light acting as a running light, brake light, and turn signal, there are separate components. In the middle of the lights, there's a horizontal, flared-out bar that functions as a running light.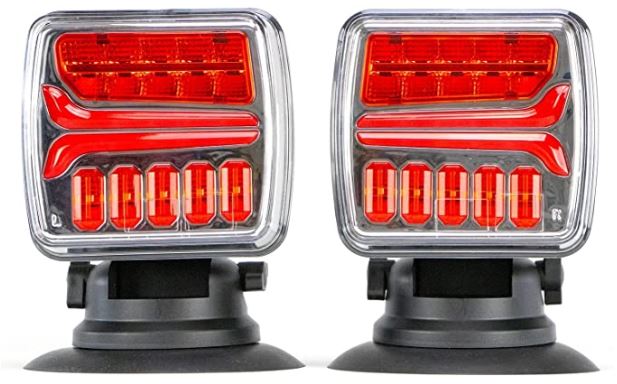 When you press the brakes, the brighter top portion of the lights will illuminate. The bottom of each light sports a row of five rectangular diodes that act as turn signals. Each light is 4.06 inches high, 4.33 inches wide, and 2.64 inches thick.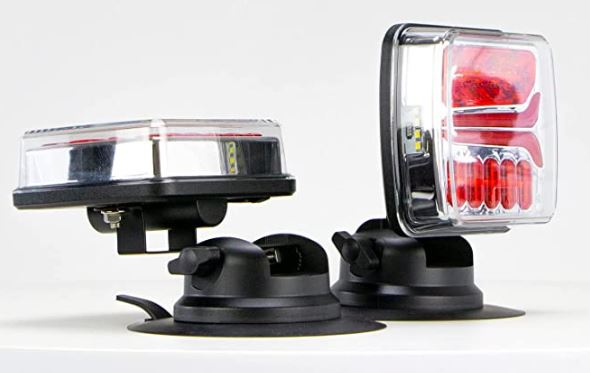 The light bases are round, and have ultra-powerful magnets that are exceptionally secure. Not only that, but each magnet has a rubber suction cup around it. This makes your installation far more secure than with a magnet alone. Keep in mind, though, that the suction cup will only work on a totally smooth surface. As an added bonus, the lights have a weather-resistance rating of IP65. That's not incredibly high, but it's enough to stand up to strong rain and other non-immersion scenarios.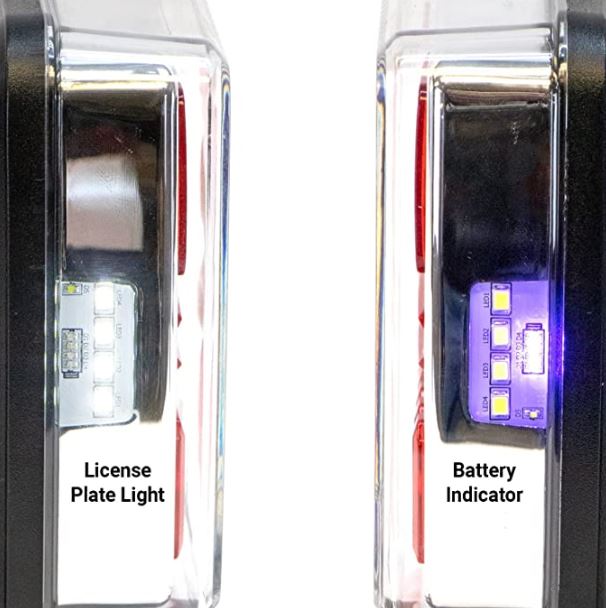 The best feature of this light kit is that there's no wiring required. Instead, the lights are battery-powered. They'll last for around 8 hours on a charge, depending on how often they're lighting up. You'll find a row of four LEDs on the side of each light, which indicates the charge level.
Charging the lights, meanwhile, takes only around 2 hours. There's a split charging cable, with a USB Type-A tip at one end, and two Micro USB tips on the others. This cable comes with a little cigarette outlet USB adapter, so you can charge the lights on the go. Unless you're traveling an incredibly long distance, you should never run out of juice.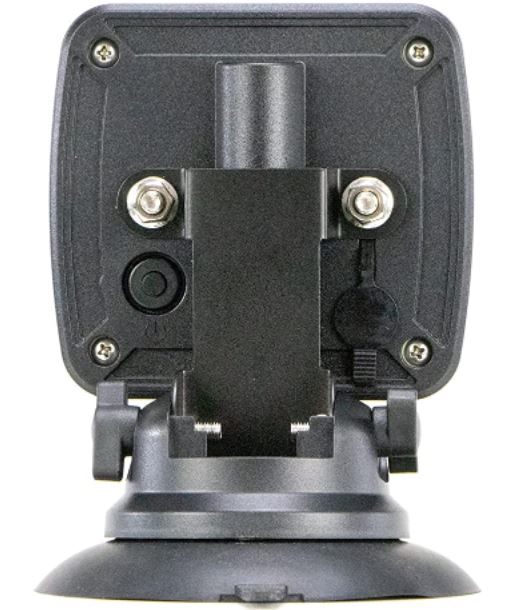 The obvious benefit of this is that you don't have to run any wires, or worry about them getting nicked. Instead, your lights are controlled by a round 7-pin adapter with a built-in wireless receiver. As long as your car's wiring is in good shape, you won't have any connection issues. To help you keep track of everything, the kit comes in a convenient carrying case. This makes it easy to store the kit when it's not in use.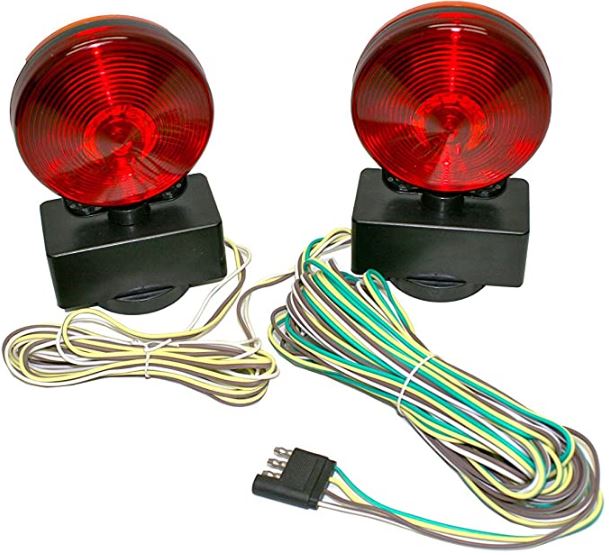 MaxxHaul 80778 Magnetic Towing Light Kit
The MaxxHaul 80778 Magnetic Towing Light Kit is similar in many ways to the CZC kit. In fact, it seems to use an identical wiring harness. That's not a criticism – a lot of companies use the same standard sets of harnesses. But you're looking at installation on the same types of trailers. The lights can be positioned up to 80 inches apart, and the wire to your car is 20 feet long.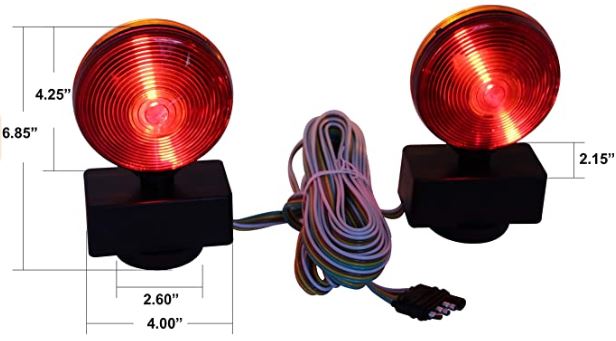 The magnetic bases are stocky and sturdy, and are easy to put into position. They also remain in place very well, even under demanding conditions. The actual lights measure 4.5 inches in diameter and 2.15 inches thick. The covers are slightly more opaque, so you can't see the individual diodes. That said, they're still reasonably bright. Not only that, but one side is red, and the other side is amber. If you need a set of amber flashers, just twist the lights around and turn on your hazard lights. It's that simple.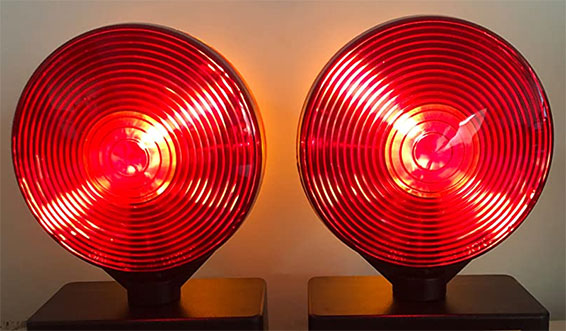 While you're working on your trailer's wiring, you may also want to address the wiring on your boat or RV. If your shore power connection is getting a bit long in the tooth, consider replacing it. Our list of the best 15-amp AC power inlets for shore power is a great place to start.
How Do Trailer Lights Work?
So, how do trailer lights work, and how do you hook them up? Most simple trailers have three different electrical circuits. The first operates the tail lights. The second operates the left brake light, and the third runs the right brake light. To activate a turn signal, a brake light will simply blink on and off. This is a straightforward wiring scheme that's easy to understand and diagnose. In addition to the three circuits, you'll also need a ground connection. This connects to your car's ground.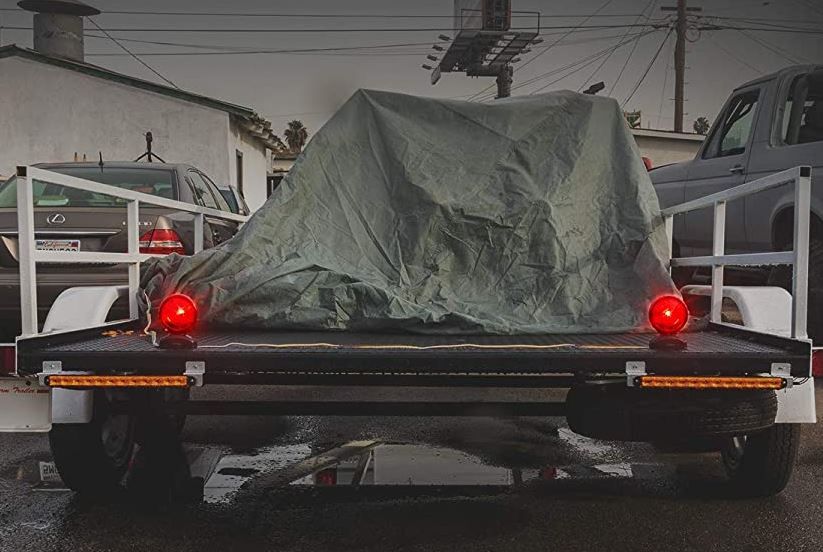 For these kinds of light systems, you use a basic, 4-pin connector. This is a flat black plug with three cylindrical prongs and a single socket. It connects into the 4-pin plug on your car, which has three sockets and a single prong. These cables are easy to hook up and disconnect, and are by far the most common.
That said, other light system use round plugs with five, six, or even seven flat blades. These are used for trailers with additional features. For example, some trailers have turn signals that are separate from the brake lights. In that case, you need extra wires. Along the same lines, a trailer might have running lights on the side. Some trailers, like horse trailers, may even have interior lights. Since these run on your car's power, you need additional circuits.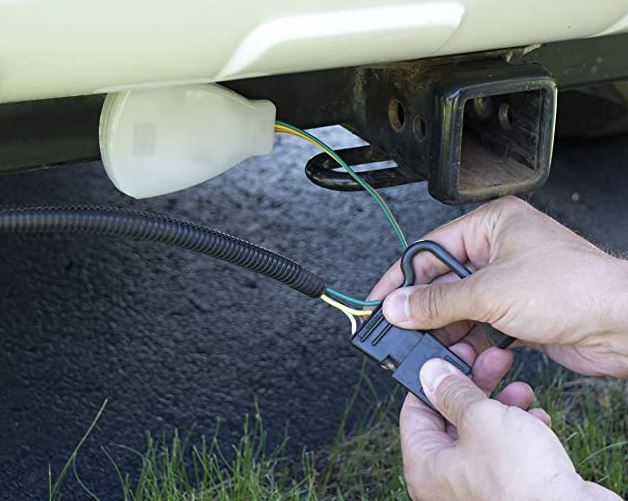 If your tow vehicle has a four-pin plug and so does your trailer, the hookup process is straightforward. Connect the cables, turn on your vehicle, and test the lights. Have someone stand behind the trailer while you pump the brakes. They can verify whether the brake lights are working. You can also have them check the turn signals and running lights. The running lights should activate whenever you turn on your headlights. The turn signals are self-explanatory.
Some vehicles have both a four-pin and a seven-pin connector. These are universally compatible. However, some other vehicles only have a seven-pin connector. If that's what you're dealing with, you'll need to buy an adapter. You can find them at any automotive shop, as well as some hardware stores. It should be easy enough to find one. But if you need help, it doesn't hurt to ask.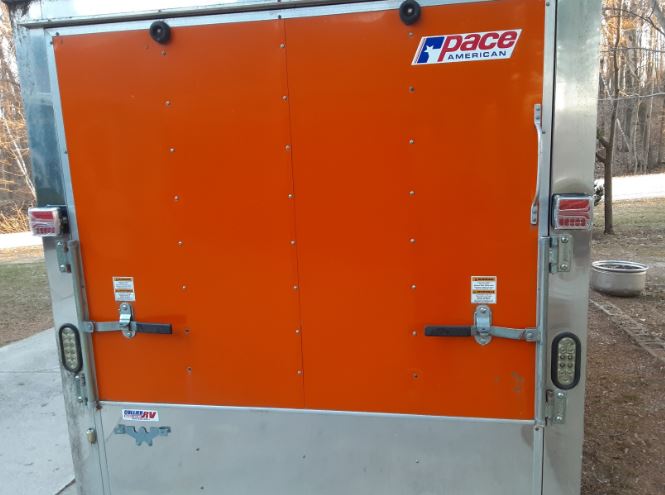 There's one scenario that gets more complicated. If your trailer lights have a seven-pin connector and your car has a four-pin connector, there's no adapter. You can plug a four-pin trailer into a seven-pin connection with no issues, but not vice-versa. If you need lights with a seven-pin connector, you'll have to upgrade your car's towing connection.
This is a challenging job, and it's best not to try it if you're not experienced with car electronics. That said, it doesn't take all that much time to install a seven-pin jack. You can be in and out of the repair shop, and get one installed in next to no time.
Which Magnetic LED Tow Lights are Best?
So, which one of these magnetic LED tow lights is the right choice for you? A lot depends on what you need.
The CZC AUTO 12V LED Magnetic Towing Light Kit is the most straightforward of the bunch. You get a pair of lights with a wiring harness, and everything is ready to go. The lights are nice and bright, with excellent visibility under almost any amount of glare. We could have gone for a stronger set of magnets. But as long as you don't mind zip tying them, you can take advantage of an impressive 100,000-hour bulb life.
The MaxxHaul 80778 Magnetic Towing Light Kit is similar in most respects to the CZC kit. However, there are a couple of differences. For one thing, there's no bulb life rating. On the other hand, the magnets are more powerful and reliable. And with a reversible red and amber design, the lights are a bit more versatile.
The VULCAN Wireless LED Towing & Trailer Light Kit is the most unique of the bunch. The split design of the lights themselves makes them much easier to understand. But the real advantage of this kit is the wireless design. It's not idea for very long trips, because you'd have to stop after 8 hours to charge the batteries. But you don't have to run any wires, and you can put the lights away when they're not in use.