Choosing the right cabling to cater to your needs is a more significant decision than most people credit it as. Cables come in various degrees of quality and performance. When you add in the element of a cable being retractable, it adds additional factors that must be considered.
Cable Size & Retraction
All retractable cabling has a specific retraction force that can have an impact on what you can use the cable for. Retractable cables are primarily for cable management purposes. You buy a retractable cable because you want to run your devices together without having to deal with excess cabling. If you decide to plug your monitor in via retractable HDMI, you want to make sure that the cable is both long enough and does not have enough retraction force to pull your monitor out of place. Also, to ensure your cable and ports last long, you want to make sure the force applied to your ports is not overwhelming or at odd angles.
Cable Type & Application
When you are purchasing an HDMI cable, you have to think about what you want to use it for. There are about eight different HDMI cable types that currently exist. All of them are primarily based on just two certification standards: Standard & High-Speed. What you plan to use your cable for will be the deciding factor in which cable suits your needs the best.
Standard HDMI cables are perfectly capable of handling high definition content such as 720p or 1080p video. That means if you have no intention of going beyond 1080p, then there is no need to look at higher-performing cables. Once you decide you want to go beyond HD, you have to make the hump to High-Speed HDMI cables. The data transfer speeds allow the wires to support higher resolution than a Standard HDMI. That means for 4k or 3D viewing and a much higher quality color palette, High-Speed HDMI is required.
Durability and Warranty
In our world of ever breaking phone charging cables, we all know how easy it is for a cable to fall apart. If you are consistently applying pressure to a cable at sharp angles, it will eventually cause breakage inside of the wire and cause degradation in data transfer quality. This is the same reason that so many people see that their phone's USB charging cable is charging their phones slower than average. When it gets awful, you will see on your phone that it is "experiencing slow charging rates." This happens due to either issue with the end of the cable being lost due to poor handling, or internal breaks in the wiring within the cable.
On top of durability, you have to consider if your cabling comes with any warranty. Buying electronics online is not as consumer-friendly as buying them in a brick & mortar store. When you buy electronics at a retail store, you can always drive back and return them. When you buy online, it can be much more challenging to get into contact with the customer care department or the individual seller that you got the cable from. For that reason, paying attention to the warranty is of great importance. Cables tend to come with limited warranties. Just make sure that a warranty is offered to protect your purchase. If you see it listed, you will often notice that it states a limited warranty. That means the only thing covered is defects in the cable, not caused by wear and tear. If there are any extensive damage related warranties, it is always good to pick one up.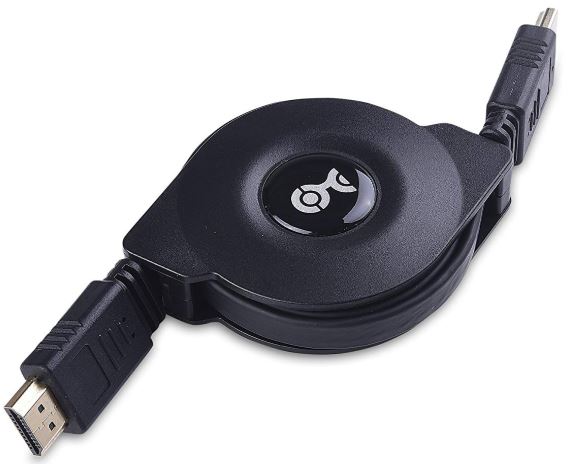 Cable Matters Retractable HDMI Cable
Cable Matters is a company that has been trusted with supplying cabling to industries from aerospace to medical sectors. They take pride in engineering 'thoughtfully designed' and 'selectively sourced' products that go through an extensive testing process. Cable Matters sells over 4,500,000 units every single year in over eight countries and has been in business for over ten years.
Their retractable HDMI cable was made with that same thought process. This is a cable meant to be tangle-free. You can pull on both ends of the cable to extend it outward though you should never pull from just one side. Pulling from only a single side will put an imbalance of stress on the internal mechanisms and can cause you to get a lower lifespan out of it.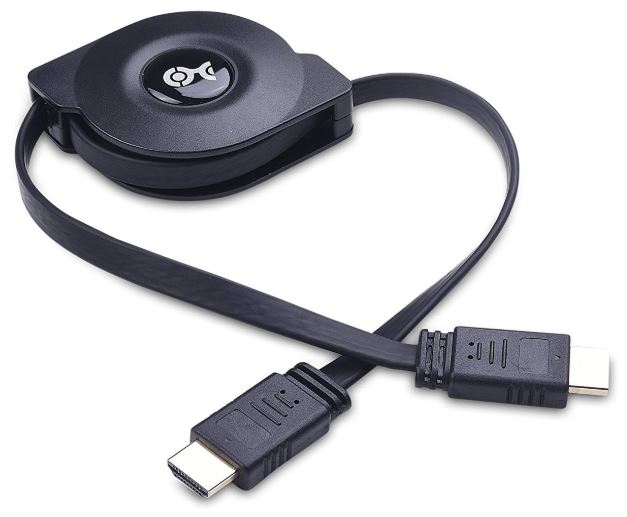 This HDMI cable can support both 2k and 4k video with resolutions up to 4kx2k, which is considered Ultra-High Definition or UHD. Supported UHD resolutions include: 4096×2160, 3840×2160, 2560×1600, 2560×1440, 1920×1200, and 1080p. This cable supports high-speed data transfer with audio return channel (ARC). ARC is an HDMI feature built into man video streaming devices that allows the HDMI to send audio along with video and is a feature of most HDMI cables. It has a 48-bit deep color and 32 channel audio along with 3D video support.
Build & Design
Fully retracted, this cable is very low profile becoming a total of 6 inches from end to end. You can throw it into your pocket or a bag and take it with you for your portable projector or other video streaming device. Fully extended, the cable can reach up to 3.5 feet. The unit looks sort of like a two-dimensional shell with the HDMI ports coming out of opposite ends. The cable is visible from the retraction spool in the center, as it is not fully enclosed.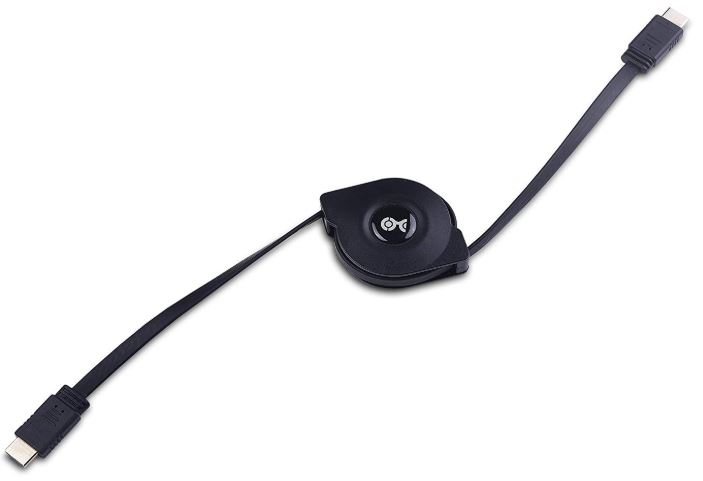 Other Considerations
Unfortunately, the risk of breaking the housing for the retraction of this cable by pulling on one side too hard is a big downside. Luckily the cable management reel has molded connectors with easily gripped treads and built-in straight relief features to extend the lifespan of the cable. Unlike straight cables, retractable cables with a central housing reel can add a vulnerability to the wire. If a cable gets smashed behind your computer, there tends not to be a problem; however, if the housing unit of a retractable cable gets crushed, it can break the housing unit and the retraction function of the cable. Luckily Cable Matters offers a limited lifetime warranty as well as lifetime product support.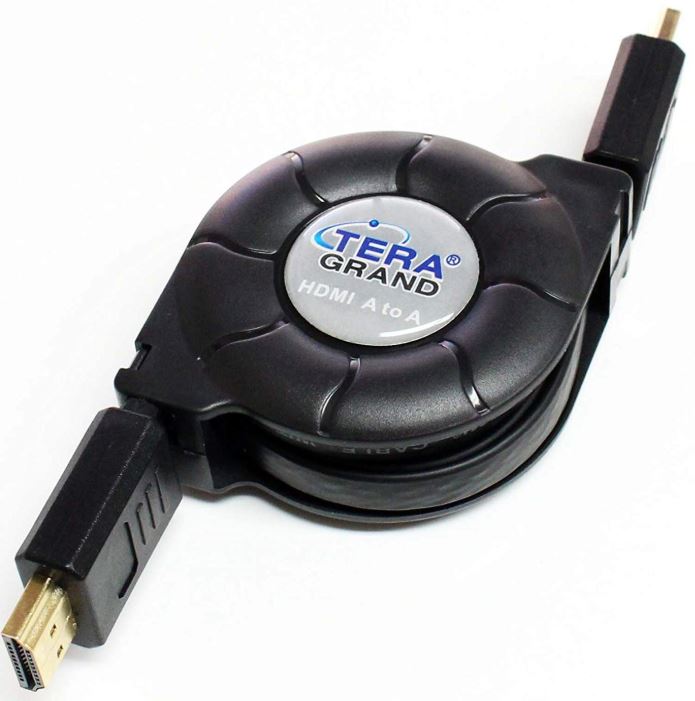 Tera Grand Premium High-Speed HDMI Retractable Cable
Tera Grand is a company based in San Francisco in the Bay Area. They are a large electronics manufacturer, distributor, and brand. Their specialty is building solutions for IT infrastructure and storefront retail products. They have been manufacturing products for over twenty years and have built a good reputation.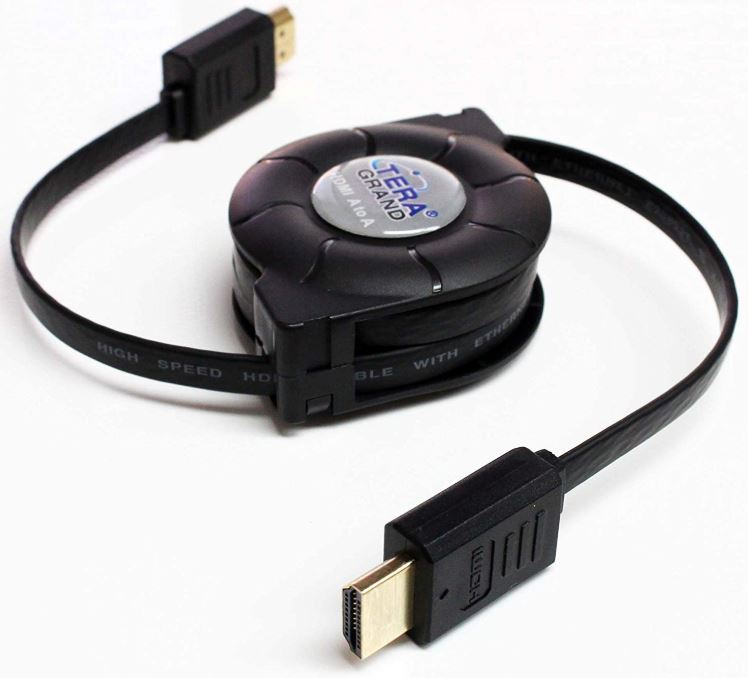 The Tera Grand Premium Retractable HDMI cable has full 4k UHD and Ultra HD Ethernet support. With support for resolutions all the way up to 4kx2k just like the Cable Matters HDMI before. The Ethernet over HDMI feature is something not many people take advantage. You must verify that both devices you are connecting support Ethernet over HDMI. To confirm that, check they are both labeled HEC compatible. The primary use of this function is to avoid having to run multiple Ethernet cables. You would usually have to run one to your television and one to your game console. With Ethernet over HDMI, you can run your Ethernet to your television only. Then run the HDMI to your game console and feed off of the network of the TV. The Ethernet speeds through HDMI can reach up to 100MBps, so you shouldn't have to worry about latency.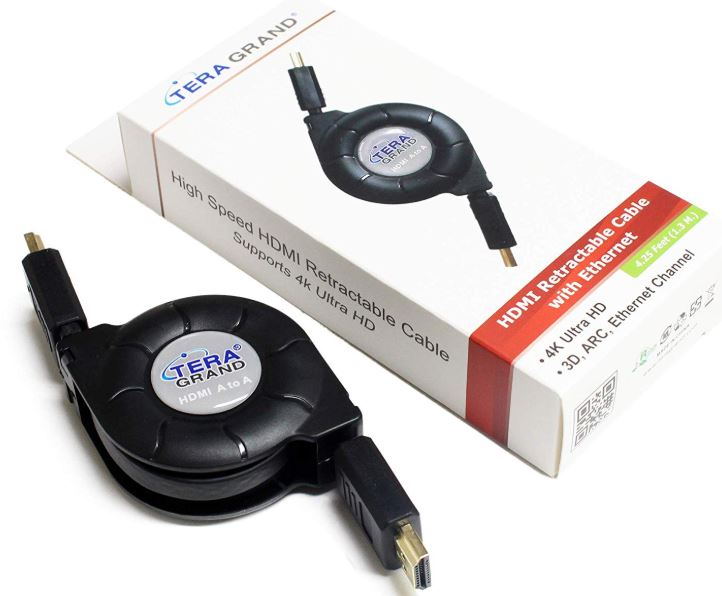 Build & Design
Like the Cable Matters HDMI, this has the same shell-like design. The exposed cable at the outer edges of the central body opens the potential for tangling. Fully extended, the Tera Grand HDMI cable reaches 4.25 feet. Again, due to the similar design, you are advised against pulling on just a single end of the cable. That way you can avoid breaking the coil in the central housing. Fully retracted, this cable has a length of under six inches and thus is very portable.
Other Considerations
The cabling loop is double that of the Cable Matters version, and so the body of the central housing is also thicker. Also, as far as aesthetic value is concerned, the grey Tera Grand logo is a bit of an eyesore on this unit. The Cable Matters logo is a small gray icon surrounded by black, so it doesn't disrupt the visual layout of the cabling as much as the Tera Grand logo does.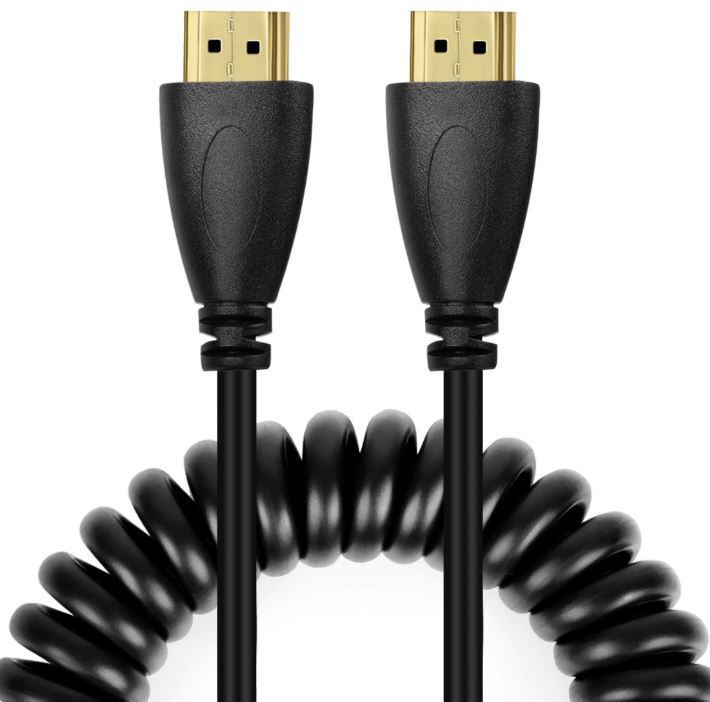 UCEC Coiled HDMI Cable
UCEC is primarily a controls manufacturer working to build utility control panels, which is where their name comes from. Utility Control & Equipment Corp expanded into electronics manufacturing and has since built a reputation for good quality products.
This is a cable a bit, unlike the previous two. First off, it is the shortest of the three and has an entirely different retraction method. You still get full #D and 4K video support as well as the usual audio return channel function. Of course, you get the Ethernet over HDMI ability as well, so as far as HDMI features are concerned, all three are on par with one another.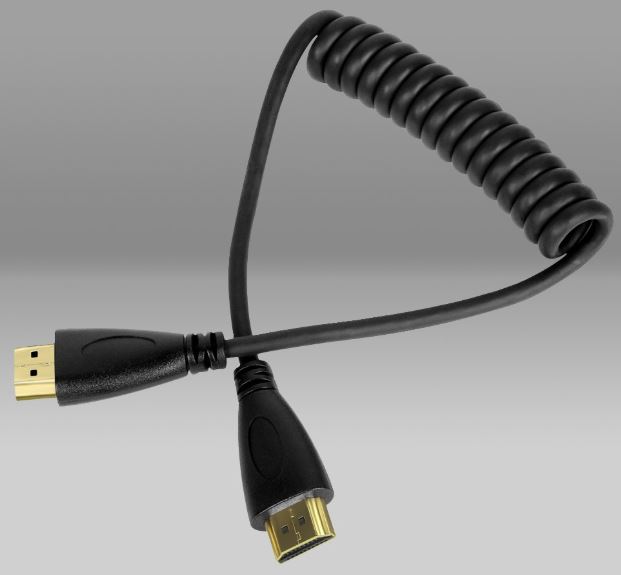 Build & Design
The build of the UCEC retractable HDMI cable is very different. Instead of a central housing unit containing a coil to pull the cable in, UCEC opted to coil the cable itself. So this is the only cable that is not retractable in the ordinary sense though it performs its retraction through its coiled tensile strength. The cable is ultra-flexible and extremely lightweight, plus it doesn't have a thick hard plastic housing. The connectors are gold plated with bare copper conductors and a foil-and-braid shielding for extra durability. Fully extended, this coiled cable reaches 17.7 inches, which is much shorter than the previous two cables.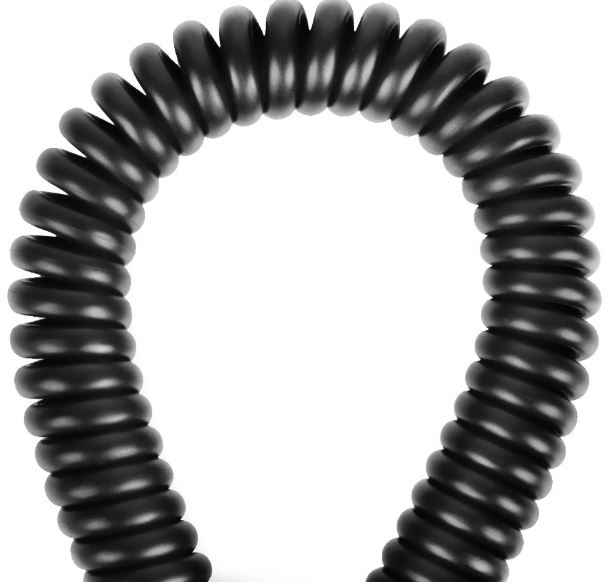 Other Considerations
One primary consideration is this cable's ability to tangle. The other two retractable cords stored the cable itself in a central housing to prevent tangling. This HDMI cable opted for a traditional coiling function, and so tangling is a real concern. When you store a coiled cable with other cables, it is almost inevitable that another cable will interlink with the loops of the coil. Another matter is the length. Coming in at around 1.5 feet makes this cable nearly one third the range of the Tera Grand HDMI. If you only need a cable for a short-range, then it will work perfectly and has some of the highest quality ends out of all three, but having the option to extend beyond 1.5 feet would be nice.
Choosing Between 3 Great Retractable HDMI Cables
These three cables all have their strengths and weaknesses. Each of them can retract and extend, making them great for saving space and portability. They also all have full 4k and 3D video support along with Ethernet over HDMI. These features are phenomenal and would have been a deal-breaker if one of them didn't include them. So with all of those features in common, how can you choose between these three great cables?
First, off, the Cable Matters retractable HDMI cable is a great option. It definitely looks the best out of all three cables and has a thinner profile than the Tera Grand. The biggest concern with its design is the ability for the housing to crack or snap, causing the entire retraction element to break. If the housing breaks, this cable becomes a regular HDMI.
Next, we have the Tera Grand, which is almost identical to the Cable Matters HDMI in every way. The one main difference is the double loop in the housing unit, which makes it twice as thick. Despite not looking as good as the Cable Matters HDMI, the housing unit felt much more durable.
Lastly, we have the UCEC coiled HDMI cable. This is the oddball of the group, but it is the highest quality cabling of the three. Despite being the least 'retractable,' the cable itself is thick and thus more reliable than the flat cabling in the other two. The Tera Grand and Cable Matters HDMI cables have to be flat because they coil inside the housing, whereas the UCEC opted for a thicker cable to increase the strength of the cable so it doesn't fall apart when the coil is extended.
If you want a fully retractable cable, then the Tera Grand is the right way to go, however ugly it is. However, if you want the highest quality option, then the UCEC is the best option.