If you run a shipping department, Etsy store, or small retail business, you're going to need shipping labels. Now, if you only ship a package or two a week, you can print your labels on ordinary paper. Tape them to the package or use a transparent sleeve, and you'll have a functional label. But if you ship a lot of packages, that's a lot of headache. Not only that, but DIY labels don't provide the most professional appearance. If you're shipping to customers or important clients, a proper adhesive shipping label is ideal. And for that, you're going to need a good label printer.
That said, there are also other reasons you might want to have a label printer. Let's say you've got a bunch of glass spice jars. They can look awesome, especially on an attractive spice rack. But if your handwriting is less than stellar, you might want to print your labels instead. The same goes for mass mailing. For example, if you're a wedding planner, you might need to print hundreds of tiny address labels. That's not quite the same as shipping, but it's just as much of a pain with an ordinary office printer. A dedicated thermal label printer will get the job done quickly and painlessly, and more reliably.
To that end, we're about to review the MUNBYN Label Printer. This is a mid-sized label printer that can print more than 60 labels per minute. As a result, it's suitable even for a fairly busy shipping department. For a small business, online shop, or retail store, one Munbyn printer is all you're ever going to need. But just because it can print a ton of labels doesn't automatically make it worth buying. There are many things to consider, such as compatibility. What labels will it work with, and which programs can you use for printing? We'll look at all of those factors, as well as the overall print quality. Then, we'll sum up what we've learned and render our verdict.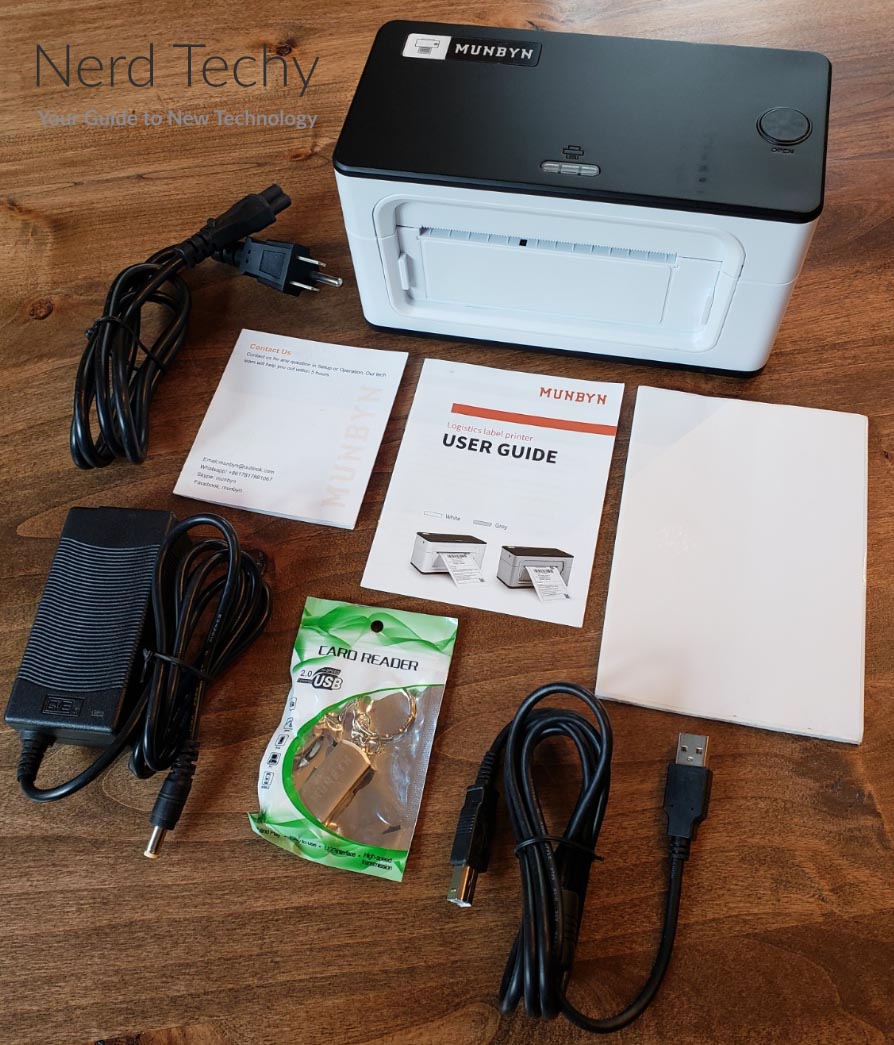 Overall Design
The MUNBYN Thermal Label Printer is a desktop-sized label printer that's constructed from molded ABS plastic. The housing is available in four different colors: white, green, pink, or a grey that they call "brown." We were amused to see a pink label printer at first, since these things tend to be utilitarian. But there are areas where it could make sense – for example, for a customer-facing printer in a cake shop. All four colors are high-contrast. The lighter colors have a black top and bottom panel, while the darker colors have white panels. The bottom also sports a set of rubbery feet to keep the printer in place.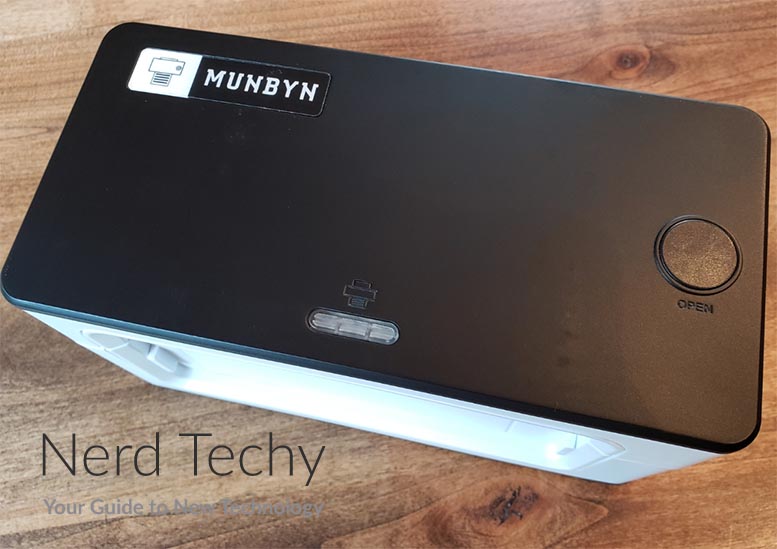 The overall size of the printer is 8.46 inches in width, 7.09 in depth, and 5.31 inches high. This gives it a smaller footprint by far than an ordinary desktop printer. It's also a bit shorter, so it can be used in a mid-sized cubby or under a low shelf. As a result, placement is relatively easy. It's not going to take up half your desk or anything of that nature. Not only that, but the printer isn't too heavy to move around. It only weighs 3.08 pounds, so you can carry it in one hand without any trouble. We're not saying it's a travel printer. But if you have to use it at more than one office, you'll be able to.
Like most thermal printers, the MUNBYN has a simple, feed-through design. Your labels feed into a slot in the back, and completed labels come out the front. Inside the front slot, there's a row of fine, sharp blades that slices your labels when you tear them off. In order to feed the labels, you'll first have to open up the housing. To do this, slide the release on the right hand side, and lift up on the top half of the housing. It will open from a hinge on the other side, leaving the inside open. Then, you can lay the label down inside, and adjust the grey slides to hold it in place. Click the top shut when you're done, and you're ready to begin.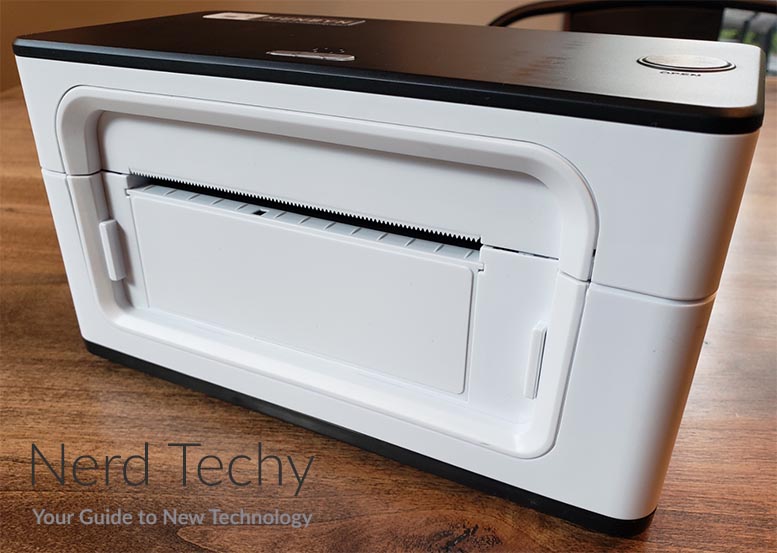 On the back of the housing, you'll notice a power switch at the bottom left. There are also cords at the bottom right. One is an AC cord, which plugs into any standard three-prong outlet. The other is the USB cable, which connects the printer to your computer. That's all there really is to it.
One thing you won't find in the MUNBYN's physical design is any kind of feeder or spool. This means it can accept any kind of labels, but you'll need to have your own way of holding them. If you want a printer with label storage, consider the iDPRT SP420 instead. It has a built-in spool housing, so rolled labels are a breeze to use. On the downside, there's no good way for it to accept fanfold labels.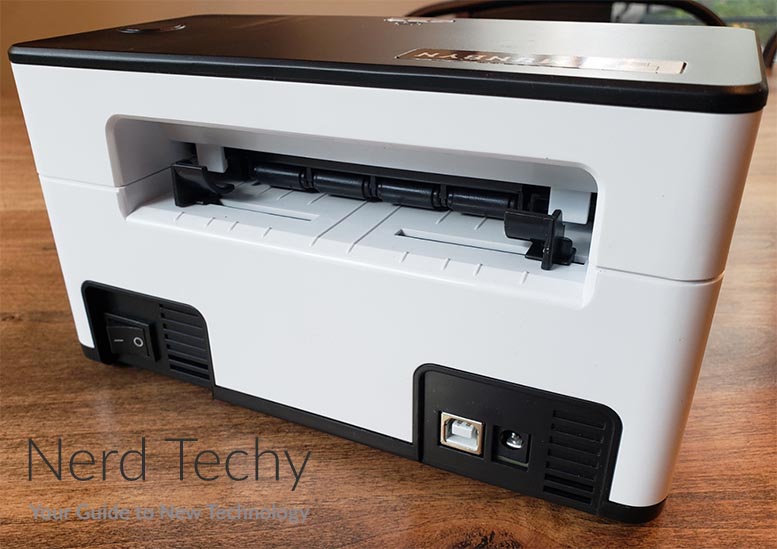 Connectivity & Setup
As we already mentioned, the MUNBYN Label Printer connects via USB. This makes it easy to connect with just about any computer. You can plug it into any Windows or Mac and it will work out of the box. Not only that, but it will work with most Linux builds. On the other hand, it won't work with ChromeOS, so you'll need to use a different printer with your Chromebook. This printer also won't connect via WiFi or Bluetooth. It makes a poor network printer, unless you plug it directly into your router. But for other purposes, the USB connection works very well.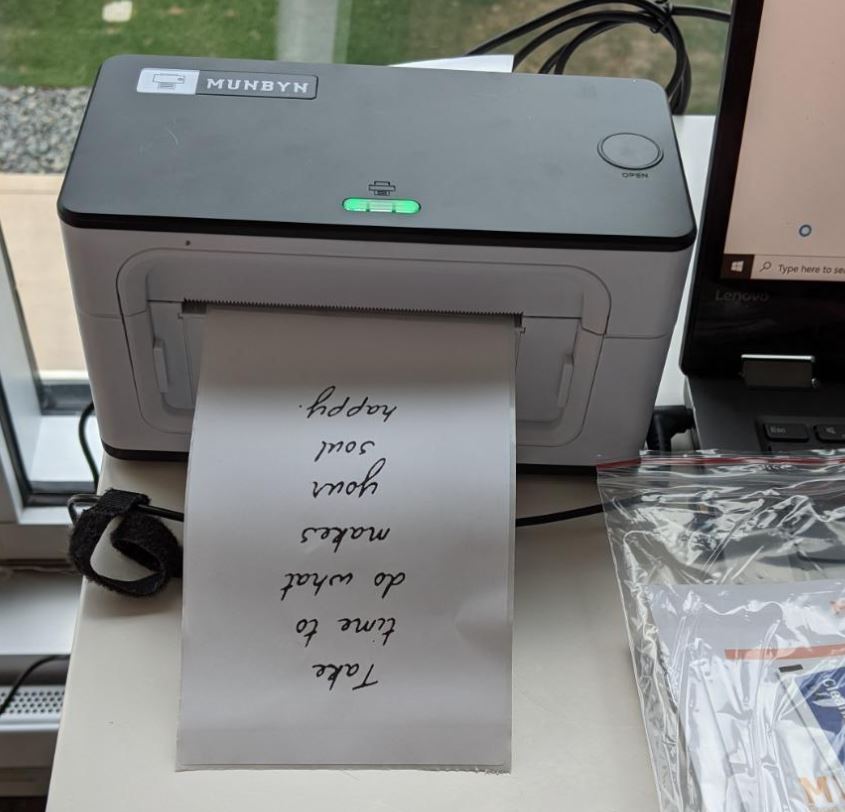 The MUNBYN printer is a thermal printer, not an inkjet or a LaserJet. As a result, you don't have to worry about ink or cleaning up any messes. As long as you're using thermal labels, the heated printing element will write directly to the paper. This means less maintenance, and no need to worry about ink during initial setup. Another easy aspect of setup is that you get native support on both Windows and MacOS. Obviously, all computers are different, and many have their own quirks. But in most cases, when you plug this printer in, it will work automatically out of the box. This is a significant improvement from many thermal label printers.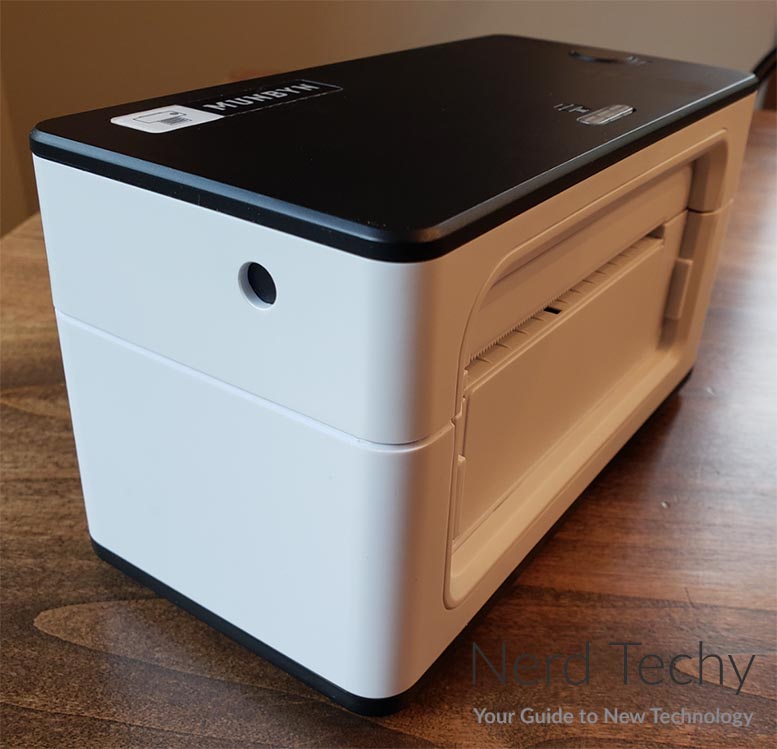 As far as compatibility goes, these labels are a bit of a mixed bag. On the one hand, they're compatible with just about every software you might use. You can print from Excel, Word, and other office programs without needing to do a whole lot of messing around. This wide range of compatibility isn't just restricted to software. It also extends to online platforms. You can print directly from Shopify, Amazon, Etsy, eBay, ShipStation, ShippingEasy, Stamps.com, FedEx, and others. Unfortunately, as we'll see, you'll run into some issues with UPS and sometimes USPS.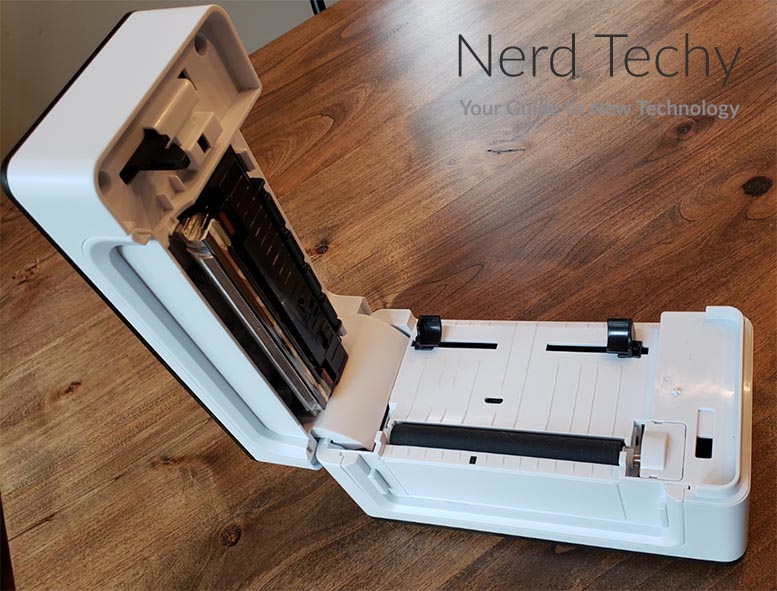 If you need to print smaller, individual labels, you might want something a little bit more portable. In that case, a handheld label maker might be a better choice. Like the MUNBYN, these small label makers are thermal, so you don't need to rely on ink. On the other hand, they're useless for anything much larger than a simple filing cabinet label.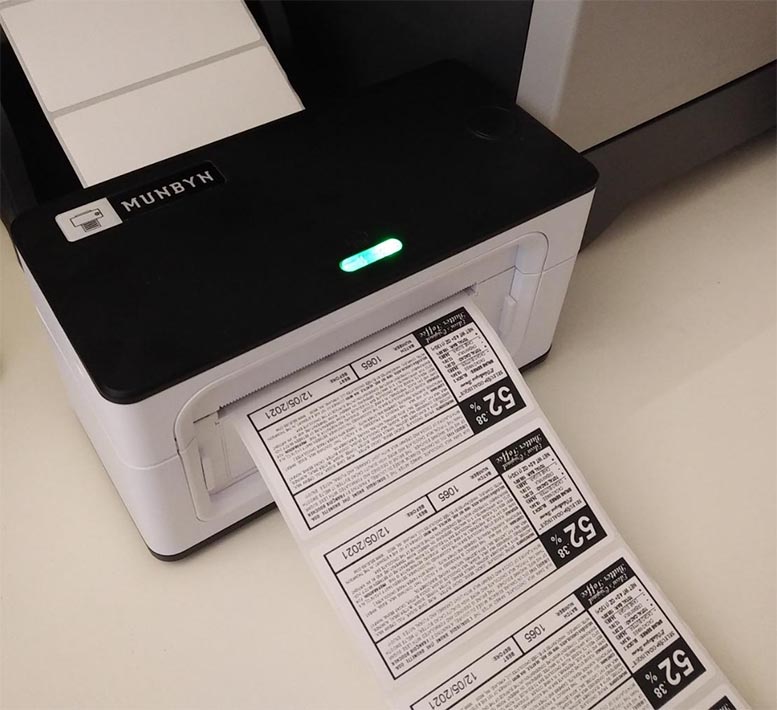 Printer Performance
Perhaps the MUNBYN Label Printer's strongest point is its automatic label detection. When you first put a label inside, you can perform a few simple steps for the printer to detect the size. First, clear your computer's print queue if there is any. Next, use the feed button to feed a bare minimum of four labels through. Depending on the size, you may need to feed more. The printer will beep when you've fed enough labels through. Once you hear the beep, let go of the button. At that point, the printer will know what size label you're using.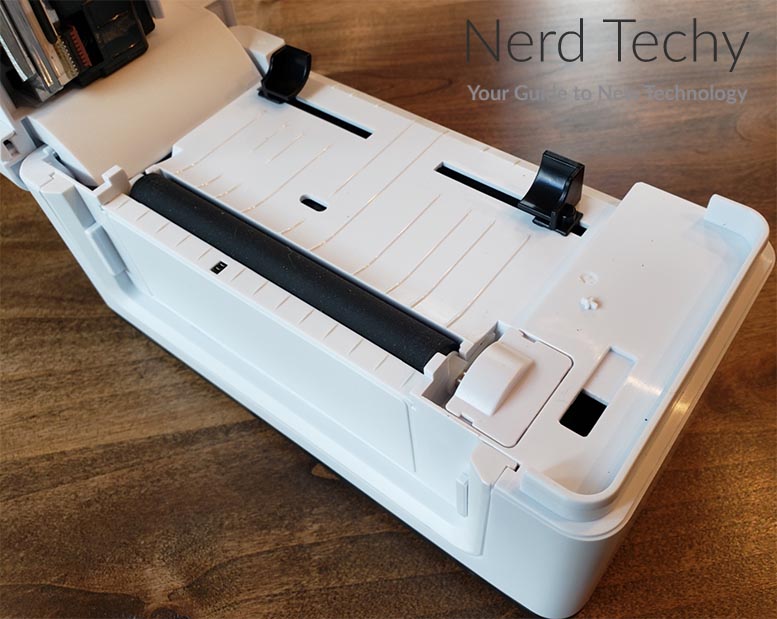 So, what can it accept? It can accept widths of 1.57 to 4.3 inches, and in sizes as large as 6 x 4 inches. In theory, this means it can be used for any type of shipping label. But this is where the MUNBYN falls short. More advanced label printers use software to downsize or automatically crop labels from certain services. For example, UPS labels will keep trying to print in 8 ½ x 11 size, unless you download them first. Then you have to open them in Adobe to crop them down. This is needlessly complicated for something that a good label printer should be doing automatically.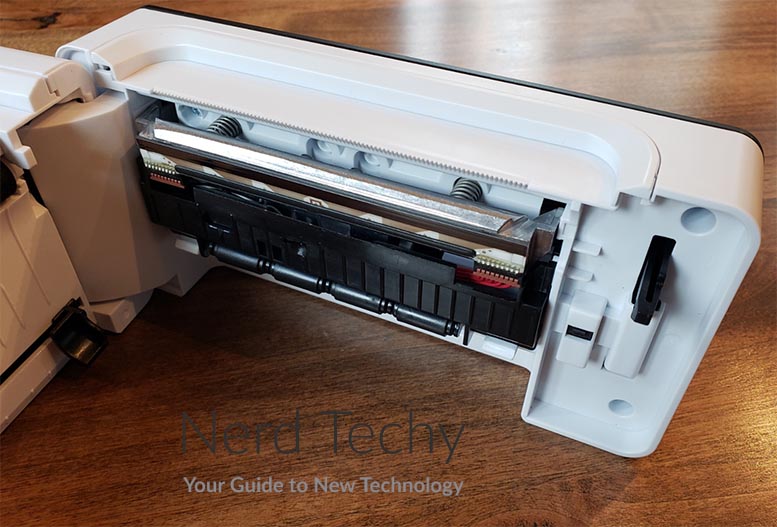 If you use UPS for your shipping, the Rongta RP420 is a better choice. It's ultra-fast and it has near-universal compatibility. This makes it easy to print a wider variety of label sizes. That said, aligning your labels can be a challenge.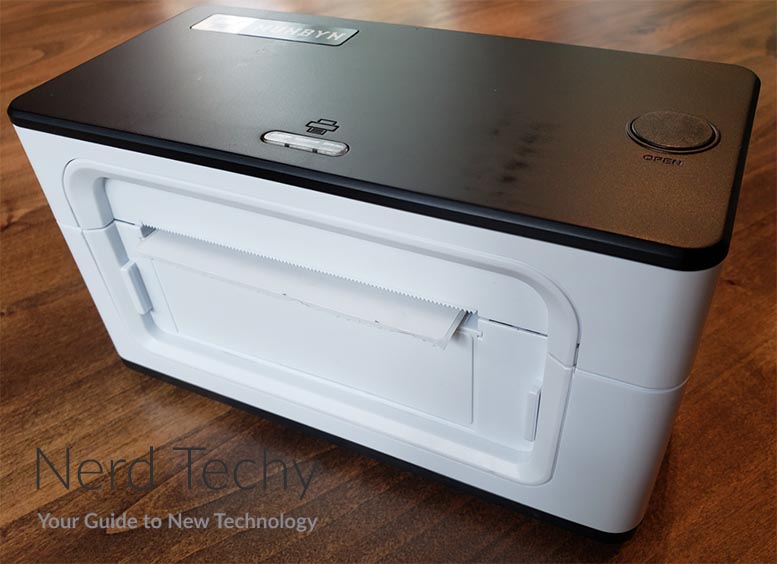 The MUNBYN itself is no slacker when it comes to speed. It has a rated speed of 150mm per second, which works out to roughly 5.9 inches per second. This will get you about 60 six-inch labels per minute, more than that for smaller labels. There's also a built-in safety feature to keep your printer from overheating. After printing 700 full-sized labels, it will automatically shut down for five minutes. You don't have to worry about it burning out due to everyday use, even very heavy use.
The quality of the final product is reasonably good. At 203 DPI, you won't have trouble with barcodes or QR codes. That said, even relatively simple graphics or logos will come out a little bit grainy.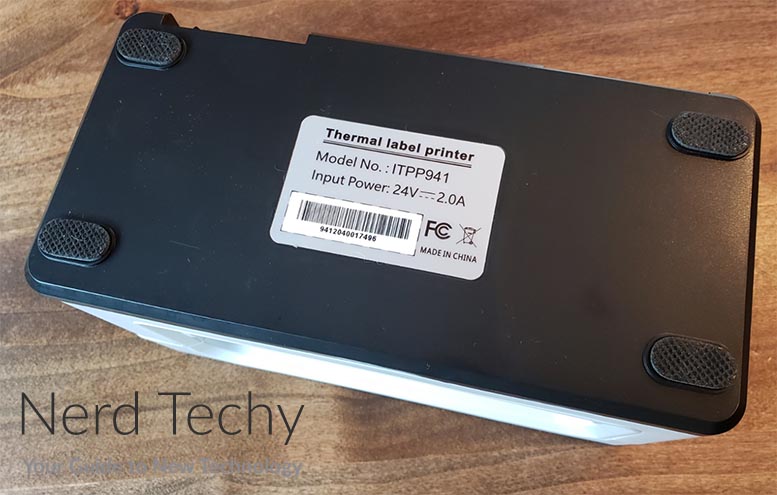 Final Verdict
The MUNBYN Thermal Label Printer is a well-designed printer in most respects. It's fast, it's reasonably accurate, and it supports most types of labels. That said, the need to do a bunch of cropping for ordinary UPS labels is a major disappointment. We would have liked to see better native support. Then again, if you're printing from Shopify or another ecommerce platform, you'll be well-equipped. If that's what you need to do, you're looking at a solid choice.