If you're trying to find a quality Bluetooth speaker, there are a number of factors to consider. There's portability, toughness, and audio quality. There's battery life, appearance, and style. And then there's power. If you want to fill a large area with sound, your typical Bluetooth speaker just isn't going to do the trick. To begin with, this is due to the fact that Bluetooth speakers are typically associated with smartphones. People usually want them to be portable, so they can be used wherever their smartphone goes. This only makes sense. This is also due to the fact that larger, more powerful speakers are less common regardless of input. Even if you're looking for a straightforward, wired speaker, you have fewer options the larger you get.
This can make it difficult to find a big, party-sized Bluetooth speaker. But there are a number of reasons you might want one. If you're upgrading old sound equipment, it only makes sense to have new gear that works with the latest technology. If you're buying your first major speaker, it makes sense to do it right. Regardless, Bluetooth gives you more versatility than a traditional, wired design. Let's say you want to listen to Spotify while you barbecue. With a wired connection, you'd have to plug your phone into a dock. With a Bluetooth speaker, you can keep your phone in your pocket while you tend to your grill. That's just one example of the benefits of wireless audio.
Today, we'll be looking at the JBL PartyBox 110. This is one of the biggest, most powerful Bluetooth speakers on today's market. It can fill a large backyard, or even work as a serviceable wedding PA system. But what else does it have to offer? How good is the audio quality, and how well-engineered is the housing? To render a fair verdict, we'll need to take these and many other factors into consideration. We'll look at how the speaker is built, how long the battery lasts, and how it can be connected. Before we wrap up, we'll also discuss the quality of the audio experience. Let's begin!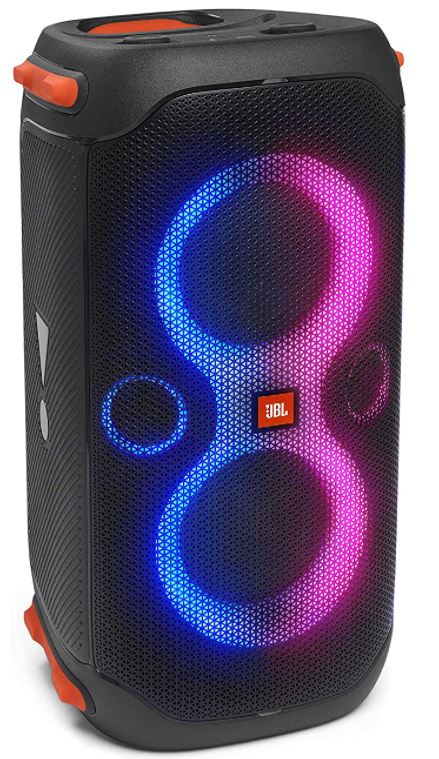 Overall Design
The JBL PartyBox 110 is a big, bold Bluetooth speaker with a roughly rectangular form factor. It measures just over 14 inches to a side, and stands 27.6 inches tall. It also weighs in at a hefty 24 pounds, so you won't be taking it camping or anything like that. That said, the design is certainly tough enough for that kind of rough-and-tumble use. The plastic housing has an internal aluminum frame, and the sides boast big orange rubber bumpers for protection. All of the corners are rounded, so there's minimal hazard to your shins. There are also handle slots in the back to make it easier to carry.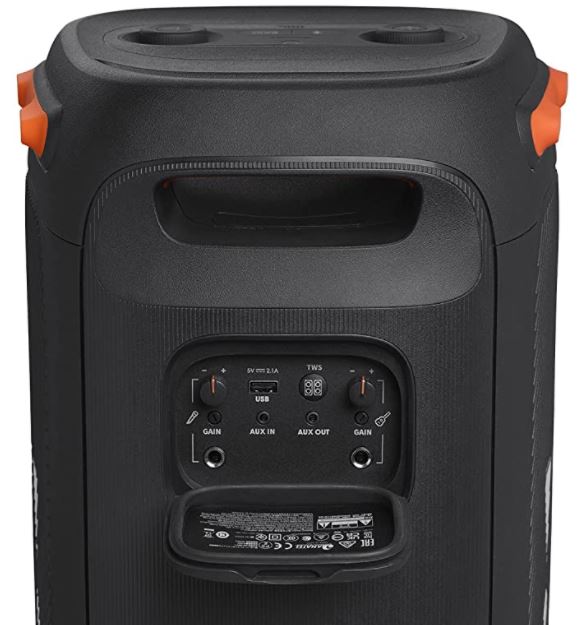 Those orange highlights provide the only highlight on an unpowered speaker. Other than that, the rest of the housing is black, including the speaker grilles. However, when it's powered, this speaker comes to life visually as well as audibly. Bright LED light rings illuminate a vertical infinity pattern around the two subwoofers. To both sides, smaller rings surround the smaller tweeters, forming a unique overall pattern. The exact lighting effect can be customized via the app. By default, it will rotate in a slow, color-changing sequence. However, the lights can also be synced with your music, or synced with vocals in Karaoke mode.
As you can see, this is a beefy speaker that's also easy on the eyes. One thing it's not is lightweight or portable. If you need a speaker that's easy to carry from place to place, consider the JBL Flip 4. It's about the size of a soda can, and it's also waterproof. On the downside, it's not as loud as the PartyBox, and the audio isn't quite as rich.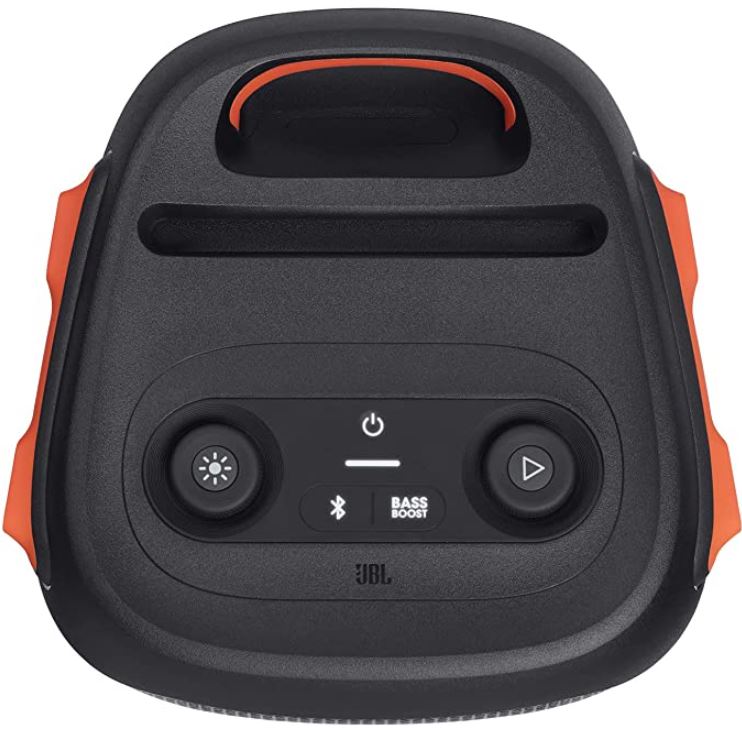 The controls are located on top of the PartyBox housing for easy access. On the left and right sides of the control panel, there are a pair of dials. These can be used to adjust the LED brightness and the volume, respectively. In addition, each dial has a button built into the center of it. The buttons can be used to turn the lighting on and off entirely, or to play and pause your music. In between these dials, you'll see the other physical controls. Towards the back, there's a power button, which should be self-explanatory. Just in front of that, there's a Bluetooth button for activating a wireless connection, and a bass boost button.
Behind these controls, you'll find one of the PartyBox' most unique features: the cell phone slot. It's not a huge selling point, and it's not fancy or expensive. But it allows you to put your phone somewhere, just as you would with a wired phone dock. So if you want to set your phone down, you won't be forced to carry it around. All of the wired inputs and specialized controls are housed in a panel on the back. This is covered by a hinged panel that snaps shut when not in use. There's a smaller, similar panel towards the bottom of the back for the power supply.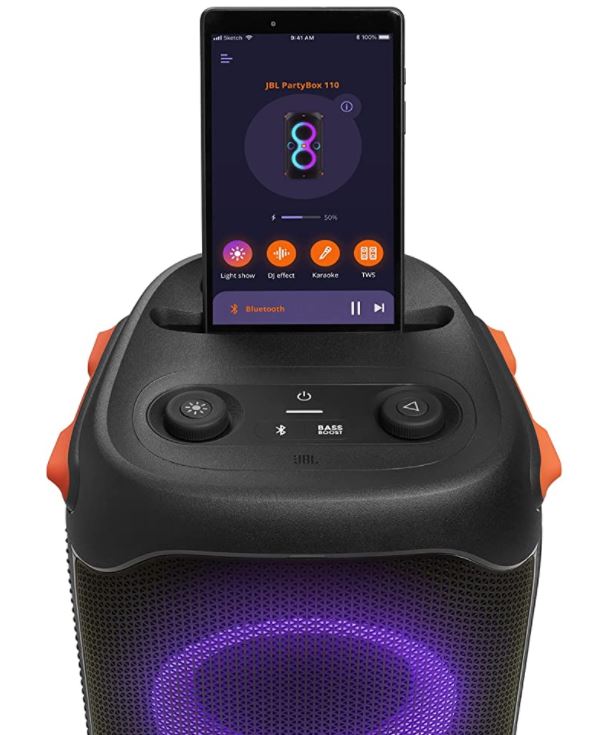 Battery and Connectivity
The JBL PartyBox 110 is a bit of a mixed bag when it comes to power. The battery is technically rated for 12 hours, although this, as usual with such ratings, is misleading. Ratings are based on listening at half volume. If you're turning the speaker up all the way, you'll get more in the neighborhood of eight hours. Moreover, you'll experience a further loss in battery performance if you're using the RGB lighting.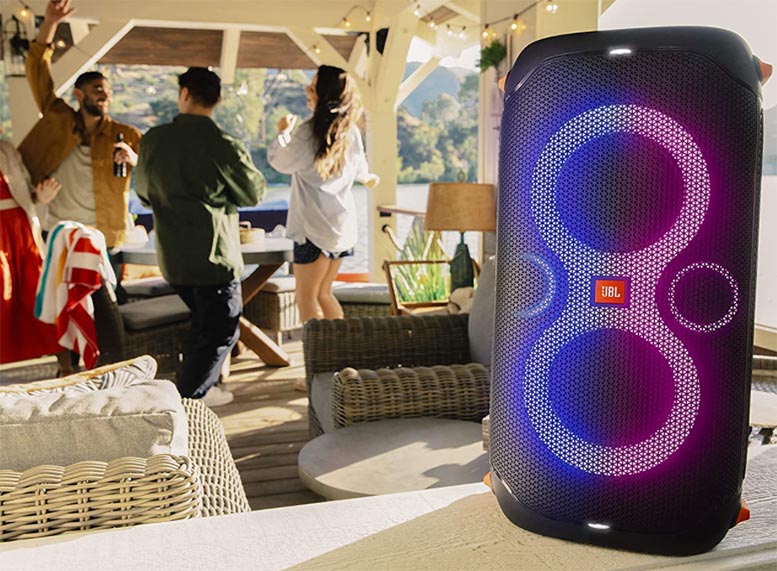 On the other hand, there are a few reasons this might not be a major problem. For one thing, you're still getting several hours of playtime – plenty for any party. You can always recharge the battery later on. For another thing, you're not likely to be using this speaker at full volume all that often. It's pretty powerful, and half volume is plenty for many scenarios. Finally, there's the weight of the speaker itself to consider. More than likely, you're not going to be huffing it out somewhere there's no access to power. You're nearly certain to be using it in your backyard or inside a building instead. In that case, you can simply leave the power cord plugged in. If you can't, recharging is easy, and takes about two hours.
If longer battery life is a must, you should consider using a different Bluetooth speaker. The Anker Soundcore Motion Boom is a good example. It's built like a boom box, and the battery will last for up to 24 hours. On the downside, it can only connect via Bluetooth. There's no aux, SD, USB, or other type of connection.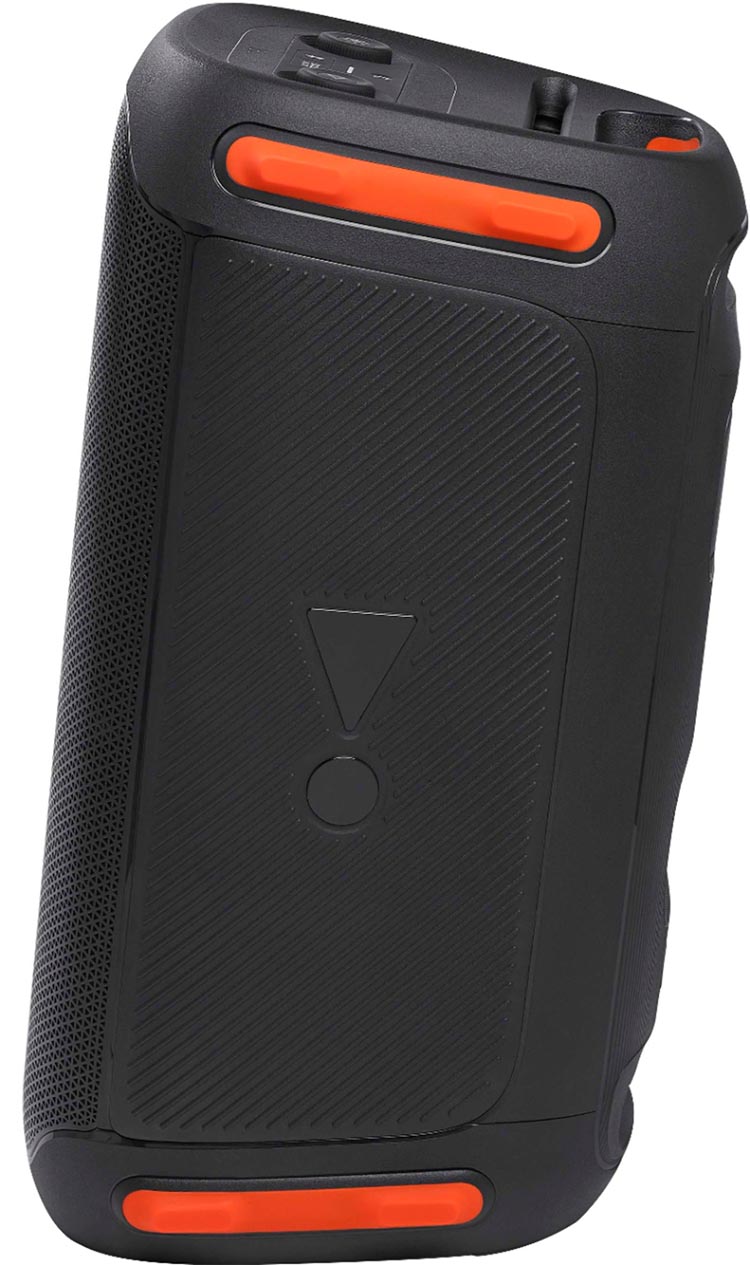 The PartyBox 110 utilizes the Bluetooth 5.1 wireless protocol. This is a slight upgrade over the standard Bluetooth 5.0 protocol used by most modern devices. It provides all the benefits of Bluetooth 5.0, including reduced latency and a more stable signal. However, with compatible devices, it has even lower latency than ordinary Bluetooth 5.0. As a result, this speaker is a great choice for backyard movie nights.
In addition to Bluetooth connectivity, there are a few other ways of getting your music through. To begin with, there's a 3.5mm aux port, which allows a connection to standard audio jacks. This makes it easy to connect to older devices like turntables that don't have a Bluetooth card. Incidentally, there's also a 3.5mm aux out port as well. This allows you to daisy-chain more than one speaker together, while using one as the primary. In the same area, you'll also find a USB port. This can be used for plugging in a thumb drive, or for connecting an external hard drive. It even provides 12 watts of charging power for your phone or tablet.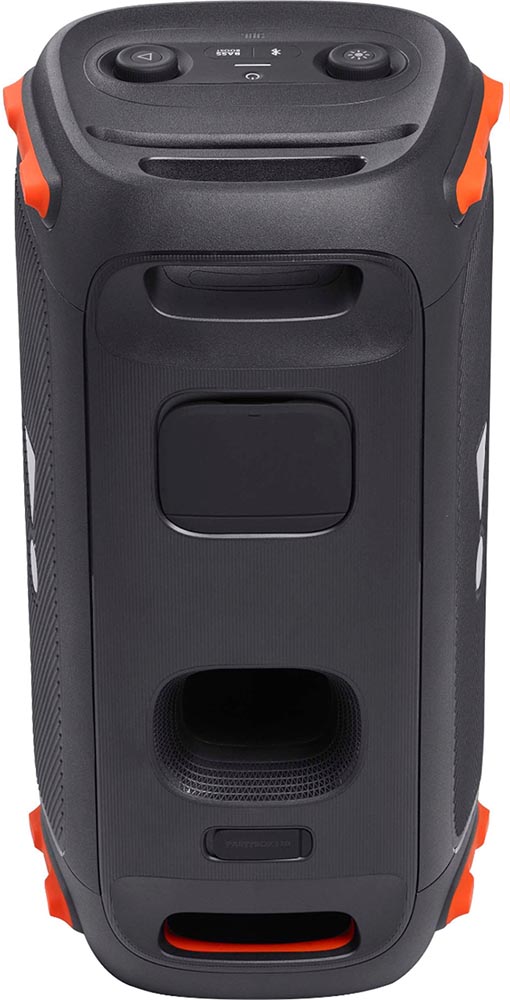 If all that isn't enough, the back of the speaker sports separate ¼-inch vocal and guitar inputs. Each one has its own separate gain dial, so you can use this speaker for karaoke night. We wouldn't recommend it for playing guitar with anything but a clean signal, but it's still perfectly viable.
Audio Quality
Unlike most Bluetooth speakers, which are small, this is a full-sized speaker. Inside the housing, there's a pair of 5 ¼-inch woofers and a smaller pair of 2 ¼-inch tweeters. These combine to produce full, rich audio across the spectrum, both in the lower and higher frequencies. With the bass boost button, you can crank up the low end even further. But even without bass, you won't have any trouble hearing lower frequencies.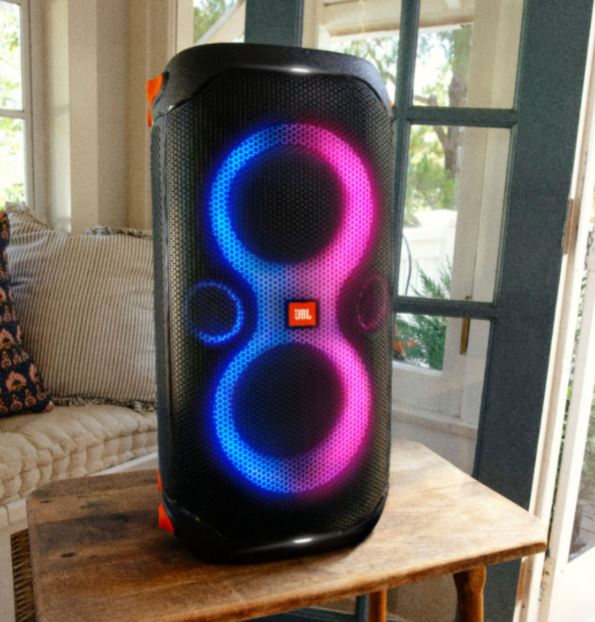 Needless to say, the PartyBox 110 is loud – potentially very loud. You won't have any issues filling a large room, a small dance hall, or a very large backyard. If you want to cover even more area, you can daisy-chain more than one speaker using an aux cable. Not only that, but you can use the TWS button to pair two speakers wirelessly. In this mode, one will function as the left speaker, and the other will function as the right. You'll be able to play music in full stereo, just as the original artist intended.
These are all great features, but what if the PartyBox' size is still a limitation? In that case, the Ortizan Speaker might be a better alternative. It has many similar features, including TWS pairing, and it's also waterproof. But along with its smaller size, it also has a lower maximum volume.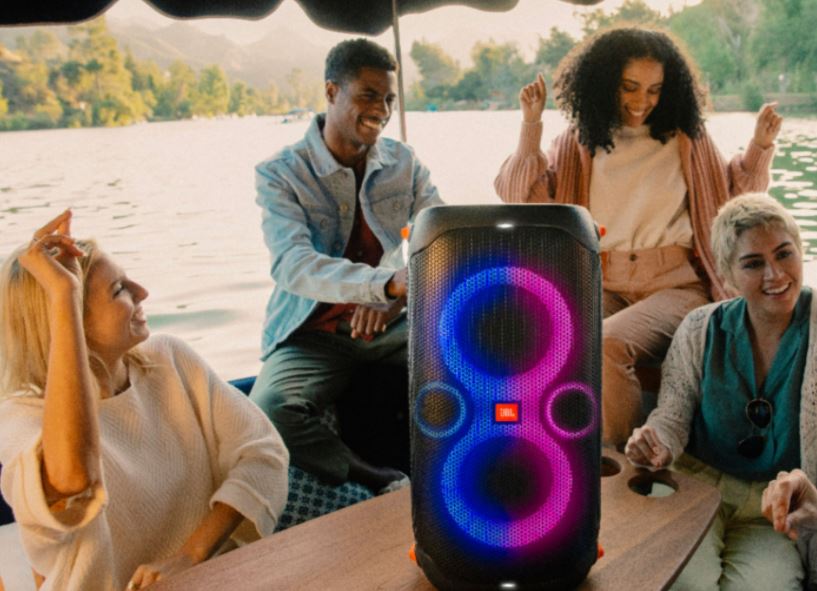 Final Verdict
So, how does the JBL PartyBox stack up to the competition? Simply put, there isn't much competition out there. This is a huge Bluetooth speaker that's also a capable PA speaker. It's great for parties and large gatherings, and the LED lighting is gorgeous to look at. If you were waiting for a Bluetooth speaker that's a true workhorse, this is it.