These days, finding the right Bluetooth speaker can be a challenge. There are many choices, and it's tough to know what's what. For the average person, many of the product descriptions can be tough to decipher. You can read about how well a speaker performs from 20 to 40Hz, but such technical details can be confusing. Meanwhile, technology is always advancing. In other words, last year's fantastic Bluetooth speaker is this year's good Bluetooth speaker. In a few more years, it's liable to be obsolete. So even if you did all your research the last time around, your knowledge might be out of date.
With all of these obstacles, how do you find the right Bluetooth speaker? One way is to return to a manufacturer you already know. This is one reason many electronics companies have such strong brand loyalty. If you've already owned someone's speakers in the past, chances are their next speakers are also worthwhile. When it comes to Bluetooth audio, Anker is one of the more established brands. They're known for their well-engineered speakers, as well as their line of wireless earbuds. As a result, we're always excited to see their latest offerings.
We're about to review the Anker Soundcore Motion Boom. This is an outdoor speaker that's designed to be rugged and weather-resistant. It's also built for powerful bass, including support for Anker's popular BassUp mode. But how well does it compare to other, comparable speakers on today's market? To find out, we'll have to take a closer look at a number of factors. To begin with, we'll look at the physical design, and how durable it is. Next, we'll talk about how long the batteries last, and how well the Bluetooth signal works. Last, we'll go over the quality of the audio, with a detailed look at the bass features. Let's get started!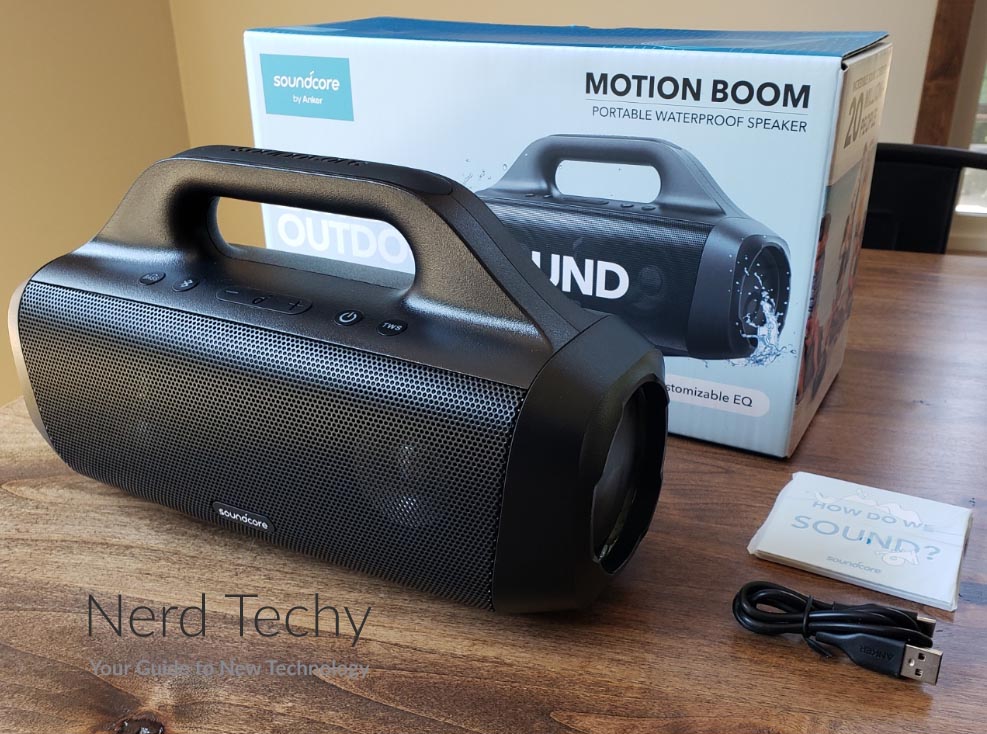 Overall Design
The Anker Soundcore Motion Boom gets its name from the fact that it's built like an old-school boom box. A lot of portable speakers are built like canisters, or are designed to look like soundbars. The Motion Boom, on the other hand, has a more utilitarian design. The housing is molded from black polymer with a matte finish. This finish is easy to keep clean, and can be wiped off with a damp cloth. The front of the housing consists of a sturdy metal grille that matches the black of the case. All in all, it's very tough, and seems like it could take a beating. It can certainly handle a few drops and bumps without any issues.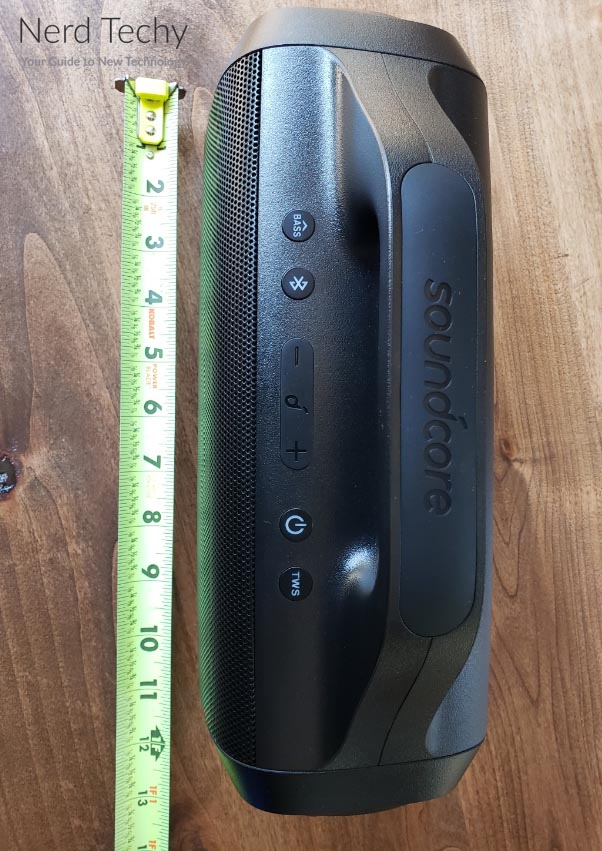 The bottom of the housing sports four feet, which are rubbery for staying in place on slick surfaces. They're also nice and wide, and sit almost flat to the bottom of the case. On top of the housing, you'll find a molded handle. This is not collapsible, and is quite literally a part of the housing. It has a reasonably wide and tall opening, which accommodates large hands. That said, the handle doesn't have any shape to it. It's just an arch, with no padding or finger grooves. If you're planning on carrying the speaker a long distance, it might get uncomfortable.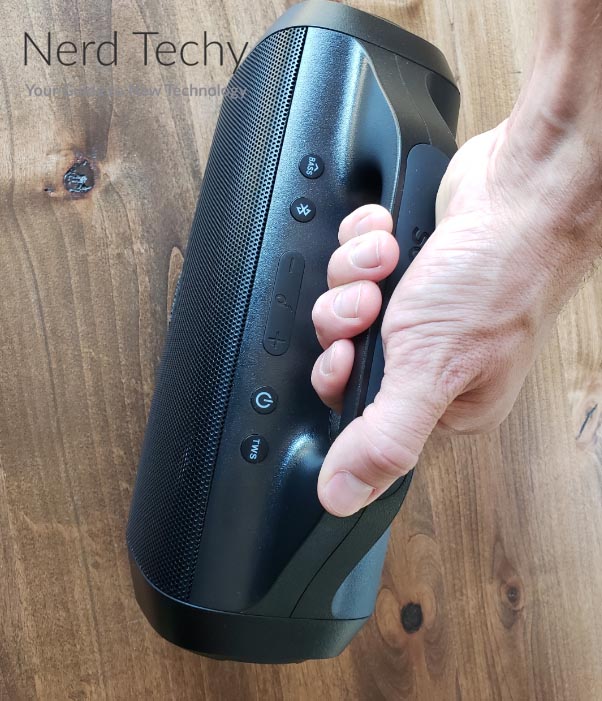 Just in front of the handle, you'll notice a set of rubber buttons. These perform the Motion Boom's basic controls. The button themselves are big and rubbery, easy to operate with a wet hand or when wearing gloves. They also provide reasonably good tactile feedback, so you know when a button has been pressed. From left to right, the first button is the BassUp button. This provides more bass boost, a feature we'll discuss more later on. Next, there's a Bluetooth pairing button, which is self-explanatory. The middle button is a volume bar, with a Soundcore logo in the center. To the right of that, you'll find the power button, with the TWS button on the far right. That's another function we'll discuss later.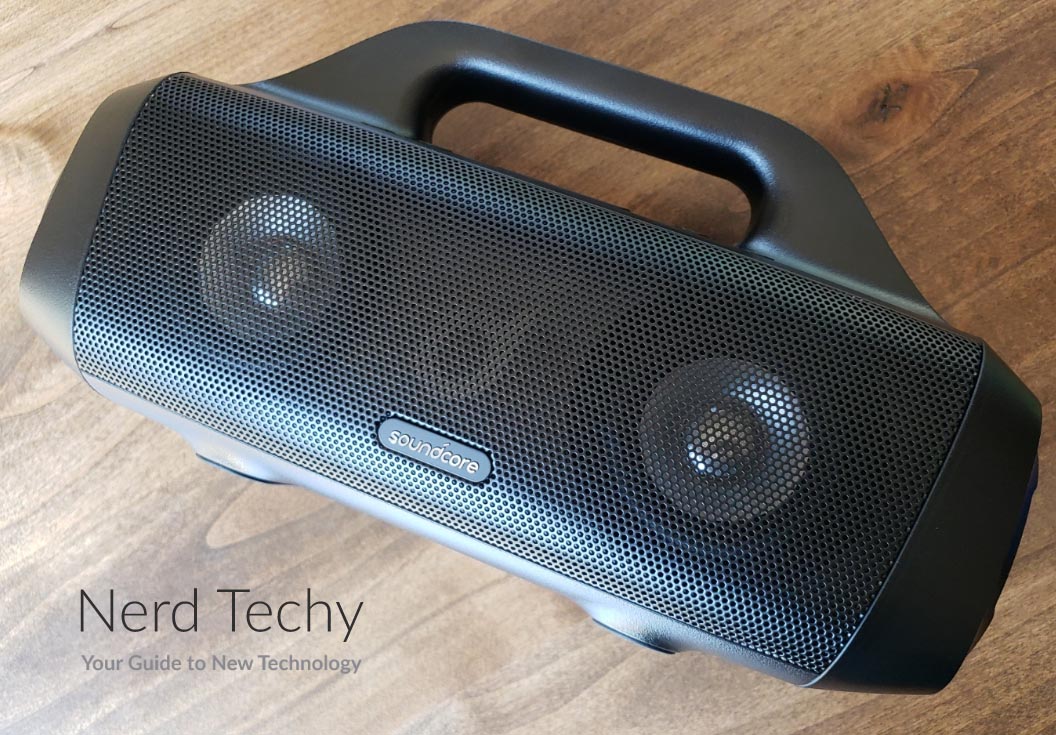 This speaker carries a weather-resistance rating of IPX7. This means it can withstand full submersion, at least to a limited extent. The official requirement is that it needs to survive submersion at one meter for at least 30 minutes. As a result, you won't have to worry about knocking it into a pool or a hot tub. In fact, water is hardly a concern at all. The Motion Boom is light enough to float when it's dropped in the water. So instead of sinking to the bottom, it will bob on the top of your pool. We wouldn't recommend doing this intentionally, but it makes the speaker easy to retrieve after a mishap.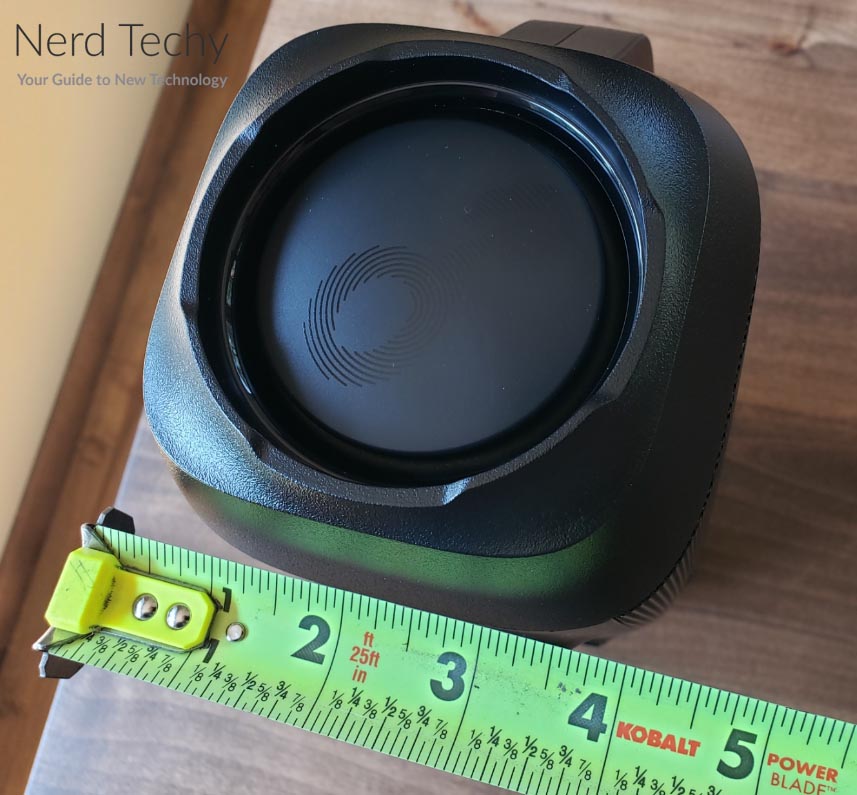 This is undeniably one of the more durable speakers on today's market. That said, the aesthetic is plain at best. If you're looking for a home speaker, you might want something a bit more attractive. In that case, the Anker Soundcore Motion Plus is a solid choice. It's compact, with an understated design that's perfect for indoor use. That said, it's also not as powerful as the larger Motion Boom.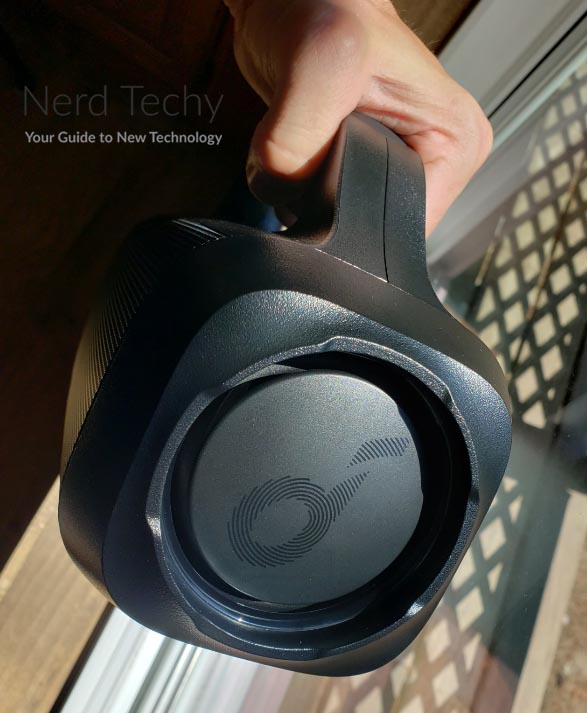 Battery & Connectivity
The Soundcore Motion Boom's battery is rated for 24 hours of playtime. In theory, this sounds fantastic. In practice, it's almost that good, but you need to understand how these ratings work. 24 hours of playtime means 24 hours of playtime at 50 percent volume. If you have the volume cranked up all the way, you'll get more like 12 to 14 hours of playtime. That's still pretty good for a Bluetooth speaker, but it's not as impressive as 24 hours. That said, if you're able to plug in, you can use the speaker more or less indefinitely. The USB Type-C charging port provides enough power for continuous operation. A cable is included in the package.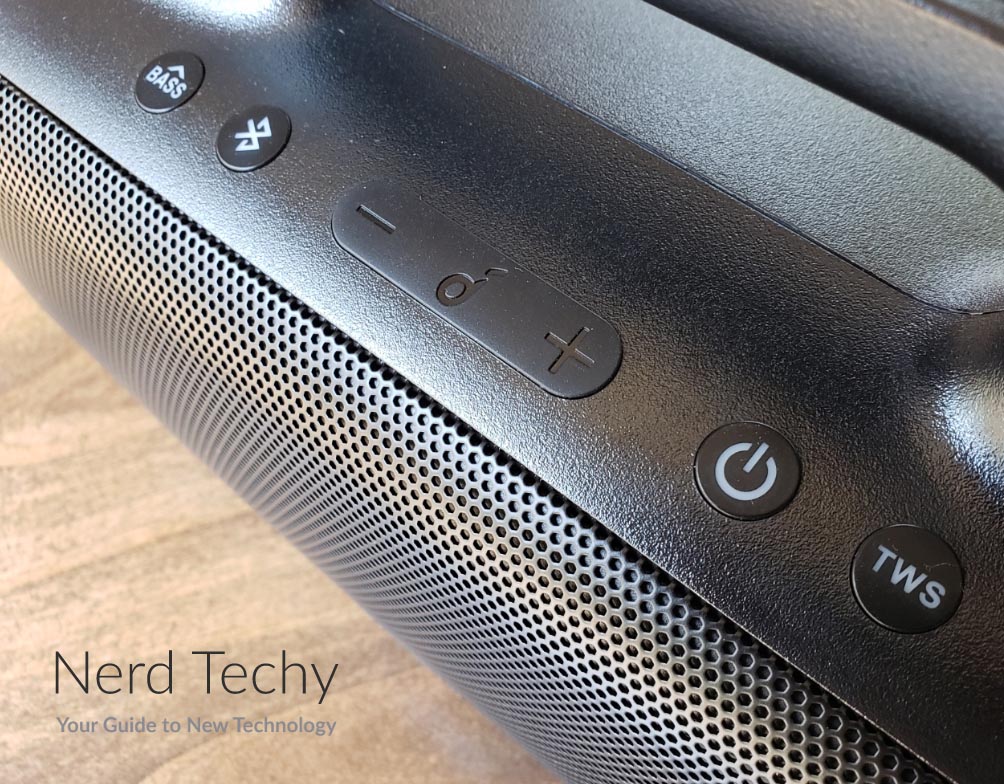 One extra feature we appreciated was the ability to use the speaker's internal battery as a power bank. Next to the Type-C power port, there's an additional USB Type-A charging port. If you plug your smartphone or tablet into that port, it will automatically start charging. The total capacity of the Motion Boom's battery is 10,000mAh, or about three full charges for the iPhone 12. Keep in mind, though, that you'll also be draining your speaker's battery. One way or another, you're eventually going to have to plug in. But if you need to get yourself out of a low-battery situation, this can be a handy feature.
This speaker connects to your phone or MP3 player with Bluetooth 5.0. This is the standard Bluetooth version for most modern devices, and is more or less universally compatible. It offers a number of benefits over the previous Bluetooth version, version 4.2. There's less latency, so it can be used for movies and gaming. It supports higher bitrates, so you can listen to HD audio tracks. Finally, the signal is more stable, so you won't have to worry about random disconnections.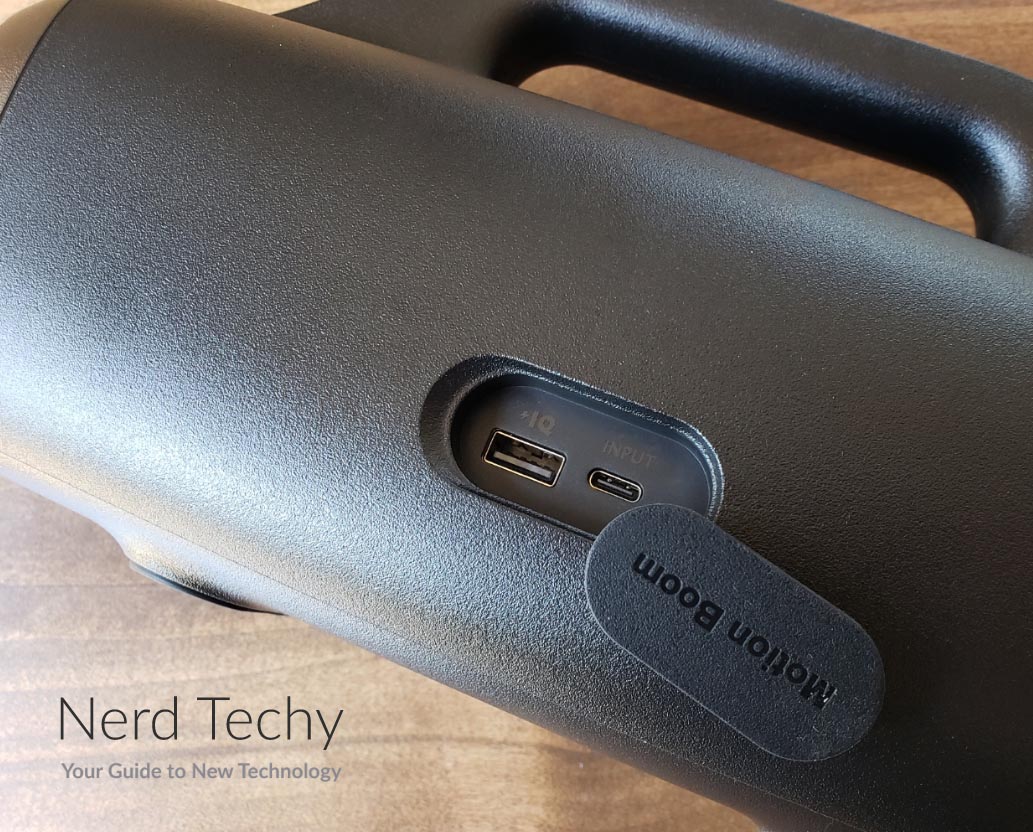 In addition to all that, the Motion Boom can also be used in stereo mode. This is only a single speaker, and only provides a single channel. However, if you purchase a second Motion Boom, you can press the TWS button to go into stereo mode. When you do this, one speaker will act as the left channel, and the other will act as the right channel. As a result, this speaker is a great choice for backyard movie nights. On the downside, there's no 3.5mm aux port, and there's no Micro SD slot. The only way to connect is via Bluetooth.
If you need a speaker with an aux port, consider the Ortizan X10 Bluetooth Speaker. It provides multiple ways to listen, so you're not limited to Bluetooth. You can even listen via your aux cable after the battery is dead. On the other hand, the sound isn't nearly as powerful as the Motion Boom.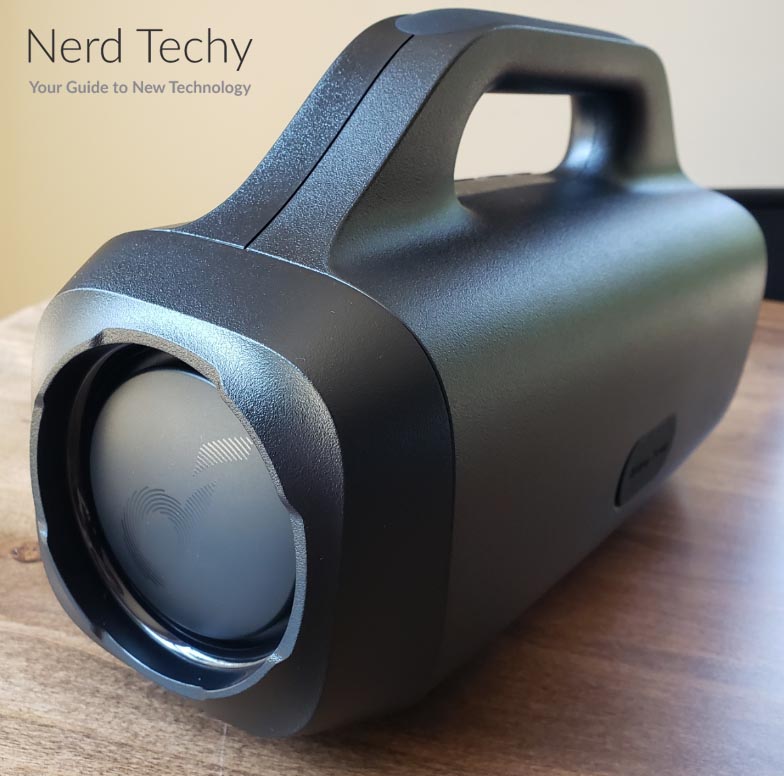 Audio Quality
The speaker itself draws 30 watts, which powers a pair of 2.5-inch titanium drivers. Anker makes a big deal about these drivers, and they perform reasonably well. They're not Bose-quality, but you get more than what you pay for. The highs are crisp and clean, and come through with plenty of clarity. The mids are also very clear, and vocals sound front and center. This is mostly thanks to the speaker's generous soundstage, which provides good separation between instruments. All in all, we were quite happy with all of these aspects of the speaker.
That said, the Motion Boom's biggest feature is its capacity for powerful bass. To begin with, there are a pair of radiators on the side of the housing. These aren't powered in any way. They're passive membranes that resonate with the main speakers and amplify the bass. The intent is to simulate the effect of a small subwoofer. It mostly succeeds, and there's plenty of bass right out of the box. If you want even more bass, you can just press the BassUp button. It won't shake your entire house, but it's noticeably punchier nonetheless.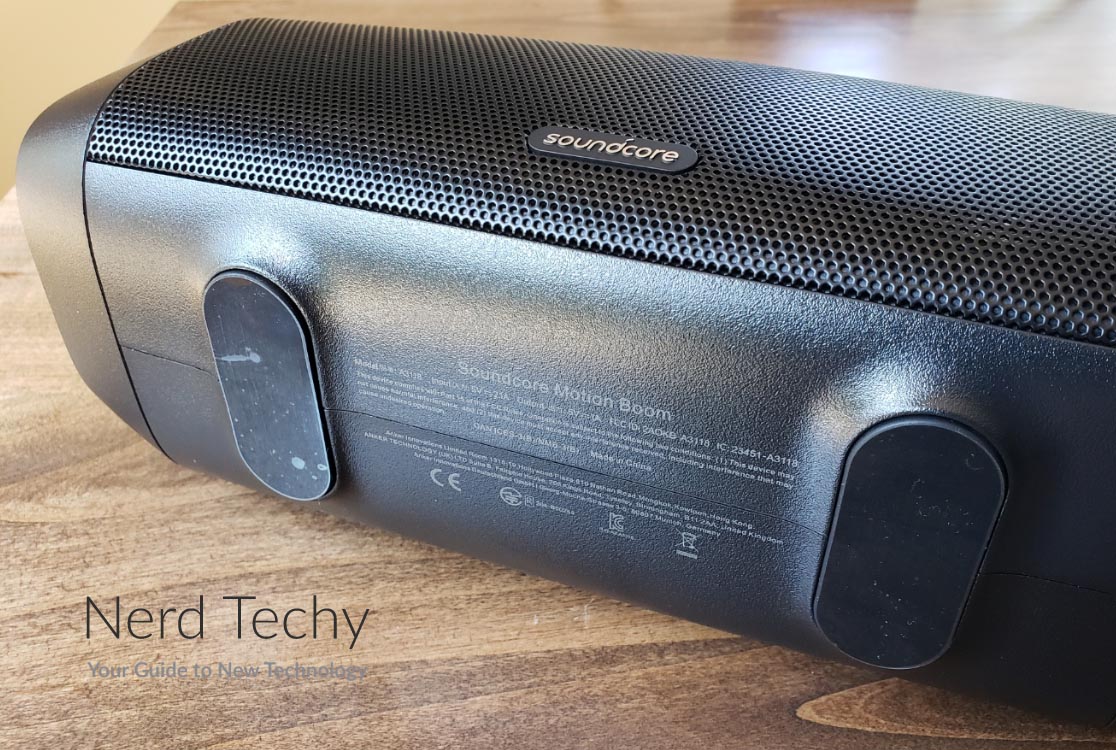 This speaker isn't just for people who want bass. It's also a good choice for anyone who wants a versatile sound box. If you install the free Soundcore App on your smartphone, you can adjust the EQ to suit your tastes. There are four options, including flat, treble, bass, and voice boost. It's not quite a 7-band EQ, but it's more customization than you'll get from most Bluetooth speakers.
Final Verdict
The Anker Soundcore Motion Boom is a tough, durable speaker that's ideal for outdoor use. It can withstand rain and submersion, and makes a solid poolside companion. To be fair, the aesthetic isn't the most attractive. We wouldn't use it in a professional office. We were also disappointed by the lack of any alternative to the Bluetooth connection. That said, the audio quality is excellent, particularly the bass performance. We also liked the app, and the option to change between different sound profiles. To top it all off, you get a powerful battery that lasts all day. The power bank feature is just the icing on the cake.