LOCKLY Duo
Design & aesthetics:
9.0/10
Connectivity & Extras
9.5/10
Pros
Replaces both top and bottom locks.
Attractive satin finish.
Use fingerprints, codes, an app, or a physical key.
Remote monitoring and logging.
Cons
Fingerprint reader is awkward for southpaws.
A bit expensive.
When it comes to your home's security, there are few things more important than the lock on your door. A good security camera can help catch a thief, but that's cold comfort if you've already been robbed. A lock can stop the thief from getting into your home to begin with. Along the same lines, you could buy an alarm system. Alarms can be very effective for summoning police and even scaring off would-be thieves. But once again, they only help after someone has already gotten into your home. With a good quality lock, you can rest assured that no-one is getting through your door without your permission.
But keeping people out is only part of what makes a good lock. Just as important, a lock needs to let the right people in. Depending on your living arrangements, this could be several people. Kids, parents, guests, and housekeepers can all need access at one time or another. With a traditional lock, this meant creating a bunch of copies of your keys. But each copy of a key makes it less secure. There's always the chance it could get lost, or fall into the wrong hands. A fingerprint or a key code, on the other hand, can't get lost or stolen. As a result, these methods provide more reliable security for your home.
Note: At no extra cost to you, we may earn a commission for purchases using our links. Learn more.
With that in mind, we're about to review the LOCKLY Duo Smart Lock. This lock accepts not just a physical key, but personal codes and fingerprints. If that's not enough, you can open it remotely via the smartphone app. We've reviewed a few LOCKLY locks before, and we've generally been pleased. That said, the Duo is fairly expensive, as you'd expect from a lock with all the bells and whistles. For this reason, we have high expectations for its performance. We'll take a look at installation, the overall design, and how the lock works. We'll discuss the various ways you can use it, as well as how to set up the wireless hub. Finally, we'll talk about some of the extra app controls. Once we've discussed all of those things, we'll know enough to deliver a fair rating. Let's dig in!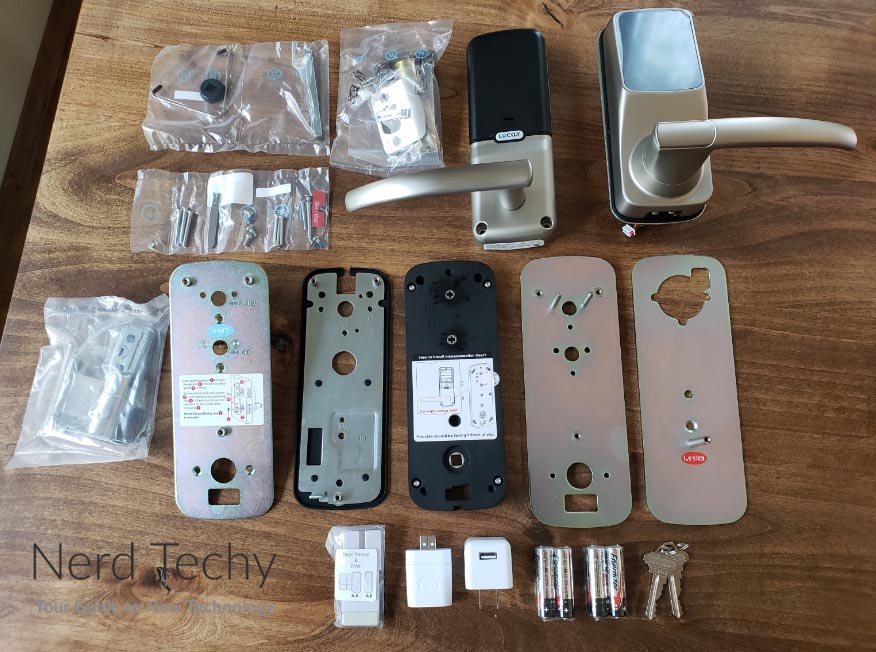 Design & Aesthetics
The LOCKLY Duo gets its name from the fact that it's a full-sized lock. Most smart locks occupy the deadbolt position only, and you use an ordinary door knob. This isn't inherently less secure – either way, you're getting a deadbolt. But from an aesthetic point of view, it can sometimes be tough to find a good match. This can leave you with a deadbolt and knob that don't quite go together. Because the Duo is a single unit, everything is already well-coordinated.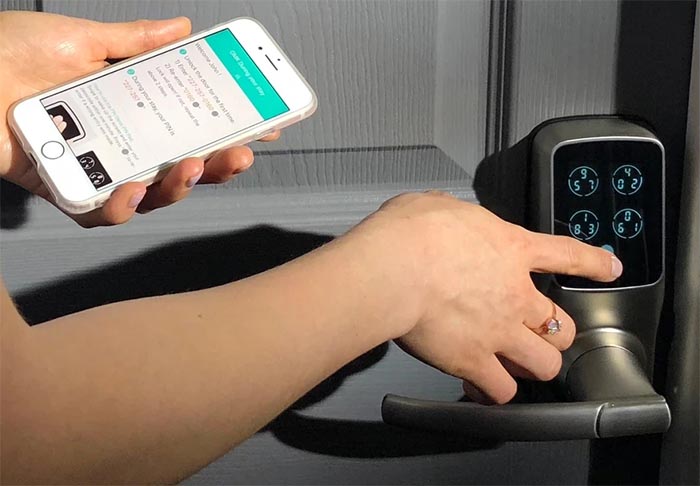 The bulk of the finish is satin nickel, with a lightly brushed pattern. This includes the door handle, which is long and slender enough for easy use. As with any lock or handle, it comes in two halves, for the inside and outside of your door. You then install the inner workings of the deadbolt, and screw the two halves together to complete the assembly. LOCKLY advertises an install time of about 30 minutes, but that's really just a ballpark figure. An experienced individual with the right tools and the right door can install it in under 10 minutes. The door itself shouldn't be much of an issue, since the Duo accommodates between 1 3/8 and 2 inches' thickness. That runs the gamut of almost any front door. Moreover, the handles can be installed left- or right-handed. No matter which way your door swings, this kit will work.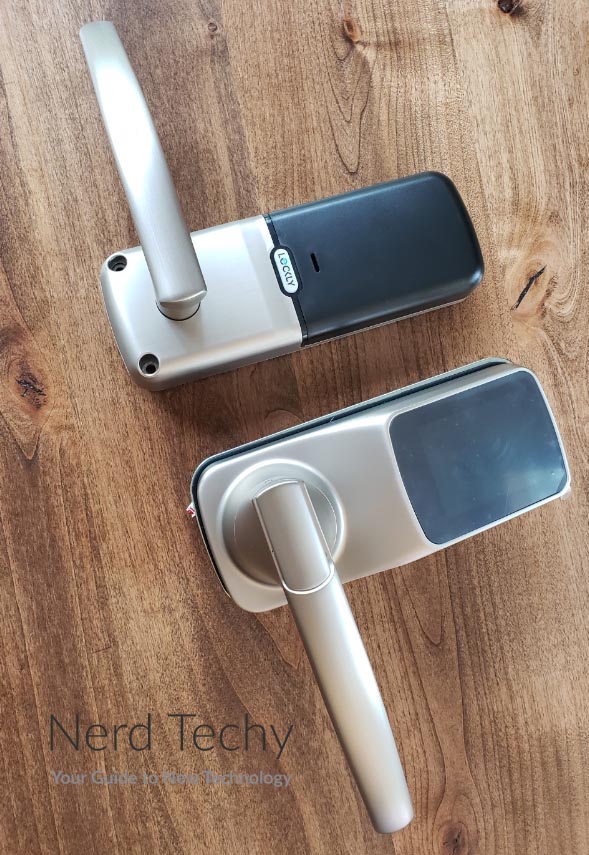 The outside and inside halves of the lock are each designed differently, as befits their function. The exterior portion measures 2.9 inches wide and 7.02 inches high. The handle assembly occupies roughly the bottom half, and the housing slopes outwards as you move up. The top half of the housing protrudes slightly, and is angled up for easy viewing. This area is a black touchscreen, with a keypad for entering your access code. We'll talk about how the keypad works in a minute. At the bottom of the display, you'll also notice a green LED, which illuminates when the lock is active. If the light is off, you know you'll have to use your mechanical backup key. The key slot is in the bottom of the housing, with the fingerprint reader on the right.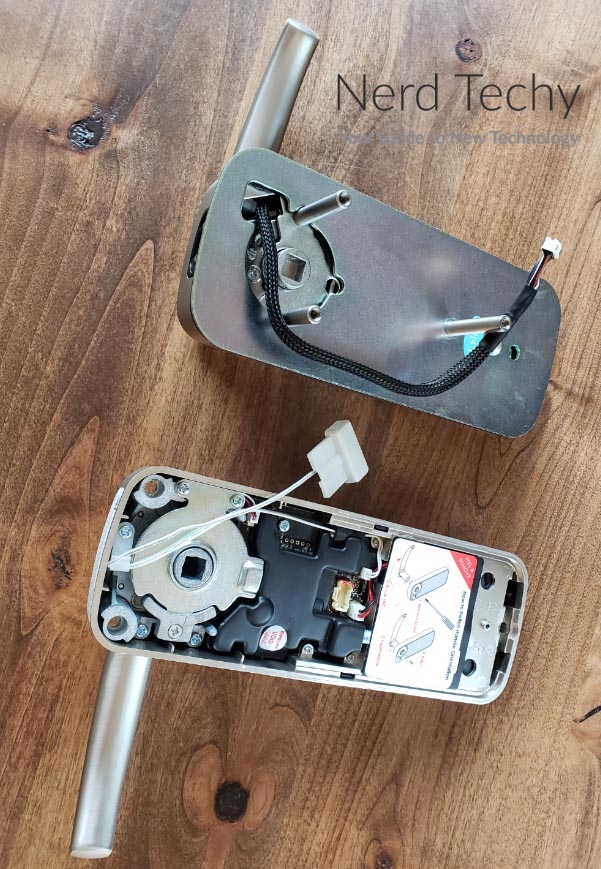 The interior portion of the lock assembly is a bit taller and flatter. It measures the same 2.9 inches in width, but an extended 7.83 inches in height. This extra height is necessary to accommodate the batteries, which are housed inside. The battery compartment is made of plastic rather than satin nickel, and has an understated matte black finish. It's also relatively easy to remove if you need to access your batteries. As with the outside part of the assembly, the bottom portion is occupied by the handle. Right in the middle, there's a power switch for turning the lock on and off. When it's off, none of the electronic functions will work, but you can still use a physical key.
If you like the idea of a smart deadbolt but don't want to pay for the Duo, consider the Securam Touch instead. It's a more affordable option that still includes a fingerprint reader and a standard keypad. However, it's a deadbolt only, not a full handle set.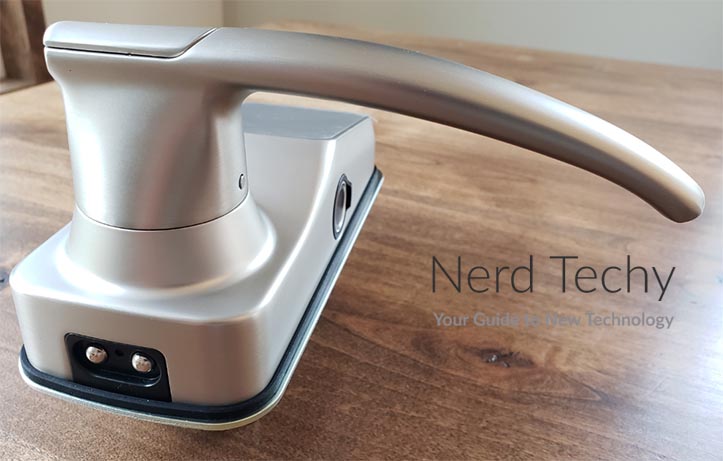 Lock Performance
To understand how well the LOCKLY Duo works, we'll need to take a look at each of the locking methods. To begin with, there's the keypad, which you'll probably use most often. At first glance, it looks a little weird. Instead of a normal grid pattern, the numbers are arranged in four circular buttons with three digits each. This is a total of 12 digits, which means two of the digits have duplicates. Why would anyone design a keypad this way?
The answer is that it's designed to be hack-proof. Because different digits are displayed on the same button, an outside observer can't tell which one you're pressing. Even if someone's looking over your shoulder, they can't figure out your code. The keypad also randomly reconfigures itself after each use. That way, a person can't simply enter the same button pattern they saw you use. The digits will be in different places. This isn't the first time we've seen a similar hack-proof design. But it works very well, and we had no complaint with its operation.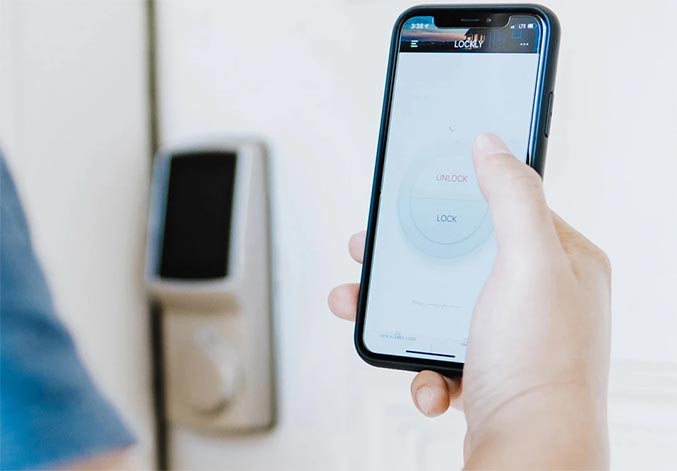 The fingerprint scanner is located on the right side of the housing, which is ideal for righties. It's easy to touch with your fingertip before turning the handle. And if you're left-handed on a right-hand swing door, it's still reasonably accessible. You just use your thumb to press it. However, if you're left-handed and using a left-hand swing door, it gets awkward. You either have to reach around the lock to use the fingerprint scanner, or use your right hand. This is a relatively minor complaint, but it could have been avoided with a front-mounted fingerprint scanner.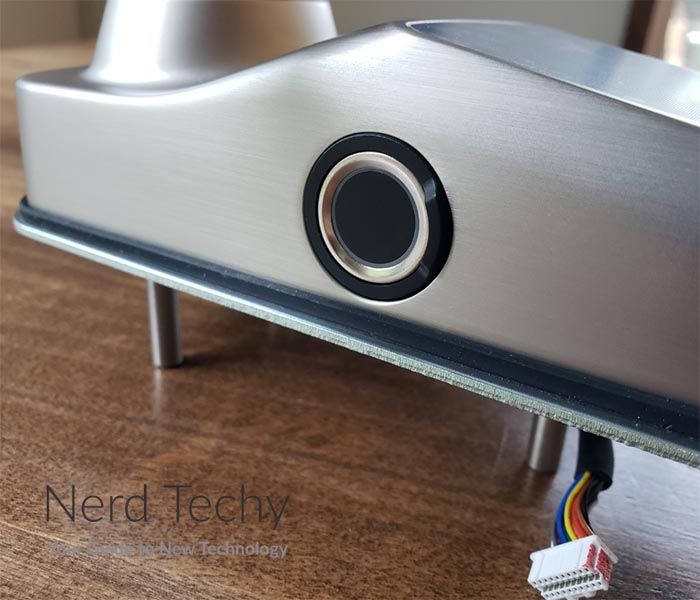 Another way to open the lock is to use the mobile app. From there, you can lock and unlock your door from anywhere in the world. This gives you an easy way to let a friend or relative into the house in the event of an emergency. You can also create, edit, and delete access codes from within the app. You can have up to eight active codes simultaneously, to provide to multiple people.
If you need more access codes, that's absolutely an option. The LOCKLY Secure Pro supports up to 100 of them, which makes it a viable choice for businesses. However, the wireless signal has a relatively short range. You'll need good WiFi coverage in order to set it up properly.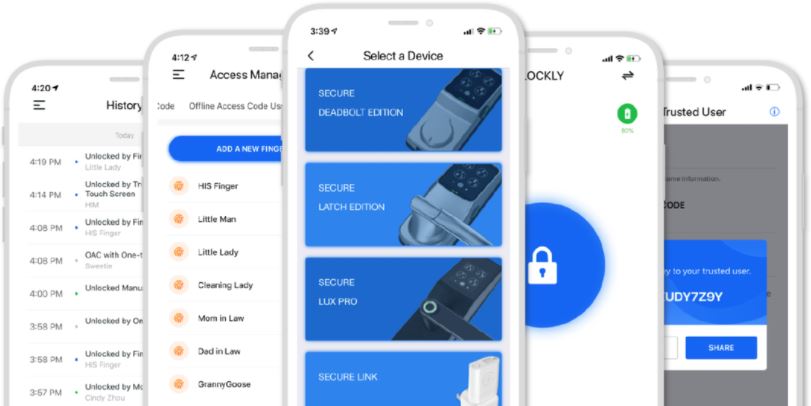 Connectivity
The LOCKLY Duo relies on a wireless internet connection in order for the app features to work. Since you need the app to program the keypad or fingerprint reader, this is a pretty big deal. Thankfully, it includes a small WiFi hub. This hub connects to your home's network, and acts as an access point for the lock itself. It's white and blocky, and plugs directly into your power outlet. Plug it in within about 30 feet of the lock, and it's going to work just fine. If you don't care about remote access, you can also connect to the lock directly via Bluetooth. Just keep in mind that this only works when you're in Bluetooth range. As a result, it's worth taking a few minutes to get the wireless hub set up.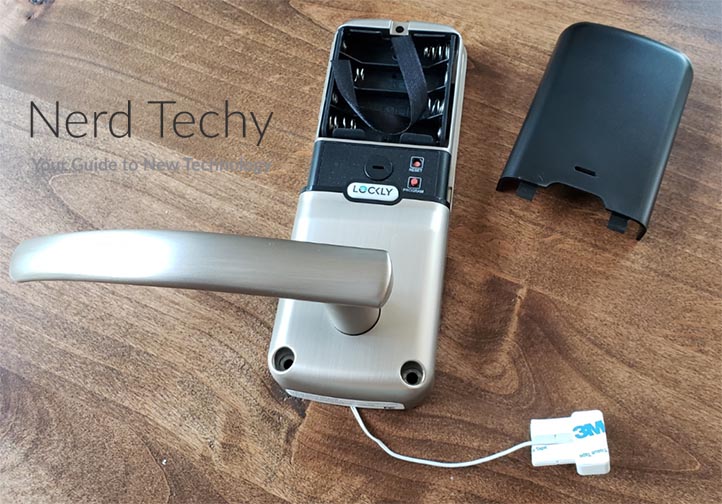 In addition to the functions we've already mentioned, the app also has a couple of other tricks up its sleeve. To begin with, you can monitor your door remotely as well as control it. You can even set the app to send push alerts whenever the door is locked or unlocked. Afterwards, all of this information is stored in a log, including which codes were used when. If that's not enough, the app can actually generate an offline access code. This way, you can send a code to your friends even if you don't have internet access. It's a bit of a niche feature, and you may never use it. On the other hand, it could help out in an emergency.
One feature it doesn't have is a camera. For that, you need the LOCKLY Vision. This is a deadbolt-only assembly with a keypad and a prominent physical key slot. More importantly, it has a camera for you to remotely monitor your front door.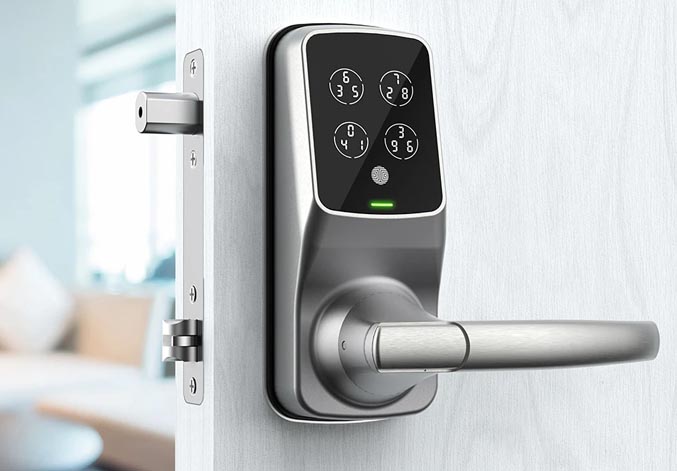 Final Verdict
The LOCKLY Duo is a bit pricey, but you get a lot of value for your money. From a slick physical design to a highly-functional mobile app, this lock has a lot to bring to the table. You can use a digital code, a fingerprint scan, or a physical key to open it. The wireless connection is reliable, and the app is easy to use. All in all, we were very pleased.
Please consider sharing:
Note: At no extra cost to you, we may earn a commission for purchases using our links. Learn more.