On the list of "things we like to do with our free time," vacuuming is close to the bottom. It's called a chore for a reason. You do it because you have to, not because it's the most exciting part of your day. But just because it's a chore doesn't mean it has to be downright painful. With the right vacuum cleaner, cleaning your floor can be quick and painless. The fact is, technology has improved many aspects of our lives, and vacuuming is one of them.
That said, we don't always think of technology in that way. Most people think of fun technology – the latest smartphone, game console, or smart TV. If it's not fun technology, it's usually something impressive. Say what you want about Jeff Bezos, but when he went to space, everyone on Earth was paying attention. But more mundane technology is easier to ignore. Nobody gets their kicks from learning about the latest vacuum cleaner technology.
This is a shame, because there have been a number of advancements in recent years. The most notable is the invention of robot vacuums, like the MOOSOO R3. But automation is far from the only benefit modern technology has brought to vacuum cleaners. Smaller batteries and more powerful compact motors are also a major part of the equation. In the past, cordless vacuums were light duty as a matter of necessity. Nowadays, a battery-operated stick vac can completely replace your old upright.
Now, we're going to take a look at the MOOSOO XL-618A Cordless Stick Vacuum Cleaner. This is a compact stick, battery-operated stick vacuum with an oversized dust bin. It also comes with a brush attachment for delicate surfaces, and an extension rod for more reach. But does it work as well as other, comparably-priced stick vacuums on today's market? To find out, we'll have to subject it to closer examination. We're about to discuss the ergonomics and design, as well as the cleaning power and accessories. We'll also consider the battery power and air filters before we wrap up. Let's get started!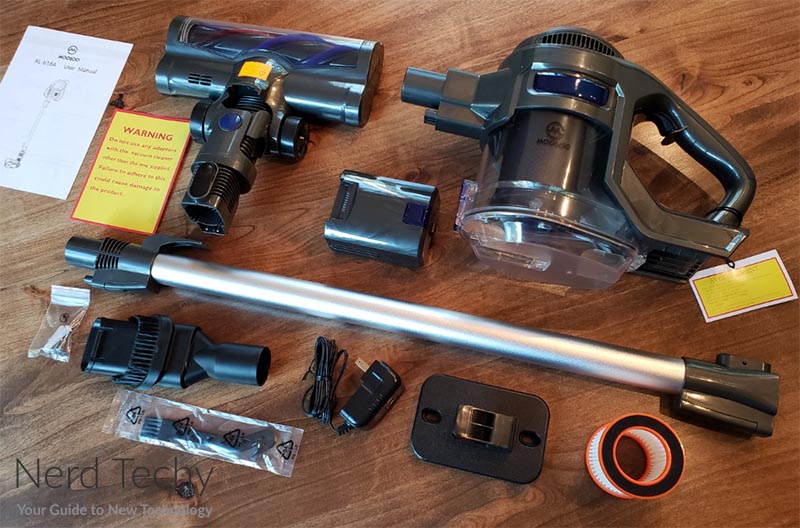 Design & Construction
The MOOSOO XL-618A consists of a handheld main housing, along with a series of attachments. To begin with, let's talk about the main vacuum body. It's designed a bit differently from most handheld stick vacs. Normally, you'll see a pistol grip, mounted beneath the motor like the grip on a power drill. This vacuum, on the other hand, has a more forward-angled grip positioned behind the motor. It's more like holding a leaf blower than holding a drill. This is both a good thing and a bad thing. On the one hand, the forward angle is very comfortable for cleaning floors. Your hand will be under minimal stress, and you can move the vacuum effortlessly.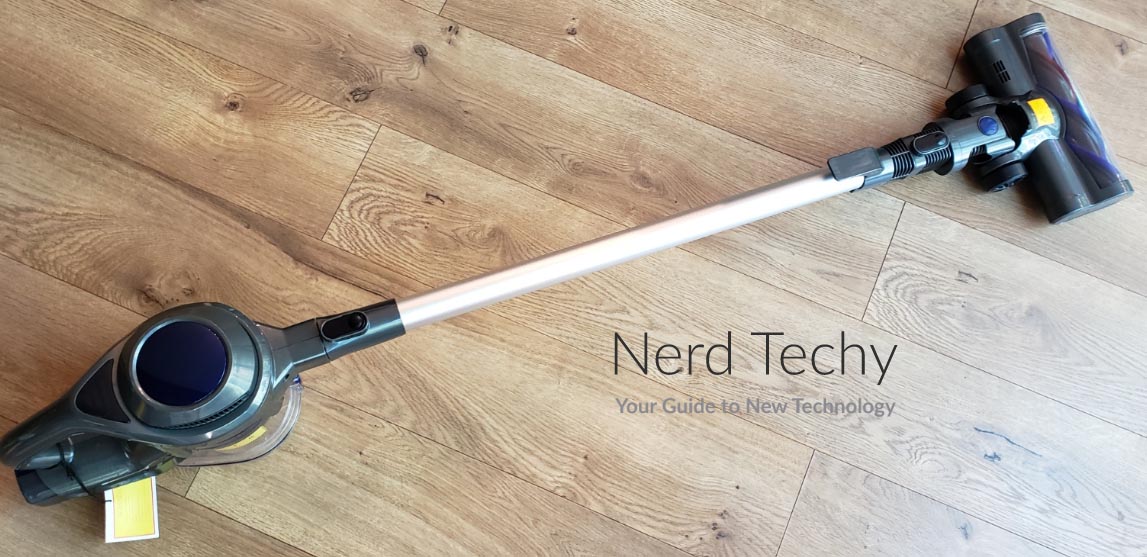 On the other hand, holding the vacuum overhead can be a bit awkward. This isn't to say it's too heavy – it weighs only 3.3 pounds, and it's back-heavy to boot. However, the grip angle is just not right for cleaning valences or doing overhead work. Whether or not this is an overall benefit or a major drawback will depend on how you use your vacuum. Either way, the control scheme is straightforward. You squeeze the trigger to run the vacuum, and release to shut it off. Depending on how hard you pull the trigger, the suction will be either lower or higher.
The battery is located behind and beneath the grip. It provides a good counterweight to the motor, and a flat base for laying the vacuum down. Not only that, but it's removable. If you need to replace the battery at some point, you can. The dust bin is located in front of the battery and beneath the motor, and it's very large. Most battery-operated vacuums have a capacity of 0.5 to 0.6 liters. It's to the point where a half-liter size is just about ubiquitous. The XL-618ZA, on the other hand, has a 1.3-liter bin. It has transparent sides so you can monitor the dust level, and it's easy to empty. Just hold it over a trash can, open the latch, and let the dust fall out.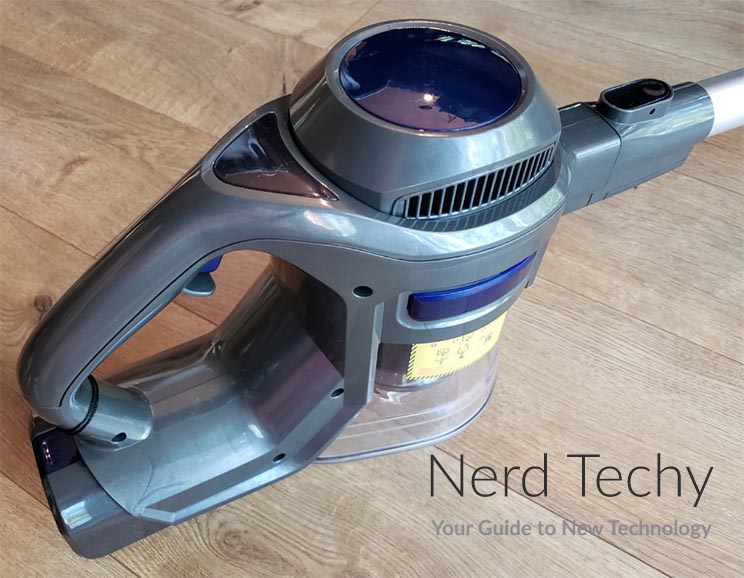 One thing that disappointed us about this vacuum is the lack of a complete wall mount. You still get a simple wall mount, but it's only for the vacuum itself. Without a mount that holds all of the accessories, storage can get a bit awkward. Although it offers handy way to keep the vacuum upright, there's nowhere else to store your brush attachment. It has to clip onto the front of the vacuum tube. This clip is delicate and if – when – it breaks, your brush and accessory attachments will need to live on a shelf.
On the plus side, the XL-618A is covered by a 12-month manufacturer's warranty. This covers you for any defects in materials or workmanship. If you have any issues during this time period, just send it back for a full refund or replacement.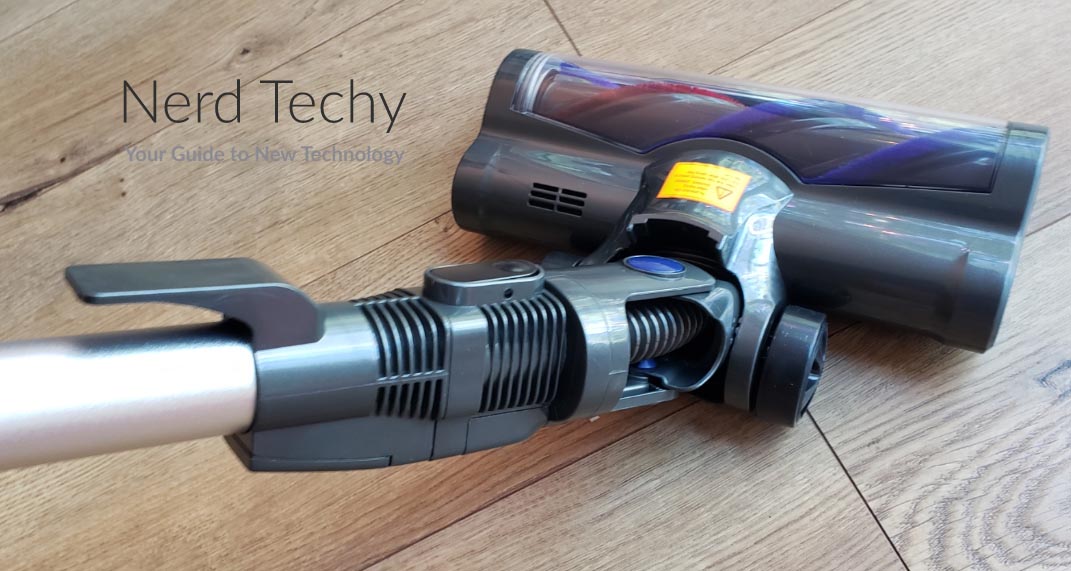 Cleaning & Accessories
We've established that the XL-618A is well-designed, if a bit short on accessories. But what about the suction power? In this regard, it's a bit of a mixed bag. On the one hand, it provides up to 12,000 Pascals (12KPa) of suction power. This is far more than you'll get from any robot vacuum. On the other hand, the average upright vacuum provides 14KPa of suction. In other words, you're looking at a good quality stick vac, but not quite a replacement for a proper upright. It works fine on bare floors and short pile carpets. You may, however, run into trouble on heavily-soiled deep pile carpets. Whether or not this is sufficient will be up to you.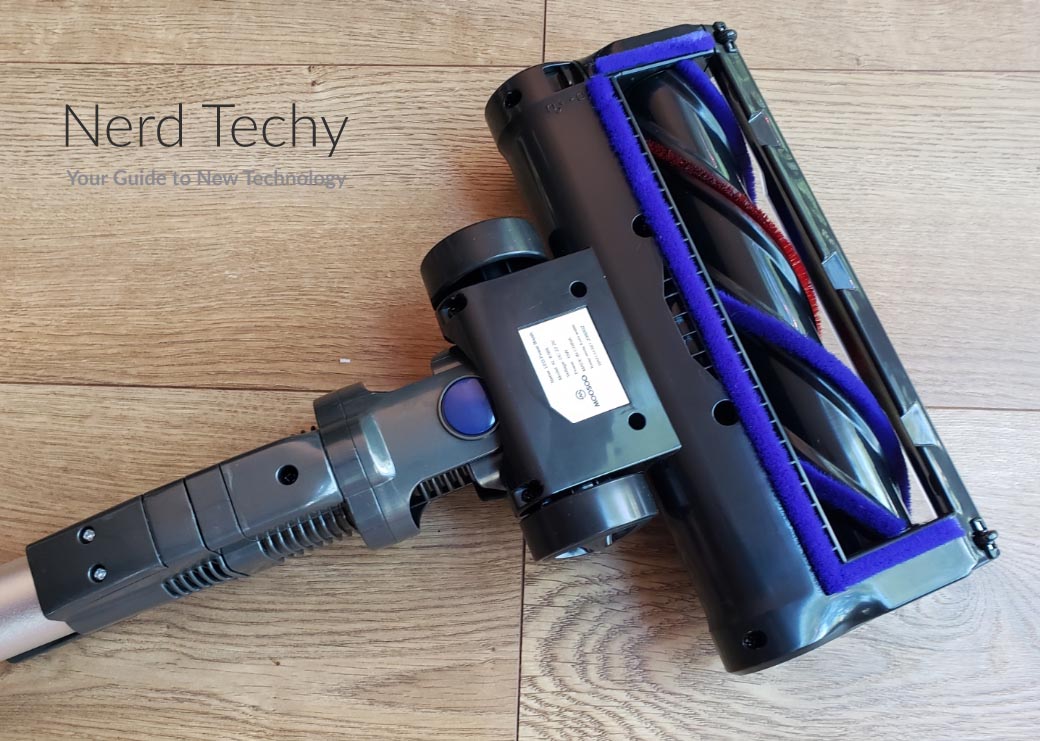 Suction power aside, we were a bit disappointed with the cleaning accessories themselves. MOOSOO advertises this vacuum as a "4-in-1," which most people would assume means four attachments. In fact, there are only two attachments: the standard floor roller and the brush attachment. There's no crevice tool, and there's no small roller for automotive use. The "4-in-1" refers to the fact that the extension rod is removable. In other words you can use the roller or the brush, with or without the extension. Since removable extension rods are standard on any stick vac, this advertising is a bit misleading.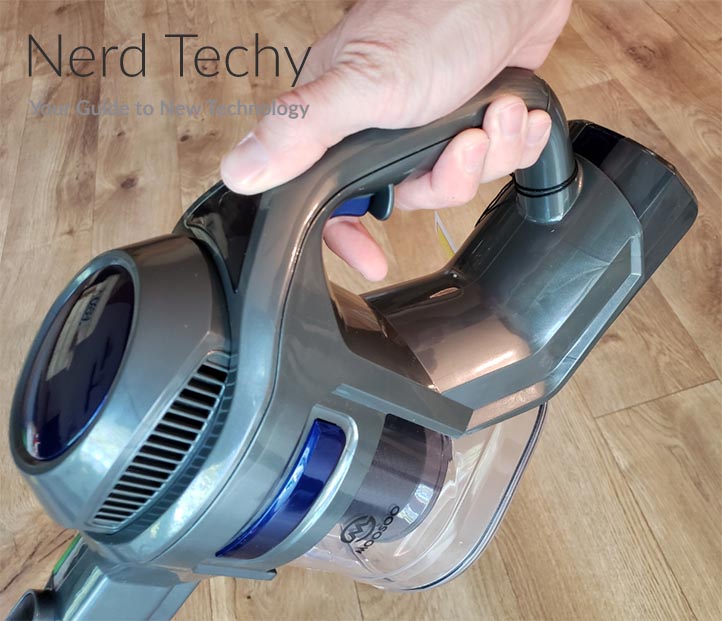 That said, the two attachments you do get provide reasonably good performance. The roller attachment has a 12-degree adjustable neck, so you can finagle it under most low-lying furniture. Along the same lines, it has LED lighting on the tip, so you can actually see what you're doing. The dual-helix design does a good job of cleaning up dirt, within the limitations of the XL-618A's suction power. Like any vacuum drum, it will collect hair and tangle eventually if anyone in the home has long hair. Thankfully, it rotates freely when the vacuum is unpowered. This makes it easy to untangle when the time comes.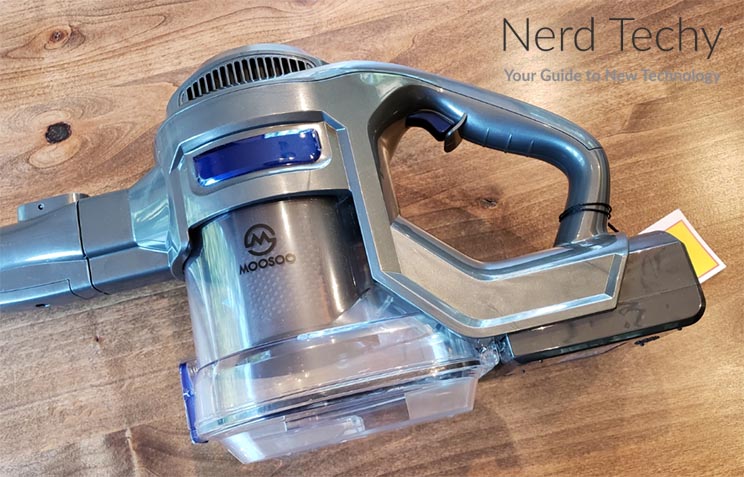 The brush attachment is designed for cleaning delicate surfaces like curtains and keyboards. The bristles keep the plastic from getting too close to the surface, so the suction is somewhat diffused. It works just fine, and we didn't have any complaints. But unlike a crevice tool, it won't fit between your couch cushions.
If you want a very powerful stick vacuum, consider the Dreametech T30. It provides up to 27KPa in turbo mode, comparable to many shop vacs. It also includes a full array of attachments, but it's fairly pricey.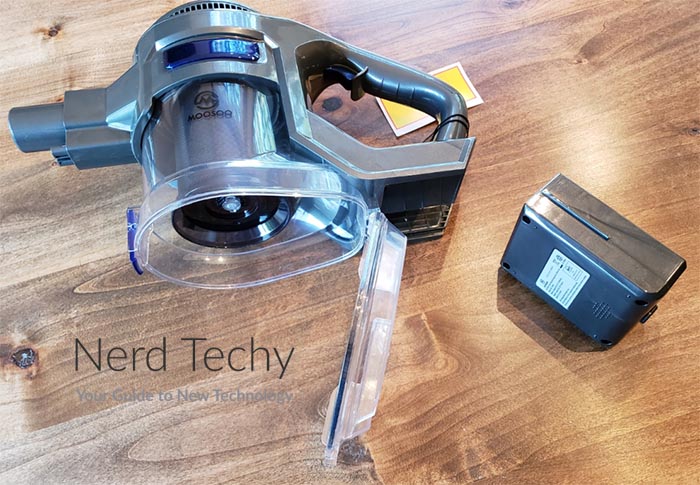 Battery & Filters
One area where the XL-618A impressed us was the running time. It runs for 20 to 35 minutes depending on the power level, which is more than most stick vacs. We should point out here that you'll often see manufacturers advertise 60 or 90 minutes. But that's for low-powered modes that don't actually do much. For the kind of power this vacuum puts out, it provides fairly good battery life. It also charges reasonably quickly; a dead battery will fully charge in about five hours.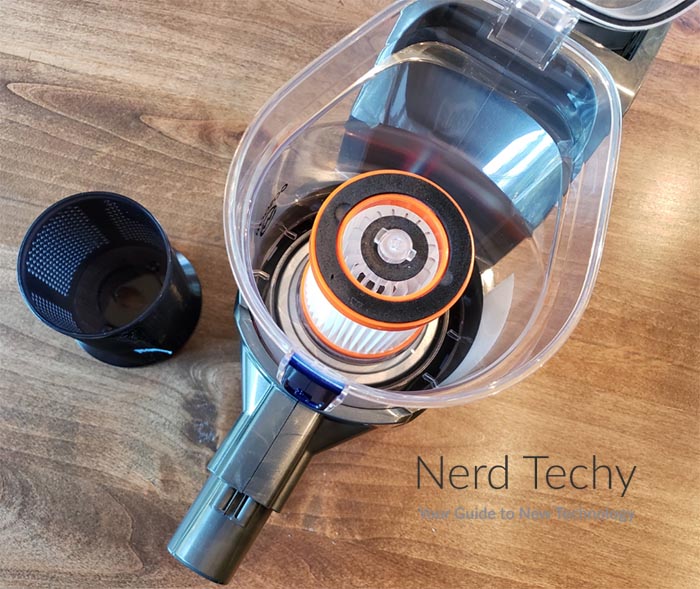 One thing it won't do is charge itself. For that, you need a robotic vacuum. Take the MOOSOO MT-720, for example. It will charge itself automatically when the battery is low, and return to work when it's full. It's not as powerful as the XL-618A, though.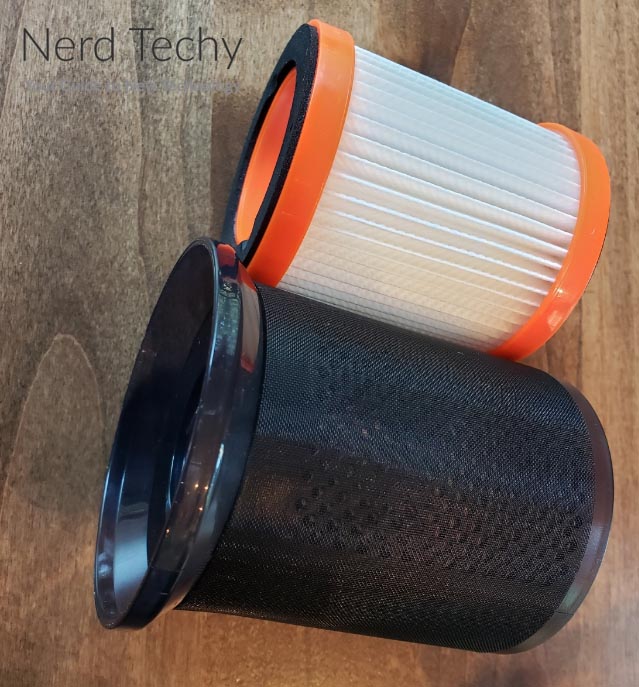 The filtration system consists of three layers. The first is the cyclone action of the air passing through the cylinder. Heavier debris gets flung to the outside, and falls to the bottom of the cylinder. Lighter dust and grit will get sucked upwards, into a high-density metal screen that covers the main filter. This screen can be removed and cleaned as needed. Just run water through it in reverse until any debris has been removed. Let it air dry, reinsert it in the vacuum, and you're good to go.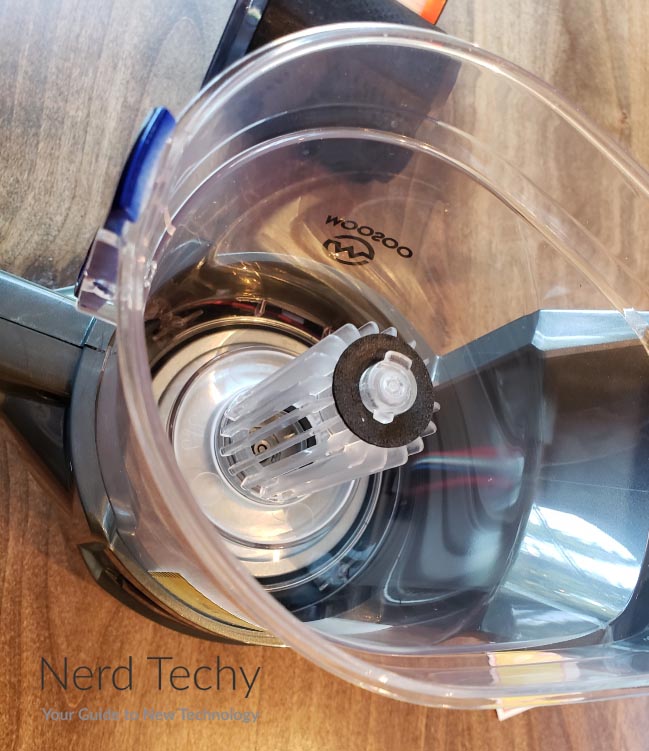 The main filter is a high-density HEPA filter, which removes all but the finest particles. It captures 99.97 percent of particles as small as 0.3 microns. This includes not just dust, but dust mites, mold spores, pollen, and smoke particles. Replacement filters are affordable, and should be replaced as needed.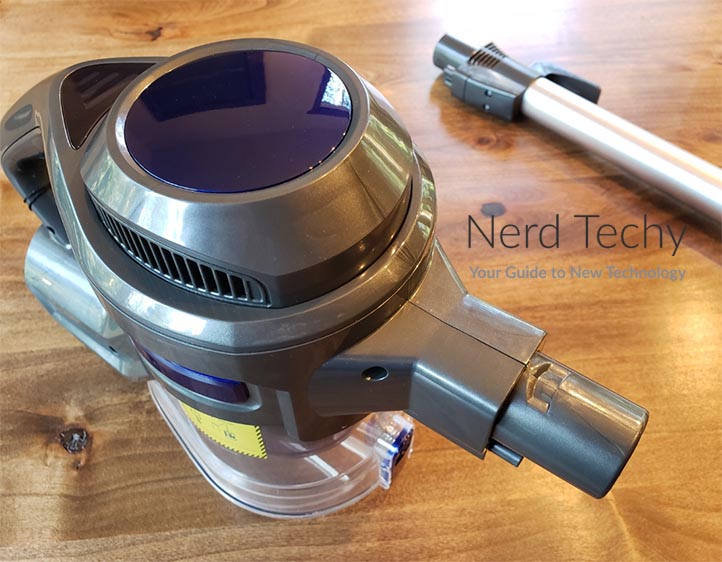 Final Verdict
The MOOSOO XL-618A is a bit of a mixed bag. On the one hand, it lacks basic attachments like a crevice tool or a small roller. It also doesn't have any kind of mount, which makes storage awkward. On the flip side, this is an affordable stick vacuum that performs nearly as well as an upright. It offers decent battery life, and the attachments it does have are well-engineered. If that's not enough, you also get an enormous dust bin and an ergonomic, forward-facing grip. If that's what you need, the XL-618A is an excellent value.