Rongta RP420
Pros
Fast thermal printing.
High DPI count for barcodes and QR codes.
Supports a wide range of label sizes.
Compatible with almost any service or software.
Cons
No spool or hopper.
Some minor alignment issues.
Some quality control issues.
If you do a lot of shipping and receiving, you probably use a lot of shipping labels. These are essential for businesses large and small. Let's say you're in charge of a big commercial warehouse. You might need to print thousands of labels per day for various shipments. But even if you run a small ecommerce site, you need to ship out your goods. This means printing labels.
Now, you could just use a normal office printer. Even a cheap printer will provide good enough quality for barcodes and QR codes, for example. But normal office printers require ink, which needs to be replaced from time to time. This isn't a big deal if you're just printing a label now and then. But if you're printing a ton of them, a standard ink printer isn't going to be efficient. Not only that, but ink printers need to be cleaned from time to time, which is messy and can slow you down. A thermal printer is a better alternative.
Note: At no extra cost to you, we may earn a commission for purchases using our links. Learn more.
A thermal printer prints with heat instead of ink. A heated print head moves along a heat-sensitive material, and creates an image. This allows for a much cleaner, more efficient cleaning process. Of course, you can only print in one color, which can be problematic for many functions. But for a dedicated label printer, that isn't a concern. All you're doing is printing in black and white to begin with. Since you're not printing photos or fancy graphics, you don't need color.
We're about to review the Rongta RP420 Thermal Label Printer. This is a high-speed, high-capacity label printer that's designed for producing labels as quickly as possible. It supports a variety of paper types, and is compatible with most software and online shipping platforms. But there are other features to consider, as well. We need to look at the physical design, and how you set it up. We need to look at the quality of the final results, as well as how easy it is to use. Once we've taken everything into consideration, we'll be better prepared to make a fair judgement. Let's begin!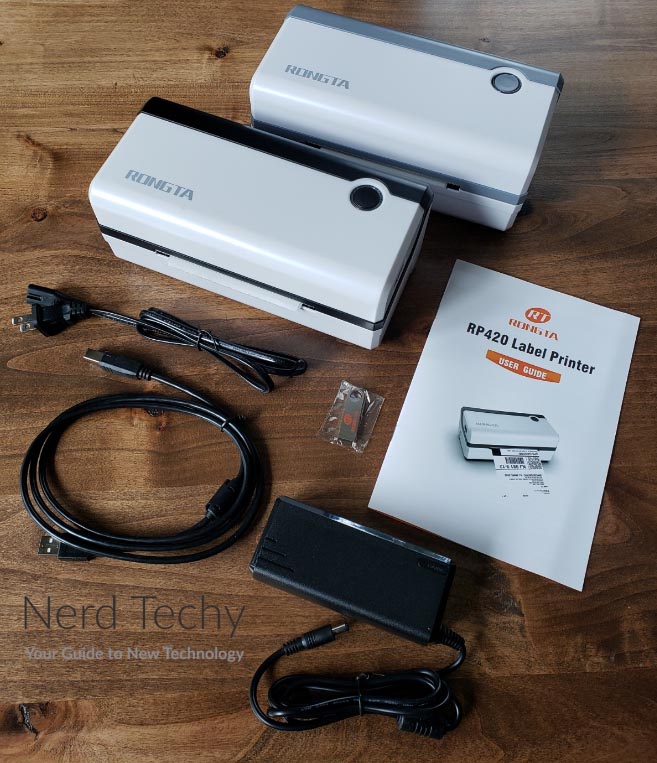 Overall Design
The Rongta RP420 Thermal Label Printer is an unassuming, white rectangle with grey striping. It measures 8.7 inches in width, 4.3 in depth, and 3.6 inches in height. The housing itself is constructed from durable polymer, and can take a beating if it has to. We're not saying you should hit it with a hammer, but a minor drop or bump isn't going to do any serious damage. Not only that, but the matte finish is easy to keep clean. In a dusty shipping environment, you'll appreciate how simple it is to wipe off. The only decoration on the housing is the word "Rongta", printed in grey on the top left.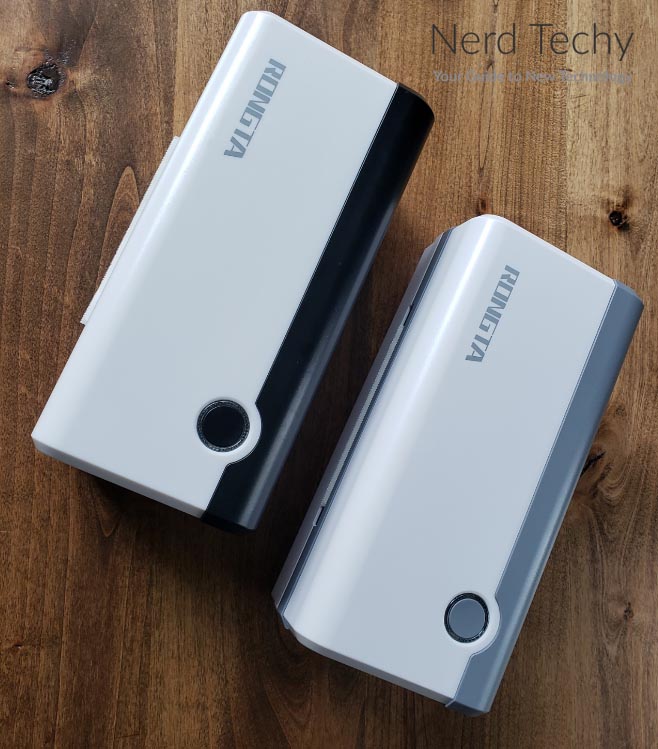 This printer functions as a feed-through model. Your labels enter from the back side, and are passed through the front. There's no reel, spool, or hopper. This is either a good thing or a bad thing. On the one hand, you can easily deal with labels from any source. On the other hand, you'll need to find your own way of holding the labels. To run your labels through, you'll first need to adjust the tabs in the back of the housing. These can be opened or closed to fit a variety of label sizes, up to 4 x 6 inches. When the fit is close but not tight, push the label through the unit, and press the feed button on top. It will automatically feed through until the labels are properly aligned.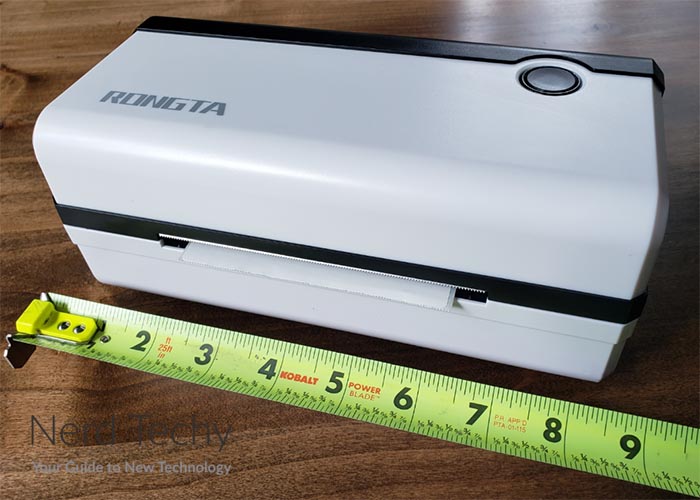 If you do need a printer with a spool, there are plenty available. One good example is the iDPRT SP420. It opens up, you put the paper inside, and the labels print out the front. It's also extremely fast, although you have to install drivers before you can use it.
If you need to open the Rongta RP420 printer, you can. This can be useful if you need to mess with the label alignment. It can also be helpful if adhesive or dust has built up on the rollers or the print head. To open the housing, push back the two tabs on the side of the unit. The housing will then open in a clamshell style, with the hinges located on the back corners. Just be careful if you're cleaning the rollers. The serrated blade is razor sharp, and it's easy to cut yourself.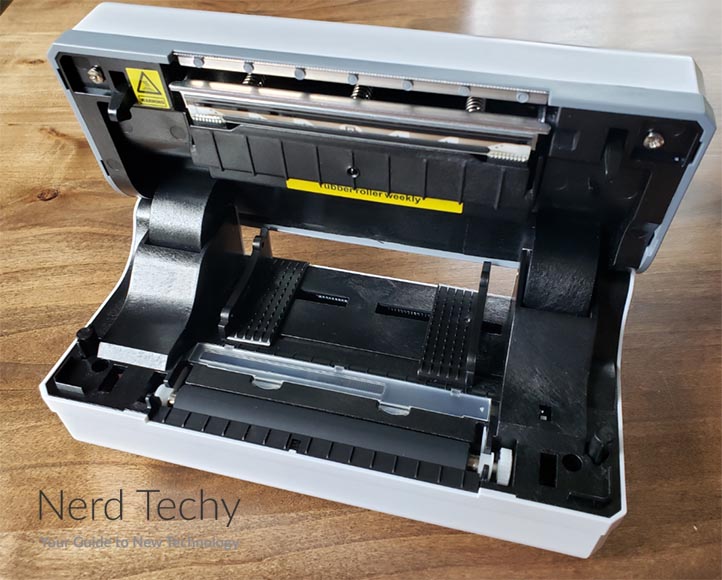 The only control on the printer itself is a power switch, located on the bottom left of the back. Right next to it, you'll find a USB Type-B port for the data connection. A Type-B to Type-A cable is included in the package. Also on the back of the printer, there's a power port for the barrel-style DC adapter. The cord is about six feet long, with a large block in the middle.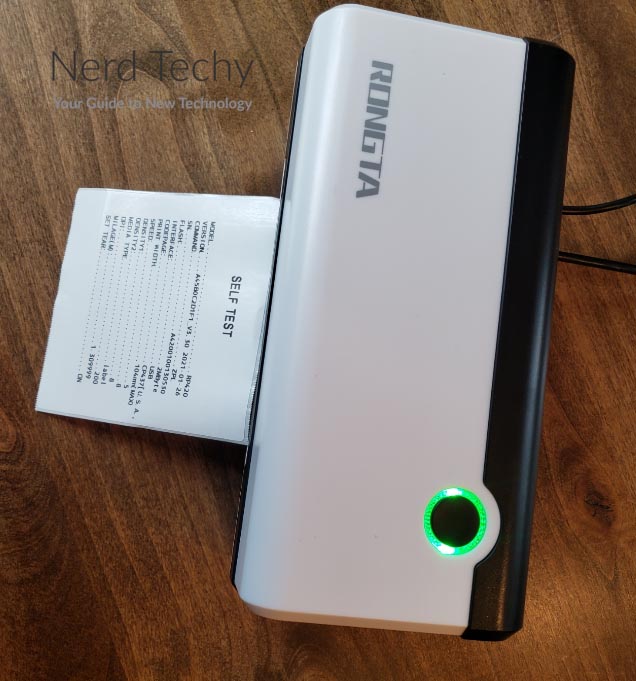 Connectivity & Setup
As we mentioned, the Rongta RP420 Thermal Label Printer connects to your computer via USB. There's no Bluetooth or WiFi connection, which may be a problem for some people. For example, it makes a poor network printer unless you can plug it directly into your router. That said, the USB connection is compatible with just about any computer. In addition to Windows machines, this printer works with Mac and Linux as well. That said, it only works with a desktop or full-sized laptop. It won't work with tablets or Chromebooks.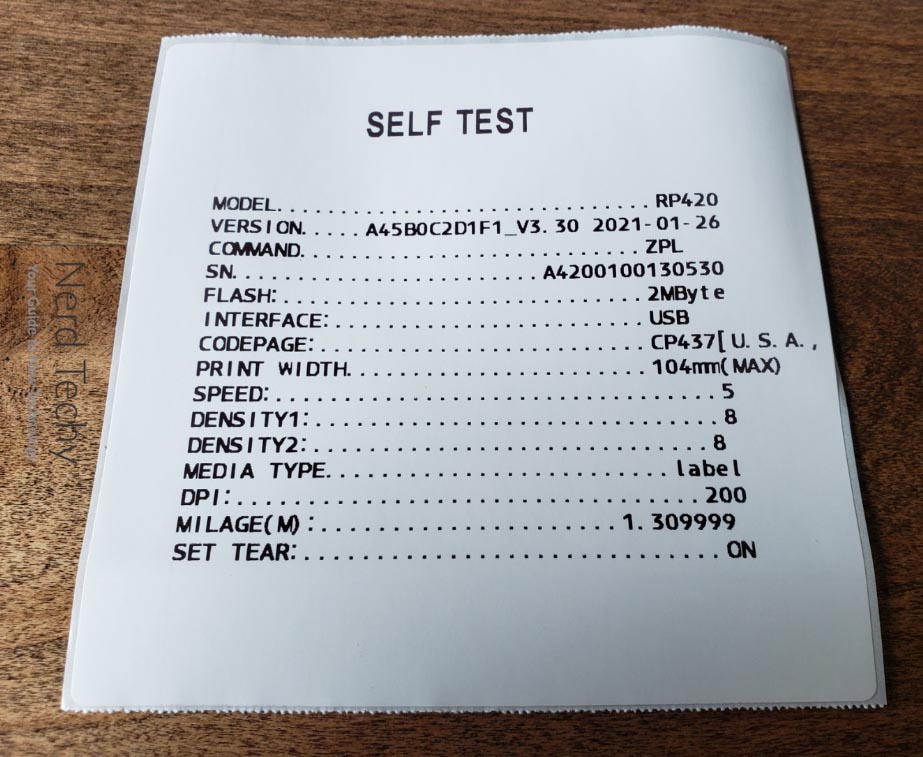 Another thing we appreciated is that you can print from almost any major shipping platform. To begin with, you can use popular services, including FedEX, UPS, USPS, and ShipStation. You can also print labels for many popular ecommerce marketplaces. Among others, the Rongta printer supports labels from Amazon, Etsy, Shopify, and eBay. Not only that, but you can also print labels from Microsoft Office software. You can print directly from Word, Excel, or PowerPoint without running into any issues. Just choose the label size you want to print to, and start printing away.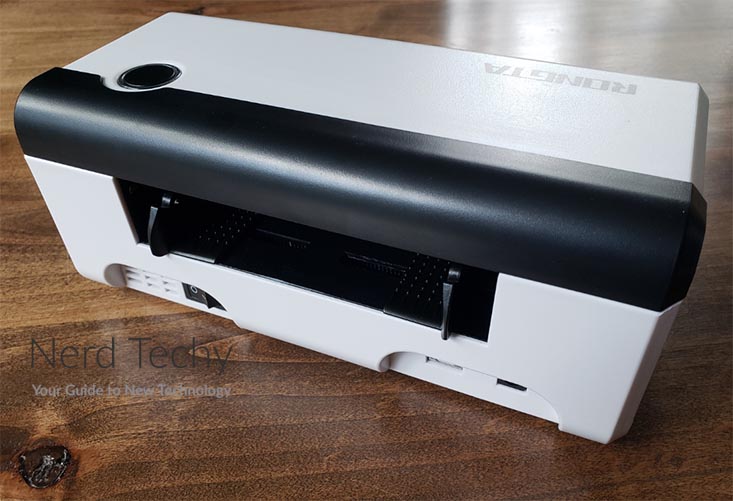 Speaking of label size, you don't have to worry about messing with any settings on the printer itself. The Rongta printer will actually detect the size of the labels you insert. When it initially feeds them through, it will determine the size during the alignment process. This usually works well, but alignment sometimes gets fiddly. In the worst case, you may have to retract some labels and feed them through again. That could be annoying, but it's not really a big deal.
In terms of labels, you get a wide variety of options. This printer supports any thermal labels with widths between 1.57 and 4.1 inches. This includes popular printing label sizes, like 6×4, 4×3, 4×2, and 3×2. It also works with almost any popular label brand. Among others, it supports Rollo, Dymo, Buhbo, Polano, and Munbyn.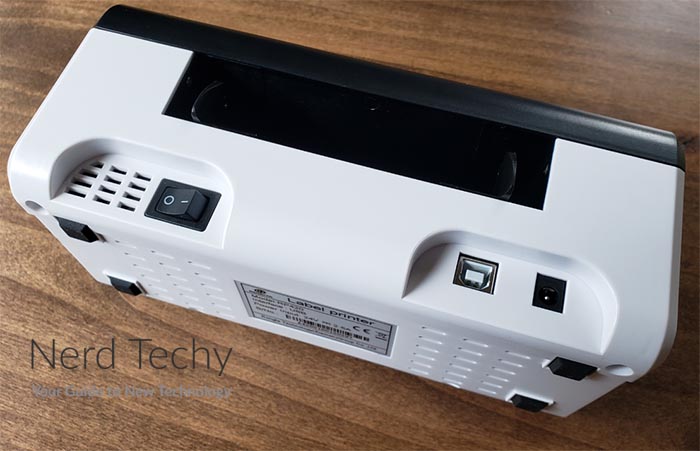 Printer Performance
The Rongta RP420 is capable of printing at a rate of 150mm per second. This is really just a rough estimate, though. A lot depends on what you're printing. If your labels have a lot of white space, they'll print off even faster. If you're running off labels with a ton of dense text, expect the pace to be a tad slower. In practice, there's not much variation, but it's enough to be noticeable.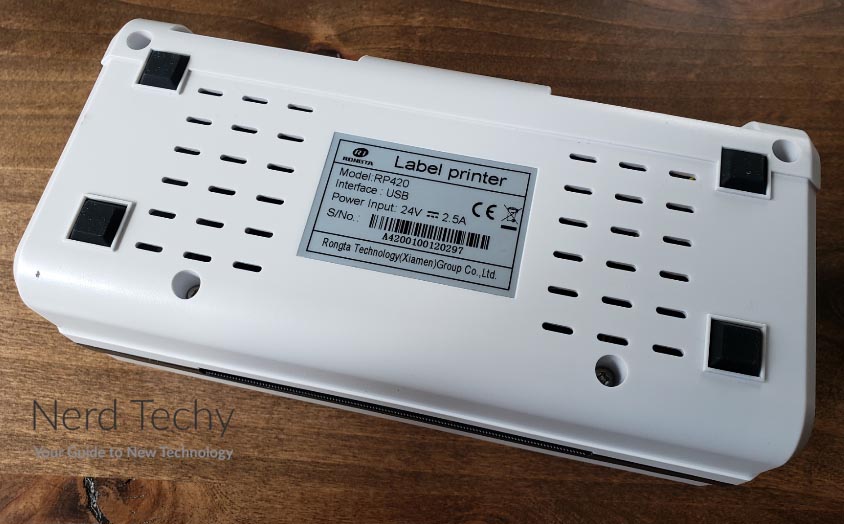 In terms of how many labels you can print, it obviously depends on how big the labels are. 150mm is about six inches, so you can print about one six-inch label per second. That works out to 60 labels per minute, or 3,600 per hour. The number would go up for smaller labels, so you could potentially print even more. Regardless, you're looking at a very fast print speed, capable of keeping up with even the busiest shipping department.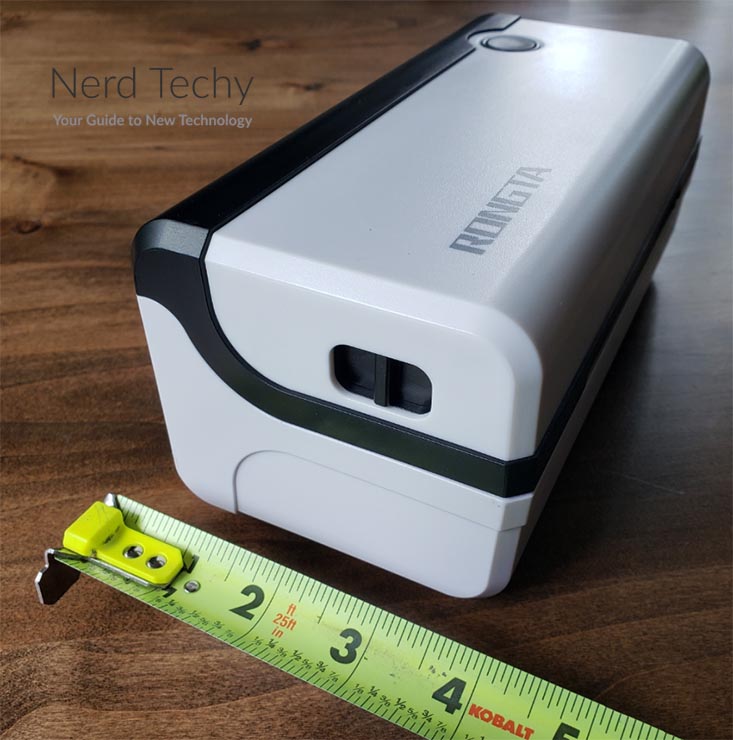 So, how do the labels look? For shipping labels, they look pretty good. In fact, they're exceptionally sharp. Now, let's put this in perspective. The Rongta RP420 printer is capable of printing at 203 DPI. By comparison, laser printers tend to provide 600 to 1,200 DPI. Inkjet printers can run into the thousands of DPI, depending on the model. Point being, this isn't exactly a photo printer. But it's quite sharp for a thermal printer, and it remains that sharp even at full speed. You can clearly read barcodes and QR codes, as well as written addresses. That said, this is not exactly a photo printer. If you want a printer for anything other than labels, you'll want to look somewhere else.
That said, there is such a thing as a thermal photo printer. We reviewed it not too long ago, and it's called the Phomemo M02. The Phomemo printer is also capable of 203 DPI, but it has a pocket-sized design. This makes it easy to carry from place to place. The point is to produce novelty photos, much like you would with a Polaroid. You can actually order paper in multiple colors for different effects, but it's useless for shipping labels.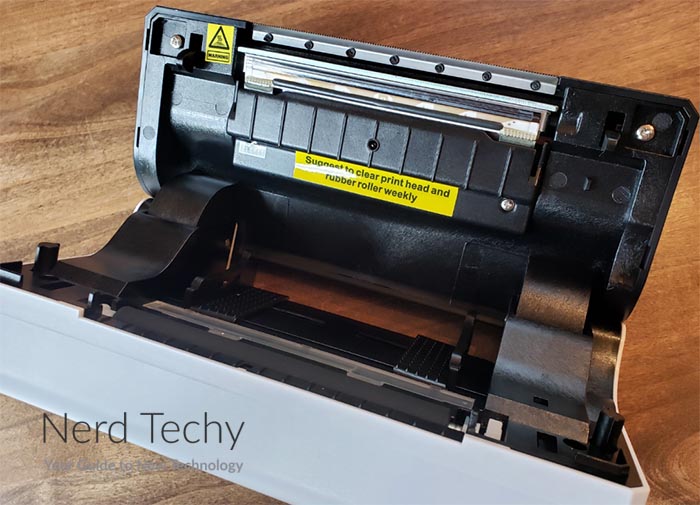 Final Verdict
The Rongta RP420 Thermal Label Printer is one of the better shipping label printers on today's market. For the most part, the physical design is very well thought-out. It's compact and portable, so you can take it on the road if you need to. It's also easy to use with a variety of label types, although you'll need to provide your own hopper.
This printer is relatively easy to set up and use. It works with most operating systems, as long as you're running a proper computer and not a tablet. Not only that, but the label auto-detection feature makes it easy to switch between sizes on the fly. To be fair, there are some minor alignment issues, but all in all it's a well-designed system. The thing we liked most of all was the Rongta's speed and accuracy. At roughly 60 6-inch labels per minute, it's capable of meeting even the most demanding needs.
Please consider sharing:
Note: At no extra cost to you, we may earn a commission for purchases using our links. Learn more.