Soundcore Liberty Air 2 Pro
Choosing a good set of earbuds should be easy. You find a pair with the features you want at a reasonable price point, and you buy them. Easy peasy. But when you actually run an internet search, you're confronted with literally thousands of options. This can make it tough to focus on what you want. Why are there so many different earbud models?
The answer is that wireless earbuds are still a fairly young market. Until the end of 2016, few people used them. Older wireless technology wasn't reliable, and you could only listen in mono. This was a non-starter for audiophiles. But then, Apple released the AirPods, some of the world's first True Wireless Stereo earbuds. The technology caught on, and multiple manufacturers jumped on board. The trend has continued to this day, not just because wireless earbuds are popular technology. They're also some of the cheapest types of electronics to produce. There aren't a ton of raw materials involved, and most of the parts are readily available from third parties. As a result, it's an easy device for a startup company to start producing.
This is a good thing and a bad thing. On the one hand, it's kept prices down while forcing the major players to keep innovating. On the other hand, it's led to the glut of options we've already mentioned. With so many choices, how does the average person narrow down their options?
One way to do that is to stick with a manufacturer you already trust. Anker is one of the more long-standing manufacturers, and are experienced with earbuds and speakers alike. Today, we'll be reviewing the Anker Soundcore Liberty Air 2 Pro. This is a slick set of AirPod Pro-style buds that offers powerful bass and active noise cancellation. They're also designed for comfort, with nine sets of ear tips to choose from. But how good is the audio, and how long do the batteries last? We'll look at these and other details, and then render our verdict.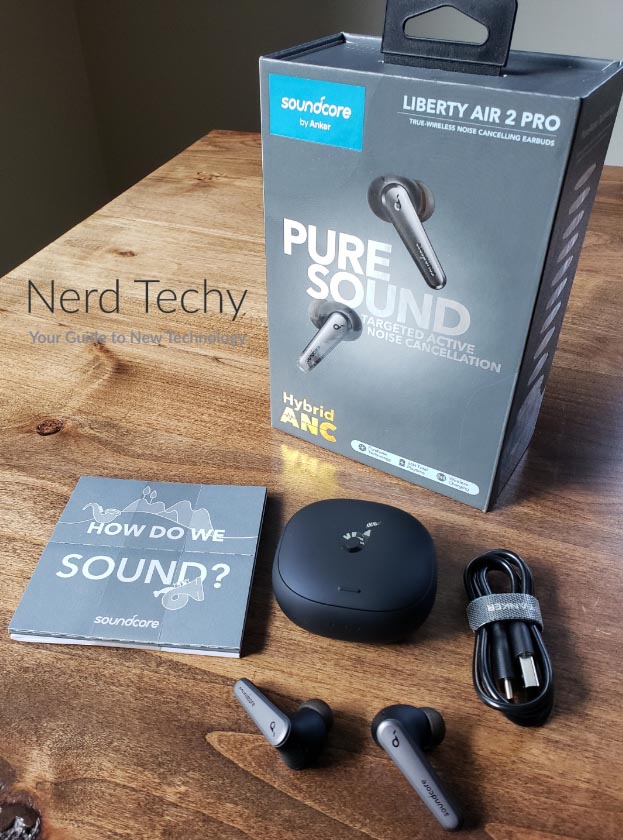 Overall Design
Many wireless earbuds are only available in black. This is the standard color, but what if you want one with a little more style? The Anker Soundcore Liberty Air 2 Pro are available in four colors: black, blue, pink, and white. All four colors have a darker, glossy earbud shell and a lighter, matte vertical studs on the outside of your ears. This gives you plenty of options to fit any sense of style. One thing that did annoy us is the Soundcore name and logo on both buds. Either/or would have been fine, and logos are fairly common to see. But the amount of branding on these buds does feel a bit excessive.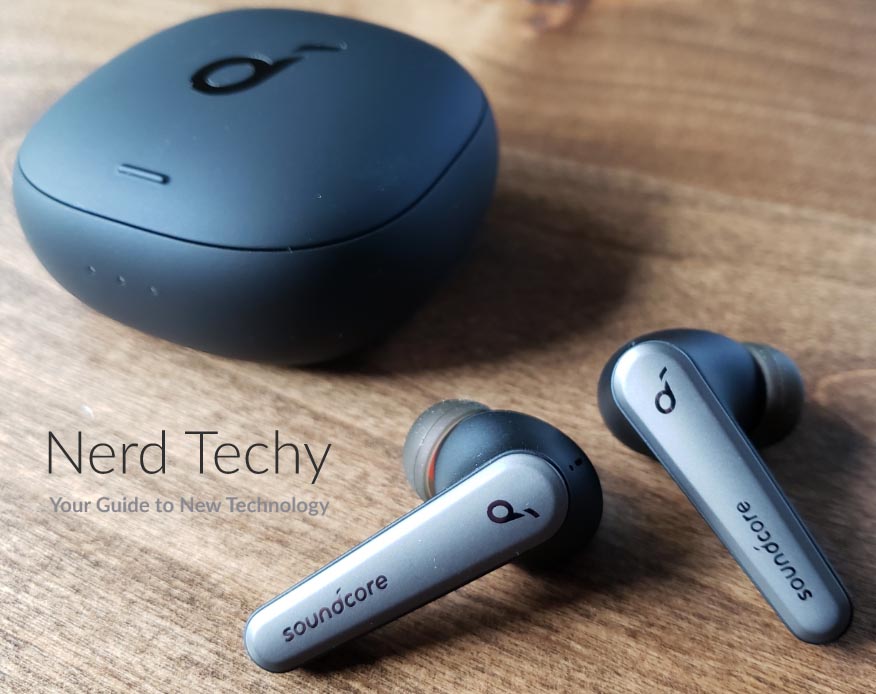 These earbuds are also very comfortable. It's now commonplace for manufacturers to ship their buds with three sets of ear tips, in different sizes. Anker provides you with nine sets altogether. In addition to the standard, medium tips, there are eight extras, ranging from XXXS to XXXL. Needless to say, almost anyone will be able to find a comfortable fit. Keep in mind that comfort isn't the only reason to use the right set of tips. A good fit is also essential to providing a secure seal, which is required for noise isolation.
The back sides of the earbuds function as touch controls. You can play or pause your music, adjust the volume, and even answer and end phone calls. Because they're touch controls, you don't have to press down and cause discomfort in your ears. They're easy to operate, and they're not excessively sensitive. In addition to the touch controls, the earbuds also sport built-in sensors that can tell when they're being taken off. When you remove an earbud, your music will automatically pause. When you put it back in your ear, the music will start playing again. This makes it easy to engage in quick social interactions while you're listening.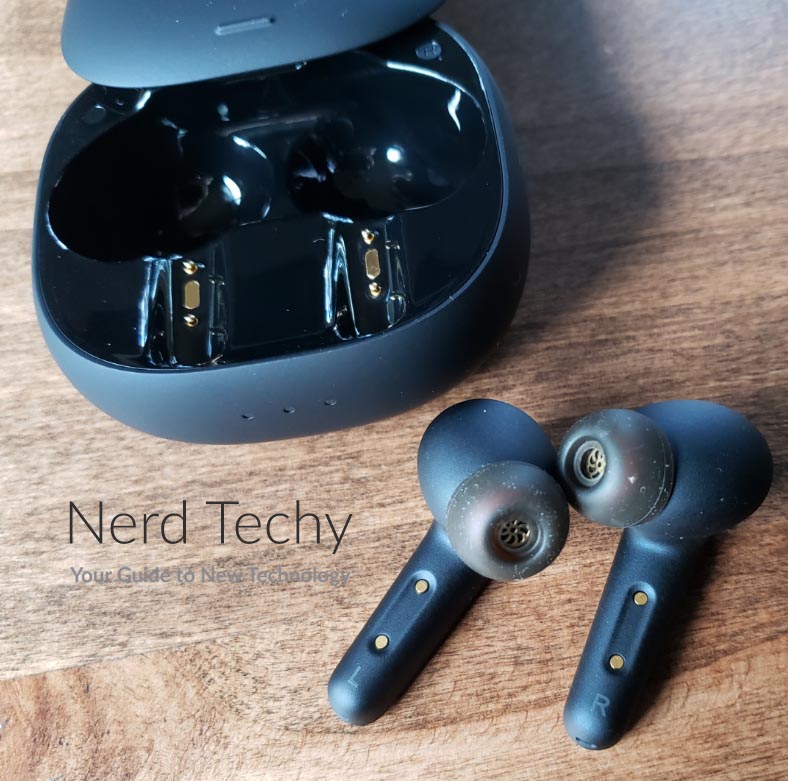 The Liberty Air 2 Pro earbuds have a water-resistance rating of IPX4. This basically means they're sweat-resistant. You can wear them during a workout and wipe them down afterwards without causing any damage. That said, they can't be submerged, and you shouldn't wear them in the shower. For most people, this won't be a concern, and IPX4 will be more than good enough. That said, you might want a set of earbuds that stand up a little bit better to moisture. In that case, the Anker Soundcore Spirit Dot 2 is a good choice. They come with a rating of IPX7, which means they can be fully submerged. They have a compact, in-ear design with little silicone wingtips, but the control scheme is a bit awkward.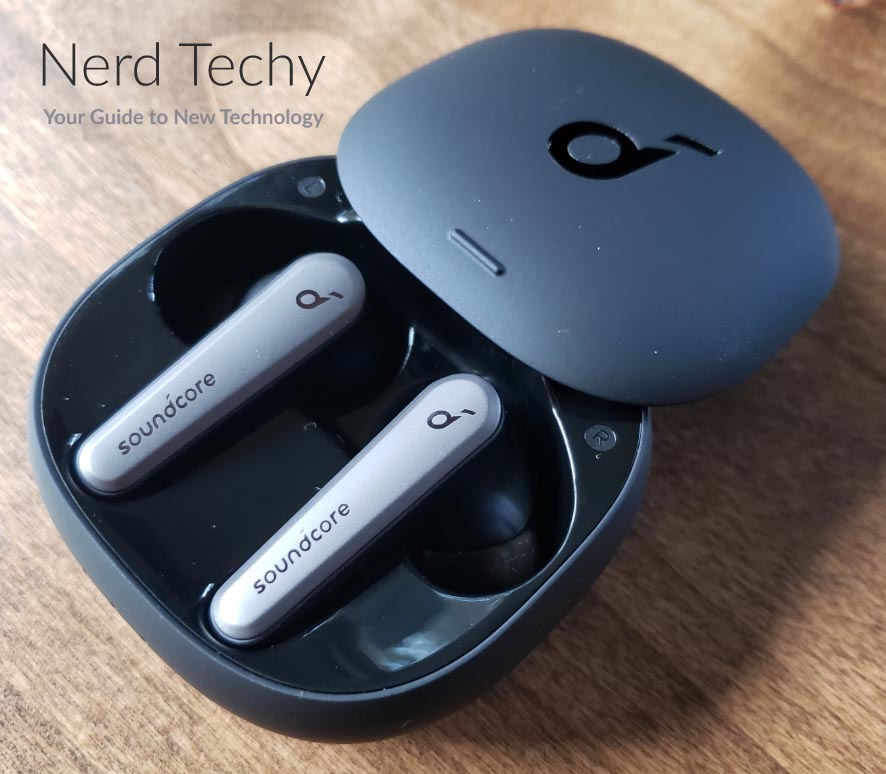 Like most wireless earbuds, the Liberty Air 2 Pro come with a charging case. But rather than a traditional, clamshell-style design, Anker opted for a sliding lid instead. This isn't really better or worse; it's a lid, and its job is to keep the earbuds in place. That said, it's a neat aesthetic touch. It's also a bit easier to open with one hand, since you just have to slide the lid to the top. The earbuds themselves lie inside on their backs. Each one has its own molded well to keep the charging contacts in place.
The case housing has a matte finish, and is colored to match the earbuds. There's another Soundcore logo on the lid, embossed in a glossy sheen. On the front of the case, you'll notice a row of three LEDs. The lights on the sides represent the left and right earbuds respectively. When the buds are charging, the lights will blink, and they'll glow constantly once the buds are fully charged. The center light represents the charging case itself. Blinking means it's plugged in and charging – solid means it's plugged in and fully charged. There's a USB Type-C cable included in the package, so you've already got everything you need.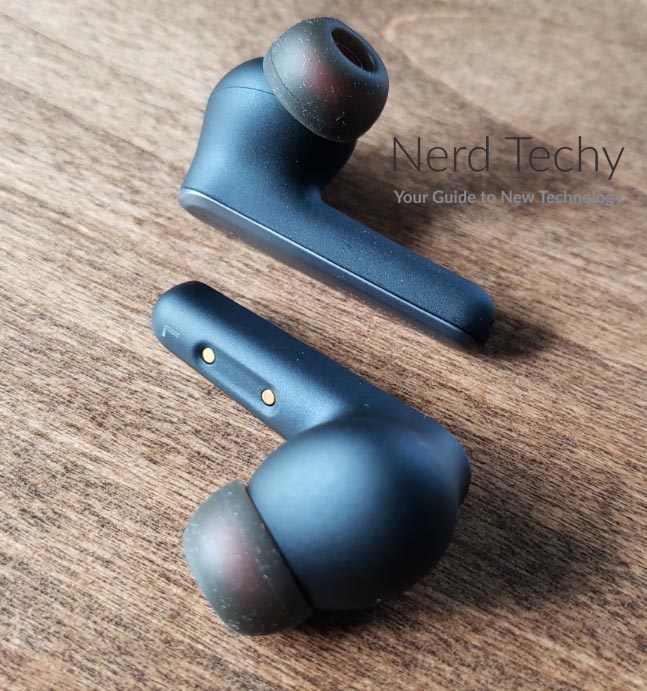 Battery & Connectivity
The Liberty Air 2's batteries are rated for seven hours of playback. As with all manufacturer battery ratings, this is based on playback at half volume. If you're listening at full volume, you can expect more in the range of 5 ½ hours. This is about average for a modern pair of earbuds, if not exactly terribly impressive. However, you'll also get less battery life with active noise cancellation turned on. This can potentially be as little as four hours in the worst case. If you need earbuds with a bit longer life, check out the UGREEN HiTune X5. They reliably get seven hours, and they have a small, in-ear design. That said, they have strong bass which you can't turn down.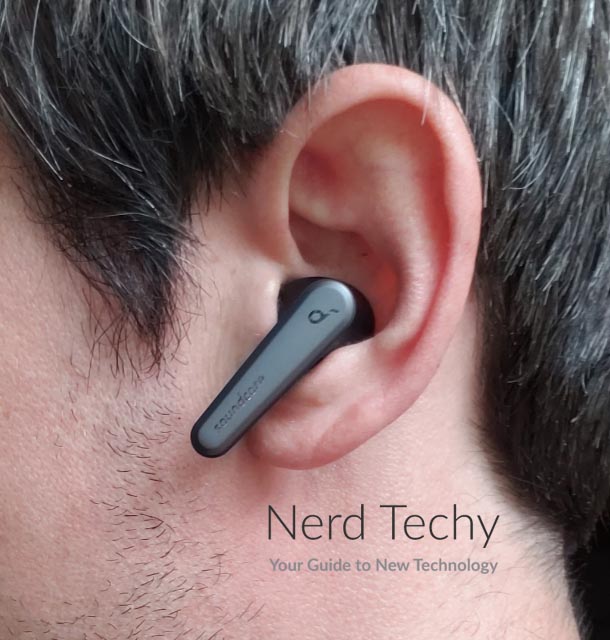 The case itself carries enough juice for three full recharges. This pushes your total rated power to 26 hours, or around 20 hours at full volume. Recharging takes less than two hours via USB Type-C. However, you also have the option of charging wirelessly with a Qi charger. This can potentially take more than two hours, but it's more convenient.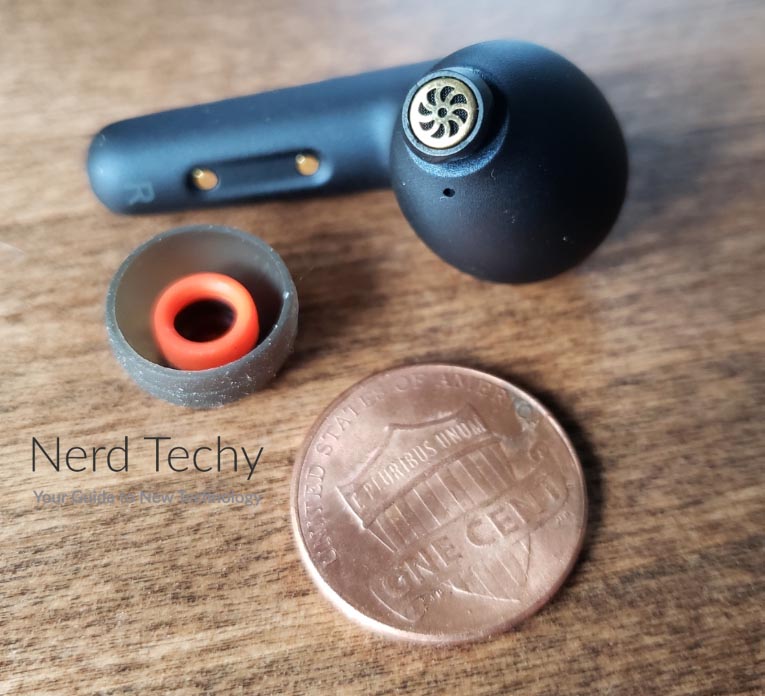 The Liberty Air 2 Pro earbuds utilize the Bluetooth 5.0 wireless protocol. This is the most popular Bluetooth version in current use. It provides a more stable connection than the earlier Bluetooth 4.2 variant. It also offers a higher bandwidth, as well as lower latency. In addition, while you're connected, you can use the Anker Soundcore app. This app is free on Apple and Android, and is easy to use. It allows you to make changes to the audio, choose between different noise cancelling profiles, and other options. You can even customize the touch controls to meet your needs.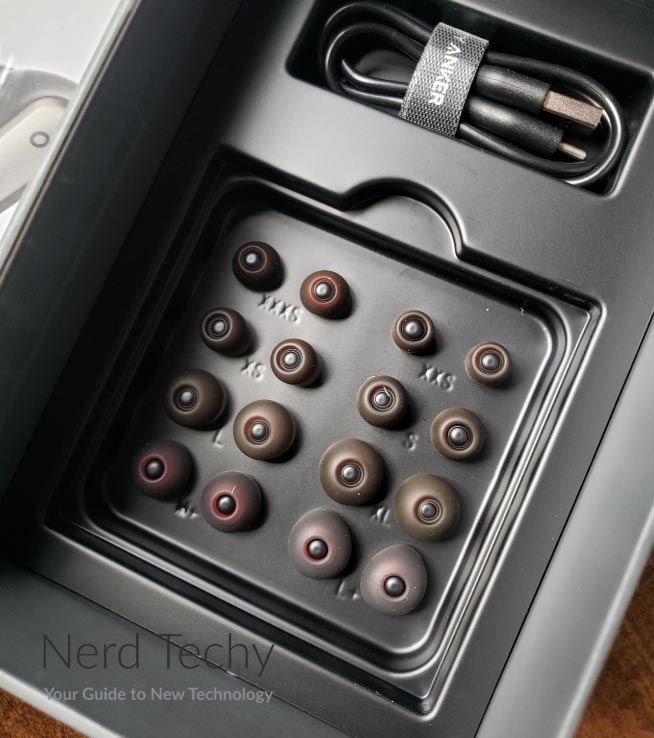 Audio Quality
The Liberty Air 2 Pro buds produce rich audio across a broad spectrum. There's plenty of clarity in the highs and mids, and powerful bass right out of the box. We were impressed with the amount of texture, and with how clear and present the vocals sound. There's also a wide soundstage. None of the instruments or frequencies sound squished or jammed together. Everything is present and easy to hear.
So far, we're already talking about an excellent set of earbuds. But the Soundcore app allows you to customize the EQ to better suit your needs. For example, if you're a fan of classical music, you might not want the powerful bass. In that case, you can choose from one of 22 built-in presets, or even create your own custom EQ. If that's not enough, there's also a program called HearID that adjusts to match your tastes. Over time, it learns what you like, and adjusts the EQ to a setting that's ideal for you.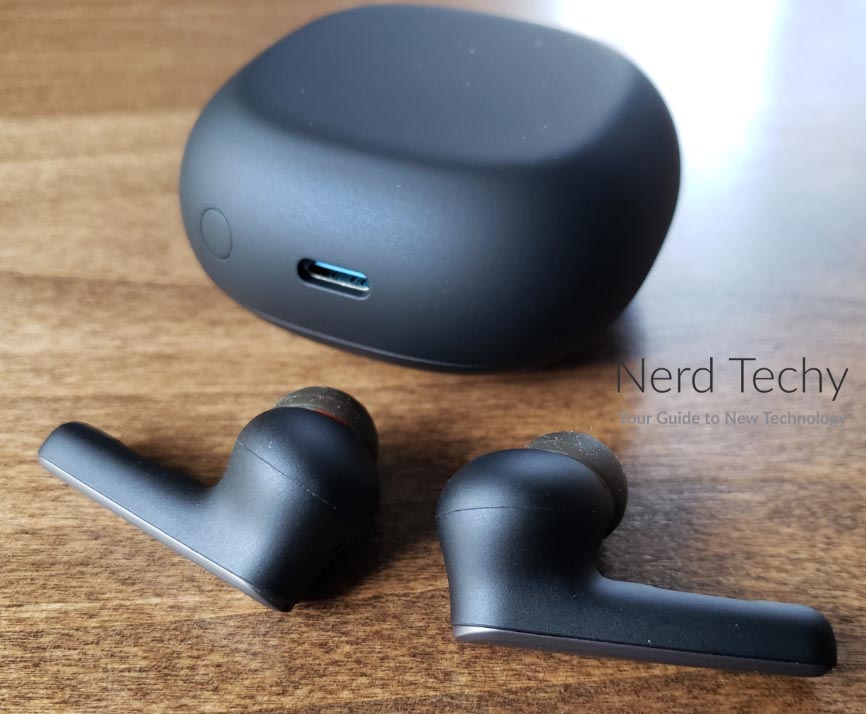 If you don't need those features, consider the Cirtek EA05. These buds have a similar, vertical design, as well as equally rich audio for a much lower price. That said, they're not as comfortable as the Liberty Air 2, and there are no customization options.
Along with these EQ tweaks, you can also take advantage of active noise cancellation (ANC). These are earbuds, and not over-the-ear headphones, so there's a limit to what ANC can do. Still, we were pleasantly surprised by the performance. A conversation in the next room is still slightly audible, but it's significantly muffled. On a similar note, each earbud has three different microphones for hands-free calling. The use of three microphones helps the buds to focus on your voice, and cuts down on interference.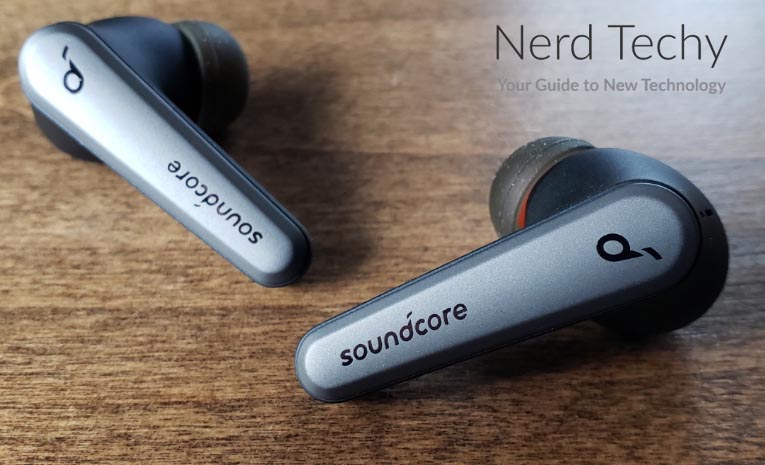 Final Verdict
The Anker Soundcore Liberty Air 2 Pro Wireless Earbuds are a unique and well-engineered set of buds. To begin with, we liked the physical design. We would have appreciated less branding and more waterproofing, but all in all, the kit is pretty slick. More importantly, we loved the wide array of ear tips, and the variety of settings. These earbuds are all about customization, and they can be personalized to meet almost anyone's needs. Rich, detailed audio quality also doesn't hurt.