It wasn't all that long ago that wireless earbuds were the redheaded stepchild of the electronics industry. They offered tinny, low-bitrate sound, and you couldn't even listen in stereo. This wasn't necessarily because the earbuds were badly designed. It was because earlier technology simply didn't allow for good sound quality. Early Bluetooth protocols only supported mono sound at low quality. The wireless protocol just didn't allow for anything better.
With the invention of True Wireless Stereo (TWS), there was a huge improvement in overall quality. To begin with, as its name implies, TWS allows for true stereo sound. This makes it possible to enjoy your music as it was meant to be heard. Not only that, but TWS also allows for better overall quality, with higher bitrates and more clarity. It's no coincidence that Apple's iPhone went wireless-only just after the introduction of TWS. And for the next couple years, their AirPods were the industry standard for wireless quality.
But like the man said, nothing lasts forever. And the last few years have seen a wave of new TWS earbuds. Of course, this is both a good thing and a bad thing. On the one hand, it means that consumers have more choices than ever. On the other hand, it means that there's just as much junk on the market as there are good products. How do you know what's what?
One helpful method is simply to choose a reliable manufacturer. In that regard, Anker is one of the best in the business. Because of their track record for quality, we were excited to review the Anker Soundcore Spirit Dot 2. So, how well do these earbuds perform? And are they worth your investment? Let's take a close look, and see how they stack up to the competition!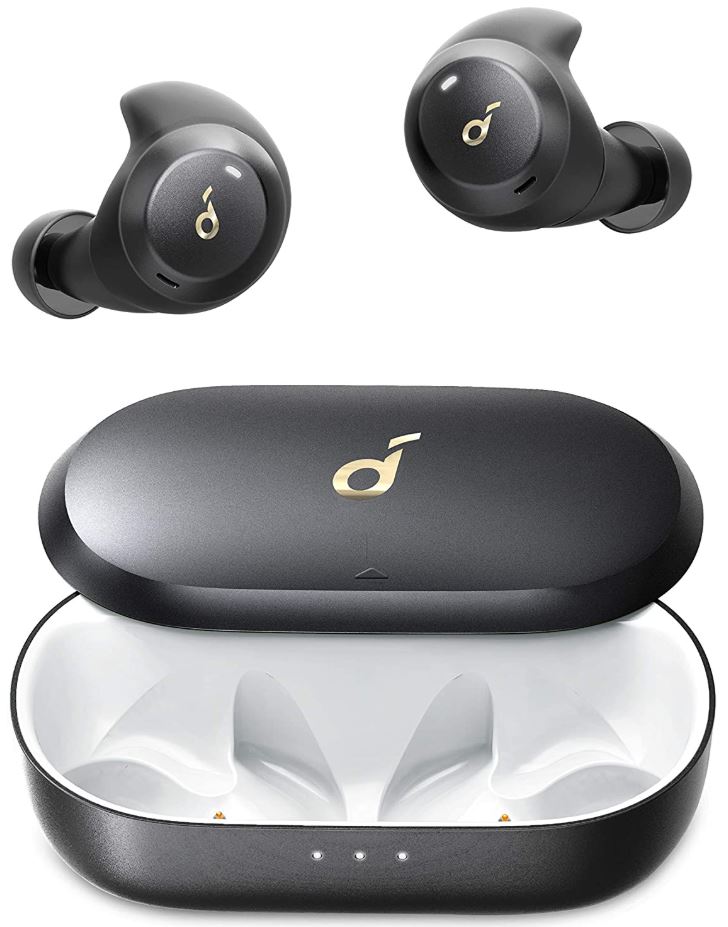 Overall Design
The first thing you'll notice about the Anker Soundcore Spirit Dot 2 is their hybrid design. Most wireless earbuds are either designed to sit in your ear canal or fit in your outer ear. On the other hand, the Spirit Dot 2 does both. You get internal silicone ear tips, along with outer air wings that fit in your outer ear. These wings are very well engineered, with an inflatable silicone body. When you insert them, the body partially deflates, then maintains pressure for a secure fit. This makes them an excellent choice for athletic activities. Even if you're running and jumping, they're not going to fall out easily.
Of course, this relies on getting the right fit to begin with. You get three different sets of air wings. This means that regardless of the shape of your outer ear, you can wear your buds with comfort and confidence. Moreover, you get a whopping five sets of ear tips. With this many tips, you can get exactly the fit you need. This isn't just necessary for a good fit. It's also necessary to get the best sound. The better the seal between the buds and your ear canal, the less outside noise you'll hear. In a pair of earbuds without active noise cancelling, this is an essential feature. So it's in your best interest to experiment a bit and get the best fit.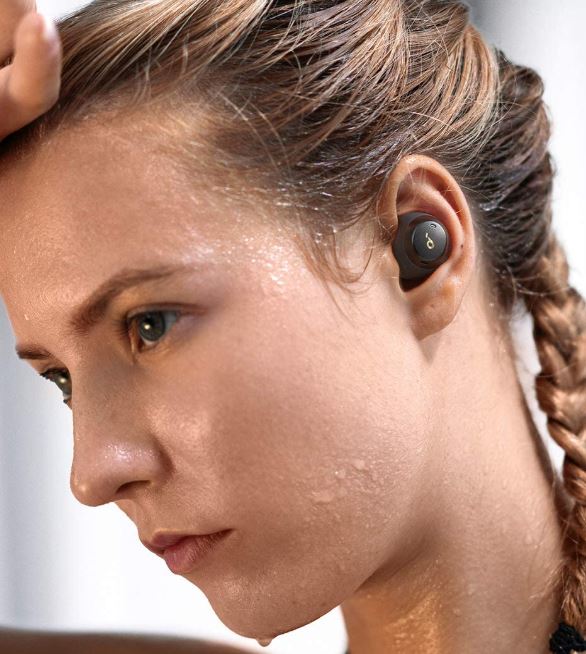 All that being said, there's still a lot to recommend traditional AirPod-style earbuds. Primarily, with the batteries located in the studs, there's room for better circuitry. If that's what you're looking for, check out the Anker Soundcore Life P2. It has an AirPod-style design, albeit without the Spirit Dot 2's ergonomics.
The backs of the Spirit Dot 2 feature soft-touch buttons that are easy to operate. The soft-touch design ensures that you won't irritate your ear canals when you press the controls. You can play and pause music, skip tracks, and answer or end calls. The buttons have the same matte black finish as the rest of the earbuds. They feature attractive gold Anker logos to serve as a visual marker.
In addition, the buds are IPX7-rated for water-resistance. This means they're rated to stand up to a steady, hard stream of water. As a result, they're suitable for just about any conditions. You can sweat all over them during your workout, then take them into the shower. All of this is enhanced by the Spirit Dot 2's SweatGuard seal. This is a special finish on the casing, which causes water to bead up and roll off quickly.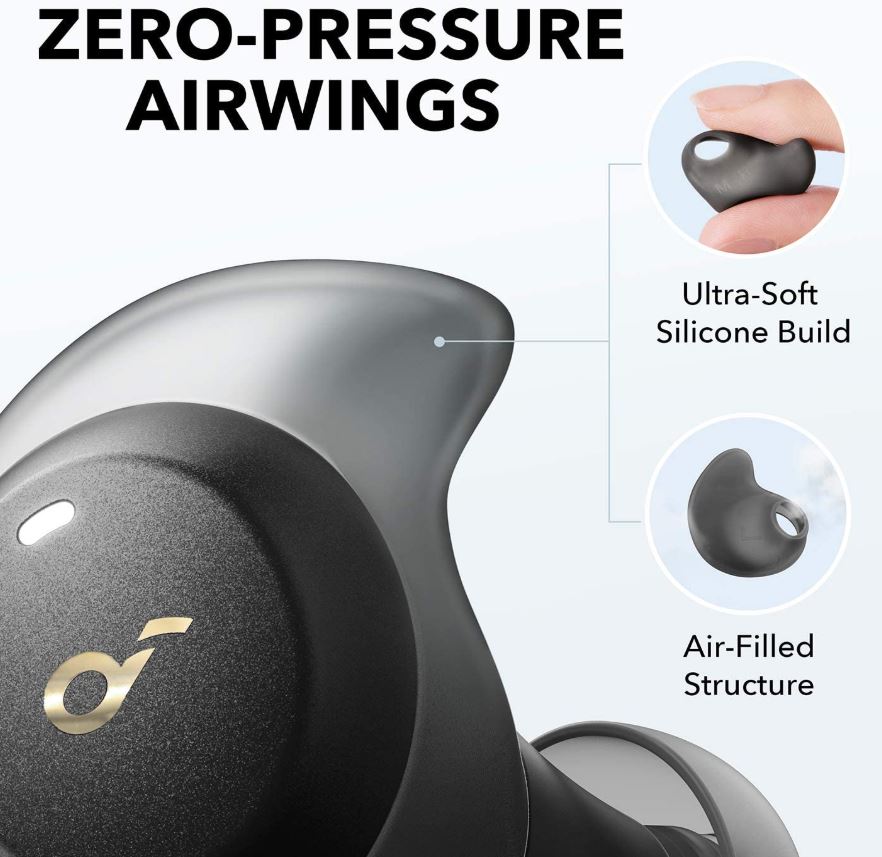 Like most wireless earbuds, the Spirit Dot 2 includes a charging case. But most wireless earbud cases have a clamshell-style lid. By contrast, the Spirit Dot 2's case has a sliding lid. This design means you have fewer exposed parts that can get damaged. On the other hand, the lid can also potentially slide open in your pocket. Be careful while carrying it. That said, the case is small and lightweight, which makes it easy to transport. It measures 1 inch wide, 0.96 inches deep, and only 0.74 inches thick, and weighs only 2.24 ounces. You'll barely even notice it's in your pocket. The case is a satin ABS plastic, and features three white LED lights under the lid. These indicate the current status of the battery.
The entire Spirit Dot 2 kit comes with an 18-month manufacturer's warranty. You also get 24/7 customer service. If you have any issues with connectivity, just call Anker for some free help.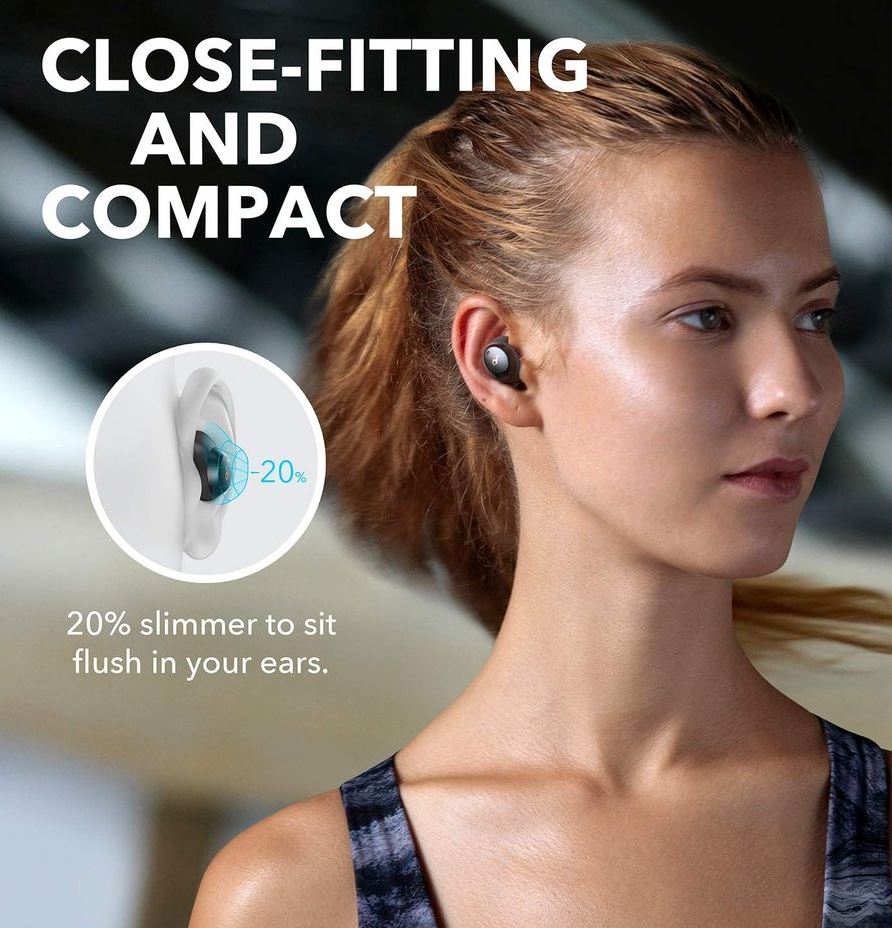 Battery & Connectivity
Regardless of how well-engineered a pair of earbuds is, it doesn't matter if the batteries die two hours in. In that regard, the Spirit Dot 2 buds are a bit of a mixed bag. On the one hand, they offer 5.5 hours of playtime on a full charge. This is sufficient for most everyday purposes. You can listen during your workout, keep jamming through your commute, and still have enough battery life to get home. If you need more battery life, the charging case carries enough juice for 10.5 hours of additional listening. All in all, you get a total of 16 hours without the need to plug back in. This is reasonable enough for most purposes. But it's not as long as you'll get from most sets of wireless buds.
If you do run out of juice, the Spirit Dot 2 offers quick, easy charging. In 10 minutes, you can charge your buds enough for a full hour of playtime. In all, the buds themselves take about an hour to fully charge, and the case takes two hours. As with most wireless earbuds, all of these are estimations, based on factory testing. Since factory tests are recorded at moderate volume under ideal conditions, your mileage may vary. Louder volumes and higher bit rates will shorten your listening time, and the converse is also true. Even the weather could have an impact.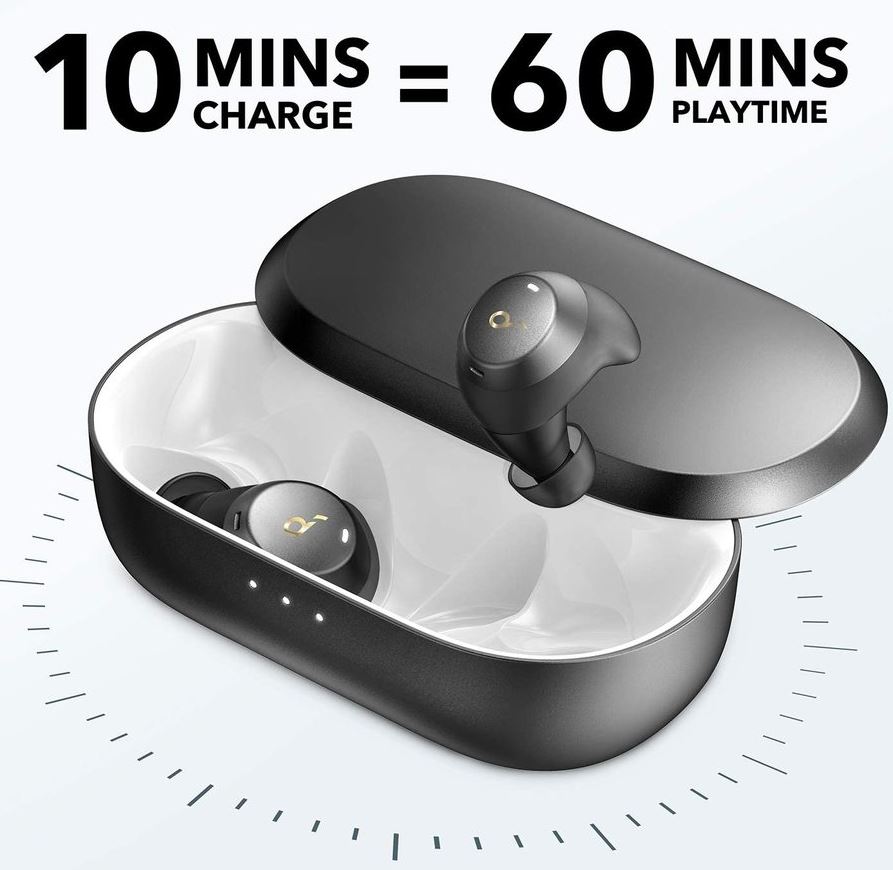 Even so, you might want some earbuds with a longer-lasting battery. In that case, take a look at the Soundcore Liberty 2 Pro. It offers 32 hours of playtime, so you're good for the weekend. And if you want more charging options, consider the Soundcore Liberty Air 2. It supports Qi charging, so you can charge any way you desire.
The Soundcore Spirit Dot 2 uses the Bluetooth 5.0 protocol. This is the latest Bluetooth protocol, and a significant upgrade over Bluetooth 4.2. It comes with several upgrades, including support for high-bitrate audio. It also allows for a more stable signal, and extra low latency. So you can watch a movie without the audio being out of sync. You can't do that with Bluetooth 4.2. You can even connect the Spirit Dot 2 earbuds independently. This might not be a great solution for listening to music. However, it can effectively double your battery life for hands-free talking. It also allows for better situational awareness if you're walking around town.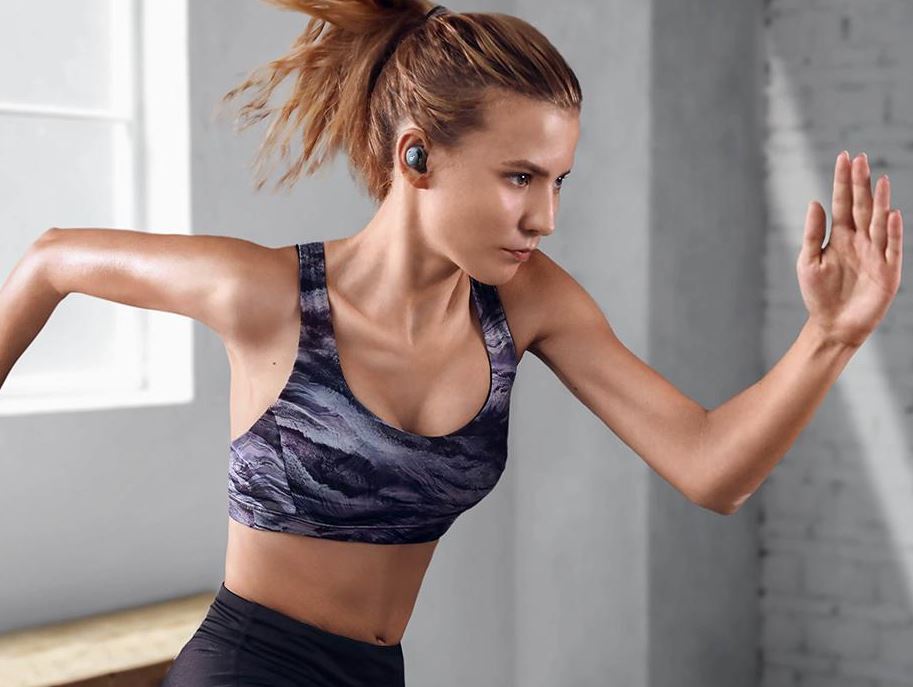 Sound Quality
The Soundcore Spirit Dot 2 earbuds bost a pair of diamond-coated drivers. These drivers are designed to significantly magnify bass. Now, we're grading on a curve here. There's simply no reason to expect wireless earbuds to output studio-quality bass. But as earbuds go, the Spirit Dot 2 drivers offer plenty of punch and thump. Considering the size, you're getting excellent quality. Moreover, different frequencies come across equally well. Mids are clear, with no muddy bass interference or static from the high frequencies. The highs come across equally well. Pretty much any genre will sound good on these buds, complete with a wide soundstage for separation between instruments. The EQ is relatively flat, so everything else will be up to your phone or MP3 player settings.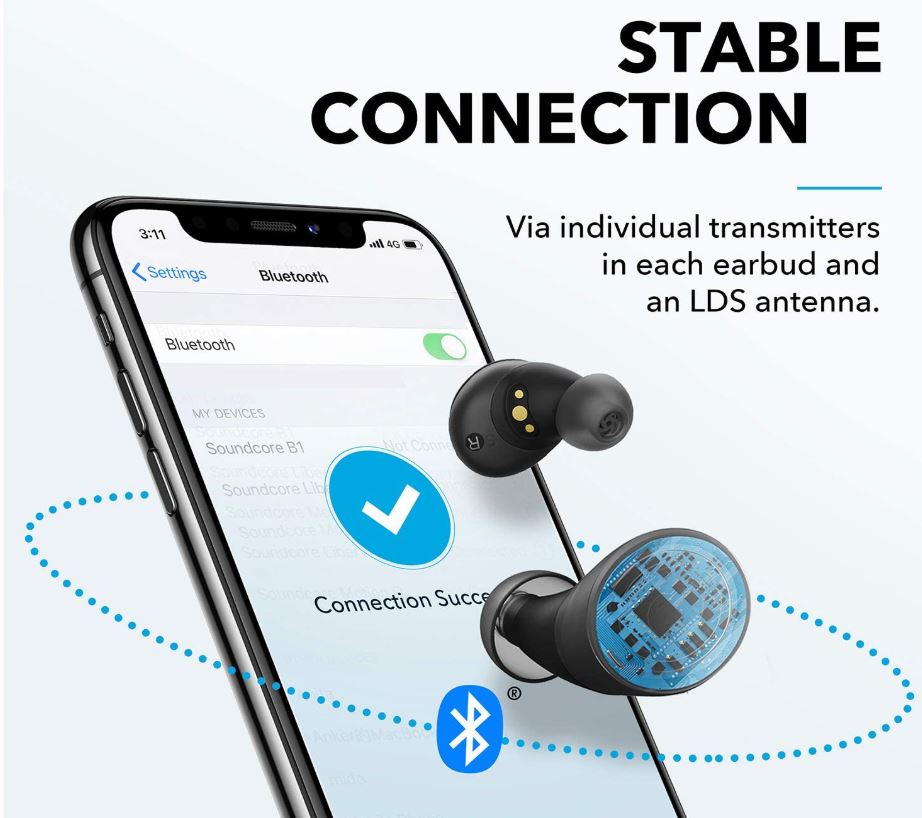 When it comes to call quality, you're getting about what you'd expect at a medium price point. You get dual mics, so there's better quality when both buds are inserted. If you're only using a single bud, background noise will be more of a concern. Either way, the person on the other end will sound just fine. Provided they also use a high-quality system, you'll have a clear, easy, low-latency conversation.
Final Verdict
So, are the Anker Soundcore Spirit Dot 2 worth your time and money? Let's start with the build quality. The adjustable ear tips and air wings provide both comfort and security. With the right fit, you're good for even the most demanding physical activities. This design is augmented with excellent water resistance. You can take the Spirit Dot 2 earbuds just about anywhere, and they'll continue to function. Combine that with easy-to-use touch controls, and you've got a solid design.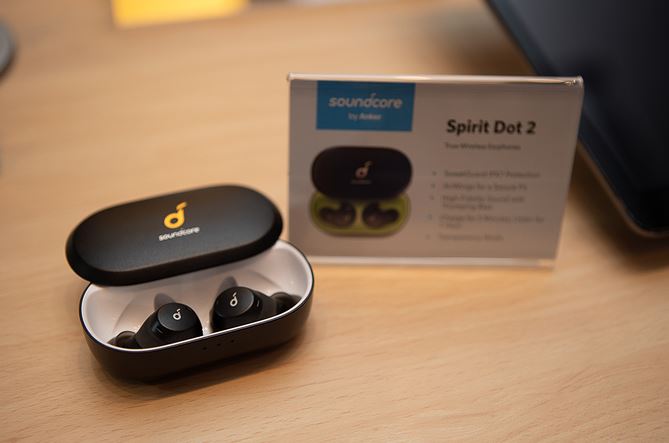 The battery performance was a bit underwhelming. The earbud batteries themselves perform just fine. But unfortunately, the charger's battery power is not impressive at all. On the other hand, the sliding design is intuitive and easy to use. Moreover, the Spirit Dot 2's sound quality is very impressive. It's not studio quality by any means. But considering the size and the price, the quality is much better than we expected. If you're looking for new earbuds, this is a pair you won't regret.