Some computer upgrades are easier than others. Upgrading your graphics card, for example, is quick and painless. Turn off your computer, unplug it, remove the old graphics card, pop in the new one, and restart. Wait a minute for the drivers to install, and you're ready to rock. Upgrading your processor, on the other hand, can be a real nightmare. You have to carefully remove the old one without damaging the motherboard socket. You also have to properly apply thermal paste, then mess around in your BIOS to get the settings right.
One popular upgrade is switching over from an HDD to an SSD. An SSD allows for much faster read and write speeds, and truly godlike boot times. And with a newer PCIe SSD, you can get even better performance. Of course, there are many SSDs on the market, and not all of them are equally well-engineered. One way to find a good one is to go with a reliable manufacturer. Kingston is one such manufacturer, with a decades-long track record. They're known for building quality SSDs (KC2000), thumb drives (Bolt Duo), RAM and even gaming headsets.
Today, we're going to review the Kingston KC2500 NVMe PCIe SSD drive. This is the latest and greatest drive in Kingston's lineup, so we were excited to see what it's capable of. But does it live up to Kingston's sterling track record for excellence? Or is it an unfortunate mark on that record? Let's take a closer look, and see how it performs in the real world!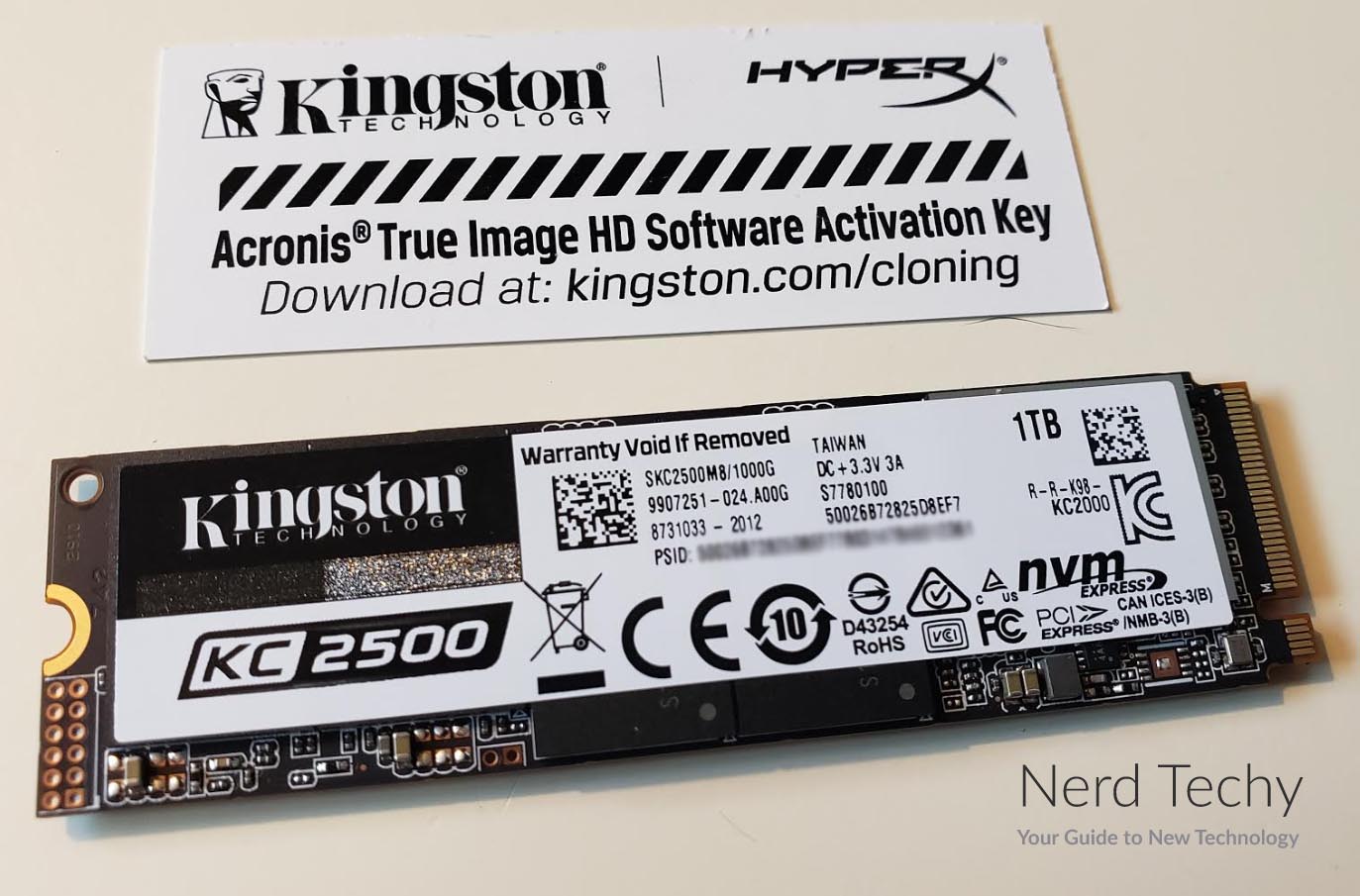 What is a PCIe SSD, and What's Good About It?
Before we go any further, it's important to explain the difference between a PCIe SSD and a standard hard drive. First off, an SSD (solid-state drive), is fundamentally from an old-school HDD (hard disc drive). An HDD is basically a spinning magnetic disc with a needle above it. Much like a vinyl record turntable, an HDD's needle can read and write data on the disc. The problem is that an HDD's maximum speed is limited by how quickly the physical disc can spin. At present, the upper mechanical limit is about 7,200 revolutions per minute (RPM). Without better bearings that have yet to be invented, the speed is capped.
An SSD, on the other hand, works on principles of quantum tunneling. How exactly this works is, frankly, over our heads and above our pay grade. Suffice it to say that quantum tunneling works only slightly slower than the speed of light. As a result, you can read and write data from an SSD much faster than from an HDD.
A PCIe SSD further increases read and write speeds by getting around another hard drive limitation: the connection type. Most hard drives connect to your motherboard either via a SATA cable or a Molex cable. These cables have been around for decades, and are woefully out of date. On the one hand, yes, they provide a ton of power. That's essential for running a high-speed HDD motor. But it's less important for an SSD. On the other hand, SATA and Molex cables have limited data-transfer capacity, a maximum of 600 MBps.
PCIe, on the other hand, offers a much faster maximum data transfer rate of 32 GBps. PCIe is short for Peripheral Component Interconnect Express. It's been a standard motherboard connection type for several years now. However, in the past, it was primarily used for graphics cards, sound cards, and other high-performance peripherals. Better yet, each PCIe slot has its own dedicated serial link. This offers better reliability than SATA or Molex, which often have several plugs daisy-chained on a single cable. And because the PCIe slot is directly mounted on the motherboard, there's significantly less latency.
The PCIe standard itself has been evolving over the years. PCIe 4.0 is the latest standard, released in 2017. With PCIe 4.0, you get the ability to use NVMe (non-volatile memory express) SSDs. Without getting too technical, an NVMe drive is even faster than earlier drives. Basically, it uses PCIe's parallel architecture to boost data transfer speeds. Needless to say, this is a significant benefit for gamers in particular. If you don't want to sit and stare at a load screen for ages, a PCIe SSD is an excellent solution. That said, it's also a benefit for any other data-intensive application. Video editing, sound editing, and loading large programs are all made easier with a PCIe SSD.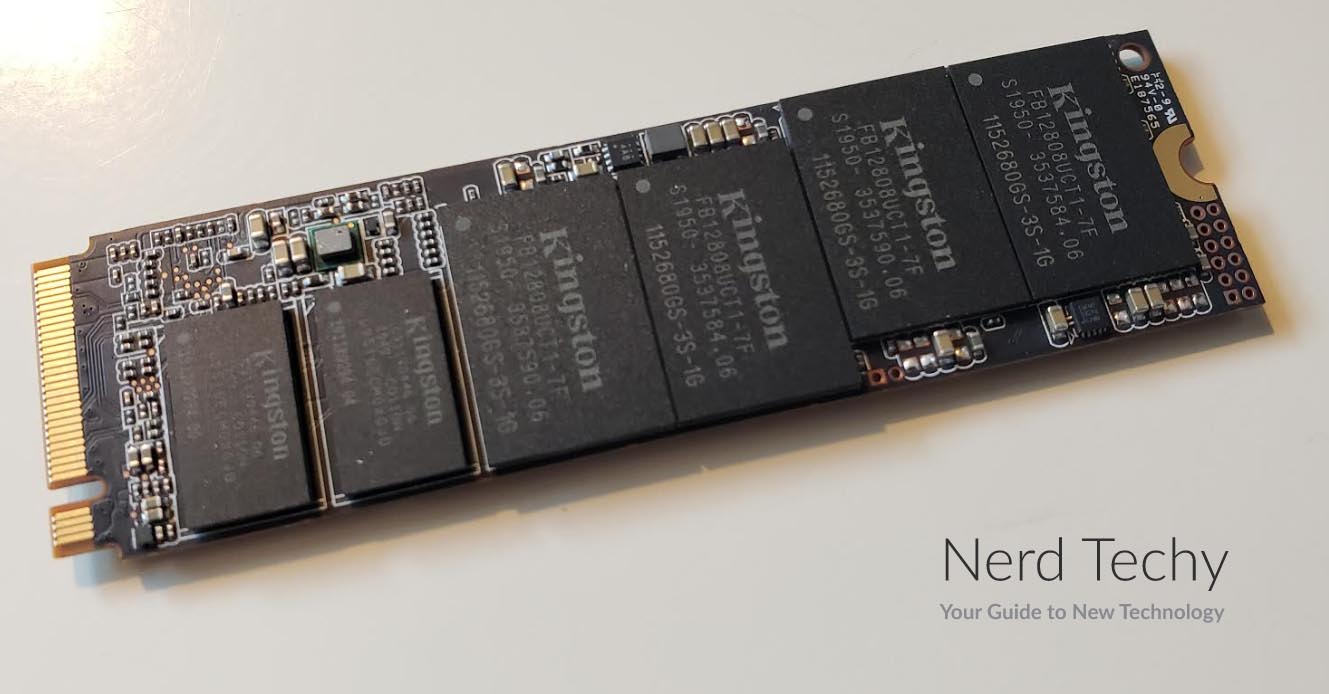 Overall Design
The Kingston KC2500 NVMe PCIe SSD drive is relatively compact. It measures 80mm in length, 22mm in width, and 3.5mm in thickness. It consists of an understated circuit board, with a wide silver memory bank occupying most of the surface. At the bottom end, you'll see a small M.2 connector. This connector is designed to plug directly into your motherboard's M.2 slot. The M.2 slot is basically a small PCIe slot, which is designed specifically for drives. Needless to say, you'll want to make sure your motherboard has an open M.2 slot before you make a purchase.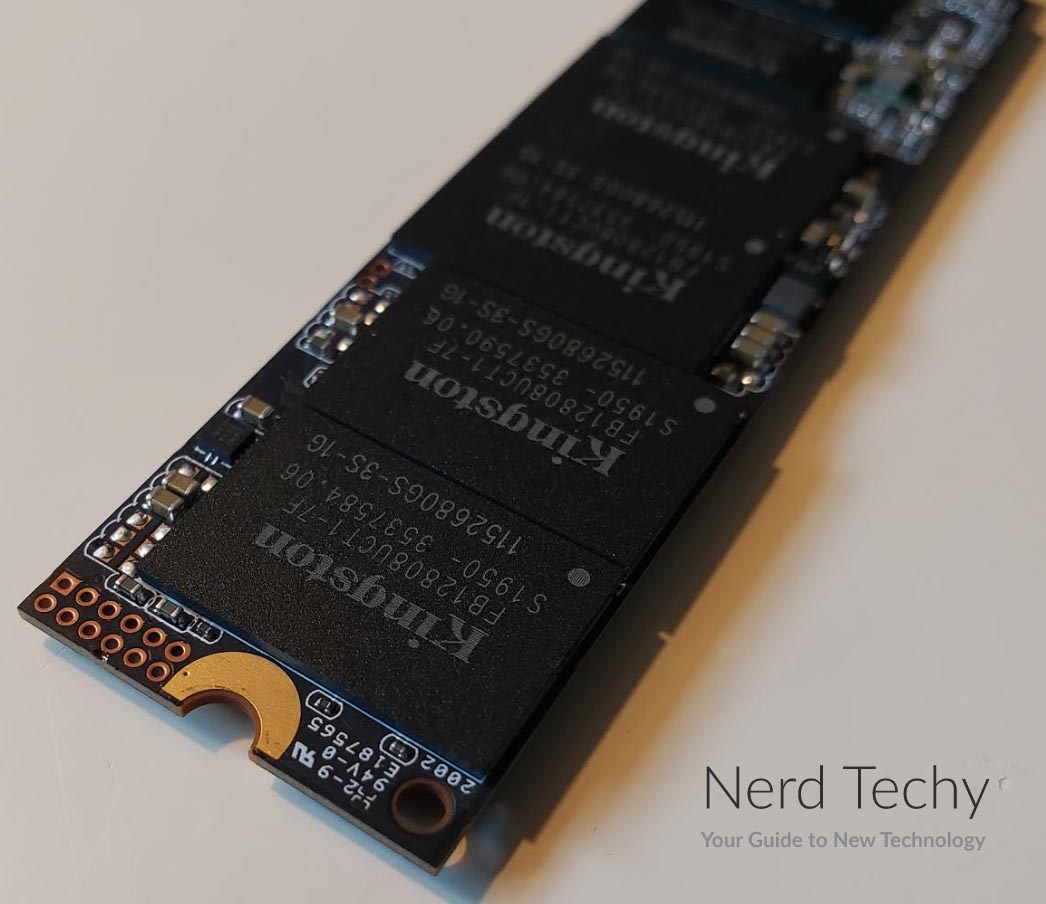 The KC2500's small form factor makes cooling a virtual non-issue. It's not going to obstruct the inside of your case, so it won't block air flow. That said, you also get a very wide temperature tolerance. In total, the KC2500 can safely operate between 0 and 70 degrees centigrade. So even if your RGB light kit causes your PC to run hot, you won't have overheating issues. By the time you're at 70 degrees, other parts will already have failed. Best of all, if anything does go wrong, you're protected by Kingston's 5-year manufacturer's warranty. This is more than enough to protect you from any manufacturer's defect.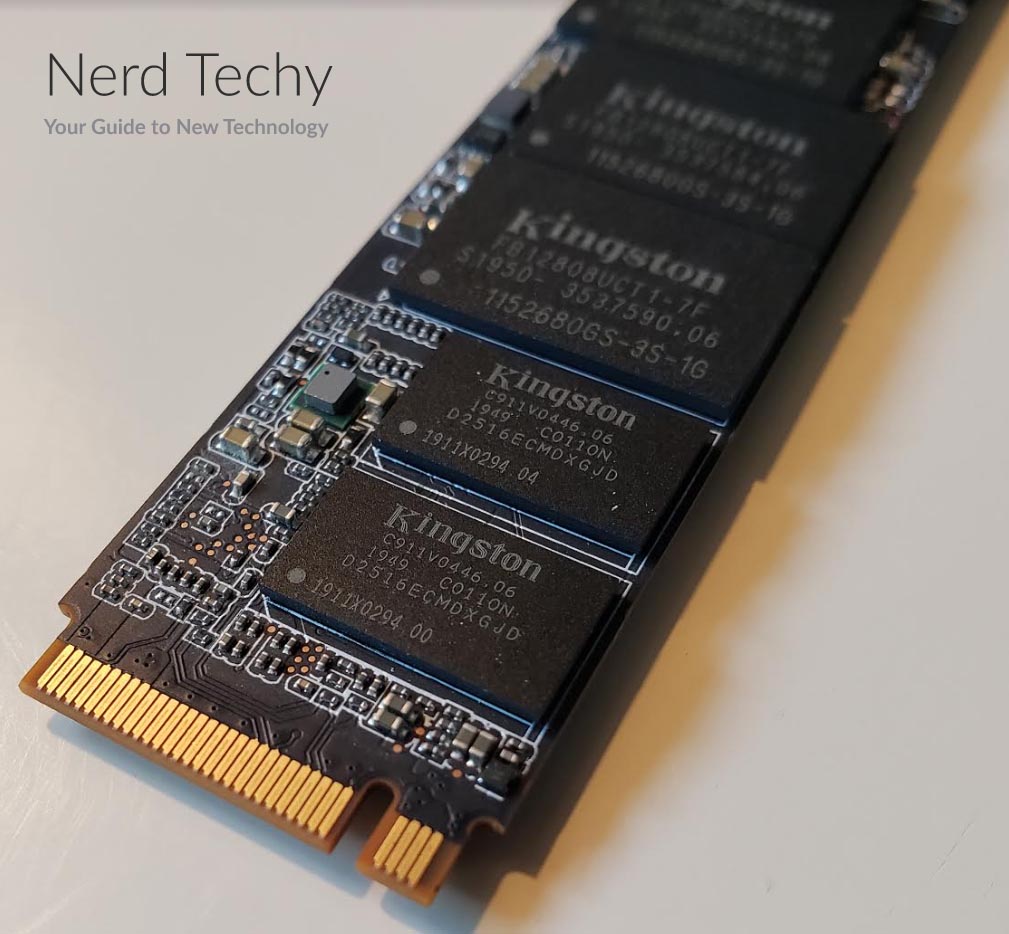 Speed and Capacity
The Kingston KC2500 NVMe PCIe SSD drive is available in four different sizes. The smallest is a 250GB version, suitable for use as a boot drive. The next is a 500GB variant. This is suitable for most everyday purposes, or for a gaming PC. The third size is a 1TB version. This is useful for just about any purpose, including long-term storage. Finally, there's a 2TB version. The 2TB model is not yet available, unfortunately. But when it releases, you'll have the option for massive amounts of high-speed storage. Even video editors and sound editor will be able to use this variant.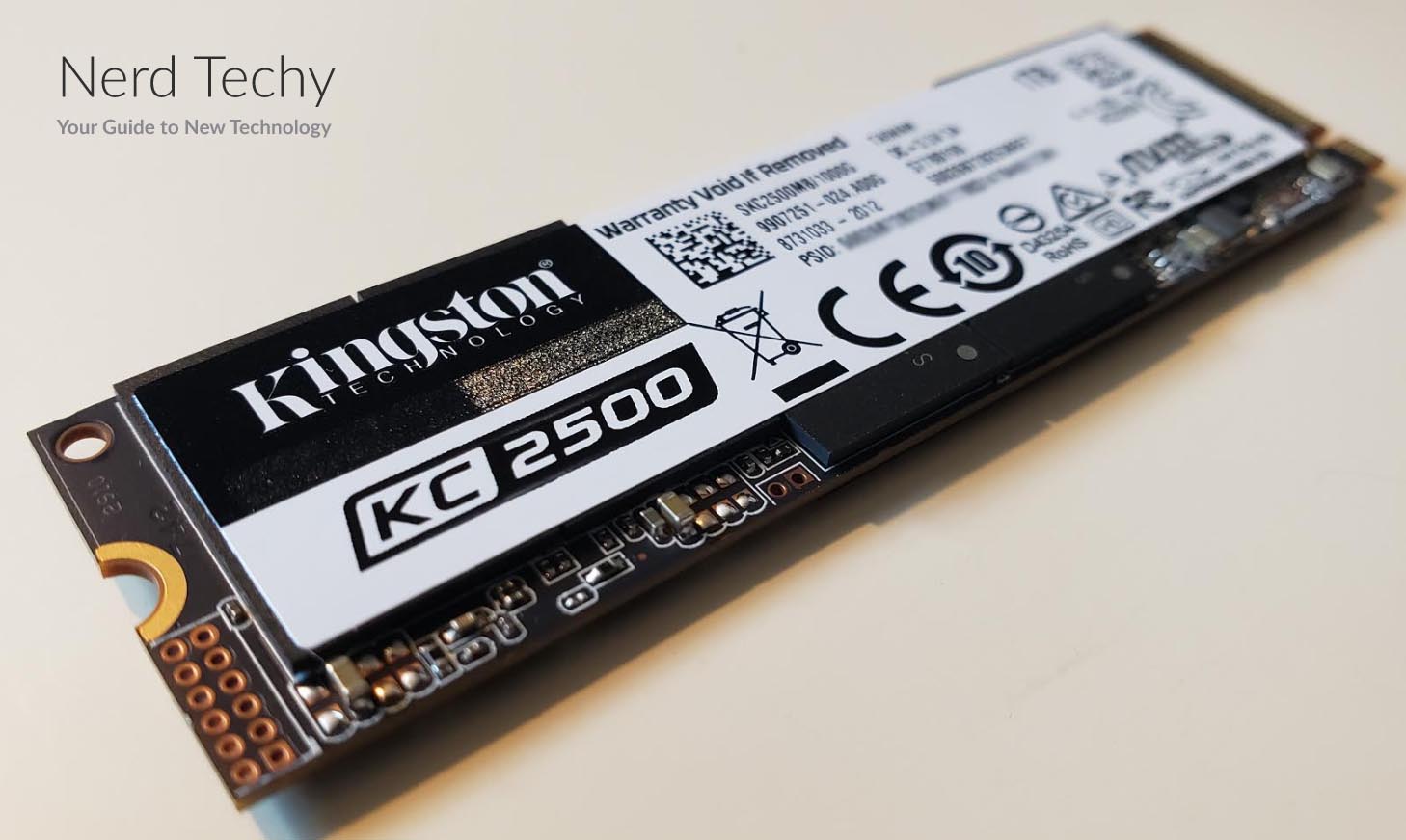 In terms of read/write speed, the KC2500 does not disappoint. It supports read speeds of 3,500MBps, and write speeds of 2,900MBps. This is enough for just about any purpose. For example, you can copy a full-length movie in less than two minutes. If you use your PC for multimedia purposes, you'll appreciate this speed. The high speed is also a great feature for gamers. Loading screens will be a thing of the past, as your PC loads levels in the blink of an eye. If anything, you'll want to upgrade your RAM next so it's fast enough to keep up.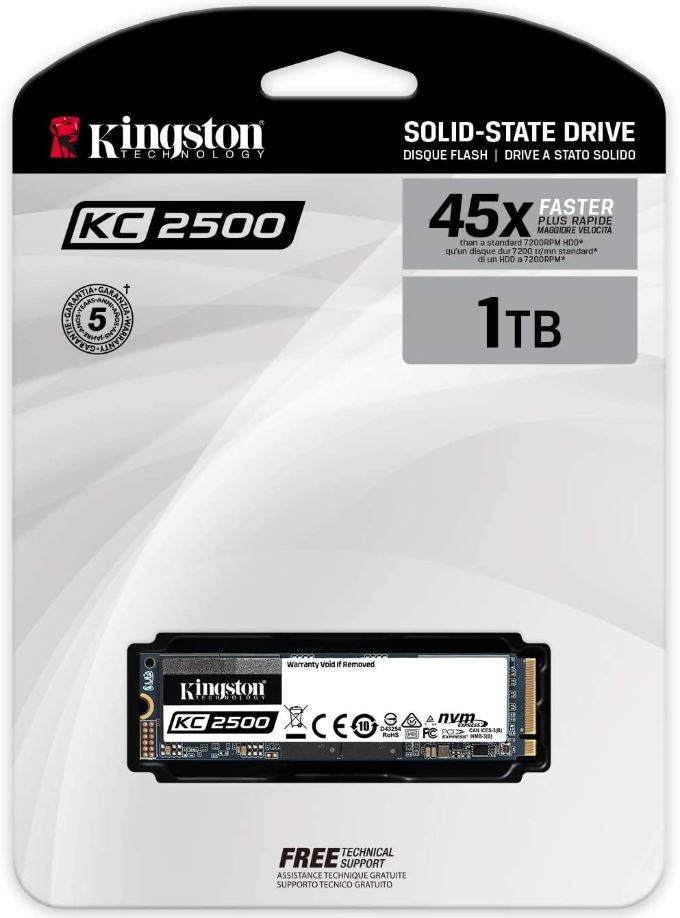 Extras and Added Value
When it comes to PC components, the SSD is one of the most likely parts to eventually fail. This can be annoying at best, even if you have a backup. If the SSD is your boot drive, you're going to need to buy a new OS license along with a new drive. Not only can this get expensive, it's also inconvenient and time-consuming. As a result, it really doesn't make sense to go with an off brand. With RAM, for instance, this may not be a major problem. But with your actual drive, it makes sense to stick with a reliable manufacturer. In this regard, Kingston stands head and shoulders above the competition.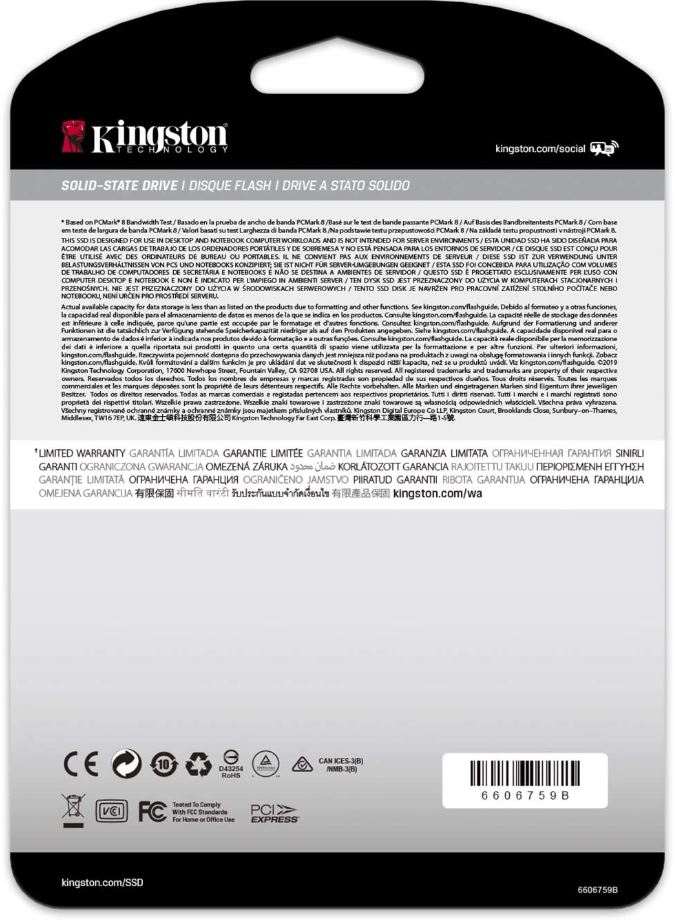 Like other Kingston drives, the KC2500 comes with Kingston's drive management software. You can create partitions, format the drive, and defragment it from a single central app. To be fair, you can do all these things with Windows' basic functions. But if you're new to managing your hard drive, you'll appreciate the ease of use and added value. In addition, you can take advantage of Kingston's 24/7 customer support. Their phone centers are based in the US, so communication is easy and painless.
The KC2500 is a self-encrypting drive. This means that all of your data is automatically secure, without the need for further messing around. The encryption utilizes the AES-256 format, which is the most secure encryption available. Even the NSA can't break AES-256 encryption, and won't be able to for several decades, if ever. By default, encryption is managed with Kingston's disc management software. However, you can also manage your drive with WinMagic, Symantec, or McAfee. You can even use Microsoft's eDrive technology to use BitLocker with your drive. Admittedly, this might be complicated for some users. But if you're a tech-savvy individual, you'll be able to get the most out of your new SSD's encryption capability.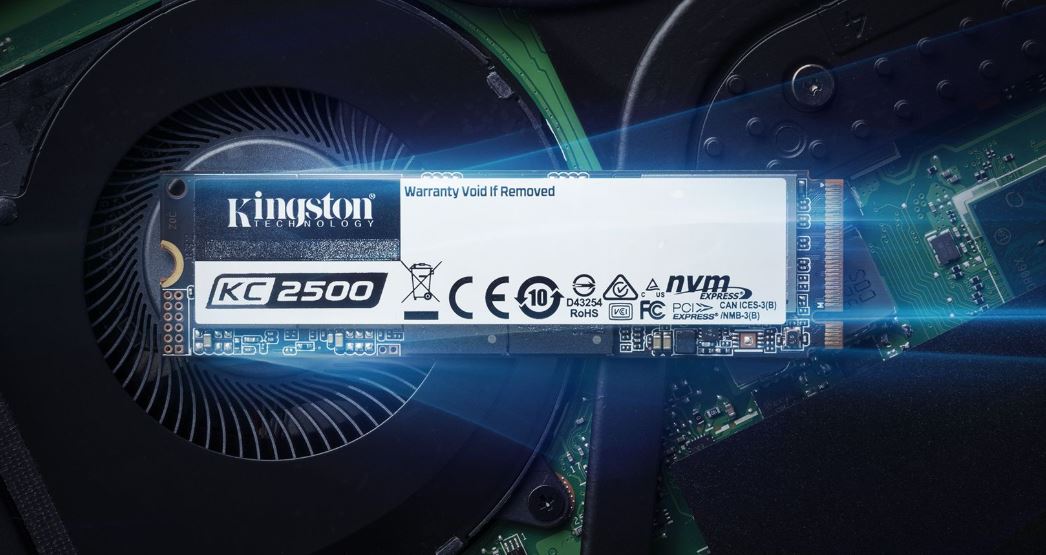 Final Verdict
So, is the Kingston KC2500 NVMe PCIe drive worth your money? Absolutely. To begin with, the form factor is compact, and it's easy to install. It can also withstand very high temperatures. With an upper limit of 70 degrees centigrade, overheating is simply not going to be a problem. Not only that, but you're protected by Kingston's 5-year manufacturer's warranty. Moreover, you get lifetime US-based technical support. If you have any problems whatsoever, Kingston has got your back.
Beyond that, the KC2500 provides plenty of size options. Need a small drive for your boot sector? Get the 250GB version. Need a larger drive for all your home media? Spend a few extra bucks on the 2TB version. Regardless of your needs, you've got a hard drive that's up to the task. Read/write speeds are no problem here. You can transfer virtually any amount of data in just a few minutes, and load speeds are lightning fast. Finally, you get AES-256 encryption. If you're concerned about data security, this is a fantastic added value. Best of all, Kingston's disc management software makes it easy to modify encryption as desired.