In your quest for the ultimate data storage solution, have you considered a JBOD (Just a Bunch Of Disks) Enclosure? These allow you to combine multiple hard drives into a single unit, without the complexities of a RAID configuration.
Unlike traditional storage methods, a JBOD Enclosure enables each drive to operate independently, providing flexibility and ease of use.
Ideal for both personal and professional data management, they're a versatile choice for expanding storage capacity.
Here's a quick look at our top picks:
| Product | Benchmark Speed | Connectivity | Drive Bays | Disk Sizes | Maximum Volume | Operating Systems | Dimensions |
| --- | --- | --- | --- | --- | --- | --- | --- |
| OWC Mercury Elite Pro | 966 Mb/s | USB 3.2 Type-C, Thunderbolt 3 | 4 | 3.5″ and 2.5″ | 48TB | Mac OS X, Windows | 7.3 x 9.4 x 5.3 in |
| QNAP TL-D800C | 526 Mb/s | USB 3.2 Type-C | 8 | 3.5″ | 250TB | Mac OS X, Windows, Linux | 12.9 x 11.1 x 7.4 in |
| SABRENT DS-2BCR | 922 Mb/s | USB 3.2 Type-C | 2 | 3.5″ and 2.5″ | 40TB | Windows, Mac, Linux | 8.4 x 4.7 x 3.3 in |
What is a JBOD Enclosure? A JBOD (Just a Bunch Of Disks) Enclosure is a storage device that houses multiple hard drives. Unlike RAID systems, each drive in a JBOD enclosure operates independently, allowing you to use drives of different sizes and speeds. They're ideal for expanding storage capacity as it simply aggregates the storage of each drive into one large volume.
How does JBOD differ from RAID? JBOD and RAID are both methods of combining multiple hard drives. The key difference is that RAID (Redundant Array of Independent Disks) involves managing data across all drives to provide redundancy or performance improvements. JBOD, on the other hand, treats each drive as an independent unit, offering more flexibility in drive sizes and types but without the redundancy and performance enhancements of RAID.
Can I mix different types and sizes of drives in a JBOD Enclosure? Yes, one of the main advantages of a JBOD Enclosure is its ability to accommodate different types and sizes of drives. This flexibility allows you to use existing drives you have, regardless of their size or speed, making it a cost-effective solution for expanding storage.
Is a JBOD Enclosure suitable for data backup? While a JBOD Enclosure can be used for data backup, it doesn't inherently offer data redundancy or protection. If one drive fails, only the data on that drive is affected. For critical data backup, a RAID setup or an external backup solution is recommended for added security.
OWC Mercury Elite Pro JBOD Enclosure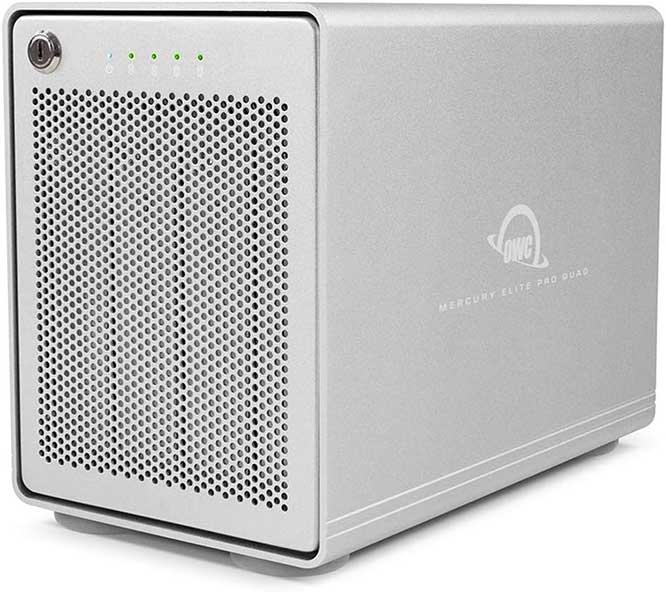 Key Takeaways:
Benchmark tests: 966 Mb/s max speed.
High-speed USB-C and Thunderbolt 3 compatibility.
Up to 48TB capacity with four 3.5″ or 2.5″ drive bays.
Offers advanced SoftRAID and various RAID configurations.
Quiet operation with heat-dissipating aluminum design.
The OWC Mercury Elite Pro JBOD Enclosure stands as a testament to versatility and efficiency in data storage. From the moment we unboxed it, its sleek, aluminum design not only looked professional but also promised durability. When we put it to the test, the enclosure didn't just meet our expectations, it exceeded them.
The Mercury Elite Pro Quad's USB-C interface, boasting a 10Gb/s USB 3.1 Gen 2 bandwidth, made transferring large video files a breeze. We connected it to a Thunderbolt 3-equipped laptop and the speed was impressive.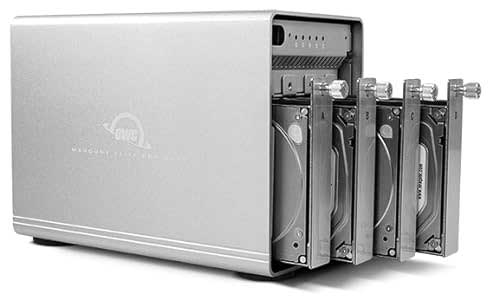 Per our benchmark tests, it transferred at a maximum of 966 Mb/s when utilizing Thunderbolt 3. For older computers, its USB-C to USB-A cable ensures no one is left behind. This flexibility is a game-changer, but as a result, transfer speeds are slightly decreased.
There are four individual drive bays. It accommodates both 2.5″ and 3.5″ drives, allowing us to pack a maximum 48TB of storage. This massive capacity, paired with the ease of setting up different drive types, made it an invaluable asset for any storage needs.
If you're not interested in its JBOD feature where each drive can be accessed individually, it also has RAID capabilities. The SoftRAID feature allowed us to experiment with various configurations, tailoring the setup to our specific requirements – whether it was for maximum capacity, speed, or data security. We particularly appreciated the RAID-ready model, which let us choose our preferred RAID software.

Thankfully, the enclosure operates quietly with a single fan, a significant plus for our noise-sensitive work environment. The front-facing LEDs provide a quick glance at drive activity, and the security features, like the front panel access lock, add an extra layer of data protection.
Reliability is a key factor in any storage solution, and the OWC Mercury Elite Pro Quad didn't disappoint. It underwent rigorous quality testing, assuring us of its performance and durability.
QNAP TL-D800C JBOD Storage Enclosure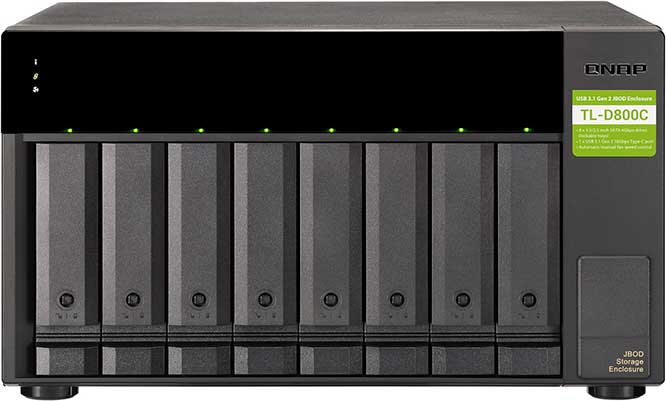 Key Takeaways:
Benchmark tests: 526 Mb/s max speed.
Eight 3.5″ bays for massive 250TB storage expansion capability.
User-friendly monitoring software for easy management.
Supports both HDDs and SSDs.
Effective cooling system, albeit slightly loud.
The QNAP TL-D800C 8 Bay Desktop JBOD Storage Enclosure is another fantastic option. It's a powerhouse for anyone needing serious storage expansion.
We connected the TL-D800C to a video editing workstation using its USB 3.2 Gen 2 Type-C port. The result? We saw blazing transfer speeds up to 522 Mb/s. This speed is a game-changer for professionals dealing with large files. Its compatibility with both Windows and Mac computers adds value, making it a reliable choice for diverse workflows.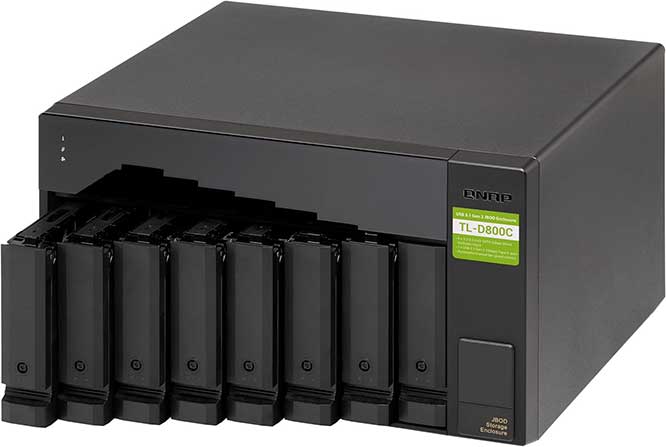 Storage capacity is another key aspect where the TL-D800C shines. With eight bays supporting 3.5-inch SATA drives, the potential 250TB storage capacity is enormous. However, it does not support 2.5″ drives. This capacity is especially useful for expanding the storage of a QNAP NAS, or even for individual computers and servers.
We also really enjoyed using its monitoring software. It's user-friendly and provides valuable insights into the JBOD's status, including cooling and firmware updates. This information is essential for maintaining the health and performance of the enclosure and all of the drives within it.
With dual fans, it's a bit louder than the OWC Mercury Elite Pro we tested previously. The two built-in fan effectively keeps the unit cool, ensuring reliable operation even under heavy use. This is crucial for maintaining the longevity of the drives.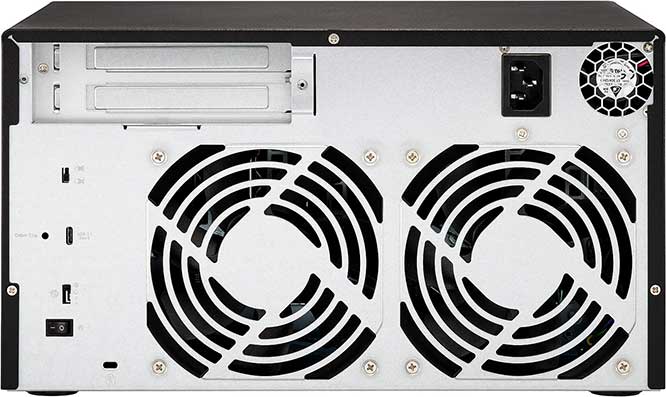 The TL-D800C's flexibility in configuration is remarkable. We tested it in various modes: performance mode with HDDs in dual parity, with SSDs in RAID 0, and even a hybrid mode mixing SSDs and HDDs. Each configuration worked flawlessly, proving its adaptability to different storage needs.
In comparison to the OWC Mercury Elite Pro, the TL-D800C stands out for its greater bay capacity. While it doesn't support 2.5″ drives and may be louder, its cooling efficiency and extensive configuration options make it a strong contender.
SABRENT DS-2BCR JBOD Enclosure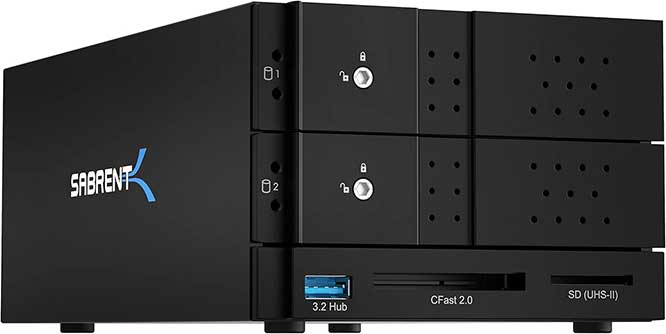 Key Takeaways:
Benchmark tests: 922 Mb/s max speed.
Two drive bays; supports both 2.5" and 3.5" SATA drives.
Built-in, quiet cooling fan for temperature control.
Reads and writes CFast and SD UHS-II cards.
Compact and cost-effective with 40TB capacity.
The SABRENT DS-2BCR JBOD Enclosure is a compact yet powerful storage solution. It surprised us with its capabilities, especially considering its size and price.
We tested the DS-2BCR with a pair of 20TB drives in JBOD mode. The result? Astonishing file transfer speeds reaching up to 922 Mb/s thanks to its USB 3.2 Type-C interface. This speed is perfect for tasks like video editing or large-scale data backups.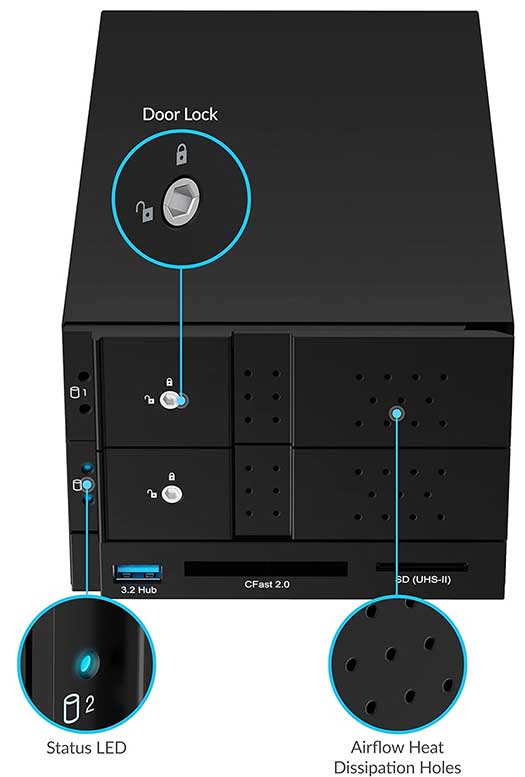 Despite being the least expensive option among the enclosures we tested, the DS-2BCR doesn't cut corners on features. It supports both 2.5" and 3.5" SATA III disks, and it's backward-compatible with older SATA versions. The inclusion of a locking key to secure the hard drive trays is a thoughtful touch, preventing accidental removal during use.
The built-in cooling fan is as quiet as the OWC Mercury Elite Pro's fan and still does an excellent job of temperature control.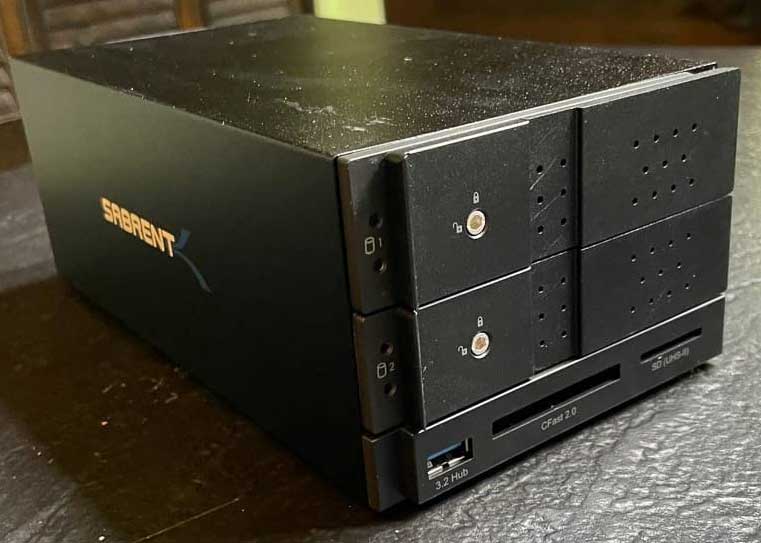 For photographers or videographers, the DS-2BCR offers an added bonus: it can read and write CFast 2.0 and SD UHS-II cards at high speeds. This makes it a versatile tool for various media formats.
In comparison to the OWC Mercury Elite Pro and the QNAP TL-D800C, the SABRENT DS-2BCR holds its own with its high transfer speeds and compact design. While it supports only two drives, its 40TB maximum capacity and additional features like the front USB port and media card slots make it a valuable, cost-effective choice for those with moderate storage needs.
Meet Derek, "TechGuru," a 34-year-old technology enthusiast with a deep passion for tech innovations. With extensive experience, he specializes in gaming hardware and software, and has expertise in gadgets, custom PCs, and audio.
Besides writing about tech and reviewing new products, Derek enjoys traveling, hiking, and photography. Committed to keeping up with the latest industry trends, he aims to guide readers in making informed tech decisions.