Overall Design -

8/10

Performance -

8/10

Aesthetics -

9/10

Safety -

9/10
Summary
Our in-depth performance review of the Kismile Free Standing Electric Fireplace reveals a product that not only meets the functional requirements of a heating appliance but also excels in enhancing the quality of living spaces. This fireplace fits right in, no matter the lifestyle, season, or room décor. What's more, its safety features and energy-saving perks really make it a solid choice for anyone wanting to add a bit of coziness, style, and peace of mind to their space.
Pros
Versatile heating for various room sizes.
Realistic 3D flame effect enhances ambiance.
Quiet operation, ideal for all environments.
Energy-efficient with eco-friendly features.
Cons
Limited heat distribution in very large spaces.
No advanced smart connectivity options.
In the cozy world of electric fireplaces, finding a unit that balances aesthetic appeal with functionality is key. The Kismile Free Standing Electric Fireplace, specifically the 25-inch model S230CP, steps into the spotlight.
Today, we're not just skimming through its features; we're dissecting its performance, design, and overall value. Is it as efficient as it claims? Does it blend style with substance? Let's answer these questions and see if this electric fireplace is more than just a pretty face.
Dimensions and Build
At first glance, the fireplace appears to be a blend of traditional charm and modern technology. Designed to be more than just a source of heat, it promises the ambiance of a real fire without the hassles of a traditional fireplace. The unit's focus on safety and energy efficiency makes it a potential fit for family homes, cozy apartments, and even offices seeking a touch of warmth.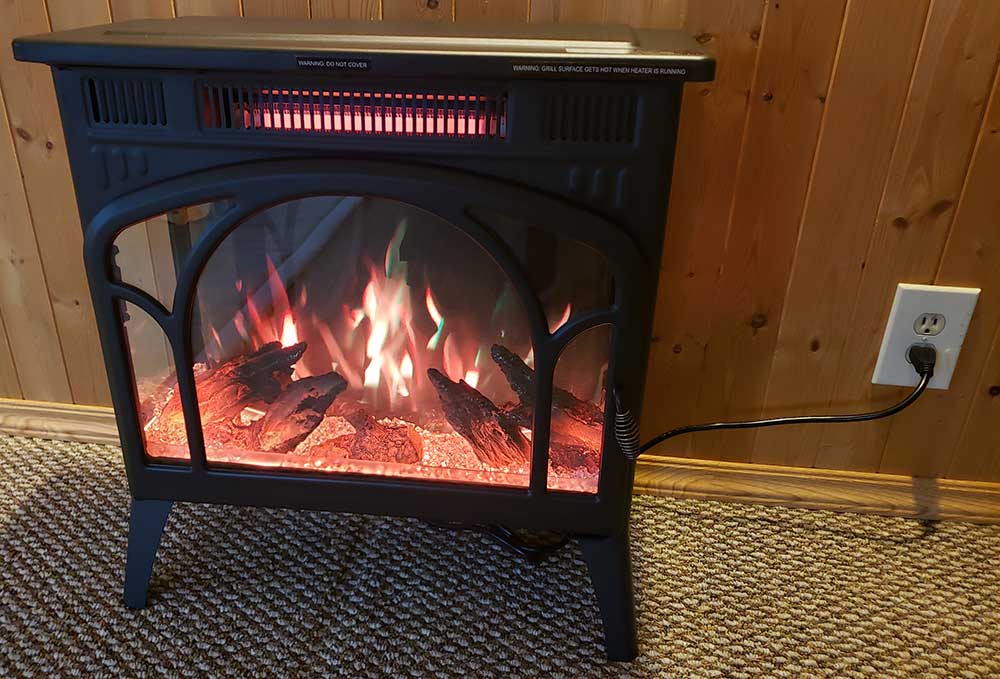 When examining the Kismile fireplace, the first aspect that catches attention is its compact stature. Measuring just over 10 inches in depth, 23 inches in width, and 24 inches in height, this fireplace nestles comfortably into smaller spaces while still commanding presence in larger rooms. Its 33.18-pound weight makes it manageable to reposition as needed – a convenient feature for those who love to rearrange their living spaces.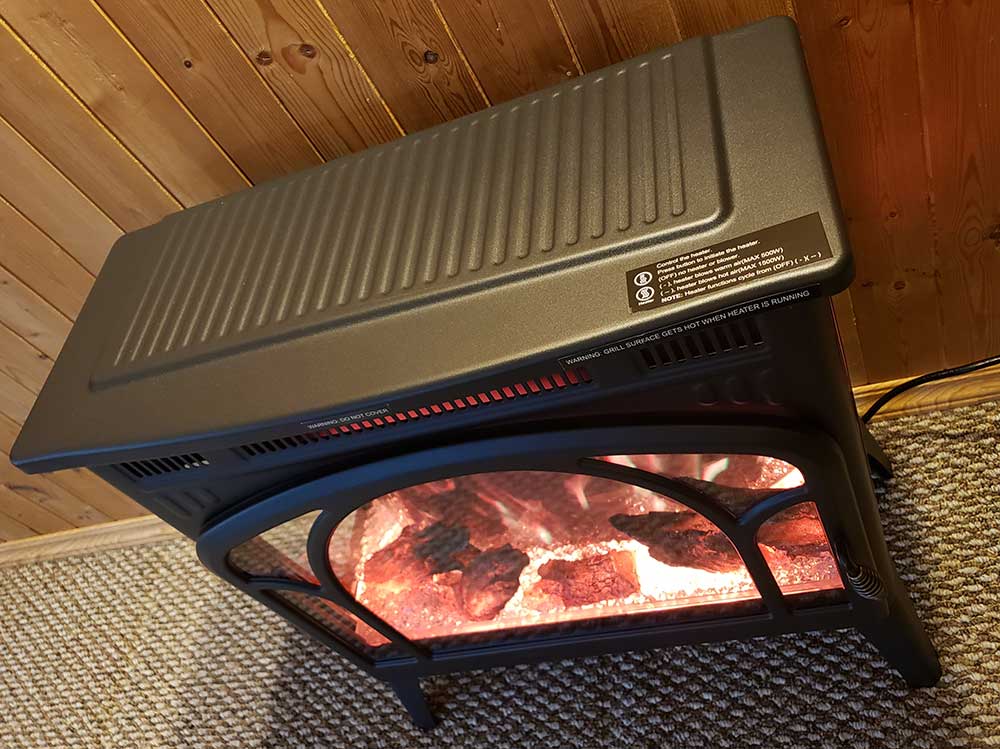 The all-steel build of this fireplace really gives off a vibe of being tough and long-lasting. When we were trying it out, a standout feature was the tempered glass front staying cool, even when the heat was up. This is super important, especially if you've got kids or pets who are always exploring.
Plus, we noticed how well it fit into different rooms. We shifted it from a sleek, modern office space to a cozy, classic living room, and it just looked right in both places. It's pretty cool how it can match up with any style you've got going on.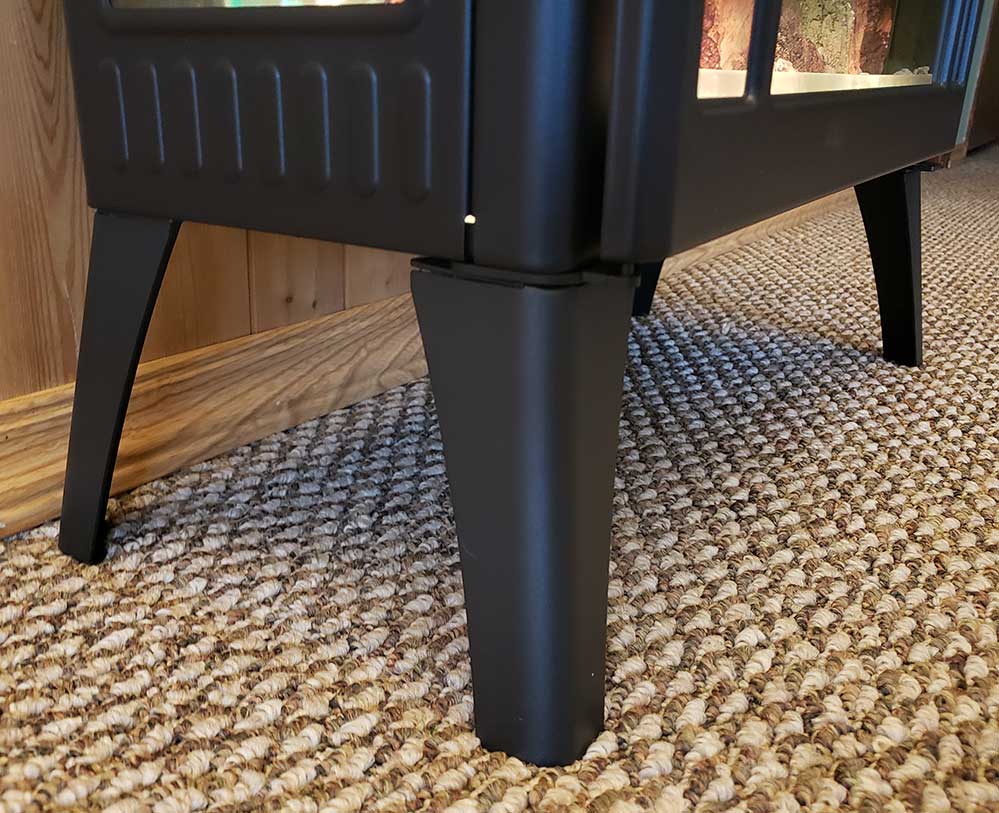 Heating Power and Coverage
The heating capability of this electric fireplace is a standout feature. The option to switch between 500W and 1500W power modes allows for significant flexibility depending on the room size and desired warmth.
In our tests, we observed the fireplace effectively heating a medium-sized living room on the lower setting while the higher setting proved more than adequate for larger open spaces, reaching up to 800 square feet as claimed.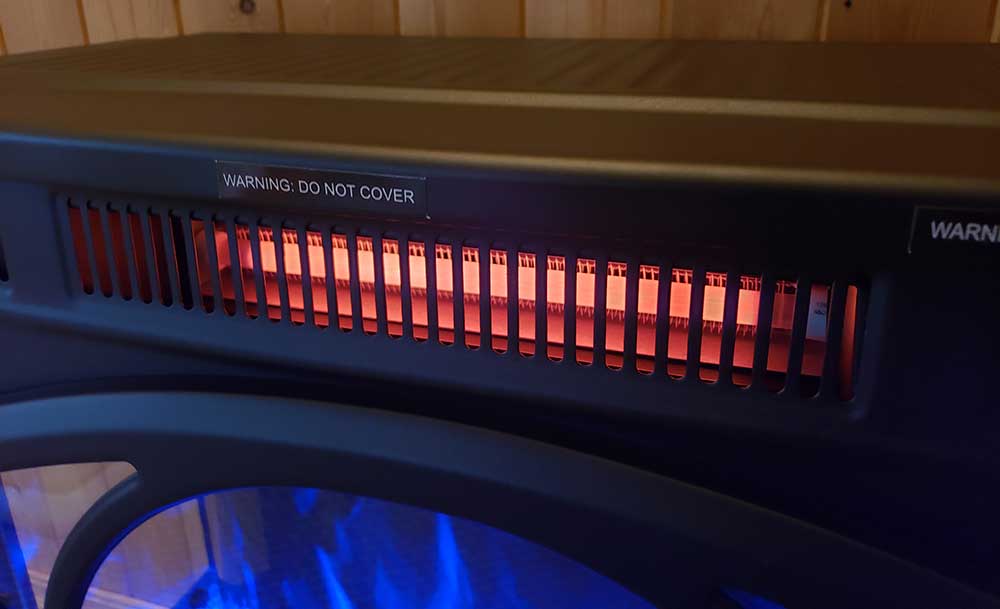 We also tested the fireplace in various room sizes, from small bedrooms to larger living areas. The dual heating mode proved its versatility, efficiently warming up spaces regardless of their dimensions. In smaller rooms, the 500W setting provided ample warmth without overwhelming the space, while the 1500W setting swiftly heated larger areas.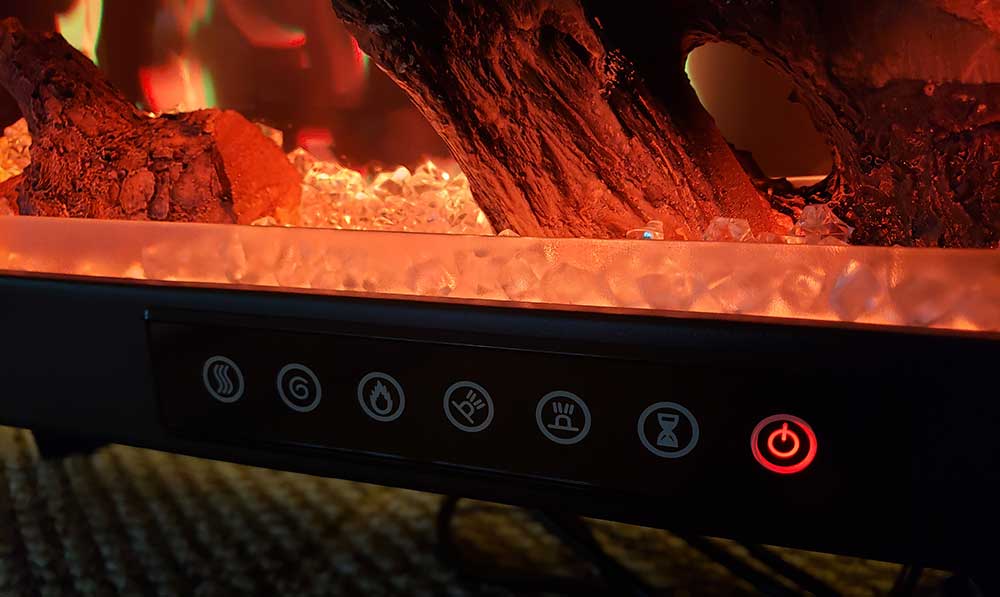 The adjustable thermostat and onboard controls were great, offering precise control over the room temperature. There are three heat settings to choose from; high, medium, and low. Each time, the fireplace responded quickly, altering the room's climate to our preference. You could really feel the heat output difference based on the selected level.
Flame and Aesthetics
The 3D flame effect technology of this fireplace is a game-changer. It creates a remarkably lifelike flame, adding a cozy ambiance without the mess or safety concerns of a real fire. We found that the adjustable settings for flame brightness and speed added a layer of customization that was particularly impressive.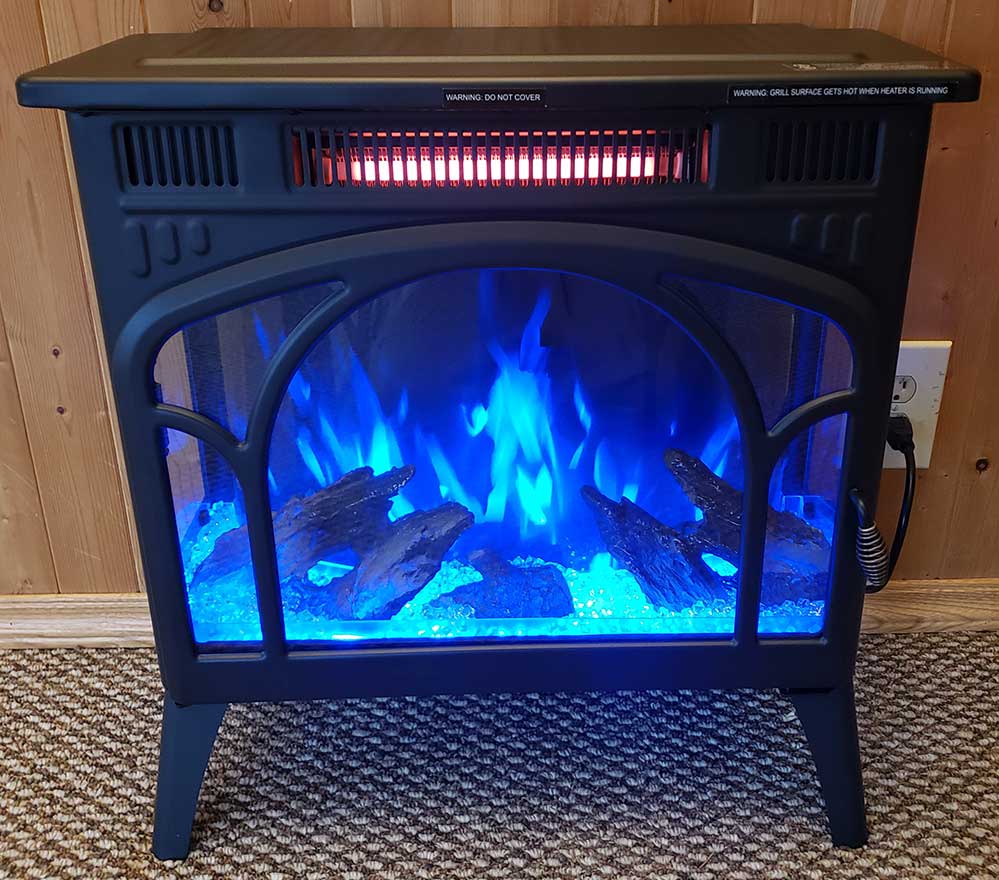 The 3D flame effect technology was a highlight in our tests. The simulated flames provided a cozy, inviting ambiance reminiscent of a traditional fireplace.
We experimented with all 12 color modes for both the flame and flame bed in different lighting conditions and found each setting to create a unique mood. The 180° panoramic view is a thoughtful addition, ensuring the realistic flames are visible from almost any angle in the room, enhancing the overall experience.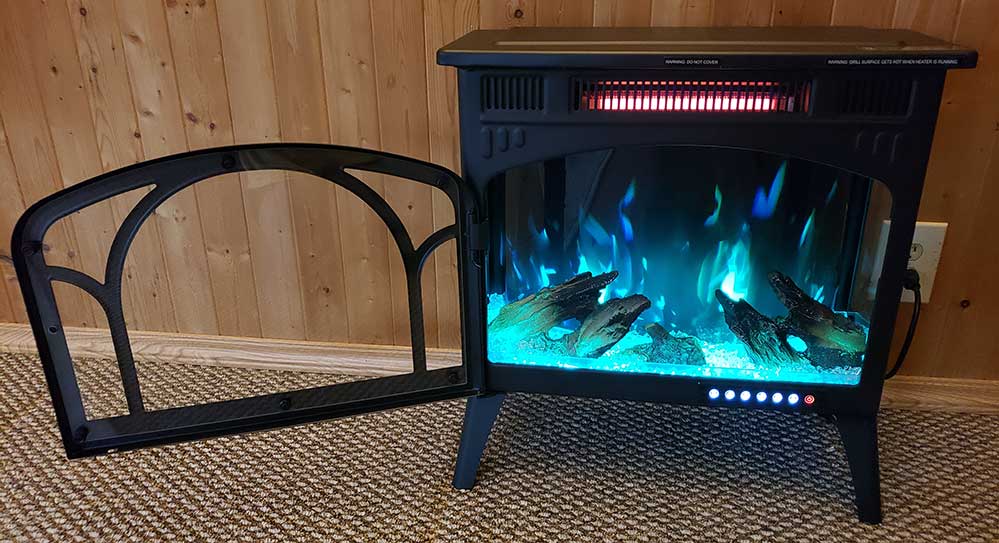 Noise Level and Operation
Quiet operation is a critical factor for electric fireplaces, and this model excels in this aspect. With a noise level under 38dB, it's only slightly louder than a whispered conversation.
During our long-term testing, we noted the fireplace's presence was hardly noticeable, making it ideal for use in a bedroom or while watching TV.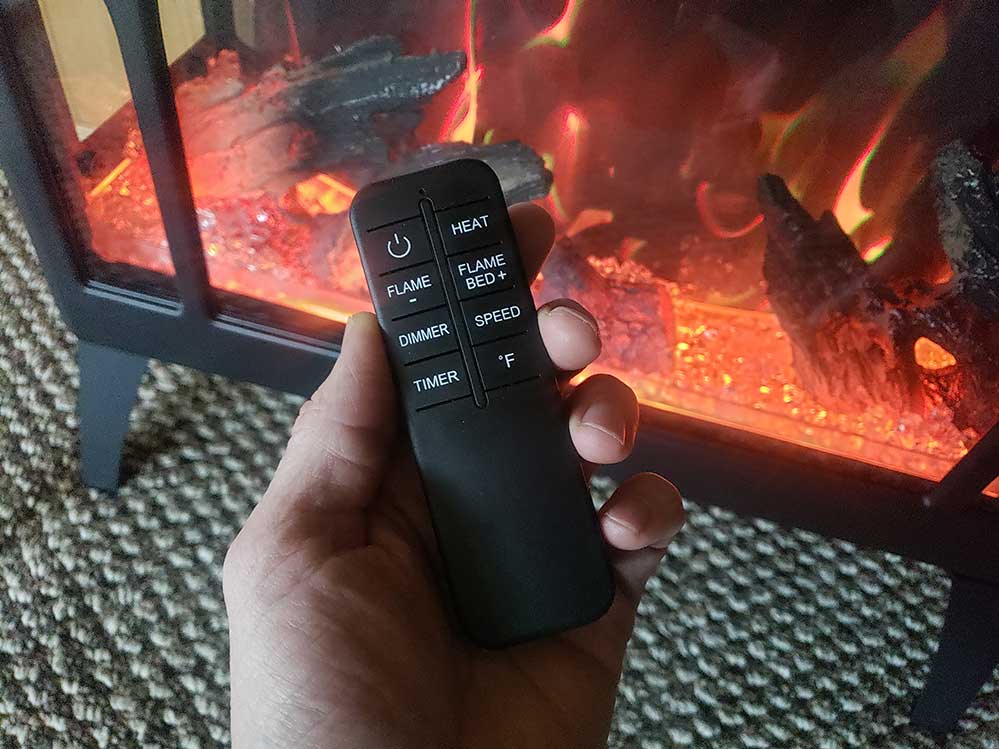 The included remote control adds a layer of convenience, allowing us to adjust settings from across the room. The sleep mode, tested during nighttime, proved to be a thoughtful addition, ensuring a warm room without the disturbance of light or sound. While it does feel a bit cheap, it functions perfectly well.
Safety and Efficiency
Safety is paramount when it comes to heating appliances, and the fireplace's built-in overheat protection system instills confidence.
During our tests, we continuously ran the fireplace for extended periods, and it consistently shut off when it reached a specific temperature, preventing any overheating incidents.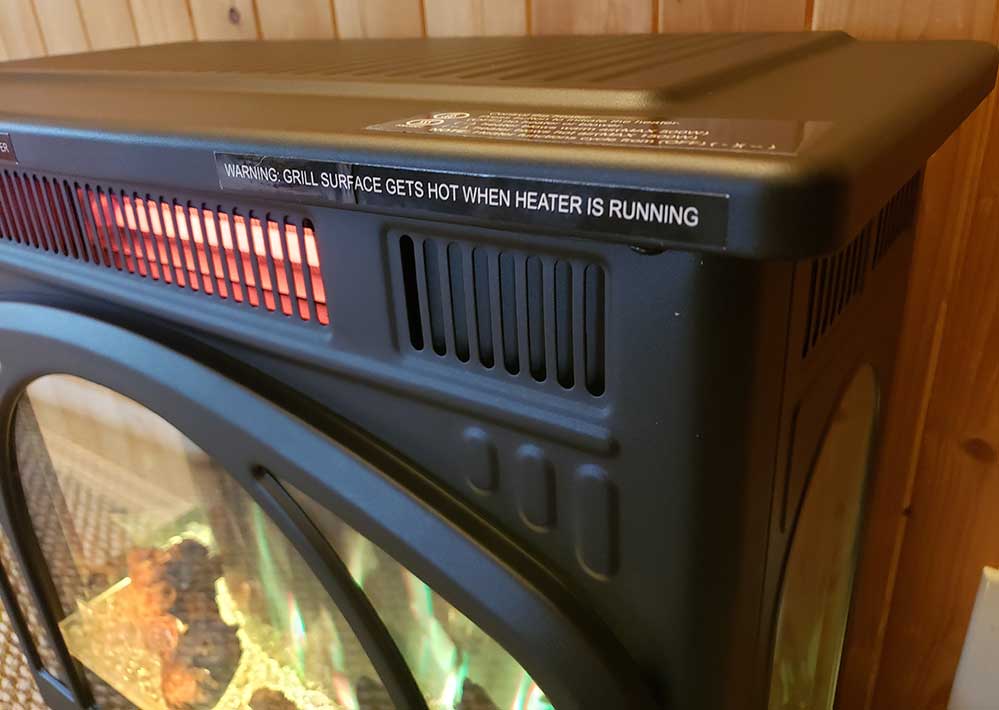 The feature of being safe around children and pets was put to the test in a family setting, and the fireplace passed with flying colors. Its energy efficiency was evident in the 1- to 8-hour timer, which we found useful for managing heating times, thus contributing to energy savings.
After giving it a thorough once-over, we can say this fireplace really holds its own as a dependable, effective, and good-looking addition to pretty much any room. It nails the trifecta of being safe, performing well, and looking great, making it a top pick for anyone wanting to ramp up the cozy factor in their home or office.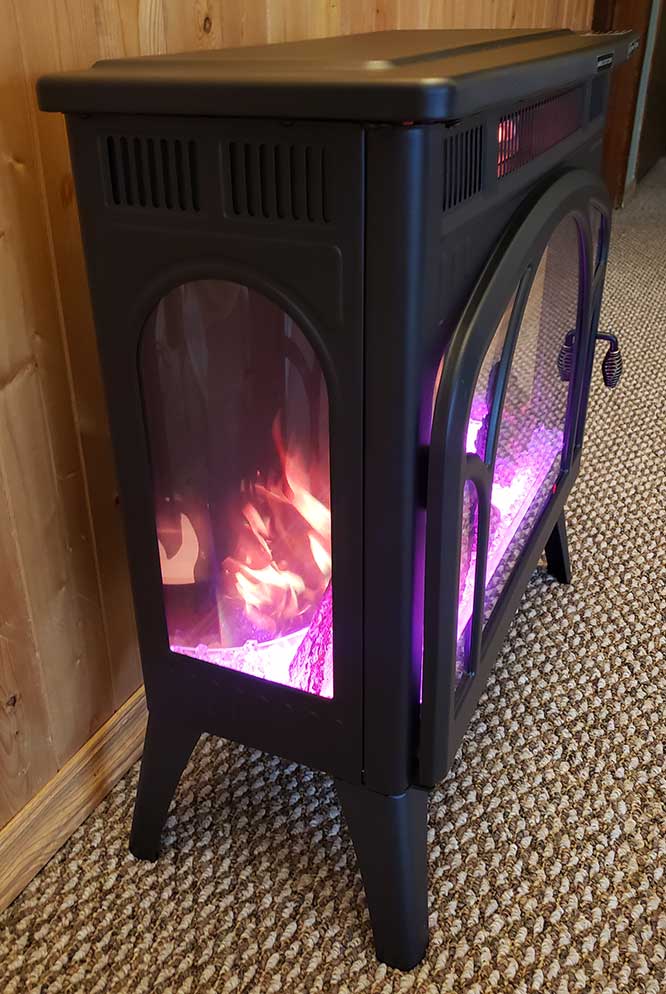 Performance Review
In our quest to thoroughly understand the Kismile Free Standing Electric Fireplace, we embarked on an extensive performance review.
This involved putting the fireplace through a variety of real-life scenarios, from everyday family use to specific occasions and settings. Here's a closer look at how it fared across different aspects:
Seasonal Performance
To gauge the fireplace's versatility across seasons, we tested it under the varying conditions of winter's chill and the milder temperatures of autumn and spring.
Winter Warmth: In the colder months, the 1500W setting was a standout feature. It efficiently warmed up a large living room, turning it into a cozy retreat. The glowing flames added a charming winter ambiance reminiscent of traditional hearths.
Autumn and Spring Use: During the cooler evenings of autumn and the mild days of spring, the 500W setting provides just enough warmth to make the room comfortable, demonstrating the fireplace's usefulness throughout the year.
It certainly proved its worth as a year-round companion, adept at creating a warm and inviting atmosphere in any season.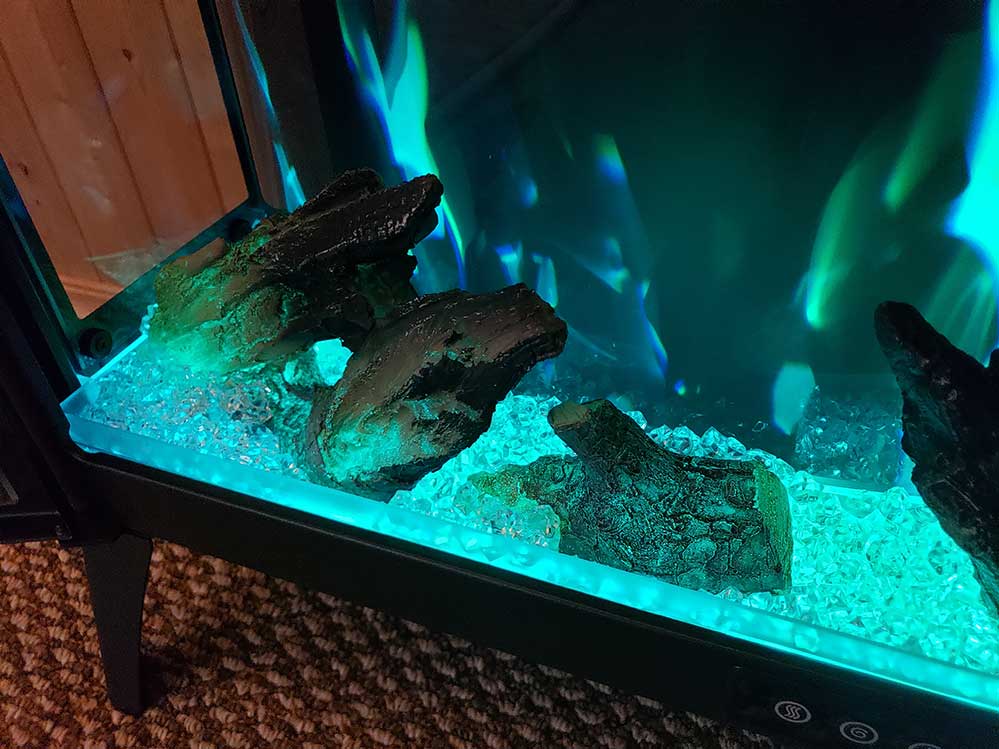 Lifestyle Adaptability
Understanding that a fireplace must fit seamlessly into various lifestyles, we evaluated its performance in both family-centric environments and home offices.
Family Homes: Safety is paramount in family homes. The fireplace's cool-to-the-touch glass and automatic overheat shut-off were significant assets, ensuring a safe environment for children and pets.
Home Office Setup: In a home office scenario, the quiet operation of the fireplace was a boon, providing warmth without distracting from work tasks.
Temperature Control: The adjustable thermostat was put to the test in different climatic conditions. We found that the unit responded promptly to temperature adjustments, maintaining a consistent warmth as per the set preference, which was particularly appreciated during colder nights.
Ease of Use: The remote control facilitated effortless adjustments from anywhere in the room. The sleep mode function was tested for its practicality, effectively providing warmth without disturbance from light or sound.
Design Adaptability: The fireplace's design was scrutinized for its ability to complement different décor styles. From minimalist modern apartments to more classic, rustic settings, the fireplace's sleek yet traditional design allowed it to integrate seamlessly into various interiors.
Impact on Room Aesthetics: Its presence in a room was noted to enhance the overall ambiance, often becoming a focal point of the décor.
The fireplace's design and features make it a versatile addition to any home, catering to the needs of both bustling family spaces and quiet work areas.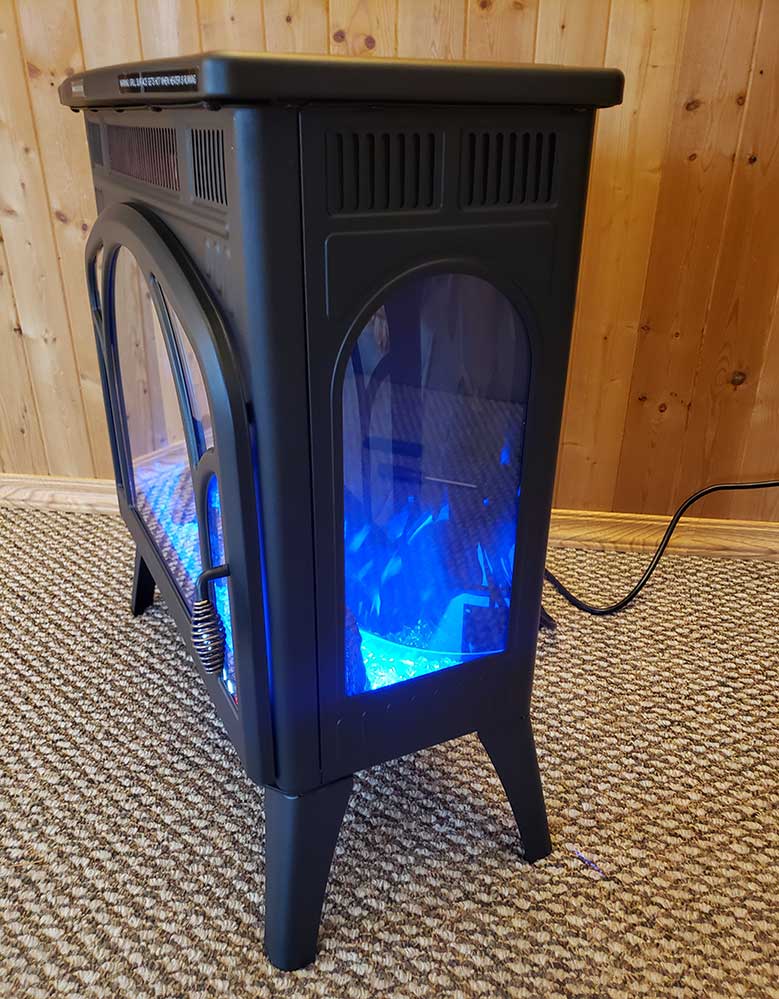 Entertainment and Relaxation
A fireplace often becomes the heart of home entertainment and relaxation. We tested the unit in scenarios such as movie nights and quiet reading sessions.
Movie Nights: Its low noise output was particularly appreciated during movie nights, where it added warmth without interrupting the audio experience.
Reading Corners: In a cozy corner set up for reading, the fireplace offered a gentle, soothing presence, enhancing the overall comfort and relaxation.
Whether for lively entertainment or peaceful solitude, the fireplace adapts to enhance the experience, proving to be a versatile component of home life.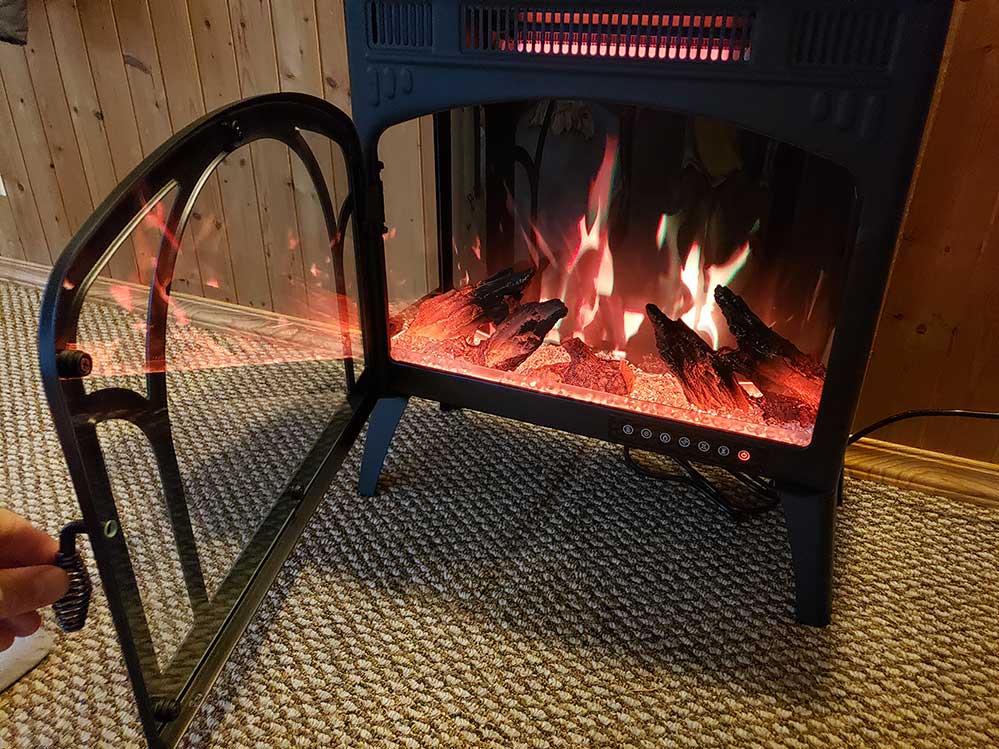 Energy Efficiency and Environmental Impact
In today's world, energy efficiency and environmental impact are crucial. We assessed the fireplace's performance in these areas.
Reducing Central Heating Dependence: The fireplace proved effective in reducing reliance on central heating, which could translate to lower energy bills.
Eco-Friendly Heating Option: By forgoing wood or gas burning, it aligns with eco-friendly practices, appealing to environmentally conscious consumers.
Kismile's fireplace stands out as an energy-efficient and environmentally responsible heating option, offering practical benefits while aligning with sustainable living values.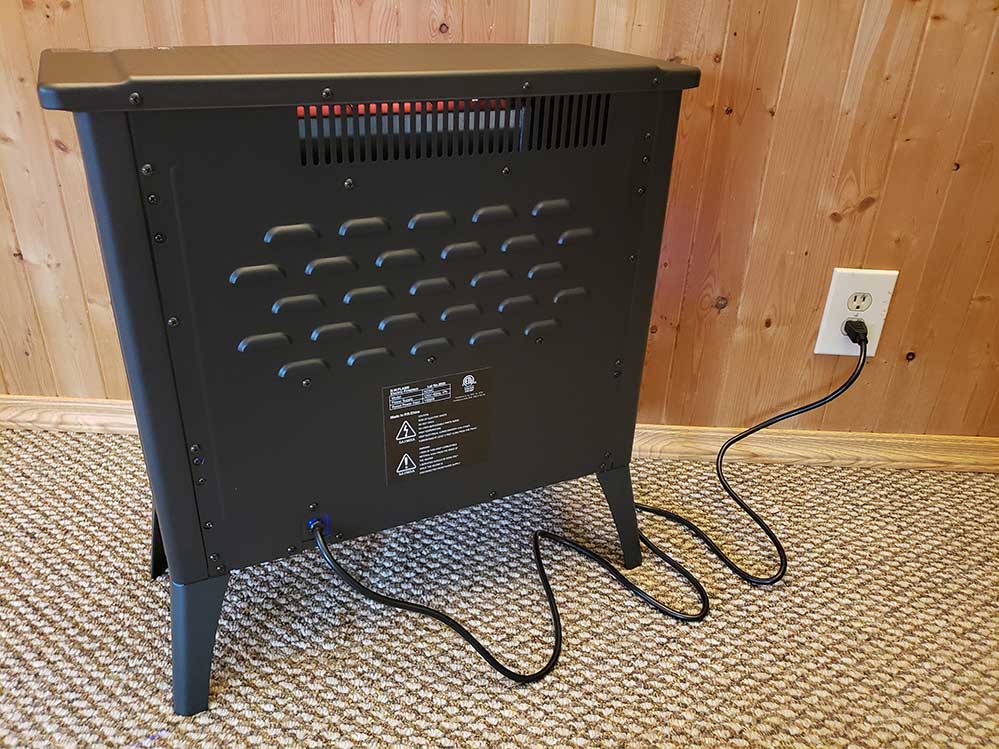 Final Verdict
Our in-depth performance review of the Kismile Free Standing Electric Fireplace reveals a product that not only meets the functional requirements of a heating appliance but also excels in enhancing the quality of living spaces.
This fireplace fits right in, no matter the lifestyle, season, or room décor. What's more, its safety features and energy-saving perks really make it a solid choice for anyone wanting to add a bit of coziness, style, and peace of mind to their space.
Meet Derek, "TechGuru," a 34-year-old technology enthusiast with a deep passion for tech innovations. With extensive experience, he specializes in gaming hardware and software, and has expertise in gadgets, custom PCs, and audio.
Besides writing about tech and reviewing new products, Derek enjoys traveling, hiking, and photography. Committed to keeping up with the latest industry trends, he aims to guide readers in making informed tech decisions.