Released in November of last year, the PlayStation 5 is one of the most in-demand consoles of all time. Nine months after its release, it's still difficult to find at most retailers. To be fair, a lot of this has to do with semiconductor shortages and other pandemic-related issues. But a lot has to do with the large number of people who want to get their hands on Sony's latest console.
The PS5 comes with a number of advantages over the PS4. The most notable advance is that the newer system supports 4K graphics, whereas the PS4 did not. However, the PS5 has also been outfitted with a new controller, and comes with more online options. Perhaps the most notable of these is the PlayStation remote play service. Basically, this service allows you to play any PlayStation titles you own without needing your actual console. Instead, you can use a DualSense controller and your smartphone to play anywhere you have internet access.
This feature is part of a broader trend towards cloud-based gaming. Your phone isn't actually doing most of the work. That's being done by your console, which is connected to the internet. Your phone is just functioning as a display. But this also requires you to use a PlayStation controller, not your phone screen. There's simply no way to integrate the PlayStation's complex controls into a touchscreen. As a result, you run into the same issue you do with using a controller for mobile games. How are you supposed to hold your controller and your phone at the same time?
We're about to look at three of today's best PS5 DualSense controller phone mounts. These devices attach to the front of your controller, and support your phone for convenient viewing. We'll start out by looking at the OIVO PS5 Controller Phone Mount Clip. This mount is highly adjustable, and can be adjusted in height as well as angle. Next, we'll check out the YUANHOT Clip Mount. This mount is very lightweight, but it can only tilt, not extend up and down. Last of all, we'll examine the Supgear PS5 Controller Phone Mount Clip. This mount boasts a 4-way clamp with 360-degree rotation, and includes a textured grip and thumbstick caps.
The Story of the DualSense Controller
Sony is not as well known for their controller design as their competitor, Nintendo. But the two companies follow different philosophies. Nintendo likes to remake the wheel every generation, while Sony likes to tweak its existing design. In fact, the original DualShock controller was just a variant of the earlier PlayStation analog controller. When Nintendo released the N64 with thumb sticks and a rumble pack, Sony decided to one-up them. Not only did they include proper thumb sticks, but they built two separate vibrating motors into their design. The name "DualShock" was meant to emphasize the controller's superiority over the N64.
That was back in 1997. Sony would make other changes to the original DualShock before releasing the DualShock 2 in 2000. Rolled out alongside the PlayStation 2, the DualShock 2 came with pressure-sensitive buttons. It also came in black instead of grey, to match the PlayStation 2's housing. The PS3 and PS4 brought additional advancements. The DualShock 3 controller brought us motion sensitivity, incorporating technology from the earlier SixAxis controller. With the DualShock 4, gamers got a touchpad. This feature has been less popular, since it's only good for PlayStation exclusives. Still, a number of games have taken advantage.
By 2020, it was time to make a change. With the release of the PlayStation 5, Sony ditched the DualShock line for their new DualSense controller. Now, it's not exactly fair to call this a total overhaul. The basic button layout is still the same, and the motion controls and touch pad are still present. However, the profile has been significantly beefed up, with thicker, longer grips and a bit more weight. In addition, Sony changed the color from black to white, to match the PS5's aesthetic.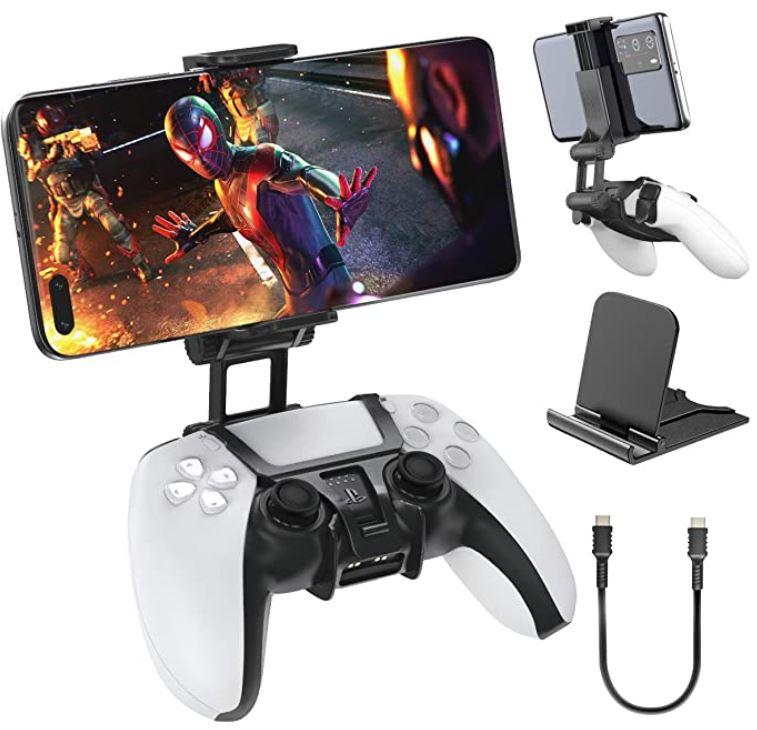 OIVO PS5 Controller Phone Mount Clip
OIVO is a brand we've looked at in the past. We recently reviewed their Nintendo Switch grip, and it was well-engineered. So we already know they can make a decent controller accessory. The OIVO Controller Phone Mount Clip is a clip-on unit that's constructed from black ABS plastic. It consists primarily of two parts: a clip that wraps around your controller, and the attached phone mount.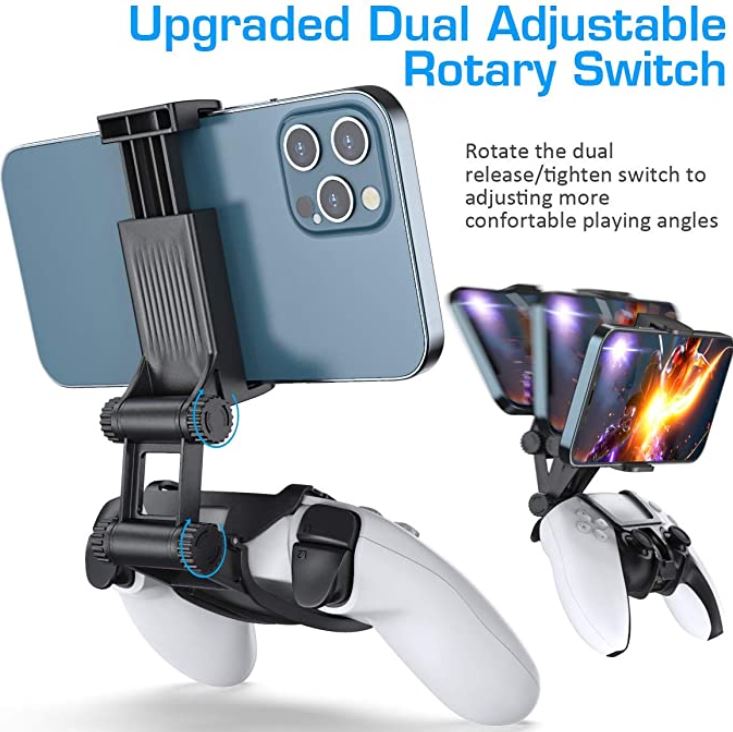 The clip is a skeletonized bracket that wraps around your controller from back to front. It's hinged at the back, and snaps shut like a set of jaws around the front. One thing we appreciated about the design is that the latch is well-designed. It's nice and sturdy, and you can open it easily with your thumb. At the same time, it's positioned so it won't open accidentally when you drop your controller. Obviously, there's no perfect closure system, but this one is pretty effective.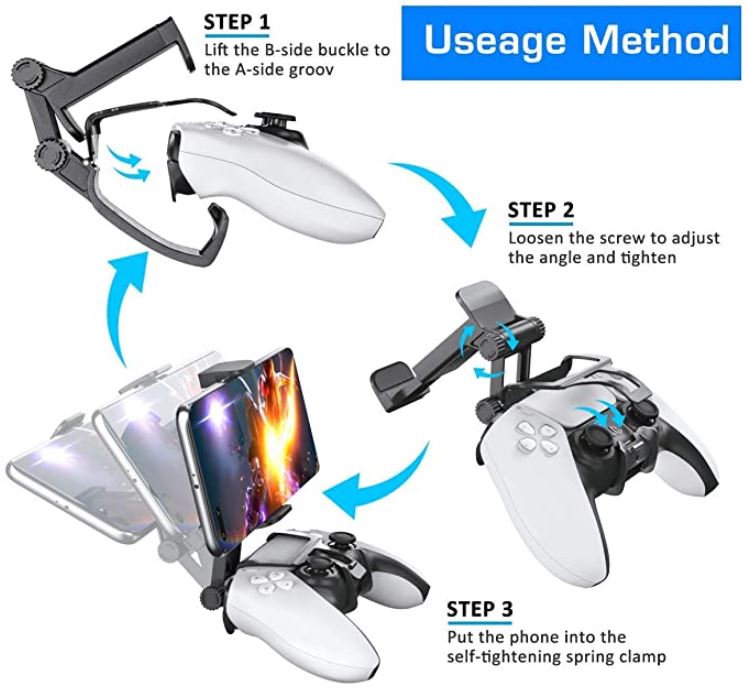 At the back, you'll find not one, but two hinges on the arm that supports the bracket. This allows for flexing it in two places. Effectively, the bottom hinge adjusts the height, while the top hinge adjusts the tilt. On the end of each hinge, there's a plastic screw that can be loosened to release the tension. The arm can then be adjusted as needed. When you're happy with your phone's position, tighten the thumbscrews and it will remain locked in place.
Along with the mount, the package also includes a couple extras to help you out. To begin with, there's a USB Type-C to Type-C patch cable. This isn't actually useful right now, since PlayStation's online services aren't currently available on Android. You'll be connecting via Bluetooth anyway. That said, when Sony eventually adds Android support, the cable may come in handy. Finally, you get a small plastic phone stand. This is a nice added value, since it can prop up your phone on a desk or table.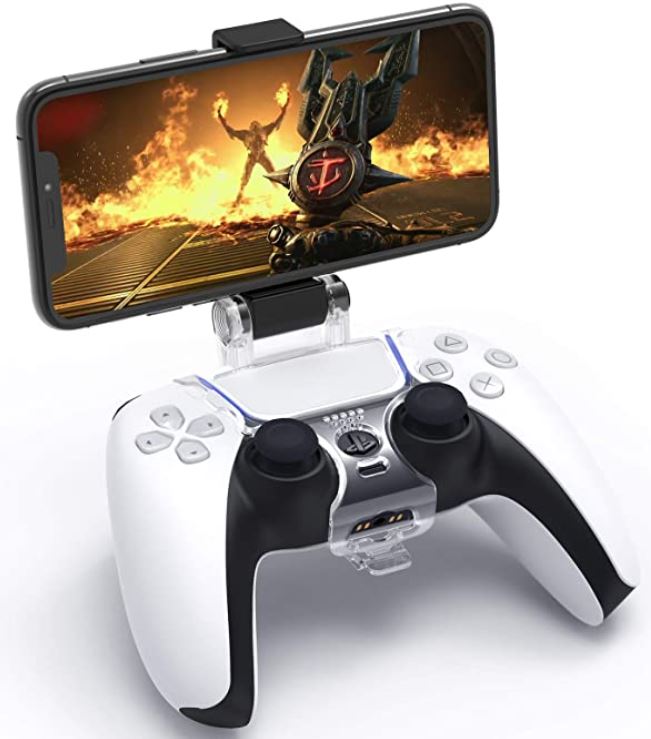 YUANHOT Clip Mount for PS5 DualSense
Next up on our list is the YUANHOT Clip Mount. At first glance, this mount is virtually identical to the OIVO mount. And it is superficially similar. However, there are some important differences that we need to point out. First off, the main difference is that the YUANHAT mount is lighter weight. It's built with fewer parts, and with lighter materials. Instead of using all ABS plastic, it's made from black ABS on the phone bracket and clear acrylic in the base clip.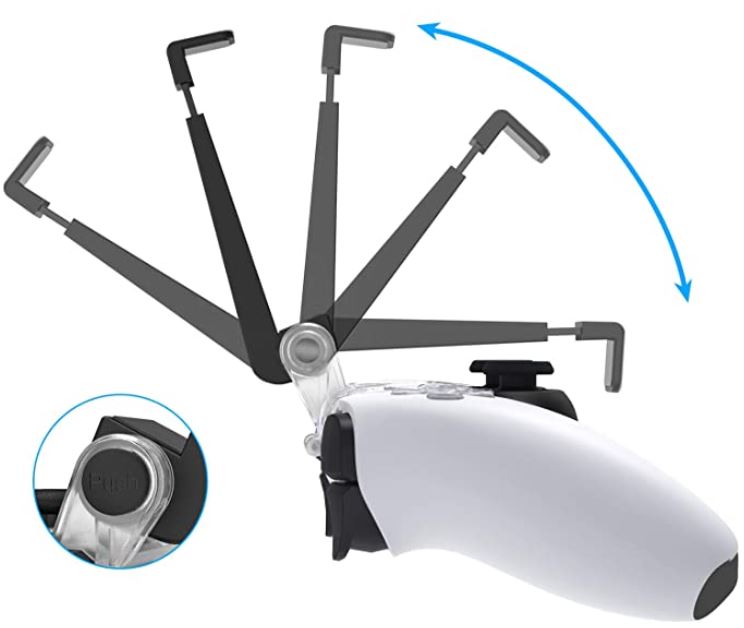 The clip wraps around your phone in a similar clamshell-style configuration to the OIVO. It's also skeletonized, to leave your controller's touchpad free for operation. Because it's clear, it pairs reasonably well with just about any controller wrap or color. The locking clip is big and beefy, designed for an easy thumb release. Unfortunately, the position of the clip is less than stellar. Where it's located at the base of the controller, it's easy to bump by accident if the controller is dropped. A slightly higher position would have left the locking clip less exposed.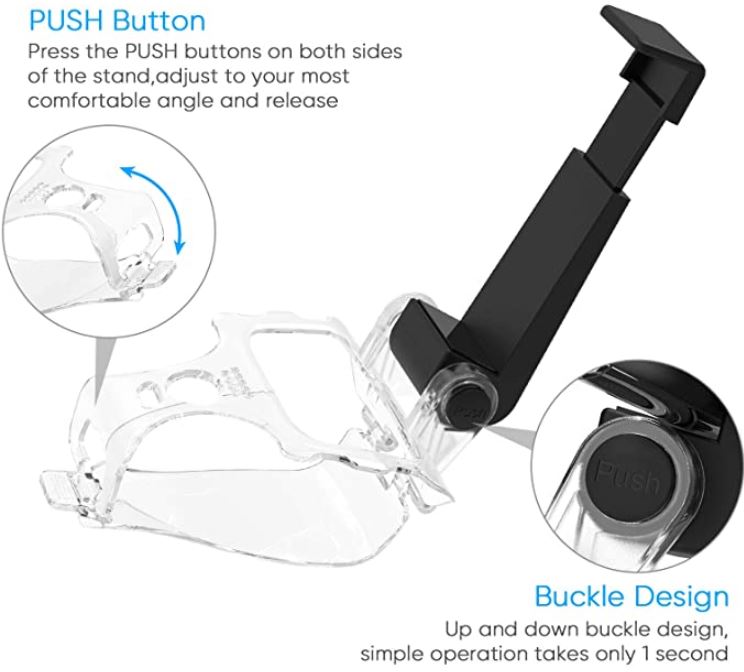 The mounting bracket on the back is less adjustable. There's only a single hinge, so you can't adjust the height, only the tilt. The purpose of this is to reduce the amount of material involved, and thus the overall weight. In that regard, YUANHOT has been successful. In addition, the hinge is easier to operate. There's a simple release button on the side. Press the button, tilt your screen where you want it, and let go of the button. That's as simple as it gets.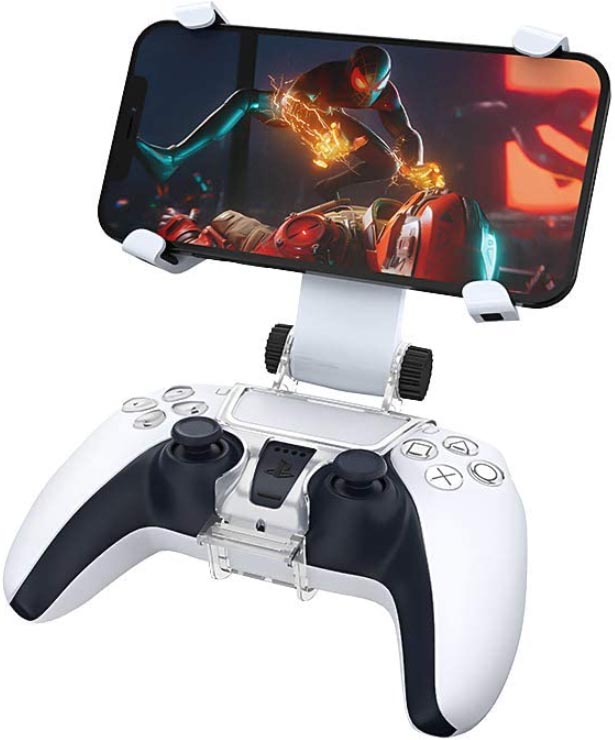 Supgear PS5 Controller Phone Mount Clip
The Supgear PS5 Controller Phone Mount Clip offers the most adjustment options of all. It consists of a white ABS plastic upper mounting bracket, and a lower polycarbonate controller clip. The controller clip is skeletonized, like the last two, and has a release latch at the front top. It's easy to release if you press down with your thumb.
What sets this mounting clip apart is the 360-degree rotating function. Let's face it. You're not just gaming when you're sitting upright in a chair. Maybe you want to game in bed, or while slouched sideways in a giant easy chair. In that case, it might be more comfortable to rotate your screen. The Supgear's mounting bracket is attached to a knuckle, which can be twisted a full 360 degrees. This allows you to view your screen in any orientation. To make sure your phone stays safe, the bracket is a four-way clamp instead of a two-way. It grabs your phone from all four corners, so it won't fall out easily. You can also adjust the angle by tilting the neck, which releases with a simple thumb screw.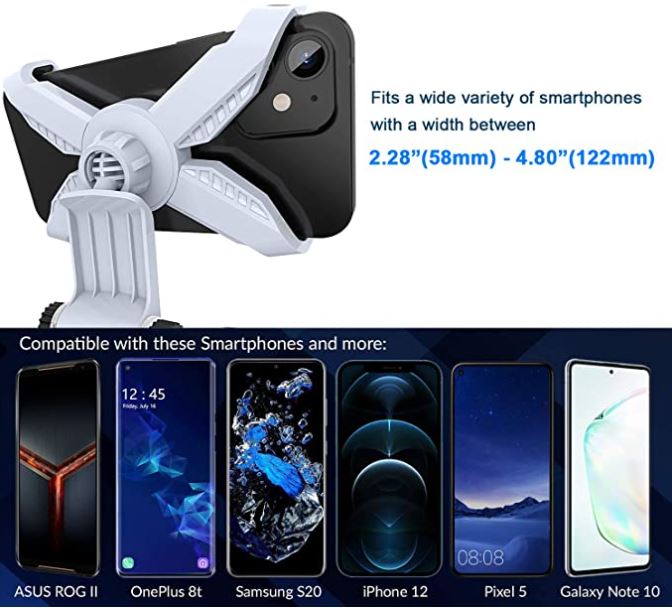 In addition to the mount clip, Supgear also includes a textured rubber controller skin and thumbstick caps. These are nice and comfortable, and provide plenty of grip when you're gaming. On the other hand, the whole package is a bit too inexpensive. This gives us some concerns about how well the plastic will hold up over the long term.
Final Verdict
So, which one of these phone mount clips is going to be the best for you? As is so often the case, a lot depends on the exact features you need. If you want a durable clip that's reasonably adjustable, consider the OIVO PS5 Controller Phone Mount Clip. The ability to adjust height as well as tilt is a great comfort feature. Not only that, but the plastic feels solid and the latch is well-engineered.
The YUANHOT Clip Mount is best if you want the lightest possible mount clip. That said, this weight savings comes at the expense of adjustability. For some people, though, a tilt adjustment is all you need. If that works for you, why not go with the lightweight stand that meets your needs?
Finally, the Supgear PS5 Controller Phone Mount Clip gives you the most adjustability of all. The 360-degree rotation is highly versatile, while the four-way bracket is nice and sturdy. We also appreciated the rubber controller sleeve and thumbstick caps. It's very inexpensive, but it's a great value for the price.