Zamkol ZK106
Pros
Compact and lightweight.
Provides a decent amount of volume.
Supports Alexa and TWS pairing.
Submersion-proof design.
Cons
Audio is better suited for movies than for music.
Aux cable connection is noisy.
Weak bass and depth.
These days, more and more people are using Bluetooth speakers. The reason is fairly straightforward. An old-school, wired speaker isn't terribly versatile. You can get some fantastic audio quality from a home stereo system, but that's about it. You can't take your speakers on the road, at least not without messing around with a bunch of wires. This wasn't just an issue for travel. It was almost as much of a challenge if you wanted to move your stereo a few feet. If you wanted to put the speakers outside for a barbecue, you still had to take everything apart and reassemble it. Not to put too fine a point on it, but that's a pain.
With a Bluetooth speaker, all you have to worry about moving is the speaker itself. You don't need to run any wires. But that's not its only benefit. With a smaller speaker, you can travel with it. You can take one camping, or put it on your mountain bike. This isn't possible with a wired speaker. At the same time, you get much better sound and more volume than with the speaker on your phone. It's a great middle ground for listening on the go. But how do you find the right Bluetooth speaker? There are tons of options out there, and all of them are claiming to be the best. No worries. We're here to help you out.
We're about to review the Zamkol ZK106 Portable Bluetooth Speaker. This is a compact, portable speaker that's built to be as rugged as possible. It's submersion-proof, and is designed to produce a significant amount of bass. But there are a lot of factors to consider when you're looking at a new Bluetooth speaker. To see if the ZK106 is really up to standard, we'll need to put it through its paces and see how well it performs. We'll look at the physical design, and how it's constructed. We'll talk about the battery life, and how long you can listen. Last but not least, we'll consider the quality of the sound itself.
Overall Design
The Zamkol ZK106 Portable Bluetooth Speaker is a compact speaker with a black ABS housing. The material is reasonably tough, with a matte finish, and rounded corners to keep it from jabbing you. On the front of the housing, you'll see a metallic grille, which is flat with a ton of small holes in it. The Zamkol name is printed across the entire front, in large white text. This speaker measures 7.28 inches in width, 1.97 inches deep, and 2.44 inches high. Even at that size, it only weighs 1.15 founds. As a result, it's easy to travel with. It's small enough to carry In the side pocket of a backpack, and light enough to carry all day.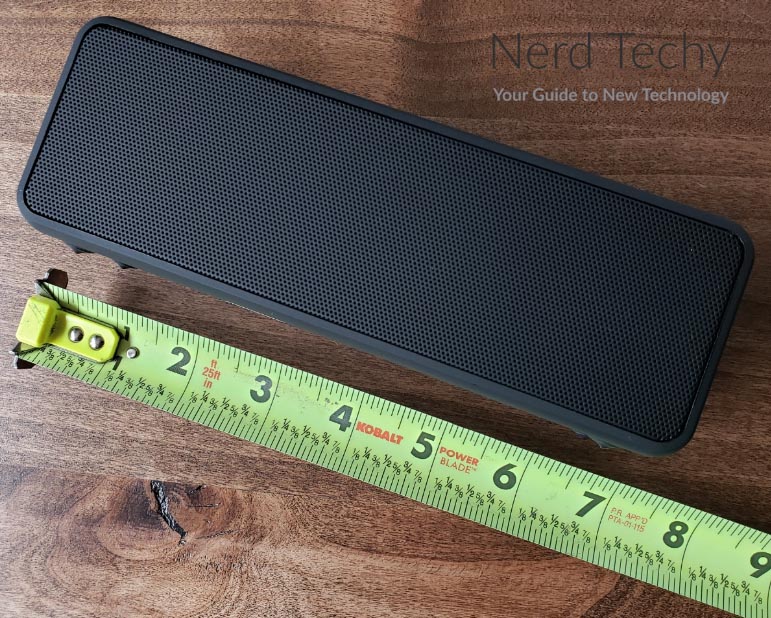 On the top, you'll find a row of physical control buttons, which are used to operate the speaker. These are big and bold, with high-visibility icons that are easy to identify. There's nothing terribly complicated here. On the left, there's a power button, with musical controls to its right. These consist of volume up and down buttons, with a play/pause button directly in the center. To the far right, you'll find the EQ button, which can be used to adjust the speaker's sound profile. We'll talk about that feature more when we talk about the audio quality.
This speaker's housing has a weather-resistance rating of IPX7. This is the highest standard level of water resistance, and it indicates that the ZK106 is submersion-proof. It can survive being held underwater at a depth of one meter, for at least 30 minutes. Now, we wouldn't suggest that you actually do this. But if you accidentally drop this speaker into your bathtub, it's not the end of the world. Just pull it out and dry it off. And if you want to use it in the shower, you're not going to cause any damage.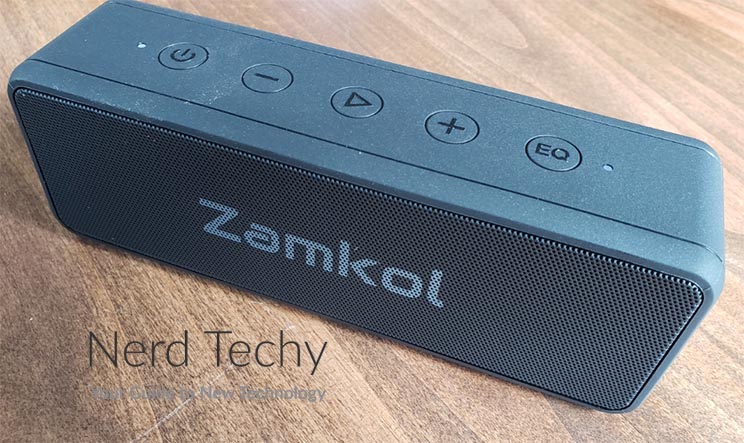 On the left side of the housing, you'll notice a black rubber grip that can be flipped open. This isn't just a grip. It's also the cover for the charging and audio ports. Underneath, you'll find a USB Type-C charging port towards the front, and a 3.5mm aux port towards the back. The package includes the corresponding cables, so you won't need to go out and buy any extras. Everything you need to get started already comes in the box.
For what it is, the ZK106 is fairly well-designed. That said, it's just a speaker. It doesn't provide any extra bonus features. If you want a speaker with a few tricks up its sleeve, consider the Tribit Home Speaker. It has an alarm clock function, as well as a soothing night light. That said, it's only made for indoor use, and it doesn't put out as much sound.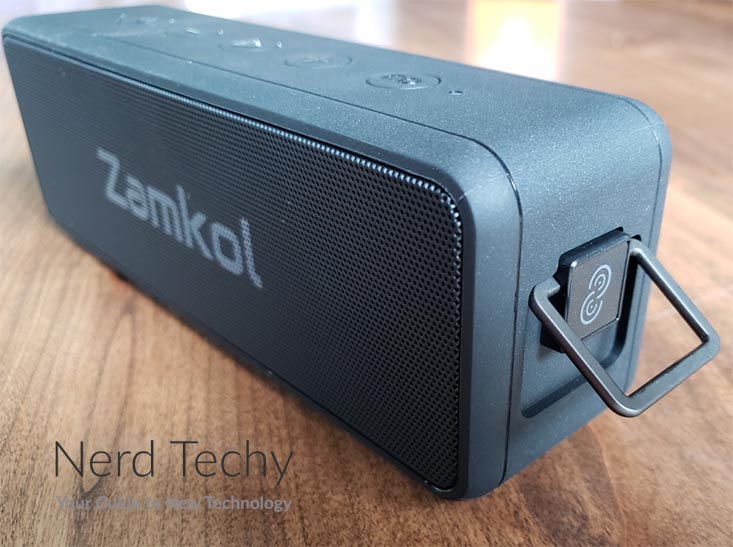 Battery & Connectivity
No Bluetooth speaker is complete without a good battery. In that regard, the ZK106 delivers. It's rated for up to 24 hours of playback at medium volume. Now, you'll need to keep in mind that this is only applicable at that volume level. If you have it cranked up all the way to 11, you can expect more in the range of 16 to 18 hours. But no matter how you cut it, you're getting a significant amount of playtime. You can get through a weekend camping trip without the need to plug in anywhere. When it's time to plug in, the battery will charge in only three hours. And when you have access to power, you can keep it plugged in and not even have to worry about the battery.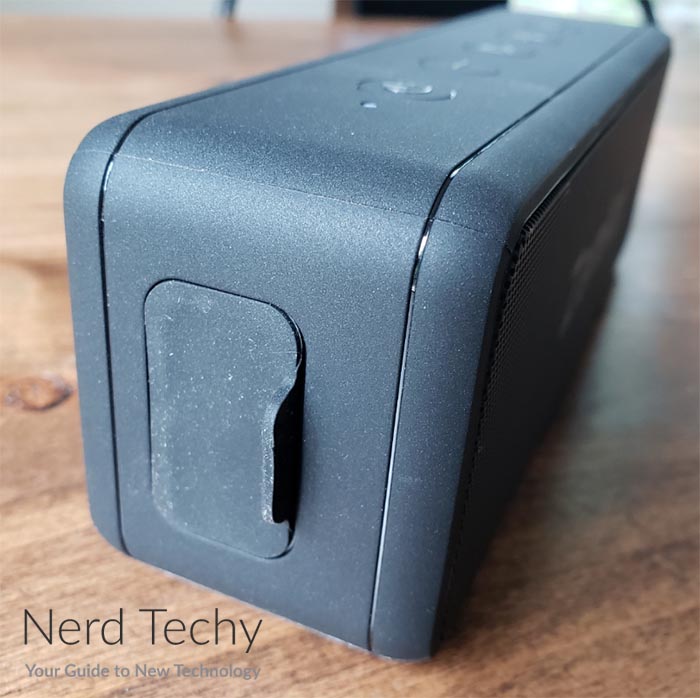 This is one powerful speaker battery. But there are some that offer even more functionality. For example, the Anker Soundcore Motion Boom has the same playtime, but also doubles as a power bank. Not only that, but it floats in the water. On the downside, it's larger and less portable.
The ZK106 utilizes the Bluetooth 5.0 wireless protocol. This is the current industry standard, and is supported by all modern smartphones and tablets. It provides for far lower latency than older Bluetooth versions, so audio and video remains in sync. This makes it a good choice for watching movies or playing games. Not only that, but Bluetooth 5.0 gives you a more stable signal, so you don't have to worry about randomly disconnecting. As an alternative, the speaker can also be put into stereo mode. This will require syncing it with a second ZK106 speaker, so you can use one for each channel.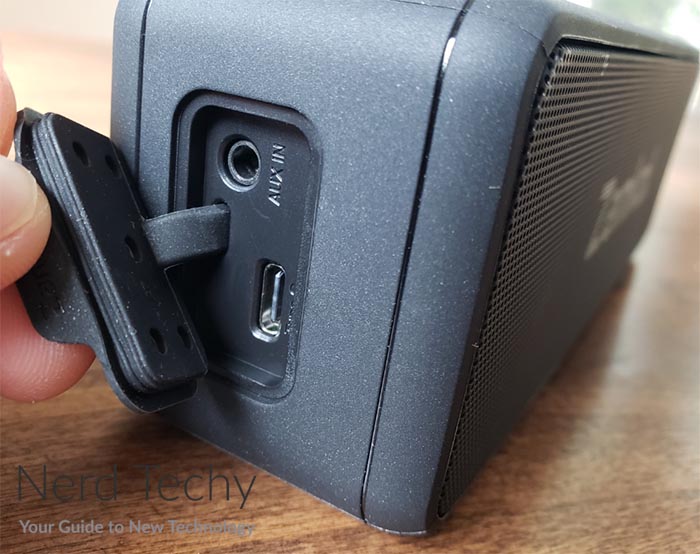 Alternatively, you can use the 3.5mm aux cable. This has its own benefits and drawbacks. On the upside, it allows you to connect to older audio sources, like turntables and tape decks. If your entertainment system includes some older hardware, you're still going to need a wired connection. Another benefit of using the wire is that you won't drain your battery. In other words, you can still use the speaker with a dead battery. On the downside, a 3.5mm connection is audio-only. You won't be able to use your phone to control your speaker. You also won't be able to use Alexa commands. You'll only be able to use the physical buttons on top of the speaker housing.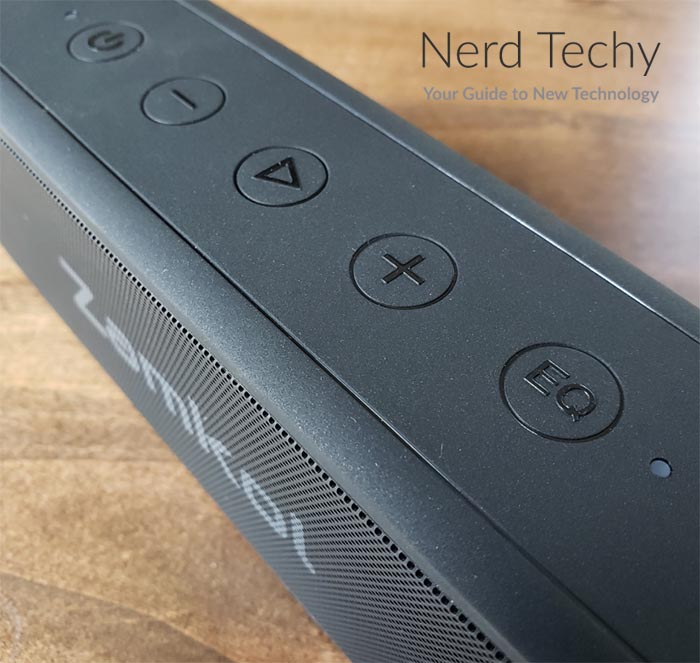 Audio Quality
The ZK106 contains a small, 20-watt speaker cone that moves a surprising amount of air. It's tuned to provide powerful bass, which is a relative term. It's not as powerful as a larger speaker, or one with a subwoofer. On the other hand, it's somewhat capable, especially for the size. Although sometimes the bass is under-represented, the mids and highs seem clear and present, and the soundstage is reasonably wide. This means there's good separation between the instruments.
With all of that being said, this isn't a concert quality speaker. It's noticeably less rich than comparable speakers from premium manufacturers. Not only that, but the aux connection can tend to be noisy. If you bump your cable in any way, you'll hear static. This is not a problem if you're setting up your speaker on a shelf or table. But if you're trying to carry it around, you'll need to ditch the wire. On the other hand, you're looking at an affordable speaker, and the quality is pretty good for the price.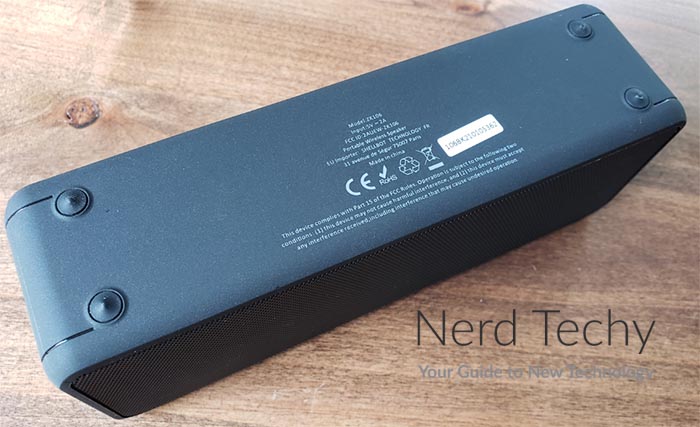 If you demand the richest audio possible, the Tribit StormBox Pro is a solid choice. It provides extraordinarily detailed sound, sports a built-in carrying candle, and functions as a power bank. That said, it's also a bit pricey, so it's really in a different class than the Zamkol.
One thing the ZK106 does offer is a way for you to adjust the audio profile. By pressing the EQ button, you can switch between a bass-heavy or a treble-heavy balance. The former is better for dance music and workouts, when you need a driving, powerful low end. The latter is better for classical or country, where you want to hear strings more clearly. It's not quite as sophisticated as a multi-band EQ, but it's a nice touch on a low-priced Bluetooth speaker.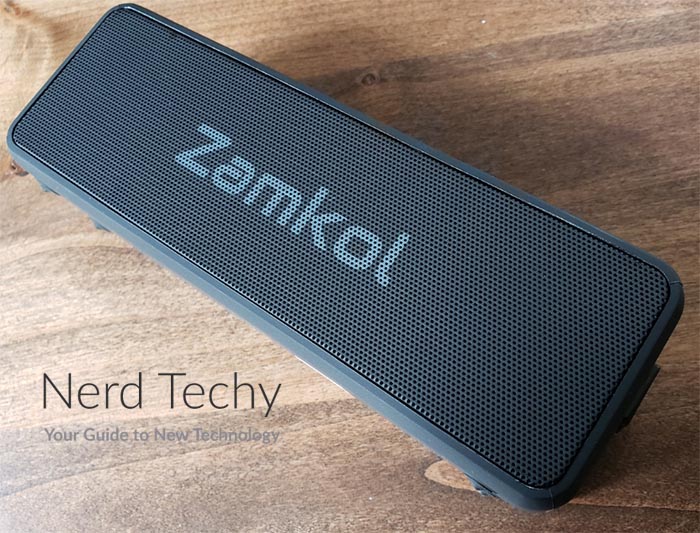 Final Verdict
The Zamkol ZK106 is a reliable speaker that comes at a reasonable price. It's not perfect. Audiophiles will want a bit more in the richness department. That said, it's fine for casual listening, and anyone can use it for watching movies. The ability to pair two speakers for stereo use is a valuable feature.
The physical design is also very well put together. The buttons are well thought out, and the housing is nice and compact. Moreover, it's water-resistant enough to take in the shower, which is always a nice plus. The 24-hour battery is yet another valuable feature. Even for those of us who prefer larger volumes, it provides more than enough playtime. And while the 3.5mm connection might not be perfect, it provides you with more flexibility.