If you're on the lookout for a good household speaker, there are a number of considerations. First and foremost, you've got to think of how you're going to hook it up. This didn't used to be the case. A speaker was either part of a preexisting stereo unit, or you used standard wires. Amplifiers were similarly standardized, with lots of 3.5mm or similar wired connections. But nowadays, things are a bit more complicated. Bluetooth has changed the rules of the game, and most of us play music from our smartphones. So it makes sense that you want a speaker that can connect wirelessly.
At the same time, there are a ton of new companies vying for the top spot among Bluetooth speakers. For every brand you can trust, there's some brand new company you've never heard of. So how do you know what's worth buying? Sometimes, it helps to stick with a brand you're already familiar with. One tried and true brand is Tribit. We've reviewed a number of their speakers in the past, as well as several popular earbuds.
Today, we're going to review the Tribit Home Speaker. This is a new offering, and it's a bit different from your ordinary, run-of-the-mill Bluetooth speaker. However, it also has a built-in radio, an alarm function, and a handful of other useful features. This makes it a solid choice for many people right off the bat. But what separates it from other, similar devices? To find out, we'll have to dig a little deeper into what it has to offer. We'll talk about what this speaker does well, what it could do better, and any quirks we've come across. Once we've given it a thorough examination, we'll be ready to render a fair verdict. Let's get started!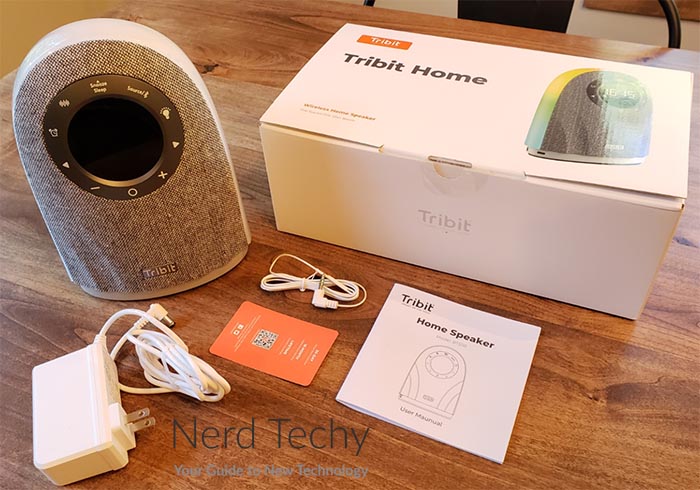 Design & Construction
The Tribit Home Speaker has an arched design, which immediately brings to mind an old-school jukebox. The bulk of the housing is occupied by a grey fabric speaker cover, which is soft to the touch. It's also easy on the eyes, with just enough texture that it doesn't look boring. On the back, there's a small plastic indent that's used for easy carrying. At just over 42 ounces, it's relatively light for the size. In addition to that, it's nice and bottom-heavy, so it won't tip over easily. There's a silver Tribit logo on the front, and anti-skid rubber feet on the bottom.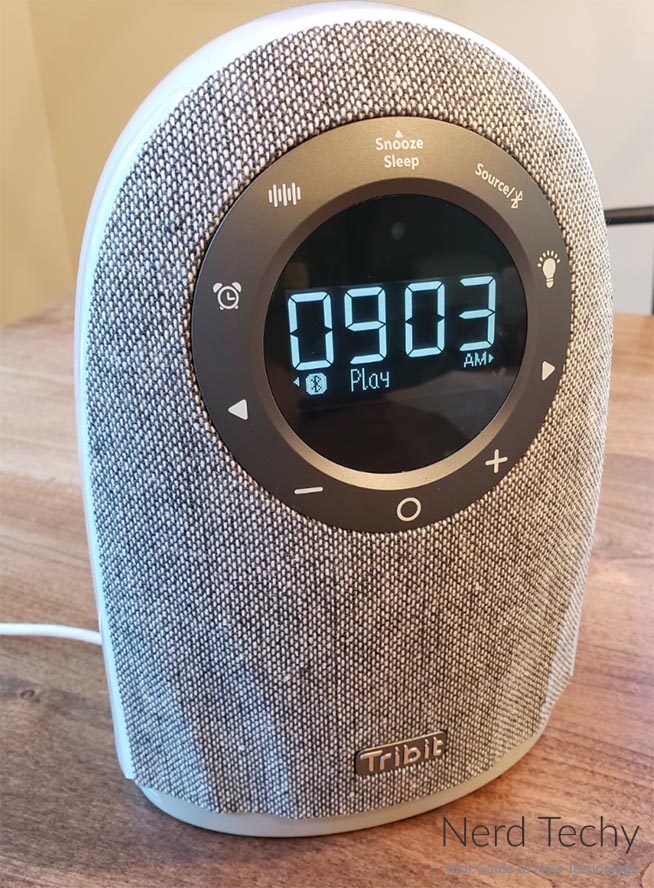 Smack in the middle of the front is the Tribit speaker's most prominent feature: the alarm clock. Many people use smartphones to wake up on time, but there are some benefits to a physical clock. For one thing, if you wake up in the middle of the night, it's nice to know what time it is. Can you roll over and go back to sleep, or is your alarm going to go off in two minutes? With an actual clock, you won't have to pick up your phone to find out. Not only that, but a separate clock is also useful during the daytime. You can easily check the time without getting distracted by your phone. Finally, the Tribit alarm clock wakes you up with soothing sounds. Instead of a ringtone, you can wake up to your choice of white noise, birds, and other options.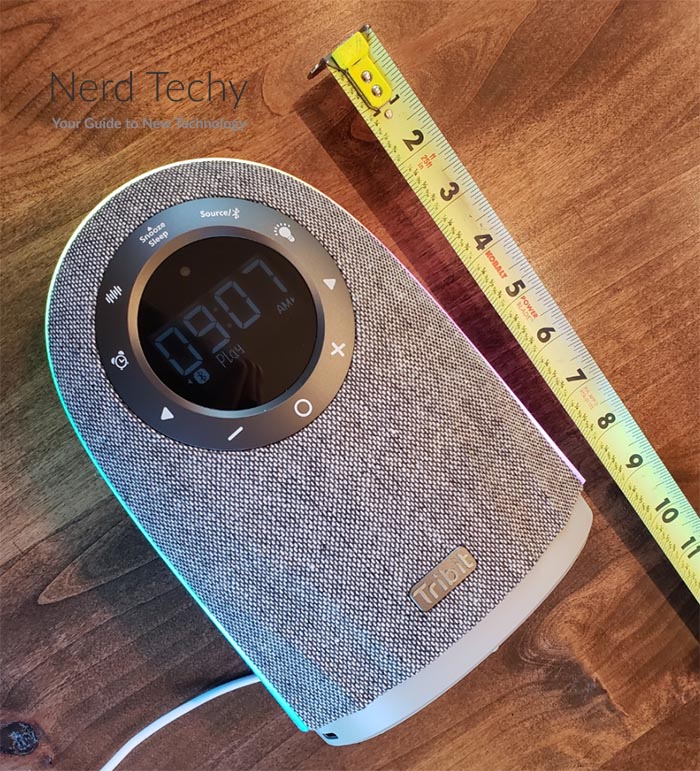 Surrounding the circular clock face, you'll notice a ring with a number of icons in it. These are all touch controls for operating the speaker's various functions. You can adjust the volume, skip tracks, set the alarm, and set the time. You can select your audio source, and adjust the lighting effects. You can even make some adjustments to the EQ. And right at the top, you'll find the all-important snooze button for when you need five more minutes.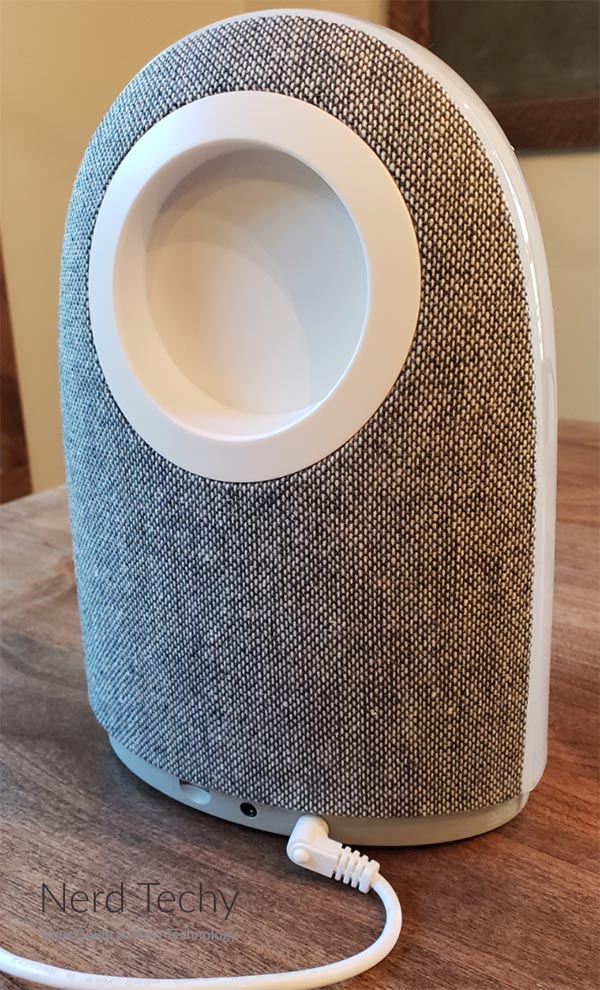 The top and sides are covered by an arcing LED light that has a number of different options. To begin with, it can be either plain white or RGB. In plain white mode, it can be adjusted to four different levels, from dim to bright. The brightest is ordinary room lighting, while the dimmest is a simple nightlight. The medium settings can be used for more subdued lighting, or for reading before bed. In RGB mode, the lights can be set to three modes: pure, breathing, and vibrating. Pure RGB lights are just a static rainbow color. Breathing lights fade in and out, and vibrating lights dance from side to side. The moving options will also move in time with your music, if you're playing any. Of course, you can also leave the light off if you so desire.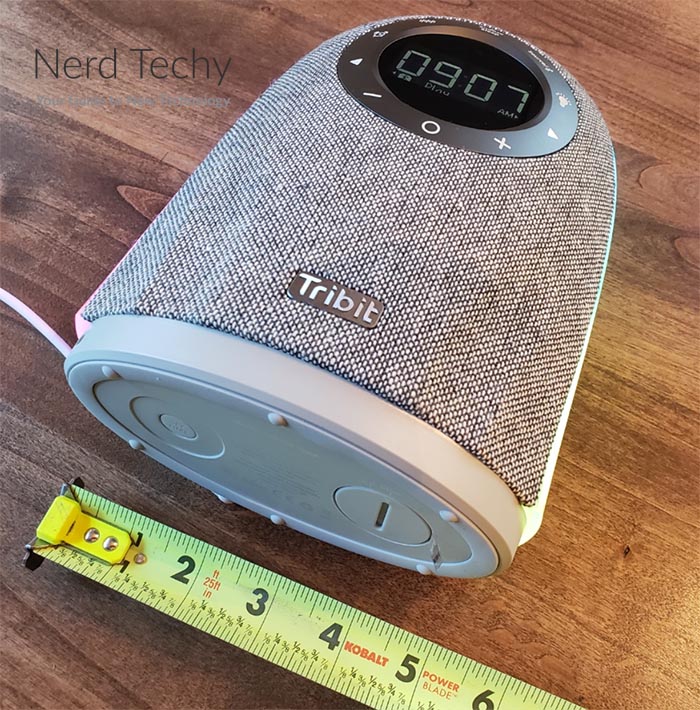 The last physical feature of note is the removable FM antenna. This is a long, thin wire that plugs into the back of the speaker. If you live in or near a major city, it can pretty much dangle wherever you want. You'll get plenty of signal. That said, if you're in a more rural area where signals are marginal, you may need to adjust it a bit.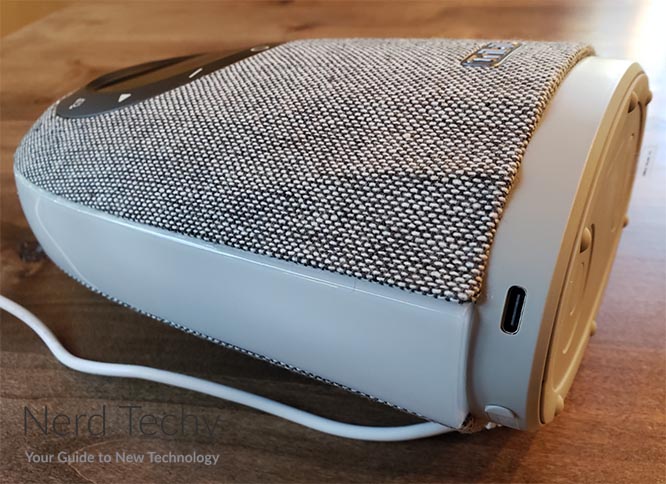 Power & Connectivity
In terms of power, the Home Speaker is a bit different from most other Bluetooth speakers. Most Bluetooth speakers are designed to be portable, so they come with internal batteries. That way, you can take them with you on the go. However, as you may have gathered from the name, the Home Speaker is for use in your house. It's not made to go on the road. On the one hand, the lack of a battery makes sense from this perspective. Who wants to have to rely on a battery-operated alarm clock? For similar reasons, this speaker has no water-resistance rating. Why would you need a waterproof bedside radio?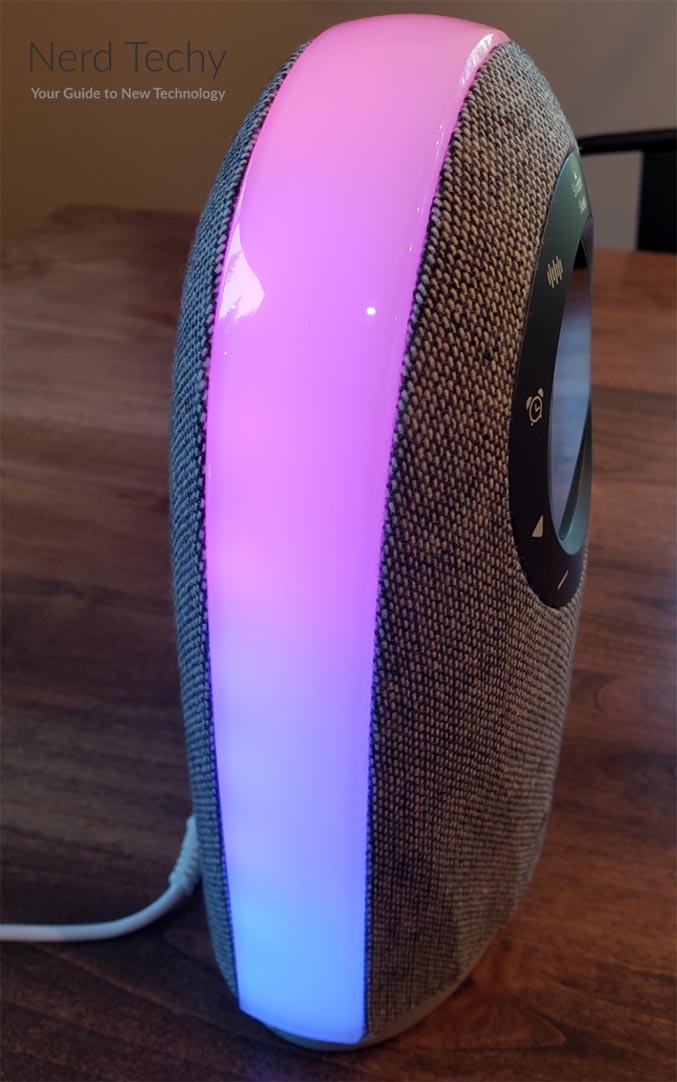 If you need a self-powered speaker, the Tribit StormBox Pro is a much better choice. It boasts a powerful, 24-hour battery, so you can listen to music for a day straight. It's also waterproof, so you can take it with you wherever you want to go. On the downside, there are no "extra" features. There's no clock, no built-in radio, and no lighting.
That said, the Tribit Home Speaker does have some extra power under its sleeve. There's a pair of charging ports on the base, both of which can be used to power other devices. Towards the back, you'll find a 10-watt standard USB port. Towards the front, there's a slightly more powerful 15-watt USB Type-C port. These are active whenever the speaker itself is plugged in. You won't need to worry about plugging your phone into the wall in order to get power.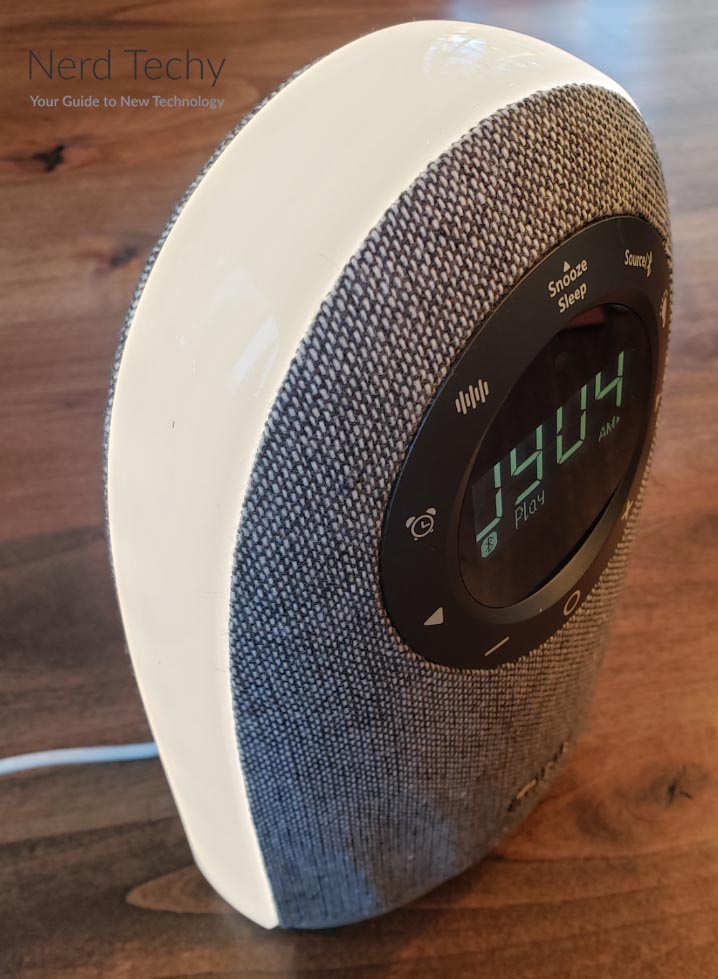 The main way of transmitting audio to the speaker is via Bluetooth 5.0. This is the current standard Bluetooth protocol, and it works very well for most purposes. It provides higher bandwidth than older versions, so you can listen to high-bitrate audio. It also has a more stable signal, so dropped connections are much less of an issue. For what it's worth, it provides lower latency as well. But that's not as much of an important feature on this particular speaker.
In addition to Bluetooth, you can also listen to FM radio. The tuner is easy to use, and as we mentioned, the antenna is reasonably effective. You can connect other devices via a 3.5mm aux cord. Plug in your old CD player or turntable, and you can listen to just about anything. Finally, there's an SD slot in the back, if you want to listen to music straight from a card.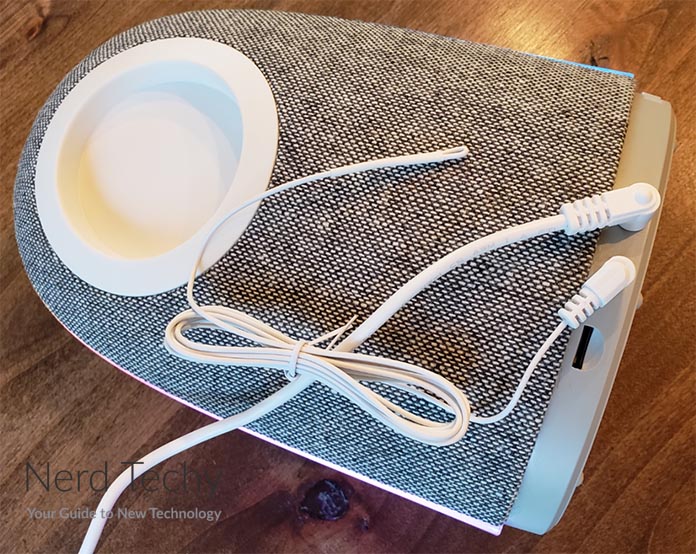 Audio Quality
Ultimately, no speaker is worth buying unless it provides good audio quality. And in the case of the Tribit Home Speaker, we were very pleased. It sounds excellent across the spectrum, with plenty of power no matter what tones you're listening for. This is in part because it has a proper set of internal drivers. There's a large, 3-inch driver for bass and mids, while a smaller, 1-inch tweeter provides the highs. You'll hear rich audio regardless of the genre of music you prefer.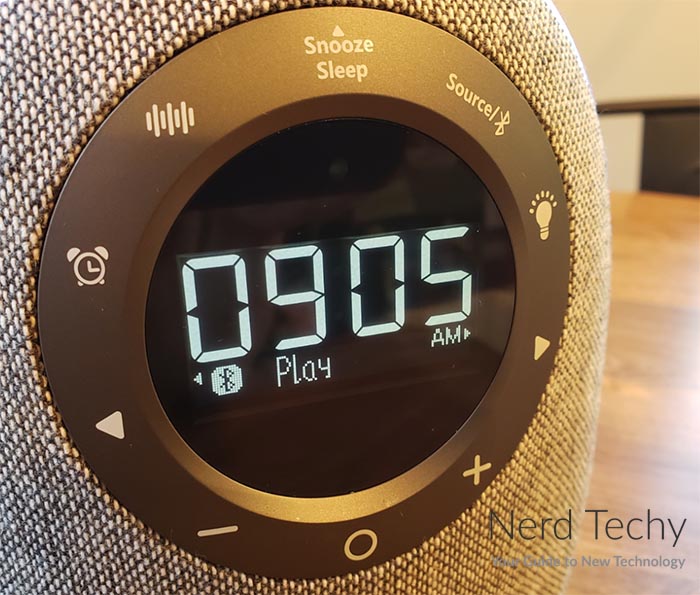 We were particularly impressed by the bass. Tribit advertised powerful bass for this speaker, and they did not disappoint. You'll hear plenty of punch and rumble when listening to bass-heavy audio. As a result, this speaker is surprisingly well-suited for parties. Given the alarm clock aesthetic, this is something we hadn't expected. That said, high frequencies also sound beautiful. You'll hear plenty of shimmer in your classical music, and plenty of twang in your country.
Along the same lines, there's a wide soundstage and a good sense of space. This means there's plenty of separation between instruments. Despite the audio coming from a single source, it doesn't sound squished or cramped. Everything has its place, and you can hear all the instruments without interference. That said, we couldn't help but being a bit irked at the marketing material. This is advertised as a stereo speaker, but it's not. It's one speaker with one channel. By definition, it's a mono speaker. Don't get us wrong. The audio quality is quite pleasing! But if you're going to advertise stereo, there should actually be left and right channels.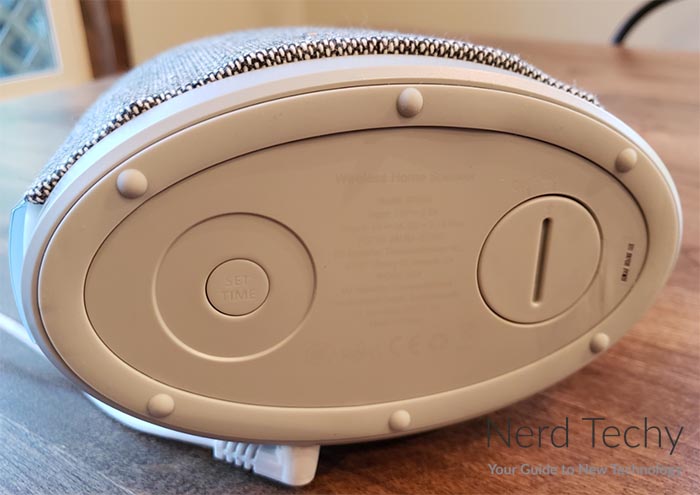 If you want a truly stereo Bluetooth speaker, check out the Tribit StormBox Micro. You can pair two of them to create left and right channels respectively. That said, they're just a pair of small speakers. There's no alarm function, no radio, and no lighting.
Final Verdict
So, is the Tribit Home Speaker worth your time and money? It really depends on what you're looking for. This is not your traditional Bluetooth speaker. For example, there's no battery, so you can't take it on the go with you. On the other hand, it offers features most other speakers don't have. It's really more of an alarm clock than a pure speaker, and should be evaluated as such. If you look at it in that light, it performs very well. And even as a pure speaker, you get very good audio and plenty of connection options. All in all, there's a lot to like, and we had relatively few complaints.
Meet Derek, "TechGuru," a 34-year-old technology enthusiast with a deep passion for tech innovations. With extensive experience, he specializes in gaming hardware and software, and has expertise in gadgets, custom PCs, and audio.
Besides writing about tech and reviewing new products, Derek enjoys traveling, hiking, and photography. Committed to keeping up with the latest industry trends, he aims to guide readers in making informed tech decisions.