If you're concerned about your home's indoor air quality, you're not alone. In fact, millions of Americans invest in air purifiers every year, both for their homes and their offices. But this begs the question: why are our homes making us sick to begin with? The most obvious answer would be pollution, but it's not entirely satisfying. Most pollution happens outside. So if it were pollution making us sick, you'd expect to have issues outside rather than inside. In fact, most of our problems aren't caused by humanity's disregard for the planet. Most of our indoor air problems are actually caused by people being environmentally conscious. How can this be?
The answer is that we've spent the last several decades passing laws to improve home energy efficiency. From an environmental standpoint, it makes sense. An energy efficient home causes less pollution, which is a clear win for the environment. Energy efficient homes are also cheaper to heat and cool, which is a win-win for consumers. But weatherproofing a home requires a number of insulation measures that restrict air flow. Our doors are surrounded with weather stripping. Our windows are double-paned with xenon gas in the gap. And our entire homes are wrapped in Tyvek or another similar material. Where in the past, contaminants would simply cycle out as fresh air came in, that rarely happens anymore. Instead, mold, dust, and pet dander collect to the point where they're unhealthy.
One way to fix this is to use an air purifier. We're about to review the Acekool B-D01 Portable HEPA Air Purifier. This is a compact HEPA filter that's designed for desktop or tabletop use. It's made for treating relatively small areas, like a bedroom or an office. Even so, it has other applications, such as inside your kitchen. But how easy is it to use, and how effective is it? To find out, we're going to have to take a deeper dive into its design. We'll discuss how it's built, how it's used, and how the filtration system works. After that, we'll have a much better picture of what we're dealing with. Let's take a closer look!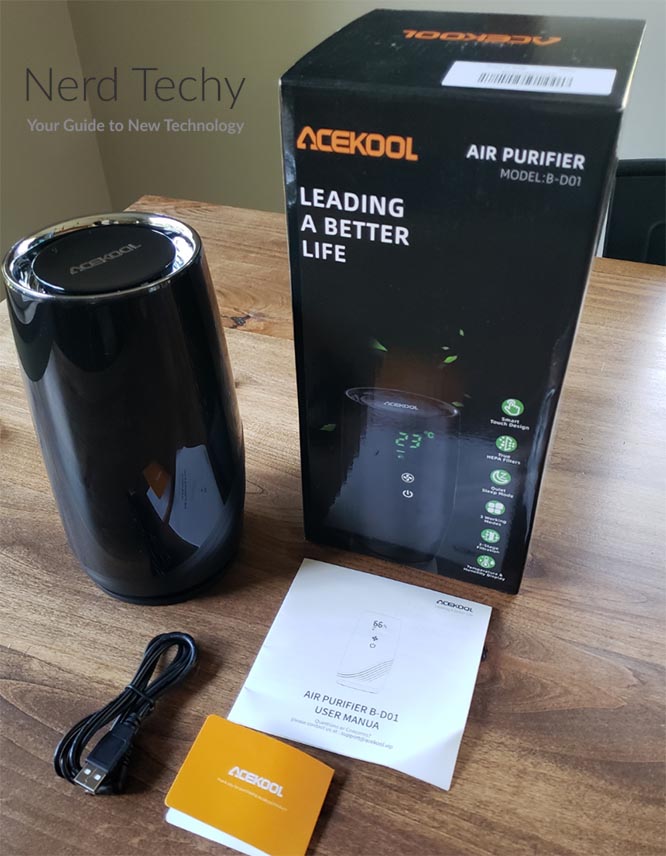 Overall Design
The Acekool B-D01 Portable HEPA Air Purifier is a compact device that's small enough to use just about anywhere. It's roughly cylindrical, but is bowed out in the sides like a vase. The total size is 8.27 inches in height and 3.74 inches in diameter at the widest point. It weighs 31.5 ounces, which is about what we'd expect for the size. This makes it easy to move around without a lot of fuss. The housing itself is a glossy black over most of the surface, with a decorative matte swoosh at the bottom. This makes it easy to keep clean, and also ensures that it doesn't attract too many fingerprints.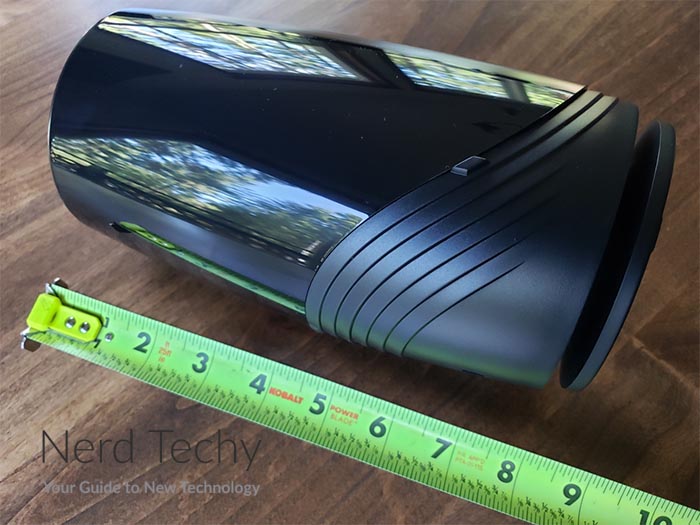 The air intake is located at the base, and runs the entire circumference of the using. The housing is supported here by a short foot, so there's a small gap for air to enter. From there, it gets sucked through the filter, then the motor, and is expelled out the top. By sucking in air from all sides, it ensures that air is cleaned evenly around the room. And by blowing it out the top, it achieves a similarly even level of air dispersal. That said, this does require a certain amount of clearance in order to work properly. Acekool recommends leaving the unit clear by 11 inches on all sides. So while the filter itself is small, it still needs some clear space to work properly.
The controls are all soft touch LED buttons, and they're located on the front of the housing. They're arranged in a vertical row which makes them easy to distinguish. Here, you can adjust the fan speed, reset the filter button, and power the purifier on and off. You can also change the display, which can be toggled between temperature and humidity indicators. The humidistat is a neat feature, and can be very useful depending on your application. The temperature function is also a nice touch. Unfortunately, the only measurement option is Centigrade. There's no way to switch the display to Fahrenheit, which can be irksome for American users.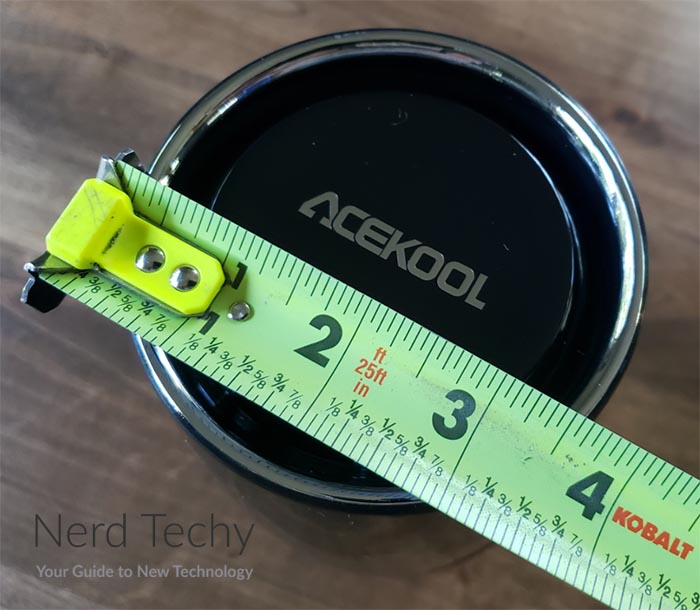 Along with the purifier itself, you get a USB power cable for plugging in. You also get a 24-month manufacturer's warranty, one of the most robust in the business. We're used to seeing 12-month warranties on air purifiers, so this was certainly eye-catching. Not only that, but Acekool provides lifetime support if you run into any technical issues.
Everyday Operation
To use the Acekool filter, the first thing you need to do is plug it in. It only requires USB power, and can run on a laptop or PC as well as a USB outlet. That said, there's no AC adapter in the package, so you'll need to provide your own USB port. Once it's plugged in, turn it on, and press the fan speed to adjust the intensity. A single press will toggle the fan between the second and third power settings. However, there's also an alternative sleep mode. To access this mode, press and hold the fan button for three seconds. To get out of sleep mode, just press and hold the button again.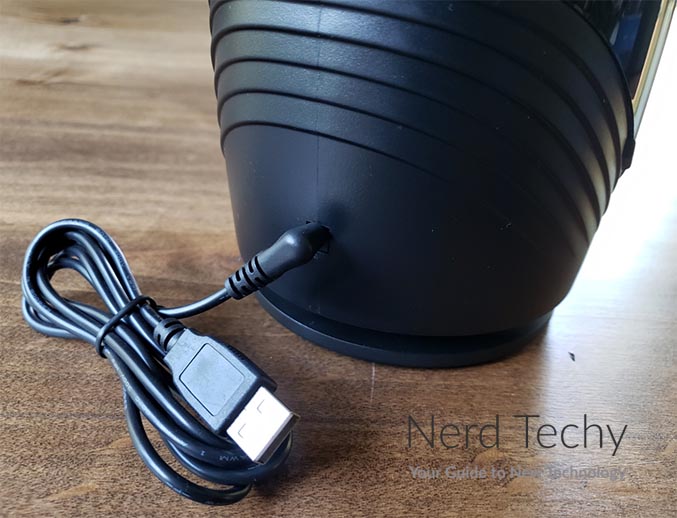 The rated coverage area is 107 to 129 square feet – or 10 to 12 square meters as stated by the manufacturer. This is based on operation at speeds 2 and 3, respectively. Sleep mode is weaker, and is only designed to maintain air quality that is already good. As a result, the Acekool purifier is suitable for bedrooms, offices, and other smaller areas. In larger areas, you'll notice a distinct drop in performance. That said, there are still other applications, like putting it next to your stove while you cook bacon.
If you need better coverage, you're going to need a beefier air purifier. In that case, consider the Zigma Aerio-300. It covers 1,580 square feet, which is more area than a small house. Purifying a basement or a kitchen/living room combo is a piece of cake.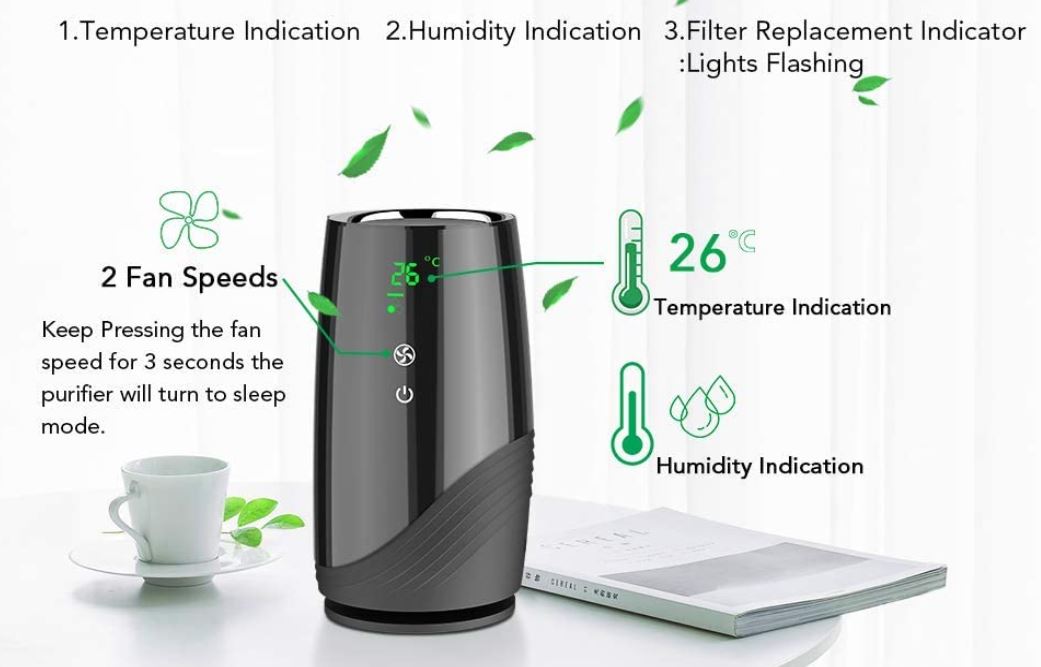 Acekool touts their advanced blade design, which is supposed to be excellent at reducing noise. We were skeptical, but we went in with an open mind. In fact, the sleep mode is insanely quiet, producing only 10dB of sound. You have to hold your ear next to the filter in order to hear the soft whoosh. On speed 2, it's still very quiet, producing only 25dB. That's literally whisper quiet, so we certainly had no complaints. That said, speed 3 is noticeably louder, in line with other air purifiers of this size. So if you're looking for an ultra-quiet sleep mode, prepare to be impressed. But there's nothing super-advanced about the blades themselves.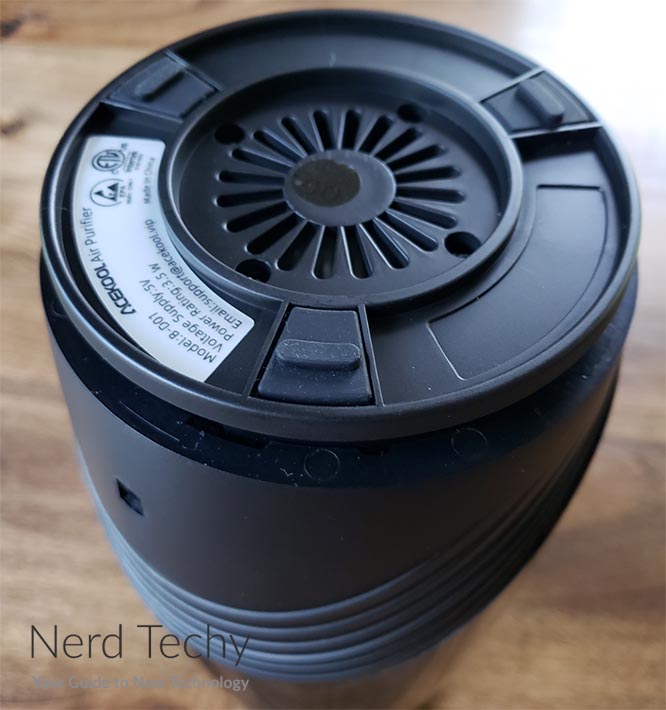 One thing the Acekool purifier won't do is adjust the fan speed automatically. If that's what you want, take a look at the Sensibo Pure. It has built-in air quality sensors, and adjusts the fan speed as needed. It also uses a geolocation surface to adjust based on outdoor air quality. On the downside, it's a bit pricey.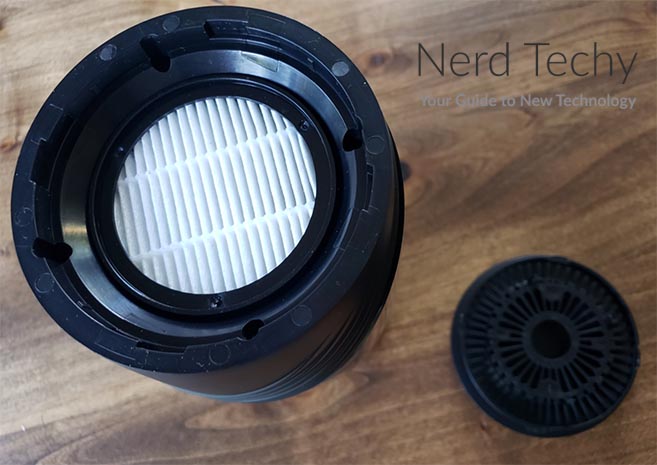 Filtration System
The filter cartridge on the Acekool purifier is very easy to change, and is readily available online. Acekool recommends replacing them every six months, but it will really depend on how dirty your filter is. It's best just to rely on the filter replacement light, which will flash when the filter needs attention. At that point, the actual replacement process is simple. You turn the purifier open and unscrew the bottom. Then, you remove the old filter, drop in the new one, and screw the bottom back in place. The whole process can be completed in about a minute.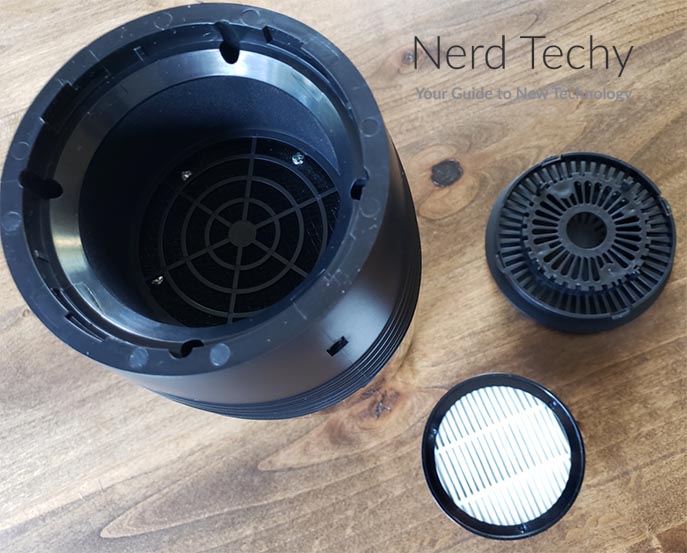 This is a standard three-stage filter designed to remove the vast majority of particles from your air. The first, outer layer is a mesh pre-filter. This isn't designed to capture extremely fine particles. Instead, it captures larger particles like dust, pet dander, and even human hair. That way, these larger materials won't clog the finer inner filter. The pre-filter covers the entire outside of the cartridge, so it's all you see unless you cut it open.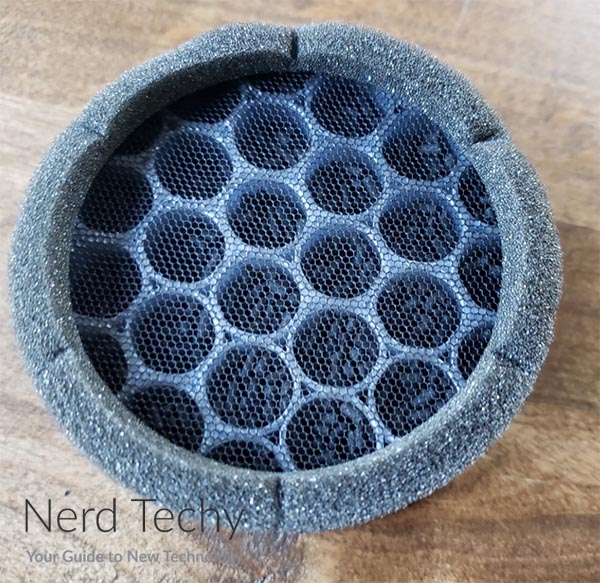 Inside the pre-filter is the main attraction: the HEPA H13 filter. This is an accordion-style filter that will be familiar to just about everybody. It looks a bit like a car air filter, but it's considerably more efficient. This HEPA filter removes 99.97 percent of particles as small as 0.3 microns in diameter. This includes the vast majority of contaminants in your home's air. Pollen, mold spores, dust mites, and smoke particles all fall within this size range. You'll also be able to capture the vast majority of bacteria. That's not to say that the filter is medical-grade, but it will definitely leave your air cleaner.
The last part of the filter is the activated carbon layer. This doesn't capture physical particles, but chemical contaminants. It removes odors from pets and cooking, as well as harmful VOCs like formaldehyde. If you have a chemical sensitivity, this is the most important part of your air filter. It's also essential if you moved into an apartment where the previous occupant smoked.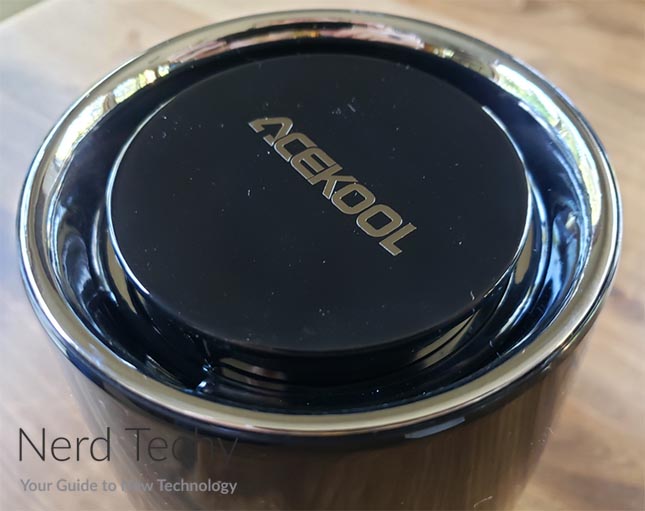 The one major feature the Acekool purifier doesn't have is an ionizer. The TCL Breeva A2 and A3 do. These built-in ionizers cause particles to literally drop from the air, leaving it cleaner than even the Acekool. That said, their coverage area is fairly small, so you're not getting a boost in coverage.
Final Verdict
So, is the Acekool B-D01 Portable HEPA Air Purifier worth your investment? Provided you don't need a ton of coverage, than yes! It provides the same HEPA performance as larger air purifiers, but with a smaller form factor. It has a filter change alert, multiple speed settings, and an ultra-quiet sleep mode. For a small desktop air purifier, that's all you're ever going to need.