ACEFAST 15W
Pros
Supports up to 15W Qi fast charging.
Large enough for most modern smartphones.
Easy mounting and adjustment.
Automatic opening and release function.
Cons
Fast charging requires an additional power adapter.
Won't work with very thick phone cases.
When you're on the road, you need your phone to stay charged. There's nothing like getting to the end of a road trip and having to immediately hunt for an outlet. Not only that, but apps like Waze can drain your battery in a hurry. As a result, many people put their phones on the charger automatically when they get in the car. Makes sense, right? Of course, you could just plug into an ordinary USB cable, but that's not ideal. How are you supposed to use your GPS app if your phone's laying on the seat next to you? A charging stand is more ideal, since it holds your phone where it's easily visible.
But wired charging itself is not always ideal. Your phone's USB port has a limited number of uses. Even on a well-engineered phone like the iPhone, there are only so many times you can plug in. Eventually, simple physical wear and tear will eventually cause the port to fail. If you're constantly in and out of your car, do you really want to be constantly plugging and unplugging? In that case, wireless charging is going to be a better idea. Not only that, but wireless chargers are more convenient than wired ones. If your car charger doesn't require you to plug in, that's one less small step in your daily routine.
We've reviewed several wireless car chargers in the past. Now, we're going to take a deep dive into one in particular: the ACEFAST 15W Wireless Car Charger. This is a charging mount that clamps onto your phone and secures it in place. It charges wirelessly, and is capable of high-speed 15-watt Qi charging. But those are just a couple of facets of a broader design. Is this charger worth owning overall? To find out, we took a close look at all aspects of its design. We'll discuss the basic design, the installation, and what phones it works with. We'll also discuss the charging function, as well as any extra bonus features. Let's dig in!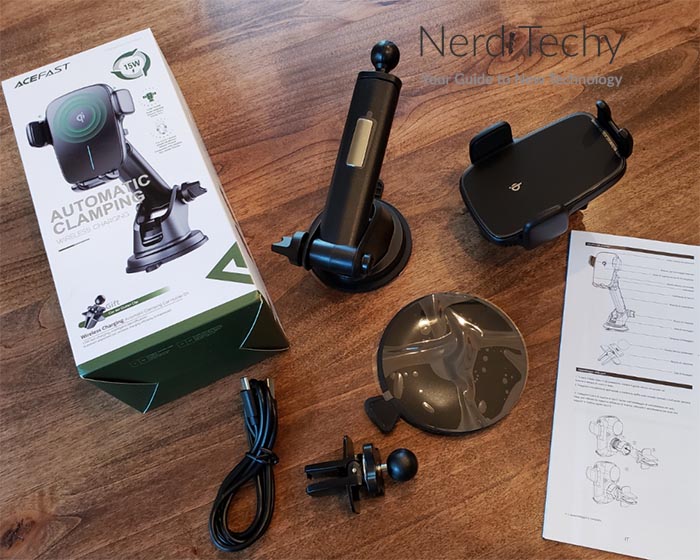 Overall Design
The ACEFAST 15W Wireless Car Charger is designed to support your phone safely and securely. The main part of the design is a broad clamp that's constructed from silicone. This silicone is nice and squishy, and won't easily scratch your smartphone. It has a telescoping design, so it can stretch to fit a number of phones. It can hold any phone with a screen between 4.5 and 7.2 inches. Obviously, this varies a bit on the margins depending on case size. But for the most part, you'll have enough flexibility to support most modern smartphones. The entire unit is black in color, which gives it a slick, modern appearance.
The overall size is 3.74 inches tall, 2.83 inches wide, and 2.44 inches thick. This is the collapsed size, when the clamp is fully closed. In actual practice, it can be wider when there's an actual phone inserted. Point being, it doesn't have a huge profile, and it's not going to block your view when it's not in use. It's also reasonably lightweight, so it won't fall down because it's too heavy. At barely over a pound, it will weigh less than two pounds with most phones installed. As a result, it stays securely in place even under the most demanding conditions. You can drive pothole-filled roads without dropping your phone on the floor.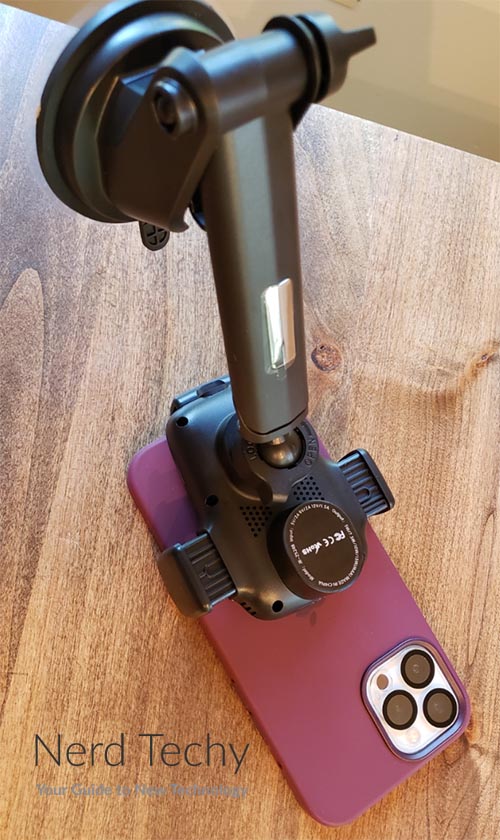 When it comes to mounting, you get a couple of different options. The first is the suction cup mount, which can be used on your dashboard or windshield. This consists of a hinged arm, attached to a stand where it can rotate 360 degrees. There's also a 360-degree knuckle at the end of the arm, allowing for a full range of motion. If that's not enough, the arm itself can also be extended, anywhere from 4.33 to 6.69 inches in length. This gives you a ton of flexibility in terms of positioning. As an alternative, you can use the air vent mount. This is a smaller clip, complete with a screw-down bracket to prevent it from dropping out by mistake.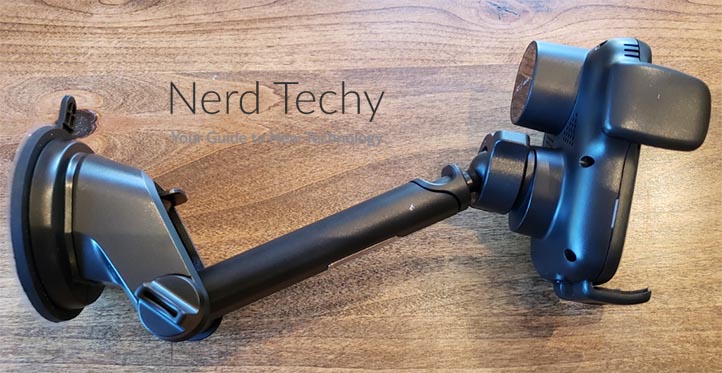 It's powered by a USB Type-C cable, which is included in the package. You simply plug the cable into your car's USB port, and you're ready to go. Unfortunately, there's no cigarette lighter adapter included. If your car doesn't have a USB port, you'll need to go buy your own adapter. On the upside, it's easy to tell when the charger is powered. A pair of LED indicator stripes will illuminate whenever it's active. There's one on the front and another on the side, so you can see a stripe even when a phone is charging.
Charging Power and Compatibility
The exact charging power depends on two different factors. The first is what kind of phone you're using, and the second is your power source. At maximum, you can get up to 15 watts of charging. The charger also supports 10, 7.5, and 5-watt charging. Here's an explanation of what you can expect.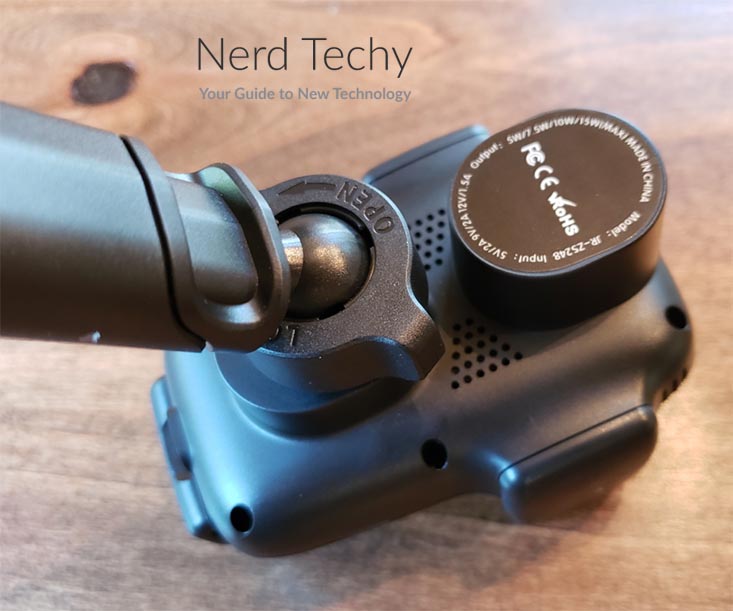 To begin with, getting anything faster than five watts requires a QC 3.0-compatible power supply. This rules out most automotive USB ports. As a result, you'll need to provide your own AC power adapter if you want to get higher-wattage charging. This was disappointing, since you'd think ACEFAST would include such an adapter. If you'd rather not pay more for a separate QC 3.0 power supply, consider Fiora's Ultimate Wireless Car Charger. It offers 15-watt wireless charging right out of the box, without the need for extra accessories. On the downside, it won't unclamp when your car is turned off. This can lead to frustration if you tend to be forgetful.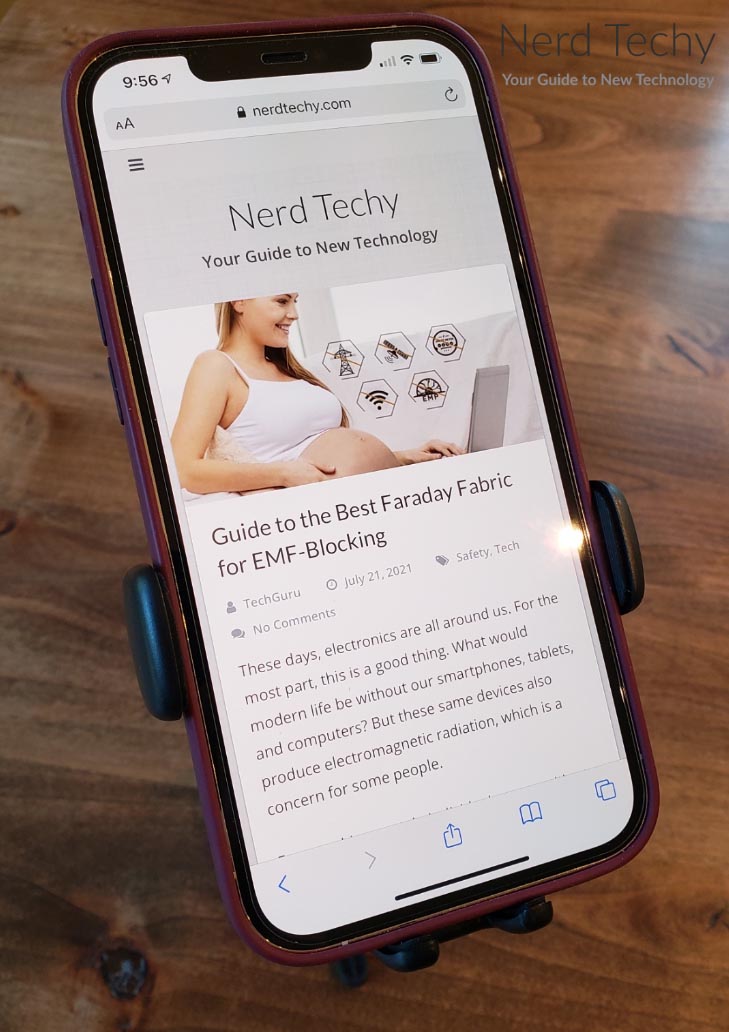 Let's assume you bought a QC 3.0 USB power supply. The fact is, you still might not get a full 15 watts. Not all phones are compatible with those kinds of speeds. In fact, iPhones and Samsungs won't go that high at all. The only phones that currently support 15-watt wireless charging are the LG G7, G8, V30, and V30+. This is particularly disappointing since LG's announcement that they will no longer be making smartphones. Still, we can expect other manufacturers to offer higher speeds as time goes on.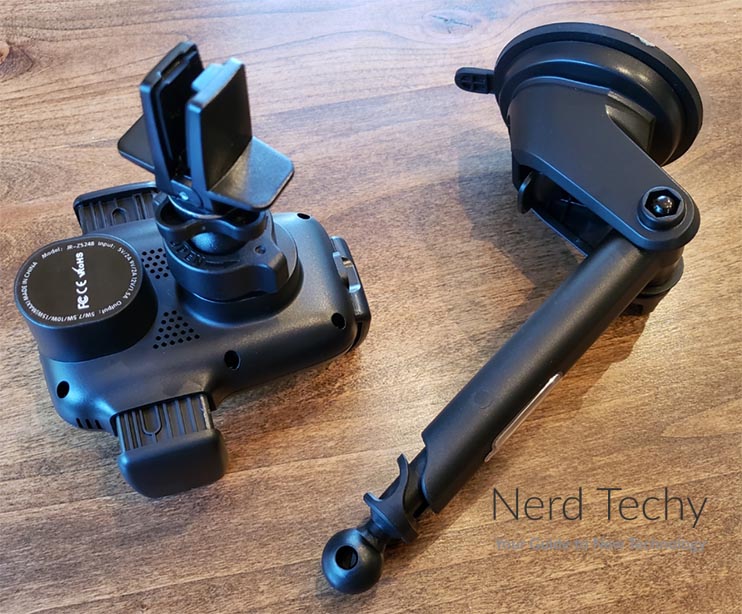 Most Samsung phones support 10-watt charging. These include the Note 9 and up, along with the S9, S10, S20, and S21. Older versions of these phones will only support 5-watt charging. iPhones, on the other hand, will only support 7.5-watt charging. And even then, you'll only get those speeds on the iPhone 8Plus and later. There are a few exceptions, and it would be tough to make an exhaustive list. But for the most part, other smartphones will be capped at five watts.
Finally, keep in mind that your phone case can also impact your charging speed. Thick cases can degrade the signal, as can cases with metallic parts. ACEFAST recommends a case no more than 6mm in thickness, which covers most phone case. That said, if you're using something like an Otter Box, you won't be able to use the ACEFAST charger. For thick phone cases, you'll be better off using a wired charger instead. The Technaxx TX-159 Portable Disco Light USB Car Charger is a great example. It provides plenty of power, and also functions as a fun disco party light.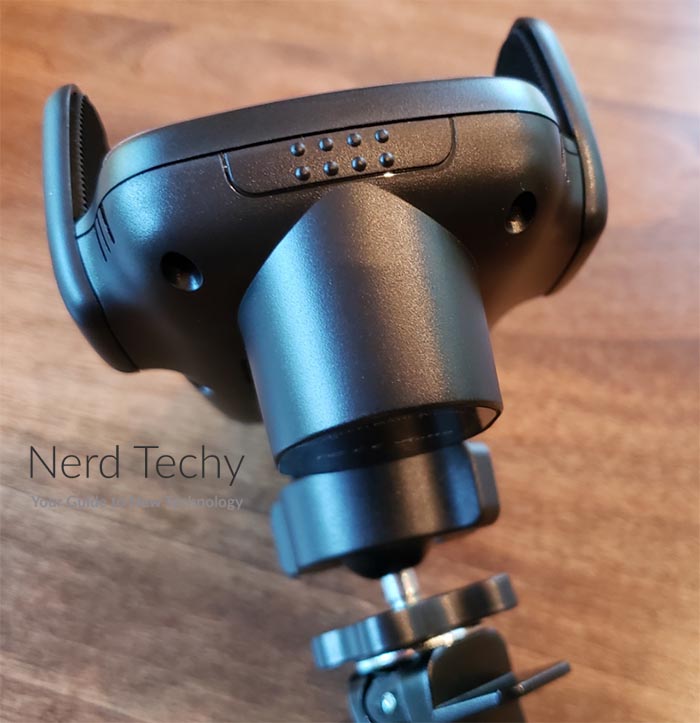 Extra Features
So, we've established that this is a durable charger that works well with most phones. But what else does it bring to the table? For one thing, it's very easy to operate. You don't have to fiddle around with any spring-loaded clamps or other finnicky devices. Instead, there's a touch control surface on the top of the bracket. Tap it once, and the clamp will open. Put your phone in place, and the clamp will then close automatically. Repeat the process to remove your phone when you're done. You're not relying on springs, and you can do the whole thing with one hand. This makes mounting your phone a relatively simple affair.
Another important extra feature is related to safety. Wireless chargers rely on the principle of induction in order to function. Long story short, they create a strong local magnetic field that operates the charging circuitry inside your phone. However, that same local current can cause metal objects to overheat. If you set a key or another piece of metal near an unprotected charger, it can get very hot. It can even start a fire under extreme circumstances. To that end, ACEFAST has built foreign object detection (FOD) into their circuitry. The FOD system automatically shuts down the charger if it detects anything other than a phone. That way, you won't have to worry about your charger starting a fire.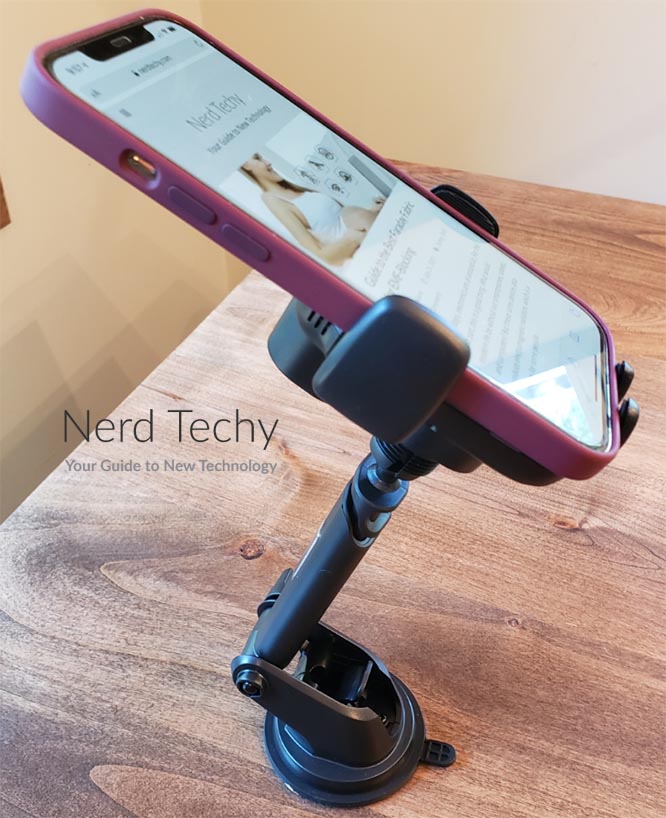 Final Verdict
So, is the ACEFAST 15W Wireless Car Charger worth the investment? Or should you be looking at a different alternative? There's no right or wrong answer for all people. That said, there are a number of benefits to this charger. For one thing, it supports a variety of wattages. Whether your phone supports 5 or 15 watts, you'll be able to get the most out of it. For another thing, it's easy to install, and mounts securely. With both dashboard and vent mounts, you can put it just about anywhere.
Of course, no piece of electronics is perfect. We were disappointed that you need to buy a separate adapter to get more than 15 watts. But that's a relatively minor complaint compared to what you're getting. Another thing we liked is the soft silicone construction. It's designed not to scratch your phone, even if your phone is fairly delicate. And since the clamp opens and closes electronically, it will never be too tight or too loose. Not only that, but the built-in LEDs let you know whenever your charger is active. For the most part, we were very pleased.