These days, everyone has the ability to become a content creator. If you have an internet-connected computer, you can start streaming on YouTube or Twitch. Fortunately for those of us who enjoy user-created content, there's plenty out there. Unfortunately for would-be creators, this means there's a whole lot of competition. Back in the early days of the internet, all you needed was good content. Even if you had a grainy camera and low-quality sound, you could still be a YouTube star.
But nowadays, people expect a bit more. There are everyday people creating streams with green screens, multi-camera setups, and more. Now, we're not saying you need to get that fancy. In fact, if you're just starting out, it's probably a bad idea to spend that kind of money. But there are two things you absolutely must have: good video, and good sound. To get good video, you need a quality HD webcam. For good sound, you need a high-quality microphone.
But sometimes, you need help repositioning your microphone. In that case, you need a boom microphone arm stand. We're about to look at three different options, each of which has its own unique quirks. First is the TONOR Adjustable Microphone Arm Stand. This is a heavy-duty, articulated stand with a long reach. Next, we'll examine the Gator Frameworks Short Weighted Base Microphone Stand. This is a smaller stand, with a heavy base that keeps it securely in place. Last, we'll look at the DuaFire Microphone Arm Stand. This is another clamp-on articulated stand with a long reach. Let's take a closer look at each of them, and see which one is the best.
Why Use an Arm Stand?
There are two broad categories of microphones in the world: dynamic microphones and condenser microphones. Dynamic microphones are the type people use on stage; picture a rock star at a concert. They only pick up sounds that are directly in front of the mic, which eliminates outside noise. It also helps to reduce feedback. However, these mics have a relatively limited dynamic range. Sounds tend to come across as a bit "flat", without a ton of richness. At a live concert, you don't even notice this because you're blown away by the experience. But even musicians won't use a dynamic mic in the studio.
Instead, musicians and streamers prefer condenser microphones. These microphones are far more sensitive, and provide a lot more richness, warmth, and detail. The problem is that they easily pick up a lot of background noise. To limit this as much as possible, it's best to turn the mic volume way down. At that point, you'll need to put it close to your mouth in order to come through loud and clear. Depending on your setup, this is easier said than done. A microphone arm stand can help you with positioning, eliminating many complications.
Boom Microphone Arm Stand Considerations
The first consideration when choosing a microphone arm stand is obvious: size. Whether you need a bigger stand or a smaller one will depend on your situation. There's no right or wrong answer here. It depends on your setup and how much "reach" you need.
Another concern is vibration absorption. A rigid stand can vibrate every time you click your mouse or move around. With a sensitive condenser mic, you're definitely going to hear that noise. Most condenser mics come with a shock mount, a little basket that cuts out vibration. If you have a rigid boom stand, always use your shock mount. If your boom stand is spring-loaded, you might be able to get away without a shock mount. How well the springs work will depend in large part on how much vibration you're dealing with.
The final consideration is how you're going to run your mic cable. With a rigid stand, this is easy. But with a flexible stand, you're going to want to have some play in your cable. The best solution is to use zip ties or rubber band to secure the cable along the full length of the stand. There are couple of caveats here. First, make sure there's enough slack to allow the cable to flex without tugging at the microphone. Second, make sure to route the cable around the outside of hinges. If you route them through the inside, they're liable to get pinched when you flex the arm.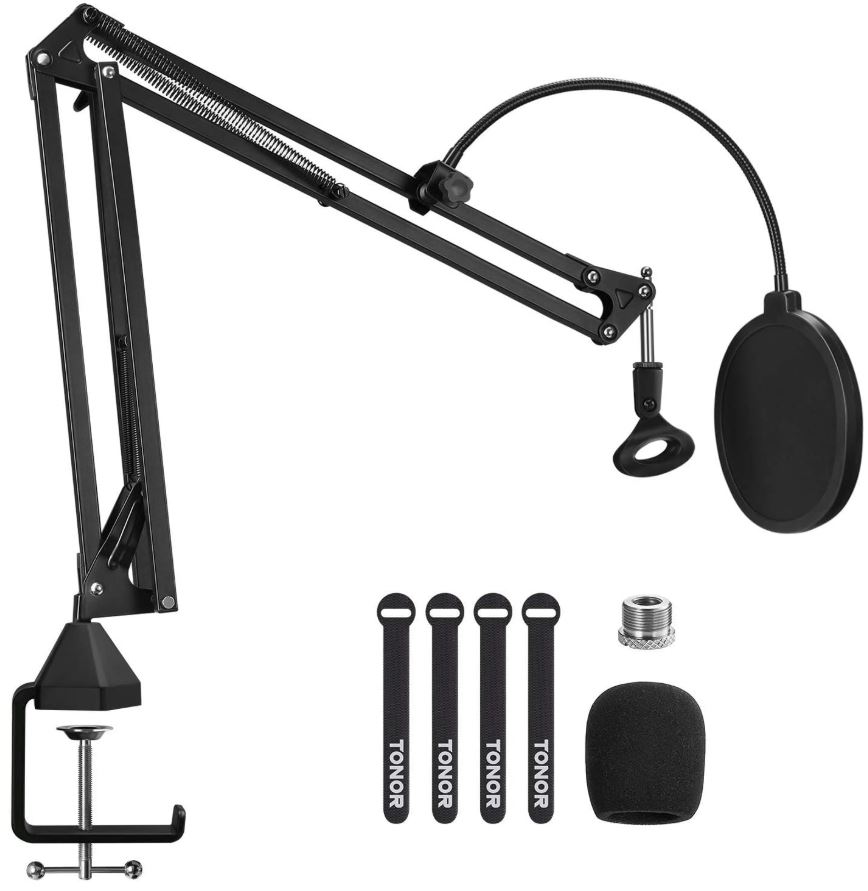 TONOR Adjustable Microphone Arm Stand
The TONOR Adjustable Microphone Arm Stand has a heavy-duty, durable design. It's constructed from black stainless steel, so it can take a serious beating. It consists of an arm with a flexible elbow in the middle, along with a clamp at the bottom. The clamp opens as wide as 2.4 inches, which makes it suitable for attaching to just about any surface. Even on a very thick desk or table, you shouldn't have any trouble mounting it. Once it's mounted, you'll be able to position the microphone with ease. The base rotates 360 degrees, so you can orient it however you like. You can also mount it on any edge of your desk, since it can always be pointed towards you.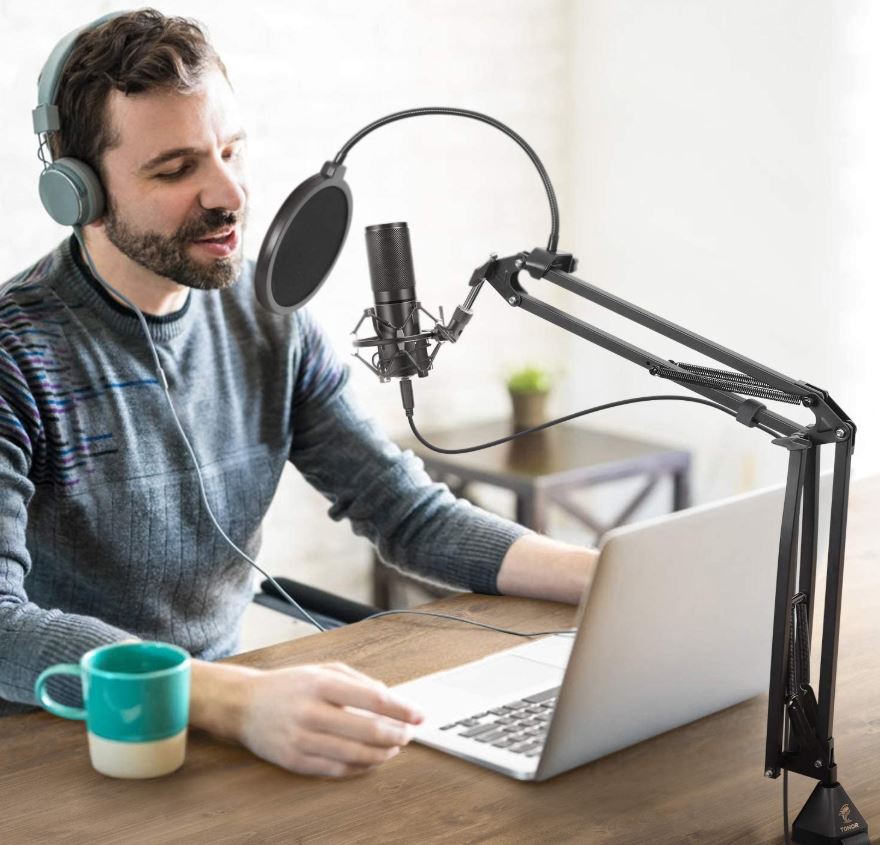 The flexible arms themselves are fairly stiff. They have a maximum weight capacity of four pounds, so they won't sag even with a very heavy mic. We would have liked them to be a little less stiff, but that would correspondingly lower the weight capacity. It's an engineering problem with no easy solution. Suffice it to say that orienting the mic is initially very easy. However, if you frequently adjust your mic during a stream, the stiff design might be a bit uncomfortable. The elbow in the center can rotate 180 degrees, and each half of the arm measures 13.8 inches in length. This gives the arm a total vertical range of 27.6 inches, which is quite substantial.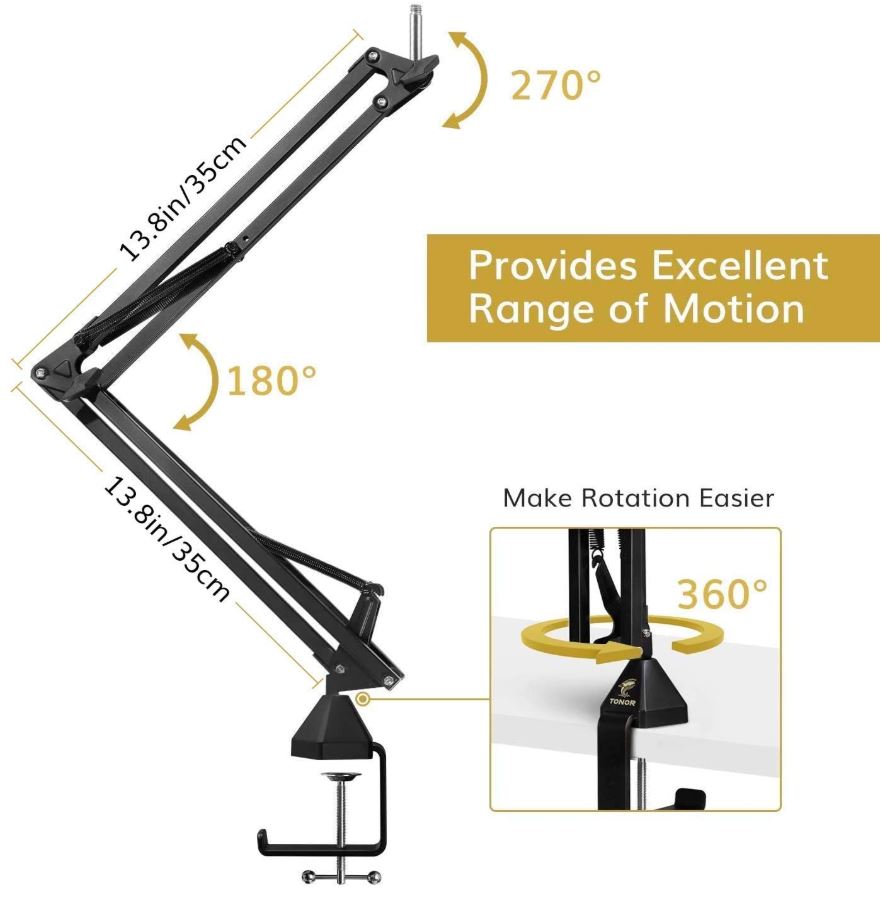 The screw mount at the head of the arm rotates 270 degrees, providing additional versatility. By default, it has a 3/8-inch screw. However, there's a 3/8 to 5/8-inch adapter included, so you can attach any microphone or shock mount. Along with the arm stand itself, you get a few extras. You get a foam mic cover, just in case your mic didn't include one. You get a pop filter, which is essential to removing harsh noises from your audio. Finally, you get a set of four cable ties. These rubber straps are very convenient for attaching your cable to the mount. An owners manual and warranty card complete the kit.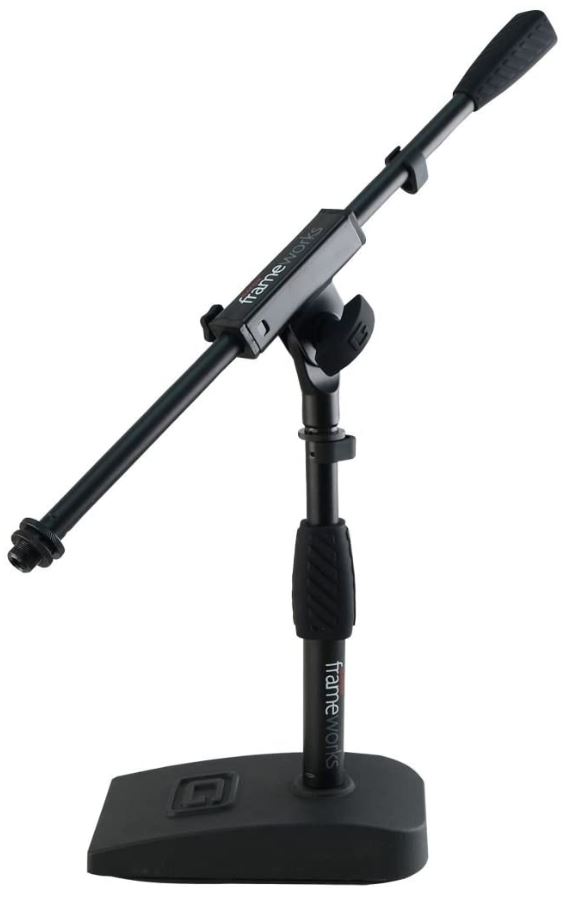 Gator Frameworks Short Weighted Base Microphone Stand
The Gator Frameworks Short Weighted Base Microphone Stand has a more traditional design. Instead of having a flexible, hinged arm, it looks more like a standard microphone stand, but shorter. It consists of a weighted, U-shaped base, with an upright boom mount. Attached to the top of the boom mount is an arm that extends to hold the microphone itself. That's about it. In terms of overall design, it doesn't get much simpler than that.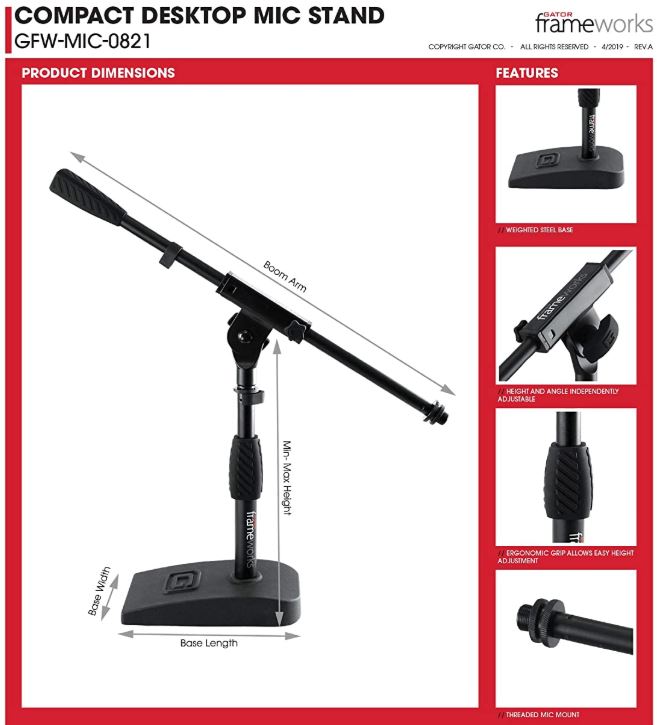 The overall weight of the unit is 7 pounds, which makes it a bit hefty. That said, most of the weight is centered in the base, which measures 4.5 inches wide and 8 inches long. This keeps the stand very stable, so it won't easily tip over if your desk gets rocked or bumped into. The base is constructed from heavy-duty stainless steel, while the boom and upright are lightweight aluminum. The entire unit has a matte black finish, just like most pieces of professional audio equipment.
The upright mounts neatly into the base, and has an adjustable height. It can be adjusted from 11.4 to 14 inches, so it's suitable for a variety of desk heights. Adjustments are made via a rotating plastic collar on the upright. Unscrew it to loosen the vertical rod, and tighten it to lock the length into place. The height measurements can be a bit confusing, since the manufacturer states a max height of 23 inches. The reason for this variance is that "max height" includes the boom arm.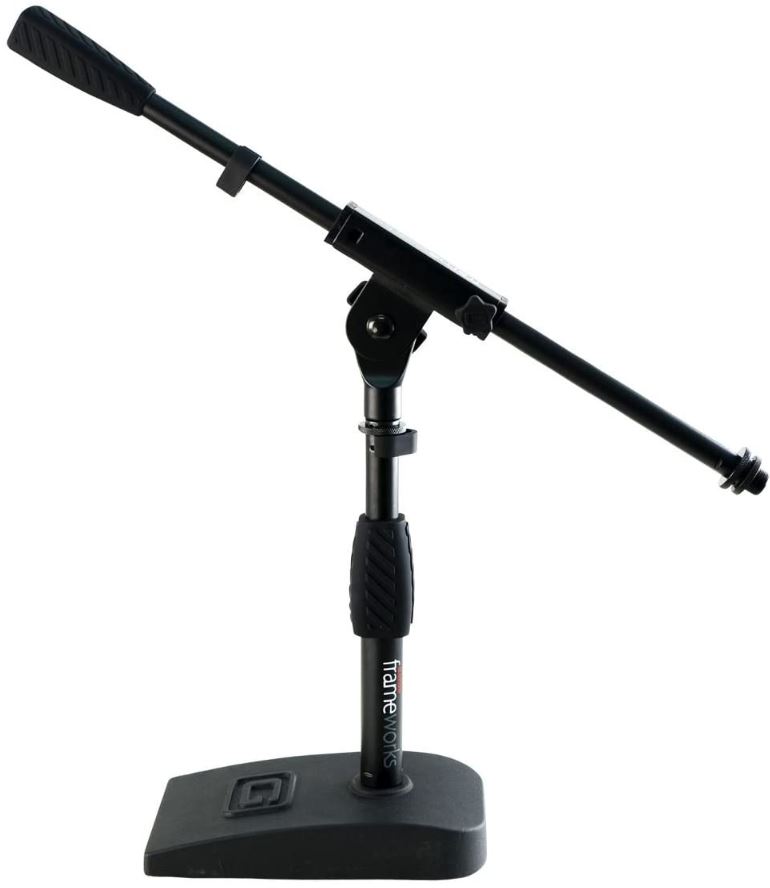 The arm itself can be extended or retracted, and runs through a square clamp at the top of the upright. It measures 16 inches in length, and is secured in place with a simple set screw. On the back, there's a large plastic knob that makes it easy to grip. On the front, you'll find a 5/8-inch screw mount for attaching your mic or shock mount. This mount includes an adapter, which can be removed to reveal a 3/8-inch screw. As a result, it can be used with any modern microphone.
The kit includes a set of removable, adjustable cable clips. These clips are designed to keep your mic cable securely in place, so there are no concerns about it dangling.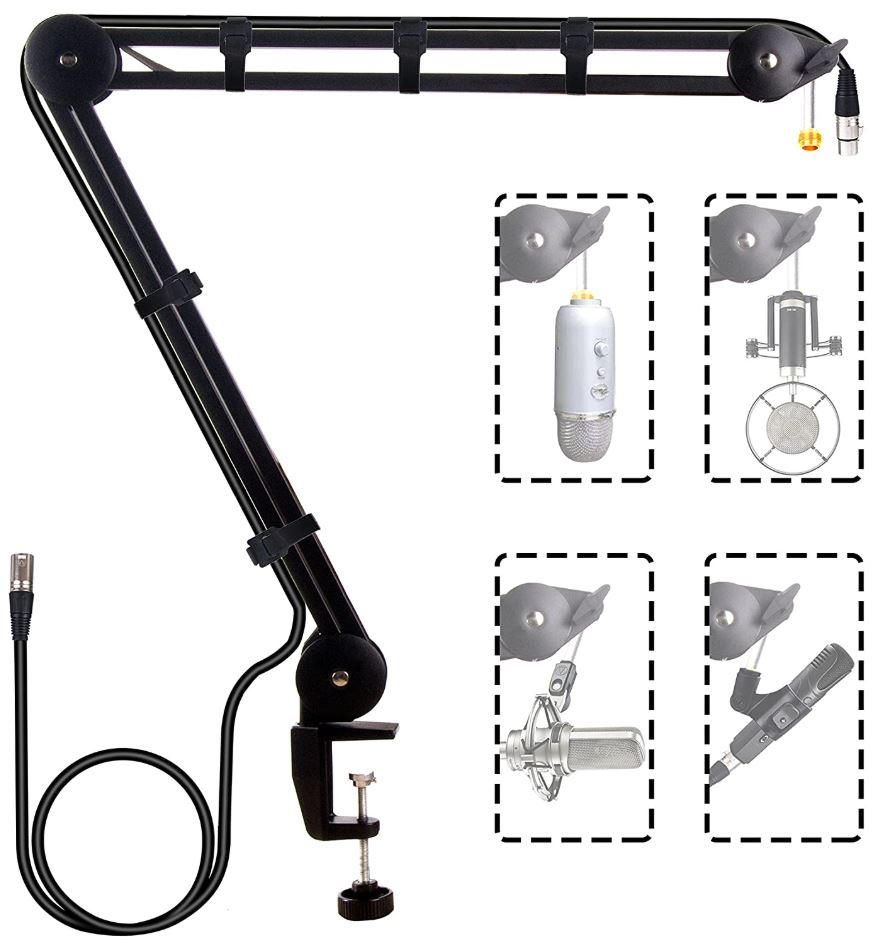 DuaFire Microphone Arm Stand
At first glance, the DuaFire Microphone Arm Stand is similar to the TONOR stand we started out with. It has a hinged design, with a long arm that has an elbow in the middle. However, the design isn't spring-loaded. Instead, there are elastic tension bands inside the elbow that hold it in place. For most purposes, this is a very robust design. Not only does it keep the mic arm in place, but it also eliminates potential pinch points. On the other hand, it also means that if the arm is nearly closed, it will snap shut all the way. In practice, this shouldn't be an issue, since you wouldn't use the arm in that configuration. Just watch your fingers when you're closing it up for storage.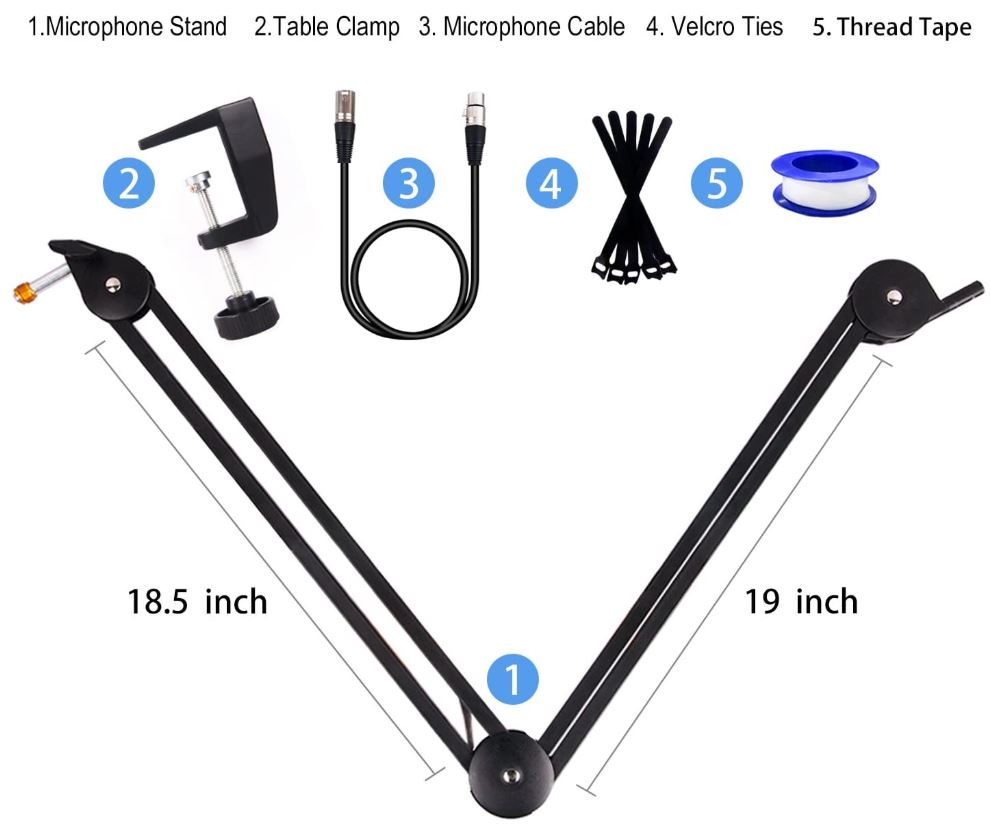 The overall reach of the DuaFire arm is 37.5 inches, which gives it plenty of range. The base rotates 360 degrees, which makes for very easy placement. Even on a very wide desk, you can mount your boom arm off to the side with no trouble. The desk clip opens to a maximum of 1.85 inches, which accommodates most tables and desks. The maximum weight capacity is 2.86 pounds. This is less than the TONOR arm, but in practice, it should hold just about any mic. You also get five Velcro ties, which makes cable management a breeze.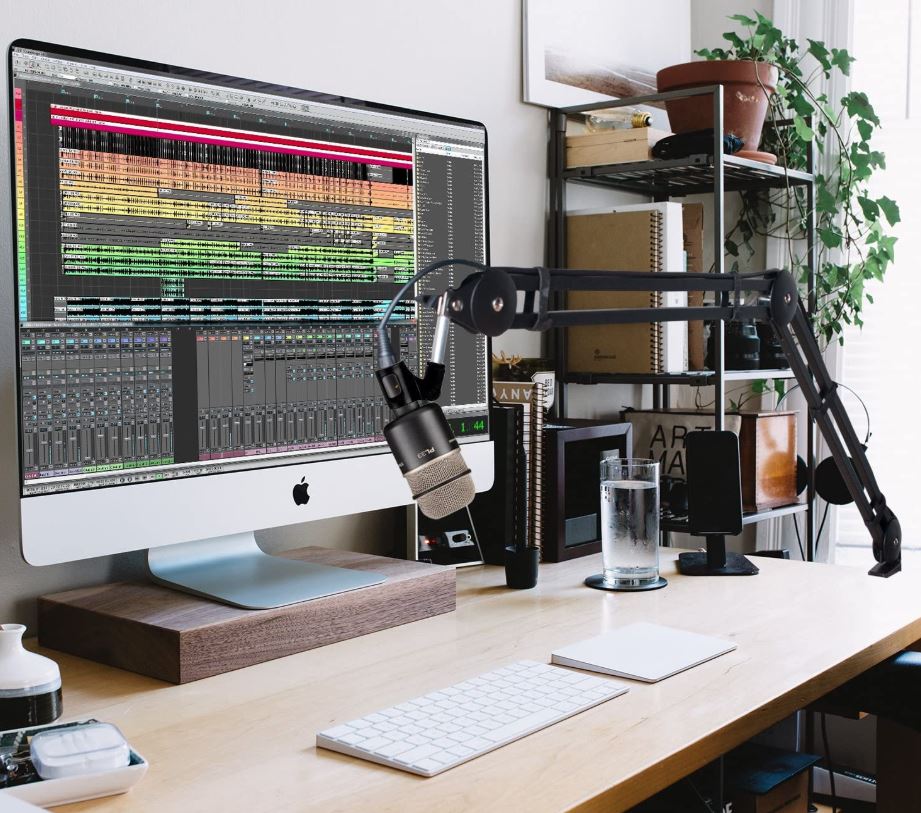 Final Verdict
Which one of these suspension boom microphone arm stands is the best choice for you? It's going to depend on exactly what you need. Let's go over what we've learned. The TONOR Adjustable Microphone Arm Stand is a fairly standard arm stand. It has a two-part design, with a flexible elbow in the middle. With a height range of over 27 inches, it's very versatile. And with a 2.4-inch clamp, it can mount on just about any surface. The extras, such as the pop shield and cable ties, are a great added value. However, they can be gotten very cheaply, and shouldn't be a deciding factor. But the durable construction makes the TONOR stand a great choice for long-term use.
The Gator Frameworks Short Weighted Base Microphone Stand looks more like something you'd see on stage. It has a small, but heavy base with a simple upright and a 16-inch boom. As such, it doesn't offer as much flexibility as the other options on our list. It also doesn't offer any built-in shock absorption. You're definitely going to need a shock mount to use your microphone without problems. On the other hand, the Gator Frameworks stand is an excellent choice if you're dealing with limited space.
Last, we looked at the DuaFire Microphone Arm Stand. This stand has a longer reach than the TONOR arm, with almost three feet of reach. As a result, it's ideal for very large desks or tables. It also has an elastic hinge, rather than a spring-loaded one. This makes it a bit stiffer, but it also eliminates pinch points and reduces noise during adjustments. The downside is that the thread mount only supports 3/8-inch mics. To use a 5/8-inch mic, you'll need an adapter, but adapters are cheap, so that's not much of a problem.