WinX DVD Ripper
Video Format Support
8.5/10
Video Output Quality
9.0/10
Pros
Can rip any modern DVD.
Supports a wide variety of file formats.
High-quality video encoding.
Easy to install and use.
Cons
Cannot edit video or burn DVDs.
Free version has limited functionality.
When they first rolled out, DVDs promised to change everything we knew about home video. Instead of clunky, low-resolution VHS tapes, we had slim optical discs with HD video. Better yet, you didn't have to rewind when you were done! Rental companies also rejoiced. Suddenly, Blockbuster could fit more than twice the number of movies on a shelf. But as Blockbuster learned the hard way, technology continues to advance. Nowadays, most of our media is digital. Whether you're watching YouTube videos or enjoying The Mandalorian on Disney+, there's no physical media.
This isn't to say that DVDs are dead. After all, a movie on a streaming service may only be there temporarily. If the copyright holders negotiate a deal with a different service, you can lose access to that movie. If you want to own a copy of your favorite movie, a disc is still usually the only way. Not only that, but DVDs provide a lot more than the actual movie. Yes, you can watch the Lord of the Rings trilogy on Netflix for no extra charge. But you don't get the behind-the-scenes footage, the cast commentary, or any of the other extras. So for true fans of a given movie, discs certainly retain a certain special status.
But let's say you want to watch that same movie on your smartphone, or on a Chromebook. Without a disc drive, you're going to need a digital copy. The same goes for old home videos. If they're saved on DVD, now is a good time to think about digitizing them. And to digitize your DVDs, you'll need the right software.
We're about to review the WinX DVD Ripper. This is a powerful software designed for converting your DVDs into digital files you can take anywhere. It comes from the same company that makes the WinX HD Video Converter Deluxe, so we were eager to look closer. Now, let's talk about how it works, and what kind of files it can work with. After that, we'll sum up what we've learned, and deliver our verdict!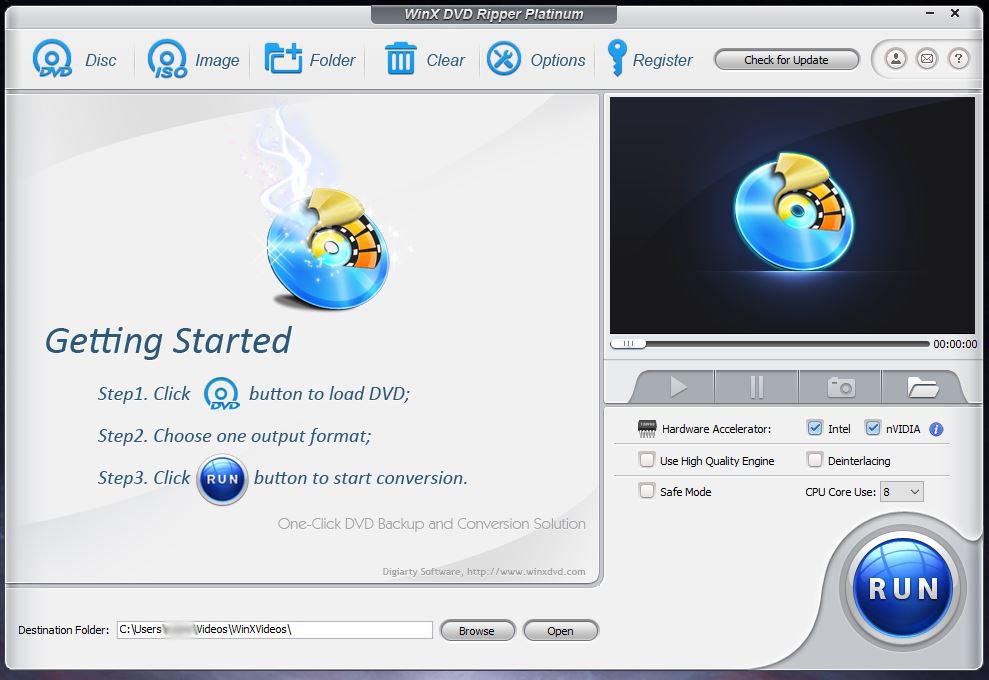 Look and Feel
The first step to using the WinX DVD Ripper is to download the install package. The default link will take you to the Windows version of the software, which works with Windows 7 and later. However, you can also download a Mac install package. That said, there are also two different versions of the software. The first is the basic, free version, and the second is the paid, or "platinum" version. At the time of this writing, there's no platinum version available for Mac. So if you're a Mac user, you can skip everything in the section labeled "Premium Features." For Windows users, you'll be able to unlock the platinum version at any time.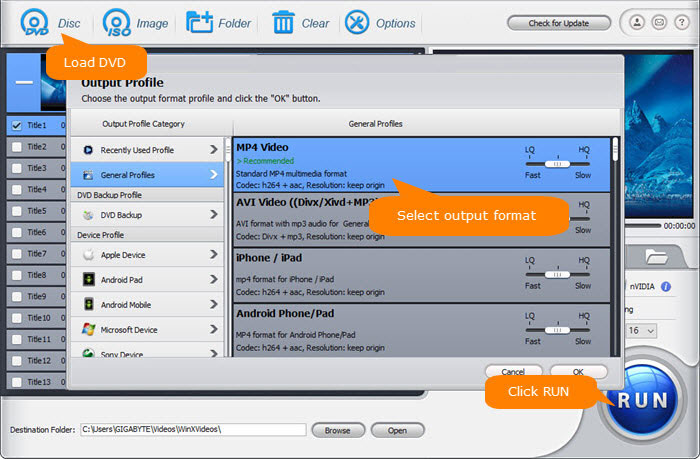 When you first launch the program, you'll have a number of loading options. You can choose to load a physical DVD, as well as a DVD folder or an ISO image. Folders and images are ways of storing a DVD that has already been ripped. So if you're just backing up physical DVDs, you'd want to use the "Load DVD" option. Once you choose your video source, you'll see a short loading screen. During this time, the software is determining which title to read from the DVD menu. After a few seconds, you'll be able to rip the DVD to video.
You'll see a list of file format options, which will depend on which version of the DVD Ripper you're using. By default, you'll see the option you've last selected. However, there are a range of other choices to choose from. Select the one you want, and you'll see a button that says "Browse." Click the Browse button, and you'll be able to choose from a list of folders. Choose where you want to save your video, and click the "Run" button.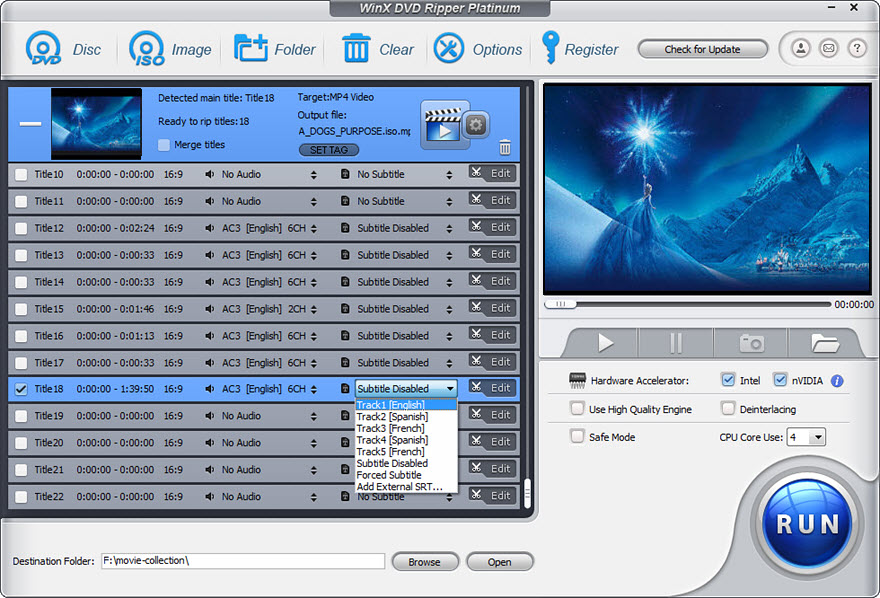 How long the actual conversion process takes will depend on the version of the software you're using. For now, we're discussing the standard version, which converts at roughly 48 FPS. This means a 2-hour DVD will take a little over an hour and 15 minutes to rip.
Keep in mind that this assumes you're using a reasonably new computer. If you're using an older system, the WinX ripper won't be able to perform to its full capacity. This is especially true if your computer relies on your CPU's native graphics instead of using a dedicated GPU. Because the software depends on GPU acceleration, it won't work as quickly on that kind of computer. This isn't a criticism of the WinX software per se. It's universally true of any software that requires a lot of GPU power. Still, you should know to expect slower speeds if your computer isn't strong in the graphics department.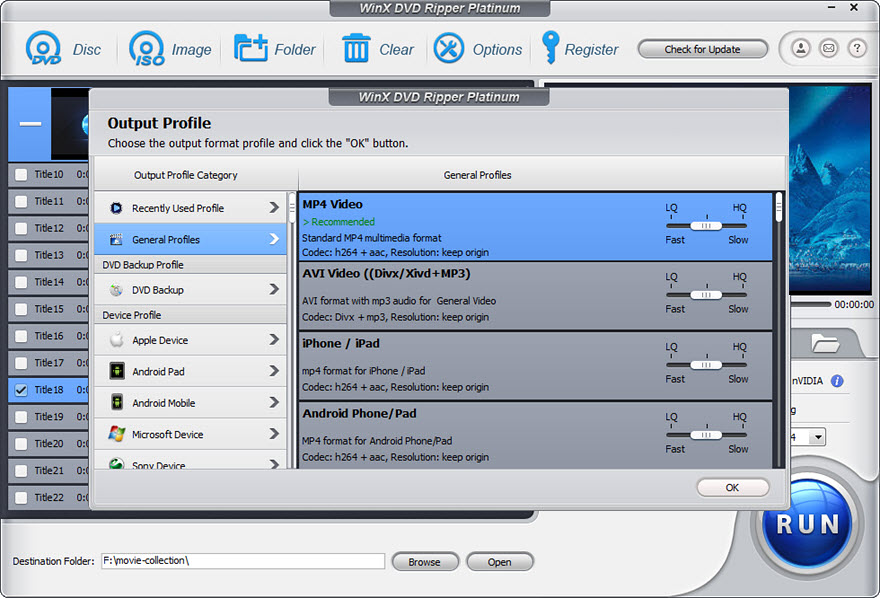 Supported DVD and Video Formats
So, what can you actually rip, and what kind of files can you rip it to? To begin with, as should be obvious, you can rip from a physical DVD. In most cases, this is what you'll be doing. That said, you can also rip video from DVD folders or ISO images. This can be useful if you have existing backups in these formats, but no way to access the video. It can also be useful for extracting video from files you've obtained by less-than-legal means. Not that we would condone that, of course.
As far as how you can save your files, it depends on the source. For DVD folders or an ISO image, you'll have to choose a video format. For physical DVDs, you can save as video, or as a raw DVD folder/ISO image. The latter two options are better for long-term backup, since they're lossless. You'll keep the same video and audio quality as the original. You'll also keep the menus, ancillary tracks, and other data that aren't part of the main video. With appropriate DVD burning software, you'll be able to reconstruct the entire DVD from just that file.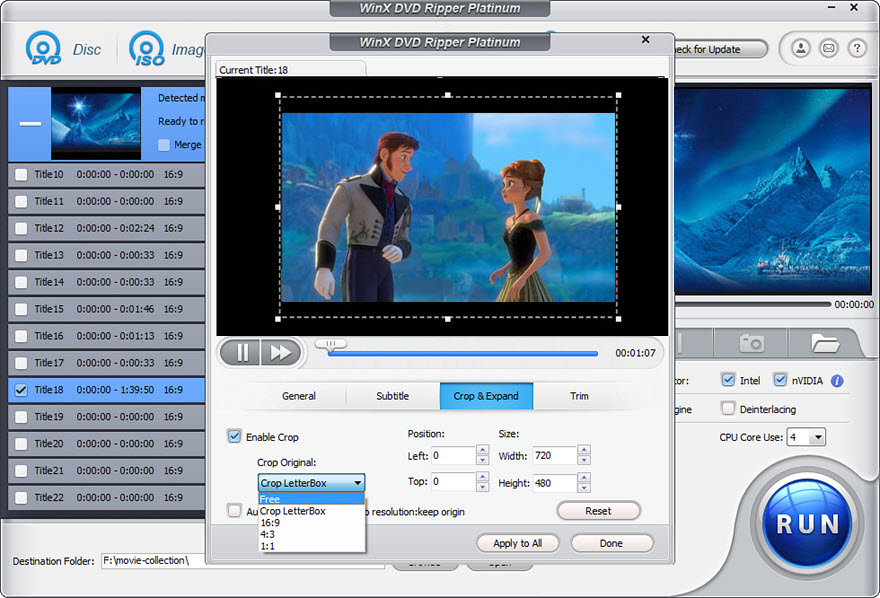 That said, let's assume you're trying to extract the raw video. For most people, that's going to be the case. It's how you take the video from a DVD and watch it on a device without a disc drive. For that purpose, the free version allows you to choose two different options. The first is the MP4 format, using the H.264 codec. The reason for this is that MP4 provides an excellent balance between file size and video quality. It's also widely compatible. Smartphones, Chromebooks, PCs and Macs can all play MP4 video by default. As a result, this is a sensible format to throw on a thumb drive or media server. You won't have to worry about it being compatible with any other devices.
You can also save videos in the AVI format. AVI is also widely-compatible, although you can get some funky results on Android devices. It also doesn't allow you to store second audio tracks for different languages, and it doesn't support subtitles. On the other hand, AVI files are significantly smaller than MP4s. If you're trying to save storage space, this format can be a better choice.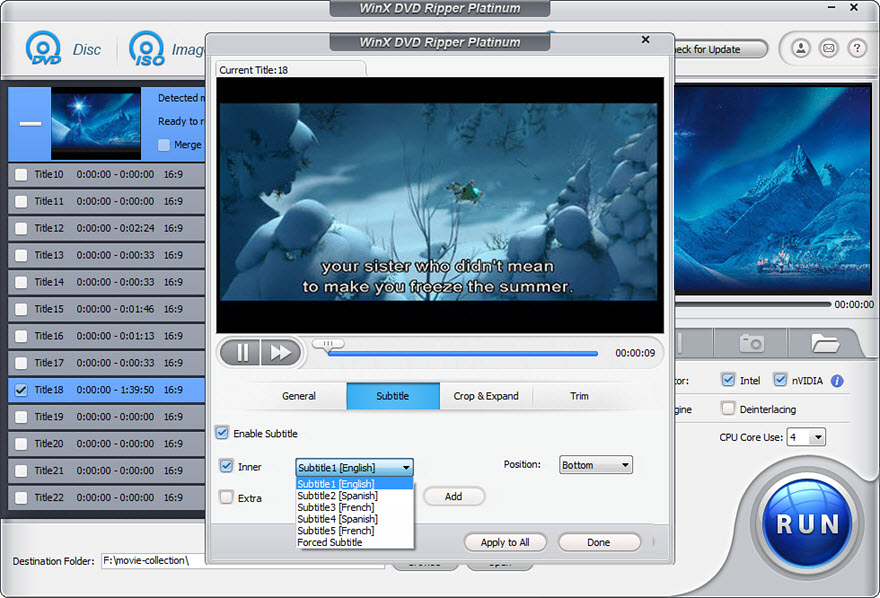 Premium Features
The platinum version of WinX DVD Ripper comes with a handful of other features that add a ton of value. Of course, you'll have to pay a bit extra. But if you need these features, it can be well worth the expense. To begin with, the platinum version takes advantage of Level 3 hardware acceleration. The exact details are fairly technical. Suffice it to say that it allows for much faster ripping speeds on newer computers. If you've got the right system, you can rip a 2-hour video in less than 10 minutes. The average speed of 387 FPS is blazing-fast, and far better than most competing programs. Once again, this assumes that you've got a newer system with a powerful GPU. Your actual performance can vary widely.
Another advantage of buying the platinum upgrade is the ability to back up more commercial DVDs. There's a constant back-and-forth between major media companies and DVD ripping software. Companies come up with advanced copy protection schemes, and programmers find a way to get around it. Currently, major companies like Disney and Paramount are using a technology called 99 Titles. Essentially, this technology creates a slew of phony titles inside the DVD's internal structure. When a regular DVD player tries to play the movie, it can find the right title. But without the right key, ripping software can't figure out which file to even read.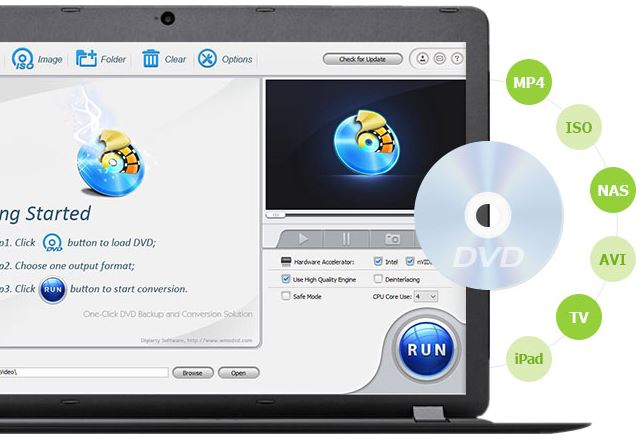 The WinX DVD has the capability to rip any DVD, including those with 99 Titles protection. That said, this functionality is only available on the platinum version. If you want to rip newer commercial DVDs from a major company, you'll need to pay. That said, you'll be able to rip most older DVDs just fine with the free version. And for personal DVDs like home videos, you should have no problem whatsoever.
The platinum upgrade also provides access to a wider variety of video formats. In addition to standard MP4 and AVI options, you'll get to choose from more than 210 codecs. This allows you to rip to obscure formats that aren't supported by most other software. You can also choose between more than 350 preset profiles. For example, you can format your video for YouTube and other popular video sharing sites. Finally, you'll also be able to rip DVDs to the new HEVC format. This allows for gorgeous Ultra HD video not available with most formats.
Final Verdict
The WinX DVD Ripper is one of the most powerful DVD ripping packages available on today's market. With the ability to choose between a variety of formats, you can rip videos for playback on any device. Even better, the free version offers a ton of functionality. Unless you need advanced features, you can get away without paying a single penny. If "free" isn't a good value, we don't know what is.