Quick Analysis
File Format Support
9.5/10
Video Output Quality
9.0/10
Editing Capabilities
7.0/10
Pros
Supports 24 different video formats and 9 HD formats.
Takes only minutes to download and install.
Can download and encode video from the web.
Can also convert photos and audio files.
Cons
Not always clear which options are in which menu.
Minimal editing features.
If you're trying to use one video for multiple purposes, you know how tricky formatting can be. You test a dozen different options, and come up with something that looks beautiful on YouTube. But dig a little deeper, and the same video looks like garbage on Facebook and won't even upload to BitChute. If you want your video to look beautiful on every platform, it needs to be formatted for every platform. This can mean taking the same video and making three or four versions.
In addition, content creators know how important it is to be where the viewers are. This means we're always looking to upload videos to new platforms. Sure, that new startup streaming site might only get you 100 views today. But if that site ends up being the next YouTube, you'll be one of the first to post there. Unfortunately, this can mean working out yet another optimum format. And if you've got a backlog of 100, 200, or 500 videos, converting all those videos can be a pain. It helps if you have an easy-to-use conversion software, where you can queue files up and walk away.
Today, we're going to be reviewing the WinX HD Video Converter Deluxe. This is an advanced video conversion program for changing videos from one format to another. It's designed for everyone from content to creators to casual social media users, and it's priced accordingly. We should point out that we reviewed the Windows version of the software in particular. It's available for Mac, and the Mac version offers the same features. However, we were only able to get "hands-on" with the Windows version. With that out of the way, let's get on with the review!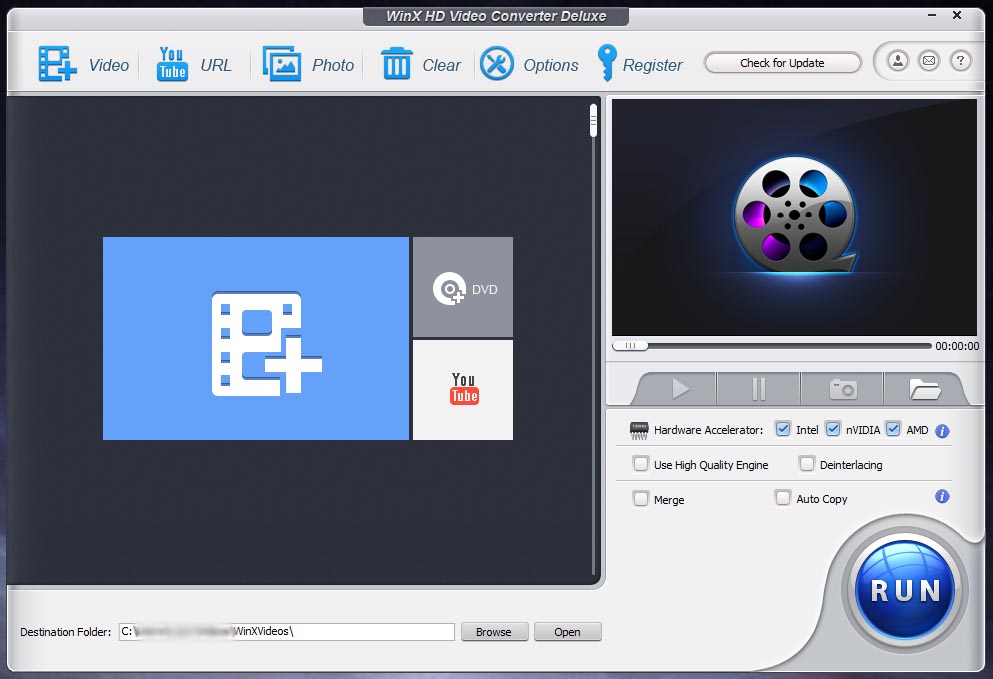 Look and Feel
The WinX HD Video Converter Deluxe is free to install and try. You simply download the install file from their website and follow the prompts. The free version of the software offers all the same conversion and editing options as the paid version. However, you'll only be able to convert videos that are five minutes long or shorter. You'll also only be able to convert a single video at a time. If you queue up multiple videos, you'll receive a prompt after each one finishes. That said, the free version is more than functional enough for a demo, and the paid version is reasonably-priced.
The interface is simple and straightforward, with large buttons at the top for importing files. You can also use these buttons to import social media links, clear videos from your queue, and adjust your settings. It has an old-school, boxy look, but if you're not hung up on aesthetics it's pretty functional. Not only can you add files by clicking the button, but the queue allows for drag-and-drop importation. So if you're converting an entire folder full of files, you don't have to import them one at a time. Just select them all and drop them in the box.
Once the files have been added to your queue, a window will appear with a list of preset options. These options are sorted into 17 categories, with additional subcategories. Some categories are based on file format, while others are based on popular sites. For instance, there's a category specifically for YouTube formats. We'll talk more about your options in a minute. However, once an option has been selected, it will show in its own new category: Recently Used Profiles. So if you're always uploading your videos to YouTube in 1080p, that option will be easy to find. Once you've chosen a format, just click the giant Run button in the bottom right to get started.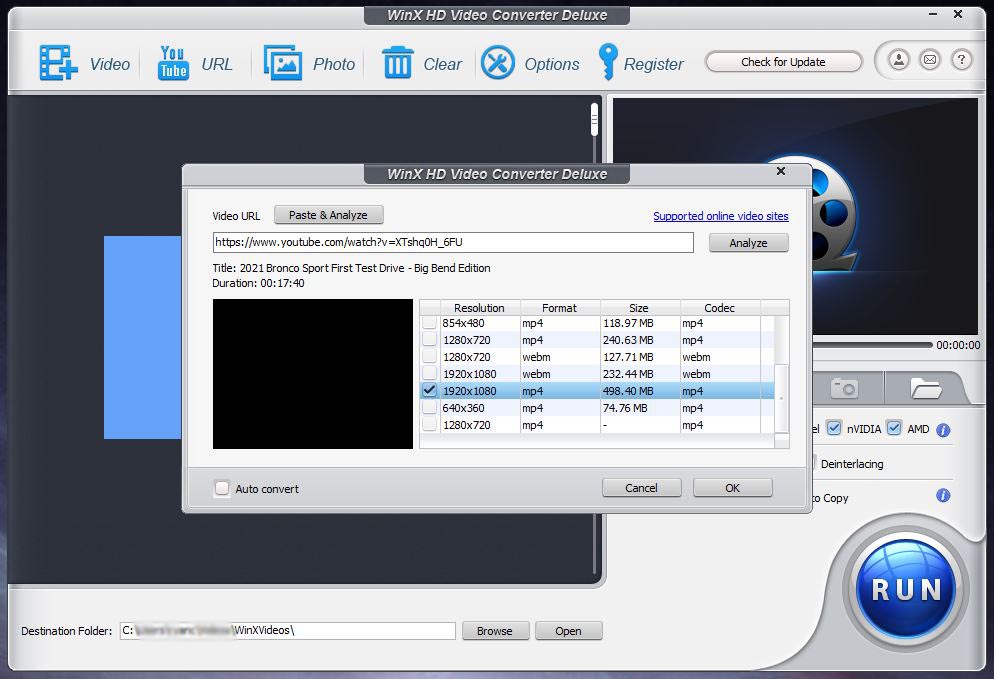 That said, there are a few hiccups. To begin with, the formats aren't easily sorted. So if you know what you need from the outset, it can be hard to find. Not only that, but some of the options are hard to find. To use one example, some of the options, such as framerate, are on the video's tile within the queue. On the other hand, resolution and aspect ratio are buried in a submenu. It's easy enough to learn, but expect to spend a few minutes figuring things out. There are also no keyboard shortcuts, as you'll find in most editing software. On the upside, you can use the software in six different languages: English, Spanish, French, German, Chinese, and Japanese. This makes it a solid choice for international users.
With all of that being said, the WinX HD Video Converter Deluxe isn't terribly portable. At the very least, you'll need a laptop to run it, if not a desktop. If you want to edit your videos on the go, check out the Gnarbox. It's a handheld, portable editing box for trimming clips from action cams and smartphones. It has limited features, but it's as portable as they come.
Supported Video Formats
The bread and butter of any video converter is the number of formats it supports. In total, the WinX software will support 24 different file extensions. These include common options like MP4 and AVI, as well as less common options like 3G2 and ASF. You can also convert web-based formats like FLV and SWF. You can also convert between nine HD video formats, including MP4, AVI, and TS HD. These formats will support resolutions of up to 4K, in line with the latest and greatest action cams.
In addition to all these video formats, WinX also supports 14 different audio formats. You can convert between audio files on their own, or add audio to an existing video. You can also take the audio from a video track and record it as its separate audio file.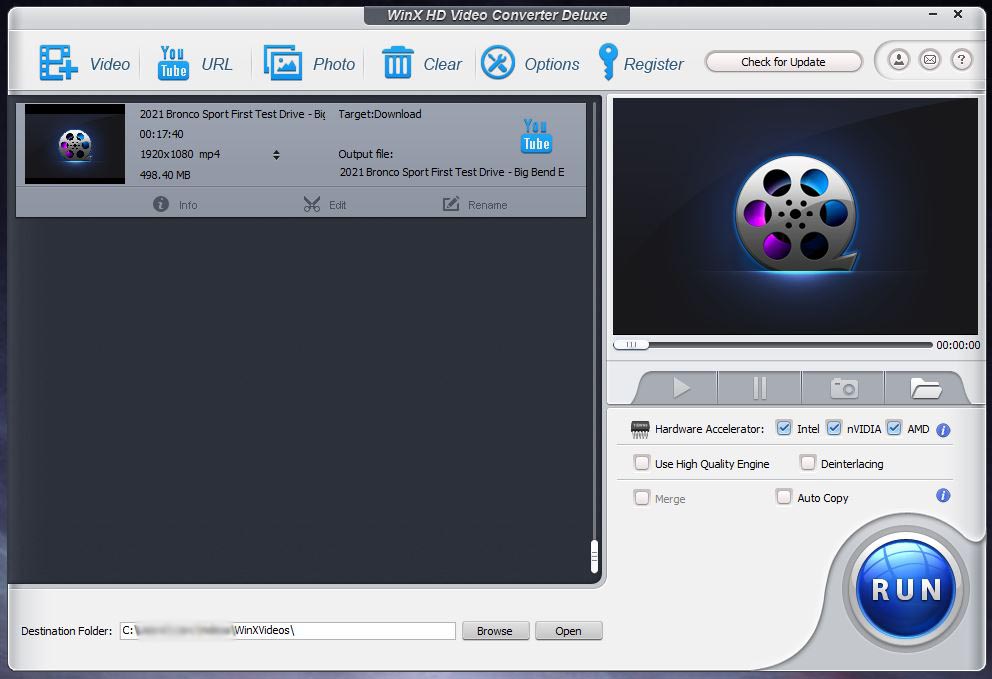 Between all these video and audio formats, you have a number of different options. In terms of preset options alone, you get to choose from nearly 500. These presets are designed to work with specific platforms or devices. For example, you can encode videos specifically for social media or smartphone playback. There are even subcategories, like Android and iOS phones.
That said, there are other video converters out there, with different options and features. For instance, consider Wondershare Filmora X. It doesn't support as many file formats as WinX. However, it includes a number of effects and transitions that can be applied for social media use.
Editing Features and Options
Before we go any further, we should point out the obvious: the WinX converter is not an editing suite. It's designed to convert videos from one format to another; that's it. If you want advanced editing features, consider a dedicated editing suite like the VideoProc Video Editing Software instead.
With that being said, the WinX HD Video Converter Deluxe does have some useful basic editing functions. To begin with, there's a built-in player you can access to preview your files. You can also take screenshots of specific frames. By clicking the Edit button, you can access additional functions. You can crop, trim, and merge videos into a single file. You can also adjust a few other settings.
First, you can enable the High Quality Engine. This helps clean up minor motion blur and other artifacts. It's not magical, but it's worth enabling if your video quality is marginal. Along the same lines, you can also enable deinterlacing. This can help remove other artifacts that were introduced when the file was first encoded. This also isn't magical, but it can smooth jagged lines and eliminate fuzz. You can also enhance your video's sound, or apply subtitles from a separate file.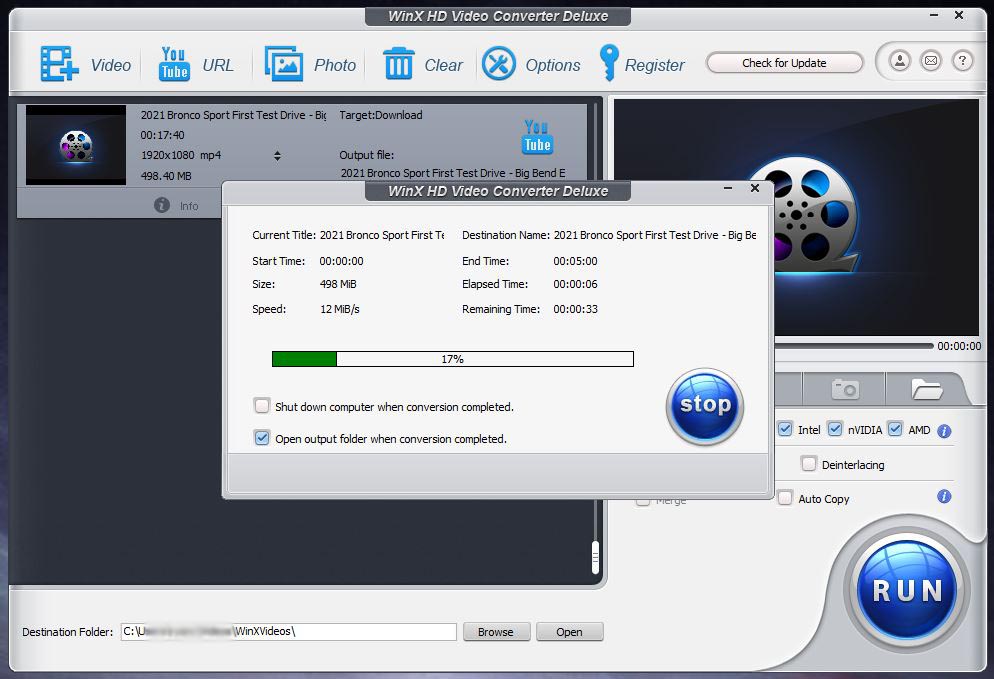 There are additional options to help you speed up the conversion process. The most commonly-used of these is the Auto Copy feature. In this mode, the software won't waste time "converting" data that doesn't need converting. For instance, you might want the same MP4 video in three different resolutions. However, all three versions might use the same 128Kbps MP3 audio. In Auto Copy mode, the WinX HD software would simply copy that audio, saving you valuable time. You can also speed things up by using hardware acceleration, which is enabled by default. Older versions of WinX only supported hardware acceleration on Intel and nVIDIA chipsets. But in the latest version, support has also been added for AMD architecture.
You're not limited to editing videos from your computer. WinX will recognize nearly 500 different online video sources, and can download them directly from the web. This is a great feature if you uploaded some videos to the web but lost the originals. Just be careful not to violate any copyright laws!
In addition to editing videos, you can also use the WinX HD Video Converter to convert audio files. This is more of an added convenience, though, since there are plenty of free audio converters. A more useful feature is the ability to create slideshows. You can combine pictures and audio as needed, but durations and transitions only offer a few preset options. Still, that's more than you'll get from most conversion software.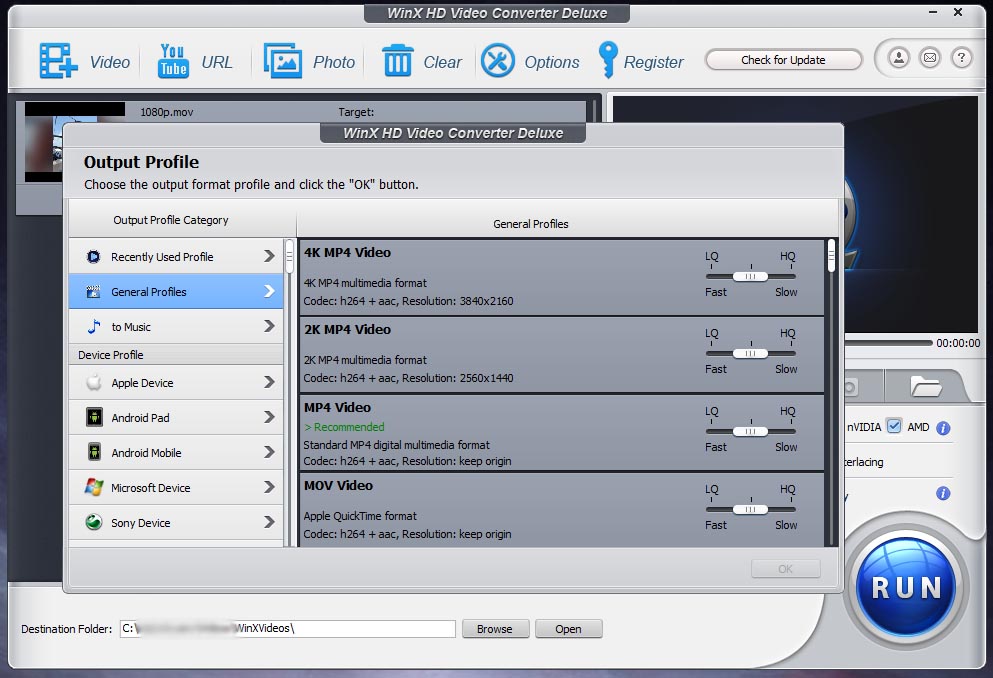 Final Verdict
As you can see, the WinX HD Video Converter Deluxe is one of the more powerful video converters around. To begin with, it can manage just about any type of file. Regardless of codec, resolution, or frame rate, converting files is quick and painless. To be fair, there's a little bit of a learning curve compared to some converters. But compared to something like Adobe, it's as simple as Solitaire. The editing options are a bit limited, as you'd expect from a dedicated conversion software.
That said, you can do a lot more than just convert file types. In addition to basic cuts and merges, you can also clean up fuzzy video, and even make slide shows. All in all, you're looking at a lot of value in a lightweight package. And if you're not sure, you can always try the free version to see how you like it.
Was this helpful? Please consider sharing: