In the world of creative multimedia, data storage is a high commodity. 4K video is a very data heavy medium, and with great quality, comes great responsibility… for your storage devices. Since there has been such a massive uptick in media file size within the past ten years, photographers and videographers have been playing catch-up in a vein attempt to efficiently manage their files. As inconvenient as it is, most multimedia artists have opted to bring their laptops with them on shoots. As cumbersome and slow as they might be, there haven't been many other affordable data storage options that offer any advantages.
Back in 2017, we reviewed a device called the Gnarbox, a, SSD device designed to solve the editing and data transferring problems that photographers and videographers face today. While we enjoyed the concept and prospect of the device, we were slightly underwhelmed with the rather limited amount of storage space offered by the original design. Gnarbox recently announced the second version of their media workflow device. The aptly named the Gnarbox 2.0 is an upgrade in every conceivable way.
The Gnarbox 2.0 is clearly the result of a company that listens to their users. Every single complaint of the previous model has been addressed. The 2.0 combines top-of-the-line storage hardware with a host of mobile application solutions, resulting in an upgraded Gnarbox which has been taken to an entirely new level of awesome. With a new rugged design, ridiculously simple backup, dedicated workspaces and access to professional media editing software, the Gnarbox 2.0 is a device poised to take the world of file management gadgets by storm.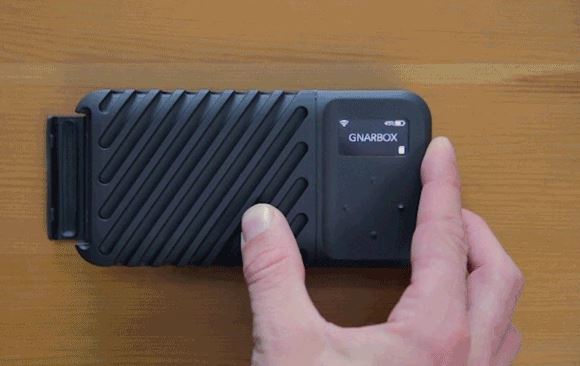 Backup Performance
When we're out on a shoot, we absolutely hate lugging our laptop along with us. The more weight we're forced to travel with, the less mobile we become. Photography shoots are all about freedom and movement. When you have a moving target, perspective is everything, and the right perspective can only be achieved through improvisational composition skills. When you lug heavy hardware along, it can both literally and physically weigh you down. The second iteration of the Gnarbox features file backup features which make a laptop completely unnecessary.
First off, the physical action of starting a backup couldn't be simpler. You don't need your phone or tablet with you. All you need is the Gnarbox itself and a single finger (your nose will work fine too as long as it's pointy enough). By following commands and setting preferences using the on-board OLED screen, backups begin with a single touch. The OLED screen allows you to access preset folder trees, allowing uploads to be well-organized even before a computer is anywhere near your files.
We've all had bad experiences with data corruption, so we know how important it is for our data to reach the drive without becoming fractured and mangled. Gnarbox 2.0 features complete checksum verification which confirms every single byte that is transferred. The result is a complete file transfer every single time. No more will we have to worry about the dreaded file corruption warning. We can't even begin to tell you how many gorgeous shots we've lost because of poor data verification.
The data transfer speeds are lightning fast. Files stored on an SD card transfer at a rate of 75 MB/s, while files transferred directly through a USB-C cable can hit speeds of up to 500 MB/s, or about a GB every two seconds. There's just no comparison between the data speeds and the portability of the new Gnarbox.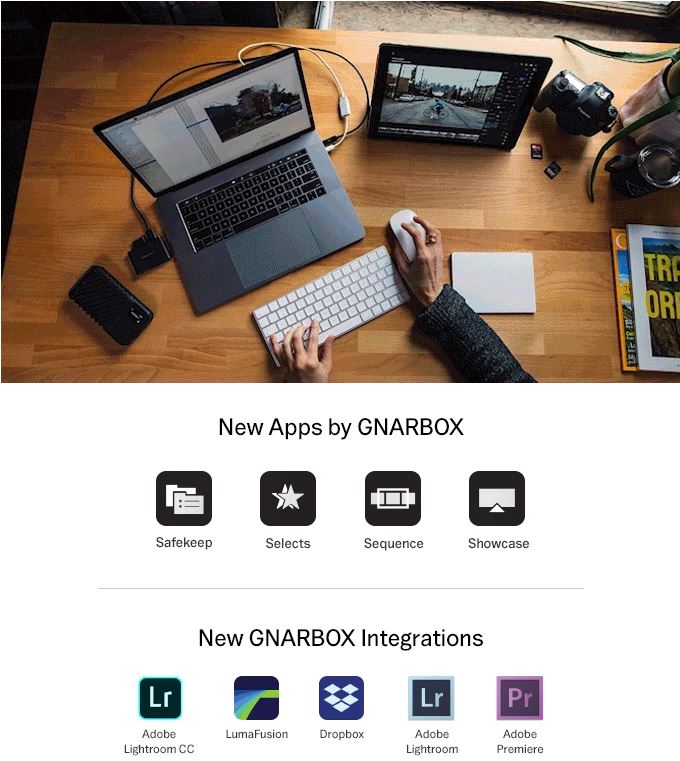 Software
The suite of applications included with the Gnarbox 2.0 are what set it apart from any other storage solution. The fine people over at Gnarbox have clearly worked their tails off creating a comprehensive media workflow product. There are four new pieces of software included with the upgraded device. Each one focuses on streamlining your file management process, ultimately leading to much less time spent idly staring at the computer screen.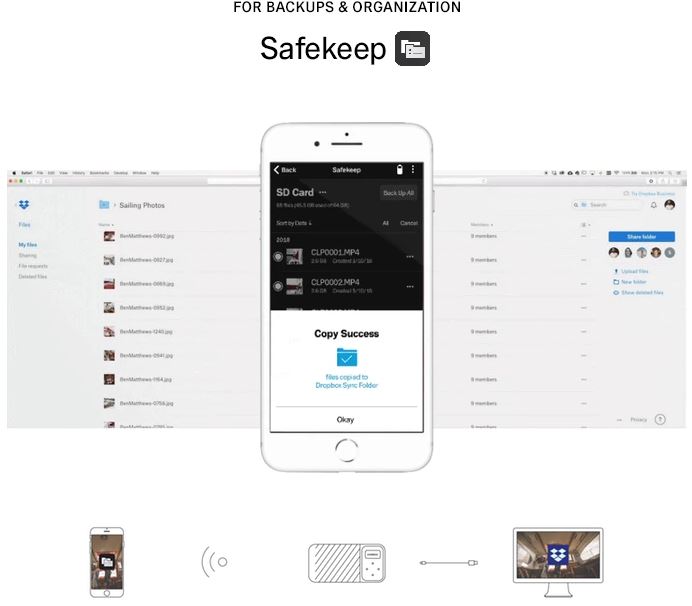 Safekeep is an app tailored for the backup process, focusing on file / folder organization and creating a smooth file transfer experience. The application allows you to easily transfer data between multiple data storage devices, including SC cards, the Gnarbox, hard drives and RAIDs, while using a beautiful and simple user interface. You can edit your folder or file names quickly, which makes smartphone file organization easier than ever before. One of our favorite features of Safekeep is its seamless compatibility with Dropbox. Gnarbox will automatically sync your storage with your Dropbox account whenever you're within range of a Wi-Fi connection.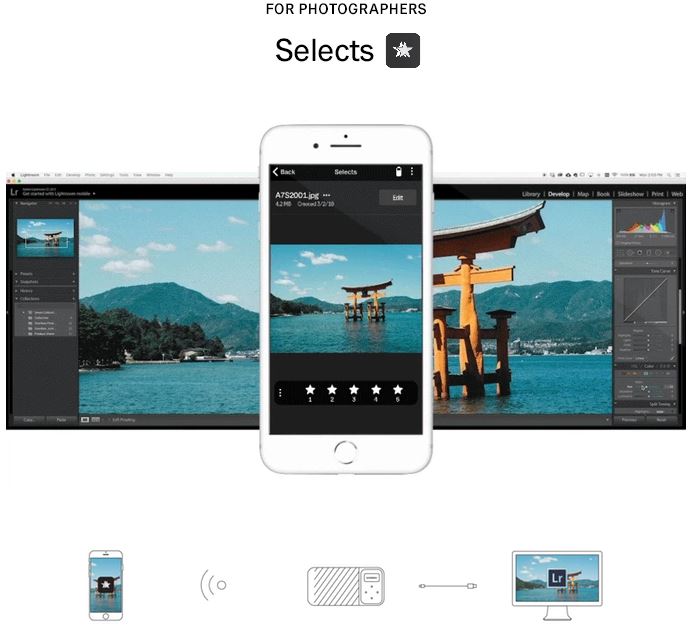 Selects is an app geared towards photographers. When you're in the field, it can be a pain in the butt to preview your RAW images, especially if your only option is to whip out a laptop and upload the files. Selects allows you quick access to RAW previews, even while you're still in the field. This feature is particularly helpful for engagement or newborn photography, or any other shoot which would require you want to make sure you're getting the right shots. Selects also allows you to do some basic color correction, and even rate images on a 5-star scale, compatible with Adobe Lightroom's rating system.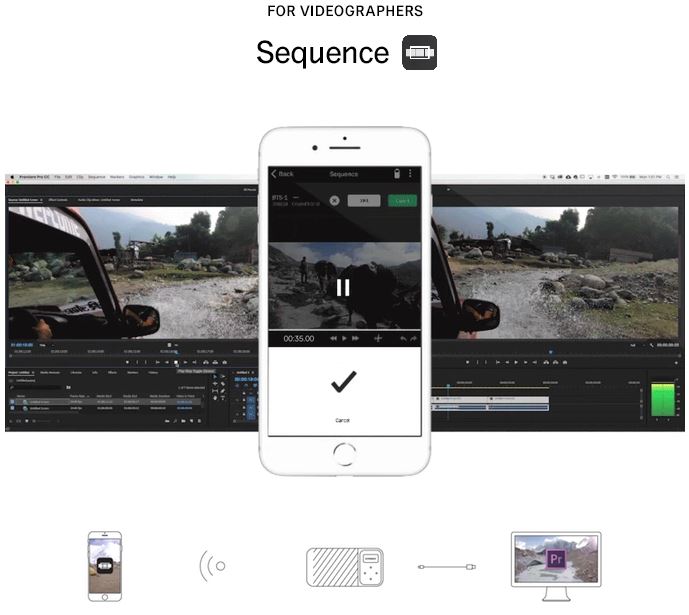 Sequence is an app devoted to videography. When you're pressed for time at a certain location, sometimes you need to review footage on the fly. Sequence allows you to preview high definition video on the fly, and even render the files into an editing format such as ProRes. Much like Selects offers basic photo editing features, Sequence does the same for video. You can trim clips, organize all your clips into bins and even craft a rough cut for further editing later on. Any sequence you create with the app in the field can be exported as an XML project to Adobe Premiere or Final Cut Pro. The end result is less time waiting for your files to be ready to edit.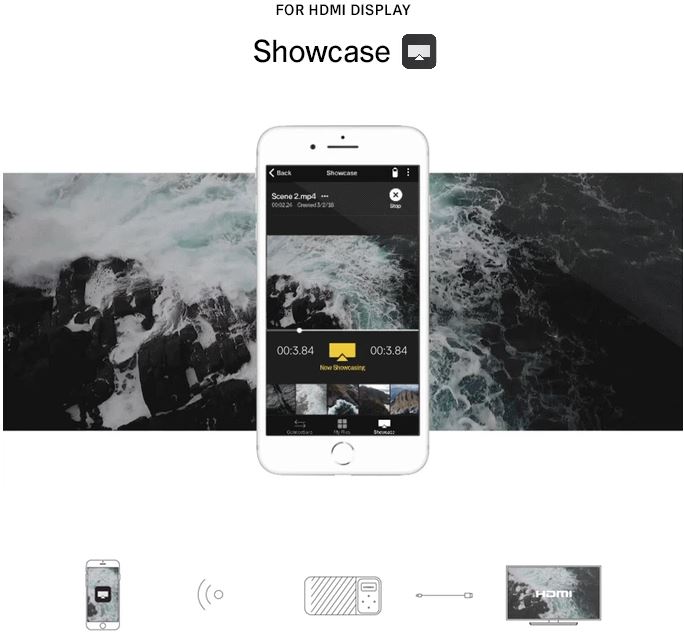 Showcase, the fourth new app, is designed for viewing high definition footage on any HDMI-ready display. By using the microHDMI port, you can view any of your photos or videos on a large display at any time, even if you're still on location. You can easily scroll through your files using well-organized thumbnail collections. Thumbnails, rather than a list of filenames, makes the process faster and much easier to manage. Showcase is very much like a smartphone mirroring application, except it is specifically made for files stored on the Gnarbox 2.0.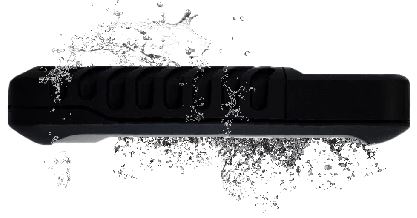 Design
The Gnarbox 2.0 feels more rugged than the first version of the Gnarbox. Not only does the form-factor seem stronger, but the SSD is also still IP67 waterproof certified. An IP67 rating means that it is completely protected from dust and can survive complete water submersion as long as it stays between 15 cm and 1 meter deep for less than 30 minutes. So small puddles, shallow ponds, toilets, sinks, bathtubs and kiddie pools are all covered. The device's imperviousness to dust means that you'll be fine shooting in abandoned locations, haunted houses, or any other sites suffering from the rigors of time.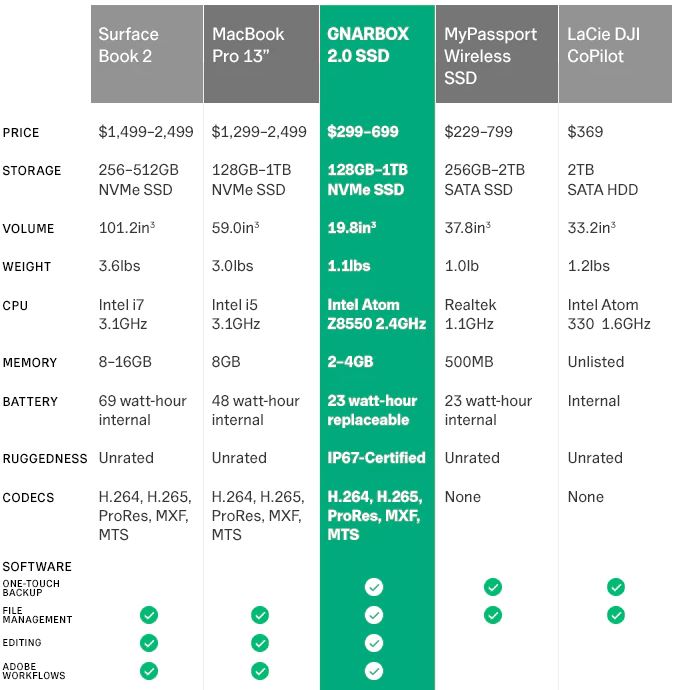 Hardware
The second Gnarbox contains hardware similar to a laptop. The device is packed to the gills with an Intel Atom Z8550 2.4 GHz processor, up to 1 TB NVMe SSD, 802.11ac Wi-Fi compatibility, an SD card slot, up to 4GB of RAM, 2 USB-C ports and a Micro HDMI port. The processing speed and RAM make the Gnarbox 2.0 a speedy little bugger. Since the devices only focus is improving your creative workflow, all the hardware that is usually handling a million things on a laptop, is focused primarily on a single job. The addition of USB-C ports makes data transfer blisteringly fast, up to 500 MB per second.
Battery Life
The Gnarbox 2.0 features a removable 3200 mAh 7.4v lithium ion battery. A full charge will give you 5 hours of backup time and 3 hours of editing time. A single full battery should provide more than enough time for one shoot, though if you know you're going to have an extended day, keeping an extra battery around isn't a bad idea. One of the huge benefits of having a removable battery is the flexibility of multiple batteries. Removable batteries are also great in case of any unexpected power failures. Lithium ion batteries can be a bit finnicky at times, especially as they start to age, so it's always a good idea to have a spare.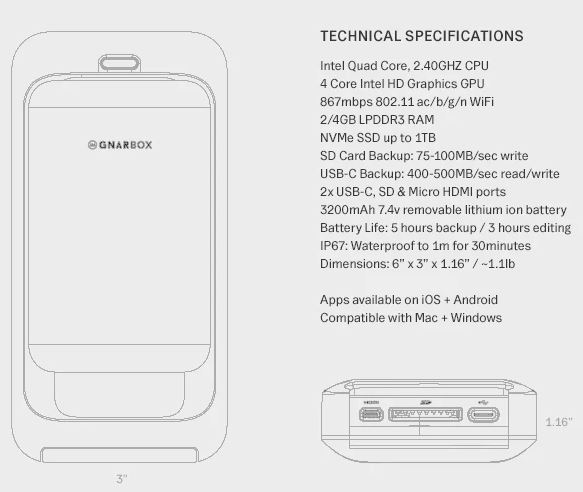 Dimensions
If you weren't already impressed enough, the Gnarbox 2.0 sheer portability should be enough to put you over the edge. Measuring in at 6 in. x 3 in. x 1.2 in. and weighing in at a single pound, the SSD is no larger than an external hard drive or backup battery source. For anyone keeping score, that's about a third of the size of a laptop. The Gnarbox's durability allows you to sloppily store the device in any bag if you so desire, compared to the military-grade protection that makes laptop cases such a pain to transport.
Final Thoughts
Wow. We don't even know where to start. Here's the bottom line: if you're a professional photographer or videographer who is serious about their craft, you need the Gnarbox 2.0. This device is going to save you so much time that would be otherwise wasted, sitting at your desk waiting for files to transfer and convert. The four new applications make the Gnarbox 2.0 the most seamless and well-thought out SSD device we've ever seen, and super-charged data transfer speeds, combined with insane portability, will allow us to travel to our art destinations without the burden of a laptop. Finally! No laptop!
While the original Gnarbox was an impressive piece of gadgetry, the Gnarbox 2.0 blows its ancestor out of the water with its improved durability, upgraded hardware, increased storage capacity and the addition of an on-board OLED screen. You should be excited about the new and improved device. We know we are.
Meet Derek, "TechGuru," a 34-year-old technology enthusiast with a deep passion for tech innovations. With extensive experience, he specializes in gaming hardware and software, and has expertise in gadgets, custom PCs, and audio.
Besides writing about tech and reviewing new products, Derek enjoys traveling, hiking, and photography. Committed to keeping up with the latest industry trends, he aims to guide readers in making informed tech decisions.