It's a great time to be a digital media fanatic. Modern smartphone are hitting the market capable of shooting in 4K, and your GoPro can capture real time video of all your outdoor adventures. It doesn't matter where in the world you are or what you're doing, you now have the capability of recording all the footage you want.
For videographers, this technology has many advantages. But there is one new problem that comes up – what do you do with all that footage? There is nothing worse than hitting a perfect lime on your favorite ski run, coming up with the perfect mental image of how you want your footage to be put together, then forgetting it all by the time you start to sort through 34 hours of footage.
Gnarbox was designed to solve this problem. Although it's in the same form factor as a portable hard drive, the functionality goes well beyond a storage device. We went hands on to find out what this powerful little box can do. After exploring the features, we'll help you decide if the Gnarbox would make a good addition to your video arsenal.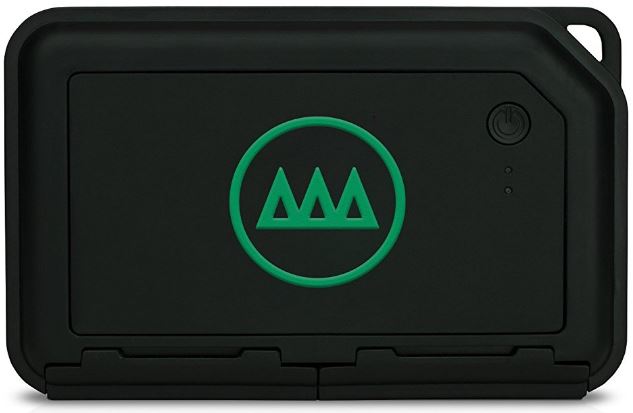 First Look
Gnarbox promises to help you achieve four key tasks. It's designed to organize, back up, edit, and share your video footage. Basically, all of the tasks that can be completed with your laptop can now be done through the Gnarbox and your smartphone. Your phone is used as the interface for the Gnarbox. Although phones are very powerful these days, they aren't quite at the point where they can edit 4K video. By combining WiFi, a solid state drive, a quad core CPU, and an octa-core GPU, the Gnarbox can do all of the heavy lifting in video editing.

Design & Durability
Visually, Gnarbox looks like nothing more than a ruggedized hard drive. At 3.4 by 5.3 inches in width and height respectively, it is a little larger than your standard external drive. But a lot of this extra size comes from the hardware that makes it durable. A large rubber bumper runs around each side of the Gnarbox, and an internal metal frame protects it from being crushed. It's been put through an independent certification to determine its durability, and attained one of the highest ratings found on electronic devices. It's IPX67 rating means that it's waterproof up to one meter, and protected from dust, dirt, and environmental hazards. This means that you can take it down to the ocean, out on a boat, or even up to the ski hill without having to worry about it getting damaged.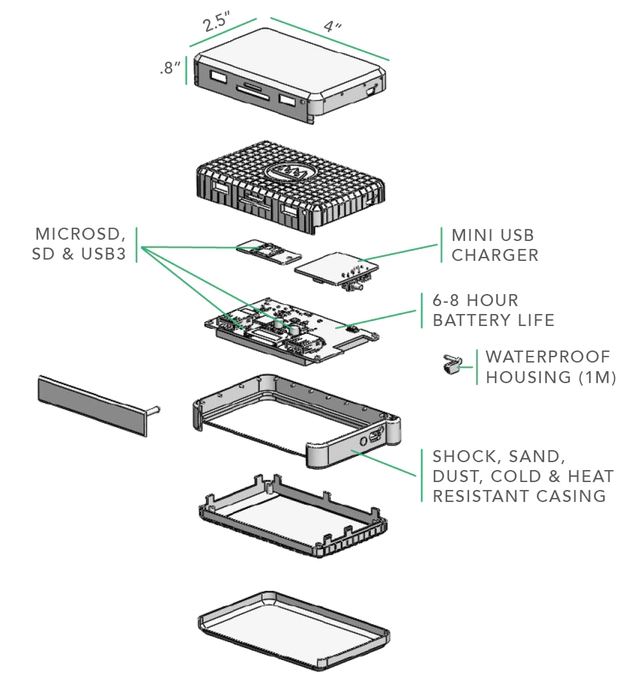 Visually, Gnarbox kept things pretty simple and straightforward. There is a small loop that attaches to a lime green rope, which matches the simple Gnarbox logo on the front. Other than that, this seems like a very simple device. It's not until you open the front door that you start to see what It's capable of.

Connectivity
There are adapters for almost every form of storage on the market. Gnarbox could have got away with nothing more than a USB port, and the functionality wouldn't have been impacted. But they wanted this to be an all-in-one device, so they included all of the most common ports enabling you to connect all of your video devices without having to carry around any adapters. In the SD department, you're given both Micro and full size SD card slots. For USB, you have three options. The Blue USB port is 3.0, giving you higher data transfer speeds. The black one is USB 2.0. You're also given a combination port, which is designed for both types of Micro USB. The single prong one is the standard connector you find on most phones, while the larger side is for devices that need additional power. Finally, you're given a WiFi connection, which is the easiest way to transfer files with modern hardware.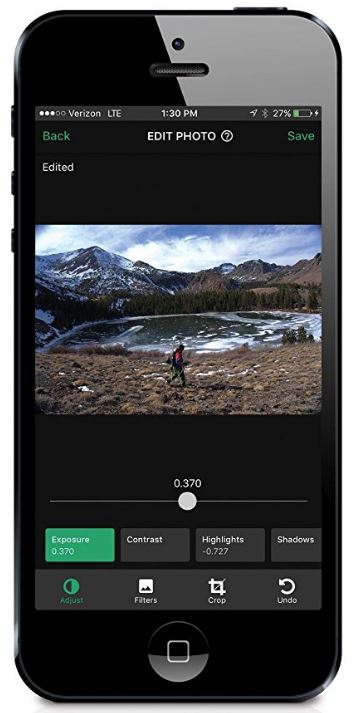 Initialization and Backup
Since the Gnarbox is a fairly unique product, we'll walk you through how it's used. The first thing that you do is install the Gnarbox app on your phone, and power it on. The app will take you through a quick and easy setup procedure, and get synced up to your phone. From here, you go to the import menu at the top of the screen. You'll see a list of every device that is detected. Most of the time, this means that you'll only have one source. But if you've got multiple devices connected, they'll all be listed on this screen.
You can choose individual files to back up, or you can choose a simple "backup all" option. The nice thing about the backup all option is that it will skip any file that you've already downloaded, saving only the new content.
You'll see a notification at the top of the screen showing not to remove the drive, and the main screen will be populated with every file that has already been downloaded. You can start editing these files immediately, while the other transfers are completed over time.
Editing
The editing software is perhaps one of the most impressive parts of the Gnarbox Suites. Video editing is a pretty involved process, and until today we hadn't found a simple way to do so. Gnarbox makes this easy by breaking your video into three separate chunks. At the top, you've got the highlight reel. You can think of this as your final product. In the center, you've got a preview window. At the bottom, a bar that lets you preview the entire clip.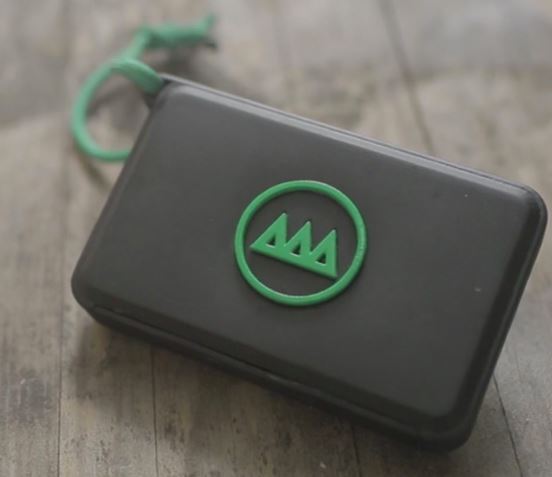 You start the editing process by choosing a clip that will start your final video. You can scroll your hand along the bottom to set the start and end points. Once you've got it roughly where you want, you can swipe left or right on the preview to scrub your video. Scrubbing is simply slowly rewinding for fast forwarding to get to the exact frame where you want to start and stop the video. Once you've got the clip the way you want it, you can simply swipe it up into your highlight reel.
Setting the trimpoints is only the most basic feature offered by Gnarbox. You can also edit the aspect ratio, which is fantastic for producing social media friendly content. You're able to apply playback filters like slow or fast motion, and adjust the light and coloring of your shots. These aren't provided as Instagram-styled filters, but rather manual adjustments that let you get much more specific control that give you the exact coloring you want. Although it's simple and easy to use, this system is strictly professional.
Compatibility
Reading the specifications, you'll notice that there is no compatibility information listed. In a way, this lack of information highlights one of the best parts of the Gnarbox. It's completely agnostic – it works with everything. It's not the first to market, GoPro has that claim to fame. But it's the only piece of hardware that works with your entire photo kit. It doesn't matter whether you're a Canon or Nikon fan. It doesn't matter if you have a GoPro, or if you use a smartphone. It doesn't even matter if you've got an entry level android or top level iPhone. No matter what hardware you choose, the Gnarbox is the middleman that allows all of your hardware to come together.
Sharing & Export
Once you've got your highlight reel edited the way you want, you'll want to save the completed project in a format that can be shared. You can save the file to a local drive, with a variety of formats and options. MP4, AVI, and many more are available – with pretty much any format under the sun listed. You can directly edit bitrates and resolution, letting you control the file sizes. These files can then be shared directly to social media. Facebook, Vimeo, YouTube, and Twitter are all supported. You can also share the file locally with other users who have the Gnarbox app installed, giving them the ability to edit the raw file.
Disadvantages
The internal drive has only 128GB of storage available. For 1080p or 1440p, this is plenty of storage. But one of the main selling points of the Gnarbox is its ability to edit 4K video. With a higher end rig, 128GB of storage can go pretty quickly. Since you have to import video to edit them, we'd like to see a mode come out with expandable storage, or even a larger size released.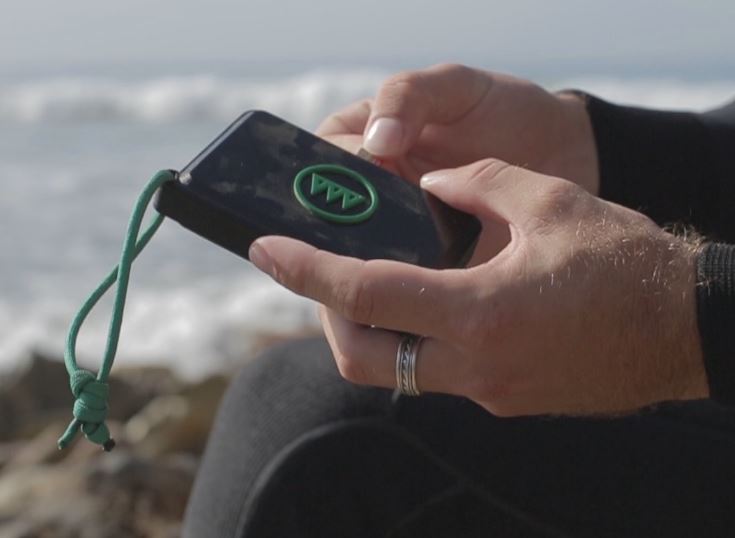 Final Verdict
Gnarbox really is a one of a kind tool. For some, you might not see a need to replace your high end video editing rig with something that provides the same functionality. But there is good reason for the hardware to be designed this way. What they've done is remove all the friction in the editing process. You can shoot your video, and rough out your final video in real time. When using the Gnarbox, we feel as if we're continually working towards a completed movie, rather than participating in a twostep shoot / edit process. If you're looking for a way to take professional looking video while you're on the go, Gnarbox is the easiest way to do this.