What's the difference between one HDMI cable and another, really? As it turns out, quite a bit. That's because cables and adapters have the potential to drag down your AV experience before it even reaches your screen. If you care at all about the quality of your video, then you've got to be wary anytime you extend or adapt your signal.
When you're lucky enough to be working on a smaller scale project, like moving an HDMI signal from one room to the next, finding the right HDMI male to female extension cables isn't all that tough. But the bigger the project, the more complicated things may become.
Note: At no extra cost to you, we may earn a commission for purchases using our links. Learn more.
Choosing the Right HDMI Male to Female Extension Cable
As you may know, HDMI cables are the standard for connecting modern A/V receivers, media players, Blu-ray drives, television, and so forth. Compared to connections of old, HDMI is unique because it allows you to send both video and audio through the same cable. One result is a much simpler connection process, and far fewer tangling cords in your life.
But compared to cables of old, HDMI are also much better at dealing with signal problems. All audio/video cables have issues with signal degradation, and those issues are fairly proportional to the length of the cable. It's the reason why you won't find a 100-foot HDMI cable carried by any retailer.
In fact, stores rarely carry anything greater than 25 feet, with the vast majority falling closer to five or six. That's because longer cables run into serious issues with signal degradation fairly quickly. HDMI is far better at dealing with these issues than older AV cable formats, but the underlying problem still exists. As a result, you've got to be vigilant about understanding how to choose the right male to female extension cable for your build.

Length Limitations
The distance of cabling you can use depends on the performance you expect from the signal. For 4K content played at 60Hz, the total length of your extension cable should not exceed 10 feet. For 30Hz you need to stay within 15 feet. Most television viewers won't care about these differences because standard broadcasts are about 30 frames per second. But gamers who expect to sustain higher framerates need to take note.
Knowing HDMI Basics
In order to understand the differences between extension cables, you need to know some basic things about HDMI as a format. Your typical HDMI cable supports 24-bit, 192kHz audio, across 8 individual channels. It also handles 1080p content with ease, carries 3D signals, and does a dozen other things you may not realize.
The HDMI format is growing and advancing all the time. The most cutting edge iteration, HDMI 2.0, provides support for 4K content. It also provides support for High Dynamic Range (HDR) content. Some HDMI cables are built with even further advanced features, like high-bandwidth digital content protection or HDCP.
It's a feature which allows you to view HDCP content by authenticating the data transmission to your device. Is that a good thing? It is if you want to watch a movie that's been HDCP protected. But if you're trying to play a game, you may find these additional authentication procedures suddenly cause a small amount of delay in the signal. These kind of minor distinctions usually go overlooked.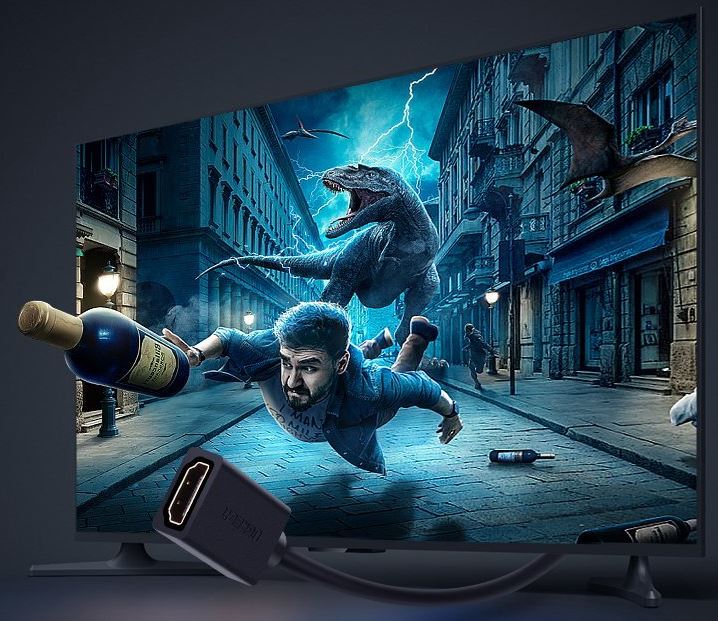 Keeping it Simple
Luckily, HDMI and its various versions are backwards compatible. When two devices running on different HDMI standards interact, they always choose the lowest shared standard. So if one device is running HDMI 1.3 and the other is using 1.4, the 1.3 version is what you're going to end up using.
Just because the HDMI format supports a feature doesn't mean your extension cable will. Pay close attention to the features which cabling offer. Even if you're not currently using one of these HDMI-specific features, it might be advisable to look for them as futureproofing. These features aren't going to be important for everyone, but they're noteworthy for anyone.
Overall Quality
As far as basic video and sound quality goes, as long as you don't grossly violate the length limitations for your cabling, you don't have to be gravely concerned about quality. If you switch between the best HDMI cable in the world, and one that's just okay, you're not going to see drastic differences. The HDMI format is unlike analogue in that its quality doesn't have such a strong variance in signal degradation from slightly poor connections.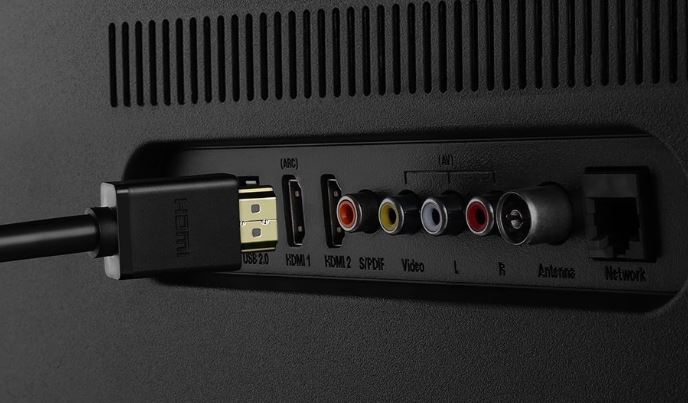 Build Quality
Nevertheless, you should car about the construction of the cable. Different cables are made with different materials and techniques. Others are built to provide signal strength over longer distances. You can encounter interoperability issues on exceptionally long cables, but these are not generally the fault of the cabling you're using.
Another key factor in the construction of male to female HDMI extension cables is connecting material used on the end of each cable. Copper is inexpensive and heavily prone to corrosion, which is something that will undoubtedly ruin your signal. But you can squeeze a few years out of copper connections, if that's all you're looking to find. Superior connections are usually made from gold plating.
Bandwidth Capacity
Do you need 4K compatible cables? HDMI 2.0 raises previous bandwidth capabilities from 10.2 Gbps of to a massive 18 Gbps. HDMI cables which have the "high speed" designation written on them are capable of using these higher bandwidth signals for up to five meters. If you need to go more than five meters of distance, then you'll need an "active" HDMI cable to help bolster your signal. Those HDMI cables can provide good distances for about 1,000 feet.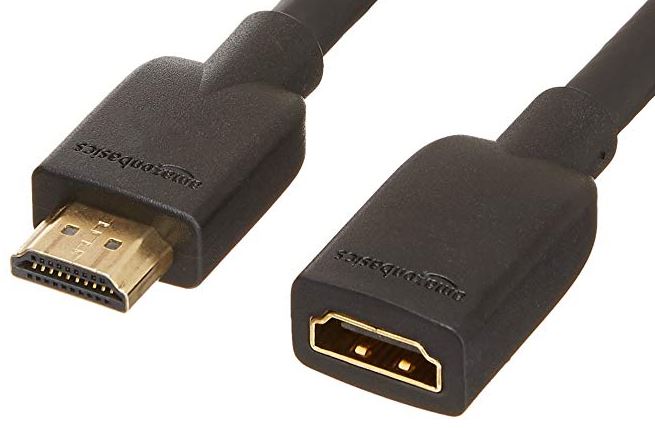 AmazonBasics High-Speed Male to Female HDMI Extension Cable
If you know the brand, you might think this is the most basic cable on the market. But you might be surprised. The AmazonBasics HDMI extension cable is available in four types: 3-feet, 6-feet, 10-feet, and 15-feet. It uses a basic male to female HDMI extension design, and supports 4K friendly 10.2 Gbps bandwidth.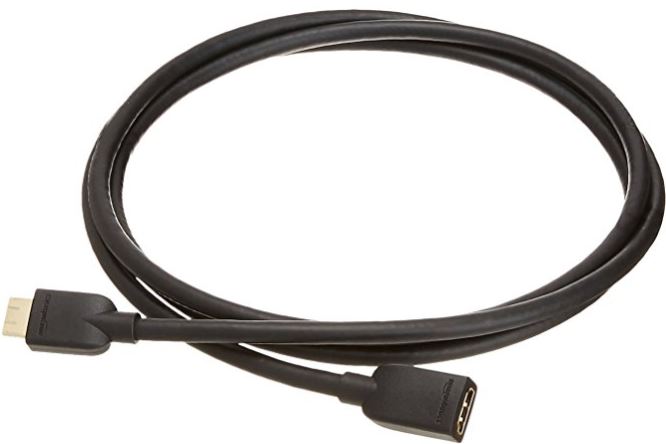 Build Quality and Specifications
The AmazonBasics high speed male to female HDMI extension cable is ideal for connecting a 4K television, DVD player, gaming device, or just about anything else terminating in an HDMI port. In spite of its seemingly simple construction, it supports all the features you'd hope for from the format, like 3D video, UHD, HD, audio return channel (ARC), HDMI Ethernet channel, 48-bit color, 32-channel audio, HDCP, True HD Dolby 7.1, and even DTS-HD Master Audio.
The guts of this cable are constructed with pure-copper conductors, shielded with three layers of protection to keep your signal from interference. The external PVC layer is further protected by 24K gold-plated HDMI connectors, and ferrite core to the cable filters to minimize background noise in the signal.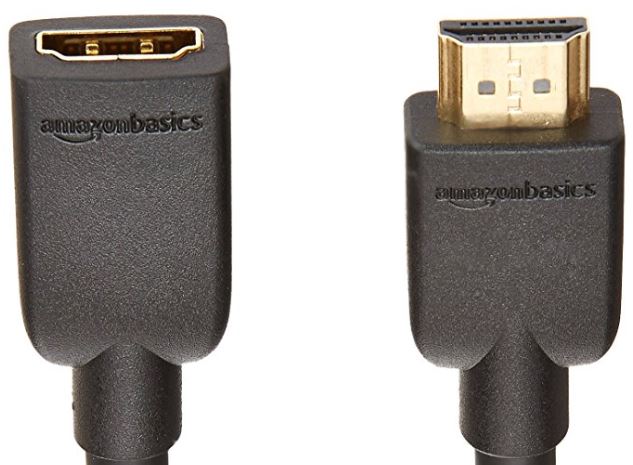 Other Considerations
Considering how inexpensive this cable is, it's actually somewhat surprising there are no latency drops for gaming. Typically, the AmazonBasics brand is all about exactly that – the basics. But this cable supports all the high end HDMI features you want to be supported on an HDMI extension cable. The construction is quality, right down to the gold connectors. And AmazonBasics includes a 1-year warranty, though it's unlikely you'll need to use it.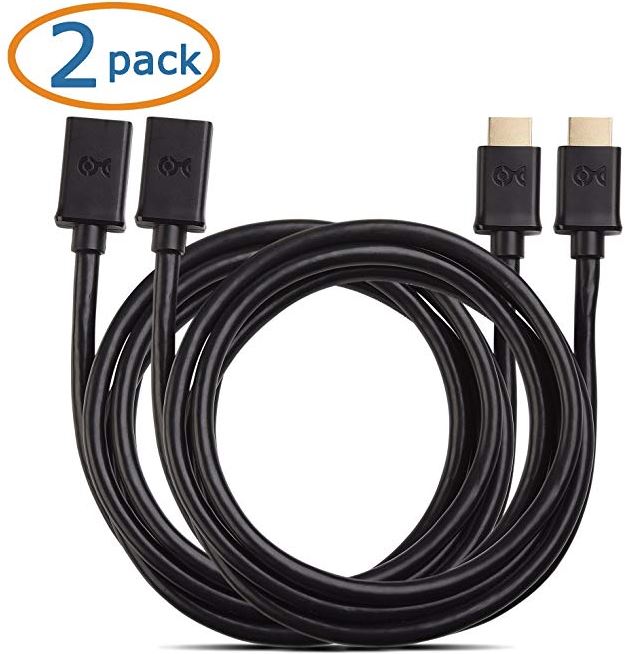 Cable Matters High Speed HDMI Extension Cable
Cable Matters has a brand specialty which isn't hard to guess. Their HDMI extension cable kit includes two individual HDMI extension cables, ideally suited for 4K TVs, PC monitors, Blu-ray players, Apple TVs, and essentially any other device with an HDMI port. And it supports 18 Gbps bandwidth using a HDMI 2.0 connection. But what really makes these cables stand out is the quality of their construction.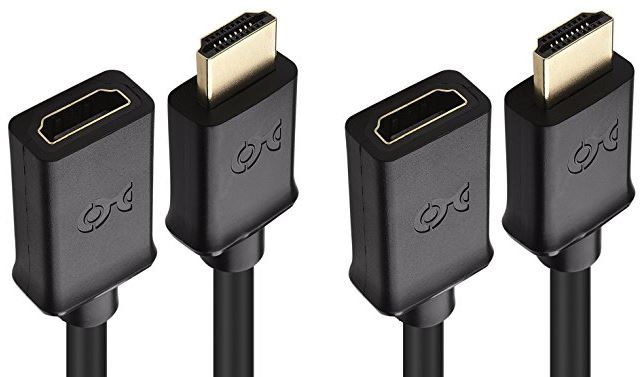 Build Quality and Specifications
The Cable Matters High Speed HDMI Extension Cable is available in four varieties. 1.5 feet, 3 feet, 6 feet, and 10 feet. Each cable costs almost identical to the next, which would make many ordinary buyers leap to buying the largest cable possible. But try to figure out the cabling distance that's actually necessary for your specific application because every additional foot of cable you use is one more foot your signal has to travel.
Each cable is constructed with gold plated connectors, paired with copper conductors. The foil and braid shielding helps provide cable performance, avoiding static in the transmission while noise is suppressed in the signal. Moreover, they use a future-proof AV connection supporting 48-but color, 32-channel audio, ARC, and many other common HDMI features.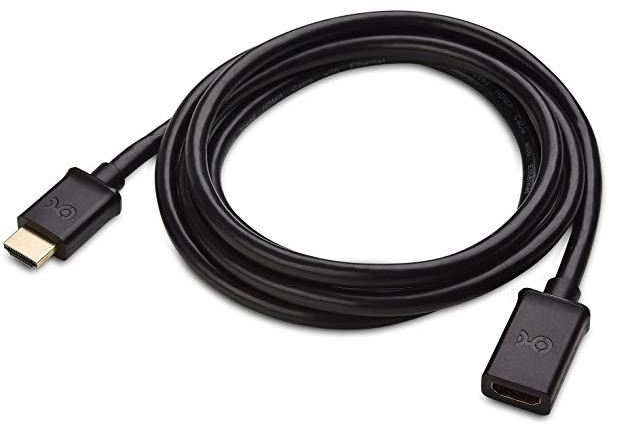 Other Considerations
The Cable Matters HDMI extension cable is cost effective because it includes two separate cables. And it's got all the strengths to transmit an excellent signal. But it does lack a handful of special HDMI features which enable you to play piracy-protected content. Whether or not that matters to you is another question.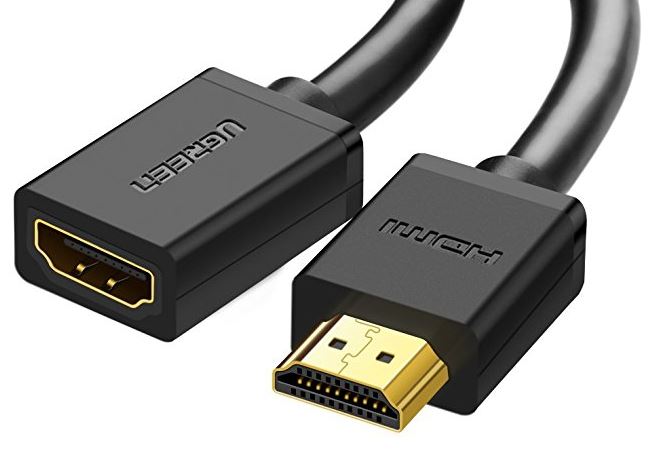 UGREEN HDMI Male to Female Extension Cable
The UGREEN HDMI male to female extension cable provides full support for 4K content, and all the features you might want inside that content. It's great for extending your signal just about anywhere you need it. And UGREEN provides the same slew of wide support you would hope for, including support for consoles like the Xbox, and Blu-Ray players, laptops, and PCs.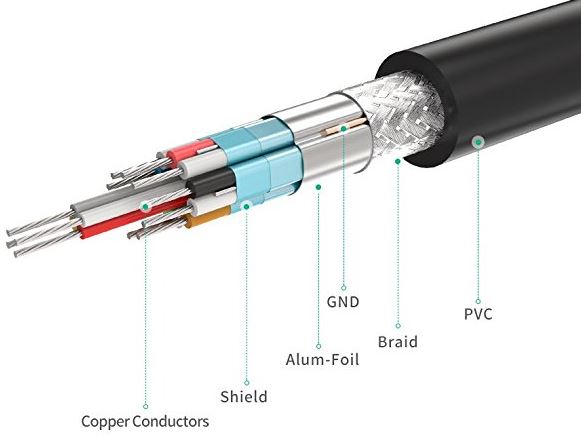 Build Quality and Specifications
The UGREEN HDMI male to female extension cable is available in a 1.5ft, 3ft, and 6ft variety. The most economical choice is the 6ft HDMI extension cable, but don't simply rush to buying the longest option. Think about the distance you'll be running the signal. If you exceed 10-15 feet in total cabling, there are certain consequences for your refresh rate.
Its HDCP compliant supporting transfer of 10.2 Gbps picture quality. The copper wires are shielded and backwards compatible for previous HDMI. Includes the cable, and an 18-month warranty from UGREEN. It uses a triple shielded design. The layering begins with foil, then the braid, and then more foil. With the resulting protection, you could just about take a knife to the cable and still have it work. It might do as much damage to a pair of scissors as the scissors would do to the cable.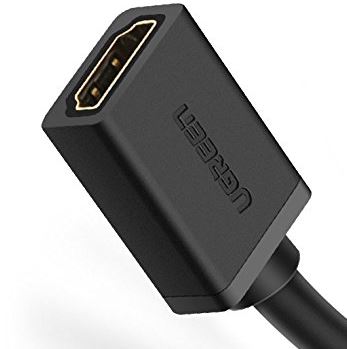 Other Considerations
UGREEN's cable supports nice added HDMI features like ARC, and HDMI Ethernet channel support. For 4K content at 60Hz you don't want the total length of the cable including the extension cable to exceed 10 feet. Keep that in mind as you choose which length of cable you need for your own setup.
Choosing Between 3 Quality Male to Female HDMI Extension Cables
The AmazonBasics cable is the right choice for someone who wants every modern HDMI feature, from support for 3D content to advanced audio controls. Even though it's quite inexpensive, this cable has a long-lasting construction and has a good chance of outliving the HDMI format entirely. It's a safe choice for anyone.
The Cable Matters High Speed HDMI extension cable is exceptionally well crafted, right down to its gold-plated connectors which help resist corrosion. It has modern HDMI features, but what makes it stand out is the inclusion of two separate cables. That makes this kit incredibly cost effective for people who are wiring more than one room, or dealing with a particularly complicated HDMI setup.
The UGREEN HDMI Male to Female Extension cable is good for a short cable you can tack on, when you only need to add another 1-2 feet to your current configuration. It's got a sturdy construction, but its bandwidth limitations are going to be an issue for people who are running long cables with 4K content. As long as you're using one of the shorter versions of this extension cable, it's a great choice.
Please consider sharing:
Note: At no extra cost to you, we may earn a commission for purchases using our links. Learn more.