Since its launch in 2017, the Nintendo Switch has won high praise, largely for its innovative control scheme. This is something of a specialty for Nintendo, the company that brought us the Wii and its motion controller. However, the concept behind the Switch was a bit different. Instead of being primarily built for motion controls, it was designed for portability. The console works in 1080p mode when connected to your TV. However, you can also undock the console and play in handheld mode in 720p. This ability to "switch" between handheld and docked mode is what gives the Switch its name!
One major challenge was developing a control scheme that works well in docked and handheld mode. Nintendo's answer was the Joy-Con controller. Consisting of two handheld controls, the Joy-Cons can be attached to a larger grip for playing in docked mode. When you change to mobile mode, the Joy-Cons can be clipped into the side of the Switch itself. This allows you to effortlessly use the same control scheme regardless of what mode you're in. That said, many players find the Joy-Cons clunky, and harder to use than more ergonomic controllers. For that reason, Nintendo also released the Pro Controller, a more traditional controller for handheld use.
But the Pro Controller still suffers from one drawback: like most modern controllers, it relies on batteries. This means you'll have to stop playing periodically, or play with the controller plugged in. The wireless signal also has a few milliseconds of latency, which aren't an issue with a wired controller.
To get the most out of your docked Nintendo Switch, we've put together a list of the best wired controllers. We'll start out with the Nyko Air Glow LED Fan-Cooled Wired Controller. This is a beefy, air-cooled controller that's designed for heavy-duty use. Next, we'll look at the HORI Nintendo Switch HORIPAD Wired Controller. This controller has an interchangeable D-pad and is officially licensed by Nintendo. Finally, we'll review the PowerA Wired Controller. This controller has a removable wire, and comes in a handful of color options. Let's take a closer look, and see which one is the best!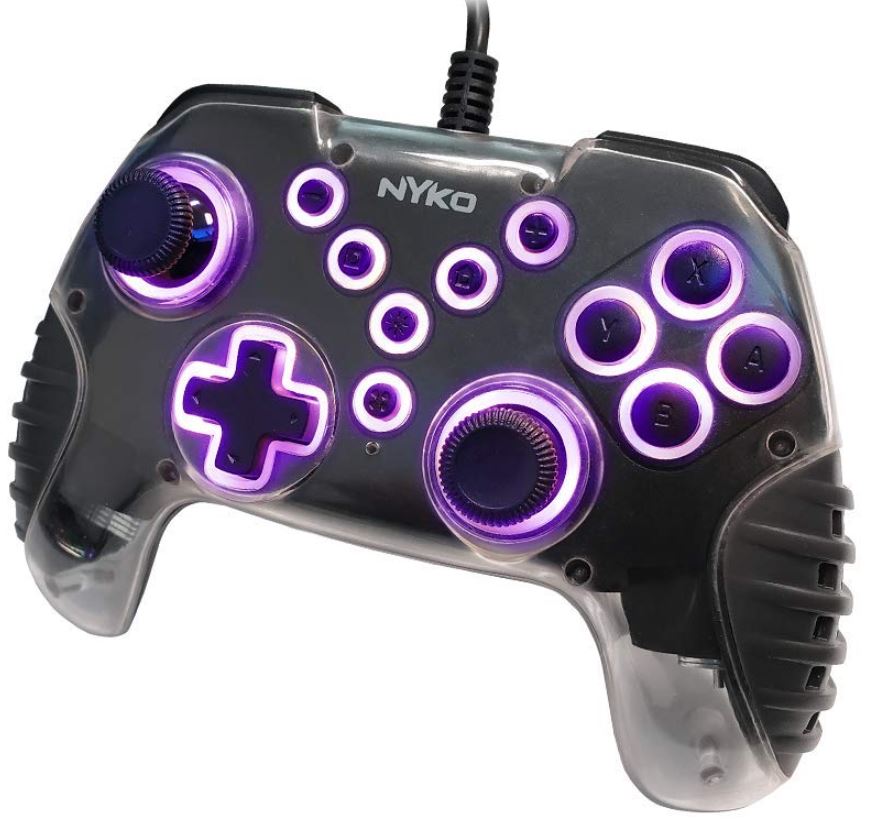 Nyko Air Glow LED Fan-Cooled Wired Controller
Nyko is well-known for their high-quality gaming accessories. Not long ago, we reviewed their Sound Pad Controller Attachment for Xbox One. It's a device that makes in-game chat easier, and we were impressed. Needless to say, we were eager to get our hands on the Nyko Air Glow LED Fan-Cooled Wired Controller.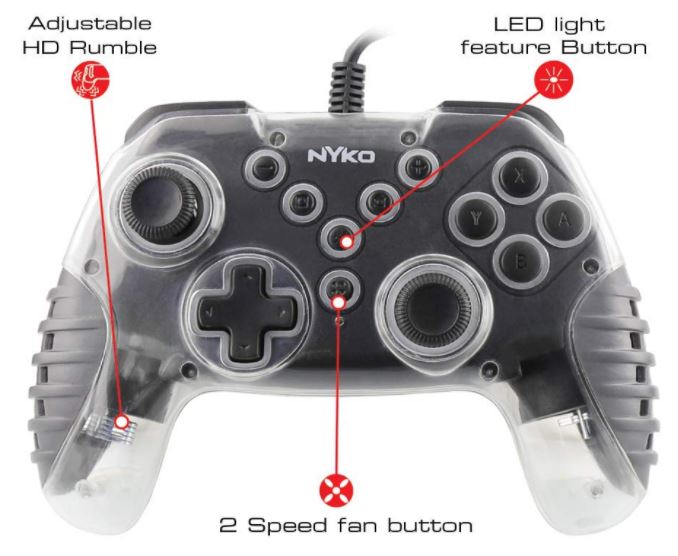 This is a full-sized controller with fat grips, designed for people with larger hands. The grips are big and beefy, with a textured rubber pad on the outer edge. This keeps your hands from slipping, even when they're sweaty. That said, sweat should be a minimal concern on this controller. Vents in the grips keep your hands cool, even during extended play sessions. An additional intake vent on the back keeps the guts of the controller cool as well.
The bulk of the controller housing is made of transparent plastic, so you can see what's going on inside. This aesthetic is augmented by a set of LED lights that ring each button and joystick. The lights just don't form a neat ring. They diffuse through the transparent plastic, creating a warm glow around each button. The actual feel of the controls is what you'd expect from a pro-grade controller. The buttons are responsive, and the thumbsticks are reasonably stiff, with virtually no dead zone.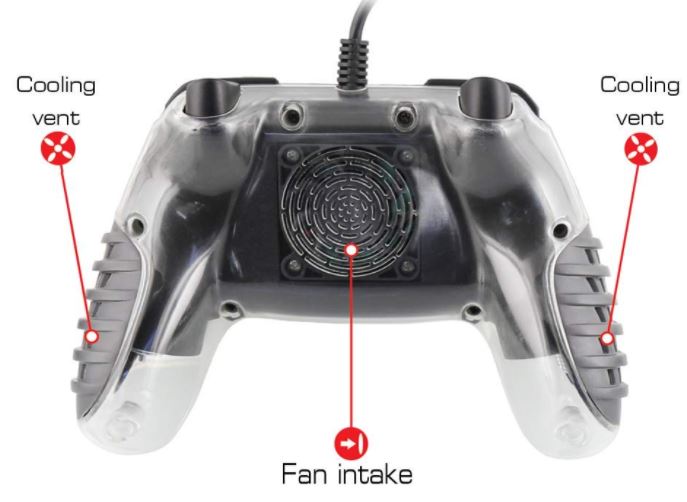 Because this is a wired controller, there's no syncing required. You simply plug the controller into the console, and begin playing. The cord is 10 feet long, so range shouldn't be an issue in most rooms. It's also reinforced where it meets the controller body, so it can flex without getting easily damaged.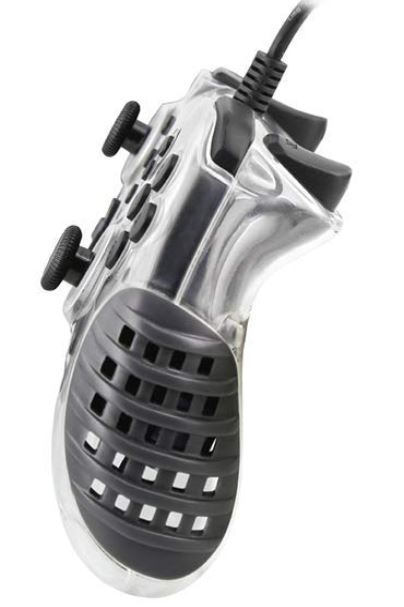 Extras and Compatibility
There are a few extra buttons on the Nyko controller that you won't find on an ordinary Switch controller. There's an LED button, which lets you cycle through different light colors. The lights can be purple, green, orange, blue, or teal, so you've got plenty of options. You can also adjust the fan intensity. If you find the air flow over your hands irritating, turn it down. If you've got sweaty palms, turn it back up. It all depends on what you need. An additional button lets you adjust the rumble intensity or turn the rumble function off altogether. You can also customize turbo functions for each individual button.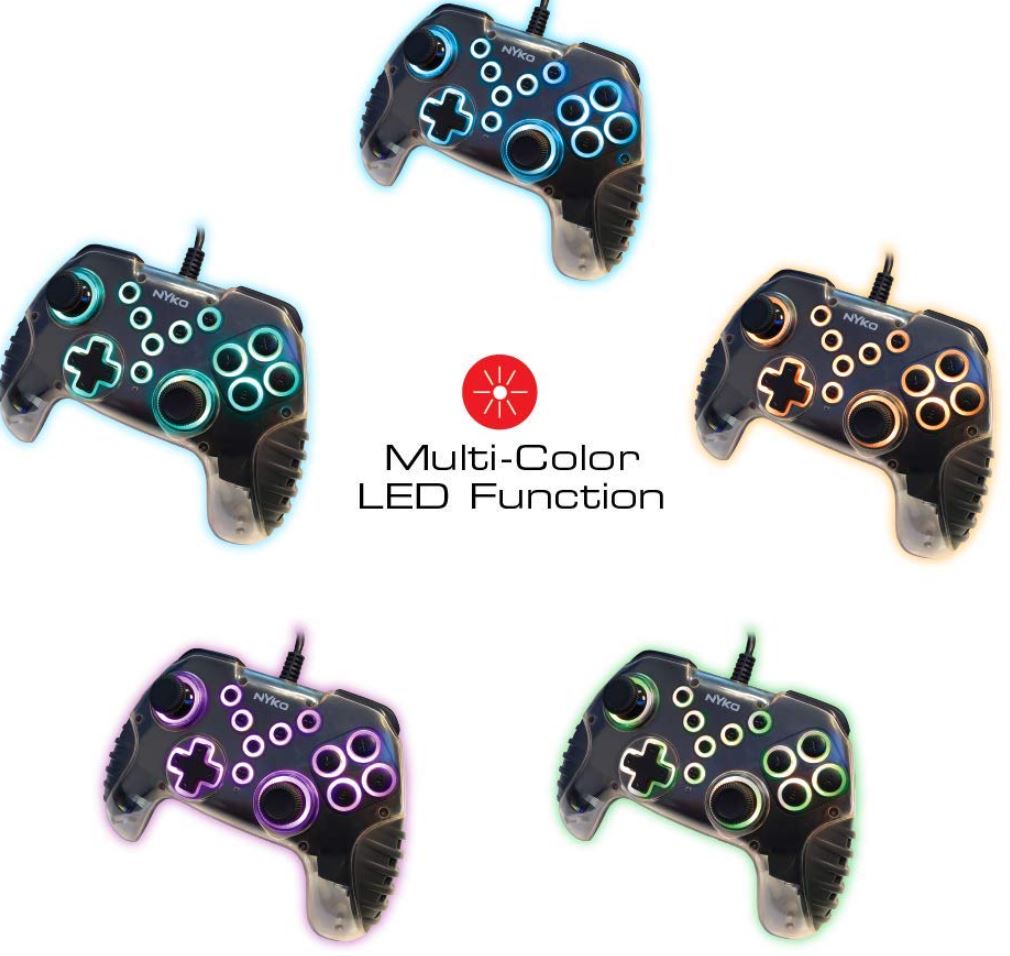 In addition to the Nintendo Switch, the Nyko controller can also be used on PC. Steam recognizes it without any trouble, so it's plug and play. As with any external controller, you'll invariably need to do some mapping for each game. But that's par for the course for any PC controller. The Nyko controller will also work on the PlayStation 3. The X, Y, A, and B buttons will work as PlayStation controls, and the thumbsticks work just fine. However, the Nyko controller will not work on the PlayStation 4 or PS5. It also won't work on any Xbox consoles. Still, you're getting a lot more compatibility than the average Switch controller!
About the only feature the Nyko controller doesn't offer is motion control. There are no built-in sensors. And even if there were, the wire would get in the way of any motion controls. There's also no wireless function or NFC. These features aren't needed on a wired controller, though, and none of our options offer them.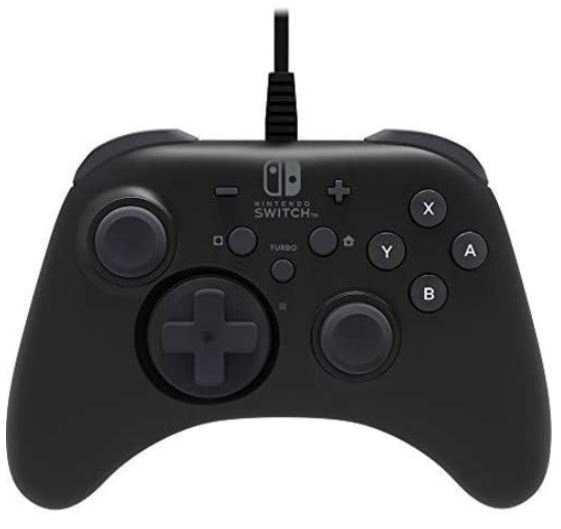 HORI Nintendo Switch HORIPAD Wired Controller
If you already own some Nintendo Switch accessories, you've probably heard of HORI. Among other gear, they make the Nintendo Switch Gaming Earbuds Pro, which we enjoyed. So when we heard about the HORI Nintendo Switch HORIPAD Wired Controller, we couldn't wait to try it out.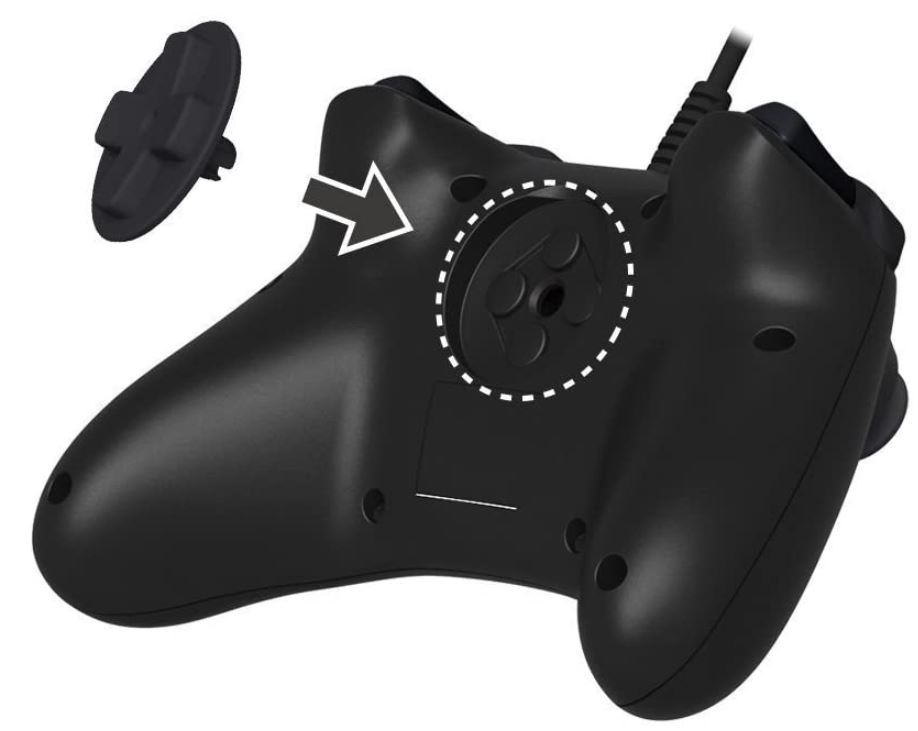 The HORIPAD is an officially licensed controller, and looks a lot like the standard Pro Controller. It has a matte black housing, with a Nintendo Switch logo towards the top. At first glance, you could even be forgiven for confusing it for a Pro Controller. If it weren't for the wire protruding from the top, they're basically the same. The wire is 10 feet long, suitable for playing in just about any room. It's also reinforced where it meets the controller, so the risk of damage is minimal.
The buttons themselves press cleanly, and are nice and responsive. The analog sticks are cupped at the top for a better grip, and have a very small dead zone. We also appreciated the highly-sensitive shoulder buttons. Unlike the original Joy-Con shoulder buttons, these actuate easily with very little pressure.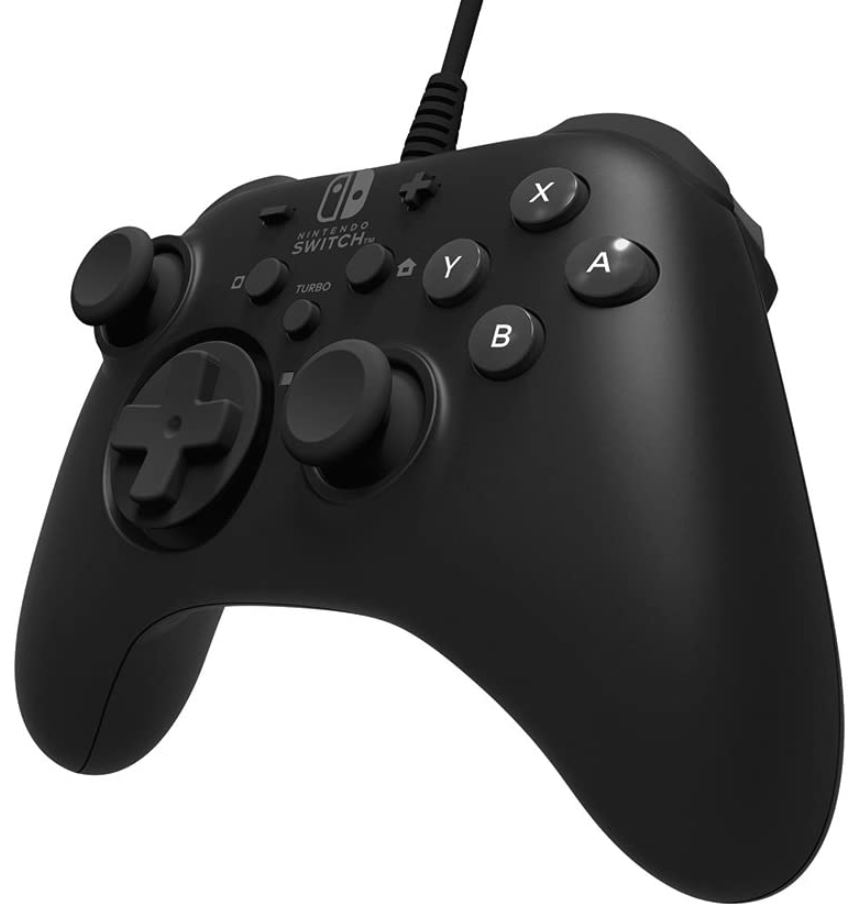 The main thing that makes the HORIPAD unique, though, is the removable D-pad. The Pro Controller uses a standard D-Pad, while the Joy-Con controller just has four directional buttons. The HORIPAD lets you choose between both options. When the D-pad is attached, it looks and feels like an ordinary Pro Controller. However, you can also pop off the D-pad cover and store it in the back of the controller. In this mode, there will just be four directional buttons. If you prefer the feel of a Joy-Con to a Pro Controller, you'll appreciate this feature.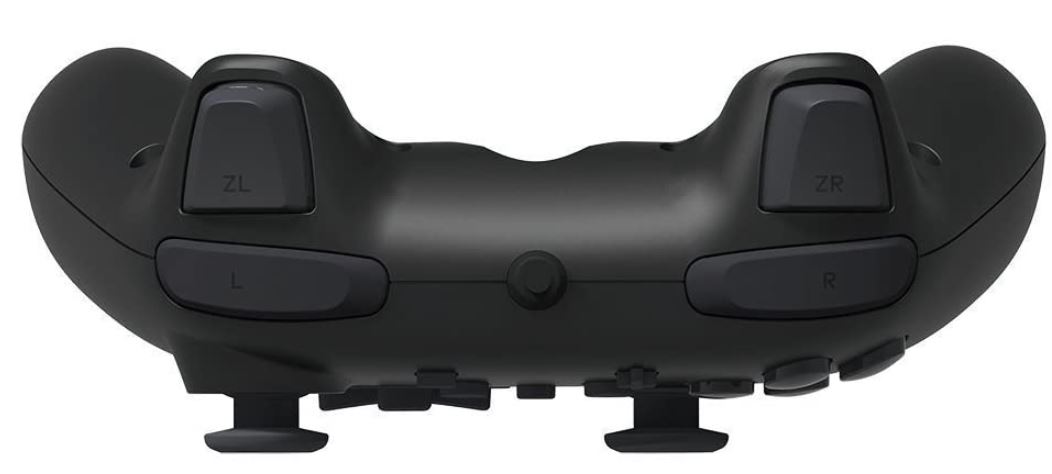 Extras and Compatibility
The HORIPAD features programmable turbo functions for each button. This can give you an edge in games like Super Smash Bros, where rapid button-presses are the norm. That said, you won't get any rumble function, since there are no motors in the controller. You also won't get motion control or wireless functionality, but that's normal for any wired controller. You'd need a battery for a wireless connection, and that would somewhat defeat the purpose of a wired controller.
In addition to the Nintendo Switch, the HORIPAD can also be used on PC. However, it can take some work to set up. By default, the HORIPAD works in D-input mode, which is only supported by a small number of games. Most games will require an X-input. To use the controller in this mode, you'll have to use a shortcut. Press the +, -, Capture, and Home buttons, and hold them down for about two seconds. You'll hear the Windows sound indicating that a USB device has been reconnected. At that point, you should be able to easily play games from Steam, GOG, and more.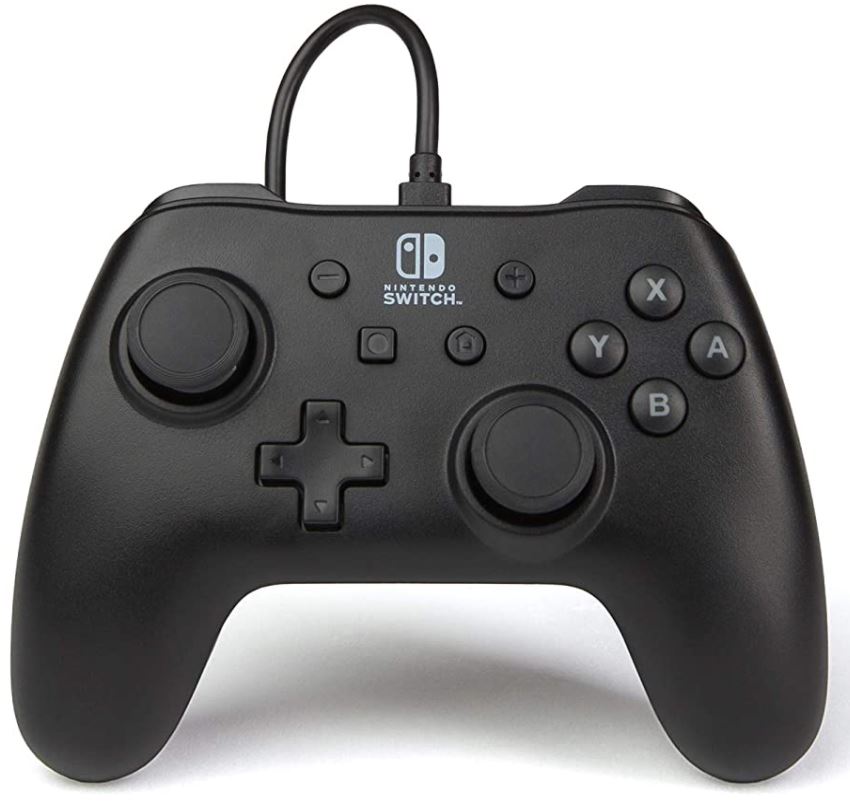 PowerA Wired Controller
PowerA is a manufacturer that specializes in third-party game controllers. We've reviewed the PowerA MOGA XP5-A Plus Bluetooth Controller for smartphones, and we were impressed. When it came time to find a good wired Switch controller, the PowerA Wired Controller was on our short list.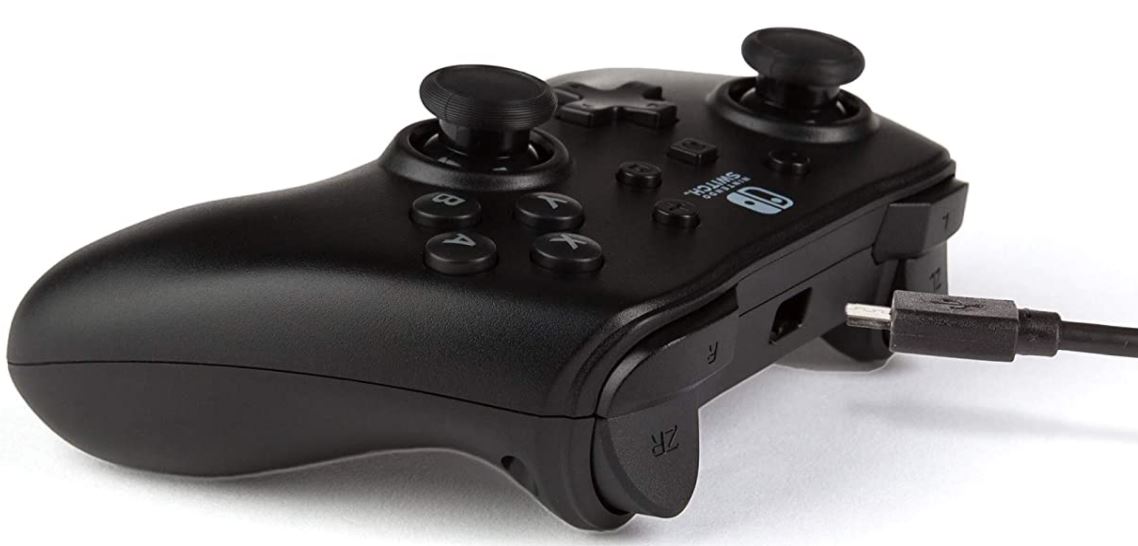 This is another licensed Nintendo Switch controller, with the Switch logo towards the top. Like the original Pro Controller, it's available in matte black by default. However, there are four additional color options as well. You can buy it in white, as well as in Pokemon, Mario, and Zelda themes. The layout is standard, with easy-to-use buttons and a standard D-pad. However, the domed design of the analog sticks makes them a little slippery. The overall feel of the controller is lightweight, but not cheap.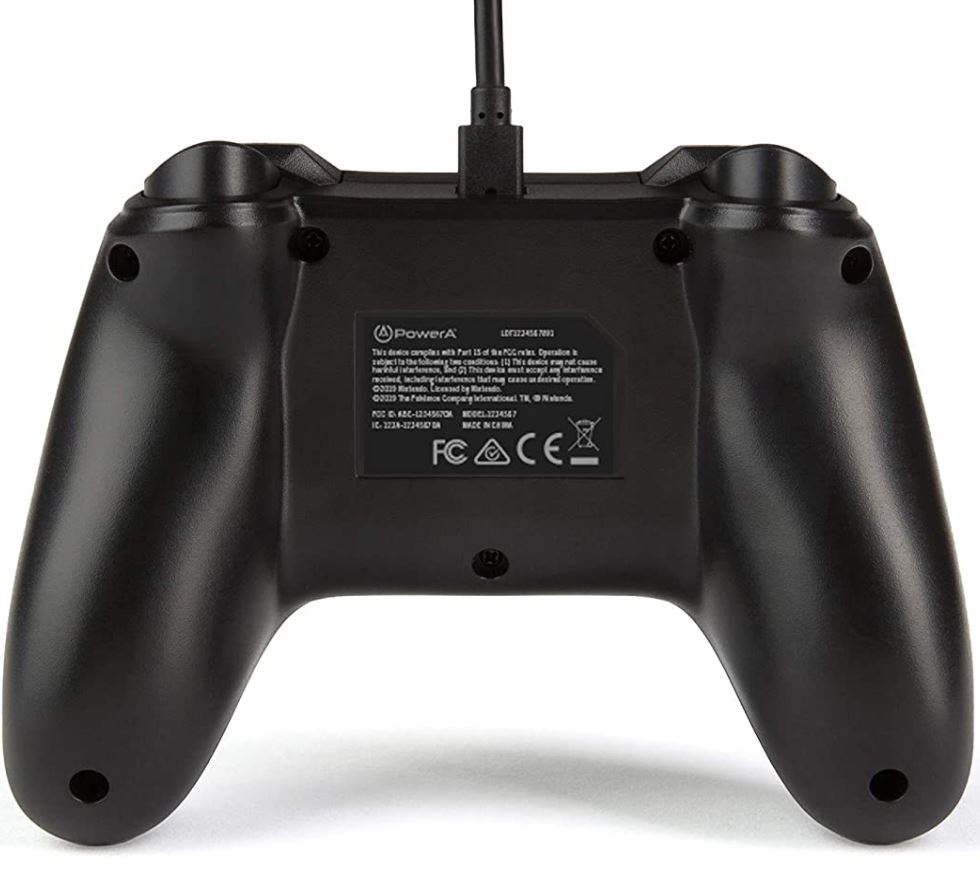 The PowerA controller connects with a 10-foot USB to Micro USB cable. This cable is removable, so it's possible to accidentally yank it out of the controller. That said, if the cable gets damaged, you don't have to replace the whole unit. Just buy yourself a new cable, and you'll have everything you need. The PowerA cable even includes a little velcro strap for easy storage.
Extras and Compatibility
The PowerA Wired Controller has few extra features to speak of. There's no rumble function, nor will it work with a motion sensor or near-field communications. However, it will work on PC in addition to the Nintendo Switch. Steam recognizes it as a plug-and-play controller, so all you have to do is map the buttons and you're set. That said, there's no compatibility for other game consoles. But even so, it's good to have PC compatibility as well.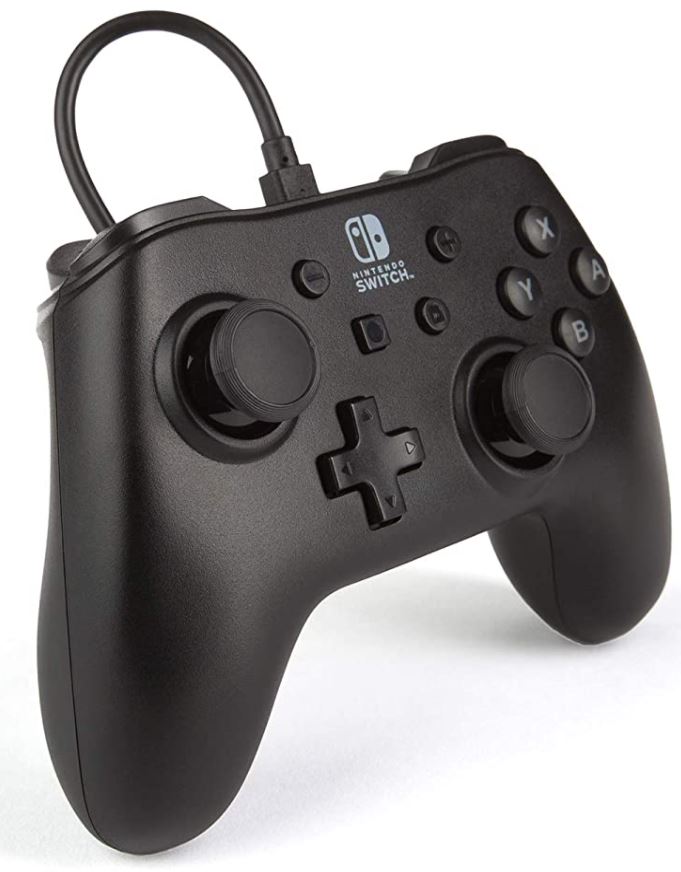 PowerA does offer a two-year manufacturer's warranty. This will protect you for any defects in materials or workmanship. Warranty coverage requires registration, though. Make sure to sign up on PowerA.com, or you won't be protected.
Final Verdict
So, which one of these wired Nintendo Switch controllers is the best? If you want the chunkiest and most ergonomic, the Nyko Air Glow LED Fan-Cooled Wired Controller is tough to beat. The rubber grips are comfortable, and the built-in air vents keep your palms from getting sweaty. The LED lights are purely a cosmetic feature, but they're attractive to look at. Finally, it's the only wired controller we saw that actually has a rumble function. On the downside, you'll be paying a premium to get these features. But the price is well worth it if you want a chunky, cool-running controller.
The HORI Nintendo Switch HORIPAD Wired Controller is a slimmer, more laid back option. It's designed to look and feel like the standard Pro Controller, and comes at a very affordable price. It lacks the air cooling and fancy LED lights of the Nyko controller. However, it still offers a turbo function. It also includes a removable D-pad for players who prefer the feel of Joy-Con directional buttons.
Last but not least, we reviewed the PowerA Wired Controller. This is another officially licensed option, and is available in various Nintendo themes. It has the same form factor as the Pro Controller, with an identical button layout. Switching from one to the other will be easy and painless. The PowerA controller is compatible with PC, and works with Steam games right out of the box. Another useful feature is the removable USB cord. If the cord gets damaged, it's cheaper and easier to replace than an entire controller. The only major drawback is the thumbsticks, which have rounded tops. But if you want a stylish, lightweight controller, you're looking at one of the best.
Was this helpful? Please consider sharing: