Whether you're a gamer, a creative professional, or just have to write a lot of emails, your keyboard is important. Sure, a cheap chiclet keyboard is just fine for light use. They even make sense in laptops, where size and weight are at a premium. But for serious computer users, a mechanical keyboard is where it's at. You get more durable keys, better responsiveness, and good tactile feedback. When you're typing on a good mechanical keyboard, you don't have to question whether you mist a keystroke. When the key strikes, you feel it and hear it.
Today, we'll be reviewing not one, but two mechanical keyboards. Both of these keyboards are manufactured by Epomaker, a manufacturer of boards and keycaps. Epomaker is also a vendor for Gateron and Cherry switches, so they're a popular shop for DIYers as well. We'll begin by reviewing the Epomaker AK61. This compact board is optimal for gaming, with full N-key rollover and RGB backlighting. Next, we'll be looking at the Epomaker Ajazz ZINC. This is a rugged, aluminum keyboard that's designed to take some abuse. Which one is right for you? We're about to take a closer look, and see how they compare!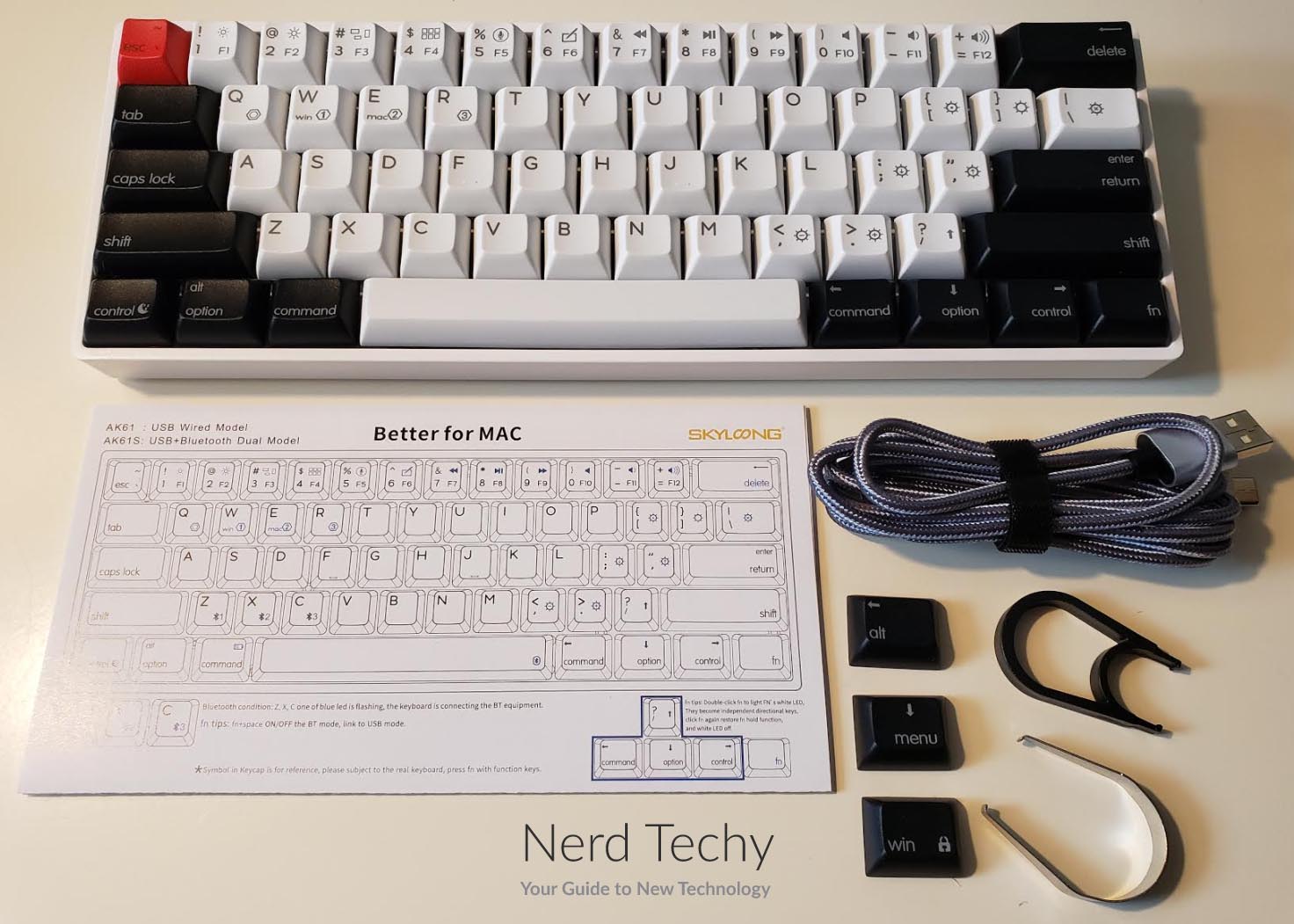 Epomaker AK61
The Epomaker AK61 is a 61-key tenkeyless (TKL) keyboard that's designed to be compact and lightweight. It measures only 11.4 inches wide by 4.09 inches high, so it can fit on even a very small desk. And at only 27 ounces in weight, it's easy to carry around in your backpack. That said, we should point out that the 61-key design means there are no arrow keys. For most gamers, this won't be an issue, since WASD is the standard. But for older games or games with non-standard controls, you'll need to do a little controller remapping. The housing is constructed from ABS plastic, not aluminum. This contributes to the AK61's light weight, but it also means it's less durable than some other options. The plastic has a smooth surface and is easy to keep clean.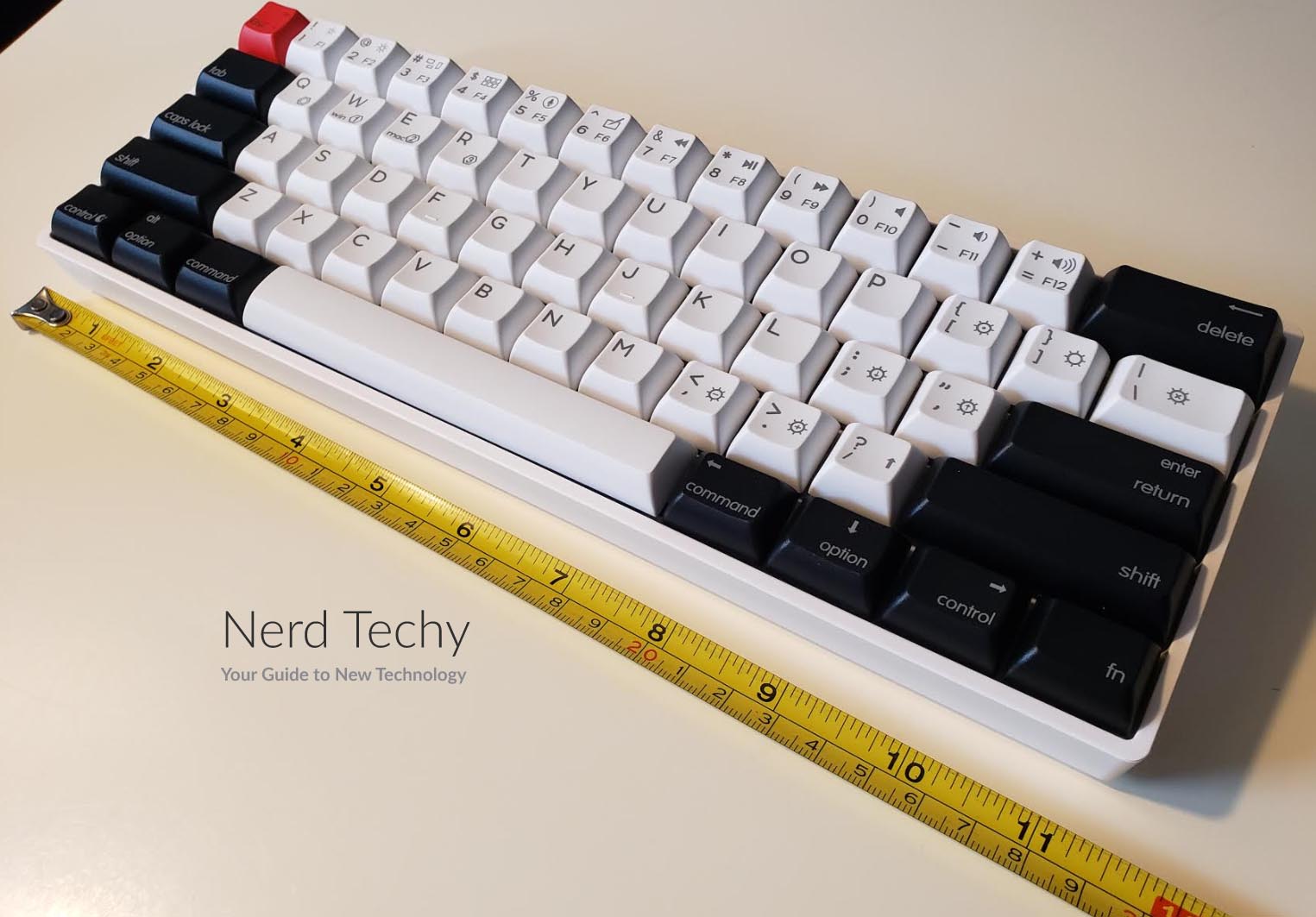 Of course, there are plenty of other good TKL boards if the AK61 isn't quite your style. If you want something a little different, check out our list of the best TKL keyboards. At least one of them is sure to be right up your alley!
There are two ways of connecting the AK61 to your computer. The first is to use Bluetooth. The AK61 supports Bluetooth 5.1, the latest and greatest Bluetooth version. It offers a more stable connection than older Bluetooth versions, which means less risk of signal loss. It also allows you to connect up to three devices simultaneously. We're not sure why you'd want to be connected to three computers at once, but you can be.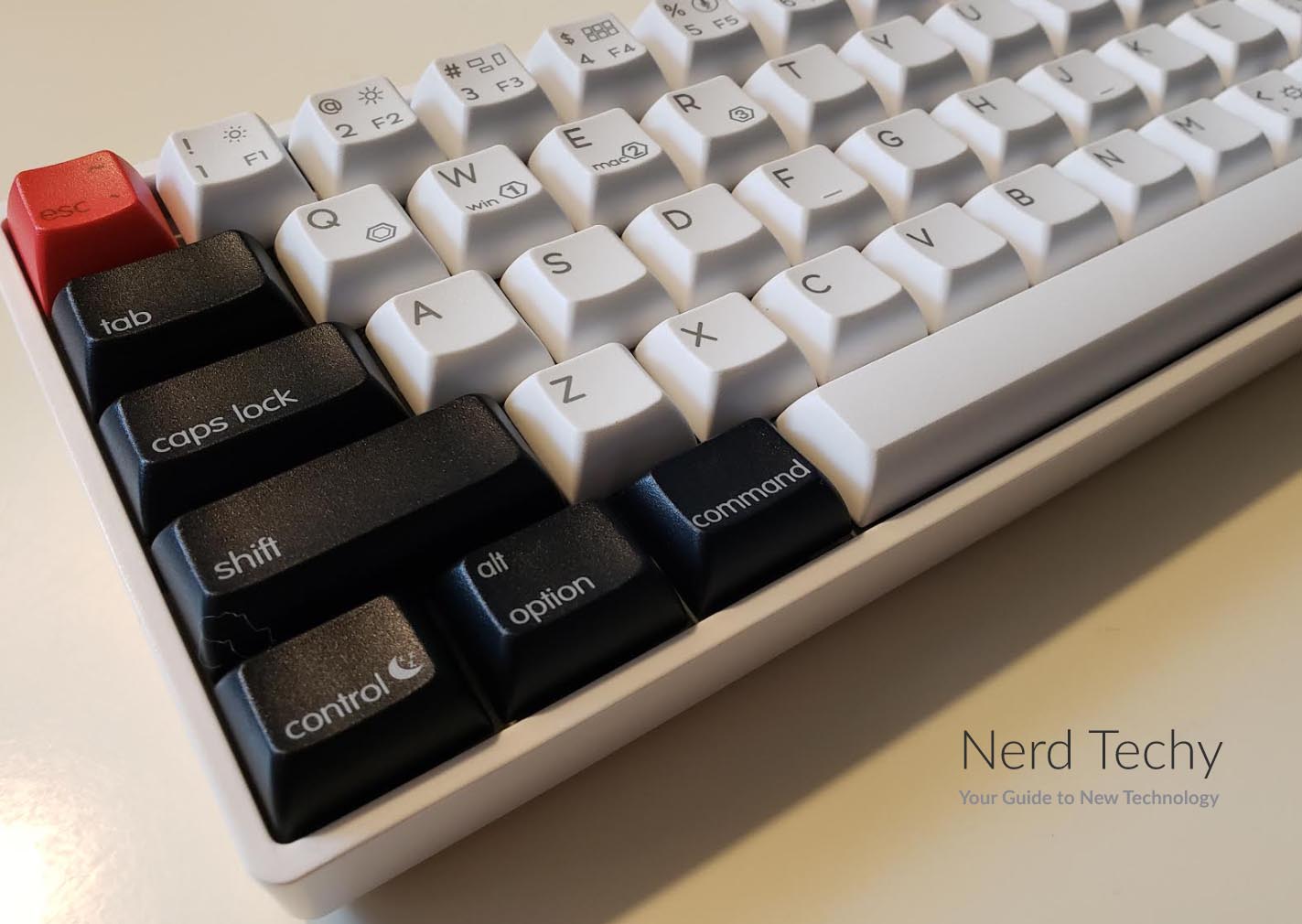 In Bluetooth mode, you'll be relying on the internal battery, which carries enough charge for 50 hours of operation. This is a ballpark number, and it really depends on how you're using the keyboard. If you're using it intermittently, it will last longer. If you're a fast and furious typer, it will last shorter. When not in use, the battery is good for 300 hours of standby. That's almost two weeks of standby power!
If you'd rather use a wired keyboard, the AK61 can also be connected via USB Type-C. A Type-C cable is included in the package, and is required for charging the battery. But if the keyboard is always in place, there's no reason you can't leave it plugged in.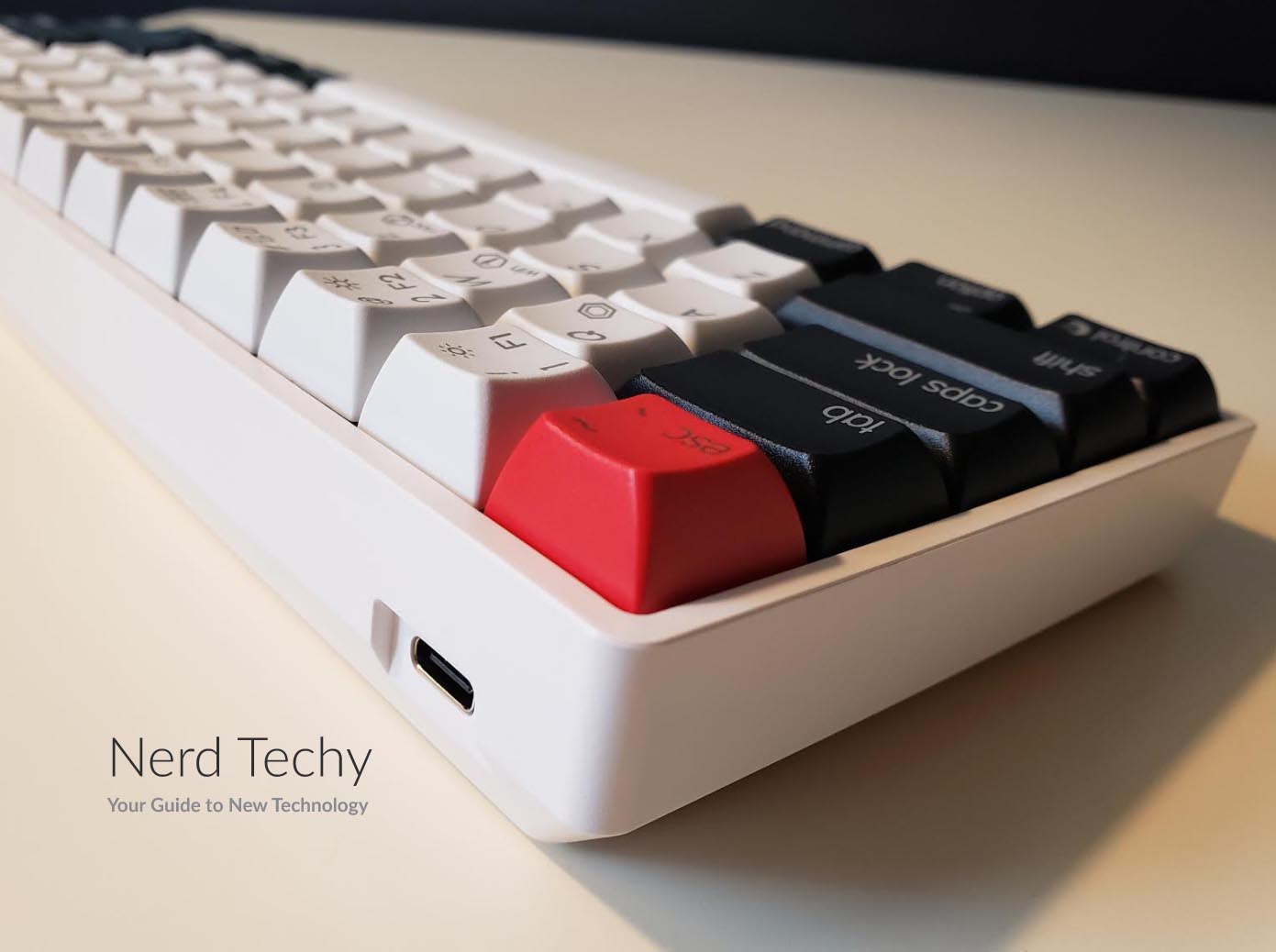 Keycaps and Switches
The AK61's keycaps are made from PBT plastic, rather than ABS. PBT is far more durable, and won't develop a sheen like ABS keycaps. It also won't retain sweat and skin oil, so your keys won't feel slimy after a day of use. These keycaps are printed using the thermal sublimation process. Rather than the ink simply being applied to the surface, it's heated when applied, so it mixes into the plastic. This means the lettering on the keys won't wear down, even after years of everyday use. In addition to the ordinary keys, you also get extra Mac keys that can be swapped in.
The switches in the Epomaker AK61 are Gateron optical switches. These aren't technically "mechanical," because there's no physical switch. Instead, the key has an optical sensor underneath. When you press down, the sensor receives more intense light, and registers a keystroke. This means the keys will respond slightly faster than your average mechanical switch. The downside is that there's no tactile bump at the bottom of the stroke. The keys still click when you press them, but there's not the same spring-loaded return provided by true mechanical switches.
That said, the Gateron optical switches have a couple of advantages. For one thing, because there are fewer parts, they fail less frequently. In fact, these switches are rated for 100-million keystrokes. You could type out the complete works of Leo Tolstoy and still keep using the same keyboard. The switches are also hot-swappable, so there's no soldering required to replace them. To be fair, this only works if you're replacing them with other Gateron optical switches. But that's more solder-free swapping than you'll see in most keyboards.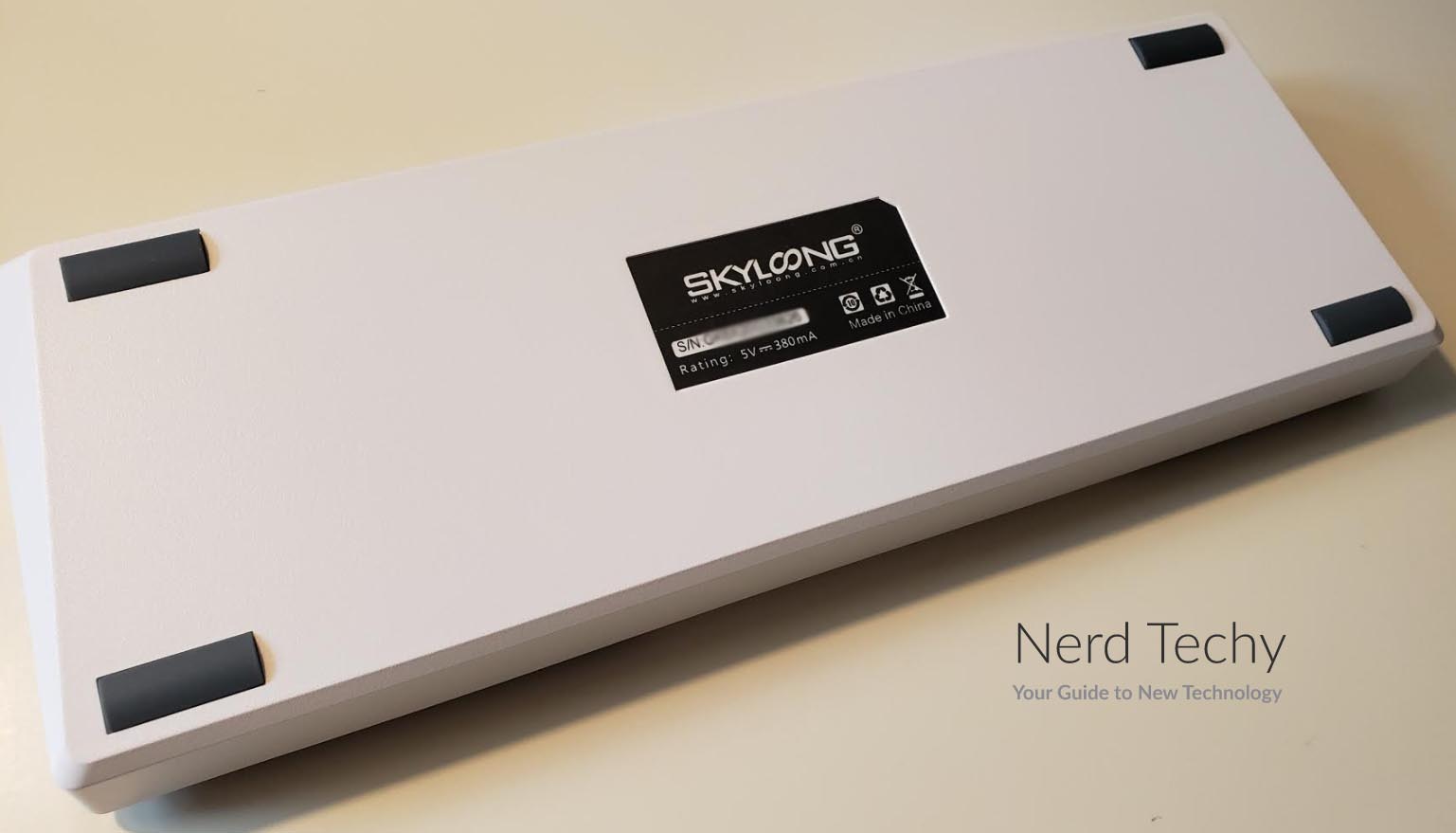 Extra Features
As a proper gaming keyboard, the AK61 supports N-key rollover. This means that you can press as many keys as you want simultaneously, and all keystrokes will be registered. It's hugely helpful for games with a lot of macros, or where you're quickly entering multiple commands.
Another useful feature for gamers is the RGB lighting. The AK61 supports all 16.8 RGB colors, so you can adjust the lights however you like. There are a few default modes included, with shortcuts to switch between them. Perhaps the most interesting of these is music rhythm mode, where the lights move in time to your music. Additional modes and effects can be downloaded online for free.
The AK61 has three different keyboard layers, with a shortcut to switch between them. "Fn+W" will put the keyboard in Windows mode. "Fn+E" will put the keyboard in Mac mode. "Fn+R" will put the keyboard in custom mode. In truth, all three modes are customizable using the companion software. The software is confusing to download and use, and could have been better-designed. That said, it allows you to set macros, customize keys, and perform other changes. All your settings are stored in onboard flash memory, so they move with you between computers.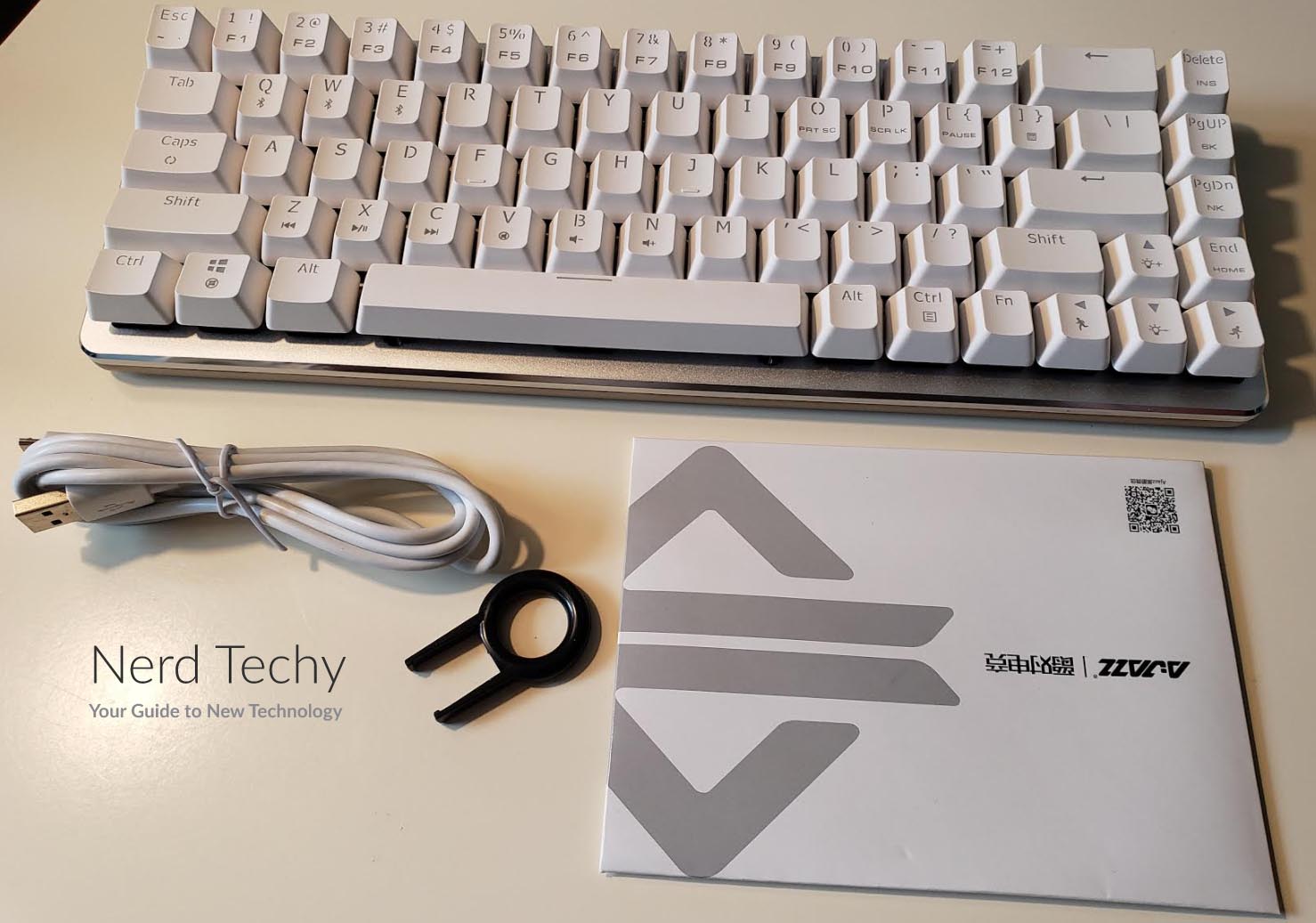 Epomaker Ajazz ZINC
The Epomaker Ajazz ZINC is a slightly larger keyboard, with 68 keys instead of 61. On the one hand, this means it requires more space, since it's 12.2 inches wide and 4.33 tall. On the other hand, it means you actually have arrow keys, which can be helpful for navigation. The aluminum housing also makes it surprisingly durable and drop-resistant.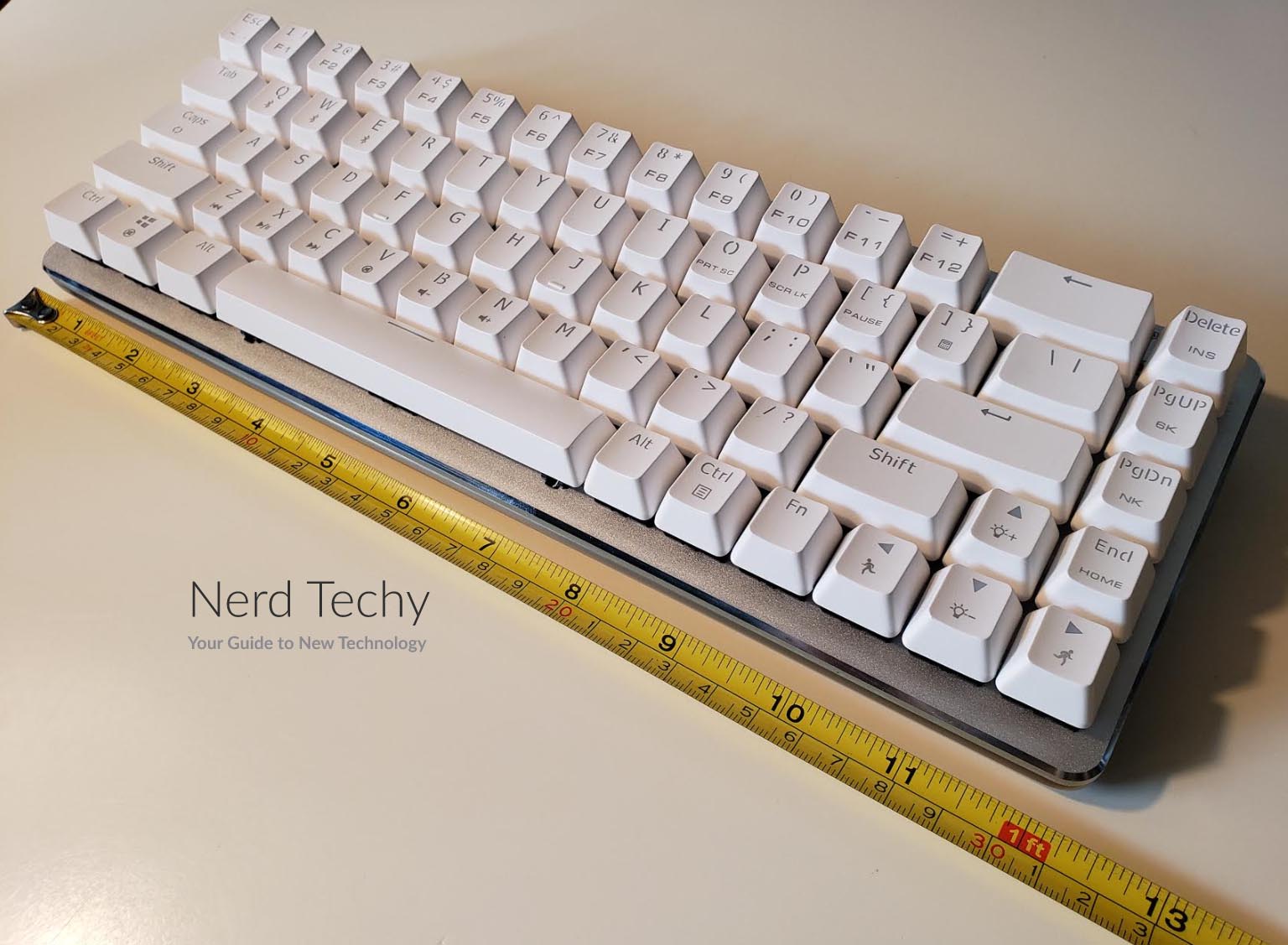 Another way to make good use of limited desk space is to use a split keyboard. These two-piece units let you position them better for space and ergonomics. Take a look at our list of the best ergonomic split gaming keyboards, and see if any strike your fancy!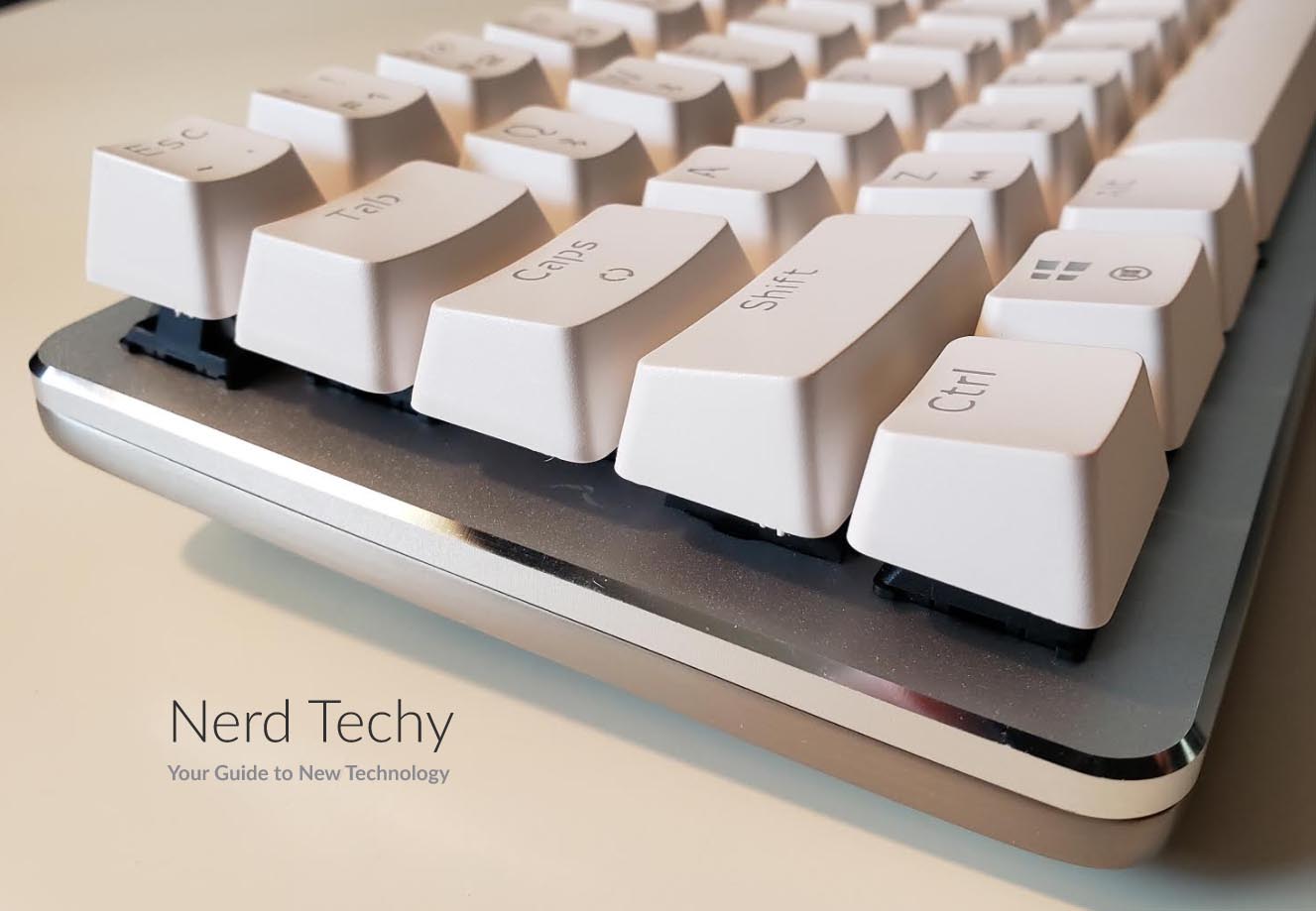 The Ajazz ZINC connects to your computer via Bluetooth 5.1. It has all the same advantages and capabilities, and can also connect to three computers simultaneously. It also has comparable battery life, with a 3,000mAh battery that's good for 50 hours of operation. Alternatively, you can use it in wired mode with the included Micro USB cable. This cable won't charge the battery as quickly as the AK61's USB Type-C cable. But it's more than good enough for most purposes.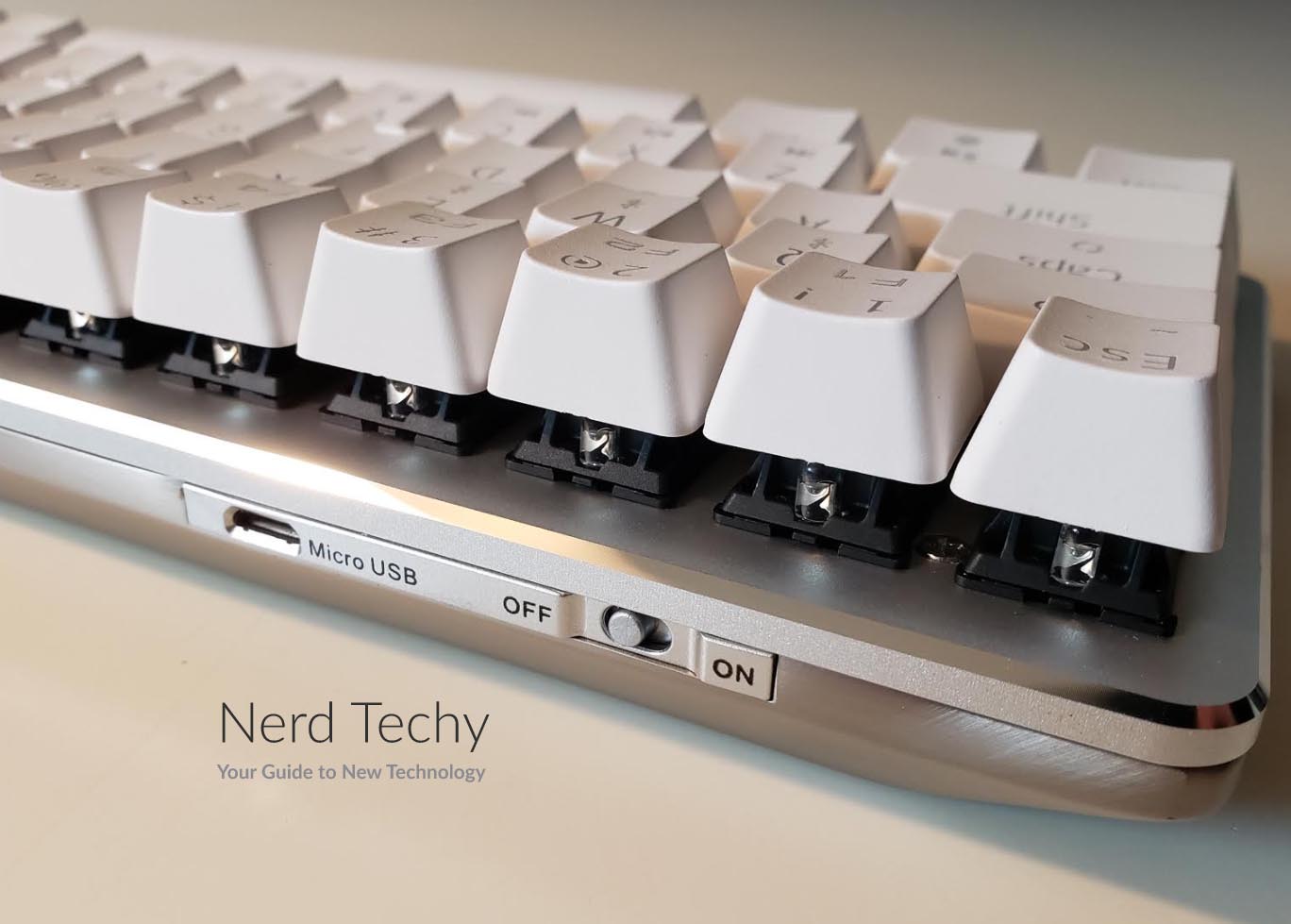 Keycaps and Switches
The keycaps on the Epomaker Ajazz ZINC are made of ABS plastic, not PBT. This means they can develop a shine and collect skin oil over time. However, because the keyboard is mechanical, they can always be removed and replaced if you want. They're also easy to pop out and throw in the sink for the occasional cleaning.
The Cherry MX Red switches are some of the most popular on the market, for work and for gaming. They require a relatively light force to actuate, and they're relatively quiet for mechanical switches. If you want different attributes, the Ajazz ZINC are also available with Cherry MX Blue, Black, or Brown switches. All of these are rated for 50-million keystrokes, so durability is not a concern.
Extra Features
The Epomaker Ajazz ZINC doesn't offer a lot of extra features. There's no RGB lighting, and while performance seems fine, there's no official support for N-Key rollover. On the upside, the Ajazz ZINC works with Android and iOS in addition to Mac and Windows. This makes it suitable for tablets and mobile phones as well as for full-sized computers.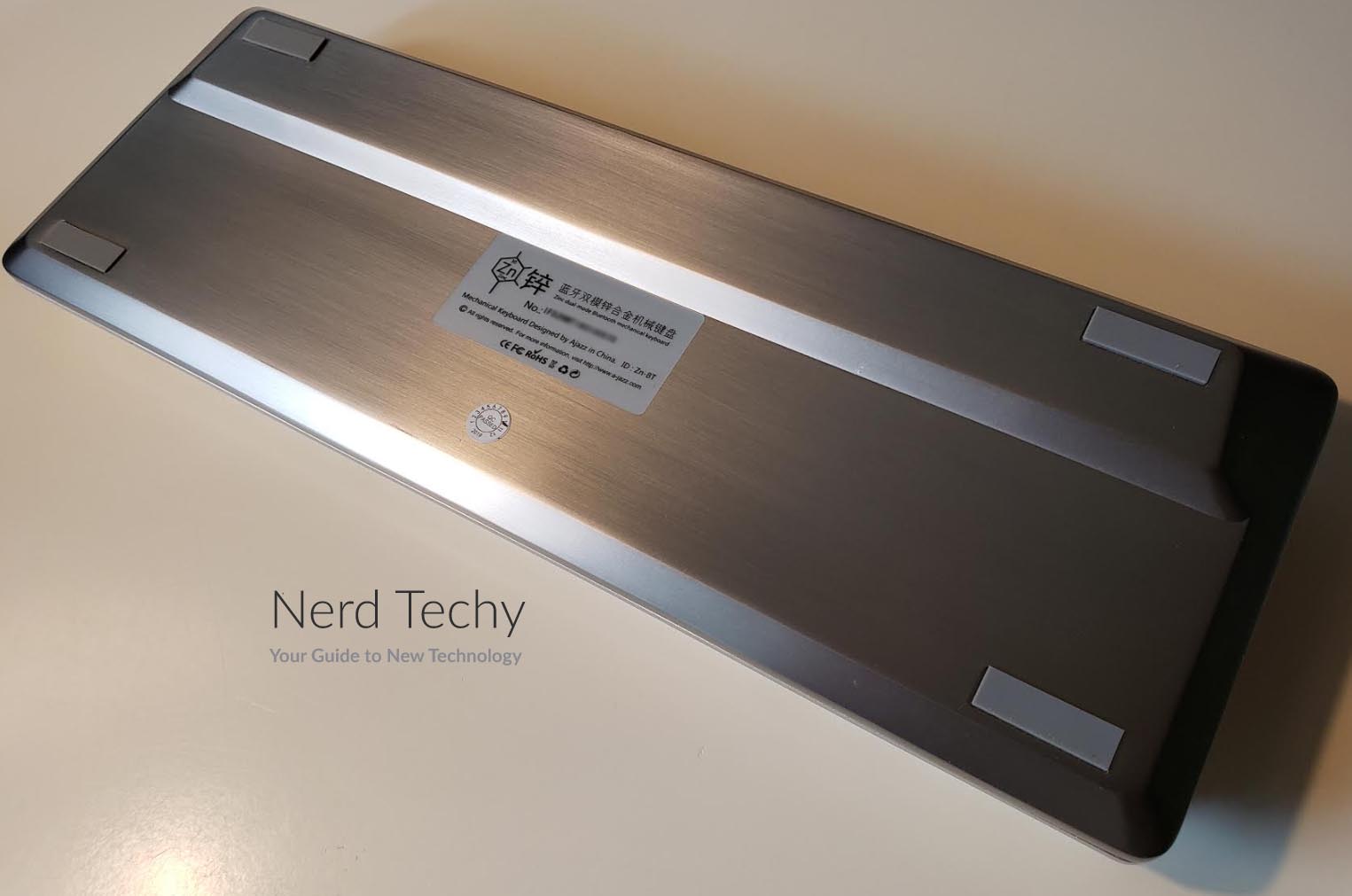 If you want a fully tricked-out gaming keyboard, why not consider a full-sized one? The Hexgears K520 is a monster keyboard that requires plenty of space. But it has RGB lighting, anti-ghosting, and highly responsive keys.
Final Verdict
Which Epomaker TKL mechanical keyboard is the better choice for you? It mostly depends on what you expect out of your keyboard. The Epomaker AK61 is by far the superior choice for gaming. With RGB lighting, three customizable modes, and N-key rollover, it's got everything you need. The optical switches were an interesting choice, and more a matter of personal preference. That said, it's nice to be able to hot-swap them if you want a stiffer or looser feel. You also get your choice of a wired or Bluetooth connection, which makes the AK61 more versatile. That said, the housing is plastic instead of aluminum, and there are no arrow keys.
The Epomaker Ajazz ZINC keyboard, on the other hand, is a more well-rounded choice. It's not quite as compact, but the arrow keys make it more versatile. It also has an exceedingly rugged aluminum-zinc alloy housing, for exceptional durability. Moreover, just like the AK61, the Ajazz ZINC can be used in either wired or Bluetooth mode. There aren't any dedicated gaming features. But for content creation, writing, or office work, you're looking a powerful keyboard.