The early days of audio were pretty simple and direct. You would connect a couple of red/yellow/white cables, and that was it. But as technology has grown and matured, times have changed. These days, one of the best formats for carrying audio signals are Toslink cables, which are essentially just a branded name for digital optical cables.
Choosing the Best Optical Toslink Audio Cable for Surround Sound
And picking an optical Toslink audio cable for surround sound is actually pretty simple. Unlike with HDMI video connections, you don't need to worry too much about the speed of the cable, or even the cable supporting special formats. You really only need to concern yourself with three primary criteria: connection caps, cable distance, and construction quality.
Connection Caps
Optical cables are basically like big tubes. When these tubes aren't connected, they're vulnerable to the ingress of dust and debris. Because even a miniscule amount of dirt can get in the way of an optical signal. That being the case, many Toslink cables will have some kind of cap or seal to help close-up the cable while it's not connected to an audio device.
Sometimes these caps are detachable, sometimes they're permanently installed, and sometimes they're not included at all. And for people who plan on installing their optical audio cables and forgetting about them, not having any caps is perfectly fine. For people who are planning on regularly swapping their cables, having caps or seals can be essential.
Cable Distance
How far do you need your cable to run? Technically speaking, optical cables do have some distance limits. But unless you need to travel extremely long distances, like 100ft, you really won't have to worry about encountering those limits. Still, it's a good idea to select a cable that's roughly no larger than you need for the task at hand. Not only in the interests of saving a couple of bucks, but also in the interests of ensuring your signal doesn't have to be transmitted any further than it absolutely has to be. Because longer signal distances are only courting disaster.
Construction Quality
The quality of a cable's construction is more of a factor for people who are making regular interactions with their audio cable. Are you setting it up, again and again? Or are you expecting to place the cable one time, and then forget about it for the next couple of years? With less common interaction, construction quality tends to be less of a concern.
Though in the interests of preventing corrosion, it's still helpful to go out of your way looking for gold plated connection terminals. Though gold isn't the only metal that can be used to resist corrosion, so it's acceptable to look for alternatives as well. As long as you know that corrosion hasn't been overlooked entirely. Because over time, nothing will destroy a good cable or adapter quicker than a little corrosion.
Cable Matters Toslink Cable
In a lot of situations, most people don't need an extra really fancy optical cable. Most people will get by just fine with something basic and simple. However, there are a couple of reasons why you might want to spend a little extra for a nicer connection. Nicer Toslink cables will have more lasting power, they're easier to connect and disconnect, and generally easier to use.
Whether you'll be able to appreciate those differences really depends on how often you end up interacting with your cable. In any case, the Cable Matters Toslink Cable was designed to connect satellite DVRs, Blu-ray devices, game consoles, and so forth. Pretty much anything that would connect with an S/PDIF interface. And in a lot of respects, this is one of the higher-end Toslink cables you'll probably ever consider using.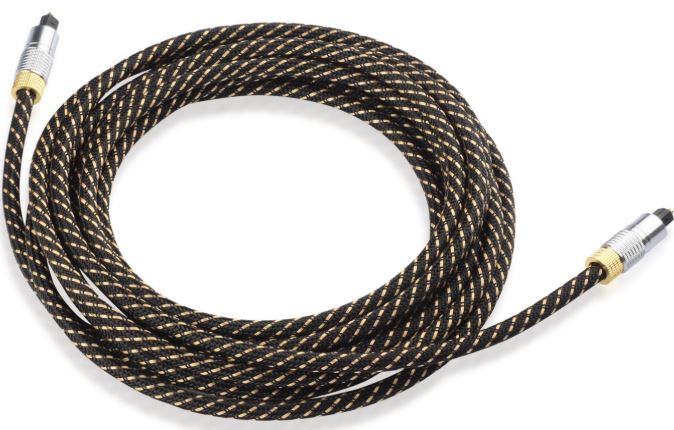 Design of the Cable
True to form, this cable supports uncompressed audio, as well as compressed 5.1 and 7.1 surround sound. Additionally, it supports Dolby Digital Plus, and DTS-HD. And these cables are available in seven different increments, including 3ft, 6ft, 10ft, 15ft, 25ft, 35ft, and 50ft. Interestingly, almost all of these lengths are fairly cost effective. Though the most cost effective is at 35ft.
Looking at their physical construction, these digital optical cables were engineered with an external layer of durable PVC. Additionally, they use a braided nylon jacket that increases the general durability of the cable and protects from cuts or bumps from damaging it. That makes Cable Matters' cables some of the sturdiest on the market.

The metal connectors are also worth taking note over. These polished heavy duty connectors are complete with gold plated tips, for a design that's both resistant to corrosion and totally secure. It's also resistant to bending forces, though as always, you don't want to go out of your way to bend or contort the cable.
Plus, the outside of each cable connection makes use of a 360-degree gripping tread, with a nice even texture across the entire surface. That makes the cable much easier to plug and unplug, even if you're wearing gloves or have wet hands. And these cables are a little thicker because of the extra layer of protection, but unless you're trying to squeeze through a tiny space, that shouldn't concern you.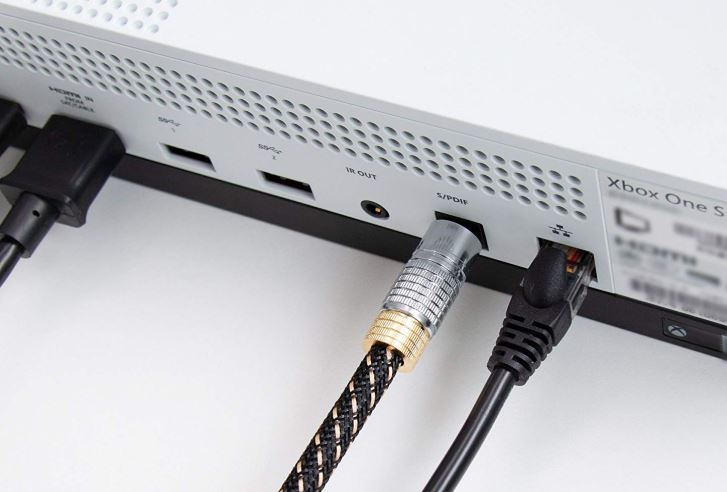 Other Considerations
When you receive these cables, the ends will be covered in protective tethered caps. These caps can be used to help protect the outside of each cable fiber from connecting dust while not connected to some kind of device. Since the caps are tethered to the cable itself, you don't have to worry about losing or misplacing them. And since the tether is essentially just a little piece of flexible plastic and nylon, you can pop it off anytime you don't actually need it anymore.
The S/PDIF Toslink optical cable port is ended with a red LED light, that confirms the cable is working. It's important to point out that this is only an audio cable – it can't transmit video signals or 3D video signals.
AmazonBasics Digital Optical Audio Toslink Cable
If you've shopped around Amazon for a while, then you probably already know everything you need to know about AmazonBasics. As a brand, they're not exactly trying to be incredibly innovative. They're just delivering decent quality stuff at highly competitive prices. Sort of like any other generic brand.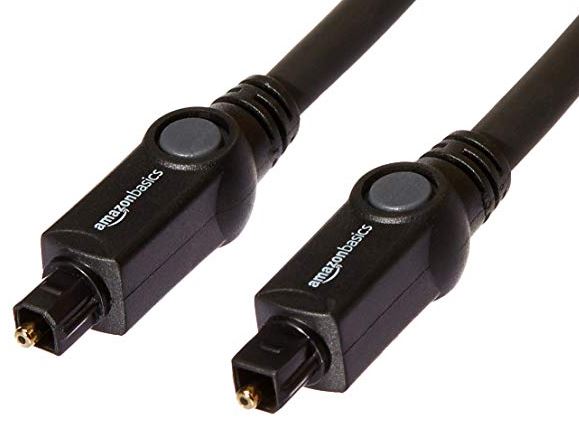 As such, the AmazonBasics Digital Optical Audio Toslink Cables are designed to work with essentially all the same standard and HD devices that you might expect to use a Toslink connection. That might include flat screen TVs, Blu-Ray players, DVD players, cable boxes, and so forth. Of course, it doesn't matter if you're talking about a chair or an audio cable – there's a difference between decent quality and great quality.
But that difference isn't something that everyone will feel – it really depends on what you end up doing with your Toslink cables.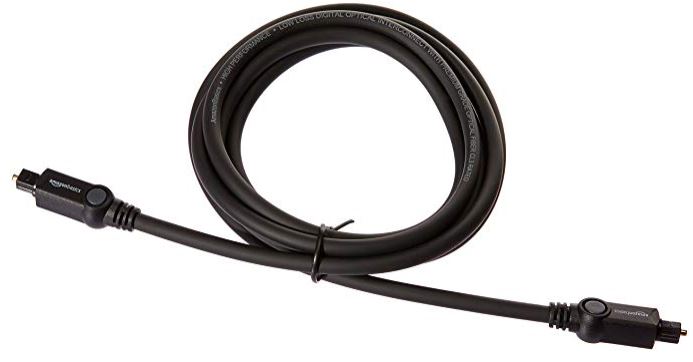 Design of the Cable
The AmazonBasics Digital Optical Audio Toslink Cable is available in three variants, including 3.3ft, 6ft, and 9.8ft. Similar to the Cable Matters cable, there is a durable layer of PVC to help protect the cable from damage. However, unlike the Cable Matters cable, AmazonBasics hasn't covered their cable in an additional protective layer of woven nylon.
The extra layer of protection isn't something that is absolutely necessary for all people. But if you're someone who expects their cable to see regular use in rough and tumble environments, then it can be worth it to spring for the extra protection. The nylon is great for warding off cuts and slices, it's also resistant enough to hold up in a vacuum cleaner without suffering more than superficial damage.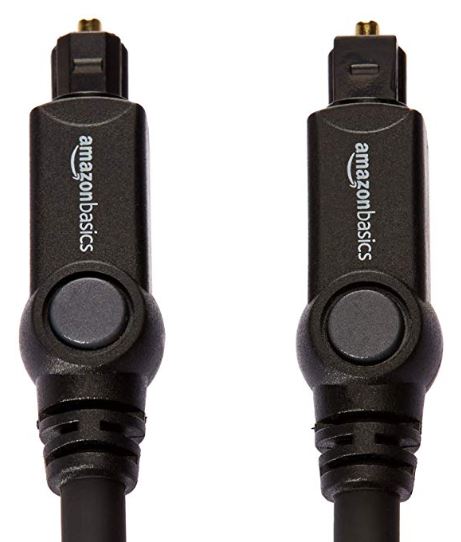 Similar to the CableMatters cable, you'll find corrosion resistant gold plated connections on the ends of each cable. But the cable itself provides only a little bit of grip to work against while plugging and unplugging the it. Since the entire body is composed of ABS plastic, you probably don't want to try using this cable with wet hands, or while wearing thicker gloves. Because you'll certainly have a tougher time getting a firm grip on the end.
Instead of using tethered caps, the AmazonBasics cable makes use of a removable rubber tips. Since the tips are fully removable, you are more likely to misplace or lose them. For people who will plug in their cable and never think about it again, that's not such a big deal.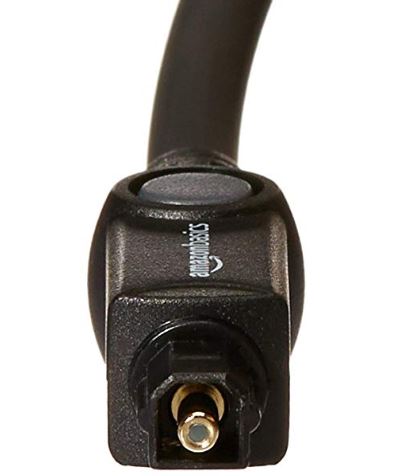 Other Considerations
The ends of these cables are not designed to elegantly bend. If you have to plug in these cables at awkward 45-degree angles, you can probably force them to work. But you'll also end up slightly damaging your own cable in the process. As such, you're better off installing these cables in spaces where you don't need the end other cable to sharply bend. Additionally, AmazonBasics includes a one-year warranty with their cable.
KabelDirekt Optical Digital Audio Cable
Similar to the other digital audio cables on this list, these cables are designed to help make perfectly clear connections alongside Blu-ray players, DVD players, home theater receivers, online streaming devices, game consoles, and so forth.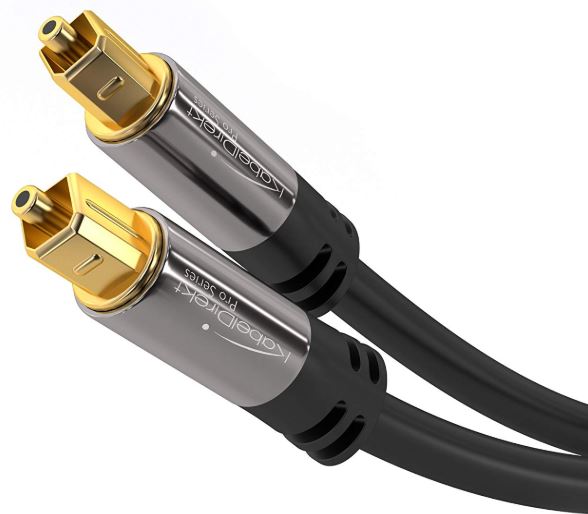 Additionally, the KabelDirekt Optical Digital Audio Cable has a range of size options that compares favorably with CableMatters' range of options. Among them, you'll find cables at 3ft, 6ft, 15ft, 20ft, and 25ft. Though that's not quite as far as the CableMatters' 50ft cable, there are smaller increments between each leap. So for a person who's looking for a cable that is only exactly as long as it needs to be, that makes the KableDirekt optical cables a potentially excellent alternative.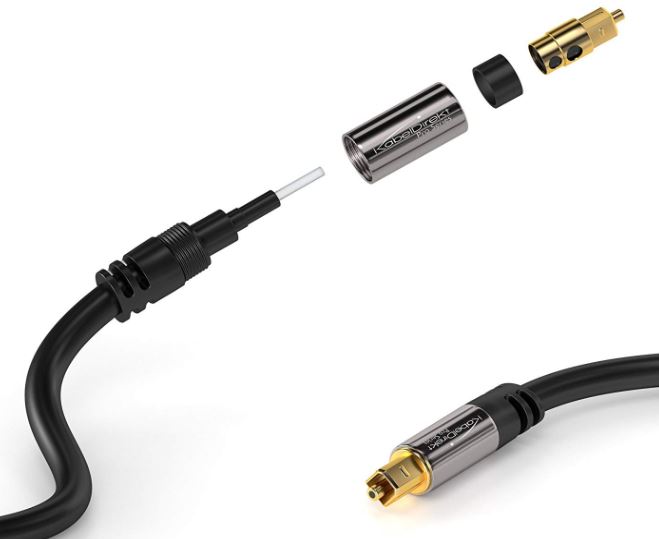 Design of the Cable
The head of each cable is covered in a reflective chrome that features the KableDirekt logo written across it. It looks fantastic, but admittedly, a texture-free metallic surface isn't optimal for plugging in and unplugging your cables. So if you're someone who anticipates regularly connecting and un-connecting these cables, especially in cramped spaces, then you might want to think twice.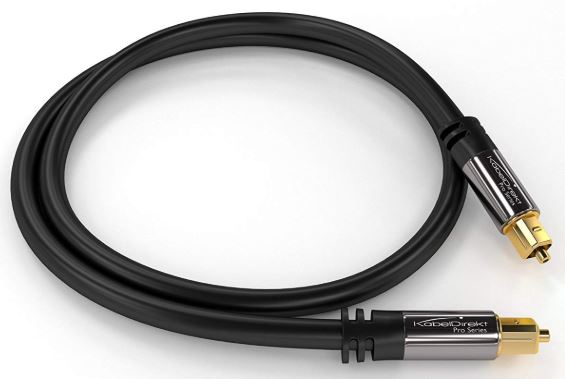 And again similar to the AmazonBasics cables, these make use of a PVC exterior to help protect against moisture and bending forces. However, there's no extra nylon jacket. Yes, the cable is stronger than your average cable – but it's still not quite as strong as it could be. Still, on the ends of each cable connection, you'll find 24k gold plated connections, which help resist corrosion while keeping your connectors clean.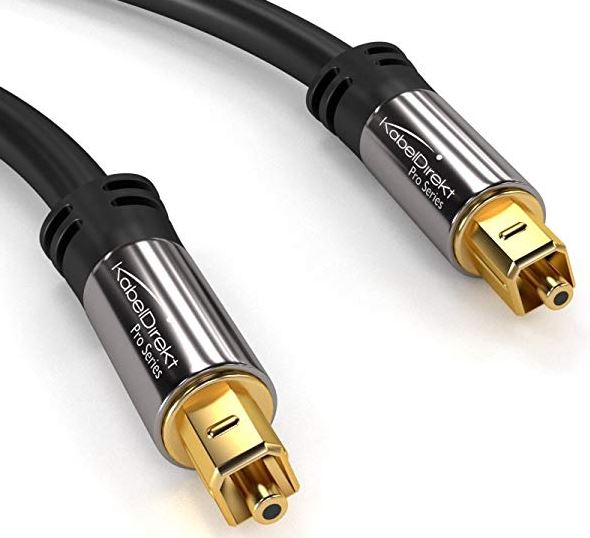 Other Considerations
These cables support uncompressed PCM audio as well as compressed 5.1 and 7.1 audio. It also supports doubt Digital Plus and DTS-HD. Additionally, KableDirekt includes an 18-month warranty with their optical cables.
Choosing Between 3 Excellent Optical Toslink Audio Cables
Are you looking for something as cheap and simple as possible? Then you'll probably want to go with one of the AmazonBasics cables. They're available in the sizes that most people will end up using, and they're built to be rugged enough for the purposes of most users. Sure, they're not the very best optical audio cables on the market, but they'll get the job done.
The KableDirekt Optical Digital Audio Cable will make more sense if you're looking for something that's about as cheap as the AmazonBasics cables, except have far more size options available for you. Even though the gripping surface for these cable-ends is pretty subpar, it's not something that will end up bothering that many people. Especially for people who plug-and-forget their cables.
Finally, there's the CableMatters Toslink Cable. If you're looking for the very best Toslink cable you can get your hands on, then you'll probably want to go with this one. Its pricing is quite similar to intro-level cables, except the exterior of this cable is layered in protective nylon. Additionally, the gripping point for adding and removing the cable has an excellent 360-degree texture. And these are fairly clearly the best cables for people who are looking to push out towards 50ft.