Without opening Google, answer this question: what's the most popular gaming platform? If you're like most people, you guessed the PlayStation 4 or the PC. After all, the PS4 "won" the last console war, and the PC is its own universe. If you were thinking outside the box, you might have guessed the Nintendo Switch. The Switch is between generations, and has a unique interface unmatched by other platforms. You might even have guessed the Xbox Series S/X, with its attractive user interface and massive library. But no matter which one of these guesses you made, you'd be wrong. In fact, the most popular gaming platform is the smartphone.
If you think about it, this isn't terribly surprising. For one thing, everybody owns a smartphone. These days, even senior citizens are carrying an iPhone or an Android. As a result, mobile gaming is accessible to many people who wouldn't normally be considered gamers. Think of a game like Candy Crush, where the average player has grey hair. You're never going to reach that kind of audience with an Xbox or PlayStation title.
At the same time, smartphones remain a terrible platform for many types of titles. The reason is that unlike consoles, they're not built from the ground up as a gaming platform. Think about all the tasks we expect a smartphone to achieve. We need to call, text, use our GPS app, and stream music. After all that, gaming is a tertiary concern. Moreover, smartphones are designed to slip into your pocket. This means they have a slim profile, which is terrible for gaming from an ergonomics perspective.
Today, we'll be looking at three useful mobile gaming accessories. To begin with, we'll review the GameSir F2 Mobile Game Controller. This is a set of grips and trigger buttons that clip onto your smartphone. Next, we'll look at the GameSir F5 Mini Falcon. This is a single-trigger attachment that can be used either left- or right-handed. Finally, we'll discuss the GameSir Talons. These are sweat-absorbent, touchscreen-friendly finger and thumb covers for gamers. Which accessories are going to be the right choice for your needs? To find out, we'll need to take a closer look. After we've looked at each individual choice, we'll be able to give a fair judgement. Let's get started!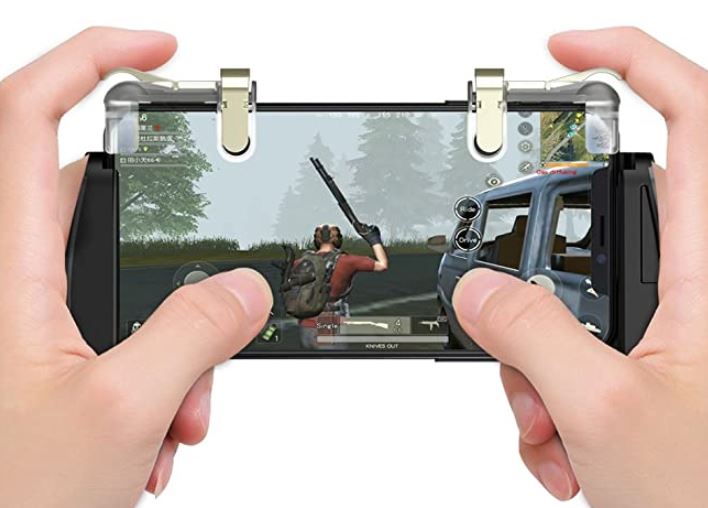 GameSir F2 Mobile Game Controller
The GameSir F2 Mobile Game Controller is a portable set of grips for your smartphone. When collapsed, the two sides of the grip combine into an oval-shaped shell that fits in your pocket. When you're ready to use it, simply pull the two sides apart and rotate the bars out. Clip the two together, and you've got a fully-functional grip that also functions as a controller. It adjusts to fit any smartphone between 4.5 and 6.4 inches. And because it doesn't have any direct connection to your phone, there are no compatibility issues. It works seamlessly with iPhones, as well as Androids with USB Type-C or Micro USB.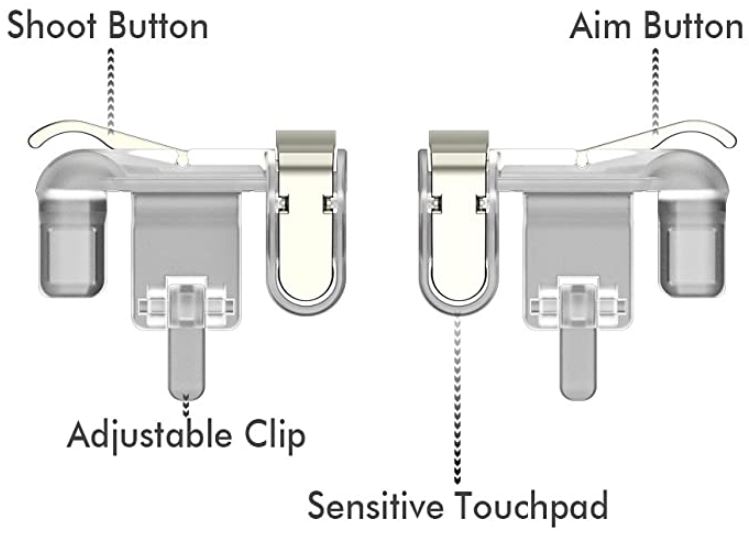 One nice thing about the design is that it leaves the sides of your smartphone half clear. If your phone's in the right orientation, you can still used wired earbuds. This won't be helpful to iPhone users. But it's a great feature for Android users who still enjoy their wired buds. It also provides zero latency, which you still can't get with wireless earbuds.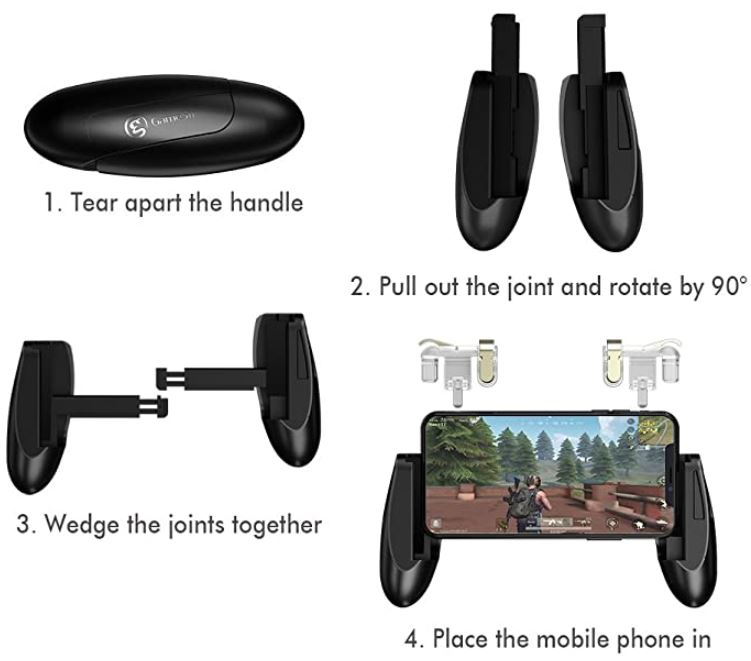 The quality of construction is very good. The F2 is constructed from scratch-resistant plastic that also doesn't crack easily. It's not exactly bulletproof, but it's not going to get damaged from normal use. Even if it gets dropped a few times, it's tougher than any smartphone case. You'll damage your phone before you damage your controller. The shape is also very comfortable and ergonomic. It fits in your hands easily, and won't cause fatigue even if you're gaming all day long.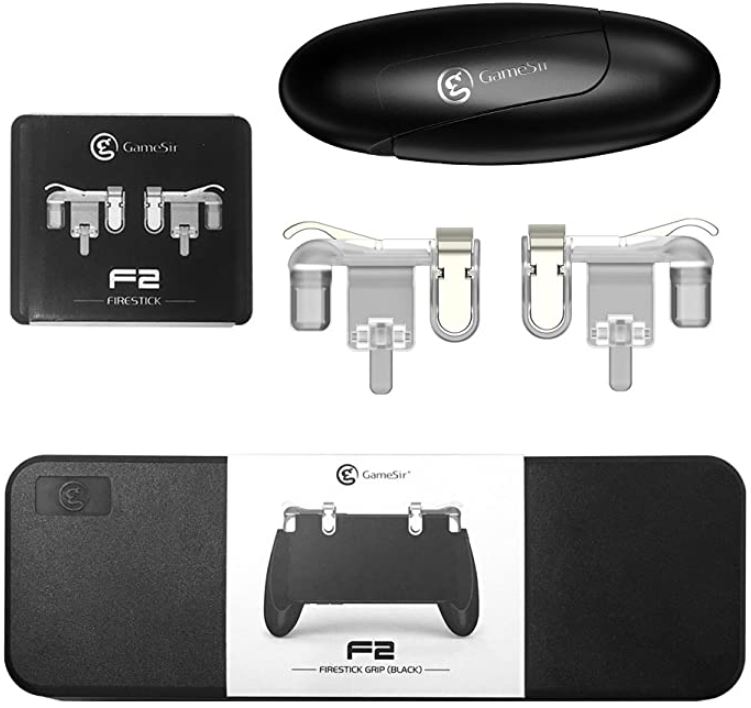 The main feature of the F2 is the pair of triggers on the front. These provide mechanical controls on the left and right, for more comfortable gameplay. Instead of tapping on the screen, you can pull physical triggers as you would with a console controller. It feels a lot more natural, and makes a world of difference for titles like Fortnite. Not only that, but the trigger mechanisms are clear, so they won't block your view of the screen.
The only major downside of the F2 is that it only really works with smartphones. If you're playing your mobile games on a tablet, you'll need a larger solution, like the GameSir F7 Claw. This is a set of tablet grips that attach with suction cups and fit any sized tablet. They also include dual triggers and a switchable turbo mode.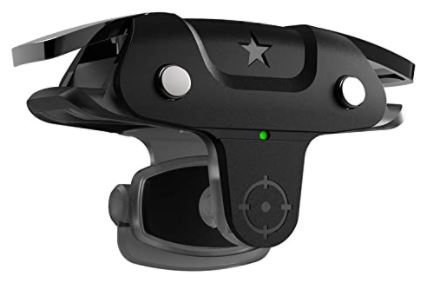 GameSir F5 Mini Falcon
The GameSir F5 Mini Falcon is one of the more unique devices we've looked at. This is a single trigger that mounts on your controller, and has actuators on both sides. Its advantages and disadvantages are both obvious at first glance. On the one hand, the design is simple. It works on any phone, and it doesn't take a genius to figure out how to use it. On the other hand, it only provides a single trigger control. This can be great for a lot of games. For example, simply having a "fire" button in any FPS game gives you a major advantage. There's simply no way to tap on the screen as fast as you can pull a trigger. But it's woefully insufficient for other games with more complex control schemes.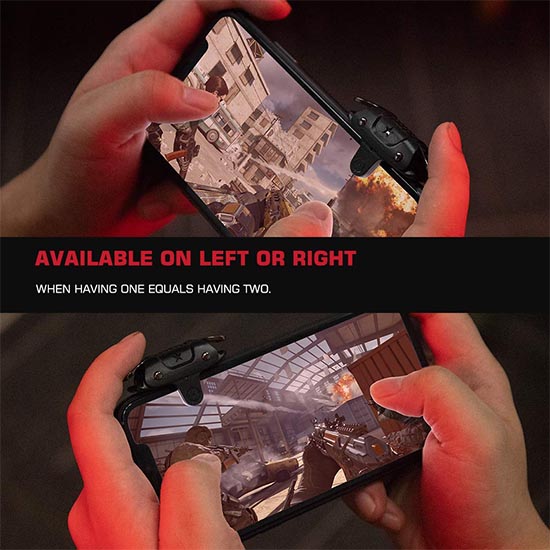 The F5 can be set to two different turbo modes. The first is a simple 9-attack sequence. You pull the trigger once, and the button pushes nine times in rapid succession. The second option is a programmable mode. You hold down the programming button, and press the trigger however you like. It will reproduce up to a three-second sequence, so you can program some simple single-button combos. For the most part, you'll probably be using the standard mode or the 9-tap mode. Not only that, but the trigger is by its very nature ambidextrous. You can use it left or right handed depending on what you need.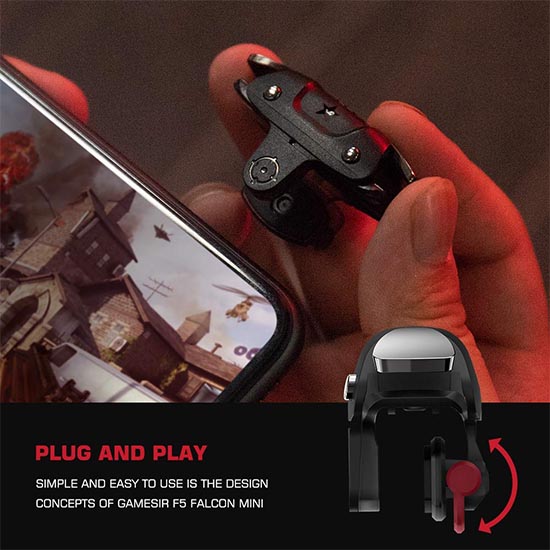 If you're going to be using a smartphone controller, you're going to need power. You may also need power from multiple USB ports. In that case, you should take a look at the GameSir VX AimBox. It's a USB charging and data hub that supports up to three devices. It also has special keyboard and mouse features for PC gamers.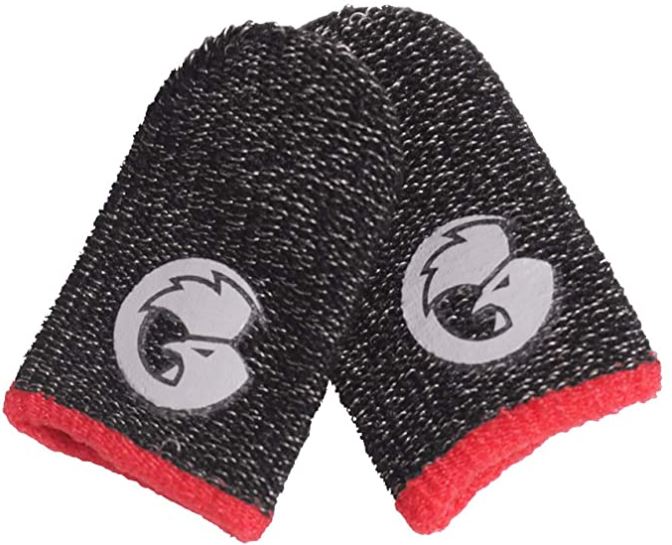 GameSir Talons
At first glance, the GameSir Talons don't look like much. They're a pair of cloth covers for your fingertips, and that's about it. Fortunately, they're correspondingly cheap. In terms of value, you're still getting a good deal! And in terms of performance, they're actually surprisingly useful. Let's start with the aesthetics. They're mostly charcoal-grey, with GameSir logos on one side and red bands at the tops. In other words, they have an appropriate gamer aesthetic, and they don't look like clumsy mittens.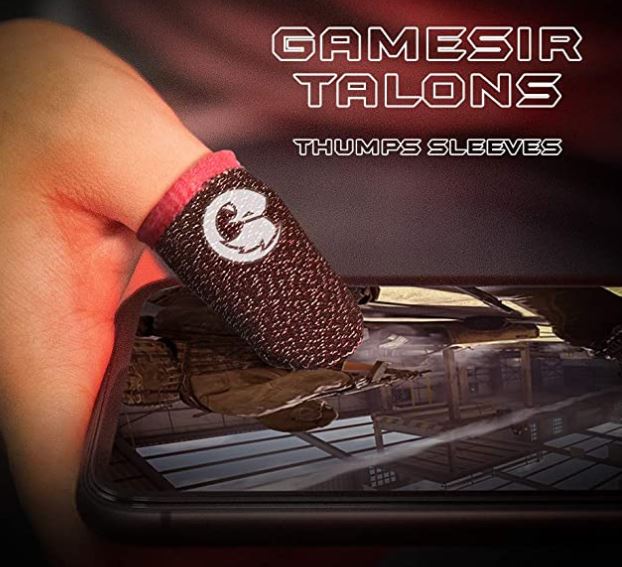 The Talons are stitched at 18 threads per square inch, which is fairly tight for a thread of this thickness. This makes them durable, so they won't wear out on you just after you buy them. In addition, they feel very smooth. You won't feel any obvious splices or other irregularities. This is an essential feature, since you've got to use them to navigate a touchscreen. Furthermore, the red bands at the end are made of elastic. This ensures they stay tight, so you won't lose your finger covers in the middle of a game. It also makes them capable of fitting a variety of sizes. They'll hug tight to smaller fingers, and stretch to accommodate thicker ones.
As for performance, we didn't have any issues. They Talons are advertised as being covered with a silver fiber, which would theoretically improve sensitivity. We couldn't verify this, but we can confirm that there are no sensitivity problems. You'll still be able to feel your screen and know where your fingertips are. More to the point, the screen will still detect your fingers. You won't have to worry about glitches just because you're wearing cloth on your fingers. Finally, they do a good job of absorbing sweat. This is their real purpose, and we were pleased with the performance. No longer will you have to deal with streaks of sweat when you're gaming on a hot day.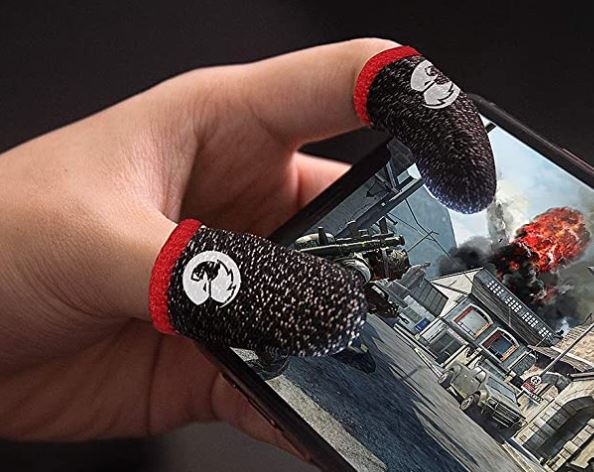 That said, let's be very clear. These are just cloth fingertip covers. They're not going to add any functionality to your mobile phone. They're just going to make it easier to use standard touchscreen controls. If you need a full-on controller, consider the GameSir X2 instead. It's a fully-functional controller with multiple buttons and triggers, along with two thumb sticks. It clamps onto your phone and plugs right into your USB Type-C port. On the downside, it needs to be charged separately, and it only works with USB Type-C phones.
Final Verdict
So, which of these mobile gaming accessories is going to be best for your needs? Let's recap what we've learned. We started by looking at the GameSir F2 Mobile Game Controller. This controller is the best option if you're looking for a full set of grips. Despite the fact that it's a full set, it still collapses and fits easily in your pocket. Not only that, but the clear trigger buttons are a useful, innovative feature. All in all, we're big fans.
The GameSir F5 Mini Falcon is a portable trigger button that's as straightforward as it gets. It's easy to attach, it's affordable, and it's a quick upgrade for any FPS player. The turbo setting also provides a lot of added functionality. That said, there's not much else to it. If you want more controls, you're out of luck.
At first glance, the GameSir Talons might seem like a feeble offering. After all, they're just a pair of cloth fingertip covers. But they do a great job of absorbing sweat, and they provide excellent touchscreen control. If you want a quick and dirty solution to your mobile gaming woes, look no further.