Choosing a good pair of earbuds is never easy. There are far too many options to look at everything. And for every quality pair there are three you should avoid. This can lead to stagnation. You stick with the same brand, or even with the same exact earbuds. And there's nothing wrong with using that method. If you're a fan of last year's Mpow earbuds, chances are you'll be a fan of this year's. But stagnation can also be a bad thing. For one thing, you won't get exposed to all the latest features. Additionally, if you don't shop around, it's tough to tell whether or not you're even getting a good deal.
Not only that, but not every pair of earbuds is right for the same purpose. Some are ideal for hands-free calling, others for music, and still others for workouts. So even if you've got a great pair of workout buds, they might be inferior for other purposes. This is especially true for gaming earbuds. Gaming buds should offer low latency and good directionality. Everything else is secondary. You don't particularly need top-tier waterproofing, for example, since the earbuds are for indoor use.
Today, we're going to be looking at two of the newer gaming earbuds on today's market. We'll start by reviewing the KMOUK Wireless Gaming Earbuds. These are octagonal, LED-lit buds with separate gaming and music modes. Next, we'll examine the SOUBIN Wireless Gaming Earbuds. These earbuds are also LED-lit, but with a more bass-heavy EQ. To find out which pair is the best, we'll look at the physical design and ergonomics. We'll talk about the case, the battery life, and the quality of the Bluetooth connection. We'll also cover the most important feature: the quality of the audio. After that, we'll be ready to render our verdict. Let's begin!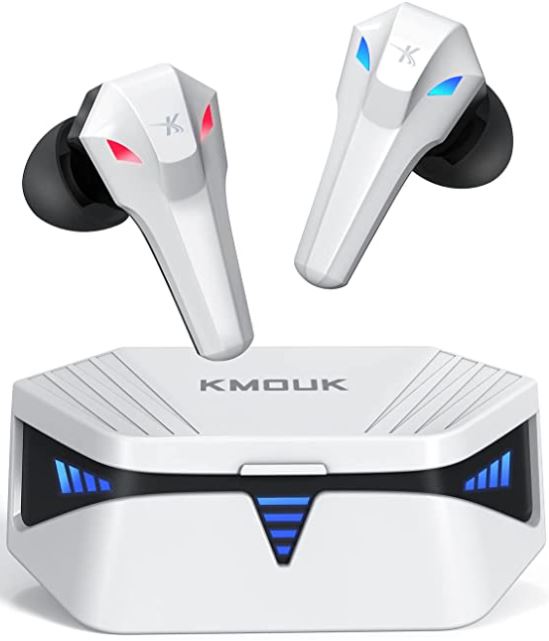 KMOUK Wireless Gaming Earbuds
The KMOUK Wireless Gaming Earbuds are fat and chunky, with hexagonal heads rather than round. This gives them an industrial appearance, which is accentuated by angular outer battery studs. There are even LED highlights for a more gamer-like aesthetic. The lights glow green or red depending on which mode the earbuds are in. But despite this chunky aesthetic, the buds are actually surprisingly comfortable. This depends on a secure fit, which is provided by three sets of ear tips. The tips come in three different sizes, so you'll find a snug pair regardless of how big your ears are.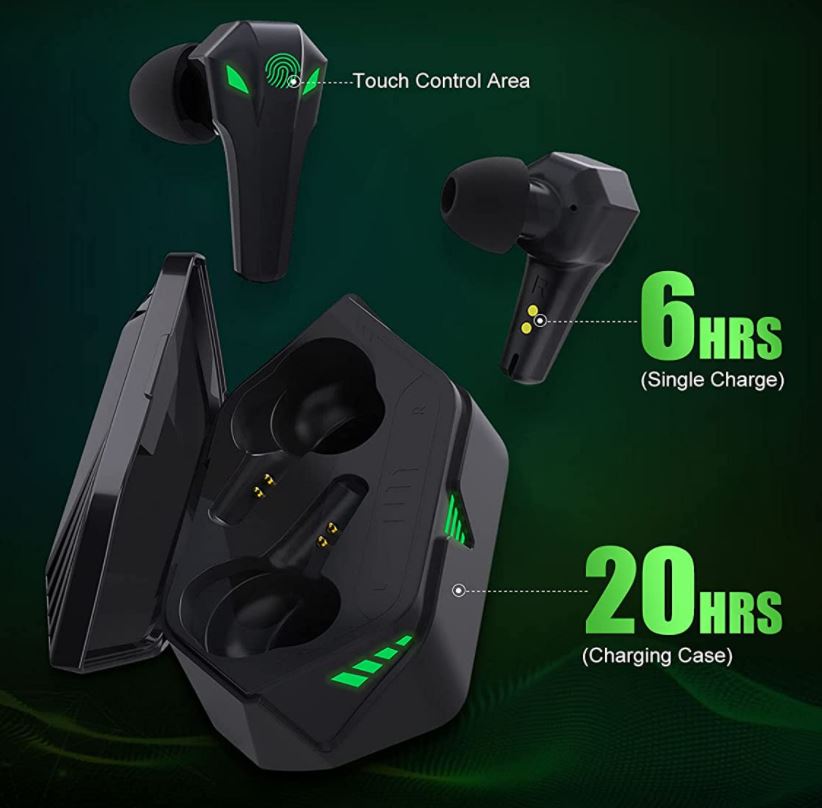 The backs of the earbuds aren't just for decoration. They also serve as multi-function soft touch buttons that perform a wide variety of functions. You can adjust the volume, answer and end phone calls, or answer or reverse tracks. You can even bring up Siri or Google Assistant to use more advanced voice commands. Finally, you can switch between audio modes, which we'll discuss more momentarily. One thing that disappointed us about the design is that there's no stated water-resistance rating. As a result, we can't recommend these buds for intense workouts or going out in the rain.
Perhaps our favorite physical feature of the KMOUK earbuds is the charging case. It has an angled design, which mirrors the aesthetic of the buds themselves. It also sports LED lighting, although these are functional as well as attractive. There's a downward-pointing triangle in the center, consisting of four bars. This serves as a battery meter for the case itself. There are two additional triangles to the side, which point towards the center. These provide visibility as to the battery levels of the individual earbuds. These will illuminate whenever the case is plugged in, or when the lid has been opened. The lid is a bit flimsy, though. We wouldn't test it by subjecting it to any major shocks.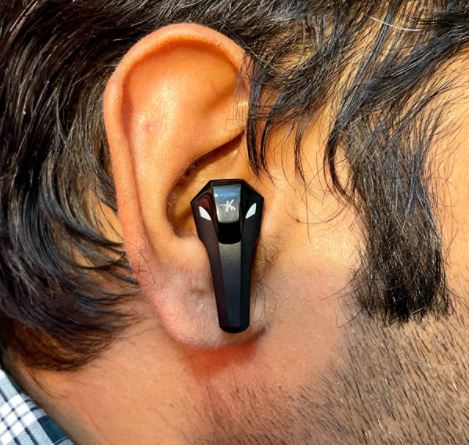 When it's time to charge, the charging port is located on the back of the case. A USB Type-C cable is included in the kit, so you've got everything you need to get started.
Battery & Connectivity
Each KMOUK earbud has an internal battery with enough power for six hours of continuous use. This is a manufacturer rating, which assumes that you're listening at half volume. At maximum volume, performance can drop below 5 ½ hours, which still isn't bad. The charging case, on the other hand, is a bit disappointing. It only provides about 2 ½ additional charges, for a total of 20 hours of battery life. Most cases are more powerful than this, and we'd have liked to see at least 24 or 25 hours. That said, you're probably going to be using these earbuds at home most of the time. So under normal circumstances, you can just leave the case plugged in.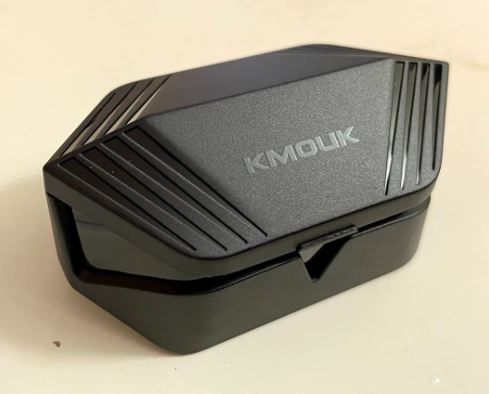 Charging is surprisingly quick. From a fully dead state, the batteries can be charged all the way in only 90 minutes. However, a full third of the charging is done in the first 10 minutes. This means that with a 10-minute quick charge, you get enough juice for two hours of playtime. The case itself charges in about two hours via USB Type-C.
These earbuds connect via the Bluetooth 5.0 protocol. This is the most common standard in current use, and it has some advantages over the older Bluetooth 4.2 protocol. To begin with, it's a more stable connection. Random disconnects are rare to nonexistent, and it's easy to pair and unpair the earbuds. Moreover, the maximum bitrate is higher. This means you can listen to HD audio, which isn't possible with Bluetooth 4.2. Most importantly for gamers, Bluetooth 5.0 has significantly lower latency. This means that the audio won't get out of sync with the video. For example, when there's a sound behind your character, you'll hear it immediately, instead of half a second later.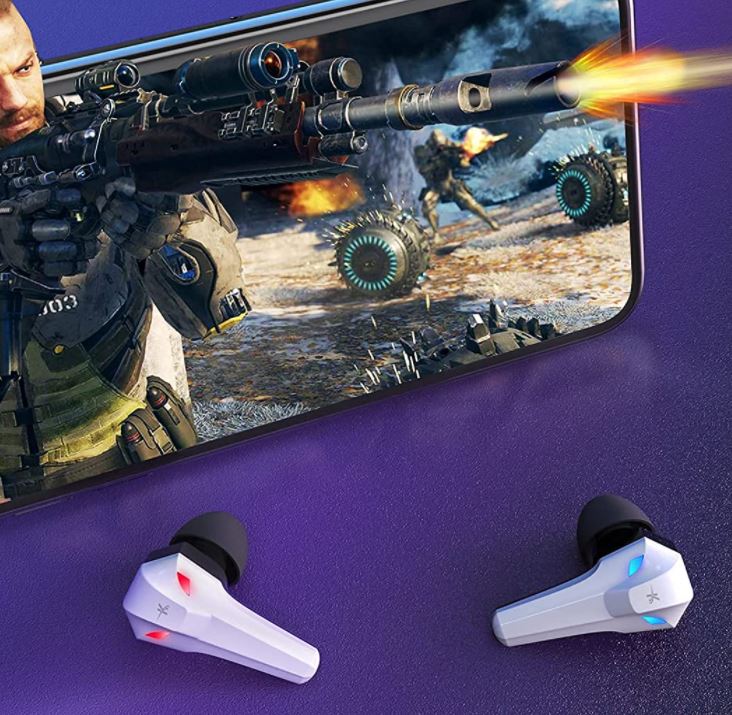 Audio Quality
The audio quality of the KMOUK earbuds is reasonably good for the price. It's not incredible – we're not talking about Bose levels of richness here. But for mid-range buds, you're getting good sound. There's plenty of responsiveness across all frequencies, so nothing is left out of the mix. From the rumble of a tank engine to the ping of steel on steel, everything comes through clearly.
Depending on what you're doing, you might want to change between gaming and music mode. In gaming mode, latency is cut to a minimum of only 48 milliseconds. That's nigh-indistinguishable, and it's very good for a wireless audio source. Music mode has a bit higher latency, but the audio sounds noticeably richer. This is a nice added value if you also want to use your earbuds for music.
Of course, if you primarily want music earbuds, there are better options like the Cirtek EA05. These buds provide active noise cancellation (ANC) to block out the surrounding environment. They also provide excellent audio balance for all genres of music. That said, you can't turn them off without returning them to the case.
The KMOUK Wireless Gaming Earbuds provide good voice isolation for in-game chat. This makes it easy to communicate with your teammates during a match. Incidentally, this same feature also makes them great for hands-free calling.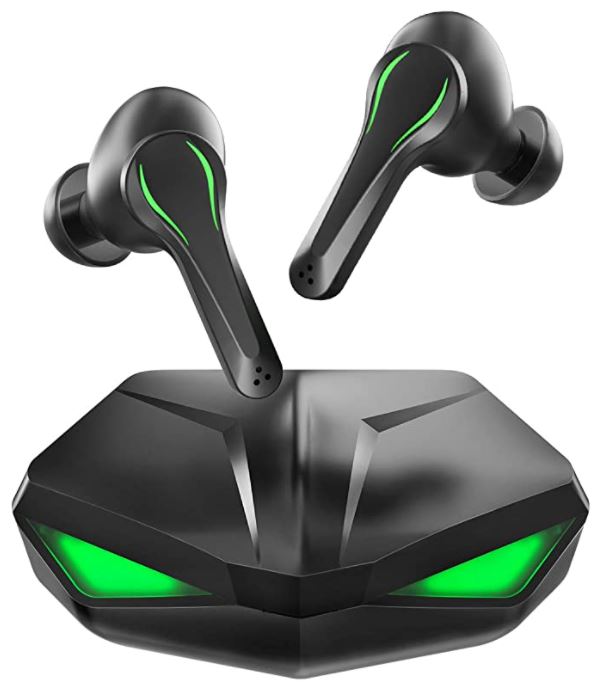 SOUBIN Wireless Gaming Earbuds
The SOUBIN Wireless Gaming Earbuds have a sleeker look than the KMOUK buds. Instead of a hexagonal shape, they have a more traditional circular profile, with slimmer vertical studs. Even the LEDs are softer, with a slender, curved shape instead of aggressive triangles. As with the KMOUK set, you also get three sets of ear tips, so anyone can find a comfortable, secure fit.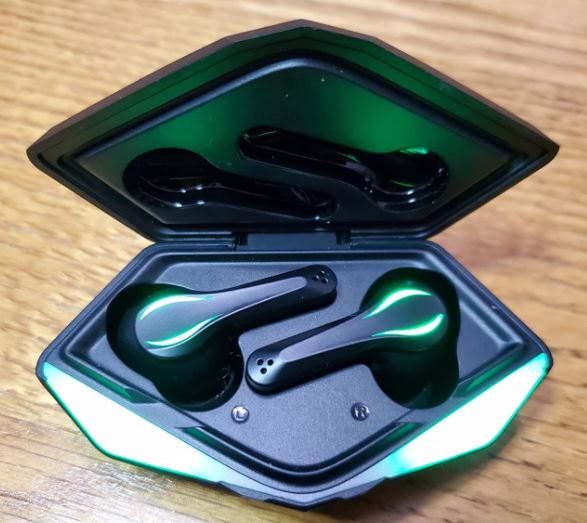 These earbuds come with a water-resistance rating of IPX5, which means they're splash-proof. As such, they're suitable for workouts as well as for gaming. That said, you might be looking for even more water-resistant. In that case, consider the TaoTronics SoundLiberty Pro P10. These are submersion-proof, and support the ultra low-latency Bluetooth 5.2 protocol. On the other hand, they're a bit weak on the higher end of the sound spectrum.
The charging case is hexagonal, with a pair of aggressive green LEDs on the front. It opens in a clamshell style, with a spring-loaded design that keeps it shut when it's supposed to stay closed. There's also a USB Type-C cable in the kit.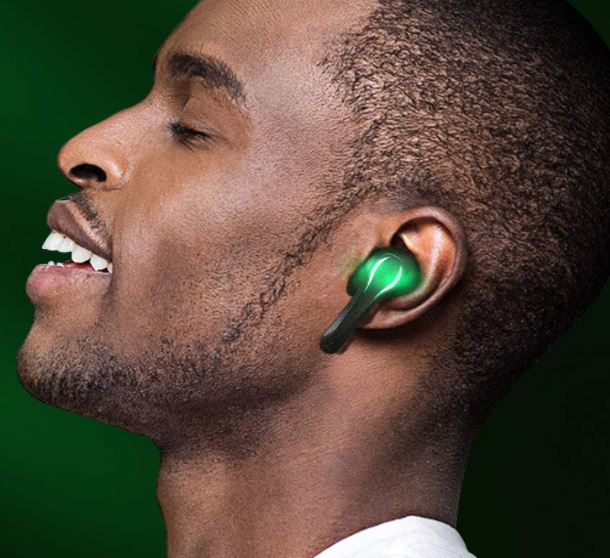 Battery & Connectivity
Each charge of the SOUBIN earbuds provides about 4 ½ to 5 hours of listening. This is a bit less than the KMOUK buds, but the charging case is a bit beefier. It provides four full recharges, for a total of up to 25 hours. That's about 25 percent more than the KMOUK earbuds, and charging is also faster. The earbuds themselves will fully charge in about 80 minutes, while the case charges in 60. They utilize the same Bluetooth 5.0 protocol as the KMOUK buds. In that regard, the two are basically equivalent.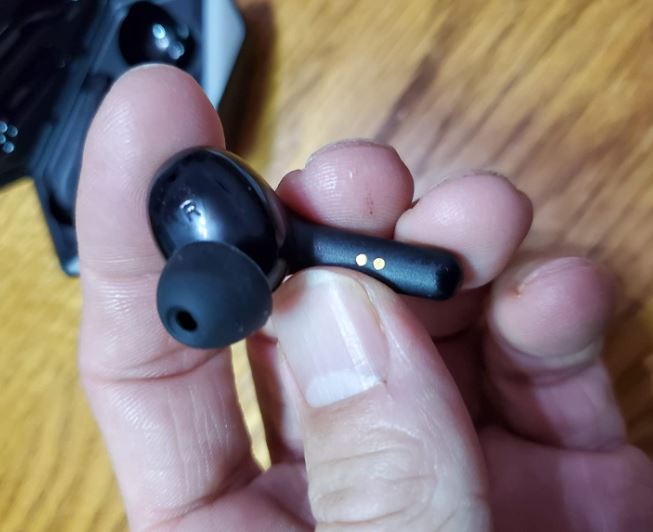 Audio Quality
The SOUBIN buds sport 12mm drivers, which means they can push more air. Between that and their tuning, the result is a much punchier bass than the KMOUK earbuds. You also get the benefit of a wide soundstage, so it feels like the audio is really part of your physical environment. On the downside, the sound isn't quite as rich in the medium and high range. This makes the SOUBIN buds less well-suited for pure music enjoyment.
At 65ms, the latency is minimal, but not the lowest possible. Most people will find it acceptable, although the KMOUK buds are a little bit faster. The voice quality is roughly equivalent. Both provide good performance during in-game chat and phone calls.
Final Verdict
Let's go over what we've learned. The KMOUK Wireless Gaming Earbuds are the best choice if you're looking for the lowest possible latency. At only 48ms, their gaming mode is about 25 percent faster than the SOUBIN buds'. They also have a unique aesthetic, and a level EQ across the audio spectrum.
The SOUBIN Wireless Gaming Earbuds, on the other hand, are a bit more bass-heavy. This is great for dance music, and even for some atmospheric games like the Resident Evil series. The buds also provide a good sense of space, but the latency is longer. You'll also get slightly fewer hours of playtime per charge, although the charging case lasts for longer.