These days, it's hard to find a good pair of earbuds. We're not saying there's some kind of shortage. Far from it. In fact, the market has been flooded with a ton of options in the last few years. A quick internet search will return literally thousands of options. With this many choices, how can you even begin to decide what's what?
Part of this glut of products is due to Apple's decision to go wireless-only in 2016. It was a bold move, but it paid off, and the AirPods were wildly successful. And it didn't take long for other manufacturers to jump in with their own offerings. This has been good for consumers. Increased competition has driven innovation while keeping prices very reasonable. No longer do you have to drop a small fortune on a pair of AirPods to get reasonable quality. But that still doesn't help unless you know which pairs are worth buying.
One way to find a reliable pair of earbuds is to focus on brands you already have experience with. It's not an ironclad guarantee of quality. But it's rare that a company with a good track record decides to start releasing junk. Generally speaking, if you liked what a manufacturer was selling last year, you'll like this year's offerings. One such longstanding earbud manufacturer is TaoTronics.
Today, we'll be reviewing the TaoTronics SoundLiberty Pro P10 ANC Wireless Earbuds. These are AirPod-style buds, with a vertical design and studs that protrude downwards. They provide active noise cancellation (ANC), which blocks out background noise. And they also have the capability of using an ultra low-latency Bluetooth 5.2 connection. But how good do they actually sound, and does the ANC work as intended? What about the battery life? We'll answer all of those questions and more. Let's take a closer look at these wireless earbuds, and see if they live up to TaoTronics' stellar track record.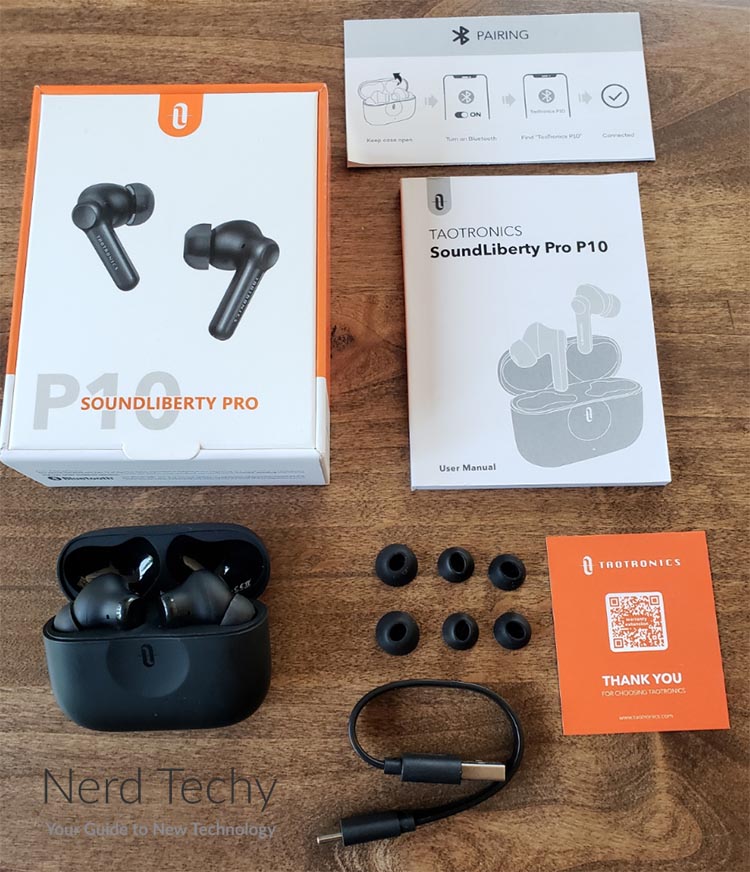 Overall Design
The TaoTronics SoundLiberty Pro P10 ANC Wireless Earbuds have a vertical profile. The buds themselves are compact and sit neatly inside your ears, while the batteries are housed in studs. These studs might be ugly to many people, but they serve a definite purpose. They make the entire design bottom heavy, improving the security of the fit. Even if you're jogging or jumping, the buds won't easily bounce out. Of course, this also depends on having a secure fit. There are three sets of ear tips included in the package, so don't settle for a substandard fit. If the standard pair is too large or too small, try a different size. Ideally, the tips should provide a good seal without causing any discomfort.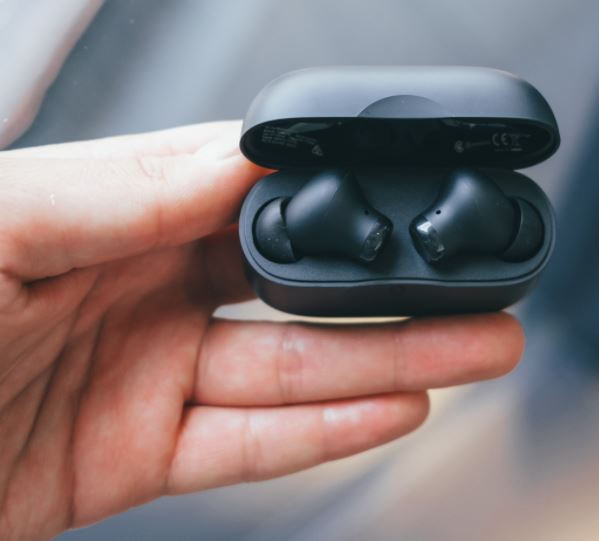 If you prefer a lower-profile aesthetic, consider the TaoTronics SoundLiberty 97 instead. These are shell-style earbuds that sit entirely in your ears. They also have longer-lasting batteries. However, the touch controls are very sensitive, and the small size makes them easy to trigger by accident.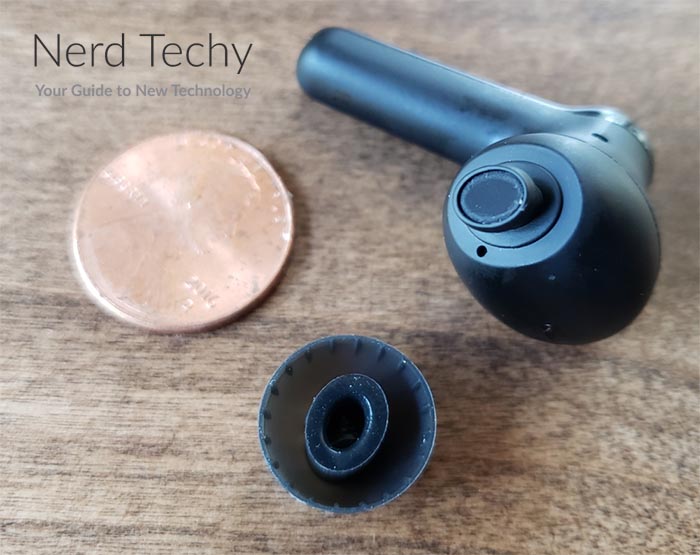 The Pro P10 earbuds have satin black shells, which provide a good balance between dust and fingerprint resistance. The backs of these shells function as touch controls for controlling your music. You can skip tracks, play or pause your songs, or answer and end phone calls. If you need to do even more, you can activate your voice assistant to give more advanced commands. Furthermore, a pair of internal gyroscopes detect when your earbuds are inserted. When you take one out, your music will automatically pause and ANC will be turned off. When you put it back in, your ANC will resume working and your music will start where it left off.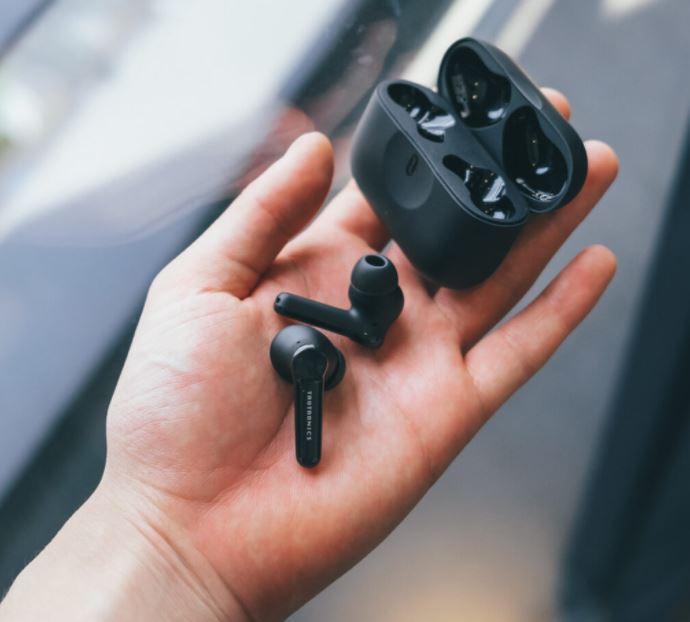 These earbuds come with a water-resistance rating of IPX8. This is the highest possible rating, and requires custom testing. As a result, we're not able to say exactly how water-resistant the Pro P10 buds are. But what we can say for sure is that they exceed the IPX7 standard. This means they can be submerged at a depth of more than one meter for more than 30 minutes. So you're looking at earbuds that you can wear in the tub.
Along with the earbuds, the package includes a carrying case that doubles as a charger. It's constructed from a similar plastic to the earbuds themselves, and has a vertical design. The spring-loaded lid snaps open, the earbuds drop in, and they begin charging. The case has an indent on the front, which makes it easy to handle with sweaty hands. Just underneath the indent, you'll notice a single green LED. This will illuminate when the case is charging. It charges via a USB Type-C port in the bottom, and a cable is included.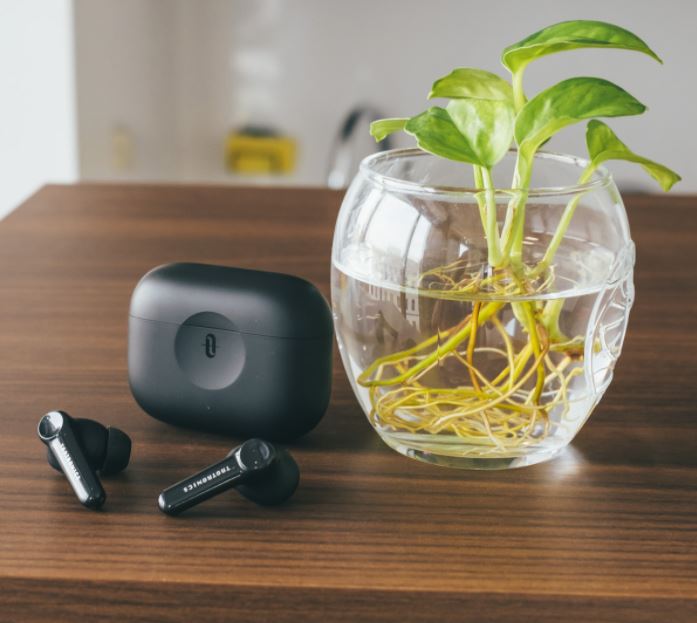 Battery and Connectivity
The SoundLiberty Pro P10 earbuds have enough battery life to last for about 9 ½ hours per charge. This is a manufacturer rating, so it assumes that you're only listening at 50 percent volume. If you like to turn the volume up, your performance will drop. At full volume, 7 ½ hours per charge is a better estimate. Still, that's better than most wireless earbuds on the market. Keep in mind that ANC mode will drain about 30% more battery than ordinary listening. So at full volume, with ANC, you'll get about five hours of playtime per charge.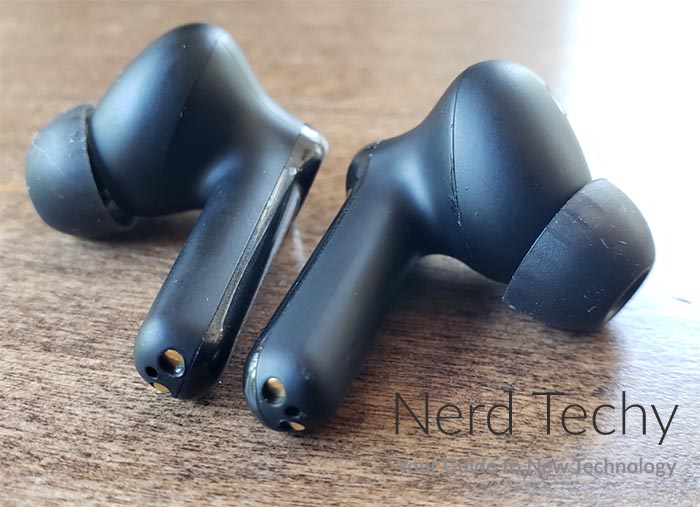 The charging case provides an additional 2 ½ charges before it needs to be plugged in. This works out to a total of up to 33 hours without ANC, or 23 ½ hours with ANC. Either way, that's a reasonable amount of time to last without access to a power outlet. If you need longer battery life, the TaoTronics SoundLiberty 95 might be a better choice for you. These earbuds have a looser fit and no IP rating. But when it comes to battery life, they do an excellent job.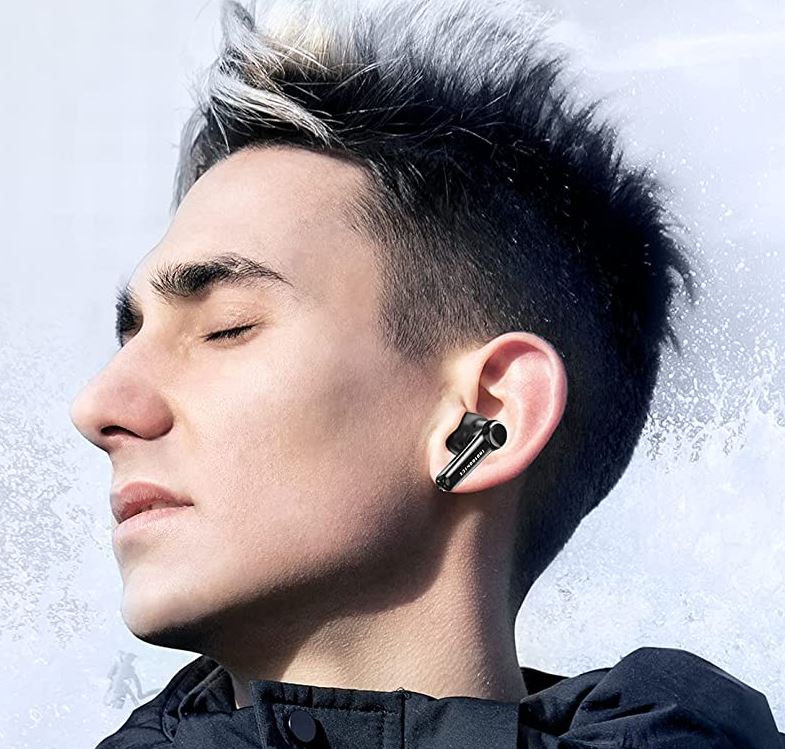 The Pro P10 buds utilize the Bluetooth 5.2 wireless protocol, which is the very latest version. It comes with all the benefits of Bluetooth 5.0. These include lower latency, a higher bandwidth, and better stability than Bluetooth 4.2. However, Bluetooth 5.2 further decreases latency by allowing individual earbud connections. With previous Bluetooth versions, one earbud, the master earbud, would pair with your phone. The other earbud, the slave earbud, would receive its audio from the master earbud. Because of this additional delay, there was always going to be unnecessary latency. By pairing both earbuds directly to your phone, Bluetooth 5.2 reduces latency to nearly zero.
Keep in mind that this will only work with the latest smartphones. With older phones, the earbuds will default to Bluetooth 5.0 or 4.2 as necessary. Still, by supporting Bluetooth 5.2, these buds remain on the cutting edge of wireless technology.
Audio Quality
The TaoTronics SoundLiberty Pro P10 buds contain 9mm drivers, which are larger than your average earbud drivers. It's a common misconception that bigger drivers always means better audio. However, larger drivers do provide the opportunity for more powerful bass. In that regard, the P10 earbuds deliver. TaoTronics promised a lot of low end punch, and that's exactly what you'll receive. If you like a hard-driving dance track for your workout, you'll appreciate the sound profile.
For all of that bass, the midrange doesn't sound squished or muddy. This means you get high-quality vocals, even on a bass-heavy track. Rap fans can rejoice. But so will anyone who listens to a lot of spoken word podcasts and audiobooks. Vocals sound good, plain and simple. This is largely thanks to a wide soundstage, which provides separation between different frequencies. When listening to music, you get a real sense of space, as if you're physically present with the band.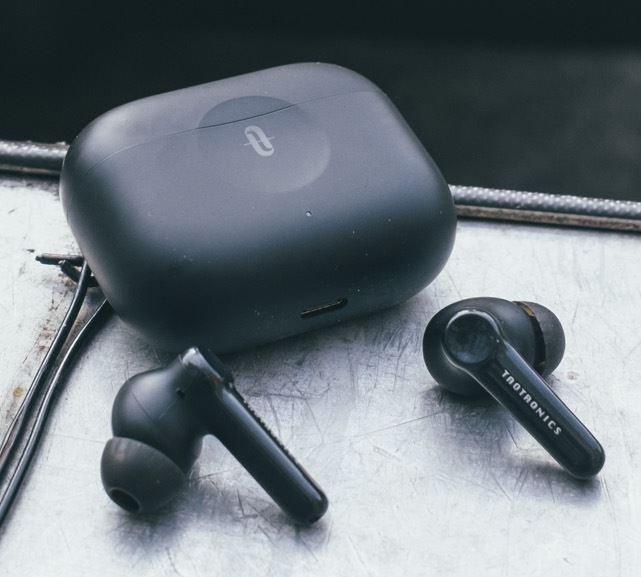 Unfortunately, we weren't as pleased with the higher frequencies. They don't sound shrill or anything completely awful. They just sound hollow, without as much shimmer or richness as we'd ordinarily expect. This makes the Pro P10 earbuds a poor choice for classical or country music. These are bass-heavy buds for people who want big bass. If you want a more equal audio profile with all-around richer sound, look at the SoundLiberty 80. They're better for a wider variety of genres, but they have a shorter battery life and flashy chrome backs.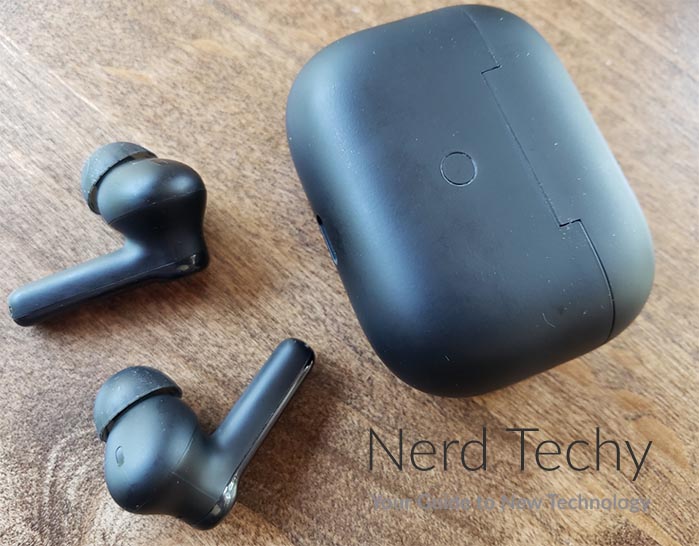 The ANC mode on the Pro P10 earbuds works exceptionally well. It reduces background noise by up to 38dB, creating near-silence in most environments. Keep in mind that like any ANC system, it performs better with constant noise than sudden sounds. Car horns and people suddenly yelling may still cut through for a few milliseconds. We particularly liked the special wind mode. It tunes the ANC software specifically for wind, and it's great if you do a lot of hiking. In addition, you can also take advantage of transparency mode, which TaoTronics now calls "ambient mode." In this mode, the ANC system actually boosts outside noise. This makes it easy to carry on a quick conversation without taking out your earbuds.
Along similar lines, the same external microphones are used to hone in on your voice during phone calls. The earbuds' internal circuitry then removes background noise and transmits your voice clearly to the other party. This only affects the voice quality on your end, though. If the other person has a cheap microphone, you're still going to hear background noise.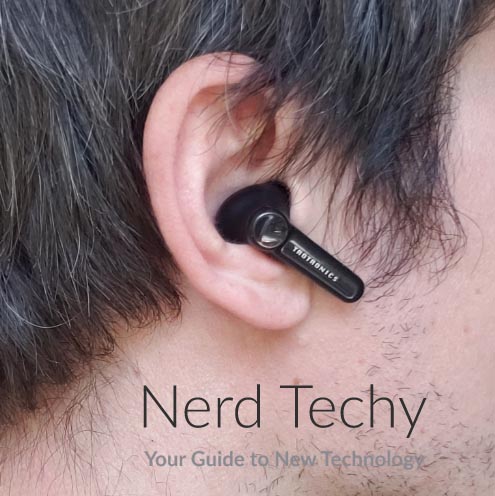 Final Verdict
The TaoTronics SoundLiberty Pro P10 ANC Wireless Earbuds are a worthy addition to TaoTronics' lineup. They're by no means perfect. Audiophiles will find them a bit bass-heavy, and the batteries run dry quickly when ANC is active. But they do a great many things very well, beginning with rich, powerful, punchy bass. They're submersion-proof, so you can wear them in the tub. They're ultra low-latency, so you can use them for gaming. And they're tough enough to wear during a workout without them getting beat up. Paired that with the bass performance, and it's clear that these are top-tier gym earbuds. If that's what you need, you're looking at a solid choice.