Finding a good pair of earbuds can be a daunting task. A quick internet search gives you thousands of options, which is too much for anyone to keep track of. This excess of choices can actually be tougher psychologically than not having enough choices to begin with. The problem is that earbuds are cheap and easy to make compared to most other electronics. Combine that with high demand, and you get an arena where anyone can compete. As a result, there are all kinds of newer companies joining in with the traditional players. For every Aukey or Mpow, there's a half dozen brands you've never even heard of.
Today, we'll be looking at two pairs of earbuds, one from an established brand, and another from a newcomer. We'll start by reviewing the Tozo T5 Wireless Earbuds. These are sturdy, over-the-ear buds with large, 12mm drivers. Next, we'll look at the Ticksounds Q25 Wireless Earbuds. These have a similar, over-the-ear design, but the ear hooks are flexible. To find out which pair is the best, we'll first look at the physical design. Next, we'll move on to the battery, and the quality of the wireless connection. Finally, we'll talk about the audio quality, the EQ, and other related aspects. With all of those things taken into consideration, we'll be ready to render our final verdict. Let's begin!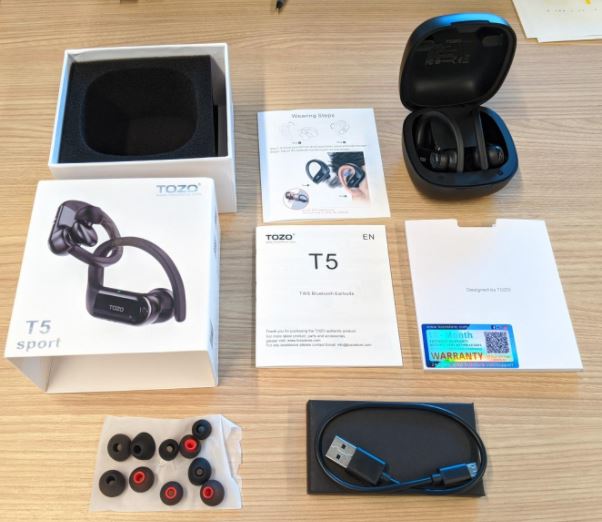 Tozo T5 Wireless Earbuds
Tozo is an established brand, and we've looked at a number of their offerings in the past. Among others, we've looked at the Tozo T12 earbuds, which are compact in-ear buds with powerful bass. The T5 Wireless Earbuds have a radically different design. Instead of small shells that fit inside your ears, the T5 has a large outer frame that wraps over the top. Far from being built for discretion, they're built with physical activity in mind. The ear hooks keep them from coming off even when you're running. And with three sets of silicone ear tips, it's easy for anyone to find the perfect fit.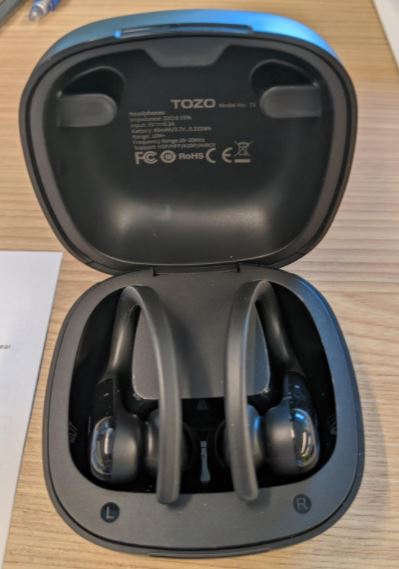 The T5 earbuds have large black outer surfaces that run from the drivers to the back of the ear hooks. These surfaces function as soft touch controls, so you can adjust your music on the run. You can also answer and end phone calls, or call up your phone's voice assistant. And because the surface is large and wide, the controls are easy to operate when you're doing something else. The earbuds are available in black or grey, and have a water-resistance rating of IPX8. This means they've received a custom certification, over and above the normal maximum rating of IPX7. We can't say for sure how waterproof they are. But given the fact that they exceed the IPX7 standard, they can be submerged for at least 30 minutes.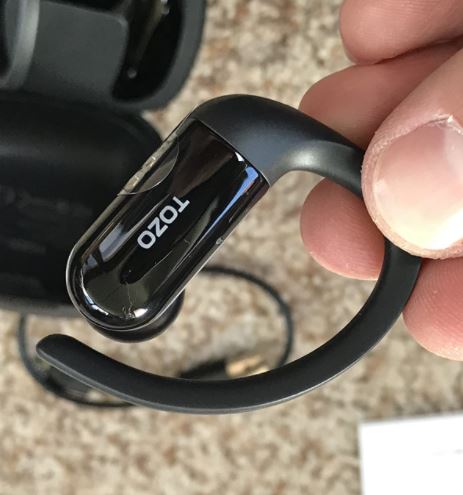 The T5 kit includes not just the earbuds themselves, but also a charging case. The case has a horizontal design, with molded wells inside where your earbuds are stored. The clamshell-style lid is spring-loaded, so it stays shut easily in your pocket. There's also a small LED light on the front that illuminates when the case is plugged in. A USB charging cable is included in the package, so you've got everything you need to get started.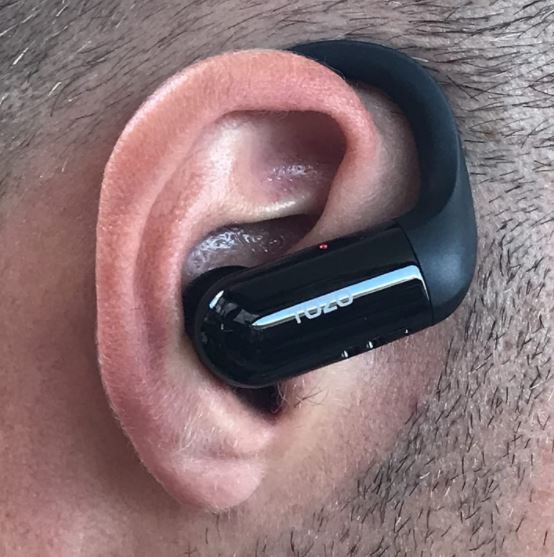 Battery & Connectivity
Each T5 earbud has an internal battery with enough charge for about six hours of use. This is a manufacturer's rating, so it's based on listening at half volume. In practice, you can expect more like five hours if you listen at louder volumes. Even so, that's more than most people will ever need to listen at one go. When you're not using the buds, the case will automatically charge them whenever they're inserted. In total, it has enough juice to charge them four times, so you get an additional 20-24 hours of use. This gives you a total of around 25 to 30 hours, which isn't bad at all!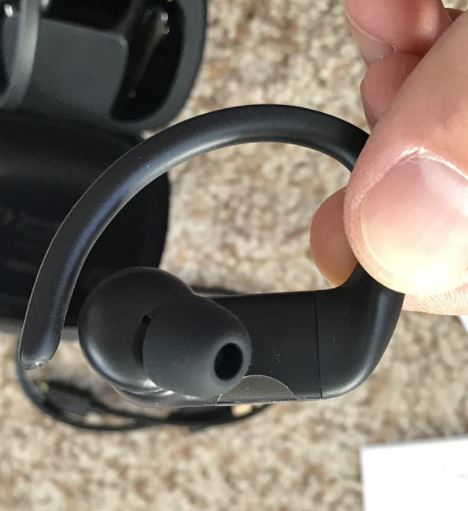 If the earbuds are totally dead, they'll fully charge in under two hours. You can even get enough juice for about an hour's playback after 10 minutes of charging. If the case itself is fully drained, it will charge in around two hours.
These earbuds utilize the Bluetooth 5.0 audio protocol. Bluetooth 5.0 is the current industry standard, and marks a major improvement over Bluetooth 4.2. To begin with, the maximum bandwidth is higher, so you can listen to music at higher bitrates. The latency is also lower, which means the audio and video are in better sync. This makes Bluetooth 5.0 buds practical for gaming and watching movies. Finally, you get a more stable signal, so there are fewer dropped calls or connection hiccups.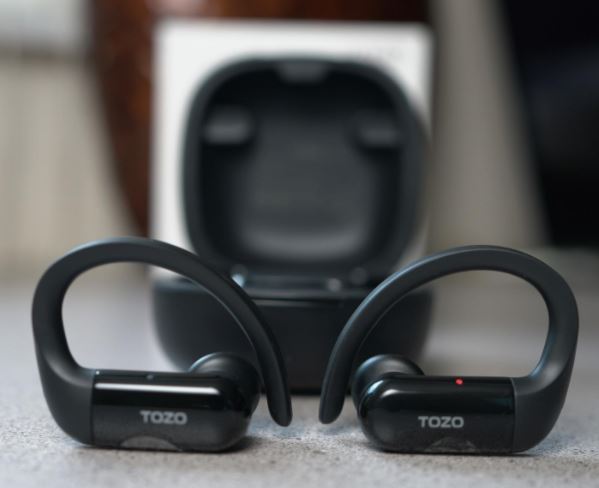 Audio Quality
The Tozo T5 sports 12mm drivers, which are roughly twice as large as your average Bluetooth earbud drivers. Because of their large size, they're capable of moving more air than smaller drivers. The result is a higher maximum volume, and more power in the bass end. This isn't to say that the T5 buds are "bass boost" earbuds. They're not. They're well-balanced earbuds with powerful enough bass to keep up with the strong highs and mids. As a result, they're suitable for any genre of music. You can enjoy dance beats and rich classical music with equal amounts of pleasure.
Along the same lines, we appreciated these earbuds' wide soundstage. You get a real sense of space, as if you're sitting in the room with the band. That said, there's no type of noise cancellation system. You need to rely on a well-fitted set of ear tips to block out outside noise. Call quality is reasonably good. The exterior mics don't have noise reduction, but they work well under most circumstances. How well you hear the other person will, as always, depend on their mic.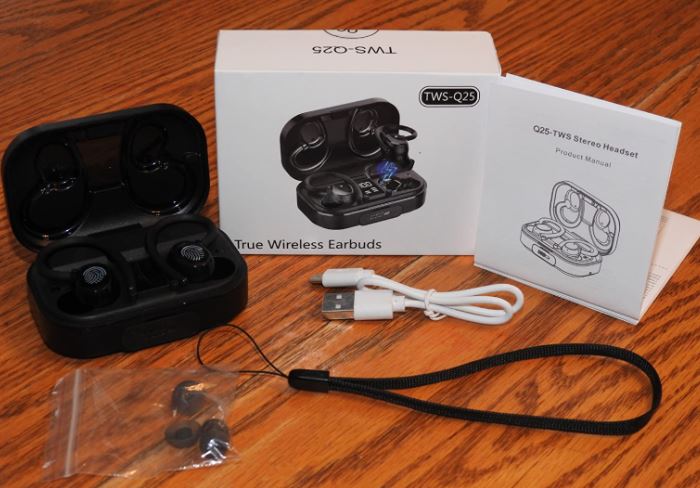 Ticksounds Q25 Wireless Earbuds
Ticksounds is a newer of these two brands, but their Q25 Wireless Earbuds promise to put them on the map. Like the Tozo buds, they have an ear hook design that's made to stay in place securely and easily. However, the hooks are built a bit differently. Instead of a relatively rigid design, they're more like gentle clamps that hold the buds on your ear. The overall frame is also a more understated. Instead of a long back panel, it has a smaller, flat back to the shell that's also a touch control.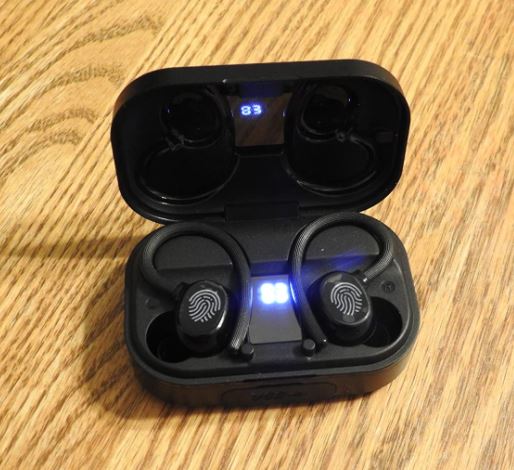 The Q25 earbuds come with two extra sets of tips: one larger than the default, one smaller. This allows you to get a good fit and a quality seal, regardless of the size of your ears. They also come with a water-resistance rating of IPX7. This means they can be submerged for up to 30 minutes at up to a meter's depth.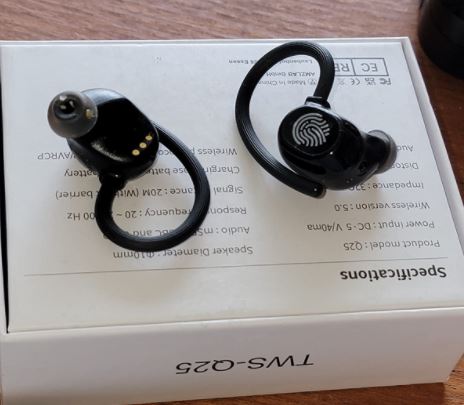 The charging case is flat and broad, with a rectangular profile. The earbuds lay inside horizontally on either side. In between, you'll notice a bright LCD display with three different readings. At the top, there's a percentage reading that shows the remaining charge in the case itself. This will read out between 1 and 100 percent. Below that, there are two bar-style readouts for the earbuds. These have four bars, each indicating 25 percent of battery life.
The case has a clamshell-style lid, which opens to 90 degrees and stays there. In that position, it can also function as a phone stand. There are a pair of small studs towards the front to keep the bottom of your phone from sliding forward. So not only does the case carry and charge your earbuds, it saves you the need for a separate phone stand.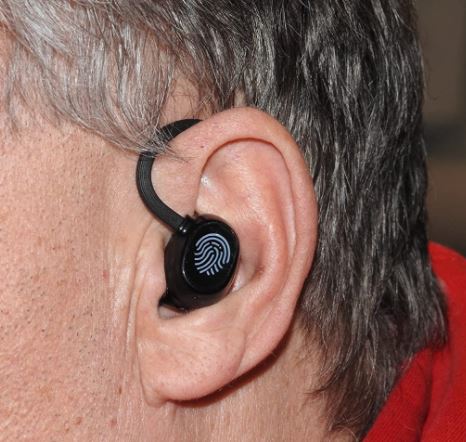 Battery & Connectivity
The Ticksounds Q25 earbuds run for a manufacturer-rated six hours per charge, or around five hours in reality. This is pretty much identical to the Tozo buds. However, the Ticksounds charging case is significantly more powerful. It carries 3,500 mAh of power, enough for 25 additional charges. This works out to a total of between 125 and 150 hours of playtime before you need to plug in again. In addition, there's a USB port on the front of the case, so it can be used as a power bank. That's enough to charge a modern smartphone, with a little bit of juice left over for your earbuds.
Like the Tozo earbuds, these buds utilize the Bluetooth 5.0 protocol. For most people, that's going to provide as much bandwidth and as little latency as you'll ever need. That said, hardcore mobile gamers – or discriminating streaming addicts – might want even less latency. In that case, take a look at the Tranya T10 Wireless Earbuds. These in-ear buds have an ultra low-latency Bluetooth 5.2 connection with an even faster gaming mode.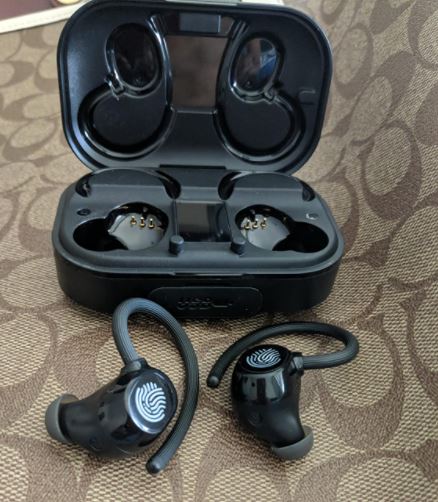 Audio Quality
The Ticksounds Q25 Wireless Earbuds have 10mm drivers, which aren't quite as large as the Tozo's. That said, they're still larger than average for Bluetooth earbuds, and put out a reasonable amount of sound. Like the Tozo earbuds, they have a balanced EQ, without any added emphasis on any one frequency. They're not quite as rich, but they still sound better than you'd expect for what you're paying. Call quality is similar between the two pairs of buds. Unless you're in a very noisy area, you shouldn't have trouble carrying on a conversation.
Final Verdict
As you can see, both of these earbuds have a lot to bring to the table. The Tozo T5 Wireless Earbuds offer an exceptionally secure fit, along with top-notch water resistance. The battery life is acceptable, but where they really shine is with their audio quality. You could easily pay four times this much and not get the same all-around balance and richness.
The Ticksounds Q25 Wireless Earbuds are a high-quality offering from a new manufacturer. The build isn't quite as robust as the Tozo buds, but it's still more than durable enough. Similarly, the sound is reasonably good for the price, albeit not as impressive as the Tozo buds. But the Ticksounds case really impressed us. The high capacity and power bank function provide a lot of added value. And the idea of building in a smartphone stand is something other manufacturers are sure to imitate.