Just a few years ago, no serious music fan would consider a pair of wireless earbuds. For one thing, older protocols only supported low-bitrate audio. For another thing, you could only get single-channel sound, not stereo. So when Apple CEO Tim Cook announced that the iPhone 7 would be wireless-only, people thought he was crazy. Wireless was for toys, not for serious listeners! But Tim Cook was betting on a new technology: True Wireless Stereo (TWS). With a TWS connection, you can listen to music in full stereo, even on a wireless connection. You can also listen to high-bitrate audio, allowing for significantly better sound quality.
Due to Apple's position as a market leader, many manufacturers have jumped on the wireless bandwagon. These days, it seems like just about everybody is hawking their own set of wireless earbuds. On the one hand, this is good. Competition means lower prices, so consumers get a better deal. On the other hand, it's tough to sort out good options from bad when you have this many choices.
One way to find a reliable set of earbuds is to choose a reliable manufacturer. It's not an ironclad guarantee of quality, but it's a step in the right direction. One such manufacturer is TOZO. We've reviewed a few of their earbuds in the past, such as the T6 and T10 – we've generally liked their offerings. Today, we'll be reviewing the TOZO T12 Wireless Earbuds. This is TOZO's latest pair of earbuds, and we were excited to see how they perform. We're about to take a look at all of their features and benefits. After that, we'll render a final verdict on this new, innovative pair of buds. Let's get started!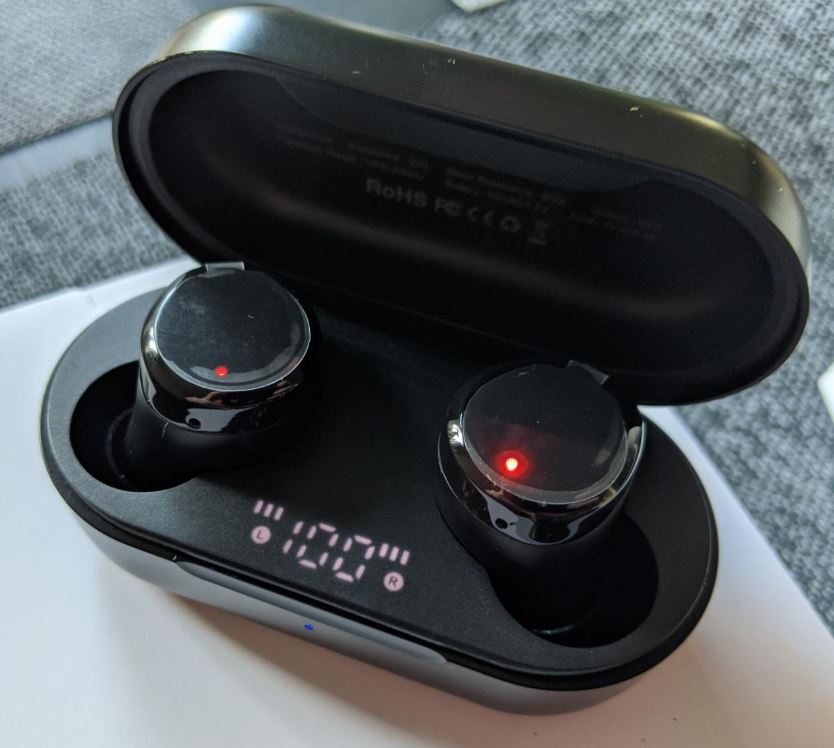 Overall Design
Like most wireless earbuds, the TOZO T12 Wireless Earbuds have a two-part design. They consist of a set of earbuds, along with a charging case. Both are constructed from a matte black ABS plastic. At first glance, the matte finish is less attractive than a gloss finish. That said, a matte finish doesn't show fingerprints as easily as a glossy one. As a result, your buds and case are easy to keep clean, even if you're sweaty while you're using them.
The earbuds themselves have a relatively large form factor, but not too big for comfort. They have ear fins that provide a bit of added security in your outer ear. They're also designed to sit deep in your ear canal. This ensures not just a secure fit, but a tight seal. Since most wireless earbuds don't have active noise cancelling, this is an essential feature. It helps prevent outside noise seeping in around the buds and ruining your listening experience. Of course, to get a secure, tight fit, you're going to need the right set of tips. TOZO includes three extra sets of ear tips in the kit to make sure you get the best possible fit. That said, the ear fins are not replaceable. You get what you get. But for most people, the fit should be good enough.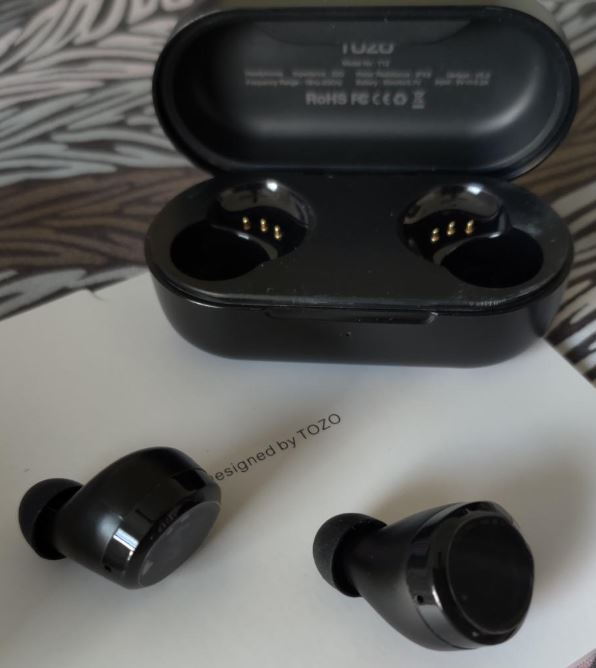 The backs of the earbuds are slightly tapered, which makes for a sleek form factor. These backs feature small blue LED lights, which let you know when they're active as opposed to charging. They also have touch control buttons. These buttons can be used to skip tracks, play and pause music, and answer or end calls. They can also be used to adjust the volume. The soft touch nature of the buttons ensures that you won't experience any discomfort when you're touching them. That said, the interface can be a bit tough to get used to. Some controls require a tap or a double tap, while others require you to hold down the button. But once you get used to the feel, you're not going to have any issues.
The TOZO T12 case has a clamshell-style design with a spring-loaded lid. This lid won't open up in your pocket by mistake, so it's great for travel. And when you need to open it, it's easy to open. A wide groove under the lid makes it easy to snap open with one hand. It's also very compact, barely larger than the two earbuds themselves. The buds drop into a pair of molded charging wells, with three contacts that allow for fast, effortless charging.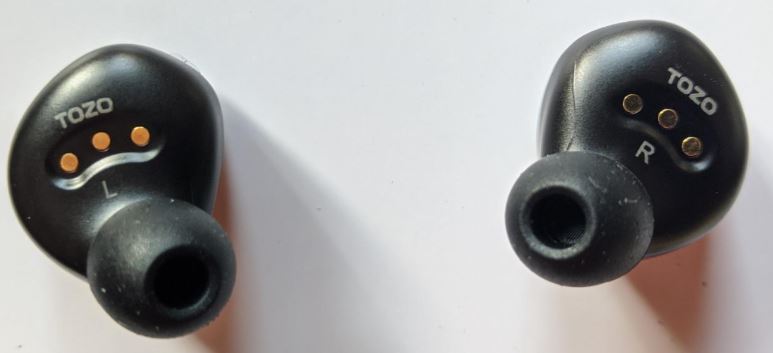 In between the two wells, you'll see an LCD indicator with separate battery meters for the left and right buds. There's also a percentage meter for measuring the charge of the charging case itself. On the front, there's a small blue LED that indicates when the charging case is charging. On the back, there's a discreet USB Type-C charging port. A USB Type-C charging cable is included in the package, so you're all ready to go from day one.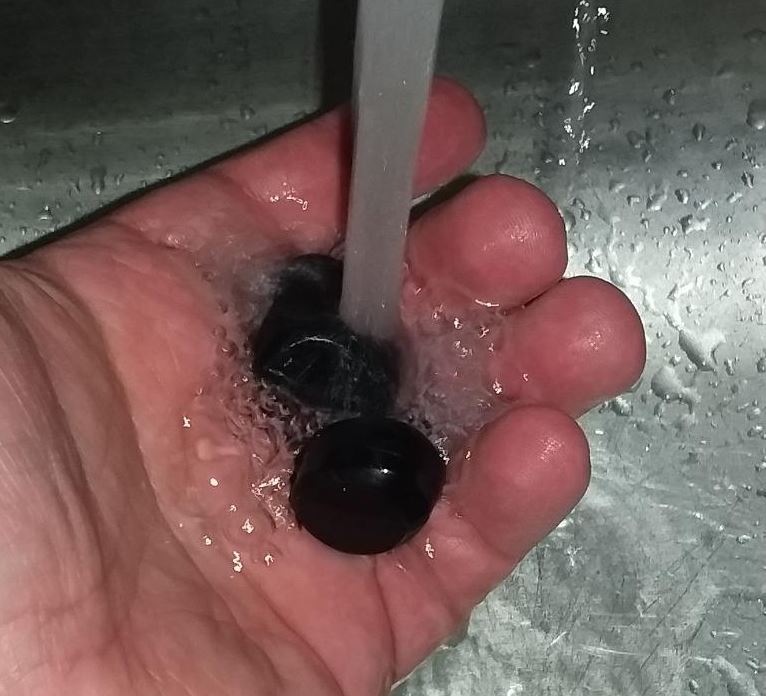 Both the earbuds and the case are IPX8-rated for water-resistance. This is the highest water-resistance rating available, and indicates suitability for complete submersion. Never mind an intense, sweaty workout or a run in the rain. You can wear these earbuds in the shower without any issues. You can even take them out swimming. Not that we'd recommend that. No need to tempt fate.
Battery and Connectivity
As you can see, the TOZO T12 is very well constructed. But will it keep you going through a long day of listening? Let's start with the internal batteries in the earbuds themselves. Assuming they're fully charged, you get five hours of playtime on a single charge. This is more than enough for most purposes. Pop them in for your morning workout, wear them through your morning commute, and they'll keep on going. As earbuds go, five hours of playtime is about par for the course. However, you can also recharge your buds from the charging case. In total, the case will provide 18 hours of additional playtime without a recharge. This is good enough for most purposes, but we would have liked to see at least 25 hours of additional charge. With today's battery technology, that wouldn't have been too much of a stretch.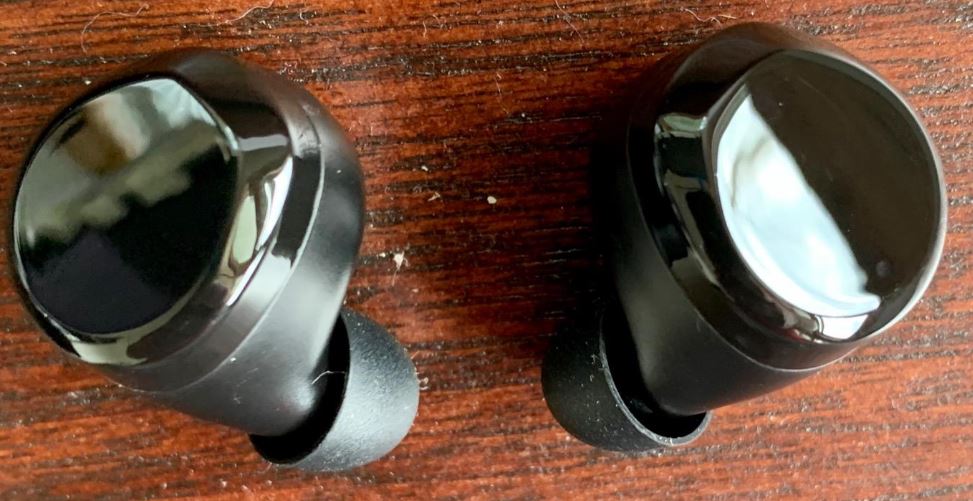 That said, the case is very easy to recharge. You have two different options. First off, you can use the USB Type-C cable to plug it into a USB port or AC adapter. When recharging via this route, it will fully charge in about two hours. Alternatively, the T12 charging case also supports wireless charging. One neat feature is that when you put it on your wireless charger, it vibrates for a second. This lets you know that it's actively charging. How long the T12 takes to wirelessly charge will depend on your placement and charger quality. In general, though, you can expect it to fully charge in three hours from a dead state.
The T12 earbuds connect to your phone or MP3 player using the latest Bluetooth 5.0 technology. This protocol provides several significant benefits over older Bluetooth protocols. First off, it allows for automatic pairing. Once you've paired your buds for the first time, they'll automatically connect when you remove them from the case. Secondly, it allows for high-bitrate audio. If you prefer 256k MP3s instead of 128k, you won't have any issues. Third, it allows for a more stable connection, without any random disconnections. Finally, it has virtually zero latency, so it's great for watching movies. The signal range is 33 feet, so you shouldn't have any issues there.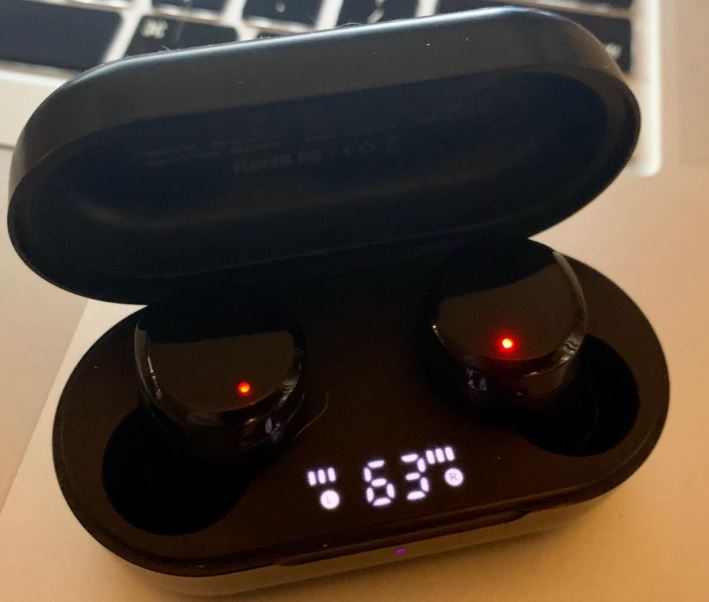 In addition, the T12 earbuds can be paired individually, one at a time. This isn't ideal for listening to music. However, it has a couple of things going for it. First, it effectively doubles your battery life. Second, it doesn't interrupt your situational awareness. If you're just using your buds for hands-free calling, this is a great feature. A triple tap of either earbud will activate your phone's voice assistant. This makes it easy to operate your phone, even when you're busy driving.
Sound Quality
The TOZO T12 Wireless Earbuds offer excellent sound quality for their class. In large part, this is due to their wide, 10mm drivers. These drivers are significantly larger than your average 6mm or 7mm earbud drivers. As a result of their large size, you get plenty of response across the entire sound spectrum. The bass is particularly impressive, with plenty of punch, but doesn't affect other frequencies. The mids are clean and clear, so vocals sound just fine. The highs are present and shimmery, but they can sound a bit weak at times. That said, the soundstage is nice and wide, so you can distinguish instruments without any interference.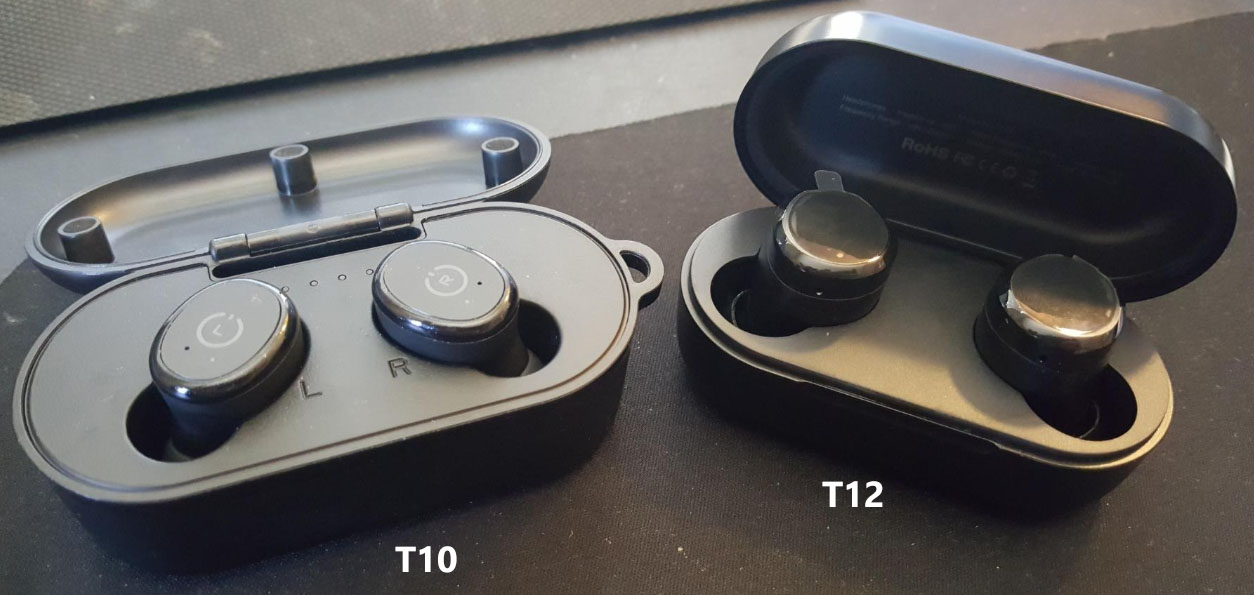 When it comes to hands-free calling, the T12 earbuds perform just fine. They don't offer any kind of noise cancelling on the mics, so loud background noises can be problematic. That said, they do sport dual mics. So if you're wearing both buds, you'll get better performance than you will from a single earbud. As is normally the case, how well you hear the other person will depend on their buds or headset.
Final Verdict
As you can see, the TOZO T12 Wireless Earbuds have a lot to offer. To begin with, the sound quality is excellent. The highs can be a bit weak, so they're not ideal for treble-heavy genres like country. But for most other genres, they're going to sound just fine. Moreover, they perform very well for hands-free calling. The ability to pair a single earbud is quite helpful in this regard.
The battery life of the earbuds themselves is excellent, with up to five hours of playtime. But with only 18 hours of additional charge, the case is a bit underwhelming. That said, the overall design is very well-engineered. To begin with, the fit is comfortable, secure, and ergonomic. You won't have to worry about them falling out easily, even during intense physical activity. The IPX8 water-resistance is also nice, since the buds will be useful under almost any conditions. Throw in wireless charging and a slick LCD display, and you're looking at a solid choice.
Meet Derek, "TechGuru," a 34-year-old technology enthusiast with a deep passion for tech innovations. With extensive experience, he specializes in gaming hardware and software, and has expertise in gadgets, custom PCs, and audio.
Besides writing about tech and reviewing new products, Derek enjoys traveling, hiking, and photography. Committed to keeping up with the latest industry trends, he aims to guide readers in making informed tech decisions.