It's a shame, but there's no such thing as the perfect pair of earbuds. Because everybody wants different things from their audio equipment. Some people are willing to settle for mediocre sound quality if it means they're capable of getting an enormous battery capacity. Some people are willing to live with a 2-hour battery if it means they can better audio.
Perhaps someday, choosing a pair of earbuds won't require you to make these kind of trade-offs. But until the technology develops to that point, or until you're willing to add a couple of zeros to your budget, you have to think about what kind of features matter the most to you.
Note: At no extra cost to you, we may earn a commission for purchases using our links. Learn more.
TOZO T10 TWS Bluetooth 5.0 Earbuds
The TOZO T10 TWS Bluetooth 5.0 Earbuds are a little strange. It's like someone started making athletic earbuds, and then changed their minds half-way through. From a sound perspective, these are clearly athletic style earbuds. Even the physical quality of their construction suggests a slant towards athleticism.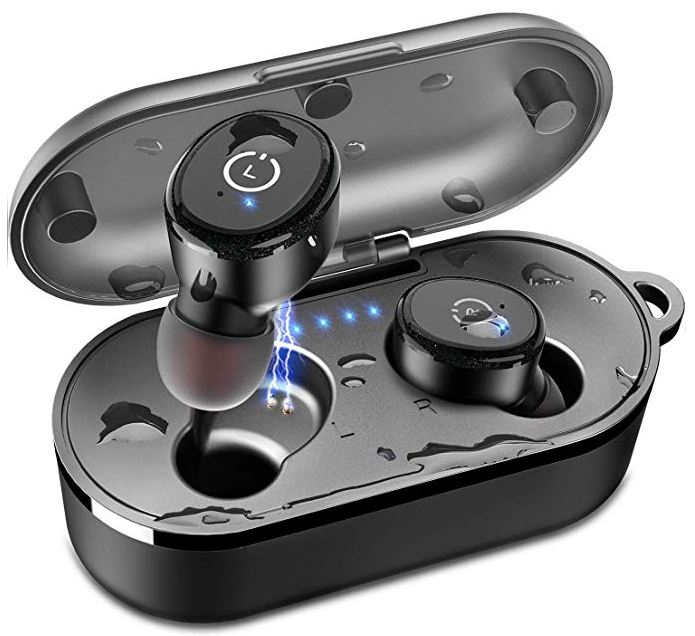 Some people are looking for this style of headphone specifically because they don't like ear-hooks or ear-fins. Some people like true wireless earbuds precisely because they don't have a bunch of extra crap attached to them. But there's a trade-off — you don't get any extra mechanism to help secure the earbuds inside of your ear. Whether or not that's a good thing or a bad thing really depends on you.
Build & Design
Each bud measures about 0.9" tall and 0.7" wide. That's pretty close to average, though marginally smaller than many of the bulkier buds that are coming into fashion lately. Additionally, the T10 are constructed with an IPX8 waterproof certification.
That's pretty much the best waterproofing certification you'll find on any pair of earbuds. It allows them to survive a full meter of submersion for about half an hour. You certainly won't encounter issues when it comes to sweat, rain, or similar forces. The IPX8 certification provides protections against sand and debris as well.
Charging Case
The charging case is about 1.3" tall and 3.6" long. A good way to visualize the length is by thinking about three quarters, placed side to side. Because a couple of coins is the total length of the case. Additionally, when you've got the earbuds inside, the entire case weighs only a couple of ounces. It's generally a breeze to shove it in your pocket, stick it in a glove compartment, or otherwise carry these earbuds along with you.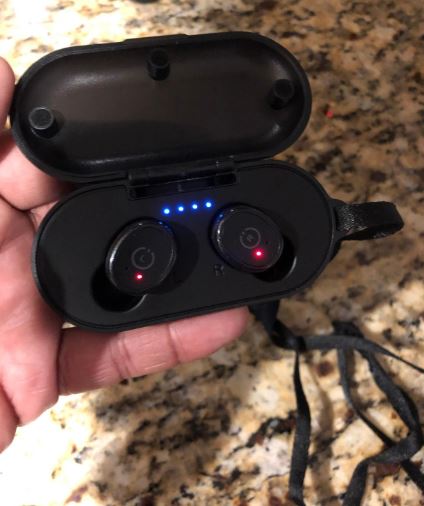 On the front side of the case, a simple analogue button helps pop-open the top. The hinge and the button are pretty simple, but as long as they're not subjected to intentional abuse, there shouldn't be any problems. The design of the hinge does suggest that with greatly extended use, it's possible the case will develop a squeaking noise when opened and closed, similar to old flip phones.
The case looks a little cheap. Oddly enough, TOZO decided to label each side of their charging case. That seems particularly strange because the left and right earbuds are already shaped to fit into one specific space, so the labeling feels unnecessary. Similar to most charging cases of this type, each bud attaches to a pair of small electrical pins.
Outside of nitpicking, the case does what it's intended to do. Moreover, the case actually supports Qi wireless charging. You can place your phone and earbud on a wireless charging pad, and find the case will refill in only a couple of hours. Depending on your charging pad, you might be looking at only an hour to top-off the case.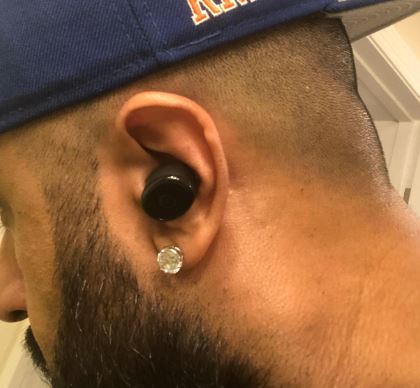 Wireless Connectivity
The TOZO T10 create wireless connections with the help of Bluetooth 5. That allows the T10 to support HFP, A2DP, AVRCP, and HDP. You can get stereo sound in your calls, and it means pairing is basically a one step process.
Pop the earbuds out of their charging case, and they'll automatically pair with each other. At least, after you've undergone the initial setup process for the first time. Thanks to Bluetooth 5 support, you'll can also get a battery indicator displayed on your Windows, iOS, or Android devices.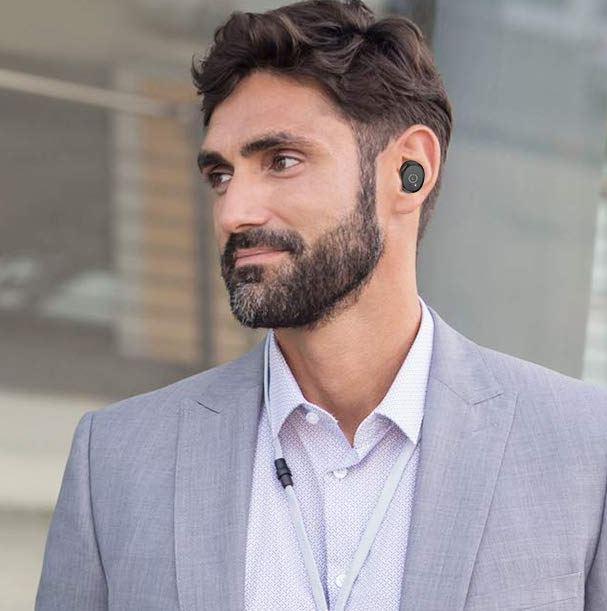 Worn Comfort
Because these are in-ear headphones that do not rely on wing-tips or ear-hooks to secure themselves against your ear, finding the right fit for silicone ear-tips is even more important than usual. Even a small discrepancy in size can lead to some problems.
The TOZO T10 includes two sets of ear tips in three sizes: small, medium, and large. It also includes a thicker and wider ear-tip that's better for noise isolation. The standard ear-tips are intended to provide reasonably good noise isolation, but nothing more than ordinary. The wider pair provides a little more noise isolation.
This is actually a pretty small selection of ear-tip sizes, but it matches the price range. Many earbuds similar to these include as few as two different sizes. Because two sizes will actually accommodate nearly everyone. In fact, even a single size of ear-tip, the size we think of as medium, can come close to accommodating about 85% of all people! Most of the time, three sizes are sufficient for virtually everyone.
Audio Quality
The TOZO T10 are constructed with 8mm audio drivers, which are only marginally larger than the 6mm drivers that are so common for earbuds of this type. But the tiny size difference provides a significant improvement with respect to sound quality. Sometimes small changes can have a big impact.
Bass performance is a little boosted, but has an overall natural quality. The treble range feels a little stunted, perhaps because it's being contrasted to such well-articulated bass. But that's actually a pretty common fault for any pair of earbuds that were tuned for athletic performance.
When people are working out, they tend to listen to uplifting, high-energy music. The T10 are pretty much designed to play that kind of music. Adjusting their soundscape to accommodate different genres would only require a short trip to any digital equalizer. Unfortunately, the TOZO T10 doesn't include its own equalizer software. That's something you'd be more likely to find with one of the bigger brands like Sony.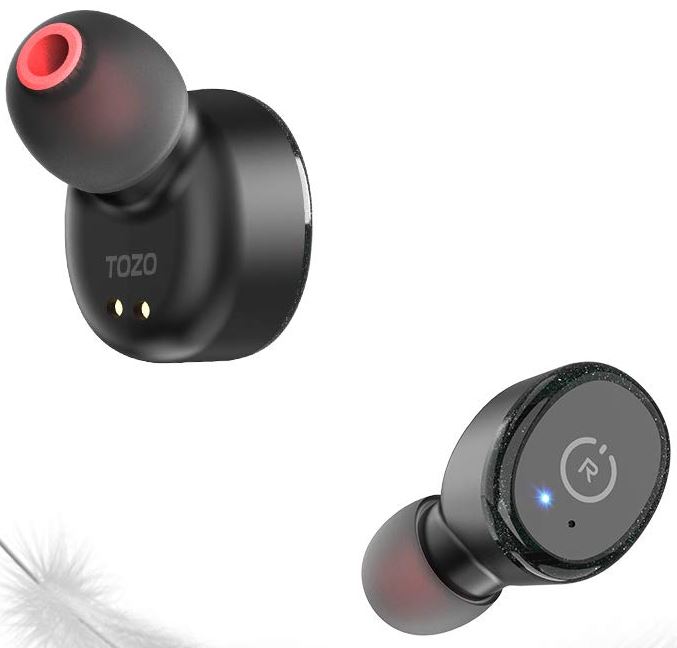 Battery Lifespan
When you plug in the case and begin charging up, three little blue LEDs will light-up within the case. Those lights can give you an idea about the status of your charge. Likewise, a small red LED will come on when the buds are charging, and then notify you when they're ready.
Standby time for each of the buds is terribly unimpressive, lasting only a couple of days. But because they're going to be housed inside of the charging case, you really only have to concern yourself with the standby time of the case. And there you're looking at a couple of weeks, which certainly shouldn't let many people down.
Each earbud can last about 3.5 hours The charging case lets you extend that time period out towards 9-hours. Those estimates depend on a number of different variables. Take the TOZO T10 and turn the volume to its maximum setting, and then walk outside through some chilly winter air. You'll discover the T10's battery lifespan creeps closer to 2.5-hours per each bud.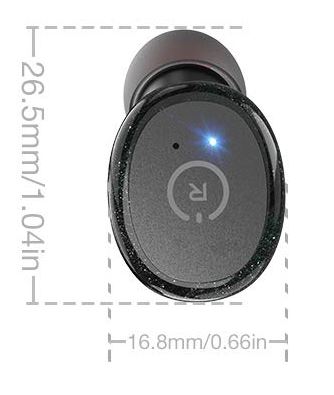 Microphone Quality
Most of the time, earbuds are either made specifically for calling, or they use calling features as an afterthought. In the case of the TOZO T10, you're looking at a pair of earbuds where calling features were pretty clearly an afterthought. In fact, there's virtually nothing special about the included microphone at all. Or microphones, rather, because there's one on each ear earbud.
The fact there are two separate microphones actually creates enormous potential to do amazing things. Two microphones can be used to greatly eliminate noise within your wireless calls, for example. But TOZO didn't put their microphones to that task, or really any special task at all.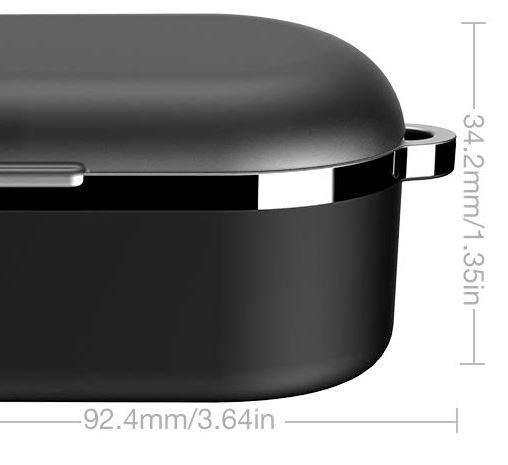 Other Considerations
These earbuds include a charging case, USB charging cable, and two sets of ear-tips. TOZO doesn't really deliver when it comes to warranties, but it's pretty rare for audio equipment to require warranty service. Because earbuds can pass a basic quality check, there's an enormous chance every pair will end up reaching their maximum potential lifespan.
How long you can expect the TOZO T10 to work for you really depends on how much heavy use they see. You could think of these earbud like a candle. If you burn the candle for hours every day, you'll burn through the batteries quicker.
In a worst-case scenario conditions, you should really expect the battery to quit after about 3-years of heavy use. People who reach the 5-year mark will probably want to consider replacing the T10 simply because the batteries will have worn down their maximum capacity, pushing it closer to something like 100-minutes.
Who Should Choose the TOZO T10 TWS Bluetooth 5.0 Earbuds?
It's strange. People looking for athletic earbuds often prefer ear-hook headphones for the extra security. Other times, they prefer earbuds with winged tips, which press against the inside of your ear bowl. These earbuds don't deliver on those kinds of extra layers of security, and yet they're still built with an athletic sound profile.
If you're relying on the earbud to stay in position without any extra assistance, and you plan on doing athletic activities with these buds, you're at the mercy of finding a great fit with the silicone ear-tips. You'll probably be able to do it because statistically speaking, most people's ears will match up to the included ear-tips.
If you're willing to wear ear-hooks or use ear-fins, then it's hard to recommend the TOZO T10 for athletic activities. Because you'd probably be better off with those more secure alternatives. However, if you strongly prefer the simplicity of classic in-ear buds, the TOZO T10 can probably deliver exactly what you're trying to find. In terms of value, it's hard to do better without spending more.
Please consider sharing:
Note: At no extra cost to you, we may earn a commission for purchases using our links. Learn more.