For most of the history of battery-powered devices, you needed a wire to charge them. Want to charge your camera, cell phone, or laptop? You plug it in. What else would you do? But corded charging has a few distinct disadvantages. First off, it used to require you to use multiple chargers for multiple devices. With the advent of USB, this has been less of an issue, but there are still different USB standards. Secondly, every time you insert or remove a USB cable, it reduces the life of your device. This is a serious drawback, since most electronic components suffer minimal wear and tear from everyday operation. As a result, your USB port is likely to be the first part that fails.
Wireless charging has changed all of this. With a good wireless charger, you're not putting any extra wear and tear on your device. You can also charge a variety of devices with the same charger. If you're going on the road, you don't have to bring 2, 3, or more chargers. But there are still some potential issues. For example, a low-quality wireless charger can cause your device to overheat.
So how do you know which wireless chargers are safe and effective? We're here to help. Today, we'll be reviewing the TOZO W1 and the Yootech Wireless Charger. We'll look at all their features and benefits, as well as potential drawbacks. Then we'll talk about which one you might prefer. Let's dig in!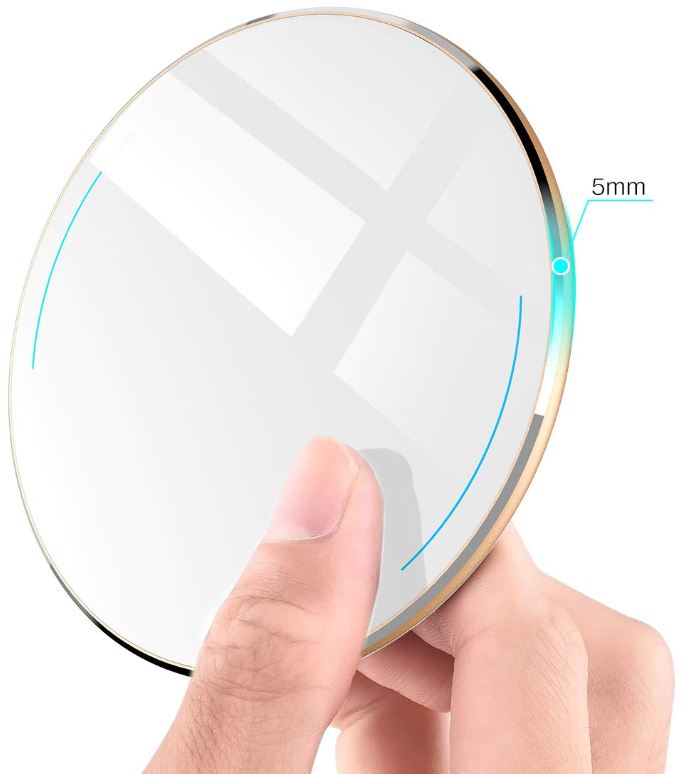 TOZO W1
The TOZO W1 is one of the slimmest wireless chargers on the market. It's a small disc, measuring 3.9 inches in diameter and a mere 0.2 inches thick. It's also lightweight, tipping the scales at a mere 1.44 ounces. This makes it ideal for travel and transport. Slip it into even a small pocket in your backpack, laptop bag, or carry-on, and you're ready to go. As a result, the W1 is an ideal choice for frequent fliers. The light weight plays into this as well. You can even carry it in your pocket, and it won't be too heavy or bulky.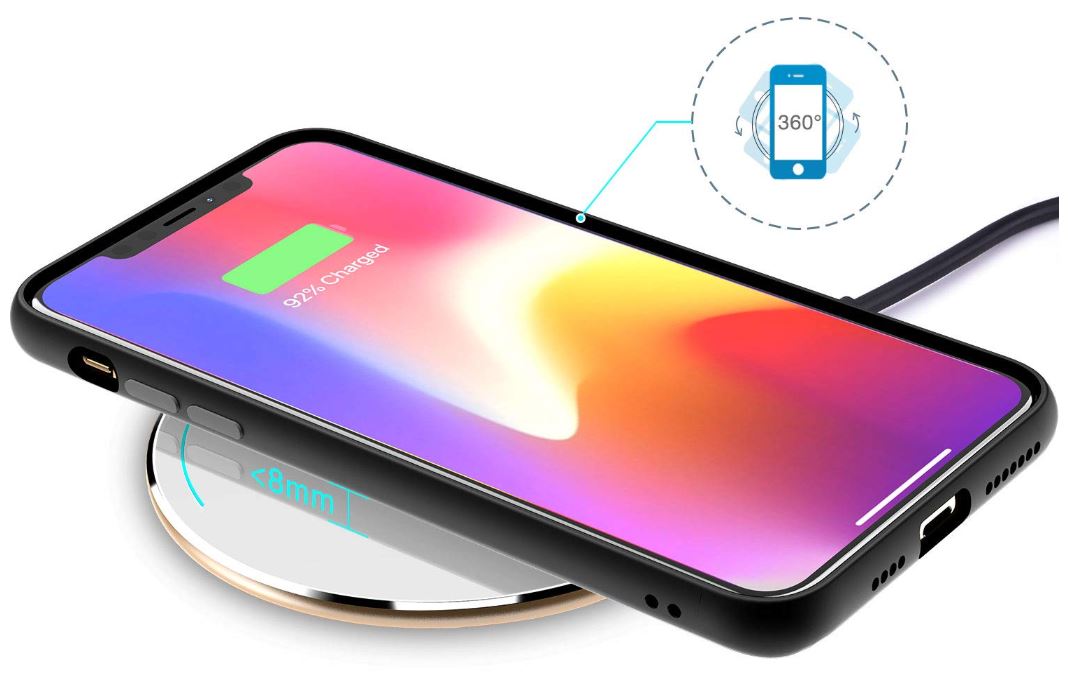 The W1 is also tough enough to handle the demands of travel. It's constructed from aviation-grade aluminum. As a result, it's significantly tougher and more durable than your typical plastic charger. The aluminum comes in six different colors. There's a polished, mirror-like option., which comes with both silver and gold finishes. There are also darker finishes in black, royal blue, and light and dark grey. This also makes the W1 into an attractive household fixture. On your counter or desk, it adds a touch of class, and doesn't look like a clunky piece of equipment. Just make sure your guests don't confuse it with a fancy coaster.
In addition to the gorgeous finish, the W1 also features color-changing LED lights. The lights are built into the top of the charger, with a curved profile that looks like a smile. As they change color, they let you know when it's plugged in, charging, and finished charging. In addition to the charger itself, the W1 kit also includes a USB Type-C charging cord. That said, there's no AC adapter included in the kit. You'll need to provide your own, or plug the W1 into another USB power source. Keep in mind, though, that many PC USB ports don't provide a lot of voltage. For best results, you'll want to use an AC adapter.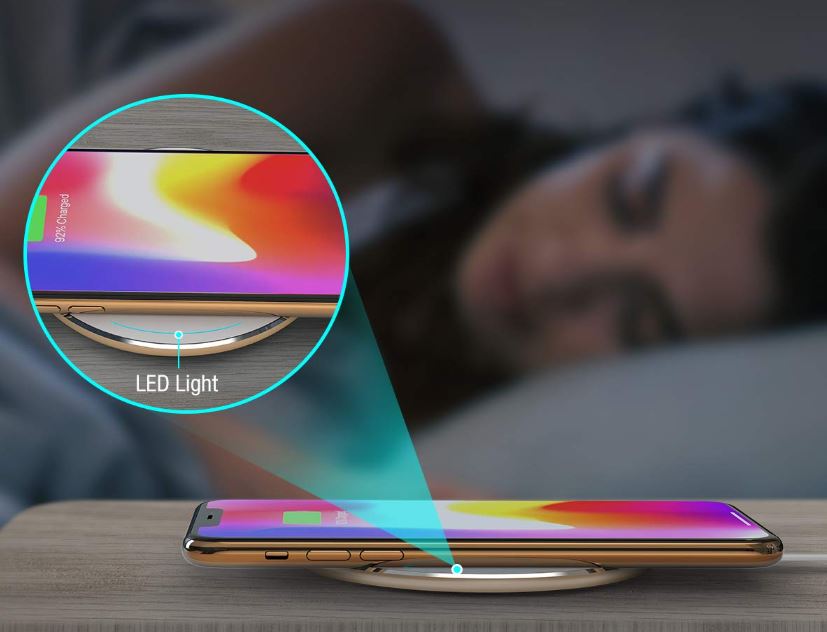 When you're using the TOZO W1, your phone will lay totally flat. This makes it a poor choice if you want to watch a video while you're charging. In that case, you're going to want a vertical charger, such as the Pleson Fast Wireless Charger. As its name implies, it doesn't just hold your phone vertically, it supports quick charge technology.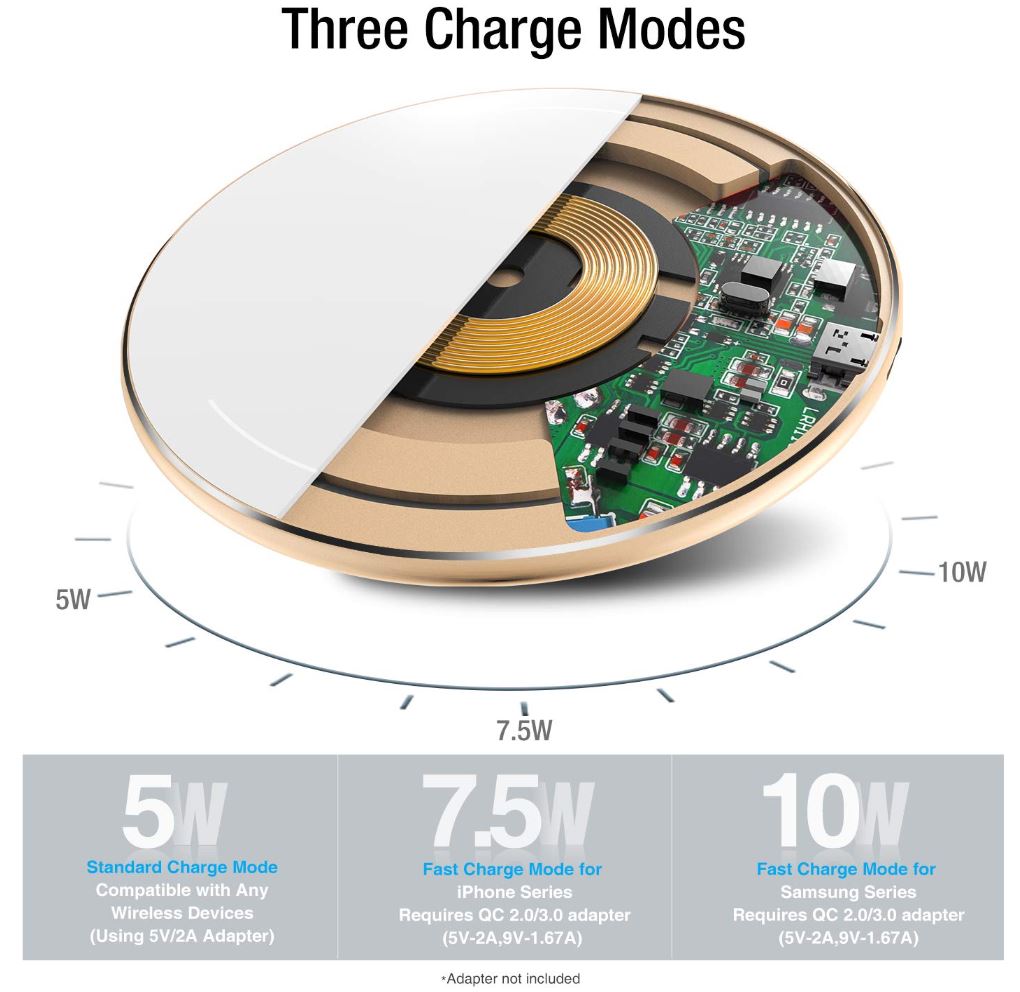 Charging Features
The TOZO W1 will support all wireless charging devices, regardless of wattage. That said, some devices are going to charge faster than others. For example, the Samsung Galaxy Note 9 and 10 series can charge at a full 10 watts. The iPhone 8 and later, meanwhile, support up to 7.5-watt charging. The Google Pixel 3 and 4 support 5-watt charging. Smaller devices like earbuds will often charge at even lower wattages. The W1 works with all of these different wattages. However, the USB Type-C cable that's included with the kit will only support up to 5-watt charging. To get 7.5 or 10-watt charging, you'll need to use a power delivery (PD) cable. These cables are available online or at any electronics store. They also come with the iPhone 11 and Galaxy Note 10.
The W1 offers 98 percent charging efficiency, which is better than the typical 80 percent efficiency of many wireless chargers. That said, this efficiency is purely theoretical. The thicker your phone case, the less efficiency you're going to get.
When you're using the TOZO W1, your phone is protected from various types of damage. It has built-in overcharging and short-circuit protection, which keeps your device safe from battery damage. It also has overheating protection, so your phone isn't going to get too hot and become damaged. The W1 also comes with foreign object detection (FOD). With FOD, the W1 will shut off automatically if metallic objects are placed within range of the magnetic field. This provides additional protection against overheating.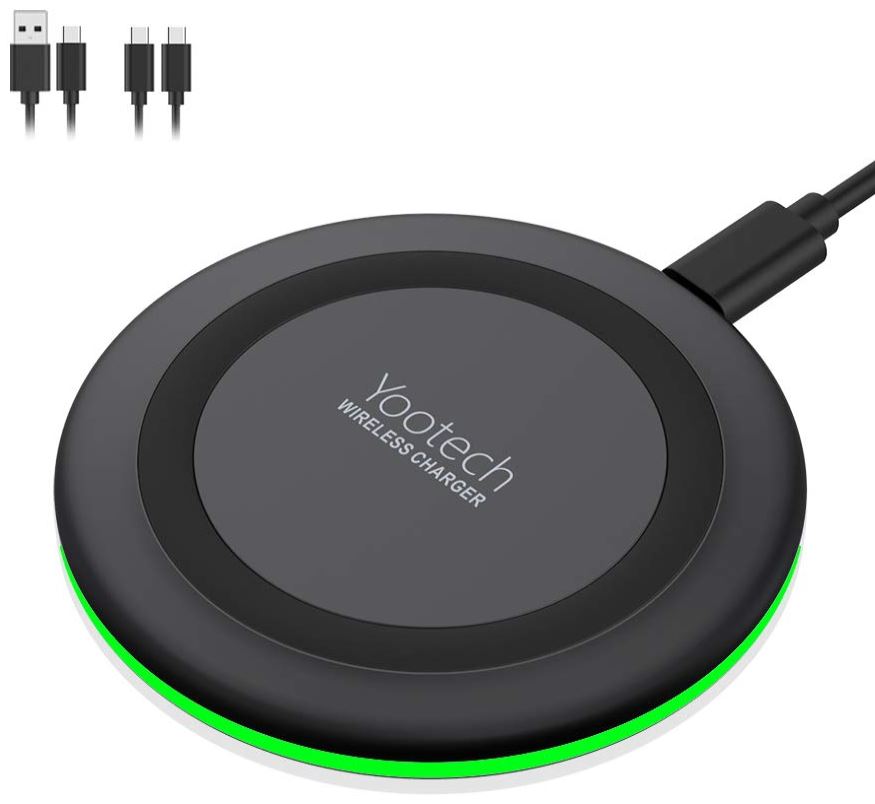 Yootech Wireless Charger
The Yootech Wireless Charger is a bit beefier than the TOZO W1. It's slightly narrower, at 3.7 inches in diameter. However, it's more than twice at thick, at 0.5 inches. It weighs 2.08 ounces, which isn't that much more than the W1. This is mostly due to the ABS plastic shell, which weighs less than aluminum. As a result, it's still suitable for travel and transport. It's just not terribly bulky, so you won't have any issues tossing it in a backpack or carry-on bag.
The Yootech is available in two designs: all black, and black with a blue ring. Both the top and bottom of the charger have rubber rings around the outside. The bottom ring prevents slippage, so your charger won't easily slide off a counter, desk, or table. The upper ring is designed to keep your phone securely in place. This also makes the Yootech ideal for charging smaller devices, such as wireless earbuds. They're not going to slip off the top of the charger and get damaged.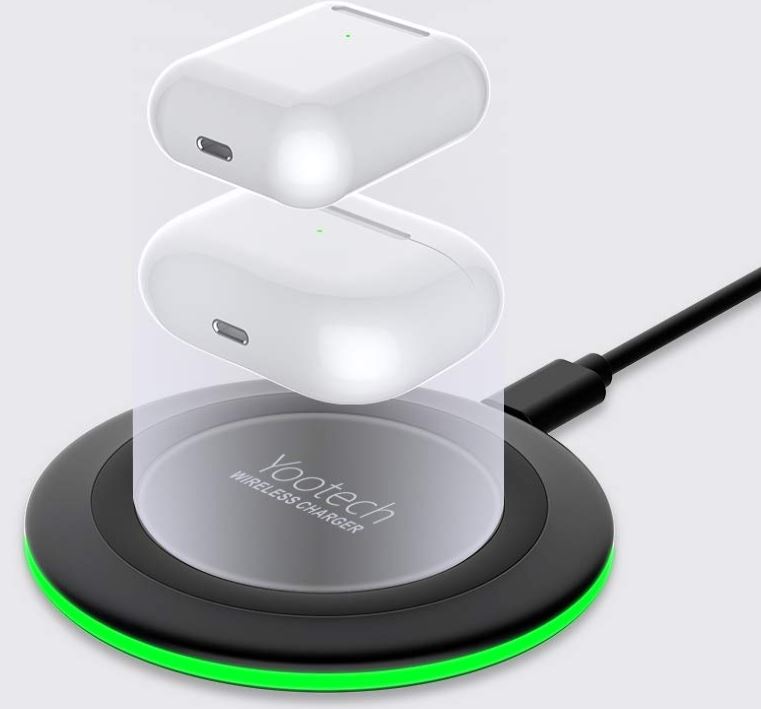 Around the outside edge of the Yootech, you'll notice a green LED light bar. Under normal circumstances, it's not illuminated, so you won't have to worry about it keeping you awake at night. However, it will flash for 3 seconds when it's connected to a power source. When your phone or other device is in range, it will light up for 16 seconds. This lets you know that your device is actively charging. On the outer edge of the charger, you'll also find a USB Type-C port for the power supply. The package includes both USB Type-A to Type-C and Type-C to Type-C cords. However, there's no AC adapter, so you'll need to provide one on your own.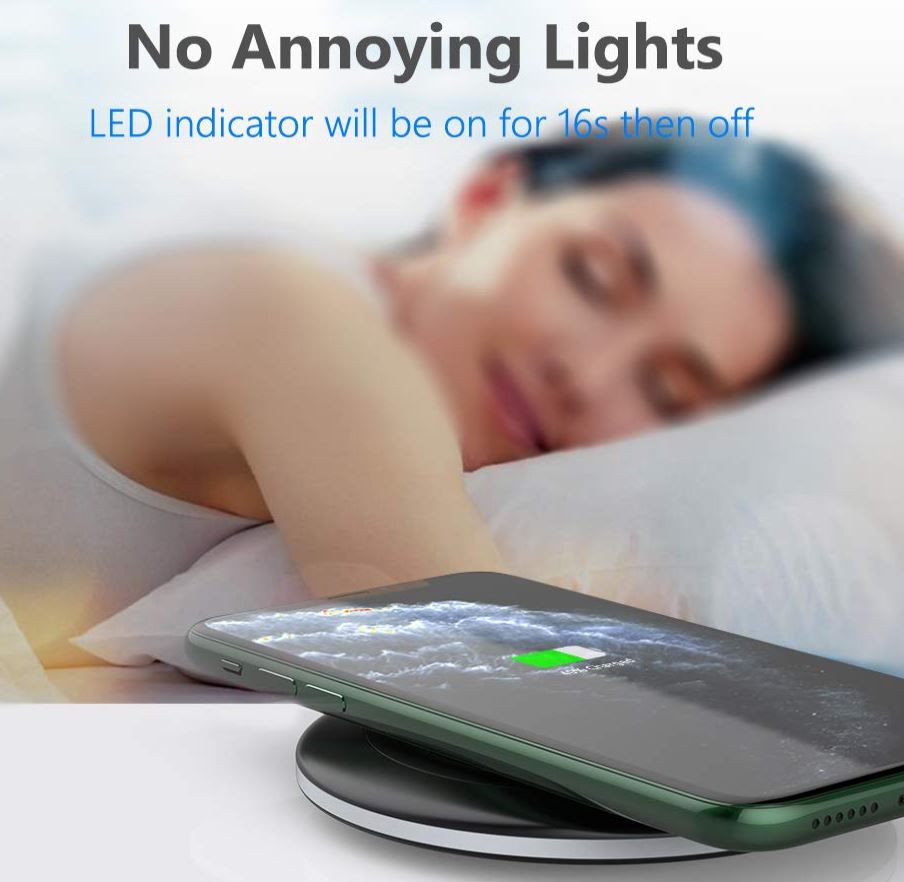 As you can see, the Yootech is well-suited for use at home or while you're traveling. But what if you need to charge your phone in the car? In that case, consider Fiora's Ultimate Wireless Car Charger. It supplies up to 15 watts of wireless power from your car's 12-volt power supply port.
Charging Features
Like the TOZO W1, the Yootech Wireless Charger supports a variety of wattages, from 5 to 10 watts. For 5-watt charging, the included USB Type-C cable will be more than sufficient. However, to get 7.5-watt or 10-watt charging, you need a PD cable. If you own an iPhone 11 or Galaxy Note 10, your existing charge cable will already support PD.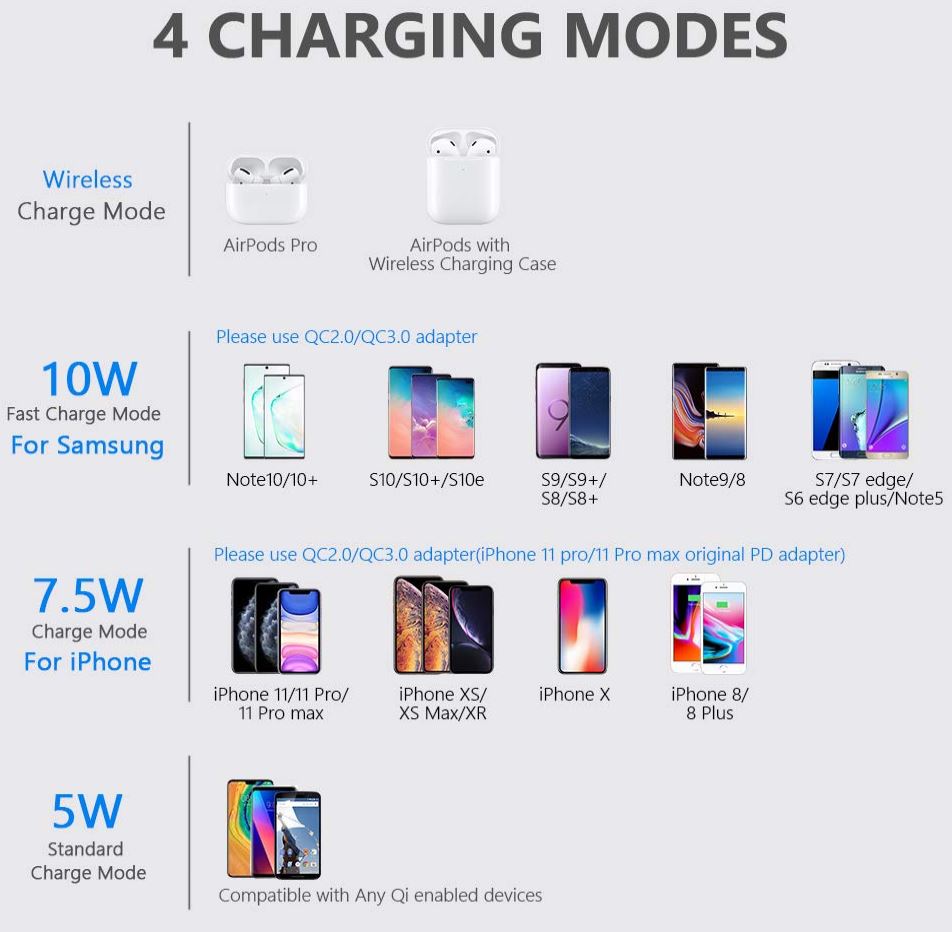 The Yootech Wireless Charger doesn't come with an efficiency rating. However, as with any wireless charger, your efficiency will vary depending on your case type and thickness. It's rated to work with plastic and rubber phone cases up to 4mm in thickness. This is enough to support just about any phone case on the market. On the other hand, some cases, such as the OtterBox, are a bit thicker. If you're using one, you'll need a more powerful wireless charger, such as the CHOETECH Dual Wireless Charger. Not only does it support 6mm cases, but it also has dual coils, providing a larger sweet spot.
In addition to its powerful charging capabilities, the Yootech has several built-in safety features. It has temperature control, which prevents your phone from getting overheated. It also offers surge and short-circuit protection, which keeps your batteries or circuits from damage during charging. And, like the TOZO W1, the Yootech even offers FOD. If you accidentally drop your car keys next to your charger, you won't end up with any heat damage. If anything does go wrong, Yootech also offers a lifetime money back/replacement warranty. This is much better than the warranty you can typically expect from a wireless charger.
Final Verdict
At the end of the day, the TOZO W1 and the Yootech Wireless Charger have a lot in common. For one thing, they both offer up to 10 watts of charging power. This allows for fast charging rates on devices that support quick charge technology. You can charge a Samsung Galaxy Note 10 in less than 90 minutes with either of these chargers. Both chargers also offer similar safety features. Overcharge protection, short-circuit protection, and FOD are some of the most important safety features available.
That said, there are a few key differences in the overall design. The TOZO W1 is lighter and slimmer, and has a classier appearance. It's also a bit more durable, with an aluminum shell rather than plastic. If you're concerned about rough baggage handlers, this is an attractive feature. On the flip side, the Yootech Wireless Charger has non-slip rubber rings. Its LED lights also turn off after a few seconds, which makes it a better choice for sleep. The Yootech also has a lifetime warranty, which offers some peace of mind. Ultimately, both of these chargers are worth the investment.