These days, shopping for a new pair of headphones can feel like a chore. There are literally thousands of options to choose from, and it can be difficult to tell which ones are worthwhile. The reason for this is that the market is absolutely exploding right now. True Wireless technology is still relatively new, and it's still getting cheaper to produce. Unlike other devices, like smartphones, the barrier to entry is fairly low. As a result, it's an easy market for manufacturers to dip their toe into. Combine this with wireless earbuds' extreme popularity, and it's easy to see why there are so many options.
Unfortunately, this means that for every good pair of earbuds on the market, there's a pair of duds. How do you know which ones are worth buying? Short of trying them out yourself, there's no 100 percent guarantee. However, it helps to stick with manufacturers you know and trust. If nothing else, you know they're at least capable of producing a good pair of buds. Tranya is one of these reliable manufacturers. In the past, we reviewed their T10 Wireless Earbuds, which provide powerful bass for their size. For the most part, we liked what we saw. So it made sense to do a follow-up review of Tranya's latest and greatest Bluetooth earbud.
We're about to review the Upgraded Tranya T10 True Wireless earbuds. These are a newer variant of the T10 designed with a different set of features; often referred to as the T10B. While utilizing the standard T10 housing and controls, Tranya has integrated new audio and charging circuitry. Before we begin, we should point out that the T10B is not truly an "upgrade" to the T10 per se (although that's what Tranya is now calling them). It's simply a different version with different features. As we go, we'll consider the T10B in its own right, as well as highlight the differences from the original. Let's take a closer look, and see how well these new Tranya earbuds perform!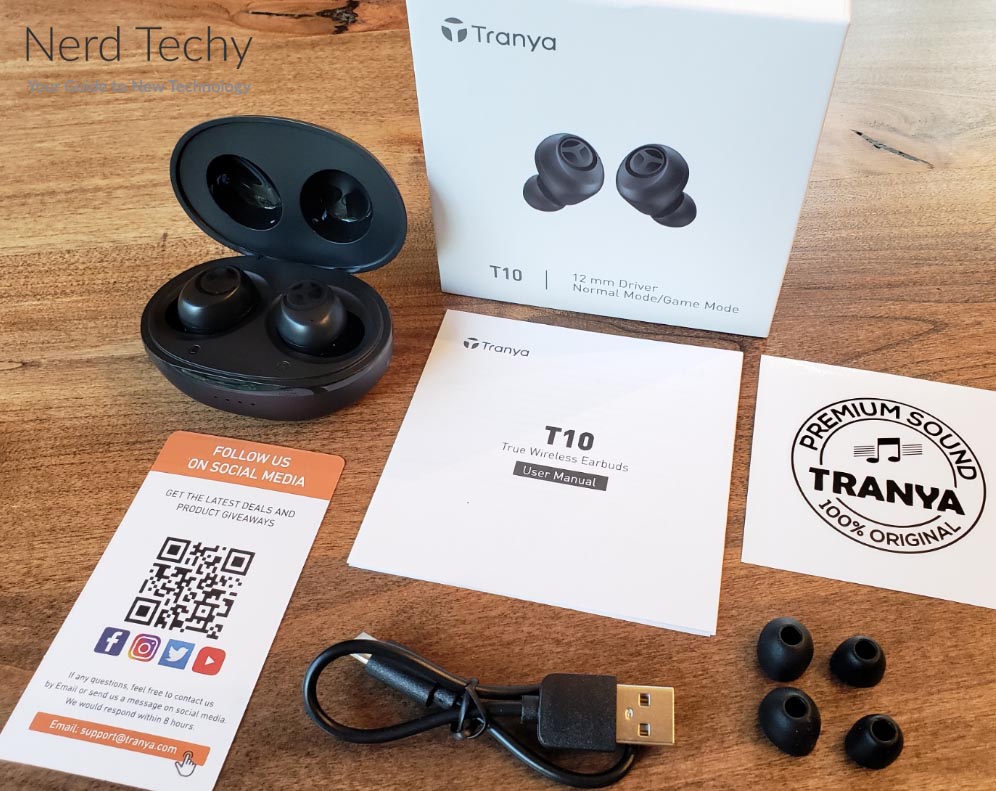 Overall Design
As we mentioned, the Upgraded Tranya T10 Earbuds use the same shells and controls as the original. If you already own T10 earbuds, you'll have the same fit, feel, and form factor. This goes for the case as well, so everything in this section remains identical to the original.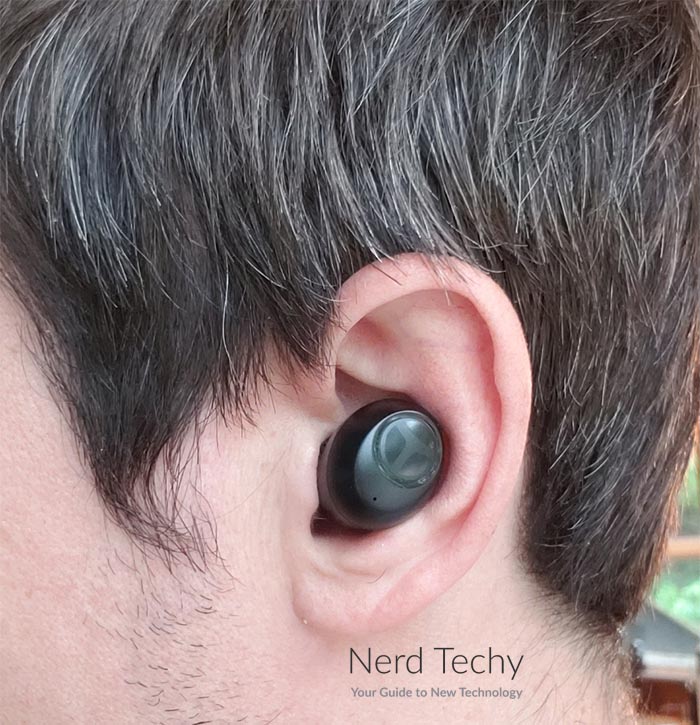 The earbud shells are constructed from matte black plastic, with a compact profile. When inserted from your ears, they won't stick out very far, and there are no studs hanging down. This low-profile design relies on a good fit to remain secure in your ears. For that reason, there are three additional sets of ear tips included in the package, in three different sizes. If your buds are too tight or too loose, it's well worth taking a minute to find the ideal size. This won't just keep your earbuds more secure. It will also provide a better seal to keep out background noise.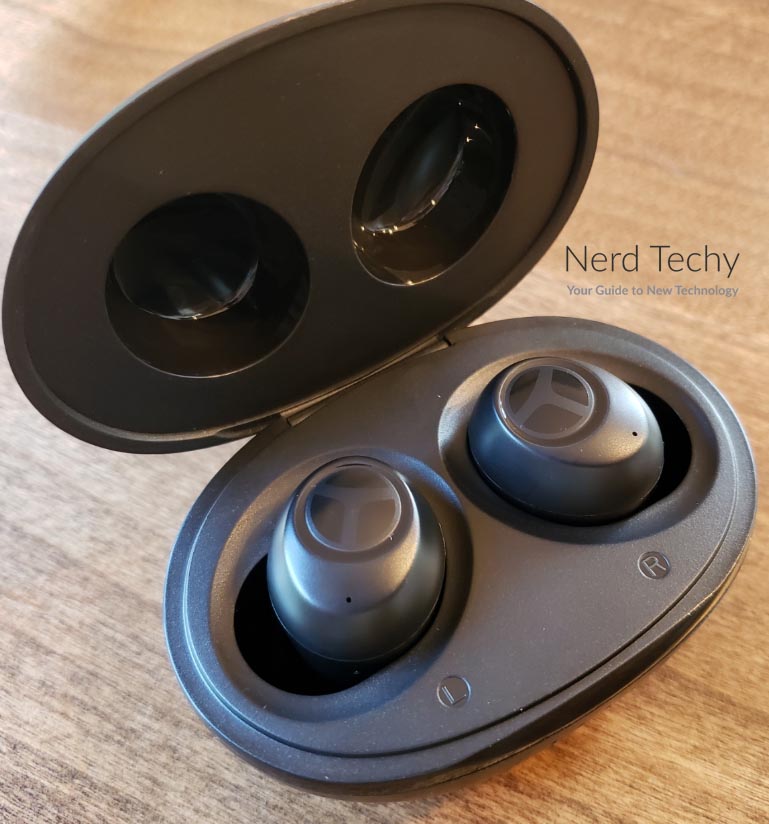 The backs of the earbuds sport round Tranya logos, which are glossy and embossed. These logos function as soft touch controls for operating the earbuds. You tap, double tap, or press them to adjust the volume, answer and end calls, and perform other functions. One thing we appreciated was that you can use the buttons to call up your phone's voice assistant. This means you can send texts, set reminders, search Google, and even execute Alexa skills – all with just your earbuds.
The Upgraded T10 earbuds have a water-resistance rating of IPX7, which means they're capable of withstanding full submersion. This goes well beyond your typical "sweat-proof" workout buds, and gives you more options. For one thing, you can wear your earbuds in the shower, something we wouldn't recommend with a lesser pair. For another thing, if your earbuds do fall out, Murphy's Law will tend to apply. They'll end up in a puddle, sink, or – God forbid – a toilet. With a submersion-proof pair of buds, you simply dry them off and get back to listening.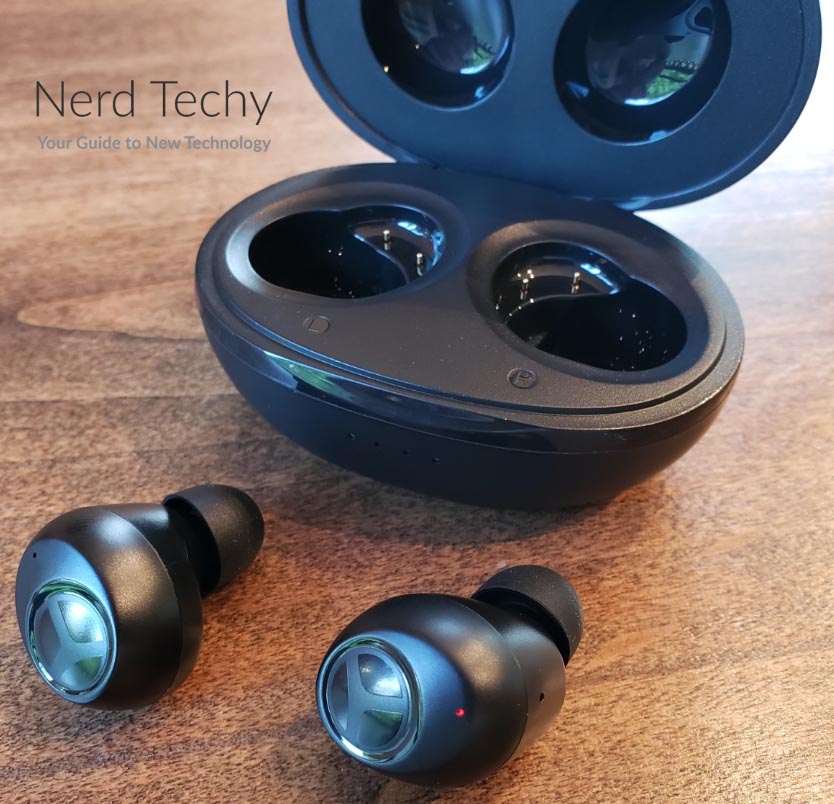 Like most wireless earbuds, the Upgraded T10 buds come with a charging case. This is a smooth, oval-shaped case that's constructed from the same matte plastic as the earbuds. It has a clamshell-style lid, which is spring loaded to stay shut securely. When it opens, you'll see a pair of molded ear wells, where the buds can sit securely. Because these wells are molded, there's no risk of accidentally inserting an earbud in the wrong side. In addition to that, there's a cutout beneath the lid, which makes it easy to snap open with your thumb.
Just beneath this cutout, you'll see a row of four white LED lights. These illuminate when the case is plugged in, or when the lid is opened. Otherwise, they remain off in order to save power. They indicate your current charge level, so all four will not always be illuminated. If you're down to a single light, you know it's time to charge your battery! A short USB Type-C cord is included for charging. It plugs into a small port located on the back of the case, just beneath the lid hinge.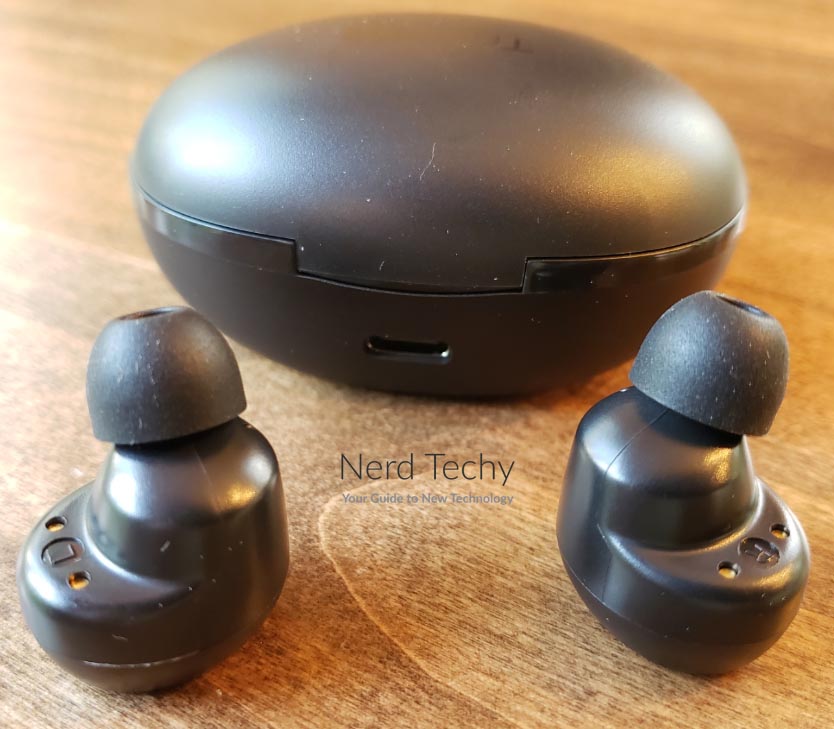 Battery & Connectivity
The internal battery in each T10B earbud is rated to last for eight hours. This is a manufacturer's rating, though, which means you can get eight hours of playtime at half volume. At full volume, somewhere around six hours is more reasonable, depending on other factors. Even so, you're looking at a reasonably long-lasting battery with enough power to get you through the day. Drop your buds in the charger at the end of the day, and you'll be fully charged in about two hours. And if you need some juice in an emergency, you can charge for 10 minutes to get you about an hour of playtime.
Of course, you may not always have access to a power outlet. If you're on the road, you can simply use the charging case's battery. This battery carries enough charge to power your earbuds an additional four times. As a result, depending on usage, you can get up to 40 hours of total playtime without touching an outlet. The case itself charges via USB Type-C, and will charge in less than two hours.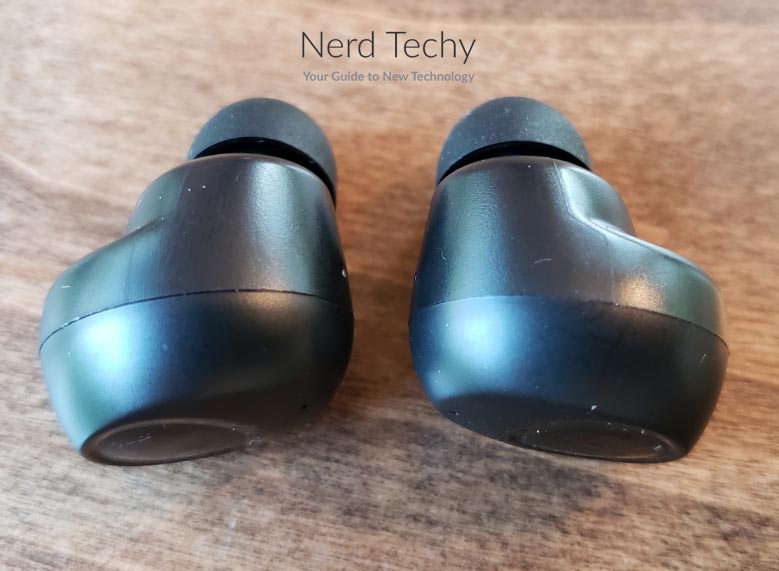 Clearly, you're looking at one of the more long-lasting earbuds on the market. But let's say you want the absolute maximum battery power. In that case, consider the Tranya M10. They provide up to 10 hours of playtime per charge, and up to 80 hours with the charging case. However, they're not as comfortable as the Upgraded T10.
Charging is actually one area where the Upgraded T10 differs from the original. While the two have the same battery, the original T10 supports wireless charging. The T10B does not. We're not sure why Tranya dropped wireless charging on the new variant, since it's a popular feature. But we're guessing it's a matter of space, due to the different audio hardware.
Wireless connectivity remains the same. You connect via the Bluetooth 5.0 protocol, which is the current standard. This allows for higher bandwidths, better stability, and lower latency than older Bluetooth versions. In addition, these particular earbuds can be used in stereo or mono mode. Stereo mode is "normal" mode, for listening to music. Mono mode connects only a single earbud, so you can remain aware of your surroundings. Mono mode also allows you to extend your battery life, since you're only draining one bud at a time.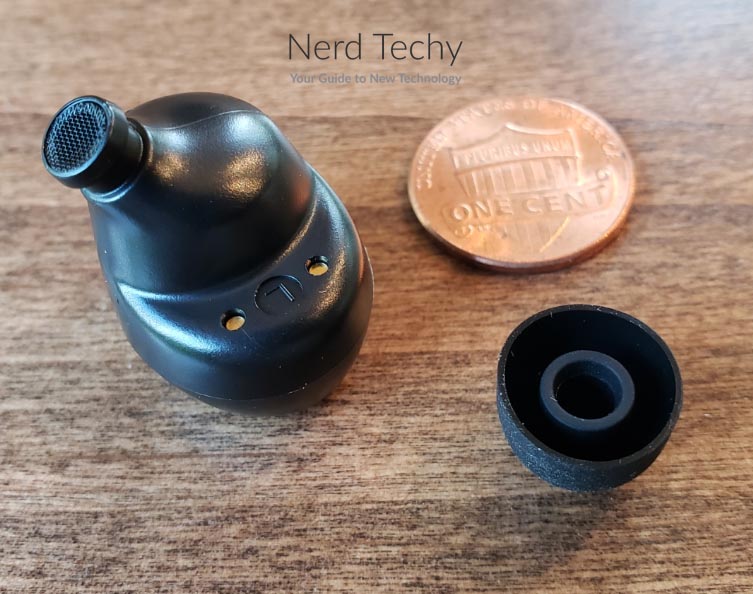 Audio Quality
The audio is where you'll notice the biggest difference between Tranya's T10 and T10B buds. The original T10 had a "bass boost" mode for increasing the low-end punch. That mode is not present on the T10B. Instead, the Upgraded T10 (T10B) has an optional "game mode." In game mode, you'll get near-zero latency, which is ideal for video games. There will be no lag between what you see on your screen and what you hear. This works very well, but comes at the expense of some battery life. If you're just listening to music or talking on the phone, leave game mode off and you'll get better performance.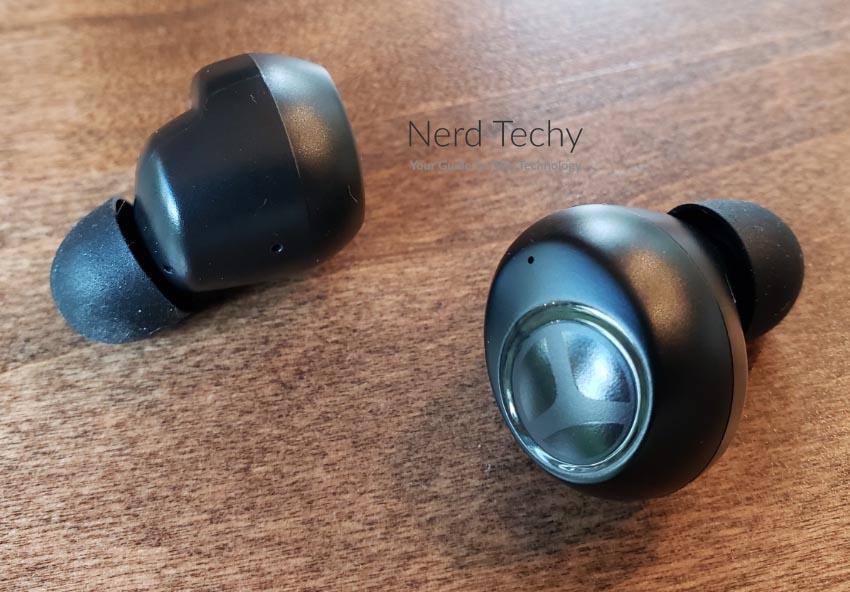 The overall audio quality of the Upgraded T10 is quite good. We had no complaints about the balance, and the audio is clear across all frequencies. There's no hissing in the highs or rattle in the bass. We particularly appreciated the wide sound stage, which is broader than the original T10. This means you get more separation between instruments, and a better sense of space. That said, you might prefer a more bass heavy earbud. In that case, the Tranya B530 is an excellent choice. It offers rich, deep bass tones, but charges slowly via Micro USB.
The Upgraded T10 earbuds utilize CVC 8.0 noise cancellation technology. This is not the seem as active noise cancellation, and does not affect the quality of the audio you hear. Instead, these earbuds utilize a set of four mics to focus as tightly as possible on your voice. Then, proprietary Qualcomm circuitry cleans up the noise, and transmits your voice clearly. The result is that you're easier to hear in a loud environment, such as a car with the windows down. You won't have to keep repeating yourself so the other person can understand you. As for how well you hear them, that will depend on the quality of their mic.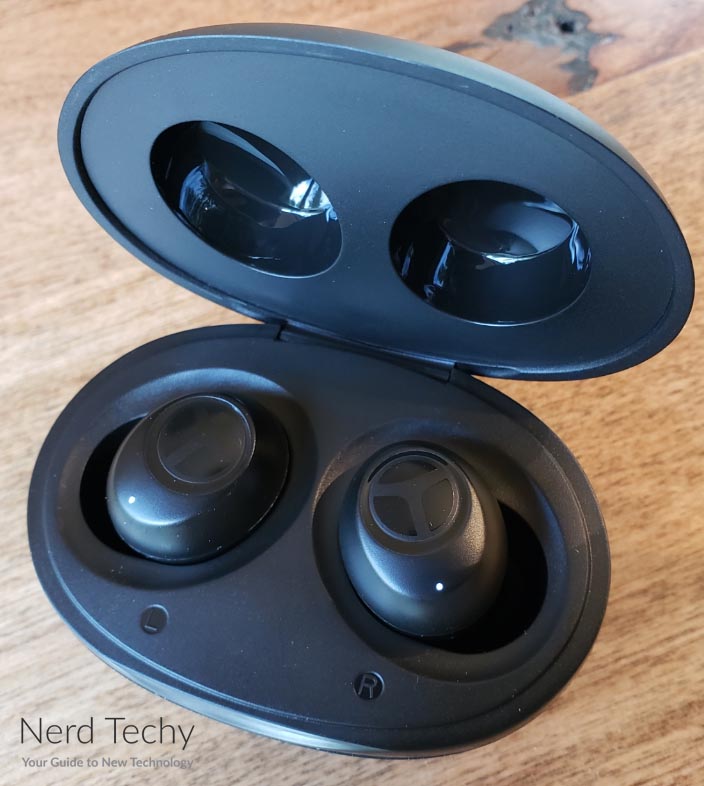 Final Verdict
As you can see, the Tranya Upgraded T10 is a worthy successor to the original T10. For one thing, it keeps what the original did right. The compact form factor and attractive, waterproof design didn't need changing, and Tranya didn't change them. The same goes for the battery, although the decision to drop support for wireless charging was a bit baffling.
The main differences are in the audio. Both sets of earbuds sound good. However, the original T10 has a more bass-heavy, pop music-friendly driver set. The Upgraded T10, on the other hand, has a broader soundstage and an optional game mode. This last feature is a great choice if you want a pair of gaming buds. On the other hand, if you're not a gamer, you'll probably never use it.