INNOVA CarScan Advisor 5210
Design & construction
8.0/10
Vehicle compatibility
9.0/10
Pros
Read all OBD II codes for your vehicle.
Easy-to-read screen and intuitive controls.
View real-time diagnostic information like RPM and oil pressure.
Pairs with free mobile app to provide real-time solutions and parts information.
Cons
Short cable.
Does not support SRS or network scan.
The "Check Engine" light has to be one of the most infuriating inventions of all time. Like an "undefined error" in a computer program it tells you just enough to worry without saying anything useful. Some Check Engine light issues are urgent, and should be addressed immediately. More often than not, the culprit is a faulty O2 sensor or some other nonsense. But when the light comes on, you don't know. All you know is that your vehicle is yelling at you. Worse, if your state requires an inspection, a Check Engine light is usually an automatic failure.
Unfortunately, you need an OBD II scanner to find out what the Check Engine light means. An OBD II port is a special type of plug for automobiles. Required on all US automobiles since 1996, they allow you to connect a variety of electronics, such as key programmers. With an OBD II scanner, you can determine what is causing your Check Engine light illuminated. Depending on the scanner, you can also perform a variety of other functions, such as resetting sensors. A few years back, OBD II scanners were prohibitively expensive. They cost enough that mechanics would buy them, but an average person was better off going to a mechanic. Nowadays, though, just about anybody can get their hands on a good scanner.
We're about to review the INNOVA CarScan Advisor 5210 Code Scanner. This is a handheld OBD II scanner that's designed to read your Check Engine code. It will also tell you what that code means, and help you find a solution. Not only that, but you can reset sensors, capture freeze frame data, and use the companion app to order parts. But does it work well enough to be worth the investment? Or are you still better off going to the mechanic? To find out, we'll need to dig a little deeper into how this scanner works. We'll look at the physical design, what codes it can read, and what else it can do. We'll also talk about the types of vehicle it can be used with. Let's get started, and see what we learn!
Overall Design
The INNOVA CarScan Advisor 5210 Code Scanner is a handheld scanner that connects directly to your car's OBD II port. It measures 6 inches long and 3 3/8 inches wide, with a slightly tapered grip. The back is also slightly angled, which provides for better ergonomics. The housing is all black, and is constructed from a rugged polymer. It's not bulletproof, by any stretch of the imagination. But if you drop it on the ground, you're not going to crack the case.
The upper half of the housing is slightly flared, and sports an easy-to-read LCD display. Many car scanners use a simple monochrome display that shows one or two pieces of data. This display, on the other hand, is full-color, with bright, crisp resolution. It shows up to 20 data points on the screen simultaneously, which makes it easier to read. This information includes not just codes but the meaning of codes, so everything is easy to understand. You also don't have to navigate between a whole bunch of screens to find a few pieces of information.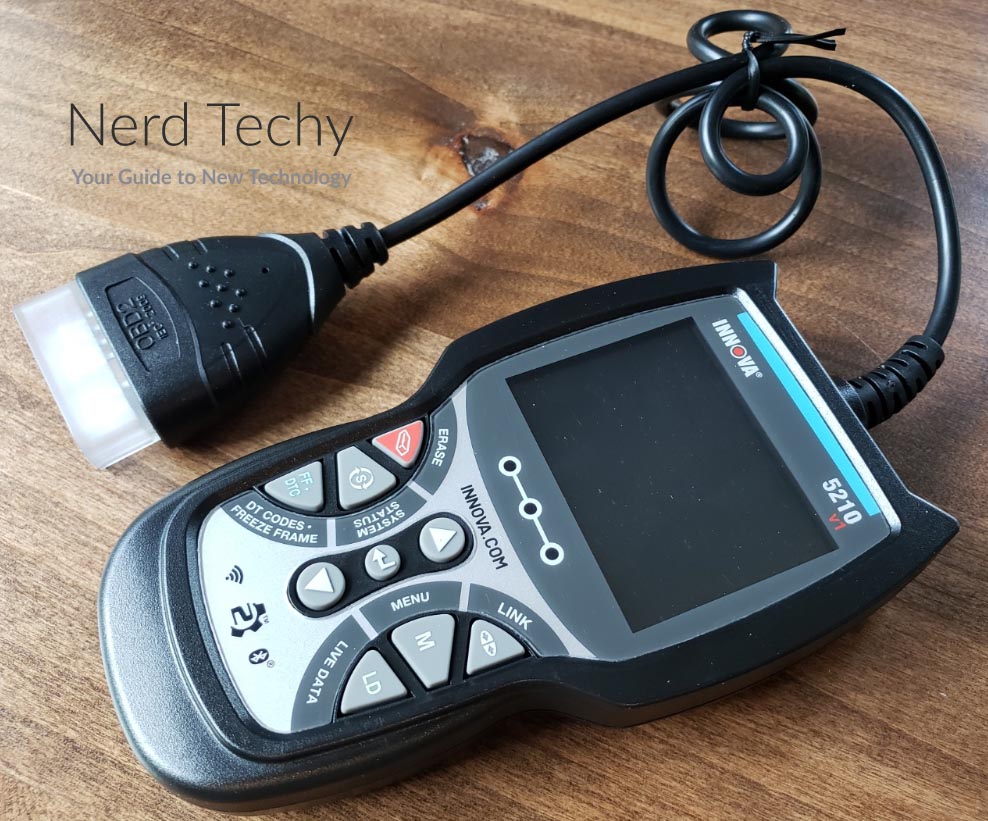 The control panel is just below the screen, and consists of a set of physical, rubber buttons. We like these better than a touchscreen or soft touch controls for a couple of reasons. For one thing, physical buttons are less likely to register false positives and exhibit twitchy behavior. For another thing, they're easy to operate with dirty hands, a real concern when you're doing car work.
One thing we didn't like was the connection cable. At only three feet long, you may have to hunch over to read the screen when it's plugged in. Compared to most OBD scanners, this cord is quite short. On the other hand, it's well-engineered, with reinforced, flexible connections at the base and the tip. It's not going to break or tear easily, even if it's taking some abuse.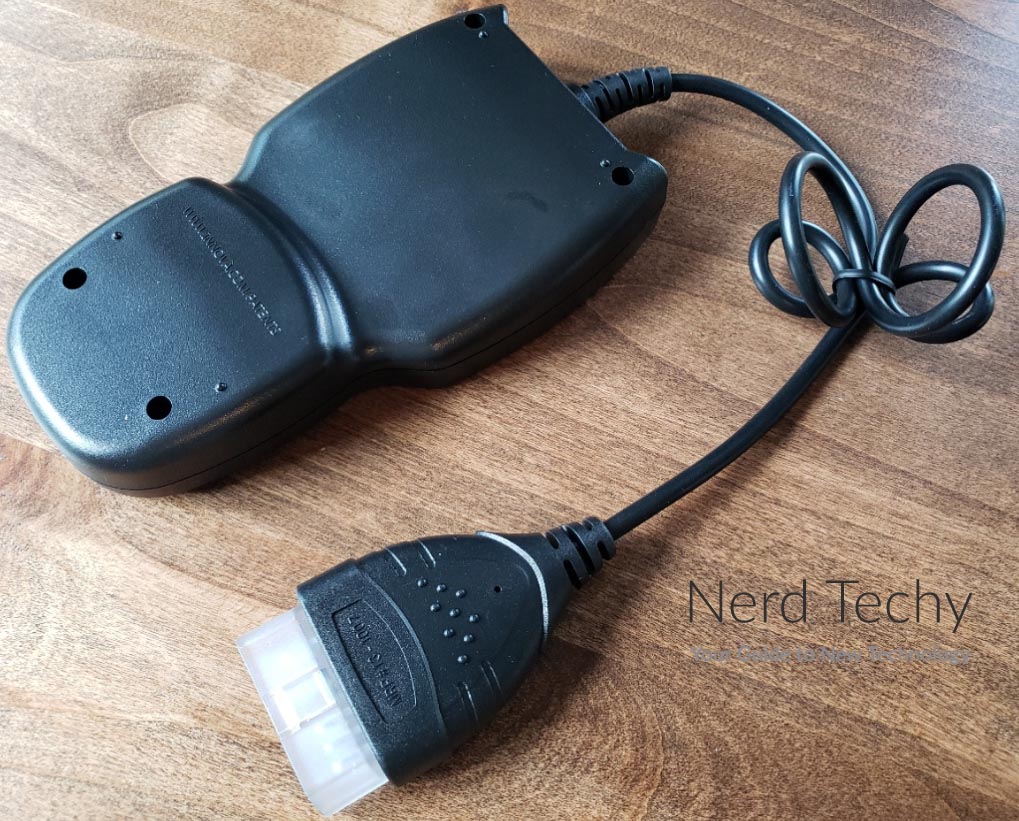 What it Reads
So, what can you actually read with the Pro 5210? To begin with, you can read your Check Engine codes. We've already talked about the high-definition display, and how easy it is to read. However, this comes in extra handy when your car is reading multiple codes. You can view several at a glance, along with their meanings. Once again, the time savings is the real benefit here. Not only that, but there's a button dedicated to clearing your light. If you've got a simple, non-urgent issue, this is an easy way to pass most state inspections.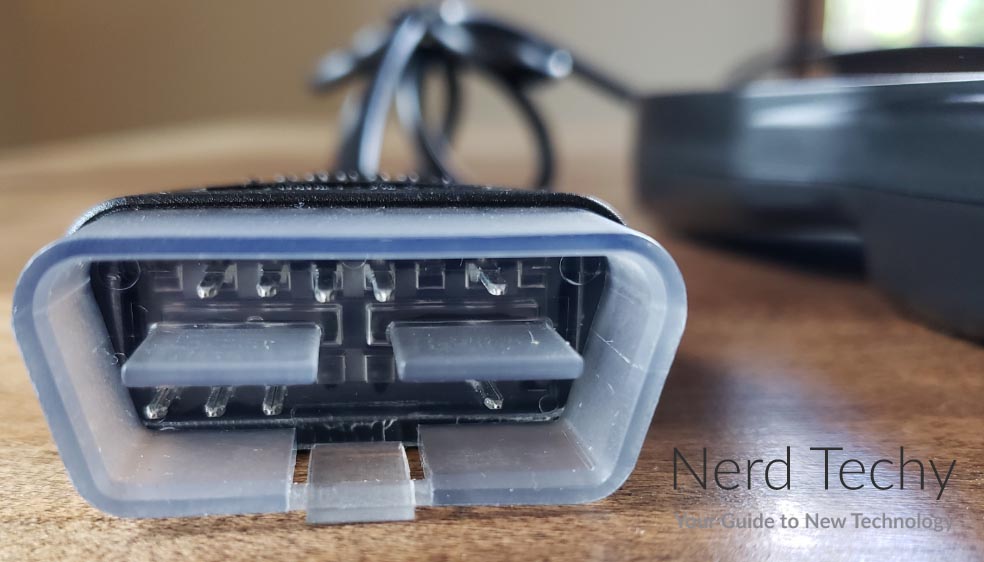 INNOVA pays particular attention to smog test issues. They have a special function that will specifically flag problems with your emissions system. It's designed to detect any issues that will cause you to fail a California smog test, the nation's toughest test. Similarly, their support team is based in California and experienced with California smog tests. Of course, this is no guarantee that they can help you solve every conceivable issue in all 50 states. But we're not aware of any emissions test you can't pass if your vehicle meets California standards.
In addition to Check Engine codes, the Pro 5210 will also read your car's ABS codes, as well as several other systems. One thing we really liked was that you can sort codes by severity. This is a hugely beneficial feature for beginners, since you don't have to be an expert. The scanner will tell you if your repair is urgent, or if it can wait until your next routine maintenance.
For experts, you'll have the ability to capture freeze frame data with a single button. This can be useful for advanced diagnostics, when you're trying to replicate a previous issue. It's also helpful if you're performing modifications, and want to do a before-and-after comparison.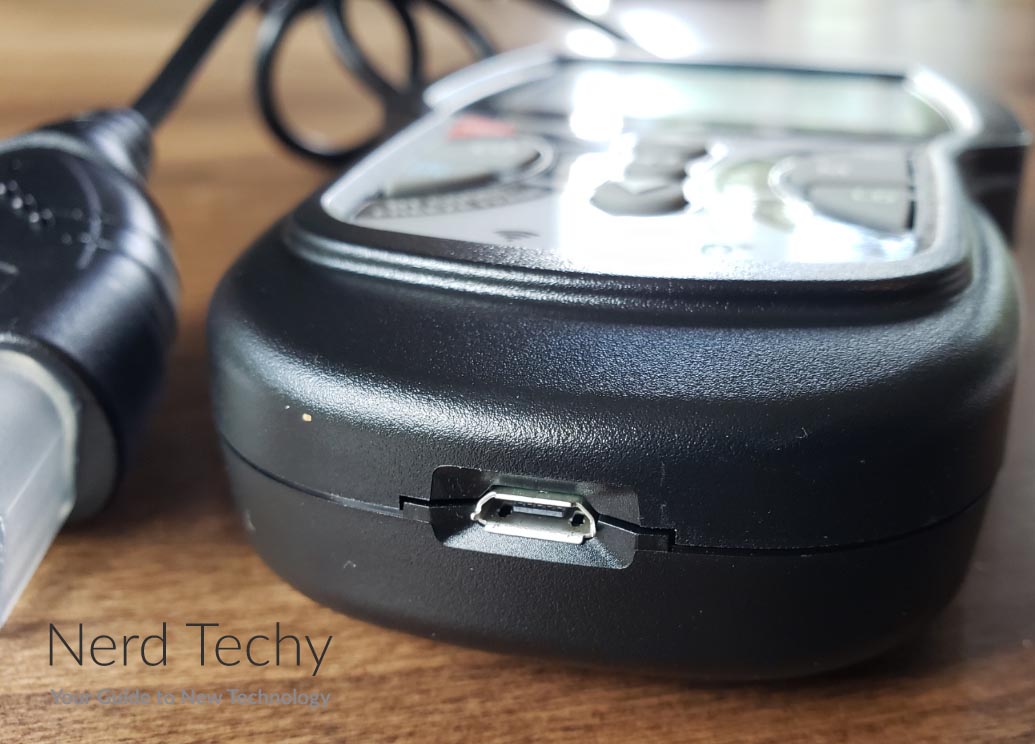 More Than Just a Code Scanner
So, besides just reading codes, what else can the Pro 5210 do? We've already mentioned that you can clear your Check Engine codes. However, you can also clear ABS and oil light codes. Barring any severe problems, this is a complete solution for passing many state inspections. That said, there are some limitations on what the Pro 5210 can and can't reset. It cannot reset SRS or network codes. If you have an issue related to one of these systems, you'll have to visit a mechanic.
This scanner isn't just for diagnostics. It can also be used for monitoring your vehicle's performance. For example, let's say you just installed a new oil pump. You can track your oil pressure and temperature in real time, to make sure everything's working properly. You can track speed and RPM data if you're modifying or fixing your powertrain. You can even monitor electrical systems and test your battery and alternator. All of these features combine to make the Pro 5210 much more than just a simple code scanner.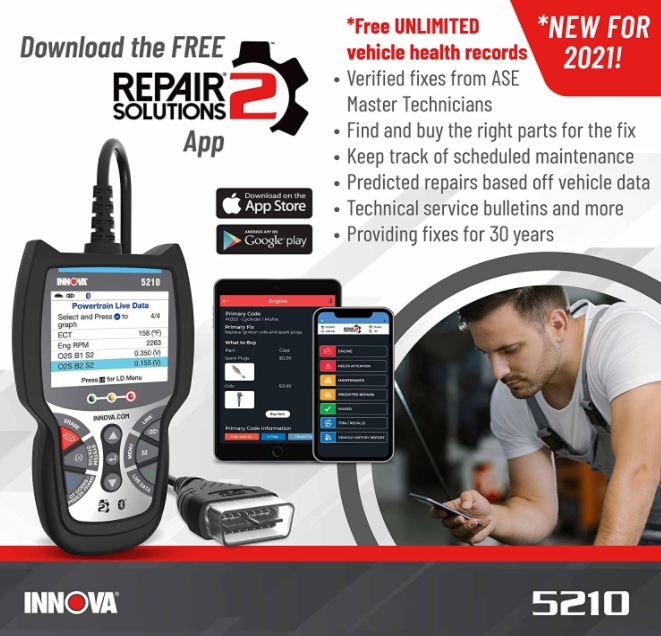 In addition to all that, the INNOVA scanner can be used in conjunction with their RepairSolutions2 app. This app is free on Android and iOS, and is easy to install. You can enter your code data, and find out how to repair any problems. If parts are required, you can look them up directly in the app to make sure you're ordering the right thing. You'll also receive any manufacturer recall or technical information. You can even see your vehicle's recommended maintenance schedule. Keep in mind that this is a companion app, not a replacement for the scanner. If you want to scan directly from your smartphone, you'll need a Bluetooth OBD II scanner.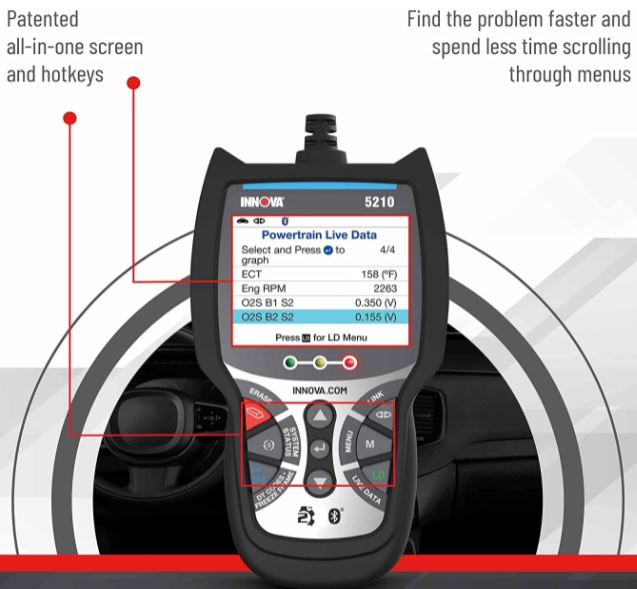 Vehicle Compatibility
The Pro 5210 will work on any vehicle sold in the US starting in 1996. It will also work with many international vehicles, provided they have an OBD II port. This includes cars, trucks, SUVs, hybrids, and anything else on four wheels. In practice, unless you're working on classic vehicles, you're going to be able to use it. And for most classic cars, reading error codes is a non-issue to begin with.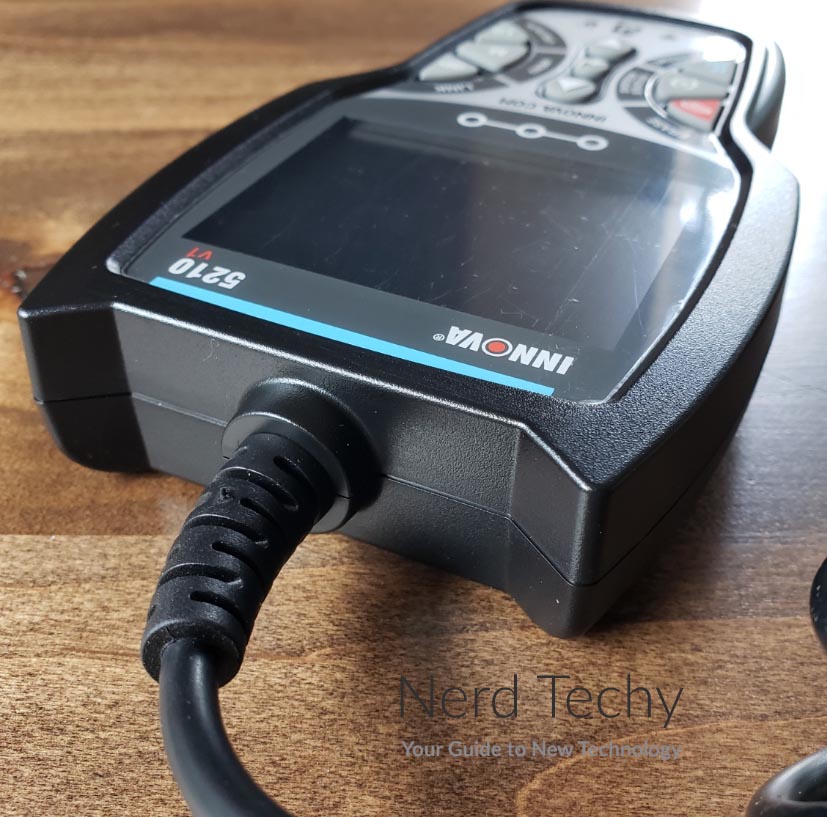 That said, keep in mind that this is not a magical device. We've seen that it has a ton of features. However, those features will only work if they're supported by your vehicle. As a result, there can often be a lot of daylight between the Pro 5210's theoretical and real-world performance. For example, on many older vehicles, only the Check Engine code function will work. This isn't a criticism of INNOVA's car scanner as such. It's universally true of any OBD II scanner, so it's not as if you're going to do any better. But if you've got a 1996 economy car, for example, don't expect to reset the oil light codes or ABS.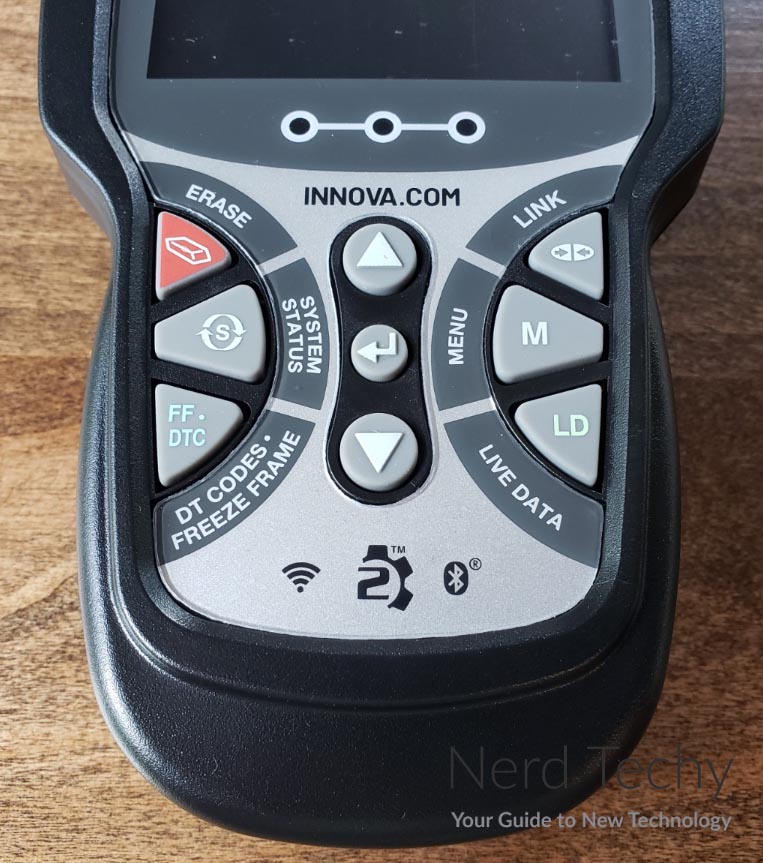 Thankfully, INNOVA is pretty transparent about what features will work with what vehicles. As with any OBD II scanner, check with the manufacturer if you're not sure what features you'll be getting.
Final Verdict
The INNOVA CarScan Advisor 5210 is one of the more comprehensive OBD II scanners on the market. It's certainly the most comprehensive you'll find at this price point. To be fair, it doesn't do everything. You can't reset SRS or network scan codes, which can be annoying if you're a power user.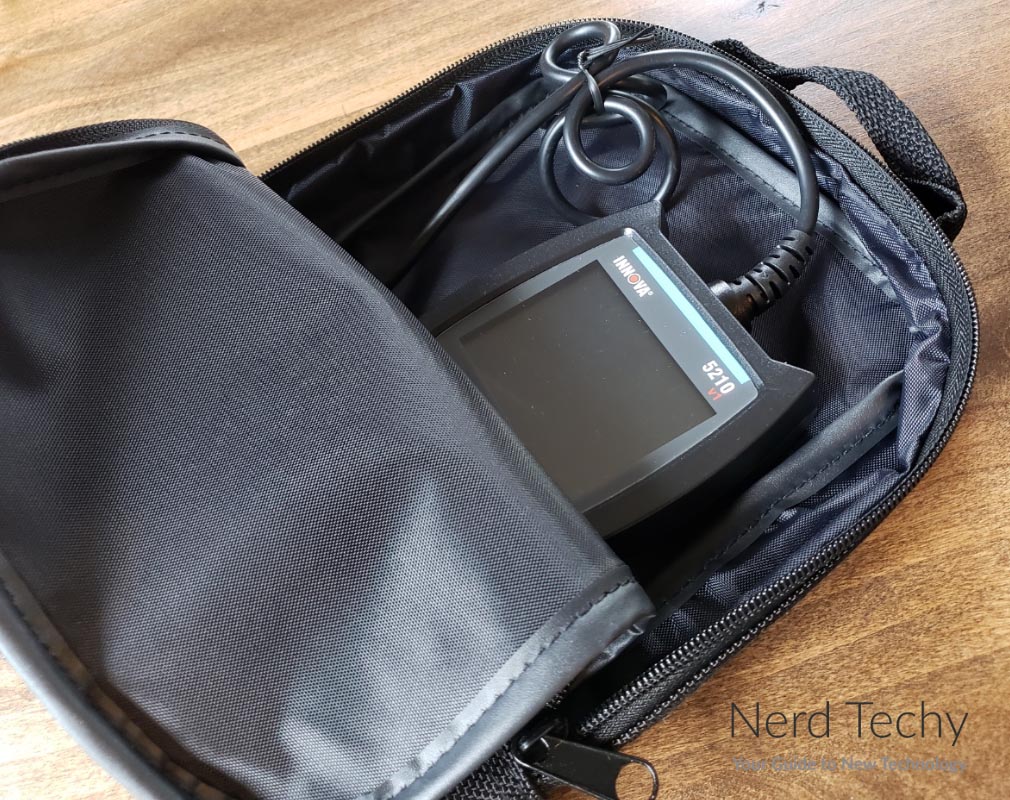 But the Pro 5210's drawbacks are minor compared to the features it offers for the average user. For one thing, the screen is easy to read and understand. You can sort codes by priority to find out if there are any urgent issues. Not only that, but the app makes it easy for even beginners to diagnose their vehicle and order parts. Finally, the emissions system support is out of this world. With their California-based support team, INNOVA ensures that you can diagnose any smog-related issues.